Chicago Colleges:

Ifeadi Odenigbo
October, 4, 2014
10/04/14
7:15
PM CT
Northwestern's
20-14 victory
continued its midseason revival and denied Wisconsin and the comeback bid of quarterback
Joel Stave
. Wisconsin's 2013 starting quarterback Stave made his season debut by taking over for struggling
Tanner McEvoy
late in the second quarter.
Stave could not lead the Badgers back from a 10-0 deficit despite 259 yards on the ground by running back
Melvin Gordon
.
The Wildcats got 162 rushing yards from
Justin Jackson
and beat a ranked team at home for the first time since 2010. They moved to 2-0 in the Big Ten after an upset win last week at Penn State.
How the game was won:
Northwestern refused to give in. Even as Gordon got loose for long runs, the Wildcats did not break. Northwestern stemmed the Badgers' best momentum with a
Jimmy Hall
interception in the third quarter of Stave, tipped at the line by
Ifeadi Odenigbo
.
Miles Shuler
ran a reverse for a 16-yard touchdown on the next play.
Game ball goes to:
Northwestern freshman safety
Godwin Igwebuike
for his three interceptions. Igwebuike picked McEvoy in the end zone to end Wisconsin's opening drive of the game, sending the Badgers into an offensive tailspin that extended for the first 30 minutes of the game. Igwebuike then intercepted Stave in the end zone with less than six minutes to play in the game and got Stave again near midfield to clinch the victory.
What it means:
The West Division is even more wide open than it looked. Minnesota emerged as a contender with its win over Michigan last week. Add Northwestern -- who could have predicted its past two victories -- to the mix with Nebraska, Iowa and the Badgers.
Best play
Stave pass intercepted by Hall.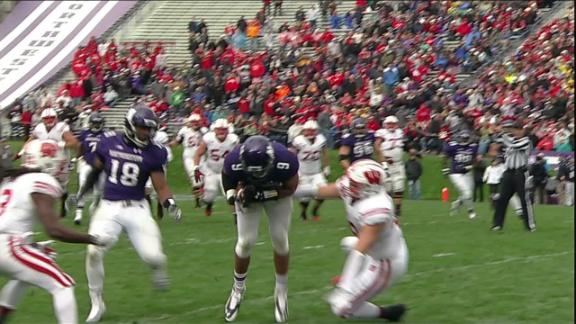 What's next:
The Wildcats (3-2) get a chance to continue their resurgence with a trip to Minnesota before coming home to meet Nebraska. The Badgers (3-2), meanwhile, return home for Illinois, an off week and Maryland, and now they have a quarterback situation. Stick with Stave, who struggled on Saturday, or go back to McEvoy, who was equally ineffective against Northwestern.
July, 18, 2014
7/18/14
12:30
PM CT
SEC media days finally have wrapped up, and several other leagues will be on the stage next week. The Big Ten holds its media festivities July 28-29 in Chicago, and we're running through
three questions facing each Big Ten team
and the potential answers we could hear at the Hilton Chicago.
Northwestern is next on the proverbial dais, as coach Pat Fitzgerald will be joined by quarterback
Trevor Siemian
, safety
Ibraheim Campbell
and linebacker
Collin Ellis
.
1. How much is the unionizing debate impacting Northwestern's season preparations?

The last we saw Wildcats players, they were
casting a historic vote on whether or not to form a union
. The National Labor Relations Board has yet to rule on the university's appeal of the regional office's decision that would permit a union. If the NLRB rejects the appeal, the votes would be unsealed. The timing for the NLRB's ruling is unknown, and even if the appeal is shot down, the players are expected to vote down the union. But the debate was a major distraction during spring practice and could surface again during a critical preseason, where Northwestern must come together. Expect Fitzgerald and the players to downplay the union talk, although it will be interesting to see what Campbell, a close friend of union catalyst Kain Colter, has to say.
2. How will the offensive approach change with Siemian at the controls?
The big plus coming out of the spring was Siemian establishing himself as the top quarterback and clear-cut team leader. He shared quarterbacking duties with Colter the past two seasons, which worked at times but also muddled Northwestern's offensive identity. Siemian's strength as a passer, combined with a more experienced offensive line, suggests Northwestern will return to the pass-first approach it used from 2007-2010. The Wildcats return their three pass-catchers from 2013 --
Christian Jones
,
Tony Jones
and
Dan Vitale
-- and should be strong on the perimeter if they choose to feature the air game. But they also are extremely deep at running back as
Venric Mark
, a 2012 All-Big Ten selection, returns from injury. Northwestern undoubtedly will pass more with Siemian, but it can't neglect Mark, its most explosive player.
3. What are the biggest priorities entering preseason camp?
Fitzgerald admitted late in the spring that Northwestern is behind schedule after missing a bowl game and the practices that go along with them. The
Wildcats also had 11 players miss the spring with injuries
, including projected starters like Mark and defensive tackle
Sean McEvilly
, and potential starters like defensive ends
Ifeadi Odenigbo
and
Deonte Gibson
. Cornerback
Daniel Jones
, an opening day starter in 2012, also should be back from a knee injury. The defensive line will be a focal point as McEvilly, Odenigbo and Gibson return to the rotation. Northwestern also must figure out its running back rotation, how promising young defensive backs like
Godwin Igwebuike
will be used and who emerges in the kicking game, as All-Big Ten kicker Jeff Budzien departs.
June, 25, 2014
6/25/14
5:00
PM CT
Tackling the second of three mailblogs this week. Have questions? Send them
here
or tweet me
here
.
What's on your mind?


@mikemagnus via Twitter:
Would there be as much pushback adding Maryland and Rutgers if they were added at the same time as Nebraska rather than separately?
Adam Rittenberg:
Really interesting question, Mike. As Big Ten commissioner Jim Delany often says, not every expansion addition can be Nebraska or Penn State. There is filler out there (hello, Utah, Colorado and TCU) and schools brought in more for their locations than their athletic tradition. I think if this happened in 2010, the reaction could have been different. Nebraska would be celebrated and Rutgers and Maryland would be seen as a way to get closer to the superconference model.
Some of the criticism would remain, and some would wonder why the Big Ten didn't add other Big 12 schools. Remember, the eastern movement wasn't a B1G objective at the time, and the ACC hadn't added Syracuse and Pittsburgh. But overall, I don't think the backlash would be as strong because Nebraska would be a nice distraction.
---

Brian from Raleigh, North Carolina, writes:
Hey Adam, one thing really stood out about the
B1G Presidents & Chancellors' letter
: they endorsed most of Kain Colter and CAPA's stated goals. As you say, none of the ideas are new, but is it safe to call this a (provisional) vindication for Colter? And what should we make of the fact that they didn't endorse a formal seat at the decision-making table for athletes?
Rittenberg:
Brian, it's definitely a victory of sorts for Colter and CAPA. They would like to see more specifics and protections in the medical plans schools will offer athletes (current and former), but it's significant that the medical coverage piece is part of the signed letter. CAPA has been smart in not advocating first for a pay-for-play model, as few can argue with a push for greater medical coverage for athletes. Good point about the omission of an athlete seat at the decision-making table, although Delany and other league leaders have voiced their support for one.
---

Isaiah from the South Carolina cornfields writes:
Adam, I believe that the best approach for
scheduling nonconference opponents
is a balanced one. Games against only FBS teams is a great start, but let's be honest, Eastern Michigan is probably a worse team than North Dakota State. Really, what is important is the quality of the opponent. Teams that finish within 25 places from where your team does should be the norm; this could include playoff FCS teams as well. One opponent should be a marquee team as well. Some opponents will dud out, sure, but it's better than beating up on Sun Belt and MAC teams.
Rittenberg:
Isaiah, glad to hear from some cornfields outside Big Ten country. I like your plan for teams to play more comparable opponents as much as possible, but there are some potential problems. Since scheduling is done so far in advance, an opponent that looks comparable at the time the series is scheduled might have declined by the time the games are played. Ohio State found this
with its recent Cal series
, as Cal went from a Top 25 program between 2004-08 to a very bad one the last two seasons. I could live with FCS playoff teams, as many are better than the bottom of the FBS and they would help Big Ten teams meet their home-game demands.
---

@lukebilotta via Twitter:
Who is the player nobody is talking about but is poised for a breakout season?
Rittenberg:
Luke, since you're an Indiana fan, I know you talk about
Tevin Coleman
quite a bit, but he's not a known name around the Big Ten. That should change this season if Coleman stays healthy. Wisconsin's
Melvin Gordon
might be the top big-play back in the country, but Coleman isn't far behind. He averaged 7.3 yards per rush and 141.7 all-purpose yards in nine games last year. Perhaps that qualifies as a breakout season, but Coleman should be an even bigger part of IU's offense as a junior, and he runs behind arguably the Big Ten's best offensive line, another group no one talks about (check the blog on Thursday for more).
On defense, keep an eye on two linemen: Penn State's
C.J. Olaniyan
and Northwestern's
Ifeadi Odenigbo
. Olaniyan quietly had 11 tackles for loss and five sacks last season, and he should be even better this year. Odenigbo is a speed rusher who, in limited work, had 5.5 sacks last season. When he figures it out, he'll be a force off of the edge.
---

Mark from Snyderville writes:
I think having a solid slate of semi-cupcakes is respectable but lacking. The MUCH tougher
noncon slate
in my opinion is one that can make or break your season and league perception in one game. For instance, Wisky plays LSU. That is HUGE for the B1G. Win and the perception of Wisky and the B1G changes overnight. Maybe the perception changes just for the rest of the season, but it gives you a big boost for the upcoming playoffs. Kansas State plays Auburn at home on a Thursday night. You think that game means more to the conference than, say, Texas vs. BYU? Of course it does. Give me one big, huge, giant, winner-takes-all game over 3-4 mediocre scraps any day.
Rittenberg:
I tend to agree, Mark. Ohio State took this approach for years and had blockbuster, conference-perception-shaping games against teams like USC and Texas. While I would like to see one other quality opponent on the schedule, the strength of a schedule with Oregon or LSU on it trumps one with good or average teams and no cupcakes. Also, I've noticed teams that step out and truly play a marquee opponent often avoid criticism for the rest of their nonleague schedule.
April, 28, 2014
4/28/14
7:00
AM CT

The spring workouts are in the books and the long offseason has arrived. But before diving into summer and the painful wait for football to return, we're taking a look back at the developments from March and April and sneaking a peek at what to expect in the fall for
Northwestern
.
Three things we learned in the spring
The offense has a quarterback and an identity: The two-quarterback system Northwestern used with mixed results in 2012 and 2013 is dead, at least for now. Senior Trevor Siemian established himself as the top signal-caller and a team leader with a strong spring. Siemian has less mobility than recent Wildcats signal-callers but a stronger arm. Northwestern likely will return to its pass-first roots this season after never establishing a consistent identity last fall.
The secondary should be a strength: Northwestern historically has struggled in the back end of its defense, but it returns all four starters from a decent group last season and boasts unprecedented depth. The emergence of redshirt freshmen like Godwin Igwebuike, Kyle Queiro and Keith Watkins II this spring allows the Wildcats to go two or three deep at all four positions. Senior safety Ibraheim Campbell leads the group, which will be expected to generate takeaways.
Shuler, Prater add to receiving corps: This group has teased us before, but the combination of returning players, newcomers and a pass-driven quarterback/offense suggests big things are on the way. Rutgers transfer Miles Shuler is a natural playmaker who could star at the slot position, like Jeremy Ebert did in 2010 and 2011. Another one-time transfer, former USC Trojan Kyle Prater, is finally healthy and turned in a solid spring at the outside spot. The 6-foot-5, 225-pound Prater provides size on the edge.
Three questions for the fall
Defensive line health: Like the offensive line last spring, Northwestern's defensive front went through the session with limited bodies following offseason surgeries to four players, including tackle Sean McEvilly, a projected starter, and ends Ifeadi Odenigbo and Deonte Gibson. Everyone will be healthy for a vital preseason camp as Northwestern tries to firm up its run defense, a weakness during Big Ten play last season.
Venric Mark's role: A 1,300-yard rusher and All-America punt returner in 2012, Mark essentially has played one full game since the 2013 Gator Bowl. He should be a major addition on special teams, but his role in the offense remains to be seen. Mark had his most success running the zone read with Kain Colter, but Siemian has different strengths. Northwestern needs a stronger inside run presence, a role Mark relishes despite his size. Above all else, the Wildcats need Mark to stay on the field throughout the season.
Firming up the offensive line: The line took a significant step backward in 2013, possibly because of all the injury issues in the previous offseason. Northwestern had all of its linemen on the field this spring and ramped up the competition, as senior tackle Jack Konopka, a two-year starter, worked with the reserves. Center Brandon Vitabile and tackle Paul Jorgensen provide leadership for the group, but most spots remain open entering the summer.
One way-too-early prediction
Northwestern returns to the postseason and makes some noise in the West Division. Just about everything went wrong for the Wildcats from an injury and fortune standpoint in 2013. They had leadership issues that players acknowledged this spring. They had no identity on offense. Most of the core pieces return and the leadership appears much stronger. If Northwestern remains relatively healthy, it should win at least seven games and possibly challenge Iowa, Wisconsin and Nebraska in the West.
April, 10, 2014
4/10/14
3:30
PM CT
We're previewing all of the Big Ten spring games, even the ones that are not quite spring games, like
Northwestern
's practice on Saturday ..

When:
11 a.m. ET
Where:
Ryan Field
Admission:
Free. Stadium gates will open at 10 a.m. ET
TV:
Big Ten Network (live)
Weather forecast:
Partly sunny, with a high near 68. Wind 10 to 15 mph.
What to watch for:
Just like last year, the Wildcats won't hold an actual spring game. Instead, their 15
th
session of the spring will be just like a regular practice, except that fans will be invited to attend.
And, no, they didn't scrap the spring game because of union demands. Pat Fitzgerald's team is simply too banged up to field two squads and go at it in any kind of live scrimmage. Northwestern opened spring drills with 11 players sidelined because of injuries, including potential starting defensive linemen
Sean McEvilly
,
Deonte Gibson
and
Ifeadi Odenigbo
, cornerback
Daniel Jones
and star running back
Venric Mark
.
Because of the injuries, Fitzgerald hasn't really been able to have scrimmages all spring and says he'll have to hold some during two-a-days in August to get his players up to speed.
There will still be some story lines to watch Saturday, and in fact, you may learn more from a regular practice effort than you would from most vanilla, fan-friendly spring exhibitions. Fitzgerald has said this is quarterback
Trevor Siemian
's team, which means the offense should be fairly reliant on the passing game and not so much the option. At receiver, transfer
Miles Shuler
has earned praise, and the oft-injured
Kyle Prater
has had a nice spring, Fitzgerald said this week. It's just about now or never for Prater.
Collin Ellis
has moved to middle linebacker, and there's a pretty good competition for his old spot on the outside, with
Jimmy Hall
and
Drew Smith
battling it out.
Mostly, though, the Wildcats and their fans are happy to see a day that should be all about football after their spring was dominated by union talk. The vote still looms, but at least on Saturday, the team can just practice, even if it's not a traditional spring game.
March, 3, 2014
3/03/14
2:30
PM CT
We're taking snapshots of each position group with each Big Ten team entering the spring. Up next: the defensive lines.

Illinois:
This is a significant concern for the Illini, especially after
the recent departure
of
Houston Bates
, who started last season at the Leo (defensive end/outside linebacker) spot. Illinois also loses its other starting defensive end,
Tim Kynard
. The team will rely heavily on junior-college players such as
Jihad Ward
and
Joe Fotu
, but it also needs holdovers like
Dawuane Smoot
and
Paul James
III to step up on the perimeter. Illinois returns more experience inside with
Austin Teitsma
and
Teko Powell
, but there should be plenty of competition, especially with the juco arrivals, after finishing 116th nationally against the run.

Indiana:
The anticipated move to a 3-4 alignment under new coordinator Brian Knorr creates a different dynamic for the line this spring. Indiana must identify options at the all-important nose tackle spot, and possibilities include sophomores
Ralphael Green
and
Darius Latham
, both of whom are big bodies.
Nick Mangieri
had a nice sophomore season and should be in the mix for a starting job on the perimeter (end or outside linebacker), while
David Kenney
could be a good fit as a 3-4 end. Defensive end
Ryan Phillis
is the team's most experienced lineman, and
Zack Shaw
also has some starting experience.

Iowa:
This group should be the strength of the defense as Iowa returns three full-time starters -- tackles
Carl Davis
and
Louis Trinca-Pasat
, and end
Drew Ott
-- as well as
Mike Hardy
, who started the second half of the season opposite Ott. End
Dominic Alvis
departs, but Iowa brings back almost everyone else from a line that allowed only eight rushing touchdowns in 2013. Junior
Darian Cooper
could have a bigger role and push for more playing time inside, and
Nate Meier
provides some depth on the perimeter after recording two sacks in 2013. Iowa is in good shape here.

Maryland:
The Terrapins employ a 3-4 scheme and appear to be in good shape up front, as reserve
Zeke Riser
is the only rotation player to depart.
Andre Monroe
leads the way at defensive end after an excellent junior season in which he led Maryland in both sacks (9.5) and tackles for loss (17).
Quinton Jefferson
started at defensive end last season and recorded three sacks. There should be some good competition this spring at nose tackle between
Keith Bowers
and
Darius Kilgo
, both of whom had more than 30 tackles last season. The challenge is building greater depth with players such as end
Roman Braglio
.

Michigan:
If the Wolverines intend to make a big step in 2014, they'll need more from the front four, which didn't impact games nearly enough last fall. Michigan's strength appears to be on the edges as veteran
Frank Clark
returns after starting every game in 2013 and recording a team-high 12 tackles for loss.
Brennen Beyer
, who started the second half of last season, is back at the other end spot, and Michigan has depth with
Mario Ojemudia
and
Taco Charlton
. There are more questions inside as
Willie Henry
,
Chris Wormley
and others compete for the starting job. Young tackles such as
Henry Poggi
and
Maurice Hurst Jr
. also are in the mix, and
Ondre Pipkins
should be a factor when he recovers from ACL surgery.

Michigan State:
The Spartans return the best defensive end tandem in the league as
Shilique Calhoun
, a second-team All-American in 2013, returns alongside
Marcus Rush
, one of the Big Ten's most experienced defenders.
Joel Heath
,
Brandon Clemons
and others provide some depth on the perimeter. It's a different story inside as MSU loses both starters (
Micajah Reynolds
and
Tyler Hoover
), as well as reserve
Mark Scarpinato
.
Damon Knox
,
James Kittredge
and
Lawrence Thomas
, who has played on both sides of the ball, are among those who will compete for the starting tackle spots. If
Malik McDowell
signs with MSU, he could work his way into the rotation.

Minnesota:
Defensive tackles like
Ra'Shede Hageman
don't come around every year, and he leaves a big void in the middle of Minnesota's line. The Gophers will look to several players to replace Hageman's production, including senior
Cameron Botticelli
, who started opposite Hageman last season. Other options at tackle include
Scott Ekpe
and
Harold Legania
, a big body at 308 pounds. Minnesota is in much better shape at end with
Theiren Cockran
, arguably the Big Ten's most underrated defensive lineman. Cockran and
Michael Amaefula
both started every game last season, and
Alex Keith
provides another solid option after recording five tackles for loss in 2013.

Nebraska:
Other than MSU's Calhoun, Nebraska returns the most dynamic defensive lineman in the league in
Randy Gregory
, who earned first-team All-Big Ten honors in his first FBS season. If the Huskers can build around Gregory, they should be very stout up front this fall. Nebraska won't have Avery Moss, suspended for the 2014 season, and players such as
Greg McMullen
and junior-college transfer
Joe Keels
will compete to start opposite Gregory. The competition inside should be fascinating as junior
Aaron Curry
and sophomore
Vincent Valentine
both have starting experience, but
Maliek Collins
came on strong at the end of his first season and will push for a top job.

Northwestern:
It will be tough to get a clear picture of this group in the spring because of several postseason surgeries, but Northwestern should be fine at defensive end despite the loss of
Tyler Scott
.
Dean Lowry
,
Ifeadi Odenigbo
and
Deonte Gibson
all have significant experience and the ability to pressure quarterbacks. Odenigbo, who had 5.5 sacks as a redshirt freshman, could become a star. The bigger questions are inside as Northwestern must build depth.
Sean McEvilly
is a solid option but must stay healthy.
Chance Carter
and
Max Chapman
are among those competing for starting jobs at tackle.

Ohio State:
A total mystery last spring, the defensive line should be one of Ohio State's strengths in 2014.
Noah Spence
and
Joey Bosa
could become the Big Ten's top pass-rushing tandem, and the Buckeyes have depth there with
Jamal Marcus
,
Adolphus Washington
and others. Returning starter
Michael Bennett
is back at defensive tackle, and while
Joel Hale
might move to offense, there should be enough depth inside with
Tommy Schutt
,
Chris Carter
and Washington, who could slide inside. Nose tackle is the only question mark, but new line coach Larry Johnson inherits a lot of talent.

Penn State:
Like the rest of the Lions defense, the line struggled at times last season and now much replace its top player in tackle
DaQuan Jones
. The new coaching staff has some potentially good pieces, namely defensive end
Deion Barnes
, who won 2012 Big Ten Freshman of the Year honors but slumped as a sophomore. Barnes and
C.J. Olaniyan
could form a dangerous pass-rushing tandem, but they'll need support on the inside, where there should be plenty of competition.
Austin Johnson
will be in the mix for a starting tackle spot, and early enrollees
Tarow Barney
and
Antoine White
also should push for time.
Anthony Zettel
provides some depth on the perimeter.

Purdue:
The line endured a tough 2013 campaign and loses two full-time starters (tackle
Bruce Gaston
Jr. and end
Greg Latta
), and a part-time starter (end
Ryan Isaac
). Competition should be ramped up at all four spots this spring. Senior end
Ryan Russell
is the most experienced member of the group must take a step this offseason.
Evan Panfil
and
Jalani Phillips
will push for time at the end spots, along with Kentucky transfer
Langston Newton
.
The group at tackle includes Ryan Watson and Michael Rouse III, both of whom started games in 2013.

Rutgers:
Keep a close eye on this group in the spring as Rutgers begins the transition to the Big Ten. The Scarlet Knights lose two starters in end
Marcus Thompson
and tackle
Isaac Holmes
, as well as contributor
Jamil Merrell
at tackle.
Darius Hamilton
provides a building block on the inside after recording 4.5 sacks and 11.5 tackles for loss in 2013, and end
Djwany Mera
is back after starting throughout last season.
David Milewski
played tackle last year, but both he and Hamilton likely need to add weight for their new league. Rutgers has some talent in the younger classes and needs players such as
Sebastian Joseph
,
Kemoko Turay
and
Julian Pinnix-Odrick
to emerge.

Wisconsin:
Linebacker
Chris Borland
is the biggest single departure for the Badgers' defense, but the no position group loses more than the line. Wisconsin must replace several mainstays, most notably nose tackle
Beau Allen
, who performed well in the first year of the 3-4 set under coordinator Dave Aranda. Senior
Warren Herring
will step in for Allen after three years as a reserve.
Konrad Zagzebski
is a good bet to fill one of the end spots, but there will be plenty of competition with players such as
Jake Keefer
,
James Adeyanju
,
Arthur Goldberg
and
Chikwe Obasih
.
February, 24, 2014
2/24/14
6:00
PM CT
Venric Mark
's ankle injury was serious enough to sideline him for the final six-plus games in 2013 -- and earn him
a chance to return this fall
.

The injury also will keep Northwestern's star running back/returner sidelined for the spring.
Mark is one of 11 Wildcats players out for spring ball following winter surgeries. Northwestern opens practice on Wednesday.
Other notables sitting out include defensive tackle
Sean McEvilly
(foot) and defensive ends
Ifeadi Odenigbo
(shoulder) and
Deonte Gibson
(shoulder), all potential starters this fall. Cornerback
Daniel Jones
and running back
Stephen Buckley
both are recovering from knee injuries sustained during the 2013 season.
Last spring, Northwestern lacked bodies along the offensive line because of winter surgeries. It altered practices and arguably cost the Wildcats during the season. This year, the defensive line will be thin as McEvilly, Odenigbo, Gibson and tackle
Max Chapman
all are out for the spring session.
"Our numbers will be down there," Northwestern coach Pat Fitzgerald told ESPN.com. "Would you notice watching practice? Maybe not. We'll probably take more breaks during scrimmage days. It's kind of the reverse of last year, so we'll have to do a better job than a year ago.
"The depth is good; I don't think the depth is great in spring. That's going to be an area we're really going to have to improve in camp."
April, 10, 2013
4/10/13
2:00
PM CT
EVANSTON, Ill. -- Mike Hankwitz didn't inherit a bare cupboard when he arrived as Northwestern's defensive coordinator in 2008.
The defense included several future NFL players, including end Corey Wootton and cornerback Sherrick McManis. Eight starters returned, and the unit improved from 88th nationally in points allowed to 26th in Hankwitz's first season.
But something was missing. As Hankwitz surveyed the number of spread offenses in college football -- not to mention the one his defense practiced against every day at Northwestern -- he knew the Wildcats' defense needed a speed boost.
"We had some players with good speed, but as a total defense, we didn't have that same speed at every position," Hankwitz told ESPN.com. "In this day in age with spread offenses, you need to have athletes who have the ability and speed to make plays in space. That's where we were a little deficient at the time. If you had a guy hurt, the next guy might not have been as fast. So we recruited to that end. We tried to recruit better speed to cornerback, and we're making progress in that way.
"As a whole, our team defensive speed has improved, and we're excited about that."
It was noticeable last season as Northwestern's defense improved to 47th nationally after plummeting to 80th the year before. Several younger players who were part of the speed-driven recruiting push played key roles, including defensive backs
Ibraheim Campbell
and
Nick VanHoose
, linebacker
Chi Chi Ariguzo
and linemen
Dean Lowry
and
Deonte Gibson
.
Northwestern's speed upgrade on defense has jumped out during spring practice. In Tuesday's workout, Lowry zoomed past a tackle for an easy "sack" against quarterback
Trevor Siemian
. Speed has helped cornerback
Dwight White
put himself in position to start opposite VanHoose in the fall. The same holds true for safeties like
Traveon Henry
,
Jimmy Hall
and
Terrance Brown
, competing to start next to Campbell.
"Our team speed is definitely much improved," head coach Pat Fitzgerald said. "Our secondary runs as well as it has at all four positions."
The popularity of the spread offense, which Northwestern has used since 2000, fueled the team's speed push in recruiting. Northwestern needed more athletes who could make plays in space, especially in the secondary.
Not surprisingly, the secondary had the most dramatic upgrade last season, and depth at both cornerback and safety has improved for 2013. The secondary not only has more speed but better size.
"Traveon Henry's a 6-[foot]-1, 200-plus-pound safety, Jimmy Hall's the same way, Terrance Brown is the same way; we've upgraded our size at corner," Fitzgerald said. "Most of our guys used to be 5-foot-9 and 5-foot-10. Now we're 5-11 and 6-foot. That size-speed combination is critically important if we want to take the next step in this league."
Greater speed allows Hankwitz to be "a little more aggressive" with his defensive calls. It also helps younger players get on the field early as they can overcome some weaknesses technically and fundamentally.
"Last year, being a little undersized at D-end as a freshman, I relied on my speed a lot of times to beat tackles," said Lowry, who had a sack, six quarterback hurries and three tackles for loss as a true freshman. "When you're fast, it sets up moves, so if a tackle is overset, you come back with a counter. You've got to make sure you use your technique, use your hands where the coaches teach you. But having the extra speed, it's almost like you can't teach that.
"It's something most guys don't have."
Northwestern's speed push started with the linebackers and spread quickly to the secondary, but the line hasn't been neglected. Redshirt freshman end
Ifeadi Odenigbo
, the team's most-decorated recruit in years, only started playing football as a high school sophomore but made his mark with speed,
twice tracking down
Braxton Miller
in a playoff game.
Both Odenigbo and Gibson ran track in high school, while both Gibson and Lowry played basketball.
"They're very, very athletic," said senior end
Tyler Scott
, who finished . "Dean's very athletic. Deonte, when he's healthy, is a force coming off the edge. And Ifeadi, he's got some speed that we haven't seen here for a while."
Northwestern's defense expects to be seeing more of that speed in the coming seasons.
"We're still not quite there where we have all five classes at an elite level athletically," Fitzgerald said, "but I think we're really close."
October, 1, 2012
10/01/12
1:52
PM CT
Northwestern freshman linebacker
Ifeadi Odenigbo
will miss the rest of the season and medically redshirt due to a shoulder injury, coach Pat Fitzgerald said on Monday.
The 6-foot-3, 220-pound Odenigbo is one of four true freshmen to play for the Wildcats this season. He made his debut against Vanderbilt in the second week and has not played since.
"We'll get a medical redshirt for him and have him back for four years," Fitzgerald said.
Odenigbo was one of the program's most highly-touted recruits. He was ranked No. 51 overall in the Class of 2012 and the No. 6 defensive end by ESPN.
Fitzgerald also announced senior linebacker
Roderick Goodlow
will miss the rest of the season due to a knee injury. He had three tackles in three games this season. He sat the 2010 season with an ACL injury.
July, 27, 2012
7/27/12
5:11
PM CT
CHICAGO -- Big Ten football media days are in the books, and the 2012 college football season is officially here.
Here's a look back at some of the top items from the past two days ...

Best dressed:
Montee Ball
. If you want be called Mon-Tay, as Ball now goes by, you had better back it up. The Wisconsin star dressed to impress both days, sporting a suit with a purple vest and bowtie Thursday, followed by a suit with a black vest and a red tie Friday. Guessing that Wisconsin coach Bret Bielema preferred the red tie. Honorable mention goes to Purdue cornerback
Ricardo Allen
for his three-piece beige suit. Very sleek.
Most heartfelt moments:
It's a tie between Penn State linebacker
Michael Mauti
, who reflected on an emotion-charged week for the program, and Michigan quarterback
Denard Robinson
, who made a touching and revealing speech at the Big Ten kickoff luncheon, discussing his humble roots, the loss of his brother and his responsibility as a high-profile athlete.
Best line from Robinson:
"I met the President of the United States, and I met LeBron James, and they both knew who I was."
Best bold statement:
First-year Ohio State coach Urban Meyer is setting the bar high for his quarterback,
Braxton Miller
. How high? "Braxton Miller has a lot of skills that Tim [Tebow] didn't have," Meyer said. "Braxton Miller is dynamic, he's the most dynamic athlete I've ever coached at quarterback. What I just said, people should go, 'Whoa.' He is, really by far. That's how good of an athlete he is." Fullback
Zach Boren
agrees, telling ESPN.com, "One or two Heisman Trophies are in his future." No pressure, Braxton.
Best newlywed moment:
Bielema, who got married in March, was asked which ring feels better, his wedding band or his Big Ten championship ring (he wore both Friday). "It depends on who's asking," he said.
Best physical assessment:
Michigan junior left tackle
Taylor Lewan
, on teammate
Craig Roh
's claim that he's husky. "Call me husky all you want. Feel these hips if you want, too. I'm 310 pounds. There's got to be a little love, right?"
Best recruiting comment:
Northwestern head coach Pat Fitzgerald, asked about plucking heralded linebacker recruit
Ifeadi Odenigbo
from Centerville, Ohio. "Urban can't take 'em all," he said, referring to Ohio State's Meyer. "But they offer 50, we get one, hooray for the 'Cats."
Best media day debut:
Andrew Maxwell
hasn't started a game at quarterback for Michigan State, but the junior handled himself well in the spotlight this week. "I've organized the 7-on-7s, get guys in the meeting room, get guys in the film room, texting them, saying, 'What time are you free? What time do you have class today?' " he said. "You really start to see how that's working when guys are texting and calling you, saying, 'Hey, can we get in the film room today.' When it's a two-way street, that's when you're most effective."
Best social media comment:
Although several of Kirk Ferentz's Iowa assistants are on Twitter, including his son, Brian, the team's offensive line coach, Ferentz hasn't warmed up to social media for his players. "We're really not big on Twitter," he said. "I told them they can Twitter their lives away as soon as they've played their last game. If they want to Twitter the next 60 years, have at it. Facebook, Myspace, your space, my book, your book, it's probably not fair to try to rein that one in, but we just try to encourage that it's going to be part of their DNA. Whatever they post, they're responsible for."