September, 3, 2013
9/03/13
4:18
PM CT
ESPN 100 senior point guard
Tyler Ulis
has eliminated USC from his recruiting list and is down to Iowa, Kentucky and Michigan State, according to his father.
Ulis, a 5-foot-9 point guard from Marian Catholic in Chicago Heights, Ill., is ranked No. 38 in the Class of 2014 and the No. 8 point guard by ESPN. He trimmed his list to four schools in early August.
"Yes, we did [eliminate USC;] we never said it in the media or anything, but did speak to USC about it a couple weeks ago," James Ulis, Ulis' father, wrote in a text message on Monday. "Didn't want to just take a visit if Tyler had cooled on possibly going there. We thanked [them] for their time and we wanted to allow them to have an opportunity to recruit another PG."
Ulis made an official visit to Iowa this past weekend and will make official visits to Michigan State on Sept. 6-7 and Kentucky on Sept. 8-9. Kentucky recently offered Ulis a scholarship on an unofficial visit, and Iowa and Michigan State previously offered him.
James believes his son's commitment could come as early as the weekend of Sept. 14.
October, 10, 2011
10/10/11
3:46
PM CT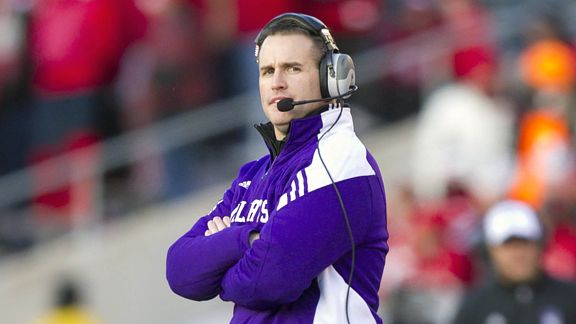 Jeff Hanisch/US PresswirePat Fitzgerald wants his team to stop the big plays that have plagued NU in second halves.
Northwestern's recent success against Iowa doesn't give Wildcats coach Pat Fitzgerald any reassurance heading into this week's match up with the Hawkeyes.
Coming off two consecutive losses where Northwestern allowed double-digit leads to slip away in the second half, Fitzgerald isn't taking anything for granted these days.
"We got a lot of things to fix," Fitzgerald said during his weekly press conference on Monday. "What's done is done. We're been fortunate [against Iowa.] We've won the turnover ratio and made some plays in the fourth quarter. I think motivation for this game is coming off a loss. Both teams are frustrated with their play most recently. Both teams felt they could have won most recently."
Northwestern's model for success against Iowa, which it has defeated three consecutive times, has been the Wildcats' strong second-half play. So far this season, that has been the Northwestern's downfall. It hasn't been able to close out games as of late.
Northwestern was up on Illinois 28-10 in the third quarter two weeks ago, but the Illini rallied and won 38-35. On Saturday, Michigan overcame a 24-14 deficit and won 42-24 in Evanston.
Fitzgerald said his team's problems have been due to execution.
"When we haven't [executed,] we've stunk," Fitzgerald said.
Fitzgerald laughed when asked if it possibly was an endurance factor in the second half.
"That's a joke," Fitzgerald said. "I would take our conditioning level against anybody in the country. Pop on the Boston College game. Pop on a lot of games. We got to be mentally tougher."
Fitzgerald was so displeased with his defense against Michigan that he didn't award anyone the team's defensive player of the week. He thought defensive end Tyler Scott may have played the best 3 ½ quarters of anyone this season, but he didn't finish his performance.
"As we talked, there wasn't anyone who played consistently enough for four quarters," Fitzgerald said.
The big plays have especially burned Northwestern. Against Michigan, the Wildcats allowed six plays of 25 or more yards. Illinois also had six such plays.
"We got to eliminate the explosion play," Fitzgerald said. "You got to win the 50/50 plays. There's no way to sugarcoat it. We got to win."
Missed opportunities were what Fitzgerald saw the most when reviewing the game tape. He thought Northwestern had a chance to intercept eight of Denard Robinson's passes. The Wildcats came away with three of those. He also thought seven of Michigan's 14 third-down conversions could have been prevented if his team had executed properly.
"It's execution," Fitzgerald said. "Obviously, it's on us to get our guys to become better and stay poised."
Being poised could be a necessity come Saturday night at Iowa.
"For us, it's going to be critical to start fast," Fitzgerald said. "It's going to be a raucous environment. We can't go and get knocked out in the first round."
September, 17, 2011
9/17/11
9:08
PM CT
1. These guys can rush:
Aaron Lynch set the tone early by sacking
Kirk Cousins
and forcing a fumble. The defense continued the assault all day long, getting to Cousins time and time again and rendering the Spartans' run game moot.
2. Special teams can make all the difference:
George Atkinson III
's kickoff return for a score made it 14-3 early and the Irish never looked back. The return came after MSU's first scoring drive and gave Notre Dame plenty of momentum and distance the rest of the way.
3. Turnovers need to be curtailed:
Three turnovers are still too many.
Tommy Rees
, at 19, is still growing as a quarterback and will make mistakes, but senior
John Goodman
's fumble of a punt return deep in his own territory could have been costly if not for Blanton's pick three plays later. Three is better than five, and the Irish have at least showed they're capable of bouncing back from mistakes by not letting up against MSU on Saturday. But at some point the bleeding has to stop.
4. Don't look now, but the Irish could be in business:
The Irish should be favored in every game moving forward except for the final one, at Stanford. For now, they can focus on a Pitt team that looked more vulnerable Saturday than the Irish themselves through the first two weeks, as the Panthers blew a 21-point lead to Iowa in a 31-27 loss. Purdue and Air Force follow for Notre Dame before its bye, after which it will host rival USC in its first home night game in 21 years.
July, 23, 2011
7/23/11
3:53
PM CT
March, 10, 2011
3/10/11
6:15
PM CT
INDIANAPOLIS – Here's a quick look at Michigan State's 66-61 win over Iowa in the first round of the Big Ten tournament on Thursday.


How the game was won: Michigan State wasn't handed anything Thursday. The Spartans had to rally from a seven-point second-half deficit, and the outcome wasn't certain until Iowa missed a game-tying 3-pointer in the final 10 seconds.
Turning point: Michigan State was on the verge of defeat midway through the second half. The Spartans had turned the ball on four consecutive possessions and failed to score on a fifth. Iowa used that to go on an 8-0 run and went ahead 52-45. With their season staring them in the face, the Spartans fought back with a 10-2 run of their own and overtook Iowa for the lead. Michigan State wouldn't trail again.
Stat of the game: Michigan State was ferocious on the boards. The Spartans outrebounded Iowa 37-29 overall and 15-13 on the offensive end.
Player of the game: Michigan State's Draymond Green did a lot of everything for his team. He 21 points, 14 rebounds, four assists, two steals and two blocks.
Iowa player of the game: Bryce Cartwright fooled around with a triple-double against the Spartans. He had 14 points, seven rebounds and six assists.
Unsung hero of the game: Michigan State's Durrell Summers only scored nine points, but he was 4-for-4 from the free-throw line in the final minute to clinch the victory.
ESPN SportsCenter highlight of the game: With Iowa already on a 5-0 run and building a lead on Michigan State in the second half, the Hawkeyes forced a turnover and the ball was pushed ahead to Eric May on the left wing. He caught it, put it on the ground, pushed forward and as he soared to the rim for a dunk he also was hit in the head. He sank the free throw, and Iowa went ahead by seven points.
What the game means: Michigan State wasn't exactly impressive against Iowa, but it did enough to win the game and likely punched its NCAA tournament ticket. The Spartans have a history of being a dangerous team once in the tournament, so we'll see if that's true again. For Iowa, it was a memorable last two weeks to a trying season, and possibly something it can build on for next season. The Hawkeyes upset Purdue in the regular-season finale and nearly upset Michigan State on Thursday.
August, 9, 2010
8/09/10
6:34
PM CT
With the high school football practice kicking off Wednesday, Glenbard West senior offensive lineman Jordan Walsh decided to finalize his recruitment Monday and chose Iowa.
Read the entire story.
April, 30, 2010
4/30/10
10:48
PM CT
Mundelein senior guard Ben Brust will be allowed to accept a scholarship from another Big Ten program despite originally signing a letter of intent with Iowa, a Big Ten group of faculty representatives ruled on Friday.


Brust, a 6-2 guard, originally signed with Iowa in November, but he recently asked for his release after the Hawkeyes fired coach Todd Lickliter and hired Fran McAffrey. Brust had hoped to include other Big Ten programs in his reopened search, but the Big Ten prohibits a student-athlete who signs a letter of intent with a Big Ten school to transfer and receive a scholarship from another conference school. Brust asked for a waiver earlier this month and was denied.


Big Ten spokesperson Scott Chipman confirmed the decision, but was unable to say which schools had brought the appeal to the group. According to Brust's AAU coach Mike Weinstein, Northwestern and Wisconsin had both told him they were planning to appeal an earlier decision against Brust.


"Ben and his family are very excited that Ben has the opportunity to pick where he wants to go to college," said Weinstein, who is helping Brust with his recruitment. "He's very happy that the Big Ten will support in him that. He's a kid who has always loved the Big Ten. He'll now pick a school that's best for him. He does have other schools other than the Big Ten that he is interested in."