Chicago Colleges:

Isaac Rochell
January, 24, 2014
Jan 24
9:00
AM CT
It has been a while. What's on your minds?
Scott from St. Joseph, Mich., writes:
Matt, disagree about Michigan State easily being the highlight of the season. The game was marred with questionable penalties and calling by MSU's staff. To me the highlight of the season was the second-half defense against USC. Being able to beat your biggest rival basically without a functional QB and on the hands of a defensive performance remnant of '12 was the highlight of the year for me.
[+] Enlarge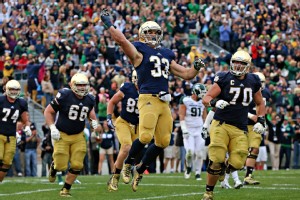 Jonathan Daniel/Getty ImagesPulling out a victory over Rose Bowl champion Michigan State was the biggest achievement for Notre Dame in 2013.
Matt Fortuna:
I think both performances, to be fair, were far from aesthetically pleasing. And yes, we have to give Notre Dame's defense plenty of credit for its play in both games. But the circumstances are too big to ignore here. By beating Michigan State, Notre Dame helped reshape the national title picture. It was the only team to beat a very good Spartans squad, one that ended up winning the Rose Bowl. While it's always big to beat your archrival, let's also remember that USC was without
Marqise Lee
for the second half, committed 11 penalties and missed two field goals (from 40 and 46 yards), too. And I just can't erase the memory of the Fighting Irish offense coming to a standstill once
Tommy Rees
went down. No points from either team in the final 30 minutes of a primetime game? No thank you.
Matt from Pittsburgh writes:
Matt, O-line starting 5 from LT-RT: Elmer, Hanratty, Martin, Lombard, Stanley? Also how do you see the D-line and linebackers forming out?
Matt Fortuna:
That would probably be my early guess, though I'll keep a close eye on that group this spring since Martin will still be out.
Matt Hegarty
started at center in his place but provides plenty of flexibility, too, so it will be interesting to see where he fits into the picture next fall. My guess for defensive line would be
Sheldon Day
,
Jarron Jones
and
Isaac Rochell
, only because I don't know how ready
Tony Springmann
(ACL, infection) is. If he's 100 percent, it's easy to see him starting. And I'm anxious to watch
Chase Hounshell
, who saw the field as a true freshman in 2011 but has missed the last two seasons with shoulder injuries. Same with
Jarrett Grace
at the mike linebacker position (probably not this spring), with possibly
Kendall Moore
starting next to him.
Jaylon Smith
(dog) and
Ishaq Williams
(cat) will be expected to start if and when Brian VanGorder employs a 3-4 scheme, though he said last week he had not delved into schematics yet. Could we see Williams and/or
Romeo Okwara
play on the line some more? And where will
Ben Councell
fit into the picture once he's back from his ACL tear?
Jim from Chicago writes:
Matt, What role do you see
Torii Hunter Jr
. having next year? Seemed to be the most athletic freshman WR before the injury. Can he work his way into the rotation with Daniels out in spring ball?
Matt Fortuna:
He's the guy on offense, outside of
Everett Golson
, whom I most want to see this spring. The opportunities will be there for the taking with Daniels gone until the fall, and Hunter was able to battle back from that nasty leg injury to win offensive scout team player of the year. I'm also curious to see what kind of improvements
Corey Robinson
can make, given his size and potential. In limited practice viewings he seemed to be always making plays, but in games this season there were times where he looked like he could've used a couple of extra pounds.
Chris Kosiak (@C_K_42) writes:
Justin Brent
going to push for playing time next year? Or does he RS?
Matt Fortuna:
It's probably too early to say, though, like Hunter, he'll have a great opportunity to showcase himself this spring with Daniels out. Last year Robinson and
James Onwualu
enrolled early and ended up taking advantage of the spring transfers of Davonte Neal and
Justin Ferguson
, resulting in playing time during the 2013 season. Notre Dame's receiving corps was young then and is young again now, so playing time will likely be there for the taking.
Michael Hughes (@designwithmike) writes:
More important to ND success in '14: Red-zone execution or finding good to great defensive leadership?
Matt Fortuna:
Good question. I'll go with red-zone execution, since I expect this Notre Dame team to rely much more on its offense than it has so far in the Brian Kelly era. And that means the Irish will have to capitalize on more red-zone opportunities and score more points. With Golson back at the helm after a semester spent training with quarterback guru George Whitfield Jr. and an improving backfield, I think you'll see the Irish take more chances offensively. None of this is to minimize the importance of defensive leadership, but that's just such an unknown factor at this point, especially since we have yet to see these players get coached by and respond to VanGorder, who seems nothing like Bob Diaco from a personality standpoint.
January, 22, 2014
Jan 22
9:00
AM CT
For three years, Brian Kelly had success like few others in recruiting players back to school. Sure, Kyle Rudolph left after Year 1 of the Kelly era, but since then the Notre Dame coach had successfully gotten Michael Floyd, Manti Te'o, Tyler Eifert, Louis Nix and
Zack Martin
to come back to the Irish for their fourth (and, in Martin's case, fifth) seasons of college ball.
That changed drastically this season. With several highly projected underclassmen on their roster, the Irish figured to say goodbye to one or two underclassmen early. And even when Kelly said in late December that he had submitted paperwork to the NFL advisory board for
Stephon Tuitt
,
Troy Niklas
and
George Atkinson III
, few expected all three to leave school early.
Then January came along, and within one week's span, all three players declared for the draft, choosing to avoid the recent trend and skip their final seasons. Each had his reasons, so here's a look at the trio and a look at who on the Irish roster will be tasked with filling the big shoes in 2014.
(Worth noting: Nix, who had a fifth season of eligibility available to him in 2014, is not included in this group, because he graduated in December.)
Leaving:
Stephon Tuitt
Replacement:
Isaac Rochell
The outlook:
It is worth noting that
Justin Utupo
will return for a fifth year
and that veterans
Tony Springmann
(ACL, infection) and
Chase Hounshell
(shoulder) are expected to be back at full health next fall after both missed the 2013 season. Together, all will be counted on to replace the production of Tuitt, who was one of the best pass-rushers in school history. Still, if the Irish are looking for a youngster to step up, they will turn to Rochell, who ended up seeing much more playing time as a true freshman than initially expected this past fall, given the injury bug that affected the Irish in the trenches. ESPN's No. 139 overall player from the class of 2013 played in 11 games, recording 10 total tackles. The 6-foot-3.5, 280-pounder is a far cry from the 6-foot-6.5, 312-pound Tuitt physically, but most typically are. The bottom line is Tuitt will be the hardest of Notre Dame's early departures to replace, but Rochell will probably see his role increase the most in his sophomore season. Junior
Sheldon Day
, entering his second year as a starter, will be counted on even more this coming fall as well.
[+] Enlarge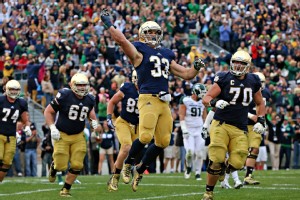 Jonathan Daniel/Getty ImagesCam McDaniel (33) led the Irish with 705 rushing yards in 2013.
Leaving:
George Atkinson III
Replacement:
Cam McDaniel
,
Tarean Folston
,
Greg Bryant
The outlook:
Atkinson should be the easiest of the early departures to replace, as his playing time and production took a big dip late during this past season. He was ultimately suspended for the New Era Pinstripe Bowl for what Kelly called a violation of team rules, a violation that Atkinson later tweeted (and then deleted) consisted of him texting during a team meal. Still, the Irish have the always-reliable McDaniel back for another year, and the Coppell, Texas, native actually had more carries (152-93) and rushing yards (742-583) than Atkinson in 2013 while helping with kick-return duties as well. The most important developments to keep an eye on, though, are those of Folston and Bryant, both of whom came to Notre Dame as highly touted four-star backs expected to deliver immediate boosts. Bryant had trouble gaining playing time early and ultimately suffered a knee injury that forced him to take a medical redshirt, but Folston came on strong late in the season, finishing with 88 carries for 470 yards and three touchdowns. Things will be tougher next season with a rebuilt offensive line, and all of these backs need to improve as pass-catchers, but there remains plenty of promise in the fold. Let's not rule out redshirt junior
Amir Carlisle
, either.
Leaving:
Troy Niklas
Replacement:
Ben Koyack
The outlook:
Niklas, who began his career at linebacker, played tight end at Notre Dame for just two years, coming on this past fall after the departure of Eifert, as he hauled in 32 passes for 498 yards and five touchdowns. He was improving as a blocker and was on track to become one of the best tight ends in the country next season. Now Koyack will be tasked with a bigger workload in his senior season. He, too, came on strong late last season, finishing with 10 catches for 171 yards and three touchdowns, though he often played in two-tight-end sets with Niklas and gave the Irish plenty of offensive flexibility.
November, 19, 2013
11/19/13
1:20
PM CT
SOUTH BEND, Ind. -- There was less talk Tuesday about those who won't play this weekend and more talk about those who will play at home for the final time.

Saturday brings Senior Day for Notre Dame, which will honor 33 fourth- and fifth-year players before the Irish face BYU. Brian Kelly took time at his weekly press conference to reflect on the careers of many of them, notably offensive stalwarts like
Tommy Rees
and
TJ Jones
and defensive ones like
Dan Fox
and
Carlo Calabrese
.
And as of now, no one has been ruled out for joining them for the tilt against the Cougars, with Kelly saying
Ishaq Williams
(ACL sprain),
Kona Schwenke
(high-ankle sprain),
Isaac Rochell
(ankle sprain) and
Jarron Jones
(ankle sprain) all practiced Monday without any setbacks, though Williams remains day-to-day.
Williams has not played since the Oct. 26 game at Air Force, while Schwenke was injured the following week against Navy and the other two defensive linemen suffered their sprains one week later at Pitt.
It remains status quo for one other player who won't participate Saturday, as Kelly reiterated that Everett Golson would be eligible to practice with the Irish in the lead-up to their bowl game if he is readmitted to school. Kelly said he cannot comment on Golson's academic status but that a decision would probably come sometime in mid-December.
November, 4, 2013
11/04/13
9:00
AM CT
SOUTH BEND, Ind. -- As Brian Kelly was finishing up his postgame press conference Saturday, an unexpected visitor made an appearance during the penultimate question.
"Jaylon, we'll be done in a second," Kelly said to
Jaylon Smith
, who had entered prematurely. "I know it's your press conference, but I'll be done in a second, and we'll let you get going. Is that all right?"
"Sorry," Smith said to the room of reporters. "I'm new to everything."
Within 24 hours, it turned out the freshman linebacker would be a seasoned veteran by Notre Dame's defense's standards. The Irish are hurting on that side of the ball -- just trying to get by, in a sense, with this weekend's game at Pitt preceding a much-needed bye before a two-game stretch against BYU and at Stanford.
[+] Enlarge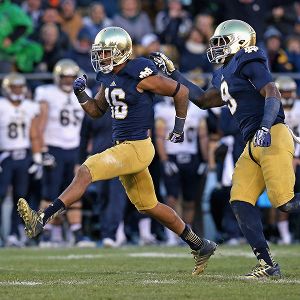 Jonathan Daniel/Getty ImagesSafety Eliar Hardy (left) is one of several Notre Dame reserves that were pressed into action due to injuries.
BCS dreams have essentially taken a backseat to figuring out just who is going to play and where, and how the remaining available guy will get ready for when their time comes.
"I think this is probably close to the pinnacle," Kelly said during Sunday's teleconference when asked if this defense has been hit as hard as any he's had in 23 years as a head coach. He added: "They don't give you any points for complaining about it. If they did, I'd complain every minute. So we just take care of it internally and get the next guy ready."
Ben Councell
, the man behind Smith most of the season at the dog linebacker spot,
was ruled out for the season Sunday after suffering a significant knee injury in the 38-34 win over Navy
. Smith and Councell, of course, waged a preseason battle for a starting spot only after senior
Danny Spond
, last season's starter, was forced to retire because of hemiplegic migraines. And the linebacking corp is less than a month removed from its other big hit, when
Jarrett Grace
broke his leg in the Oct. 5 Arizona State game, costing the Mike linebacker the rest of his redshirt sophomore season.
It only gets worse up front, where
Kona Schwenke
is lost for at least this Saturday's game at Pitt because of a high-ankle sprain suffered on the Midshipmen's final drive. And Schwenke was only starting these last two games in place of nose guard
Louis Nix III
, who at first was ruled to have a shoulder injury suffered in the USC game, and then knee tendinitis, and now tendinitis and a small meniscus tear, though the school says he will practice this week after undergoing an MRI Sunday. Before that, Schwenke filled in for end
Sheldon Day
, who missed most of a three-game stretch after leaving a Sept. 14 game against Purdue with a high ankle sprain, and then re-aggravated said ankle sprain against Navy.
And no, it is not a coincidence that most of these injuries have come during this two-game stretch against Air Force and Navy, teams that often cut-block.
"It's unfortunate," Kelly said. "It's the style of offense that the academies play. It is what it is."
Kelly said it will make sense to possibly avoid scheduling multiple option teams in a single season, but that is a bridge he will cross when he gets to it. For now, his next-man-in philosophy is being tested by, well, a lack of next-men-in.
He said he guards against that by putting those who saw 15 or fewer plays in a game through extra conditioning that following Monday, while reserves get roughly half the work of the starters during 11-on-11 and scout team work in a given week.
"I think that we're so close that you don't really think about it in terms of, Oh, I've never seen you out here," redshirt senior linebacker
Dan Fox
said. "We get a lot of guys in at practice, there's a lot of reps to go around, so next man in and next man in."
Underclassmen such as
Jarron Jones
,
Isaac Rochell
and
Romeo Okwara
have been thrust into more meaningful time than most could have reasonably expected entering the season, while names unfamiliar to all but the closest of program observers --
Tyler Stockton
,
Justin Utupo
and
Eilar Hardy
, to name a few -- saw extended action.
The last of those names, Hardy, helped set Smith up for the game-clinching tackle on Navy's
Shawn Lynch
during the visitors' final fourth-and-4 try. And he was only there because
Austin Collinsworth
suffered a neck strain that will require an MRI Monday.
Fellow safety
Elijah Shumate
, meanwhile, is expected to play against the Panthers after being sidelined the last three games with a hamstring injury, though Kelly had said the sophomore would play going into the Navy game, too.
There are also the knee injuries to left guard
Chris Watt
(PCL) and cat linebacker
Ishaq Williams
(ACL), both of whom left the Air Force game a week ago but only one of whom, Watt, could possibly return this week, depending on how quickly the redshirt senior can acclimate to the knee, which will not require surgery. Williams was in an immobilizer this week and could possibly return for the Nov. 23 BYU game.
The return of Watt would give Notre Dame four of its five starters back on the offensive line, as it lost right guard
Christian Lombard
for the season because of back surgery after the USC game. Still, the bruises have taken their biggest tolls on the other line, which during the spring and summer lost reserves
Chase Hounshell
(shoulder) and
Tony Springmann
(knee) for the season, in addition to seeing freshman signee
Eddie Vanderdoes
leave for UCLA.
All of it leaves the Irish, winners of four in a row, crawling to the finish line, every last piece of Kelly's three straight top-10 recruiting classes fitting into the plan for his push toward a second straight BCS-bowl berth.
"We are running out of next men. We're at that point where from a defensive standpoint, and particularly the defensive line, we're left with very few options," Kelly said, adding, "We'll figure something out. We'll get 11 guys out there. It's just not going to be one of those things where we're going to have the same group of guys out there all the time. As you know, we're going to have to find a way to stop a big, physical offensive line at Pittsburgh, and that is the thing that concerns you the most."
October, 23, 2013
10/23/13
9:00
AM CT
SOUTH BEND, Ind. -- Mondays are for the film room, where
Matt Rochell
scouts the defensive linemen he will be tasked with protecting his quarterback from five days later. Notre Dame, which boasts two likely first-round picks on its defensive front, is loaded in that department, so the Air Force left tackle was extra attentive this week.
Then Rochell saw a familiar 6-foot-3.5, 280-pounder sub in for a play against USC, momentarily freezing his focus.
[+] Enlarge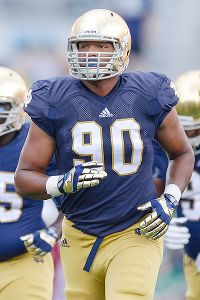 Robin Alam/Icon SMINotre Dame freshman defensive lineman Isaac Rochell was ranked No. 139 in the 2013 ESPN 300.
"That was weird," Rochell laughed of the prospect of seeing No. 90 on the big screen.
Matt Rochell was watching
Isaac Rochell
, his younger brother. The two played together at Eagles Landing Christian Academy (Ga.), but rarely were pitted against each other in practice. Saturday's meeting between the Irish and the Falcons will mark the first chance for that to happen, with the sophomore Matt in his first year of starting and the freshman Isaac seeing some time in every game so far as a reserve end.
"We're pretty close," Isaac said. "I talk to him all the time, as much as I can. I talk to him after every game, he talks to me after every one of his games and before, so we're pretty close."
That has not changed this week, with Matt saying that there is no vow of silence. Isaac kicked things off Monday by sending Matt a picture of the "Beat Air Force" countdown clock from the Irish's locker room. The players, who have no other siblings, are expecting a large contingent this week to fly into Colorado Springs, Colo., including parents, grandparents and uncles.
The brothers became aware of the potential opportunity during Isaac's official visit to Notre Dame in January, long after he had already committed, though it seemed so far off in the distance that neither gave it much thought.
It is not much of a typical sibling rivalry, Matt insists, as they never fought much growing up.
"I just tried to make good decisions, because I saw friends with older brothers who made bad decisions and your little brother watches that and he might make that bad decision earlier and he might start in a different trajectory," Matt said. "But really it was more of a friendship than like big brother-little brother. Maybe he'd say something different, but I just thought of us as more friends. I just tried to make good decisions, but it always seemed like we were just friends instead of me being some type of older role model-type guy."
The closest they came to squaring off was during Isaac's sophomore year of high school, with interest from college coaches already coming in hot and heavy. Then, the staff pitted the siblings against each other in a board drill for visiting coaches from UCF.
Still, Isaac, at least, could hardly muster a serious game-face.
"Coaches were sitting there filming it, but he just said he remembers looking at me and I was like really serious, and he was like, 'Man, are you OK?' " Matt said. "Because you're the big brother, you're just like, I can't lose. Whereas he's just like, It doesn't really matter -- a win-win type of thing."
The pressure has risen considerably for Isaac since, with the rookie adding 20 pounds after arriving to campus this summer and seeing more and more opportunities open with each hit to the Irish's defensive line. He most recently saw extended action in three straight games before starting end
Sheldon Day
fully returned from a sprained ankle this past Saturday, though he has tried not to look at this campaign as an easing-in exercise behind a line that includes All-Americans
Stephon Tuitt
and
Louis Nix III
.
"I don't think it's as much that as it is like you're behind a guy that's really super good," Isaac said. "So you're just like seeing them work and seeing how they handle different situations in the game as far as different blocks you'll get and stuff. You really get a good idea of how you need to attack that particular situation. So I think that's the main thing. I don't think easing into the situation is anything I've really thought about. I just think the main thing is learning from them and learning from their accomplishments and what they're doing."
All in the hopes of getting on the field and making plays, which could present a different kind of challenge come Saturday with so many familiar, confused faces in the crowd.
"It has to be weird watching both your kids on the same field and then maybe even play against each other," Matt said. "That's like a dad's dream, so my dad's really loving it. Just the fact that we're going to be on same field is kind of a huge deal. I don't know, my mom might be emotional. It's exciting for them though. If my kids did that I would be just ecstatic."
October, 17, 2013
10/17/13
2:00
PM CT
SOUTH BEND, Ind. -- It seemed as if every time
Sheldon Day
took a step forward from his ankle sprain, a setback would soon follow.

He warmed up before the Michigan State game on Sept. 21 after leaving the Purdue game a week earlier, but he ended up needing another week. Another week — and another warmup — came before the Oklahoma game, then Day tweaked the ankle prior to kickoff, forcing him to miss his second straight game as reserve nose guard
Kona Schwenke
again slid over and took his place.
Coach Brian Kelly then said two days before the Arizona State game that Day would definitely play, but the sophomore ended up leaving the field after the game's first snap.
A bye week since has appeared to be the perfect medicine for the 290-pound defensive end as he readies for a return in Saturday's primetime affair with USC.
"I feel like last week during the bye week I became really confident in my ankle, and just the things that I can do, my abilities and just the little things," Day said of when he finally felt healthy.
Day, who suffered the injury late in a Week 3 win at Purdue, said the view from the sideline gave him a different perspective on the game and his position, as he would regularly help explain to younger fill-ins like
Isaac Rochell
what he saw on certain plays.
He thinks the time off allowed him to shore up some loose ends of his own, too.
"Just definitely my hand placement," Day said. "I feel like when I was playing, I was kind of losing my hand placement, going everywhere, and I've been focusing on that and just getting back to the little things."
The Indianapolis native sat with a smile on his face throughout Wednesday night's session with reporters, happy to put behind the injury that had him so close yet so far these past three games. He's finally ready to reclaim his starting role along the defensive line.
"I feel like it's just a nice little process," Day said. "You never know where the process ends up or how long the process will take. But at the end of the day, it's all about feeling your best."
December, 10, 2012
12/10/12
9:50
PM CT
Notre Dame has gotten quite the lift off the field following a 12-0 regular season on it.
Look no further than this past weekend, when four-star running back Greg Bryant
pledged to the Irish
, one day after the school
beat out Ohio State for Class of 2014 Watch List offensive lineman Jimmy Byrne
.

Bryant, Notre Dame's 22nd 2013 commit, immediately becomes the Irish's second-highest rated prospect, beyond Jaylon Smith. And he will likely have the chance to step in immediately, with the Irish losing Theo Riddick and possibly Cierre Wood after this season.
With Bryant, George Atkinson III, Cam McDaniel, the yet-to-be-seen Amir Carlisle and freshman William Mahone, the Irish should have no shortage of backs to turn to next season, and the different styles each brings will create an interesting dynamic.
The addition of Bryant
moved Notre Dame up one spot, to No. 3, in ESPN's class of 2013 recruiting rankings, behind USC and Florida
.

You can read scouts' take on Bryant
here
.

Below, we break down the Irish's 2013 and 2014 recruiting classes. The 2013 class features eight ESPN150 prospects (*), four ESPN300 prospects (**), 17 four-star commits and one five-star. The Class of 2014 consists of four players, three of whom are ESPN Watch List members.
Class of 2013
Five-star OLB Jaylon Smith (Fort Wayne, Ind./Bishop Luers)*
Four-star RB Greg Bryant (Delray Beach, Fla./American Heritage-Boca-Delray)*
Four-star WR Torii Hunter Jr. (Prosper, Texas/Prosper)*
Four-star OLB Alex Anzalone (Wyomissing, Pa./Wyomissing)*
Four-star OT Colin McGovern (New Lenox, Ill./Lincoln-Way West)*
Four-star OT Hunter Bivin (Owensboro, Ky./Apollo)*
Four-star DE Isaac Rochell (McDonough, Ga./Eagles Landing Christian Academy)*
Four-star OLB Doug Randolph (Woodberry Forest, Va./Woodberry Forest)*
Four-star QB-DT Malik Zaire (Kettering, Ohio/Archbishop Alter)**
Four-star CB Devin Butler (Washington/Gonzaga)**
Four-star RB Jamel James (Katy, Texas/Cinco Ranch)**
Four-star TE-Y Mike Heuerman (Naples, Fla./Barron Collier)**
Four-star ATH Rashad Kinlaw (Galloway, N.J./Absegami)
Four-star ATH James Onwualu (St. Paul, Minn./Cretin-Derham)
Four-star OT Mike McGlinchey (Philadelphia/William Penn)
Four-star ILB Michael Deeb (Plantation, Fla./American Heritage)
Four-star OT Steve Elmer (Midland, Mich./Midland)
Four-star CB Cole Luke (Chandler, Ariz./Hamilton)
Three-star OT John Montelus (Everett, Mass./Everett)
Three-star WR Corey Robinson (San Antonio/San Antonio Christian)
Three-star TE-Y Jacob Matuska (Columbus, Ohio/Bishop Hartley)
Three-star WR William Fuller (Philadelphia/Roman Catholic)
Class of 2014
TOP 25 SCOREBOARD
Saturday, 12/21
Monday, 12/23
Tuesday, 12/24
Thursday, 12/26
Friday, 12/27
Saturday, 12/28
Monday, 12/30
Tuesday, 12/31
Wednesday, 1/1
Thursday, 1/2
Friday, 1/3
Saturday, 1/4
Sunday, 1/5
Monday, 1/6
TOP PERFORMERS