Chicago Colleges:

Jahlil Okafor
November, 15, 2013
Nov 15
5:07
PM CT
August, 30, 2013
Aug 30
3:50
PM CT
Morgan Park coach Nick Irvin may be biased, but he believes senior forward Josh Cunningham is going to do big things in the future.
"Josh is going to be a NBA player," Irvin said on Friday. "There's three guys that stick out --
Jahlil Okafor
,
Cliff Alexander
and Josh. He's a sponge. He's getting better and better each year. He's tough. He understands basketball. He plays hard. He's young. He's only going to get better."
Cunningham isn't considered by most to be an NBA prospect at this point, but his profile is growing. He's ranked No. 27 among power forwards by ESPN and is starting to get even more recruiting interest. He already has offers from Creighton, DePaul, Iowa, Iowa State, Minnesota, Northwestern, Oklahoma and St. John's, but now Michigan State has also reached out to him. Illinois has also touched base. According to a source, he's a priority for Northwestern.
"Michigan State is coming in hard," Irvin said. "They've been on him, but haven't offered. They have high interest in him. He's got two visits set up in Iowa State and Oklahoma."
Irvin said he expected Cunningham wait until the spring to decide.
Here are some other local recruiting notes:
• Whitney Young senior center Jahlil Okafor, the No. 1 player in the country, is making an official visit to Baylor this weekend. He will be joined on the trip by
Tyus Jones
, who is ranked No. 3. Okafor is considering Arizona, Baylor, Duke, Illinois, Kentucky, Kansas, Michigan State and Ohio State.
• Illinois is getting an official visit this weekend from White Station (Memphis) senior forward
Leron Black
, who is ranked No. 36. Black recently cut his list to Baylor, Illinois, Indiana and Tennessee.
• UIC received a commitment from Munster (Ind.) combo guard Drew Hackett on Thursday.
• According to a source, DePaul is working on setting up official visits with Whitney Young senior forward
Paul White
, who is ranked No. 57, and Christian Brothers (St. Louis) senior shooting guard
Pat McCaw
, who is ranked No. 87. White recently cut his list to Arizona, Connecticut, DePaul, Georgetown and Minnesota.
• Benet senior center
Sean O'Mara
, the No. 20 center in the country, will make an official visit to Loyola next weekend. O'Mara is considering Loyola, Massachusetts, Seton Hall, Wake Forest, Wichita State and Xavier.
• Illinois will receive an unofficial visit from Ballard (Ky.) senior point guard
Quentin Snider
on Sept. 29. Snider, a former Louisville recruit, is considering Cincinnati, Connecticut, Illinois, Oklahoma State, UCLA and USC.
• Northwestern offered Fenwick senior shooting guard
Scott Lindsey
on Monday. Lindsey is expected to make official visits to Iowa, Nevada and Northwestern. He is making an unofficial visit to Vanderbilt this week.
• Simeon junior forward
D.J. Williams
, who is ranked No. 32, will make an unofficial visit to Illinois this weekend and attend the Illini's football game.
• Hinsdale Center sophomore center Barret Benson, Whitney Young sophomore guard Skyler Nash and Sandburg senior forward
Malek Harris
, all of whom play for the Illinois Wolves, will attend Marquette's Midnight Madness on Oct. 11. Harris is committed to Marquette. Benson was recently offered by Penn State.
• North Chicago senior JayQuan McCloud will visit Murray State on Sept. 13 and Rhode Island on Sept. 20.
• Chicago State received a commitment from Richards senior power forward
Josh Meier
on Thursday.
August, 2, 2013
Aug 2
7:26
PM CT
Illinois coach John Groce and his staff have narrowed their recruiting focus for the class of 2014. Here's a look at the players the Illini are recruiting:
Curie (Chicago) power forward Cliff Alexander:
Alexander, the nation's No. 2-ranked senior by ESPN, is the priority for Illinois. He would be the biggest recruit in the program's history since the Illini landed Marcus Liberty and Deon Thomas in the late 1980s. Alexander would likely only stick around one season, but he could do wonders for Illinois on the floor in that one year and off the floor in recruiting, especially in Chicago, for many years to come. Groce was glued to Alexander's club games in July. Alexander, his parents and his coaches are said to be in communication with Groce and his staff often. Sources have indicated Alexander is high on the Illini, and those around Alexander are pleased with Illinois' constant contact.
Whitney Young (Chicago) center Jahlil Okafor:
Okafor, the nation's No. 1 recruit, hasn't cut Illinois from his list, and Illinois hasn't stopped recruiting him, but his coming to the school likely won't happen. Okafor and
Tyus Jones
have been adamant about wanting to play with together, and Jones isn't interested in Illinois, and Illinois isn't recruiting Jones. The math is simple. Illinois' hope has to be for Okafor and Jones not to end up somewhere in the Big Ten. They're considering Michigan State and Ohio State.
White Station (Tennessee) power forward Leron Black:
Illinois feels as good about its chances with Black as anyone it's recruiting in the senior class. Black, who is ranked No. 36 in the country, has other schools, including Florida, Indiana and Louisville, after him, but the Illini have been pursuing him for some time now and have built a relationship. If Illinois received a commitment from Alexander or Black, it wouldn't mean the Illini would lose out on the other player. Illinois believes Alexander, a big-bodied power forward, and Black, a more slender and high-motored power forward, could play perfectly together and have been trying to sell them on that.
Ballard (Kentucky) point guard Quentin Snider:
Snider, who is ranked No. 28, recently de-committed from Louisville and re-opened his recruitment. Illinois has already been in touch and offered him a scholarship. Groce is still looking for his point guard of the future, and Snider could be that. A lot of schools, including several in the Big Ten, are reaching out to Snider, so it may be some time before he creates a list and figures out whether he'll consider Illinois.
Morgan Park (Chicago) power forward Josh Cunningham:
Illinois has expressed some interest to Cunningham and his high school and club coach Nick Irvin. The Illini have invited Cunningham to come on campus for a visit. Cunningham has drawn some Big Ten interest from Iowa, Minnesota and Northwestern and has also been recruited by DePaul, but he's still likely a long shot to get an offer from Illinois. If things fall through with Alexander and Black, Cunningham could be Plan C. Cunningham has said he's going to take his time with his recruiting, so that could play into Illinois' favor down the road. Either way, the Illini are covering their tracks in case they want to pursue Cunningham harder at some point.
Other notes:

Illinois has been in contact with the father of Marian Catholic (Illinois) senior point guard Tyler Ulis, but the Illini haven't picked up their recruiting of him.
Another Simeon player could be on the verge of getting a scholarship offer from Illinois. The Illini have been closely following class of 2016 guard Zack Norvell, a 6-foot-4 shooting guard.
May, 29, 2013
May 29
3:52
PM CT
Chicago Whitney Young High School center Jahlil Okafor, ESPN's No. 1-ranked junior, announced Wednesday a list of eight schools he's still considering in his recruitment.
Read the entire story.
February, 1, 2013
Feb 1
11:41
AM CT
By
Dave Telep
| ESPNChicago.com
Dave Telep's Friday recruiting notebook includes an introduction to one of the nation's most impressive freshmen, a look at Indiana's big recruiting weekend, why John Calipari's words resonated with the nation's No. 2 junior, Illinois putting in work on the recruiting trail and more.
Read the entire story here
.

December, 28, 2012
12/28/12
3:59
PM CT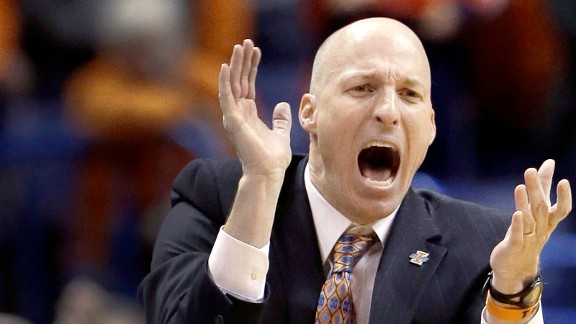 AP Photo/Jeff RobersonIllinois' John Groce is capturing the attention of recruits with the Illini's success.
Being Illinois' head coach got John Groce in most doors when he was first hired and began recruiting the Chicago area.
Groce's sales pitch then was a mixture of the past along with predicting the future. He spoke of what he had done at Ohio and what he thought he could with Illinois. Some recruits knew of Ohio because of Chicago product D.J. Cooper and its NCAA tournament appearances, but not everyone was familiar with the Bobcats.
September, 20, 2012
9/20/12
4:45
PM CT
Simeon senior guard
Kendrick Nunn
may not be the savior of the Illinois basketball program, but he may just attract that player.
[+] Enlarge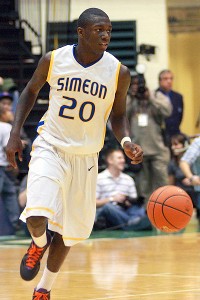 Scott Powers,/ESPNChicago.comKendrick Nunn is the 17th best shooting guard ranked by ESPN.
Nunn, who committed to the Illini on Saturday, certainly has basketball gifts. He can shoot. He can defend. He'll play hard. He'll do what is asked of him.
Whether he's a future all-American or has the NBA in his future, that's difficult to say now. He's a 6-foot-2 shooting guard who is ranked No. 56 in the country and is the 17th best shooting guard by ESPN and is ranked as high as 36th and low as 60th by other national recruiting sites. Within Illinois, City/Suburban Hoops Report recruiting analyst Joe Henricksen ranks Nunn behind Simeon teammate
Jabari Parker
, the nation's No. 1 player, and Belleville East's
Malcolm Hill
, another Illinois recruit.
Nunn's value to Illinois goes well beyond that, though.
For one, he's the first Chicago recruit for Illinois first-year coach John Groce. It doesn't hurt that Nunn is also from the state's premier program. Secondly, Nunn is the type of player who seems to fit into any system and tends to be on winning teams. Simeon and the U17 USA national team can attest to that. Finally, others players appear to like him as a person and teammate.
All of those reasons add up to Nunn possibly being the most important Illini recruit in the past decade.
July, 12, 2012
7/12/12
4:20
PM CT
Whitney Young center Jahlil Okafor, the nation's No. 2 junior, remains wide open in his recruitment and isn't affected by Jabari Parker's college list, according to Okafor's father on Thursday.
Parker, the nation's top ranked junior who plays with Okafor on the Mac Irvin Fire and the 17-and-under U.S. national team, released a list of 10 schools he was considering on Wednesday. The list included BYU, DePaul, Duke, Florida, Georgetown, Kansas, Kentucky, Michigan State, North Carolina and Stanford.
Okafor's father, Chukwudi Okafor, said Thursday his son's recruiting process was still in its infancy.

"Jahlil and Jabari are two different things," Chukwudi said. "It makes sense for Jabari to have a list now. Jahlil's goal is to get better, and everything else when the dust settles he will know about (his recruitment.)"
One of the biggest surprises of Parker's list was the exclusion of in-state Illinois. Chukwudi said Okafor won't be affected by that and is still open to being recruited by Illinois coach John Groce.
"I've spoken to coach Groce quite often," Chukwudi said. "He texts me. I talk to him and call him. He's trying. I give him that. I think he's trying to find the right way to build a relationship with my family. I think he feels he has a chance, and he does.
"I know it's the same old thing, but we have no idea right now. He's not going to Kennedy-King College or somewhere of that nature."
Chukwudi said he and his son would begin to delve deeper in the recruitment process this upcoming school year and begin making visits.
Okafor returned home to Chicago this week after earning MVP honors at the FIBA U17 World Championship in Lithuania. He averaged 13.6 points and 8.3 rebounds while helping the United States to an 8-0 record and a gold medal.
"That was a proud moment," Chukwudi said. "We watched Jabari get that last year and saw how hard he plays. That's one of those things that shows all of the hard work is paying off."
July, 12, 2012
7/12/12
4:11
PM CT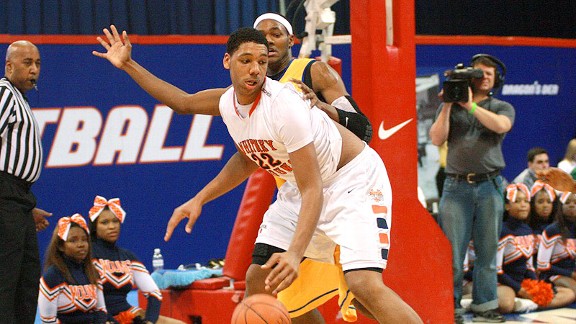 Scott Powers for ESPNChicago.comJahlil Okafor, the nation's second ranked junior, should now be the focus of John Groce's recruiting plan.
Simeon forward Jabari Parker, the nation's top-ranked basketball recruit, will not be playing his college basketball at Illinois. The fact that the program has that information in early July – on the heels of Parker excluding the Illini from his list of 10 possible landing destinations on Wednesday – is some sort of silver lining.
The Illini's chances of landing Parker have always been slim, and that was unlikely to change no matter how often first-year Illinois coach John Groce or his assistants sat courtside to watch Parker play in July. Now with Parker having excluded Illinois, the coaching staff can spend more meaningful time recruiting 2013 players they have a shot at securing. The coaches also can work on developing relationships with the elite 2014 and 2015 players and their families.
As Parker's father, Sonny, said Thursday, the decision to leave Illinois out of the mix wasn't anything personal. The Parker family has consistently emphasized that relationships are vital to Jabari's recruitment. To no fault of Groce's, he simply didn't have enough time to establish a relationship with Parker.
"I guess at this stage it's the relationship part," Sonny said. "Coach Groce, I've been talking to him. My wife has been talking to coach Groce. He seemed nice. (Jabari) had to have a relationship with him, too. It had nothing to do with the school per se. He has to feel comfortable with who's there and who's going to be the coach.
"I don't think he had a chance to (know Groce) because of scheduling and timing. It's hard for coaches to call Jabari because we don't allow coaches to call or text him. It was nothing personal (with Groce.)
"(Jabari) likes the school. His dream is to play for his state school and win a national championship like all kids, but I think the timing, where they were and where we're at."
Of course, that still isn't easy for Illinois fans to absorb. They've endured a recent history of the Chicago area's premier players bypassing Illinois and succeeding elsewhere. Sherron Collins, Jon Scheyer, Julian Wright, Derrick Rose, Evan Turner, Wayne Blackshear and Anthony Davis have been among those who ended up elsewhere and won a lot of basketball games at their out-of-state destinations.
In all likelihood, Parker will elevate the college he attends into a national championship contender in the 2013-2014 season and will be the No. 1 pick in the 2014 NBA draft.
Would Illinois like that type of prodigious talent? Certainly, and there's actually another Chicago product following up right behind Parker capable of having that same impact on a program. Whitney Young junior Jahlil Okafor, a 6-11 center currently rated as the No.2 player in the Class of 2014, appears to be one of those rare big men.
"Jahlil is right there with Jabari," said Mac Irvin Fire coach Mike Irvin, who coaches Parker and Okafor. "He's definitely right there. Jahlil is probably going to be the best big man this state has ever seen. He's grown a couple of inches. He's 6-11, mobile, can run the floor. He's a game-changer.
"He's a possible No. 1 draft pick. When you look at the No. 1 pick and the big men who have come out, he fits right there with the No.1 picks. He's special."
Okafor's father, Chukwudi Okafor, said Thursday that his son will not be impacted by Parker choosing to eliminate the Illini and that they are in their recruiting process was still in its infancy.
Irvin believed Illinois now must do anything it can to get Okafor.
"There aren't Jabari's and Jahlil Okafor's that come around often, maybe every 20 years," Irvin said. "Illinois' focus has to be on Jahlil Okafor now. You lose a Jabari, man, that's huge. That's a blow. Now your thing, if I'm the coach at Illinois, I have to convince Jahlil Okafor."
At the end of the day, it's possible that Parker's rejection of the Illini could lead to Okafor's acceptance of them.
June, 26, 2012
6/26/12
9:41
PM CT
Some of the Chicago area's most prominent high school and clubs coaches reacted positively Tuesday to
Illinois
hiring assistant coach Paris Parham.
Parham replaces Isaac Chew on Illinois coach John Groce's staff after Chew departed last month for a position at
Marquette
. Parham is expected to be the Illini's lead Chicago recruiter. He is a Chicago native, played at Dunbar High School in Chicago, coached at Phillips High School and Morgan Park High School in Chicago's Public League and has recruited the city and surrounding suburbs the last five years for
Illinois State
.
"It's rare a person gets an opportunity to do a do-over," said Whitney Young coach Tyrone Slaughter, whose roster includes nationally-ranked juniors
Jahlil Okafor
and
Paul White
. "I think coach Groce and the Illinois program got a do-over. We all liked the Chew hire, but I think the Paris Parham hire is one we love. It's means nothing negative against Chew. It's about the relationship we all have with Paris.
"I'm elated. This is one of the few times in Illinois basketball hire history that I can say I'm excited."
TOP 25 SCOREBOARD
Saturday, 12/7
Thursday, 12/5
Friday, 12/6
TOP PERFORMERS