Chicago Colleges:

Jalen Brown
December, 28, 2013
12/28/13
4:04
PM CT
Notre Dame finally pulled away from Rutgers to escape Yankee Stadium with a 29-16 win Saturday in the New Era Pinstripe Bowl. Here's how it went down:


It was over when: Tarean Folston punched it in from three yards out with 3:38 remaining to make it 26-16 and give Notre Dame some much-needed breathing room. Redshirt senior Dan Fox picked off Rutgers quarterback Chas Dodd on the ensuing drive to effectively seal the game. Kyle Brindza added a 49-yard field goal to make it 29-16.
Game ball goes to: Folston was named the starter by coach Brian Kelly earlier this week. Before the game, Kelly issued a statement saying that George Atkinson III (and cornerback Jalen Brown) would not play due to a violation of team rules, which Atkinson tweeted (and then deleted) was him texting during a team meal. In any event, Folston took advantage of Atkinson's absence and might have gained the front-runner status for the starting running back job heading into next season. He capped his rookie year with 73 yards and a touchdown on 17 carries, adding three catches for 21 yards. Kudos to Cam McDaniel for being his reliable self, as he had 17 carries for 80 yards and added three catches for 29 yards. The duo did this behind an offensive line missing its three regular interior starters.
Stat of the game: Pick your poison: Notre Dame completely outdid Rutgers in first downs (31-16), total yards (494-236), takeaways (4-1) and time of possession (38:16-21:44). It is hard to imagine how the Scarlet Knights managed to stay in this game for so long (19-16 with four minutes left).
Unsung hero: Brindza connected on 5 of 6 field goal attempts on what was an uneven surface, helping Notre Dame put up points whenever its offense could not punch it in. That was two field goals clear of the Irish's bowl game record. Credit to TJ Jones for catching five balls for 66 yards and carrying it four times for 16 yards and a touchdown in his college finale as well. (Oh, and let's not overlook Louis Nix, who is injured and has signed with an agent, meaning he could not travel with the team. That did not stop him from providing terrific Twitter commentary throughout the afternoon.)
What it means for Notre Dame: Let's just say the Irish had a lot more to lose in this one than they had to gain. But they can exit 2013 with a 9-4 record, their second-best mark since 2006. From an optimist's perspective, this is probably what was expected outside of the program when starting quarterback Everett Golson got suspended from school in May and once the injuries kept mounting as the season progressed. Stephon Tuitt's NFL decision will play a huge role in determining preseason expectations for this team, but getting Golson and many offensive weapons back will be huge for a program that has yet to really turn the corner offensively in four years under Kelly.
What it means for Rutgers: Goodbye American Athletic Conference, hello Big Ten. The Scarlet Knights had some opportunities to make this game a lot more interesting, but a number of questionable calls prevented them from gaining some much-needed momentum in this game, which in turn prevented them from gaining some positive momentum going into their new conference. First, coach Kyle Flood elected to decline an offside penalty on an 18-yard field goal by Kyle Federico, passing on an opportunity to go for a short touchdown in a game with little to lose and few touchdown opportunities to be gained. Later, the Scarlet Knights ran a halfback pass from the Irish 20 with Justin Goodwin, who tossed an interception to KeiVarae Russell. Michigan State made a similar mistake against the Irish earlier this year, and that one also was picked, a game-turning play in what turned out to be the Spartans' lone loss this season.
To watch the trophy presentation of the New Era Pinstripe Bowl, click here.
August, 20, 2012
8/20/12
10:57
PM CT
As Thursday's media day wound down, Kerry Cooks was asked by yours truly about the progress of Notre Dame's cornerbacks.

Here are the words that came out of the Irish cornerbacks coach's mouth over the ensuing 37 seconds:
"I think that
Lo Wood
wright now is probably playing outside of himself. He's playing, really, better than what I would have anticipated him playing at this point. He's our most experienced cornerback as far as actually going into the games and playing, and now it's really starting to show up. He's just playing with a different edge. It's one of those things that's really hard to explain. But he's confident, he's making plays, he's smart, he's being savvy, he's doing all those things that a guy who's played a lot of football for you will do. And he really hasn't played a lot. He's played the most, but he hasn't played a lot."
Now Wood won't be playing at all in 2012,
a victim Monday of an Achilles injury
that will rob him of his junior season. He has a redshirt year remaining and will presumably be back for 2013 and, depending on circumstances, 2014. As Cooks noted, Wood was the Irish's most experienced corner and their biggest surprise of camp, a notion head coach Brian Kelly acknowledged earlier this month.
What now?
Bennett Jackson
had the boundary spot locked up, but playing alongside him will likely be
Jalen Brown
, converted running-back recruit
KeiVarae Russell
or
Josh Atkinson
. Running back
Cam McDaniel
was moved to corner in the spring to add depth but had been cross-training at both positions as recently as late last week. Freshman safety recruit
Elijah Shumate
was moved to cornerback during camp. Versatile fifth-year safety
Jamoris Slaughter
saw some action at corner in the spring, but the Irish are already
down a man at safety
with the loss of
Austin Collinsworth
(shoulder surgery). And, of course, the Tee Shepard experiment lasted less than two months, something the four-star cornerback
reminded us all about once again earlier Monday in another tweeting barrage
.
For those keeping count, that's two (Brown, Atkinson) remaining healthy Notre Dame cornerbacks who were actually recruited at the position.
Aaron Lynch
transferred this spring, but Notre Dame's defensive line has enough talent to still be strong.
Tommy Rees
got arrested a short while later, but three other highly touted quarterbacks had been waiting in the wings to start the season. As for Wood's injury? Well, the Irish never exactly
knew
what they would be getting from a first-time starting corner, and they will still have to wait until Sept. 1 to get an answer.
It's just much less certain.
March, 29, 2012
3/29/12
8:00
AM CT
Our breakdown of Notre Dame's 2012 roster continues today with the defensive side of the ball.
DEFENSIVE LINE
The players:
Aaron Lynch
,
Louis Nix
,
Stephon Tuitt
,
Kapron Lewis-Moore
,
Tony Springmann
,
Chase Hounshell
, Sheldon Day,
Tyler Stockton
,
Kona Schwenke
The incoming:
Jarron Jones
,
Romeo Okwara
[+] Enlarge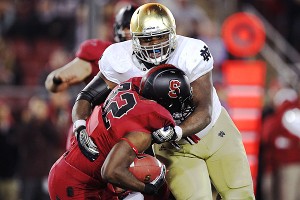 Ezra Shaw/Getty ImagesTackle Louis Nix is a key cog in what should be a strong, experienced defensive line for Notre Dame.
The breakdown:
Injuries forced all three current starters — Lynch, Nix and Tuitt — to play much more than expected last season, and none disappointed. They are all second-year players now, and their pass-rushing ability should have opposing offensive lines and quarterbacks on their heels. Lewis-Moore has been cleared for spring following a season-ending knee injury in 2011 but might not start, though he will likely see plenty of playing time as the line rotates. Hounshell (shoulder surgery) is not cleared yet, but he will likely see significant time this fall after playing as a true freshman last year as well.
LINEBACKERS
The players:
Danny Spond
,
Manti Te'o
,
Dan Fox
,
Prince Shembo
,
Kendall Moore
,
Ishaq Williams
,
Anthony Rabasa
,
Carlo Calabrese
,
Jarrett Grace
, Justin Utopo,
Connor Little
,
Ben Councell
,
Joe Schmidt
The incoming:
None
The breakdown:
As we said with
Tyler Eifert
yesterday, everyone knows what Te'o is capable of, as he likely would have been a first-round NFL draft pick had he left school following his junior year. Fox and Calabrese shared the other inside role last year, and their experience should prove valuable. Shembo has been working at the cat spot this spring, and up-and-coming talents like Williams and Spond figure to see extensive playing time.
SECONDARY
The players:
Bennett Jackson
,
Jamoris Slaughter
,
Zeke Motta
,
Lo Wood
,
Josh Atkinson
,
Austin Collinsworth
,
Dan McCarthy
,
Jalen Brown
,
Cam McDaniel
,
Eilar Hardy
,
Chris Salvi
,
Joe Romano
, Will Salvi,
Connor Cavalaris
,
Matthias Farley
,
Blake Breslau
The incoming:
Elijah Shumate
,
Nicky Baratti
,
C.J. Prosise
,
John Turner
The breakdown:
The loss of
Tee Shepard
really stings this group, which is down to four scholarship corners with a combined zero career starts. Jackson and Wood are in position to take over as the new starters, and playing time last season should help with the transition. At safety, Slaughter and Motta saw plenty of time the last two seasons, and Slaughter in particular has shown a nose for the ball and the capability of providing a leadership force that
Harrison Smith
is leaving behind. Collinsworth will likely also see plenty of snaps after playing last year.
August, 1, 2010
8/01/10
11:18
AM CT
By
Wes Morgan
| ESPNChicago.com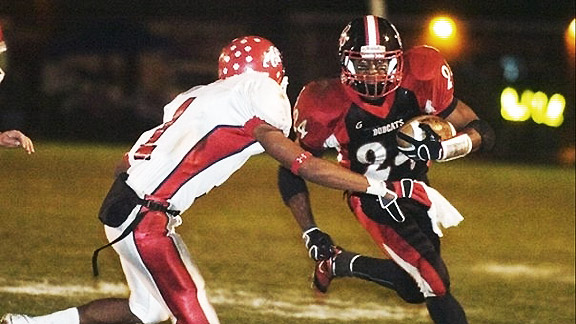 Courtesy of IrishSportsDaily.comJustice Hayes hopes to bring another Michigan native with him to South Bend.
Justice Hayes
, the first domino to fall in a wildly successful recruiting weekend for Notre Dame football, is now campaigning hard in his home state of Michigan to keep momentum rolling for a 2011 class nearing completion.
Without dropping names, the Grand Blanc, Mich., native, rated the No. 22 RB nationally by ESPN Recruiting, hinted at 4-star receiver
DeAnthony Arnett
, who lives just 37 miles to the north in Saginaw and was offered by the Fighting Irish on June 8.
"Right after my press conference Friday I got to work helping bring in more recruits," said Hayes, who is 5 foot 10 and 180 pounds. "It's going to be seen in a couple days. Just know we need some wide receivers, and we're going to try and bring some in. I pretty much knew that I could encourage others to join because big-time players have to bring in big-time recruits."
Following Hayes' verbal commitment Friday was that of Miami defensive end/outside linebacker
Anthony Rabasa
, who arrived on an official visit to South Bend on Wednesday. Cornerback
Jalen Brown
(Irving, Texas), the No. 23 player at his position in the country, according to ESPN, followed suit late the same evening. Coveted 4-star DE prospect
Aaron Lynch
, out of Cape Coral, Fla., pledged his allegiance early Saturday morning as the 16th commitment.
Hayes, who seriously considered Iowa, Michigan, Michigan State, Tennessee and Northwestern, said he was completely persuaded by first-yearch coach Brian Kelly and his staff without having given much thought to Notre Dame before treking to South Bend.
"I didn't expect anything out of [my visit two weeks ago]," he said. "That visit was a life-changing experience. After I talked to the coaches, that's when it really clicked. Coach Kelly is a winner, and we all see that. That's what we like about him."
Invited to play in the 2011 U.S. Army All-American Bowl in Jan., Hayes rushed for 1,295 yards and 12 touchdowns on 175 carries as a junior. He also caught 19 passes for 208 yards en route to all-state honors.
Lynch, with room to expand his 6-6, 245-pound frame, is widely regarded as the other key get for the Irish over the weekend. The Island Coast High School star chose Notre Dame over Florida, Florida State and Miami after registering 52 tackles and 16 sacks last season. In February, Island Coast coach Joe Bowen told irishsportsdaily.com, an ESPN affiliate, that Lynch planned to graduate early in order to participate in spring practices at his eventual school of choice.
Rabasa, who might end up playing outside linebacker for the Irish, had 80 tackles and 10 sacks for Columbus High School as a junior defensive end. The 6-3, 220-pounder had made official visits to Miami, Florida and Florida State.
Brown, an ESPNU 3-star recruit at CB, recorded 32 tackles, 13 pass breakups and an interception for MacArthur in 2009. He reportedly received offers from Nebraska, Wisconsin and Texas A&M among others and had not stepped foot on Notre Dame's campus prior to his decision.
"I'm excited about it and feel honored to be a part of that history," Hayes said about jump starting one of the most productive 24-hour recruiting periods in decades for the Irish. "We just want to get in and get to work."