Chicago Colleges:

James Onwualu
April, 18, 2014
Apr 18
8:00
AM CT
SOUTH BEND, Ind. — This week marked the first unofficial "off" week for
John Turner
. The redshirt sophomore's workload essentially doubled this spring, with the former safety learning a new position as a linebacker, a chore that would have been complicated enough had Notre Dame's defense not been undergoing a massive face-lift under new coordinator Brian VanGorder.
"After practice I usually go watch film with [outside linebackers] coach [Bob] Elliott, so I really haven't had any time off this spring," Turner said. "Just been putting in work, trying to get better."
Turner is hardly alone, as he is one of three notable players switching positions on the defensive side of the ball, an area that has become somewhat of a haven for fresh starts and surprises for the Irish during Brian Kelly's tenure as head coach.
James Onwualu
went from safety to linebacker this spring after playing wide receiver as a freshman last season. And
Matthias Farley
moved from safety to cornerback; he arrived at Notre Dame three years ago as a receiver.
Turner, who played cornerback while at Indianapolis Cathedral High, said the move from the secondary to linebacker this time around has been a far more difficult one, though the spring served as a nice transition period.
[+] Enlarge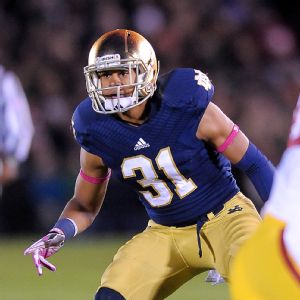 Cal Sport Media/AP ImagesJohn Turner is one of several underclassmen making a position switch for the Notre Dame defense.
"It was like a learning process the first, I'd say, eight, nine practices. Just getting used to like just being at the line of scrimmage, just being asked to do all the different jobs that they asked me to do," Turner said, adding that, toward the end of spring, "it's been starting to click a lot. Just knowing the defense and just being able to pretty much line up and do everything I need to for the most part."
Turner, who mostly played on special teams, is one of several underclassmen competing for potential starting roles on a retooled unit. Turner is getting practice time mostly in the Sam linebacker role in VanGorder's base defense. The circumstances are a bit different for Onwualu, if only because he earned meaningful action as a rookie last year, catching two passes for 34 yards.
Still, the 215-pound Onwualu's blend of size and athleticism made him an enticing prospect on the other side of the ball, with the sophomore starting this spring listed as a safety before being brought down into the box. He's mostly playing at the Sam position as well.
"Obviously the linemen are a little bit bigger, so you've got to learn how to beat them in different ways, and I'm trying to learn that every day with my technique and everything," said Onwualu, who played corner and safety at Cretin-Derham Hall (Minn.) High. "But I think that's really the only thing. My strength is up there with a lot of people, so I believe I can play in the box."
The moves are hardly unique to the Irish, as the position switches have become as much of a staple under Kelly as anything else. Four players who started in the secondary last year, for instance, had arrived to Notre Dame as receivers: Farley,
Austin Collinsworth
,
Bennett Jackson
and
KeiVarae Russell
.
VanGorder initiated this spring's moves shortly after his arrival, with the former New York Jets linebackers coach evaluating film and engaging in a series of conversations with both Kelly and the players.
"That evaluation started with film first, and then some training with them, watching them move around and all," VanGorder said. "But until you put the football down and put your cleats in the grass, there's a lot of ways to complete the evaluation. Now we're seeing them play the game of football, so there's some things we didn't have now that we've got to continue to evaluate. And then, in the end of this picture and the spring, we pretty much can define and profile a player in terms of who he is."
The returns from spring have been positive as the Irish search for unconventional ways to find playmakers among a relatively green group.
"I love him, I really do. I think he's a great guy. I think he's very honest and upfront about everything," Farley said of VanGorder. "You can talk to him about anything. He's personable, and that clicked from the start and I think everyone really feels that, and it's going to be really good for everyone moving forward."
March, 19, 2014
Mar 19
1:40
PM CT
Before Notre Dame opened spring practice earlier this month, Brian Kelly spoke of trying to find leaders on a young team with plenty of moving parts. Two weeks and just three practices later, that theme might be pushed to the back burner as the Irish search for identity within their personnel first.
[+] Enlarge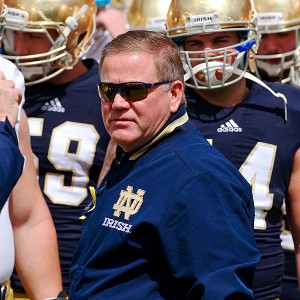 Matt Cashore/USA TODAY SportsHead coach Brian Kelly said Notre Dame players will focus on their positions this spring and on leadership over the summer.
"I normally would tell you in our first kind of get-together, it was really working on that leadership piece with our team, but our guys are so focused on their own deal right now, getting their own position work down, their own house in order," the fifth-year Irish coach said Wednesday. "They've got a lot of things going on, so that I think really what is most important is we get our handle on our personnel and really develop those guys at their positions right now. We'll spend some time in June, now that we have some time with our guys, we'll spend June really as that opportunity to develop that leadership with our guys.
"This spring is really going to be individually about gaining some consistency at those positions and who those guys are. I think that's how the spring needs to go for us."
Position changes have been common under Kelly, who noted that receiver-turned-safety
James Onwualu
could see time on both sides of the ball. Other players, such as safety-turned-linebacker
John Turner
and safety-turned-corner
Matthias Farley
, could carve out niches within Notre Dame's defensive packages.
Kelly was happy to see his players return from spring break in one piece and locked in on practice. The schedule laid out was less than ideal this spring, with Easter not until April 20 and with the school's break this past week, forcing the Irish to start practices earlier than normal (March 3 and 5) before going their separate ways for two weeks.
"I think they got away, they recharged their batteries, they enjoyed themselves, but they were mature enough to know that when they came back, they had some work to do," Kelly said. "I didn't feel like we took a step back in any fashion."
Notes
: Right guard
Christian Lombard
left practice early after spraining his wrist.
Conor Hanratty
replaced him. ... Notre Dame has not abandoned its search for reliable special-teams play. Kelly said he has broken out players into specific roles to ease the transition once fall camp arrives. "I don't know if you watched us, but we haven't been very good at special teams," he said.
January, 24, 2014
Jan 24
9:00
AM CT
It has been a while. What's on your minds?
Scott from St. Joseph, Mich., writes:
Matt, disagree about Michigan State easily being the highlight of the season. The game was marred with questionable penalties and calling by MSU's staff. To me the highlight of the season was the second-half defense against USC. Being able to beat your biggest rival basically without a functional QB and on the hands of a defensive performance remnant of '12 was the highlight of the year for me.
[+] Enlarge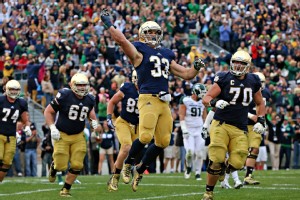 Jonathan Daniel/Getty ImagesPulling out a victory over Rose Bowl champion Michigan State was the biggest achievement for Notre Dame in 2013.
Matt Fortuna:
I think both performances, to be fair, were far from aesthetically pleasing. And yes, we have to give Notre Dame's defense plenty of credit for its play in both games. But the circumstances are too big to ignore here. By beating Michigan State, Notre Dame helped reshape the national title picture. It was the only team to beat a very good Spartans squad, one that ended up winning the Rose Bowl. While it's always big to beat your archrival, let's also remember that USC was without
Marqise Lee
for the second half, committed 11 penalties and missed two field goals (from 40 and 46 yards), too. And I just can't erase the memory of the Fighting Irish offense coming to a standstill once
Tommy Rees
went down. No points from either team in the final 30 minutes of a primetime game? No thank you.
Matt from Pittsburgh writes:
Matt, O-line starting 5 from LT-RT: Elmer, Hanratty, Martin, Lombard, Stanley? Also how do you see the D-line and linebackers forming out?
Matt Fortuna:
That would probably be my early guess, though I'll keep a close eye on that group this spring since Martin will still be out.
Matt Hegarty
started at center in his place but provides plenty of flexibility, too, so it will be interesting to see where he fits into the picture next fall. My guess for defensive line would be
Sheldon Day
,
Jarron Jones
and
Isaac Rochell
, only because I don't know how ready
Tony Springmann
(ACL, infection) is. If he's 100 percent, it's easy to see him starting. And I'm anxious to watch
Chase Hounshell
, who saw the field as a true freshman in 2011 but has missed the last two seasons with shoulder injuries. Same with
Jarrett Grace
at the mike linebacker position (probably not this spring), with possibly
Kendall Moore
starting next to him.
Jaylon Smith
(dog) and
Ishaq Williams
(cat) will be expected to start if and when Brian VanGorder employs a 3-4 scheme, though he said last week he had not delved into schematics yet. Could we see Williams and/or
Romeo Okwara
play on the line some more? And where will
Ben Councell
fit into the picture once he's back from his ACL tear?
Jim from Chicago writes:
Matt, What role do you see
Torii Hunter Jr
. having next year? Seemed to be the most athletic freshman WR before the injury. Can he work his way into the rotation with Daniels out in spring ball?
Matt Fortuna:
He's the guy on offense, outside of
Everett Golson
, whom I most want to see this spring. The opportunities will be there for the taking with Daniels gone until the fall, and Hunter was able to battle back from that nasty leg injury to win offensive scout team player of the year. I'm also curious to see what kind of improvements
Corey Robinson
can make, given his size and potential. In limited practice viewings he seemed to be always making plays, but in games this season there were times where he looked like he could've used a couple of extra pounds.
Chris Kosiak (@C_K_42) writes:
Justin Brent
going to push for playing time next year? Or does he RS?
Matt Fortuna:
It's probably too early to say, though, like Hunter, he'll have a great opportunity to showcase himself this spring with Daniels out. Last year Robinson and
James Onwualu
enrolled early and ended up taking advantage of the spring transfers of Davonte Neal and
Justin Ferguson
, resulting in playing time during the 2013 season. Notre Dame's receiving corps was young then and is young again now, so playing time will likely be there for the taking.
Michael Hughes (@designwithmike) writes:
More important to ND success in '14: Red-zone execution or finding good to great defensive leadership?
Matt Fortuna:
Good question. I'll go with red-zone execution, since I expect this Notre Dame team to rely much more on its offense than it has so far in the Brian Kelly era. And that means the Irish will have to capitalize on more red-zone opportunities and score more points. With Golson back at the helm after a semester spent training with quarterback guru George Whitfield Jr. and an improving backfield, I think you'll see the Irish take more chances offensively. None of this is to minimize the importance of defensive leadership, but that's just such an unknown factor at this point, especially since we have yet to see these players get coached by and respond to VanGorder, who seems nothing like Bob Diaco from a personality standpoint.
October, 18, 2013
10/18/13
12:30
PM CT
SOUTH BEND, Ind. --
TJ Jones
was the last Notre Dame player to meet the media this week, anxious reporters a casualty of what has become the senior's weekly routine of receiving a massage every Wednesday or Thursday. Those rubdowns come after practice, which Jones usually prepares for by attending treatment sessions on Sunday or Monday, all so that he can be ready for the running and hitting that awaits in Tuesday's practice.
What that treatment is for usually depends on which body part Jones hurt in the previous Saturday's game -- and if there is a Saturday Notre Dame game, Jones impairing an appendage of some kind is all but certain, even if the extent of the damage is not known in the immediate aftermath.
"Four years ago I would've been looking to miss practice," the senior said. "I would've really just kind of looked for every chance I got to kind of just milk the injury."
[+] Enlarge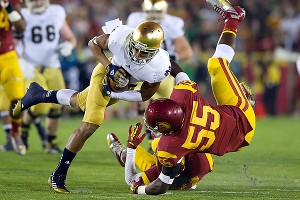 Matt Cashore/USA TODAY SportsNotre Dame wide receiver TJ Jones catches a pass in last year's game against the USC Trojans.
Not anymore, not as one of two Irish offensive captains on a unit still seeking its identity halfway through the season, with rival USC coming to town on Saturday night.
Yes, being Notre Dame's leading receiver and punt returner has taken a toll on a body that the program generously lists at 5-foot-11½ and 195 pounds. It is a frame that has withstood the beating that comes from being the Irish's go-to threat, from catching 33 passes for 481 yards and four touchdowns, from returning seven punts for 71 yards, and from being targeted countless times more.
"Overall, wide receivers are looked at to be some of the softer people out on the field, but TJ definitely shows that it's just the opposite," freshman receiver
James Onwualu
, Jones' roommate on road trips, said. "He gets hit a whole bunch in the game -- he's still sticking his head into plays, blocking for our running backs and doing everything he can when he doesn't have the ball as well. I think the toughness that he shows coming back every week to play his best for the team is really unselfish, and it makes him an even better player than he already is."
The most notable of the bruises came early in a Week 2 loss at Michigan, Jones coming down hard and suffering what coach Brian Kelly said the next day was a slight shoulder sprain. He finished with nine catches for 94 yards and a heads-up touchdown in the loss.
Notre Dame's next defeat was hardly kinder to Jones, who rolled an ankle late in the Oklahoma game.
Kelly, who raised a few eyebrows in August by publicly declaring Jones a first-round NFL talent, said the receiver's toughness has been acquired, a byproduct of being thrust into meaningful moments as a true freshman in 2010.
"He has elevated himself in the sense that he now plays with a mental and physical toughness," Kelly said. "There are times where those bumps and bruises that you mentioned -- which affect everybody, right, in this game of college football? -- may have affected him from week to week. It does not affect him now. He fights through them. He's in practice. He's on the ground diving and making catches. He's on the ground more in practice than any of our young freshmen because he's competing all the time.
"These are the marks of great players. Every great player that I've had practices that way. That wasn't the case with him, and he has developed that over his time here at Notre Dame. He's had others to see in terms of he's seen a Michael Floyd in the way they practice, he's seen a Manti Te'o, he's seen a Tyler Eifert and the way they practice. He's obviously at that level."
Jones, who volunteered for the vacant punt return spot this year, calls it all "normal soreness." He says he never let a nick or bump keep him from the practice field earlier in his career, but admitted "if there was something where I didn't have to go as hard, I may have taken a play off or jogged instead of ran full-speed back then."
The son of the late Andre Jones -- an end on the Irish's last national title team -- attributes maturity to his ability to recover so quickly. He has been more proactive over the years, learning to appreciate Notre Dame's athletic training staff more while jumping into the cold tub or onto the masseuse table quicker than he used to.
This past weekend's bye has served as a bit of a welcome reprieve, too.
"I enjoyed it a lot, this is the freshest I've felt since summer," Jones said. "This was the first real break we've gotten since our three-week-long camp this year, which was longer than normal. So this is the first time I'm actually feeling kind of refreshed and really 100 percent."
October, 8, 2013
10/08/13
4:00
PM CT
Notre Dame's first bye week comes at the season's midway point, giving us the perfect opportunity to make a decent evaluation of what this team's strengths and weaknesses are following a 4-2 start. We'll break this down into four categories over the next four days: offense, defense, special teams, coaching staff.
Without further ado, here is the first installment.
OFFENSE
Grade
: C+
Summary
: Notre Dame is averaging 27.3 points per game, a slight increase from last year's 25.77 mark. Of course, part of that is a result of playing from behind, something the Irish did against Michigan and Oklahoma, both losses. They found themselves in another shootout this past weekend against Arizona State and proved they were able to pull out a contest far different from some of the meat-grinders they endured in 2012.
[+] Enlarge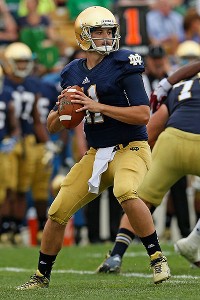 Jonathan Daniel/Getty ImagesTommy Rees has nine TD passes and just one interception in Notre Dame's four victories.
Tommy Rees
has been Tommy Rees. He eclipsed the 300-yard mark in the first three games. He threw two picks in a loss at Michigan, a game in which the Irish defense did the offense no favors. Rees misfired several times against a stout Michigan State defense, but he protected the ball and the Irish escaped the Spartans in a game reminiscent of last season. He became the easy scapegoat against the Sooners after throwing three picks — which Oklahoma turned into 21 points — but he received little help from his offensive line and receivers on two of those gaffes.
Andrew Hendrix
has appeared here and there, but Rees remains the Irish's best option at quarterback. Criticize Rees for his physical attributes if you must, but if you're going to get mad about the offense's make-up, blame the starting quarterback who got himself suspended for school this semester — after the program spent a whole spring investing in him to take charge. Rees stayed through the good and bad, has endured a lot more than most signal-callers has had to, and has kept a strong mindset through it all. Go back and watch the Purdue game, especially late in the second half, as he rallied the offense on the sideline, commanding the group's attention in a way only a senior with the respect of the entire locker room could. Brian Kelly has stuck by Rees, and he will continue to do so as long as Rees remains the offense's best option, which is what he is.
His offensive line has been stellar in pass protection, ranking eighth nationally in fewest sacks allowed per game (.60), surrendering just four on the season. That's all the more impressive when you consider Rees' lack of threat with his legs. Still, the running game had trouble getting off on the right foot, tallying three consecutive under-100-yard performances in games 2-4 before
George Atkinson III
broke out against Oklahoma. The Irish continued to build off that ground success last week against the Sun Devils, rushing for 145 yards. Slowly, the Irish have made progress in that department, raising their rushing yards per game average from 114.3 to 137 since Week 4.
In the pass-catching department, meanwhile,
TJ Jones
has been every bit as good as advertised, with the captain hauling in 33 passes for 481 yards and four touchdowns. He has had two 100-yard games and a 98-yard effot, absorbing hit after hit and becoming the kind of reliable target for Rees that Tyler Eifert was in 2011 and 2012. He has gotten big lifts here and there from
DaVaris Daniels
(25 catches, 385 yards, 4 TDs) and
Troy Niklas
(14, 250, 4), and the Irish have regularly played true freshmen who have made some minor contributions (
Corey Robinson
,
James Onwualu
, Will Fuller).
Overall, the offense has been uneven, as it has yet to really turn in a complete performance outside of Week 1 against a Temple team that is still seeking its first win. The Irish appeared to be moving closer to that direction against ASU, but a pick-six put a dent in that performance. The bye week will serve them well as they prepare for a skilled but depleted USC defense that should give the offense its biggest test before Senior Day against BYU.
October, 2, 2013
10/02/13
9:00
AM CT
Notre Dame kicks off the first of three games this year against the Pac-12 with Saturday's showdown against No. 22 Arizona State in Arlington, Texas. What should you be looking for? Glad you asked. Notre Dame reporter Matt Fortuna and Pac-12 reporter Kevin Gemmell talk it over.
Matt Fortuna
: Arizona State is a newcomer to the Pac-12 portion of Notre Dame's schedule this year, Kevin. The Sun Devils have looked great against USC, not so great against Stanford and, well, fortuitous in their win over Wisconsin. They put up 62 points last week against what was believed to be a good Trojans defense, getting Lane Kiffin fired in the process. So I guess we'll start there, given Notre Dame's defensive struggles so far this season: What makes Todd Graham's unit so explosive offensively, and what do the Irish need to really keep an eye on Saturday to keep the points down?
Kevin Gemmell:
Tempo, tempo, tempo. Offensive coordinator Mike Norvell, who Graham trusts to run the show offensively, uses "tempo" as a verb, not an adjective. As in, he wants to tempo teams into submission.
[+] Enlarge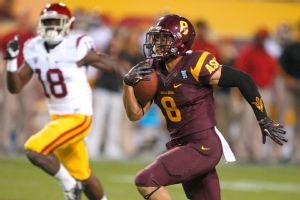 AP Photo/Rick ScuteriNotre Dame will have to find a way to slow down D.J. Foster and the Arizona State offense.
They want to have as many possessions as possible. And they get that with a fast-paced attack that stretches and then compacts a defense. Quarterback
Taylor Kelly
is off to another outstanding start, and a huge reason for that is the addition of wide receiver
Jaelen Strong
, a junior college transfer who already has 31 catches for 433 yards. He gives Kelly that sideline threat the Sun Devils were lacking last season, and Kelly has been fantastic at spotting him on the outside shoulder and letting him make plays. Strong has been targeted 51 times, so it's only a 60-percent completion rate when they look to him. But when he does catch it, it's usually for a substantial gain; he averages 14 yards per reception.
They use running backs
Marion Grice
(12 touchdowns already!) and
D.J. Foster
in creative ways in the screen game and like to splt Foster out into the slot. Tight end
Chris Coyle
has also emerged as one of the top players at his position in the country.
How about the Irish? Things don't seem to be going as swimmingly as they did last year. Only 25.4 points per game. ASU is going to blitz early and often. What does Notre Dame have to do to get its offense moving in the right direction?
Matt Fortuna
: It will get overlooked because Notre Dame lost Saturday, but the Irish were finally able to establish a ground game, tallying 220 rushing yards against the Sooners. They had eclipsed the 100-yard rushing mark as a team just once before, in the opener against Temple. Junior
George Atkinson III
, who was the No. 1 back entering the season, finally played like it, lowering his shoulder and looking more like a downhill runner. He finished with a career-high 148 yards and a touchdown on 14 carries.
Aside from not turning it over on their first two possessions and falling behind 14-0, it is very important for the Irish to continue to establish the ground threat early, as they often can become predictable in second- and third-and-long with a non-mobile quarterback under center in
Tommy Rees
, though Brian Kelly did insert
Andrew Hendrix
in for some zone-read, change-of-pace packages against the Sooners. Receivers must run better routes, too.
TJ Jones
and
DaVaris Daniels
have been big playmakers, but they both had route-running miscues Saturday that were costly. Kelly has said that ordinary things need to be done better. The Irish also regularly play three true freshmen wideouts (
Corey Robinson
,
James Onwualu
,
Will Fuller
).
I'm interested in ASU's defense, particularly
Will Sutton
. Before the season, everyone had pegged this as a matchup of the two best interior defensive linemen in the country, between Sutton and Notre Dame's
Louis Nix
. It's been hard to gauge Nix's performance so far, as the Irish have faced some mobile quarterbacks and quick-strike offenses that have utilized the short passing game early to essentially take the line out of the game. What challenges do Sutton and the rest of the Sun Devils' defense present?
Kevin Gemmell
: They like to blitz a lot. Todd Graham fashions his defense as a "hybrid attacking defense," meaning at times they'll substitute speed for bulk to create pressure from anywhere on the field.
Sutton hadn't made much of an impact the first few games for a couple of reasons: One, they were facing mostly run-based power teams like Wisconsin and Stanford; two, he's been seeing a lot of double and triple teams. Makes sense. His first step is so quick that it precedes his reputation. But he finally broke out against the Trojans with two tackles for a loss and a sack. I think, as the season pushes on, we're going to see more pressure from the front seven based on the teams they'll face.
That said, you have to look out for safety
Alden Darby
, who is coming off a fantastic performance against the Trojans. He had two picks (one returned for a touchdown) and has 19 tackles on the year. Hybrid linebacker
Carl Bradford
is explosive and
Chris Young
has really emerged, leading the team with 29 tackles.
The front seven is a little undersized, but it's quick and if your protections aren't set, someone will get missed with as much as the Sun Devils like to blitz.
Now that the Sun Devils are back in the top 25, it's a huge game for them to keep some of that momentum going on a national stage. The Pac-12 is already coming off of the nonconference season with a 29-4 record.
Notre Dame, however, seems to be scrambling to salvage its national reputation. And with three games against the Pac-12, which many believe is the deepest conference in college football, it seems the Irish could restore some of that lost credibility. How do you see them matching up with the now Lane-less Trojans or Stanford in the season finale?
Matt Fortuna
: Based on everything we have seen from both Notre Dame and Stanford so far, that matchup might not be a very pretty one for the Irish. Fortunately for them, it is not until the regular-season finale, meaning they have plenty of time to fix their issues in the six games before then.
The bigger question pertains to what kind of team the Irish will be heading into that matchup in Palo Alto, a status that will largely be dictated by their performances in both the ASU and USC games. The Irish need to get it together, fast, and Rees has to avoid a repeat performance of this past Saturday (three first-half interceptions) and get the offense going again. In theory, that should be enough to beat a USC team that looks to be reeling after the firing of its coach, though that kind of midseason move can have different lingering effects, good or bad. It's not like the Trojans aren't talented, and it's not like they won't be up for another night game at Notre Dame Stadium.
Still, I say the Irish win that one, especially coming off a bye. And especially with the threat of falling under .500, as a loss to ASU would make them 3-3 on the season. Notre Dame might be the better team, but the Irish have shown me little over the last four weeks that suggests that they are capable of keeping up with the Sun Devils' offense.
So that's an early 1-2 prediction for Notre Dame against the Pac-12 this season. What say you, Kevin?
Kevin Gemmell:
I'm an ASU lean right now simply because of how explosive that offense can be. And if the Sun Devils can fix a couple of assignment issues on defense, I think they have the firepower to be a top-20, maybe even top-15 team. But they have to show they can do it away from home. A neutral field setting provides a nice opportunity. It's close enough for their fans to travel, but it's not a true road game.
As of today, we're in lock-step when it comes to the Stanford matchup. The Cardinal offense is looking better and better each week. I thought back in April that
Tyler Gaffney
was going to be a game-changer for Stanford, and so far he's shown that he is. That season finale could also have huge BCS implications, and I don't see the Cardinal tossing one away at home in a game that could potentially lock them into a fourth straight BCS game.
As for USC, well, who knows? Haven't heard any USC players come out and condemn the firing of Lane Kiffin. Maybe this move reinvigorates them? The Trojans certainly have talent. But as of today (as always, I reserve the right to change my mind), I'd go with Notre Dame at home.
June, 12, 2013
6/12/13
11:07
AM CT
Notre Dame has landed consecutive top-10 recruiting classes. Which players from those groups have the best chances of making an impact as first-year players this fall?
[+] Enlarge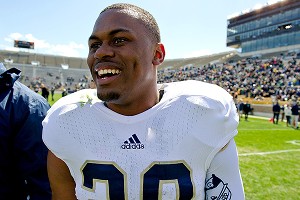 Matt Cashore/USA TODAY SportsC.J. Prosise had a 35-yard touchdown reception during the Blue-Gold Game this spring.
C.J. Prosise, WR
: The 6-foot-2, 208-pound Prosise redshirted a safety last season. He switched to the offensive side of the ball before spring practices this year, and the early returns have been positive. The Petersburg, Va., native had a long touchdown catch in the open field during an open scrimmage this spring, and his 35-yard touchdown reception in the Blue-Gold game marked the only time the Irish offense reached the end zone in the spring contest. With the spring transfers of second-year receivers
Davonte Neal
and
Justin Ferguson
, the opportunity is wide open for Prosise to seize the vacant slot position. He will likely enter camp as the leading candidate to bolster Notre Dame's struggling punt return unit, too.
Greg Bryant, RB
: Bryant will not officially enroll at Notre Dame until June 17, but he has the potential to become an immediate contributor to the Irish offense. The ESPN150 prospect form Delray Beach, Fla., was ranked second nationally among running backs, making him one of the top running back recruits Notre Dame has landed in recent memory. The 5-foot-11, 197-pound Oklahoma de-commit should get a chance to compete in a deep but untested backfield after the departures of Theo Riddick and
Cierre Wood
.
Malik Zaire, QB
: The early enrollee drew rave reviews from the staff this spring and figures to have a shot to play this fall after the suspension of
Everett Golson
. The southpaw is a dual-threat signal caller from Archbishop Alter in Kettering, Ohio. ESPN rated Zaire No. 6 among quarterbacks from the Class of 2013, and coach Brian Kelly said that he will get an opportunity to compete like everyone else in camp for the starting spot.
Corey Robinson/James Onwualu, WR
: Both players enrolled this spring and found themselves getting plenty of time all over the field after Neal and Ferguson left the program. The 6-foot-4.5, 197-pound Robinson, the son of hoops Hall of Famer David, has the size and speed to go up and get anything in sight on the outside, as evidenced by a deep, diving, juggling catch he made during an open scrimmage. The 6-foot-1, 215-pound Onwualu should also get a chance to contribute inside immediately after displaying flashes of athleticism early.
April, 9, 2013
4/09/13
10:00
AM CT
Asked if early enrollee freshman
James Onwualu
would line up in the slot or outside this season, Mike Denbrock offered an answer befitting his depleted group: "Yes."

The Notre Dame outside receivers coach has found himself with a smaller pool of talent to work with this spring following the transfers of sophomores
Davonte Neal
and
Justin Ferguson
, forcing him to mix and match faces all over the place in hopes of finding the best solution for the Irish passing game.
"We're kind of trying to find a way to incorporate everybody that we've got available to us right now kind of in the mix, and kind of put them in some different places and give some other guys some opportunities," Denbrock said. "Anytime that you're a little bit short numbers-wise, you've got to find them somewhere. So we're not going to practice any shorter, we're not going to take any fewer reps, so we've got to find bodies to do it."
Eight scholarship receivers remain on the roster, with two more,
Torii Hunter Jr
. and
William Fuller
, on the way this summer.
Denbrock likes the two freshmen he has right now, saying that Onwualu and
Corey Robinson
have impressed in their short time on campus.
"Corey Robinson, everything he does that comes near him -- his catch radius reminds me a lot of
Tyler Eifert
in that even if the ball's somewhere on the perimeter, he's going to find a way," Denbrock said. "Great ball skills, good knowledge of the game of football, surprisingly, even though he's from a small school in Texas and is basketball-oriented maybe family-wise, but has done a really nice job.
"James Onwualu is a tough guy, physical, loves the game, plays with tremendous passion. Good skill-set. Those guys are a pleasant surprise. And when you sit down and you think -- and we talk about this sometimes when we're watching practice film -- and you go, 'This guy's supposed to be getting dressed for the prom, and here he is out here competing,' and those guys are doing a great job."
The Irish lose four of their top-six pass-catchers from a year ago, but even the returnees could see themselves spread to different spots of the field.
Senior
TJ Jones
, whose 50 grabs last year tied for the team lead, is a candidate to play in the slot after the loss of Neal and the graduation of
Robby Toma
. So, too, is converted safety
C.J. Prosise
.
"I'd say the jobs open for anybody, all comers," Denbrock said. "Anybody who proves they've got the ability to go in there and do something positive for our offense is going play in there. We don't obviously have as much depth as we'd like to have, so that's a great opportunity for a lot of guys to do a lot of different things and not pigeonhole themselves into one specific position, but get out there and perform and earn your reps."
January, 15, 2013
1/15/13
6:49
PM CT
Spring semester classes began Tuesday at Notre Dame, which also means that a handful of new faces are now regulars inside the Guglielmino Athletics Complex.

As football media relations director
Brian Hardin officially announced on Twitter
, and as
coach
Brian Kelly
added
, the new names to know are
Steve Elmer
,
Mike Heuerman
,
James Onwualu
,
Corey Robinson
and
Malik Zaire
.
For some more info from ESPN RecruitingNation on these newcomers, click the links below.
Both Zaire and Heuerman are ESPN300 prospects. The big absence, of course, is that of four-star linebacker
Alex Anzalone
(Wyomissing, Pa./Wyomissing), who spurned Notre Dame for Florida last week amid Kelly's flirtation with the Philadelphia Eagles. Nonetheless, 17 more commitments are expected to sign their national letters of intent come Feb. 6, with the Irish set to usher in a top-5 recruiting class as they look to continue the momentum generated from a return to the national title game.
December, 10, 2012
12/10/12
9:50
PM CT
Notre Dame has gotten quite the lift off the field following a 12-0 regular season on it.
Look no further than this past weekend, when four-star running back Greg Bryant
pledged to the Irish
, one day after the school
beat out Ohio State for Class of 2014 Watch List offensive lineman Jimmy Byrne
.

Bryant, Notre Dame's 22nd 2013 commit, immediately becomes the Irish's second-highest rated prospect, beyond Jaylon Smith. And he will likely have the chance to step in immediately, with the Irish losing Theo Riddick and possibly Cierre Wood after this season.
With Bryant, George Atkinson III, Cam McDaniel, the yet-to-be-seen Amir Carlisle and freshman William Mahone, the Irish should have no shortage of backs to turn to next season, and the different styles each brings will create an interesting dynamic.
The addition of Bryant
moved Notre Dame up one spot, to No. 3, in ESPN's class of 2013 recruiting rankings, behind USC and Florida
.

You can read scouts' take on Bryant
here
.

Below, we break down the Irish's 2013 and 2014 recruiting classes. The 2013 class features eight ESPN150 prospects (*), four ESPN300 prospects (**), 17 four-star commits and one five-star. The Class of 2014 consists of four players, three of whom are ESPN Watch List members.
Class of 2013
Five-star OLB Jaylon Smith (Fort Wayne, Ind./Bishop Luers)*
Four-star RB Greg Bryant (Delray Beach, Fla./American Heritage-Boca-Delray)*
Four-star WR Torii Hunter Jr. (Prosper, Texas/Prosper)*
Four-star OLB Alex Anzalone (Wyomissing, Pa./Wyomissing)*
Four-star OT Colin McGovern (New Lenox, Ill./Lincoln-Way West)*
Four-star OT Hunter Bivin (Owensboro, Ky./Apollo)*
Four-star DE Isaac Rochell (McDonough, Ga./Eagles Landing Christian Academy)*
Four-star OLB Doug Randolph (Woodberry Forest, Va./Woodberry Forest)*
Four-star QB-DT Malik Zaire (Kettering, Ohio/Archbishop Alter)**
Four-star CB Devin Butler (Washington/Gonzaga)**
Four-star RB Jamel James (Katy, Texas/Cinco Ranch)**
Four-star TE-Y Mike Heuerman (Naples, Fla./Barron Collier)**
Four-star ATH Rashad Kinlaw (Galloway, N.J./Absegami)
Four-star ATH James Onwualu (St. Paul, Minn./Cretin-Derham)
Four-star OT Mike McGlinchey (Philadelphia/William Penn)
Four-star ILB Michael Deeb (Plantation, Fla./American Heritage)
Four-star OT Steve Elmer (Midland, Mich./Midland)
Four-star CB Cole Luke (Chandler, Ariz./Hamilton)
Three-star OT John Montelus (Everett, Mass./Everett)
Three-star WR Corey Robinson (San Antonio/San Antonio Christian)
Three-star TE-Y Jacob Matuska (Columbus, Ohio/Bishop Hartley)
Three-star WR William Fuller (Philadelphia/Roman Catholic)
Class of 2014
March, 28, 2012
3/28/12
12:55
AM CT
Receiver
Corey Robinson
(San Antonio/San Antonio Christian), son of basketball Hall of Famer David Robinson,
committed to Notre Dame late Tuesday
, becoming the Irish's ninth commitment for the class of 2013 and, more importantly, their sixth since Saturday.

"On the trip, I felt it myself. I felt the connection," David Robinson told our Damon Sayles. "I felt this could be a place where I could leave my son and feel good about it. The decision wasn't all mine, so I wanted him to be sure, too."
How quickly things have changed. Notre Dame entered the spring on the heels of
Tee Shepard
's de-commitment, the school's fifth from the 2012 class. Momentum was gone and then, with a strong Junior Day showing this past weekend, it suddenly shifted back in Notre Dame's favor.
To recap the past four days ...
Saturday: Offensive tackles Colin McGovern (New Lenox, Ill./Lincoln-Way West) and Hunter Bivin (Owensboro, Ky./Apollo), the latter a Watch List member, commit to the Irish following Junior Day.
Sunday: ESPNU 150 Watch List quarterback Malik Zaire (Kettering, Ohio/Archbishop Alter) and Watch List offensive tackle Mike McGlinchey (Philadelphia/William Penn) commit to Notre Dame, giving the Irish four commits in a two-day span after entering the weekend with a three-man class.
Monday: Athlete Rashad Kinlaw (Galloway, N.J./Absegami) commits, giving the Irish their first cornerback in the last two classes.
Tuesday: Robinson commits following a trip to Wake Forest.
Watch List tight end
Jacob Matuska
(Columbus, Ohio/Bishop Hartley,) athlete
James Onwualu
(Saint Paul, Minn./Cretin-Derham) and Watch List offensive tackle
Steve Elmer
(Midland, Mich./Midland) are the Irish's other commitments.