Chicago Colleges:

Jared Sullinger
March, 1, 2012
3/01/12
12:30
AM CT
EVANSTON, Ill. -- Was it too much to ask?
Was it too much to hope that just one time -- this time -- would be Northwestern's turn as fate's chosen beneficiary? Was it too much to think that maybe, despite all the reasons to believe the contrary, the Wildcats might just catch a break? Could Northwestern fans, besieged constantly by reminders of their program's historic futility, finally feel the freedom of belief?
The short answer? No.
"It's very tough," Northwestern guard
Drew Crawford
said.
"Disappointing," forward
John Shurna
said. "Kind of a tough way to go out."
Wednesday night was Shurna's senior night, an honor he shared with
Davide Curletti
,
Nick Fruendt
and
Luka Mirkovic
. Shurna & Co. are the school's all-time winningest class, one that also set a school record with three consecutive postseason appearances.
Of course, none of those postseasons has been of the NCAA tournament variety, which is why Wednesday night's game was so much more than a disappointing loss, so much more than an emotional senior night spoiled by a
75-73 defeat
.
February, 29, 2012
2/29/12
9:55
PM CT
EVANSTON, Ill. -- A quick rundown of Ohio State's
75-73 victory
over Northwestern on Wednesday night:
Overview:
The script was written. Northwestern didn't have enough size, enough athleticism, enough sheer basketball talent, and Ohio State did. The Wildcats were getting brutalized on the boards, and while their outside shooting kept them in the game, it didn't seem capable of actually pushing them over that last big invisible hump.


And then, suddenly, it did. Northwestern hung in and battled back from double-digit second-half deficits. By the final two minutes, the Wildcats had cut the lead to five, then four, then three, then -- suddenly, miraculously, from 30 or so feet --
Alex Marcotullio
sank a game-tying 3 and sent Northwestern's tortured fan base into hysterics.
And then, just as suddenly, the euphoria vanished. Ohio State ran a perfectly designed play with 7 seconds left, leading to a shockingly easy
Jared Sullinger
layup.
John Shurna
's last-ditch half-court heave (just barely) missed, and there it was: 75-73, Buckeyes. Northwestern was close. So, so close. But the hump won again.
Star of the game: Jared Sullinger.
The Buckeyes big man found life in the middle of Northwestern's zone about as easy as you'd expect. He scored 22 points and grabbed 18 rebounds, 11 of them of the offensive variety. He and
Deshaun Thomas
(19 points, 10 rebounds) dominated down low, an advantage that for much of the game kept Northwestern at bay.
Stat of the game: 62.5.
That's the percentage of its own misses Ohio State grabbed Wednesday night. For reference's sake, the national leader in offensive rebounding percentage (Quinnipiac, believe it or not) grabs about 42 percent of its own misses on average. Again, OSU dominated the offensive glass, and those second-chance points were the key difference.
What it means
: It's impossible not to feel, if only a little, for Northwestern. In consecutive weeks, the Wildcats took a top team (first Michigan, then the Buckeyes) to the wire at home, either of which would have given them the marquee win that almost certainly would ensure a first-ever berth in the NCAA tournament. Now, their at-large bid is still shaky, with only one game -- a potential bubble-burster at Iowa on Saturday -- left in the regular season. This is Northwestern's second brutal loss in eight days.
January, 11, 2012
1/11/12
9:19
AM CT
CHAMPAIGN, Ill. -- He laughed, not out loud, but certainly to himself every now and again.
How could he not?
Not long ago,
Brandon Paul
was thinking he was going to stop taking 3-point shots. Maybe not altogether, but certainly cut them down -- go for more of a sure thing, such as drives to the hoop.
His confidence was somewhere near the curbside thanks to an abysmal outside shooting slump that started in the first game of the season and really hadn't abated since. Paul was shooting 28 percent from beyond the arc, down from 36 percent just last season.
Which is why, as Paul was shooting off his back foot with a hand in his face, beating the shot clock with a swish of the net, knocking down eight of 10 from beyond the arc and scoring 43 points in Illinois'
79-74 upset
of No. 5 Ohio State, he just had to chuckle.
[+] Enlarge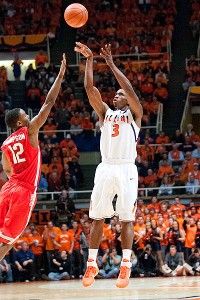 Bradley Leeb/US PresswireBrandon Paul's 43-point outburst was enough to take down OSU.
"I did laugh a couple of times,'' the 6-foot-4 junior said. "After the first few went in, I just decided I was going to keep on shooting. It was big for me because I'd been looking down on myself because the shots weren't going in.''
Clearly he was saving up.
Paul's 43 points were the third most by any player in Illinois history. According to ESPN Stats & Information, he's the only college basketball player over the past 15 seasons to score at least 43 points while attempting 15 or fewer shots. Now
that's
efficient.
Heck, his point total was only five less than his team scored in a game against St. Bonaventure earlier this season.
Yes, it was a no-he-didn't, oh-my-goodness jaw-dropper of a night, one that made you shake your head even when you watched it live.
Every shot Paul hit was crucial. He scored 10 points in a row to erase an eight-point first-half deficit and scored the final 15 of the game -- none bigger than his last 3 of the night.
With Illinois clinging to a 71-70 lead and less than a minute left, the Illini got the ball with just 4 seconds left on the shot clock. They inbounded to Paul, who somehow beat the disappearing clock to sink a 3 from the deepest corner of the baseline with
Aaron Craft
's hand right in his face.
"We wanted to make him shoot a challenged shot, and he did,'' OSU coach Thad Matta said. "It was a great shot. We were there. Aaron almost fouled him, but it was as big as an ocean for him tonight.''
Truth is, it's not Paul's final dagger that will haunt the one-time prohibitive Big Ten favorite Buckeyes, who now have dropped to 3-2 in league play. It's the two-minute span in which Paul didn't score a point. Ohio State led by 11, 48-37. The fans were groaning, sensing that the Bucks were about to cruise to victory and turn an entertaining game into a walkover.
Instead, the Illini scored nine unanswered points, with an exclamation 3 from
D.J. Richardson
after Illinois doubled player of the year candidate
Jared Sullinger
, forcing him into a turnover.
Illinois shot 61 percent from beyond the arc against a team that had allowed opponents to sink only 30 percent from long distance. Illinois also dropped 74 on a team that ranked sixth in the nation in scoring defense, allowing only 54.9 points per game.
Bruce Weber's team went toe to toe on the boards (28-27 edge to OSU) against a team that outrebounds opponents by an average of 8.7 per game.
[+] Enlarge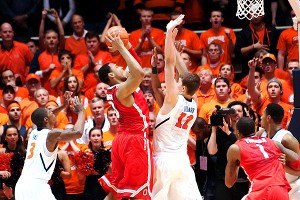 Bradley Leeb/US PresswireJared Sullinger, center, and Ohio State already find themselves with two losses in the tough Big Ten.
That span and those numbers are what will have Ohio State looking hard in the mirror.
That and the unkind bookends of history. Just a year ago, the Buckeyes rallied from a 13-point deficit against the Illini. Weber was quick to remind his team of that during a huddle after it had regained the lead.
No doubt Matta might offer up that bit of information in the future.
"You get to the round of 32 and then the Sweet 16, and you get comfortable,'' Sullinger said. "You get beat.''
It would be easy to write off this loss as a bad night for the Buckeyes and a ridiculously good one for Paul. It's not altogether inaccurate. But Matta looks a little more critically at his team and doesn't think anything is quite that simple.
He watched the film of Ohio State's 76-47 win Saturday against Iowa, a victory most viewed as a sign that OSU was back from its loss to Indiana, and saw things differently. He saw a team that made mistakes despite what looked like an overwhelmingly strong defensive effort. A team that is full of good kids but still needs a presence and a leader, especially at practice.
He's not ready to sound the alarm, even if his players are starting to ding it for him.
Somewhere in the middle is probably the right reaction. This isn't wholesale panic time in Columbus, not with three losses to three good teams. Yet in a league as deep and as difficult as the Big Ten, there's little room for error, especially with what stands as an even more crucial game against Indiana looming Sunday.
"We're not going to bite on fool's gold,'' Matta said. "We have to play better. Unfortunately the numbers [from the Iowa game] were a little bit misconstrued, and those got blown out of the water tonight.''
Certainly some of that was due to Illinois, or more specifically Paul.
There are some things no one can guard against, and that includes a guy who's turning a Division I basketball game into a game of H-O-R-S-E.
Paul's night started out about as horrifically as a night can begin. He coughed up four turnovers in the first seven minutes and didn't have a bucket to negate the miscues.
It wasn't exactly what Paul was imagining when he was roused from his pregame nap by a text from his coach that read simply, "This is your time. Be special."
"The way he started," Weber said, "he was special bad."
By the end, he was unforgettably spectacular. Laughing all the way to victory.
TOP 25 SCOREBOARD
Saturday, 12/20
Monday, 12/22
Tuesday, 12/23
Wednesday, 12/24
Friday, 12/26
Saturday, 12/27
Monday, 12/29
Tuesday, 12/30
Wednesday, 12/31
Thursday, 1/1
Friday, 1/2
Saturday, 1/3
Sunday, 1/4
Monday, 1/12
TOP PERFORMERS