Chicago Colleges:

Jared Swopshire
March, 15, 2013
3/15/13
1:15
AM CT
CHICAGO -- On what could have very well been the last game of Bill Carmody's Northwestern tenure, his Princeton offense flunked.
The Wildcats went scoreless for the first 7 1/2 minutes of their 73-59 loss to Iowa in the first round of the Big Ten tournament on Thursday night.
For the Wildcats (13-19, 4-14 in Big Ten regular season), it was a fitting swan song to a lost season and for Carmody, a 13-year tenure that resulted in zero NCAA tournament appearances. Northwestern athletic director Jim Phillips is expected to make a decision soon on Carmody's future. He has one year remaining on a two-year contract extension.
Northwestern missed its first seven shots and had three turnovers as Iowa went ahead 11-0.
Nikola Cerina
's layup put the Wildcats on the board with 12:32 left in the first half.
"I think at the beginning we weren't executing our offense very well," said senior guard
Reggie Hearn
, who led Northwestern with 19 points and 10 rebounds in his final game. "We had some guys out of position, we weren't communicating well about what the play was and our offense was kind of stagnant and I felt at times when we're not going on offense, it affects our defense. And we obviously weren't playing defense well initially and we just got in a big hole."
The Wildcats never led, but got their deficit down to 15-9 before Iowa answered with a 14-2 run.
The undermanned Northwestern team had a rough season after preseason expectations of finally making the NCAA tournament for the first time in school history. Northwestern lost two key players to injury,
Drew Crawford
in December and
Jared Swopshire
in February, and one to an academic suspension before the season in
JerShon Cobb
. The remaining players would've been more at home in the Ivy League.
"It was really difficult, especially for the senior class," senior guard
Alex Marcotullio
said. "But that's basketball. You're going to have to deal with injuries and it's really tough for us being our last year and having all these little fluke things happen to us. But it's no excuse."
Give the Wildcats credit for making it hard on Iowa in the second half. The Hawkeyes had a 36-22 lead at the half, but shot only 28.1 percent in the second half as Northwestern sank into a 2-3 zone.
The Wildcats cut their deficit to single digits a handful of times in the second half, getting as close as 50-43 with 8:27 left, but Iowa never let them make a serious run.
"We knew we had to give it our all," Marcotullio said. "We had one last run in us, maybe a couple. We just said to each other, are we going to leave it all out here or are we going to give up? And it seemed like we came together for a few minutes there and we brought it back to seven.
"And a couple missteps here and there and then they increased the lead. So that was kind of deflating. But I'm proud of the way we fought. Just a few things that we needed to clear up and we didn't take care of really early."
February, 12, 2013
2/12/13
7:40
PM CT
In recent seasons, it's been pretty easy to diss Northwestern. In 2010, 2011, and 2012, the Wildcats have consistently flirted with an NCAA tournament selection, teasing their miserable fans with the prospect of salvation -- of ending their painfully pathetic all-time tourney drought -- only to flail in big moments, lose close games at home, and fall short in the Big Ten tournament.
Oh, Northwestern
, we say, faux-pitifully.
Will you never change?

Not this season. This season, you should feel genuinely bad for Northwestern, and for entirely different reasons. Its best players keep getting hurt.
The latest injury was suffered by senior forward
Jared Swopshire
, whom
Northwestern announced will miss the rest of the season
-- his last as a college basketball player -- after undergoing arthroscopic knee surgery following Saturday's game at Iowa. A former Louisville transfer (who got minutes during the Cardinals' Final Four run last season), Swopshire was pursuing a graduate degree in sports administration, and was able to play right away under the NCAA's graduate transfer exemption.
Swopshire is only the latest injury: First was senior guard
Drew Crawford
, whose long-ailing right shoulder -- Crawford first dislocated it as a sophomore -- betrayed him with a torn labrum in mid-December. This was after Northwestern had gone on the road and beaten Baylor, a game which provided some hope the Wildcats didn't have to be one of the three or four worst teams in the country this season. Next up was
Reggie Hearn
with a more minor ankle sprain that cost him a few games in December (including the start of the Big Ten season).
Both of those injuries at least had a sunny side. In Crawford's case, the injury happened early enough in the season that he can medically redshirt and return in 2013-14. In Hearn's case, a minor knock didn't keep him from having his otherwise excellent season. But for Swopshire, this is it -- no chance to return this season, no chance for a medical redshirt. And he was just starting to play some of his best basketball, too.
Northwestern is 13-11 and safely out of the NCAA tournament conversation, so there is no other angle here. It's just a kid who had another month and change of college hoops left in his career, who won't get to play those games because of injury. It's just kind of sad.
February, 12, 2013
2/12/13
6:45
PM CT
[+] Enlarge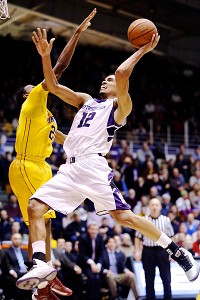 AP Photo/Nam Y. HuhNorthwestern's Jared Swopshire started 24 games this season and averaged 9.7 points before suffering a season-ending knee injury.
Northwestern
senior forward
Jared Swopshire
underwent arthroscopic surgery on his right knee on Tuesday and will miss the remainder of the season, the school announced.
Swopshire suffered the injury during the second half of Saturday's game at
Iowa
. He transferred to Northwestern as a fifth-year graduate student prior to the season. He attended
Louisville
for his first four years and redshirted one season due to a groin injury.
"We all feel badly for Jared that he won't be able to play out the remainder of his final collegiate season," Northwestern coach Bill Carmody said in a statement. "He has been a terrific addition to the program, both on and off the court. He was enjoying a very productive year and was playing his most consistent basketball of the season when the injury occurred. There is every indication that he'll experience a full recovery."
November, 26, 2012
11/26/12
10:36
PM CT
[+] Enlarge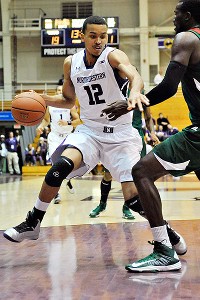 David Banks/US PresswireTransfer Jared Swopshire is averaging a career-high 12 points in his first season with Northwestern.
EVANSTON, Ill. -- "Perfect storm" is how
Northwestern
associate head coach Tavaras Hardy described the meeting of Northwestern's basketball program and
Louisville
transfer forward Jared Swopshire.
Northwestern had lost its all-time leading scorer in small forward John Shurna, and there wasn't a logical replacement on the roster.
The 6-foot-8, 210-pound Swopshire, who was a redshirt junior last season, was looking for a new school after he was told there wouldn't be a spot for him on Louisville's roster during the 2012-13 season. He was on pace to graduate from Louisville, so he had the chance to take advantage of the NCAA's post-graduate transfer rule and play somewhere immediately.
Northwestern did its research. Swopshire and his family did their research. It take didn't long for either to realize they were a match.
"I took a visit here, loved the coaches, loved the players, the system," Swopshire said prior to Tuesday's game ACC/Big Ten Challenge game with
Maryland
. "I'm here."
July, 20, 2012
7/20/12
1:11
PM CT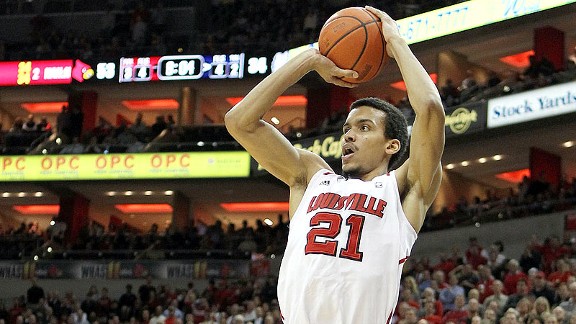 Andy Lyons/Getty ImagesThe addition of transfer Jared Swopshire gave Bill Carmody a much-needed replacement for John Shurna on the roster.
Everything that could go right has gone right for Bill Carmody since another heartbreaking ending to the elusive NCAA tournament quest.
Carmody got a vote of confidence from athletic director Jim Phillips and has multiple seasons left on his contract. The announcement on March 22 meant he would return for his 13th season. Carmody could have easily been sacked after the Wildcats finished 8-10 in the Big Ten, 19-14 overall.
Then, as if a gift had been placed at their Evanston doorstep, 6-8 Louisville senior
Jared Swopshire
(3.4 ppg, 3 rpg in 13.1 mpg) decided to transfer and play for the Wildcats immediately since he could seek a waiver as a graduating senior with a year left of eligibility.
Click here for the story
.
April, 26, 2012
4/26/12
3:13
PM CT
You already know about the first. It's Louisville forward Jared Swopshire,
who transferred out of Rick Pitino's program this spring in search of more playing time
-- a scarce quantity in a frontcourt that already includes Chane Behanan, Gorgui Dieng, Wayne Blackshear, and a mix of talented reserves.
Swopshire found that playing time at Northwestern, where he'll immediately raise the level of athleticism in the Wildcats' program. And his transfer comes at a perfect time, as coach Bill Carmody searches for frontcourt talent to replace leading scorer John Shurna.
Northwestern also announced the signing of 7-foot center Alex Olah Wednesday. Olah originally hails from Romania, and
though he isn't an ESPN top 100 talent by any stretch
, his CV does come with some rather impressive notches: He averaged 18.5 points, 13.1 rebounds and 4.6 blocked shots per game as a senior at Traders Point Christian Academy in Zionsville, Ind., and he put up 16.7 points, 14.0 rebounds and 2.9 blocks per game in the 2011 FIBA U18 European Championships.
Those numbers are almost surely inflated by the competition -- you can watch (
hilariously edited
) YouTube videos and decide for yourself -- but there's at least an outside chance Olah can enter Evanston, Ill. and contribute immediately. At the very least, he has size. If there's any quality the Wildcats need, it's size. Northwestern was one of the worst rebounding teams in the country in 2012;
per KenPom.com
, they ranked No. 319 in offensive rebounding rate and No. 327 on the defensive end. Time and again, the Wildcats -- who started John Shurna at forward and the let's-be-polite-and-say-not-very-good Luka Mirkovic at center -- were manhandled in the paint by bigger, stronger, and just plain taller Big Ten foes.
Shurna was an excellent player, an efficient, lanky shooter perfect for Carmody's Princeton style. But he simply couldn't compete on the boards. Swopshire can. Olah is a mystery, but at least he stands 7-feet (and appears, judging by the videos, to have some ball skills to go with the size). And at least the Wildcats, forever in pursuit of that elusive first tournament berth, will bring
something
on the interior.
So: Is 2013 the year? In this Big Ten, probably not. But the Wildcats' chances look considerably better today than they did just a few weeks ago.
April, 13, 2012
4/13/12
12:31
AM CT
The 2012–13 Louisville frontcourt is pretty much set.
At center, there is ever-developing block specialist
Gorgui Dieng
. At power forward, there is
Chane Behanan
, an adept post scorer who could be the nation's likeliest big-time breakout candidate. At small fowrard, there is sophomore
Wayne Blackshear
, a top 2011 recruit who missed much of the season thanks to shoulder surgeries, and backing this group up is forward Stephen Van Treese, a talent who likewise missed 2011 with injuries.
Where, you may ask, does forward
Jared Swopshire
fit into all this? Turns out, he doesn't.
Per
ESPN Chicago's Scott Powers
and
Louisville Courier-Journal reporter C.L. Brown
, Swopshire took a look at that Cardinals frontcourt, realized playing time would be scant and decided to transfer to Northwestern. Because Swopshire will be pursuing a graduate degree not offered at Louisville, he will be eligible to play immediately.
That is excellent news for both parties. Swopshire was stuck in a lurch at Louisville; he has a worthwhile outside-in skill set for a 6-foot–9 forward, but isn't nearly good enough to warrant many minutes with Dieng, Behanan, Van Treese and Blackshear crowding the frontcourt. But he could be a very good fit at Northwestern, which not only has to replace the scoring chops of departing senior
John Shurna
, but which desperately needs a legitimate interior presence – something,
anything
– to keep pace in a bruising Big Ten. Swopshire offers the immediate promise of both.
And so the big Northwestern question looms large yet again: Is this the year Bill Carmody finally, mercifully gets the Wildcats to the NCAA tournament? The jury is still (obviously) very much out. But alongside returning guards like
Drew Crawford
,
JerShon Cobb
and
Reggie Hearn
, Swopshire will give the Wildcats a brand of athleticism they've rarely fielded in the Carmody era, and which they demonstrably lacked in crucial moments in 2012's disappointing tourney-bereft finish.
At the very least, Swopshire's transfer choice offers that promise. Win-win, this one.
April, 12, 2012
4/12/12
3:55
PM CT
TOP 25 SCOREBOARD
Friday, 12/26
Saturday, 12/20
Monday, 12/22
Tuesday, 12/23
Wednesday, 12/24
Saturday, 12/27
Monday, 12/29
Tuesday, 12/30
Wednesday, 12/31
Thursday, 1/1
Friday, 1/2
Saturday, 1/3
Sunday, 1/4
Monday, 1/12
TOP PERFORMERS