Chicago Colleges:

Jaylon Smith
November, 29, 2013
Nov 29
11:00
AM CT
November, 4, 2013
Nov 4
9:00
AM CT
SOUTH BEND, Ind. -- As Brian Kelly was finishing up his postgame press conference Saturday, an unexpected visitor made an appearance during the penultimate question.
"Jaylon, we'll be done in a second," Kelly said to
Jaylon Smith
, who had entered prematurely. "I know it's your press conference, but I'll be done in a second, and we'll let you get going. Is that all right?"
"Sorry," Smith said to the room of reporters. "I'm new to everything."
Within 24 hours, it turned out the freshman linebacker would be a seasoned veteran by Notre Dame's defense's standards. The Irish are hurting on that side of the ball -- just trying to get by, in a sense, with this weekend's game at Pitt preceding a much-needed bye before a two-game stretch against BYU and at Stanford.
[+] Enlarge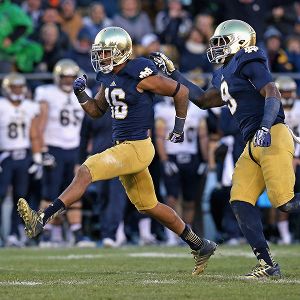 Jonathan Daniel/Getty ImagesSafety Eliar Hardy (left) is one of several Notre Dame reserves that were pressed into action due to injuries.
BCS dreams have essentially taken a backseat to figuring out just who is going to play and where, and how the remaining available guy will get ready for when their time comes.
"I think this is probably close to the pinnacle," Kelly said during Sunday's teleconference when asked if this defense has been hit as hard as any he's had in 23 years as a head coach. He added: "They don't give you any points for complaining about it. If they did, I'd complain every minute. So we just take care of it internally and get the next guy ready."
Ben Councell
, the man behind Smith most of the season at the dog linebacker spot,
was ruled out for the season Sunday after suffering a significant knee injury in the 38-34 win over Navy
. Smith and Councell, of course, waged a preseason battle for a starting spot only after senior
Danny Spond
, last season's starter, was forced to retire because of hemiplegic migraines. And the linebacking corp is less than a month removed from its other big hit, when
Jarrett Grace
broke his leg in the Oct. 5 Arizona State game, costing the Mike linebacker the rest of his redshirt sophomore season.
It only gets worse up front, where
Kona Schwenke
is lost for at least this Saturday's game at Pitt because of a high-ankle sprain suffered on the Midshipmen's final drive. And Schwenke was only starting these last two games in place of nose guard
Louis Nix III
, who at first was ruled to have a shoulder injury suffered in the USC game, and then knee tendinitis, and now tendinitis and a small meniscus tear, though the school says he will practice this week after undergoing an MRI Sunday. Before that, Schwenke filled in for end
Sheldon Day
, who missed most of a three-game stretch after leaving a Sept. 14 game against Purdue with a high ankle sprain, and then re-aggravated said ankle sprain against Navy.
And no, it is not a coincidence that most of these injuries have come during this two-game stretch against Air Force and Navy, teams that often cut-block.
"It's unfortunate," Kelly said. "It's the style of offense that the academies play. It is what it is."
Kelly said it will make sense to possibly avoid scheduling multiple option teams in a single season, but that is a bridge he will cross when he gets to it. For now, his next-man-in philosophy is being tested by, well, a lack of next-men-in.
He said he guards against that by putting those who saw 15 or fewer plays in a game through extra conditioning that following Monday, while reserves get roughly half the work of the starters during 11-on-11 and scout team work in a given week.
"I think that we're so close that you don't really think about it in terms of, Oh, I've never seen you out here," redshirt senior linebacker
Dan Fox
said. "We get a lot of guys in at practice, there's a lot of reps to go around, so next man in and next man in."
Underclassmen such as
Jarron Jones
,
Isaac Rochell
and
Romeo Okwara
have been thrust into more meaningful time than most could have reasonably expected entering the season, while names unfamiliar to all but the closest of program observers --
Tyler Stockton
,
Justin Utupo
and
Eilar Hardy
, to name a few -- saw extended action.
The last of those names, Hardy, helped set Smith up for the game-clinching tackle on Navy's
Shawn Lynch
during the visitors' final fourth-and-4 try. And he was only there because
Austin Collinsworth
suffered a neck strain that will require an MRI Monday.
Fellow safety
Elijah Shumate
, meanwhile, is expected to play against the Panthers after being sidelined the last three games with a hamstring injury, though Kelly had said the sophomore would play going into the Navy game, too.
There are also the knee injuries to left guard
Chris Watt
(PCL) and cat linebacker
Ishaq Williams
(ACL), both of whom left the Air Force game a week ago but only one of whom, Watt, could possibly return this week, depending on how quickly the redshirt senior can acclimate to the knee, which will not require surgery. Williams was in an immobilizer this week and could possibly return for the Nov. 23 BYU game.
The return of Watt would give Notre Dame four of its five starters back on the offensive line, as it lost right guard
Christian Lombard
for the season because of back surgery after the USC game. Still, the bruises have taken their biggest tolls on the other line, which during the spring and summer lost reserves
Chase Hounshell
(shoulder) and
Tony Springmann
(knee) for the season, in addition to seeing freshman signee
Eddie Vanderdoes
leave for UCLA.
All of it leaves the Irish, winners of four in a row, crawling to the finish line, every last piece of Kelly's three straight top-10 recruiting classes fitting into the plan for his push toward a second straight BCS-bowl berth.
"We are running out of next men. We're at that point where from a defensive standpoint, and particularly the defensive line, we're left with very few options," Kelly said, adding, "We'll figure something out. We'll get 11 guys out there. It's just not going to be one of those things where we're going to have the same group of guys out there all the time. As you know, we're going to have to find a way to stop a big, physical offensive line at Pittsburgh, and that is the thing that concerns you the most."
October, 27, 2013
Oct 27
10:00
AM CT
Here is what we take away from Notre Dame's 45-10 win Saturday at Air Force:

1. Tommy Rees can play, remember?
Rees had one of the best outings of his career, completing 17 of 22 passes for 284 yards with a career-high five touchdowns to five different receivers -- a Notre Dame first. He got to take the fourth quarter off for his efforts, which came a week after a neck strain forced him out of the USC game in the third quarter. He now has 54 career touchdown passes, as he topped Ron Powlus (52) to move into third place on the school career list. He also gave way to
Andrew Hendrix
, who hit Will Fuller for a 47-yard strike late and ran it in himself from 4 yards out for a score in some needed extended action.
2. Freshmen step up.
Corey Robinson
and Fuller had their first career touchdown grabs, and Fuller caught the aforementioned deep pass from Hendrix as well.
Jaylon Smith
also impressed in his first action against the option, recording eight tackles (tied with
Dan Fox
for most on the team), had a tackle for loss and recovered a fumble that would have turned into a touchdown if not for a blown call. Right guard
Steve Elmer
found himself at right tackle, too, and played well in his first career start, despite a false start penalty on his first drive that accounted for the Irish's only flag on the day.
3. Injuries are mounting.
Brian Kelly said
Chris Watt
had a knee strain, but it did not sound serious.
Sheldon Day
,
DaVaris Daniels
and
Ronnie Stanley
all looked like they were banged up, too. We'll know more after speaking to Kelly on Sunday afternoon, but it was already a rough week for the Irish in the injury department after
Christian Lombard
was lost for the season and
Louis Nix III
did not travel for Saturday's game.
October, 27, 2013
Oct 27
9:00
AM CT
Three players who stood out in Notre Dame's 45-10 win at Air Force:
Tommy Rees, QB
: What neck injury? The senior threw a career-best five touchdown passes, completing 17 of 22 passes for 284 yards after leaving last weekend's game early with a neck injury. Rees has played extremely well in the last two games, and he connected with a different player for each score, a Notre Dame first.
TJ Jones, WR:
Seven catches, 104 yards and a touchdown. Just another day at the office for the senior captain, who again continued to impress after getting burdened with lofty preseason expectations from the staff.
Jaylon Smith/Danny Spond, LBs:
The dog linebackers will share this honor. The freshman Smith tied for the team lead with eight tackles, including one for loss, and recovered a fumble that should have been a touchdown return if not for a blown call on the field. The senior Spond, meanwhile, earned captain and game-ball honors in a bittersweet homecoming after hemiplegic migraines forced him to retire and help as a coach this season. His impact can be seen through Smith, who aced his first test against the option.
October, 23, 2013
Oct 23
5:45
PM CT
SOUTH BEND, Ind. -- Don Spond has often recited that familiar parental saying, the one about only being as happy as your least happy child. The idiom hit home a couple of weeks ago. Don had just written a note to his son, Danny, telling him how proud he was of the way he was handling his senior year at Notre Dame, and how his parents would never quit on him. Upon reading the letter, Danny called his dad and, in a bit of a role reversal, the son comforted the father.
"He said, 'Well Dad, you know when you tell me that when your kids are good, you're good? It works the other way, too,'" an emotional Don told ESPN.com.
The Sponds will never "get over" the fact that Danny's days as a football player are over because of hemiplegic migraines. Not after a breakout junior season that ended in the national title game. Not when there was a promising final campaign and potentially much more on the horizon, with the 6-foot-1½, 248-pound Danny primed to have an even larger role as one of eight returning starters on Notre Dame's defense.
[+] Enlarge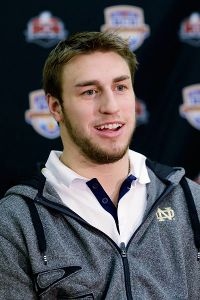 AP Photo/Wilfredo LeeDanny Spond says he's trying to give back to Notre Dame, since the team and university have given him so much.
But the family has accepted the cards they have been dealt, which have an otherwise healthy Danny playing out his last season as an Irish assistant coach, attending every practice and traveling to every game while rarely letting up in his fellow Dog linebackers' ears.
All of it has hit home this week, as the Littleton, Colo., native readies for Notre Dame's trip Saturday to Colorado Springs to play Air Force, a date that had been circled on Sponds' calendar long before they knew Danny would not be taking the field.
"Back in May when I went down to Colorado Springs just to have dinner with my family, I remember tweeting something about 'Can't wait to play here in October,'"
Danny Spond
said Wednesday, his first meeting with the media since announcing his retirement in August.
"So this has definitely been a hallmark game in my mind since even when I was a freshman and the schedules projected us to play in Colorado. It's definitely something I've been looking forward to. Playing or coaching, it's just going to be fun to go back to Colorado with Notre Dame."
Coaching has been the calling this season, and whether that eventually turns into a career is a thought that Spond is not ready to table. He is set to graduate in December with a degree in political science and, based on job interviews and even pep rally speeches so far, the corporate world figures to welcome him with open arms.
His duties now include getting
Jaylon Smith
ready for what lies ahead, with the five-star freshman having been thrown into the fire early at the starting Dog spot after Spond went down.
"Jaylon's a tremendous athlete, it's been fun to work with him this year," Spond said. "He's twice the athlete I ever was, that's for sure. So now my main goal is to make him reach his potential, just get that mental side of the game. He's just a freshman, and it takes a couple years of experience to really learn the system, so I'm hoping to kind of shave off some of that time with him, teach him the ins and outs, the shortcuts of the game to really be the best player he can."
Said Smith: "Danny's been the best. He knows the position like no one else. Other than [defensive coordinator Bob] Diaco, no one knows it better. He's really just been there for me, just helping me out any way he can so that I can be successful."
Spond is on a regular medicine schedule now and is not limited in his daily duties. He was walking with a cane early in fall camp after a third episode in the past year partially numbed the left side of his body, which ultimately forced him to announce his decision to retire after an early August practice.
[+] Enlarge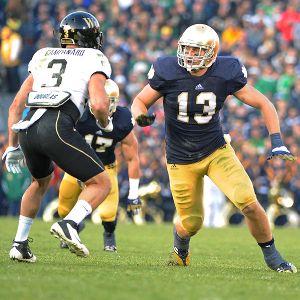 AP Photo/David DurochikSpond was poised for a big role as one of Notre Dame's returning defensive starters.
Contact is likely a trigger point for the migraines, but tests upon tests have offered little in the way of clarity. He joked he will leave the skis at home this winter regardless, just to err on the side of caution.
Still, Notre Dame has played seven games this season, and Spond, who missed the first two games last year in the aftermath of a migraine, said each kickoff has seemingly been more difficult to watch without pads on.
"I would say initially it was very difficult, as anyone could imagine," Spond said. "Very emotional time, very hard time on me and my family. But I told myself I had two options in this: I can either give in and let this beat me and let it define me, or I can beat it and overcome it, and the way that I was going to do that was to give all I have for this team.
"The team gave me so much, this university's given me so much; it was my job to give back in any way I could."
The families of
Daniel Smith
,
DaVaris Daniels
and several other teammates will be staying with the Sponds this weekend for the homecoming of sorts, some 60 miles away from Falcon Stadium.
The occasion is bittersweet for the Sponds, who credit Danny in helping them move forward despite having his career ripped away when he was so close to the pinnacle of his football life.
The conversation between father and son after Don's note a few weeks ago helped drive that point further home.
"We talked on the phone for about an hour," Don Spond said. "He had already come to grips with it for a long time. He had called and said, 'Dad, I'm still a part of this team, and you need to accept it. You need to accept it, Dad.' And that was just a real intense phone conversation. I learned a lot from my son that night about what a strong man he's grown to be. He's very mature, and I don't think I would've handled it the way he did. But his faith is so strong, that's what helped get him through this. He firmly believes it, it's just not words. He believes in his faith and it's what's helping him get through.
"It was a good conversation. I walked away and it was just, I'll do anything for my kid."
October, 20, 2013
Oct 20
9:00
AM CT
Here is what to take away from
Notre Dame's 14-10 win Saturday over USC
, as the Irish improved to 5-2 on the season with a trip to Air Force awaiting them this week:

1. No Rees = big problem.
Notre Dame's offensive woes were evident when
Tommy Rees
went down in the third quarter with a neck strain. The Irish totaled just 30 yards (including penalties) and netted one first down on six drives (not including a seventh in which Hendrix kneeled twice.) Notre Dame better hope that Rees heals quickly, as it simply could not move the ball without him Saturday against USC.
2. Defense steps up when called upon.
This looked like the Notre Dame defense of 2012 on Saturday, with the Irish playing big in the second half when the offense needed to be bailed out. USC punted the ball four times, missed a field goal, turned it over on downs twice and had a pass picked off by
Jaylon Smith
-- all in the second half. The Irish brought pressure up front and defended the run much better late, limiting the Trojans' chances of making something happen in a tight game.
3. Atmosphere doesn't get to newcomers.
Smith had a pick to open the third quarter,
Cole Luke
played well in the secondary and
Joe Schmidt
stepped up big late in his first real extended action with the Irish. The noise level was very loud and USC had a number of false-start penalties. But after last season's eight-total-turnover game against Michigan and Saturday's offensively-challenged second half, perhaps we could all use a break from home night games, at least from a football perspective.
October, 6, 2013
Oct 6
8:00
AM CT
These three stood out in
Notre Dame's 37-34 win over Arizona State
:
TJ Jones, WR
: The senior continues to look like Notre Dame's best all-around player. Against ASU, Jones caught eight passes for 135 yards and a touchdown, and he added a 27-yard punt return as well.
Jaylon Smith, LB
: The freshman had the best game of his young career, tallying a team-best nine tackles, including 1.5 for loss, to go with one forced fumble and one pass break-up.
Prince Shembo, LB
: The senior had three sacks to lead the Irish's defensive attack, as they brought pressure and tallied five quarterback takedowns on the night.
December, 10, 2012
12/10/12
9:50
PM CT
Notre Dame has gotten quite the lift off the field following a 12-0 regular season on it.
Look no further than this past weekend, when four-star running back Greg Bryant
pledged to the Irish
, one day after the school
beat out Ohio State for Class of 2014 Watch List offensive lineman Jimmy Byrne
.

Bryant, Notre Dame's 22nd 2013 commit, immediately becomes the Irish's second-highest rated prospect, beyond Jaylon Smith. And he will likely have the chance to step in immediately, with the Irish losing Theo Riddick and possibly Cierre Wood after this season.
With Bryant, George Atkinson III, Cam McDaniel, the yet-to-be-seen Amir Carlisle and freshman William Mahone, the Irish should have no shortage of backs to turn to next season, and the different styles each brings will create an interesting dynamic.
The addition of Bryant
moved Notre Dame up one spot, to No. 3, in ESPN's class of 2013 recruiting rankings, behind USC and Florida
.

You can read scouts' take on Bryant
here
.

Below, we break down the Irish's 2013 and 2014 recruiting classes. The 2013 class features eight ESPN150 prospects (*), four ESPN300 prospects (**), 17 four-star commits and one five-star. The Class of 2014 consists of four players, three of whom are ESPN Watch List members.
Class of 2013
Five-star OLB Jaylon Smith (Fort Wayne, Ind./Bishop Luers)*
Four-star RB Greg Bryant (Delray Beach, Fla./American Heritage-Boca-Delray)*
Four-star WR Torii Hunter Jr. (Prosper, Texas/Prosper)*
Four-star OLB Alex Anzalone (Wyomissing, Pa./Wyomissing)*
Four-star OT Colin McGovern (New Lenox, Ill./Lincoln-Way West)*
Four-star OT Hunter Bivin (Owensboro, Ky./Apollo)*
Four-star DE Isaac Rochell (McDonough, Ga./Eagles Landing Christian Academy)*
Four-star OLB Doug Randolph (Woodberry Forest, Va./Woodberry Forest)*
Four-star QB-DT Malik Zaire (Kettering, Ohio/Archbishop Alter)**
Four-star CB Devin Butler (Washington/Gonzaga)**
Four-star RB Jamel James (Katy, Texas/Cinco Ranch)**
Four-star TE-Y Mike Heuerman (Naples, Fla./Barron Collier)**
Four-star ATH Rashad Kinlaw (Galloway, N.J./Absegami)
Four-star ATH James Onwualu (St. Paul, Minn./Cretin-Derham)
Four-star OT Mike McGlinchey (Philadelphia/William Penn)
Four-star ILB Michael Deeb (Plantation, Fla./American Heritage)
Four-star OT Steve Elmer (Midland, Mich./Midland)
Four-star CB Cole Luke (Chandler, Ariz./Hamilton)
Three-star OT John Montelus (Everett, Mass./Everett)
Three-star WR Corey Robinson (San Antonio/San Antonio Christian)
Three-star TE-Y Jacob Matuska (Columbus, Ohio/Bishop Hartley)
Three-star WR William Fuller (Philadelphia/Roman Catholic)
Class of 2014
December, 3, 2012
12/03/12
6:44
PM CT
One down, what seems like dozens more to go.
Manti Te'o
won the collegiate Butkus Award on Monday, becoming recognized as the nation's best linebacker. What's more, Notre Dame Class of 2013 commitment Jaylon Smith (Fort Wayne, Ind./Bishop Luers) won the prep Butkus Award, making it a clean sweep for the Irish.
Both players received phone calls from Dick Butkus himself, according to the
official release
.
The winner of the Bronko Nagurski Trophy will be announced at 7 p.m. ET Monday night, and Te'o is a finalist for that award, too, as it is given to the nation's best defensive player. His coach,
Brian Kelly
, is the keynote speaker at the event in Charlotte, N.C.
Heisman Trophy finalists will be announced Monday during the 6 p.m. ET "SportsCenter" as well, so more travel plans could be on the way for Te'o this week.
Meanwhile,
Braxston Cave
was named as one of six finalists Monday for the Rimington Award, given to the nation's top center. He is joined by Louisville's
Mario Benavides
, Clemson's
Dalton Freeman
, USC's
Khaled Holmes
, Alabama's
Barrett Jones
and Penn State's
Matt Stankiewitch
.
The winner will be announced Thursday during the "ESPNU Red Carpet Show," preceding the "ESPN Home Depot College Football Awards Show."
October, 22, 2012
10/22/12
8:20
PM CT
Turns out
Manti Te'o
has to play by the same rules as everyone else for defensive awards, too.
The Notre Dame senior and arguably the best defensive player in college football was named one of 12 semifinalists Monday for the collegiate Butkus Award, given to the nation's top linebacker. The Irish have quite the crowd on the list, as three of their 2013 commits take up one-fourth of the high school semifinalist list.
Alex Anzalone
(Wyomissing, Pa./Wyomissing),
Michael Deeb
(Plantation, Fla./American Heritage) and
Jaylon Smith
(Fort Wayne, Ind./Bishop Luers) are all Butkus semifinalists. For good measure, so is one prospect out of Te'o's high school, Stanford commit
Isaac Savaiinaea
(Honolulu/Punahou).
Te'o was also named the FBS Independent defensive player of the week for the fourth time this season and seventh time overall after notching a game-high 10 tackles, a half-tackle for loss and his fourth pick of the season, tied for the most among linebackers.
Theo Riddick
took home the offensive FBS player of the week honor after a career-best 143-yard rushing performance.
TOP 25 SCOREBOARD
Thursday, 12/5
Friday, 12/6
Saturday, 12/7
TOP PERFORMERS