Chicago Colleges:

Jerian Grant
December, 23, 2013
12/23/13
1:00
PM CT
Notre Dame reporter Matt Fortuna discusses what the loss of leading scorer
Jerian Grant
means to Notre Dame.
February, 10, 2013
2/10/13
12:17
AM CT
SOUTH BEND, Ind. -- A quick reaction to Notre Dame's
five-overtime, 104-101 victory
over Louisville on Saturday night, the longest regular-season game in Big East history:
Overview
: Five overtimes? Of course.
In a season filled with constant upsets and countless endings as strange as they are thrilling, the Irish victory over Louisville was undoubtedly the strangest -- and the most exciting.
For the first 39 minutes, it was utterly predictable. For the final minute of regulation, and the five overtimes that followed, it was as crazy as anything we've seen since Connecticut and Syracuse played six OTs in the 2009 Big East tournament at Madison Square Garden. (In fact, it was the first college basketball game to go over five overtimes since that night in New York.)


This being college basketball in 2013, even the ugliest and least-appealing games can end with utter mind-blowing surprise, and that's also what we got Saturday night. Notre Dame looked cooked with as few as 50 seconds left, but Irish guard
Jerian Grant
hit a trio of deep 3-pointers, Louisville missed a few free throws, and when Grant drove to the basket to make a game-tying three-point play, all of a sudden the game was tied at 60. And for the fifth time in the last six meetings ... overtime.
Just how crazy
was
this? Notre Dame took 39 minutes and 10 seconds to score 48 points. It took 29 seconds to score 12. All 12 were scored by Grant, who was 0-for-6 from the field up to that point.
Nor did the Irish fade in overtime -- all five overtimes, that is -- even as foul problems took stars
Jack Cooley
and Grant and eventually pretty much everyone else off the floor. The Irish clamped down on the defensive end and got to the line frequently to keep the Cardinals from opening another lead wider than a possession.
Louisville's
Russ Smith
had a chance to win the game at the end of the first OT, but the kid Cardinals coach Rick Pitino nicknamed "Russdiculous" took one of the most nickname-worthy shots of his career, waiting until just a few seconds remained before launching a baffling 26-footer that clanged off the glass and left his teammates no time to rebound it. He could have ended the second overtime, too, and he did his part, hitting two key free throws in the final seconds. He could have ended the fourth -- he shot the ball with a dead shot clock and a one-on-three fast break for no other reason than the fact that he's Russ Smith.
Somehow, the star of overtime was
Garrick Sherman
, who didn't even play in four of Notre Dame's previous six games. His rebounding and post buckets were the most important of the game, seemingly over and over again. His tip-in sent us to the fifth overtime. After not playing a second in regulation, Sherman finished with 17 points on 7-of-10 from the field.
Mercifully, that's where it ended. Down three, Smith took another long 3, and it ended. It actually ended.
Turning point
: Pretty much everything that happened from the final minute onward. There's not a whole lot more I can tell you than that.
Star of the game
: For as ugly as Louisville's offense was -- and as wild as things got throughout the various bonus times -- the one consistent factor was the interior scoring of Cardinals forward
Chane Behanan
's interior scoring. His 30 points came on 13-of-20 from the field with added 14 rebounds, and he was really the calmest go-to option Louisville had throughout. The Cardinals didn't win, but Behanan's performance was by far Saturday's best.
Key stat
: Notre Dame entered the final minute of regulation with 48 points. It ended regulation with 60. It ended the game with 104. Your guess is as good as mine.
Up next
: Louisville gets a return home and bit of a rest before a tricky and talented St. John's team comes to town Thursday, while Notre Dame will have a nice opportunity to get that offense clicking again when lowly DePaul arrives Wednesday.
March, 17, 2012
3/17/12
12:40
AM CT
GREENSBORO, N.C. -- Quick thoughts from 10th-seeded Xavier's
67-63 victory
over No. 7 seed Notre Dame:


Overview:
The Duke loss preceding this game will be talked about for quite a while. But so will the ending to this one.
Xavier guard
Tu Holloway
's game-winning bank shot with 22 seconds left at Greensboro Coliseum -- followed by a lane-violation call on Notre Dame in the final seconds -- capped a down-to-the-wire, adrenaline-pumping affair.
It finished in odd fashion. With 2.8 seconds left and Xavier leading 65-63, Notre Dame's
Eric Atkins
went to the line for a 1-and-1 and a chance to tie it. But as he made the first, teammate
Jerian Grant
was called for a lane violation when he left his position behind the 3-point arc too early as he ran in for a rebound.
Mike Stuart, a member of the three-man officiating crew that worked the game, said in a prepared statement about the call: "The rule is that anyone outside the 3-point arc is under the same restrictions as the free throw shooter. They cannot penetrate the arc until the ball hits the rim, in which case No. 22 [Grant] was clearly way down in the lane before the ball ever hit. It's an obvious violation, by the rule."
(A similiar call was made at a key moment during top-seeded Syracuse's 72-65 victory over UNC Asheville during the second round of the East Regional on Thursday.)
The call gave the ball back to Xavier, and on the ensuing inbounds pass, Notre Dame's
Pat Connaughton
was whistled for an intentional foul when he grabbed
Dezmine Wells
' jersey. Wells hit both free throws to seal the victory.
Turning point:
Notre Dame led by as many as 10 points in the second half, but with 7 minutes, 3 seconds left, Holloway capped a 13-3 Xavier run with a jumper to knot the score at 51-all. Counting that bucket, Holloway scored eight of his team's next 10 points, taking back the lead, 59-58, with 3:23 left when he stole the ball and scored at the other end.
Key player:
Holloway had another great game, finishing with 25 points on 10-for-15 shooting.
Key stat:
Notre Dame was 4-for-9 from the free throw line; Xavier was 18-for-27.
Miscellaneous:
Xavier is one of only eight schools that have made at least seven consecutive NCAA tournament appearances. ... This marked the third straight trip to the tournament for the Irish.
What's next:
No. 10 seed Xavier will face 15th-seeded Lehigh -- which upset No. 2 seed Duke earlier Friday -- on Sunday for the right to advance to the South Region semifinals in Atlanta.
February, 4, 2012
2/04/12
7:30
PM CT
SOUTH BEND, Ind. -- Its best player out for the season, its morale deflated by a 20-point loss at Gonzaga in its first road test, a Notre Dame team that flopped against every name opponent it faced through the season's first month had a hard time envisioning itself as a player in the Big East with conference play quickly approaching.
"Maybe
deep
, deep down, but I mean, deep in there," Irish forward
Jack Cooley
confessed Saturday. "We just always gotta keep faith and just see what was gonna happen. We knew something had to change and hoped something clicked, and it did. It really did."
The transformation of Notre Dame from Big East afterthought to conference contender was never on display more than in its 76-59 thrashing of Marquette at the Joyce Center, the Irish's fourth straight win ending the Golden Eagles' seven-game winning streak.
The Irish entered Big East play a little more than a month ago with an 8-5 record, three double-digit losses and no
Tim Abromaitis
, a preseason all-conference pick who tore the ACL in his right knee in late November. Flash forward to the first weekend of February and here they are, 15-8 overall, 7-3 in conference play and just a half-game behind Georgetown and Marquette for second place in the Big East.
Less than three months after Mike Brey wondered if his players could improve enough "in the back of my mind, to get to the NIT," the 12th-year coach has not shied away from double-bye talk in next month's Big East tournament.
"I mentioned it to them a little bit as far as standings and what that means, and certainly that's something we're staring at, man. That's been good to us," Brey said, adding, "Obviously if you finish in the top four, you're in. You're an NCAA tournament team. We got seven wins. We got a lot of good wins in that left column in the league, as far as an NCAA-tournament résumé."
Among them: A Jan. 7 double-overtime win at then-No. 10 Louisville, a rout of then-undefeated and No. 1 Syracuse two weeks later and a strenuous victory at then-No. 19 Connecticut last Sunday.
Then came Saturday's performance in a contest that -- for the first 20 minutes, at least -- seemed destined to be another burn-it-out, tempo-turning test of mental endurance against a far more athletic squad.
The more eager Irish, however, broke a 30-26 game wide open in the second half.
[+] Enlarge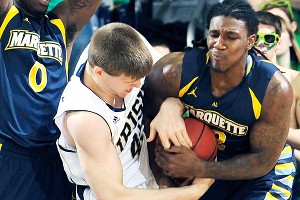 AP Photo/Joe RaymondJack Cooley and Notre Dame scrapped past Marquette on Saturday, boosting their NCAA tourney hopes.
They jacked up 3s from all corners, hitting 8-of-13 in the second half and forcing Marquette coach Buzz Williams to call timeout after timeout -- three in a 2-minute, 54-second stretch late in the second half.
No matter. Notre Dame utilized an 18-2 run during a nearly six-minute stretch, including 14 unanswered points to effectively put the game away.
"I thought [the score] was always teetering back and forth early in the second half," Williams said. "I then tried to keep it close by calling [a lot] of timeouts. I was just trying to keep it in contention, but they just continued to beat us off the bounce. We were scrambling around and that's why they had 22 assists. A lot of those 28 makes were uncontested shots. Eleven of the 23 shots were 3s, so that tells you they force rotation a lot."
Indeed, Brey said afterward he thinks he fields the best passing team in the country. He said sophomore off-guard
Jerian Grant
(12 points, eight assists) is the fastest player in the Big East. And, like everyone else, he lavished praise on the maturity of
Pat Connaughton
, whose 95-mph heat on the baseball diamond will remain the sidebar if he continues to deliver like he did on Saturday.
The 6-foot-5 Connaughton had game highs of 23 points and 11 rebounds, connecting on 9-of-12 field goal attempts and shooting 5-for-8 from downtown.
His monster rejection of
Junior Cadougan
closed the first half, and his slam with less than two minutes in the game punctuated the rookie's most complete performance.
"Anybody that stands on that mound, he stands on that mound, he's got the game on his shoulders -- there's a psyche there that maybe other freshmen can't have," Brey said of Connaughton. "He's had the game on his backside many, many times. So lining up a 3 to put you up six, or make big free throws, I think that's where it converts over. But people are still surprised, our opponents in the league, how athletic he is. The way he rebounded today in there, he blocked some shots, he was just flying all over the place."
The scene at the final horn hardly resembled that of Notre Dame's last game here, the court-storming stunner over Syracuse two weeks ago. Brey and his players simply walked to the student section, exchanging several high-fives before heading back to their locker room, a national ranking likely awaiting them Monday.
Those NIT hopes Brey envisioned not too long ago are now a distant memory, a carrot he knew better than to verbally share with his young team. Now, the self-proclaimed "loosest coach in America," the three- and potentially four-time conference coach of the year, will have to ready a young group that has grown faster than he expected, one he said he can refer to as "men" the next time they gather.
"I'll tell you one thing, we got a heck of a strong résumé," Brey said. "Our résumé is very strong with what we've done. And it's exciting to think about, that that's possible for this team after where we were. But I think our guys are very focused on showing up on Selection Sunday. And God bless them, they should be. Because they have put us in this position with their kind of focus and business-like approach, to go get it."