Chicago Colleges:

Jerrance Howard
March, 12, 2013
3/12/13
1:51
PM CT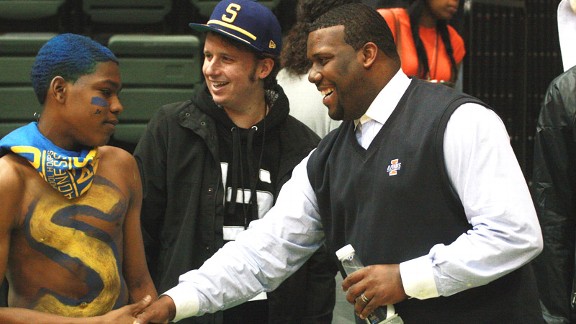 Scott Powers for ESPNChicago.comIn his first season at SMU, Jerrance Howard says he will always be an Illinois fan.
Coaching at Southern Methodist hasn't stopped Jerrance Howard from rooting for Illinois.
Howard put 800-plus miles between himself and Champaign, Ill., when he left the Illini's coaching staff after last season and took a position with Larry Brown at Southern Methodist in Texas. It was a difficult decision because Howard grew up an Illini fan in Peoria, Ill. before played for them and then coaching under Bruce Weber.
Howard has no regrets because he believes he did what was best for his career. But Howard has realized that his heart and mind will never fully leave Illinois.
"To be honest, it was hard at first," Howard said. "I was an Illinois fan. I'll always be. That's my school. I'm going to root for them."
October, 15, 2012
10/15/12
1:49
PM CT
Proviso East senior shooting guard
Sterling Brown
committed to Southern Methodist on Monday.
Brown, a 6-4 guard, visited SMU over the weekend and informed SMU and the other schools recruiting of his decision on Monday. He also considered DePaul, Miami, Northwestern, Providence, South Carolina, Tennessee and Xavier.
April, 30, 2012
4/30/12
3:24
PM CT
Former Illinois assistant Jerrance Howard said Monday his departure from the Illini's staff was best for the program and himself.

Howard, a former Illinois assistant and player, spoke publicly Monday for the first time since leaving Illinois and joining Larry Brown's staff at SMU. Howard had been an assistant under former Illinois coach Bruce Weber for five seasons and was named the Illini's interim head coach when Weber was fired in March.

Illinois named John Groce as Weber's full-time replacement, and Groce decided to not retain Howard on his staff. Howard was still under contract with Illinois until he resigned to join SMU's staff.

"It was difficult," Howard said of leaving Illinois. "I thought it was the right thing for Coach Groce to move in a different direction. I think it was the best decision for everybody. Change is hard. Sometimes with change, the best thing is to start from scratch.

"I didn't want the players to use me as a crutch. If they didn't like something, I didn't want them coming to me complaining every time. I think it was best for everybody."


April, 10, 2012
4/10/12
6:36
PM CT
Illinois coach John Groce said Tuesday assistant coach Jerrance Howard will not be retained on his new staff.
Howard was as an assistant to former Illinois coach Bruce Weber for five seasons, and he was the lead recruiter on a majority of the players on the team's current roster. Howard also played for the Illini from 2001-2004.
Howard had two years remaining on his contract. He was to be paid $200,000 next season and $210,000 for the 2013-2014 season.
"Obviously, it's been a difficult decision," Groce said. "It's hard. There were two or three routes I could have gone. I have made the decision that I'm going to hire outside. A lot of people have asked me a lot of questions about Jerrance Howard obviously over the last week. I certainly considered him very, very strongly. His work speaks for itself. He's a done great job coaching, recruiting.
"He obviously is a former player. This place means a lot to him. That was obvious from the three conversations he and I had together as we sat down and talked. At the end of the day for me, it was about starting with a clean slate.
"I know Jerrance is going to be successful no matter who he's working for and where he goes. Obviously as part of the Illini family, we're going to support him as much as we can during this time of transition for him and his family. "
Jamall Walker and Dustin Ford, both assistants to Groce at Ohio, were named to the Illini's staff on Monday. Groce still has one more assistant position to fill.
March, 27, 2012
3/27/12
7:06
PM CT
Illinois' freshman players put their support behind interim head coach Jerrance Howard to be Illini's full-time head coach over Twitter on Tuesday.
Howard has been Illinois' interim head coach since Bruce Weber was fired on March 9. Howard is a former Illinois player and has been on the staff for five seasons. He was the primary recruiter on most of the team's roster and is thought to be well-liked among the players.
Howard has previously said athletic director Mike Thomas told him he would not be considered for the permanent head coaching position. According to reports, Ohio coach John Groce is Illinois' targeted candidate for the job.
The freshmen sent out a series of tweets supporting Howard for their head coach on Tuesday evening. Illinois' players, it's worth pointing out, also tweeted they would support whoever is hired to replace Bruce Weber.
Freshman Nnanna Egwu wrote, "Last two workouts have been great with coach Howard. He would make a great head coach. They might as well make him our new head coach".
Freshman Mike Shaw wrote, "We just wanna hoop! Give him a chance!! Workouts have been great! Looking forward to a bright future.. #ILLINI."
Freshman Tracy Abrams wrote, "Let J. Howard run the show."
Freshman Myke Henry wrote, "I think they might as well just let jerrence (sic) become the head coach it's taking to long to figure out!!"
Freshman Devin Langford wrote, "Illinois head coach need to be Jerrance howard fa sho!!!!!!!"
Illinois' players are unavailable to the media until a new head coach is named, according to a spokesperson.
March, 14, 2012
3/14/12
2:13
PM CT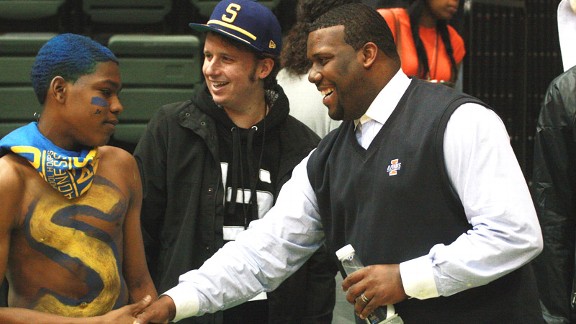 Scott Powers for ESPNChicago.comJerrance Howard was a popular figure at a super-sectional game between Simeon and Evanston on Tuesday at Chicago State.
CHICAGO -- Illinois interim head coach Jerrance Howard said he would like to remain a part of the program regardless of who is named the Illini's next coach.
Howard was made the interim coach when Bruce Weber was fired Friday after nine seasons at Illinois. Howard played for Weber at Illinois and was an assistant under him for five seasons. Howard has two years remaining on his contract.
"I've been an Illini fan since I was 6 years old," Howard said while recruiting in Chicago on Tuesday. "I played here. My wife's from Chicago. I'm from Peoria. I have a personal relationship with every kid on the team. It would be really good to stay around. Hopefully, everything works out.
"My whole legacy that I wanted from Day 1 is to help this team to get back to the Final Four, and that's always been a dream and goal of mine."
March, 9, 2012
3/09/12
2:04
PM CT
Illinois' coaching search should begin with
these seven coaches

, but there are more names that could be of interest to Illinois athletic director Mike Thomas in his search to replace Bruce Weber.
Here's a look at more coaches who could be on Illinois' radar:
Harvard coach Tommy Amaker:
He has gotten a shot at the Big Ten before and failed at Michigan, but he may get another chance again down the road after coaching Harvard to the NCAA tournament this season for the first time since 1946. He's in his fifth season at Harvard.
Virginia coach Tony Bennett:
He has turned around Virginia in three years. The Cavaliers are 22-8 and fourth in the ACC this season. He is the son of former Wisconsin coach Dick Bennett.
[+] Enlarge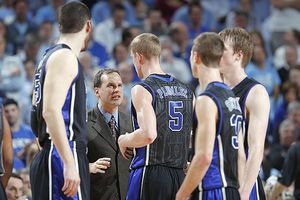 Bob Donnan/US PresswireChris Collins has learned under Mike Krzyzewski but is he ready for a high-profile job such as Illinois?
Duke assistant coach Chris Collins:
There's an assumption Collins will eventually be a head coach someday. Illinois might be too high of a job for his first gig. He is originally from the Chicago area and has recruited Illinois for Duke.
Alabama coach Anthony Grant:
He had success at VCU and now at Alabama. The Crimson Tide finished fifth in the SEC this season. He went to two NCAA tournaments at VCU.
Illinois assistant coach Jerrance Howard:
He is a long shot. Howard has been key to Illinois' recent recruiting success, which included a nationally-ranked No. 11 class in 2011 and No. 13 in 2010. He has time remaining on his contract, so he could also stick around under a new coach. A number of other programs have tried to steal him away as an assistant in recent years.
Detroit coach Ray McCallum:
He has recruited high-major talent to mid-major Detroit. His teams haven't always performed to expectations, but this year's team showed its upside recently by winning the Horizon League championship and advancing to the NCAA tournament. Detroit is 22-13 this season. His son, Ray McCallum, is a sophomore and starting guard for Detroit.
Washington coach Lorenzo Romar:
He has been at Washington for 10 years and has compiled a 216-111 overall record and 109-72 Pac-12 record. Washington won the Pac-12 regular-season title this season with a 14-4 conference record and will be headed to the NCAA tournament. Washington has been to six NCAA tournaments and made it to the Sweet 16 three times under Romar. Romar played with Jabari Parker's dad Sonny in the NBA. Romar signed a 10-year extension in 2010.
Simeon high school coach Robert Smith:
He isn't a likely candidate being a high school coach, but he could give Illinois the best shot at getting Parker, the nation's No. 1 junior. Smith coaches Parker and also had Derrick Rose. Smith has a 227-37 record and four state championships in eight years at Simeon. The Wolverines are nationally-ranked this season with a 30-1 record and are the favorite to the Class 4A state title.
Reggie Theus:
He interviewed for DePaul's opening a few years ago. He coached at New Mexico State for two seasons and quickly turned the program in the right direction. He went 41-23 overall and led the Aggies to the NCAA tournament. He left New Mexico State to coach the Sacramento Kings and was fired midway through his second season.
May, 12, 2011
5/12/11
8:37
PM CT
Illinois
assistant coach Jerrance Howard's dream is to become a head coach and run his own program someday.
After attending the Nike Villa 7, a three-day training and leadership seminar for the country's top assistant coaches at VCU in Richmond, Va., Howard walked away Thursday feeling he was that much closer to achieving it.
[+] Enlarge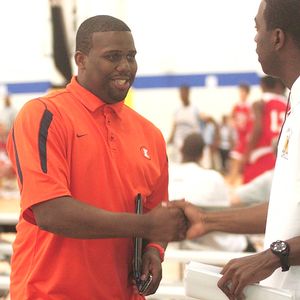 Scott Powers/ESPNChicago.comIllini assistant Jerrance Howard is hoping to run his own program someday.
"It was just huge," said Howard, who was one of 60 assistants invited to the seminar. "Probably outside of getting hired by Illinois and my recruiting success, this is probably the most important thing in my career."
The seminar included guest speakers, mock interviews with a panel of athletic directors, one-on-one speed interviews and opportunities to discuss ideas with head coaches and fellow assistants. All of the assistants had their mock interviews recorded and were provided critiques of them.
Howard received positive feedback on his energy during the interview, his quickness in answering questions, his overall answers, his body language and dress attire. He was told he needed to work on describing his first 90 days on the job and being more complete with his answers.
"It wasn't hard to hear the constructive criticism," Howard said. "In life, you don't just want to hear good things. If you want to make the next step and really grow and get better opportunities presented to you, you need constructive criticism or you'll never change."
Howard had hoped this offseason a few schools would have given him a chance at least to interview for their head coach openings, but it didn't happen.
"I wasn't contacted about head coaching jobs," the 30-year-old Howard said. "I didn't apply for
Loyola
. I didn't try for
Northern Illinois
. I tried to put my name in there for the
Bradley
job, and I didn't get a chance. I understand I'm still young and I'm only four years into this business, but I was frustrated to not a get chance to interview at Bradley and present myself and share my blueprint for a program."
Howard would like to be a head coach sooner than later, but he realizes it does often take time. Illinois coach Bruce Weber had to wait 19 years before he was given his own program.
"It's hard not to think about being a head coach because that's my dream and goal," Howard said. "At the same time, I'm in a great situation at Illinois. I played there. It's home. I work for a great guy."
Because of Howard's ties to Illinois, his relationship with Weber and his recruiting success -- all seven of Illinois' Class of 2011 recruits were Howard's players -- he said he wouldn't consider becoming an assistant at another program.
Florida
and
Kentucky
have been rumored to inquire about him in the past few years.
"I'm in a good situation," Howard said. "My next step is an opportunity to be a head coach."
Howard was inspired to be around so many up-and-coming coaches, but he was especially driven after speaking with
VCU
coach Shaka Smart throughout the three days. Smart, who is 34, coached VCU to the Final Four this past season.
Being around Smart made Howard even more optimistic about his dream.
"He gave me words of wisdom," Howard said. "It's motivating to see a young guy like that. He gives you a belief that you can do it at a young age. All you need is an opportunity and a chance.
"The biggest thing he told me was, 'Yes, you want to be in a position to be a head coach, but the way you can do it is to do your job and be the best assistant you can be for coach Weber and the University of Illinois.' When you do your job, good things happen, and you'll get an opportunity."
March, 15, 2011
3/15/11
9:27
PM CT
Coaching searches are in full swing at three in-state schools with
Loyola
recently joining
Bradley
and
Northern Illinois
in the coaching carousel.
Last year,
Chicago State
,
DePaul
and
Illinois-Chicago
made coaching changes. Chicago State and UIC snagged two up-and-coming assistants with local ties, and DePaul went for an experienced head coach known for rebuilding programs.
Who will Bradley, Loyola and Northern Illinois hire this year?
Here are a number of candidates for all three positions:
Fairfield head coach Ed Cooley

Resume:
Cooley is in his fourth season as
Fairfield
's head coach, and he has turned the program around. The Stags were 23-11 last season and 24-7 this season. Fairfield won the regular-season MAAC title with a 15-3 record this year, but was upset in the conference tournament. His recent success is in large part due to recruiting two Chicago-area players. Sophomores
Derek Needham
(De La Salle) and
Colin Nickerson
(Waukegan) are among Fairfield's best players. Before taking over at Fairfield, Cooley was an assistant at
Boston College
for nine seasons.
Who should look at him:
With his success as a head coach and recruiting the Chicago area, he's a viable candidate for Bradley, Loyola and Northern Illinois. The question may be whether Cooley is ready to leave Fairfield yet. He has a lot of talent returning next season and will be a probable NCAA tournament team.
Wisconsin associate head coach Greg Gard

Resume:
Gard is Bo Ryan's right-hand man. Gard has been at
Wisconsin
the last 10 seasons under Ryan and also was an assistant for him at
Wisconsin-Milwaukee
. Gard is the Badgers recruiting coordinator and has ties with high school and club coaches throughout the Midwest.
Who should look at him:
Howard Moore left Wisconsin last year and was hired by UIC. It could be Gard's turn to leave the nest. He's been around long enough in the Big Ten that Bradley, Loyola and Northern Illinois should all give him at least a look. Northern Illinois hired its football coach from Wisconsin. Could it do the same with its basketball one?
Gonzaga assistant coach Ray Giacoletti

Resume:
Giacoletti has been an assistant at
Gonzaga
for four seasons. He interviewed for Bradley's opening in 2002, but wasn't hired. He has head coaching experience with
Utah
,
Eastern Washington
and
North Dakota State
. He coached Eastern Washington to the NCAA tournament in 2004 and Utah to the Sweet 16 in 2005. He resigned from Utah in 2007 after back-to-back losing season.
Who should look at him:
Bradley could give him another chance. He's originally from the area and has had success as a head coach and assistant. He did struggle in his last two year at Utah, but he's been on a winning staff for the last four years and his NCAA tournament experience speaks for itself.
Butler associate head coach Matthew Graves

Resume:
Graves has been on
Butler
's staff for the last decade. He began as the team's basketball operations coordinator, was promoted to assistant coach and now is the associate head coach. He's worked with former Butler coach Todd Lickliter and current coach Brad Stevens. He's knows the game and has been key to the Bulldogs' continued success.
Who should look at him:
He could be a good fit at Bradley. Butler hasn't had a whole lot of recruiting success in the Chicago area, and that could hurt his chances at Loyola and Northern Illinois. Both those programs need to do a better job getting players from the area if they're going to improve.
[+] Enlarge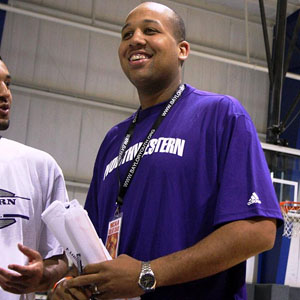 Scott Powers/ESPNChicago.comTavaras Hardy is in his fifth season as a Northwestern assistant.
Northwestern assistant coach Tavaras Hardy

Resume:
A former
Northwestern
player, Hardy is in his fifth season as an assistant at his alma mater. Hardy has established himself as one of the Chicago-area's top recruiters. It has been through his ties with area high school and club coaches Northwestern has received commitments from current starters
Drew Crawford
and
John Shurna
. He's also expanded his recruiting relationships and was influential in plucking freshman guard
JerShon Cobb
from Georgia and incoming freshman
Tre Demps
from Texas.
Who should look at him:
Hardy would help Northern Illinois with its Chicago-area recruiting woes, but he's a better fit at Loyola. Rather than bring in another recycled head coach, Loyola could make the smart move like UIC did with Howard Moore and hire someone who will rejuvenate the program. Like Moore, Hardy is a Chicago-area native, he's played in the area, he's coached in the area and he's recruited in the area. Hardy has paid his dues as an assistant and has proven himself worthy of a head-coaching spot. Couple Hardy with an assistant with Public League ties, possibly Simeon's Robert Smith, and a few experienced coaches, and the Ramblers could be rolling.
Illinois assistant coach Jerrance Howard

Resume:
A former
Illinois
player, Howard is in his fourth year as an Illini assistant. Howard has quickly built a reputation as Chicago's premier recruiter. He's been the catalyst behind Illinois scoring nationally-ranked recruiting classes the last three years. He was key in Illinois keeping the commitment of McDonald's All-American recruit
Jereme Richmond
. Howard, who is 30, knows how to relate to kids and has a bubbly personality about him that's helped create relationships. He attracted interest from
Kentucky
the past few years to join its staff.
Who should look at him:
Being a Peoria native, Howard is a perfect fit for Bradley. He'd certainly be one of the youngest coaches in the country, but there's no doubt he could reignite the Braves' program with his energy and recruiting. In talking to him, it's easy to see he's more than just a recruiter, but he would likely have to surround himself with some experienced and knowledgeable assistants at Bradley. With his Chicago-area recruiting specialty, he'd also be someone for Loyola and Northern Illinois to talk to.
Former Butler and Iowa head coach Todd Lickliter

Resume:
Lickliter was one of the nation's more successful mid-major coaches at Butler before jumping to
Iowa
, where he was fired after three seasons. Lickliter was 131-51 in his six seasons at Butler. He also coached the Bulldogs to two Sweet 16 appearances and was named the Division I Coach of the Year by the National Association of Basketball Coaches in 2007.
Who should look at him:
Bradley, Loyola and Northern Illinois should at least gauge his interest. He may have failed at Iowa, but he's had success at the mid-major level and is a name people know.
Purdue associate head coach Paul Lusk

Resume:
Lusk has been on
Purdue
's staff for seven seasons and is ready to make the job to the head position. He was under Gene Keady for one season at Purdue and the last six years under Matt Painter. He also was an assistant under Painter at
Southern Illinois
and played for Southern Illinois. He was the head coach at Division III Dubuque during the 2002-2003 season before leaving to coach at Southern Illinois.
Who should look at him:
Lusk would have been the perfect match for Southern Illinois if the Salukis hadn't retained Chris Lowery for at least one more year. There's no guarantee Lowery will turn the program back around, and Lusk may take his chances and wait for it. He could also attractive Bradley, Loyola and Northern Illinois with his experience and longtime in-state ties.
Michigan State associate head coach Mark Montgomery

Resume:
Montgomery has been on Tom Izzo's staff for 10 seasons. He's been a key recruiter for
Michigan State
and has worked predominately with the perimeter players. Montgomery has been up for other head jobs, including UIC last year, but hasn't been hired yet.
Who should look at him:
With his Michigan State background under Izzo, Bradley, Loyola and Northern Illinois would be all smart to interview him. He has the potential to be a successful head coach.
Clemson associate head coach Rick Ray

Resume:
Ray is in his first season at
Clemson
after four years as an assistant at Purdue. He also was an assistant at Northern Illinois for two seasons and
Indiana State
. He's well known as a top recruiter.
Who should look at him:
Ray's tie to Northern Illinois and the Midwest should get him at least an interview with the Huskies if he's interested.
Nebraska assistant coach Tracy Webster

Resume:
Webster is only in his first year at
Nebraska
, but he's been around for a while now. He was at DePaul previously and was the Blue Demons interim head coach when Jerry Wainwright was fired last year. He's also been an assistant at Illinois, Kentucky and Purdue. He's considered one of the Chicago area's top recruiters and has ties with a lot of area coaches.
Who should look at him:
Webster could improve Loyola's and Northern Illinois' recruiting in the Chicago area instantaneously. He was only the head coach at DePaul for a short time, but he now does have some coaching experience at the highest level.
May, 17, 2010
5/17/10
8:45
PM CT
Illinois basketball coach Bruce Weber would rather Kentucky hadn't recently tried to sway away Illini assistant Jerrance Howard, but Weber does realize there was significance to it.
"In a way, it's a compliment to our program and him," Weber said on Monday night. "If we're struggling and not doing a good job recruiting, they wouldn't contact him. He's very loyal to the Illini and appreciates everything. At the same time, you always listen to things and see what's out there."
Weber said he expected Howard to remain with the Illini based on conversations they've had since Howard was contacted by Kentucky on Friday.
"As far as I know, he'll be back," Weber said.
Howard does have a prior relationship with Kentucky. He spent time under former coach Billy Gillispie in basketball operations before taking a position with Illinois, his alma mater, in 2007.
Howard, who just finished his third season on Weber's staff, has been credited for much of Illinois' recent recruiting success. He was key in the recruitment of incoming freshmen Jereme Richmond and Crandall Head and 2011 recruits Tracy Abrams and Mycheal Henry.
"With Jerrance, you have a rare combination of being a talented, rising assistant coach and an influential presence who also just so happens to truly cherish and bleed for the program he works for and a sincere loyalty to it," said City/Suburban Hoops Report's Joe Henricksen, one of the Chicago area's top recruiting analysts. "He owed it to his family and himself, both professionally and financially, to entertain an offer from one of the few jobs in the country that he could ever leave Illinois for. But as long as Illinois stays competitive, values and appreciates all that he does for that program, he will stay right where he loves. He brings an energy, passion and spirit for this specific job that is awfully difficult to match."
Weber does understand what Howard means to the program.
"He obviously brings a lot of enthusiasm and loyalty," Weber said. "He just brings that bubbly personality, just a youthfulness that is a positive for our program. He can relate to the kids. All of that kind of adds up."
Howard was given a raise after the 2008-2009 season and had his contract extended until April 2013, but Weber said there had been recent discussions about further "tweaking" Howard's contract.
A voicemail left for Howard was not returned on Monday night.
Scott Powers covers high school and college sports for ESPNChicago.com and can be reached at spowers@espnchicago.com.
TOP 25 SCOREBOARD
Thursday, 8/28
Friday, 8/29
Saturday, 8/30
Sunday, 8/31