Chicago Colleges:

Jim Grobe
November, 16, 2012
11/16/12
7:09
PM CT
SOUTH BEND, Ind. -- Some of Notre Dame's seniors committed following a three-win season. Others hopped aboard amidst staff uncertainty.
Three and four years later, the Irish are staring perfection in the eye with one home game remaining against Wake Forest, and their coach is hoping that is not lost among the sea of emotions that will accompany many for this weekend's senior day festivities.
"The most important thing is for them to get the proper perspective through the week," Brian Kelly said. "In other words, yes, it is your last home game, but we've got a lot in front of us. What you'll remember most is whether you win the game, not that it was your last home game. So make sure that you keep the distractions to a minimum. And if there is any emotion let that be after the game. Let's have the emotion after the game celebrating a great victory.
"So, yeah, there is a little bit of dialogue and conversation about that. Our guys have been around it. They know what it's like. I expect them to handle it appropriately."
[+] Enlarge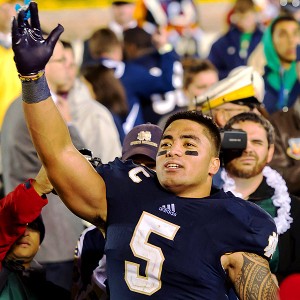 Matt Cashore/US PresswireManti Te'o saw the raw emotions of senior day before he even committed to Notre Dame.
Consider the message the same for Saturday's visitors, who feel they let a huge upset chance slip away last year in a close loss at BB&T Field and are intrigued by the chance of eliminating a national title contender with two weeks left in the season.
"I feel like most of our team knows that it's football. This is a game that most of us have played since we were 5 years old," Demon Deacons fullback
Tommy Bohanon
said. "For me and a lot of the team, once we get out there and we're on the field with those guys, it's just business as usual, and we'll be able to play the game."
If the Irish are vulnerable this year, it has been at home.
Their starting quarterback,
Everett Golson
, has been pulled at one point or another in three home games and was knocked out of another, forcing him to miss one more contest. Notre Dame has needed four total overtime periods to come away with five wins by 23 combined points, and 10 of its 13 turnovers have come in front of the home crowd.
"I think what you find is that most good team find a way to win," Wake Forest coach Jim Grobe said. "It's not always the prettiest win, but a win is a win and they've won them all. You know that they know how to do it. I think if you have a chance late, you have to make plays. We have a big challenge. This is a really good Notre Dame football team."
Twenty-six Irish players will take part in a pregame ceremony to honor their final contest inside Notre Dame Stadium, and no one will draw a bigger reaction than Heisman candidate
Manti Te'o
.
The linebacker's first visit to Notre Dame was for the team's 2008 senior day, a loss to Syracuse that ended with the home players getting pelted with snowballs from the stands.
That memory has stuck with Te'o, though for a different reason.
"For that to be their last experience in that stadium, I could really feel that," he said. "So amongst the cold and the snow and all that, I think the worst part of that was to see the pain in the players' eyes as they were crying leaving the stadium -- not because they lost, but because that was their last experience playing under the dome."
Kelly has just one memory of his senior day, 29 years ago at Div. III Assumption, and he does not want it sticking with his players.
"I don't remember the emotion of the game as much as losing the game after," he said. "So I want to make sure that we don't have that experience for our guys."
August, 2, 2012
8/02/12
12:06
PM CT
Notre Dame entered the
preseason USA Today coaches' poll on Thursday at No. 24
, marking the third time in the past four years that the Irish have been ranked in the preseason poll.

Five of the Irish's 2012 opponents appear in the poll ahead of them, led by No. 3 USC and No. 4 Oklahoma. Michigan checks in at No. 8, followed by Michigan State (13th) and Stanford (18th).
Brian Kelly is one of the 59 head coaches who is listed as having a vote in the poll. Seven head coaches who will play Notre Dame this season are also listed as having a vote: Lane Kiffin (USC), Bob Stoops (Oklahoma), Brady Hoke (Michigan), Mark Dantonio (Michigan State), Al Golden (Miami), Bronco Mendenhall (BYU) and Jim Grobe (Wake Forest).
Since 2002, Notre Dame has appeared in the preseason USA Today coaches' poll five times -- 2003 (18th), 2006 (3rd), 2009 (23rd), 2011 (18th) and 2012 (24th). It has appeared in the final poll three times — 2002 (17th), 2005 (11th) and 2006 (19th).
LSU is No. 1 in this year's preseason poll, edging out No. 2 Alabama and the No. 3 Trojans. The Crimson Tide actually had the most first-place votes -- 20 to the Tigers' 18 and the Trojans' 19 -- but LSU had the most points (1,403).
TOP 25 SCOREBOARD
Saturday, 8/30
Thursday, 8/28
Friday, 8/29
Sunday, 8/31
TOP PERFORMERS