Chicago Colleges:

Jim Phillips
May, 13, 2014
May 13
3:30
PM CT
ROSEMONT, Ill. -- College athletes' welfare is top of mind for athletic directors across the country, and one Big Ten school remains at the center of the debate about whether players are receiving enough for what they provide between the lines.
"Everybody's curious," Northwestern athletic director Jim Phillips said.
Phillips on Tuesday
addressed the unionization effort
by the Wildcats football team in depth for the first time since it launched in January. During a break at the Big Ten ADs meetings, he outlined why he opposes a union but also praised the Northwestern players for raising issues that need to be addressed in a collegiate model that has been too resistant to change.
He's proud of the issues players have raised and not upset by the attention brought on Northwestern's program.
"I know [unionization] is not the right mechanism for change nationally, but areas of welfare and health and safety, those are the right things for us to be talking about," Phillips said. "There are some real positive residuals that have occurred from the conversation about unionization."
Phillips thinks players deserve not only a voice, but voting power on major issues that affect them. Players had been consulted in an advisory role in the past, but it's not enough.
"No one is living the experience like they are," he said. "We can do that in a way that makes sense, and it's necessary. I'm excited about it, and you're going to see some of the movement, like the unlimited meals. You're going to see some things on cost of attendance that we have to get our arms around.
"We have to make sure we're providing the necessary resources."
Northwestern is awaiting a decision on its appeal of the decision by the Chicago regional director of the National Labor Relations Board that its football players are employees of the school. Players voted April 25 on whether to form a union, but the ballots have been sealed and not counted, pending the outcome of the appeal.
Phillips opposes a union for several reasons:
College sports are not the minor leagues, and the college model doesn't include an employee-employer relationship. Phillips noted that more than 98 percent of all college athletes don't go on to play professionally.
Third parties shouldn't come between players and their coaches/administrators.
It would hurt the accessibility and affordability of higher education.
"Accessibility and affordability are the two things college athletics has provided for a number of years," Phillips said. "It's given a population in our world, certainly in our country, the opportunity to use sport to access great education."
But what about all the money major-conference schools are generating, and the even bigger projected revenues in the near future? Phillips pointed to the low percentage of athletic departments that operate in the black.
"If we want to ignore broad-based programming and we want to ignore equality and doing things equitable, you're going to get a completely different collegiate model," he said. "I'm not in favor of that. Maybe some people are.
"Are there more things we can and should be thinking about for our student-athletes? Yes. But it needs to be done in a way that really is prudent and equitable and doesn't just pay attention to one sport."
January, 28, 2014
Jan 28
3:10
PM CT
The idea of a
union for college football players
, which is being spearheaded by Northwestern student-athletes, is one that is making major news throughout college sports -- and likely making administrators very nervous.
The NCAA has issued a response to the union proposal. Surprise: It is not a fan. Here's the full NCAA response, as penned by the organization's chief legal officer, Donald Remy:
"This union-backed attempt to turn student-athletes into employees undermines the purpose of college: an education. Student-athletes are not employees, and their participation in college sports is voluntary. We stand for all student-athletes, not just those the unions want to professionalize.

"Many student athletes are provided scholarships and many other benefits for their participation. There is no employment relationship between the NCAA, its affiliated institutions or student-athletes.

"Student-athletes are not employees within any definition of the National Labor Relations Act or the Fair Labor Standards Act. We are confident the National Labor Relations Board will find in our favor, as there is no right to organize student-athletes."
Northwestern athletic director Jim Phillips released his own statement this afternoon. Here it is:
"We love and are proud of our students. Northwestern teaches them to be leaders and independent thinkers who will make a positive impact on their communities, the nation and the world. Today's action demonstrates that they are doing so.

"Northwestern University always has been, and continues to be, committed to the health, safety and academic success of all of its students, including its student-athletes. The concerns regarding the long-term health impacts of playing intercollegiate sports, providing academic support and opportunities for student-athletes are being discussed currently at the national level, and we agree that they should have a prominent voice in those discussions.

"We are pleased to note that the Northwestern students involved in this effort emphasized that they are not unhappy with the University, the football program or their treatment here, but are raising the concerns because of the importance of these issues nationally.

"Northwestern believes that our student-athletes are not employees and collective bargaining is therefore not the appropriate method to address these concerns. However, we agree that the health and academic issues being raised by our student-athletes and others are important ones that deserve further consideration."
Of course the NCAA is going to fight this idea tooth and nail because it would change the very nature of how college sports are governed and administrated. Northwestern is in a trickier spot because the school does not want to be viewed as being callous to its own students' desire for better treatment and health. Yet, a full blown union of football players and a designation of athletes as employees who can collectively bargain must scare the bejeezus out of any NCAA administrator.
It's clear that this story is really only beginning.
May, 21, 2013
5/21/13
2:30
PM CT
Northwestern's recruiting wish list and sales pitch hasn't changed much in recent years.
Head coach Pat Fitzgerald and his staff still seek a certain fit: an academically oriented player who clicks with the program's culture and recognizes the benefits of playing Big Ten football miles from the city limits of the nation's third largest market. Northwestern's coaches talk about "not only a four-year decision but a 40-year decision, the rest-of-your-life type decision," Matt MacPherson, the team's recruiting coordinator and running backs coach, recently told ESPN.com.
[+] Enlarge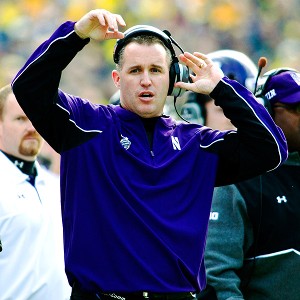 AP Photo/Tony DingPat Fitzgerald has the Northwestern football program headed in the positive direction, winning games and attracting quality student athletes.
Northwestern is still identifying and bringing players who fit, but more of its targets are higher-level prospects and more of its competitors are higher-level programs. The Wildcats are hitting their mark at an unprecedented rate, leading the Big Ten with 10 commitments for their 2014 class, which ranks 17th nationally in
RecruitingNation's latest ratings
.
Colleague Jared Shanker writes that
Northwestern's recent success on the field has boosted its recruiting to the next level
.
The Wildcats went 10-3 in 2012 and ended the season No. 17 in the final AP poll. It was the first time that Northwestern had won 10 games in a season since 1995, when it went 10-1 and appeared in the Rose Bowl. It also marked the first time Northwestern finished a season ranked since 1996.

Fitzgerald was a linebacker on those '95 and '96 teams. He was an ambassador for recruits who signed in the winter of '97, one of Northwestern best classes ever.

Northwestern landed several national recruits in that class, much like it is doing in the 2014 class. Craig Albrecht, Chris Jones and Sam Simmons were all highly sought-after recruits who signed with Northwestern out of high school. Fitzgerald said then-coach Gary Barnett never broke the mold of what he was looking for in a recruit to bring in the higher-profile prospects.

Now Fitzgerald is following a similar path.

"[The 2014 recruits] stayed true to what fits our program," Fitzgerald said. "We feel great about all the young men, feel great we recruited the right fit. We respect you if you do it differently, but we're more focused on the right fit and if he fits the culture of our locker room."
According to MacPherson, Northwestern's message to potential recruits remains the same, but the way they view the program has changed after five straight bowl appearances and, finally, a postseason win on Jan. 1 in the Gator Bowl.
"From what we do and how we do it, not a whole lot has changed," MacPherson said. "From the perception of where our program is, that's changed a bunch. People see us now as a perennial bowl team. ... You look at Northwestern and you talk about winning football games, a great education, being in Chicago. What's not to like? Tell me when that gets bad.
"There's always been the great education, there's always been the great city of Chicago. Now you throw the football success on top of that, and it's just a great package that opens a lot of people's eyes."
Northwestern's coaches also are talking up a new
$220 million on-campus facility
, announced in September, that will house the football program along the shores of Lake Michigan. Athletic director Jim Phillips said last week that $70-80 million has been raised toward the project, and ground could be broken this fall.
Fitzgerald talked with Shanker about the "great momentum" currently around the program. MacPherson sees it on the recruiting trail.
"We are getting in some battles with some different programs than we have in the past," he said. "Obviously, that's a good thing. But at the end fo the day, you still have to do your evaluation and those guys you bring into your program have to be valuable players and be productive players for you. Is it great for our profile and be competing against teams that you see in the Rivals and the ESPN Insider ratings? Yeah, that's great. But it'll always go back to production once you get 'em on your team."
May, 16, 2013
5/16/13
12:30
PM CT

Northwestern athletic director Jim Phillips talks about future games at Wrigley Field, the progress on the team's lakefront practice facility and more at the Big Ten spring meetings.
February, 1, 2013
2/01/13
8:00
AM CT
As we've written for the past several days, Big Ten athletic directors have a whole host of decisions to make over the next few months, including
how many league games
they should play,
how to align the divisions
,
the next bowl lineup
and even
what to call the divisions
.

"We've got some heavy lifting to do here for the next few months," Purdue athletic director Morgan Burke said.
But what if all that huffing and puffing turns out to be a Sisyphean task? There's one thing that could send conference leaders scrambling back to the drawing board: more expansion.
The decisions the athletic directors will make for the 2014 season and beyond will be based on the new 14-team format with Maryland and Rutgers joining. Many people suspect the Big Ten is not done adding members and could soon grow to 16 or even to 20 members. Ohio State president E. Gordon Gee recently informed us that conference
expansion talks are "ongoing."
The athletic directors are well aware of the possibility that more teams could be coming at just about any time.
"Based on the last three years I've been in this business, you'd be crazy not to think about it," Michigan athletic director Dave Brandon said. "But it's hard to model anything because you don't know what to model. The minute you get yourself convinced that you're going to go from 14 to 16, for all you know you're going to 18, and a lot of people think the ultimate landing place is 20. Who knows?"
For now, all the decisions they make will be based on a 14-team model only.
"You make your decision based on today," Iowa's Gary Barta said. "And today, we have that many teams. We can't worry about something that's not established yet. I don't know if and when there will be more teams. Right now, we're going to make decisions based on the additions of Rutgers and Maryland, and we're going to make them with the information we have, consistent with our principles."
"It's hard to predict the future," added Northwestern's Jim Phillips. "No one would have predicted we'd be at this place we're at right now. I don't think you can get polarized by the what-ifs or the potential of what might be and lose sight of where you're at."
The league's ADs will do their best to come up with the best framework for a 14-team league. If future expansion arrives in time for the 2014 season or shortly after it, at least the conference has gained lots of recent experience in how to deal with it.
"When you get into the discussion of things like 10 [conference games], you say, 'Wow, if we had a couple more teams, it would be easier,'" Ohio State athletic director Gene Smith said. "That's a natural. But it's not something that motivates you to say, 'We've got to position this in case we have another team, or two more teams.' We don't do that."
"What I've liked about our league is, when we added Nebraska, we felt like we needed to settle and watch the landscape. We thought the East Coast was important, and we got two good pickups relative to that principal. So I think we deal with what we have now, sit, monitor the landscape, and if something emerges down the road, we're positioned to be able to absorb."
January, 29, 2013
1/29/13
6:31
PM CT
In September 2010, the Big Ten spelled out clearly that geography wouldn't be the driving force
behind its new divisions
.
How do we know? Two words. L-E-G-E-N-D-S. L-E-A-D-E-R-S.
The controversial division names spawned in part from a desire not to make geography the chief factor in alignment. Otherwise, the Big Ten likely would have used simple directional names (East-West, North-South) or regional ones (Great Lakes-Great Plains). The league aligned its initial divisions based on competitive balance, with a nod to preserving traditional rivalries. Although the Big Ten said it also considered geography, the end result showed it didn't matter much.

As the league prepares to realign its divisions to accommodate new members Rutgers and Maryland in 2014, its power brokers seem much more comfortable saying the G-word.
"Maybe it was competitive balance last time," Northwestern athletic director Jim Phillips told ESPN.com. "Maybe geography wins the day this time. … It wasn't the most important [factor in 2010], but we should look at it this time because we are spread farther than we ever have been."
The Big Ten athletic directors will meet several times in the coming months to discuss division alignment and plan to make a recommendation to the league's presidents in early June. Several ADs interviewed by ESPN.com in recent weeks mentioned that geography likely will be a bigger factor in the upcoming alignment than the initial one. It's not a surprise, as geography was a much bigger factor in the most recent expansion than it was with the Nebraska addition in 2010.
When the Big Ten expanded with Maryland and Rutgers in November, commissioner Jim Delany talked about becoming a bi-regional conference -- rooted in the Midwest but also having a real presence on the East Coast. He described the move as an "Eastern initiative with a Penn State bridge." It would be a major surprise if Penn State doesn't find itself in the same division with the two new members.
"Maryland and Rutgers are about three-and-a-half hours away [driving], and Ohio State is about five hours," Penn State athletic director Dave Joyner said. "That's a nice, comfortable distance for us, and we've got huge alumni markets in those areas. From those standpoints, it's a really good thing. … No matter how the conference is aligned, you've got to believe that there are some efficiencies in travel that are going to come out of it."
Michigan and Ohio State are going to play every year no matter how the divisions are aligned, and if there's any push to move The Game away from the final regular-season Saturday, "the meeting will keep going on and on and on," Michigan athletic director Dave Brandon said with a laugh. But there also seems to be momentum to put Michigan and Ohio State in the same division, especially if there's a geographic split.
Ohio State athletic director Gene Smith favors being
in the same division as Michigan
, and Brandon has no objection.
"We will likely be a little bit more attentive to geographic alignment," Brandon said. "If Michigan and Ohio State being in the same division turns out to be what's in the best interest of the conference, that would be great. Obviously, it isn't the way it is now, and certainly that's worked. Certainly if we go to a geographic split situation and it's in the best interest of what we're trying to accomplish for Michigan and Ohio State to be in the same division, that would be just fine."
Despite being in opposite divisions, Michigan and Ohio State had their series preserved through a protected crossover. Other rivalries weren't so fortunate. Wisconsin and Iowa, for example, didn't play in 2011 or 2012.
Wisconsin was the most obvious example of the non-geographic focus of the initial alignment, as it moved away from longtime rivals Minnesota and Iowa into the Leaders Division.
"I do think we have a chance to have a little bit more of a geographic look to it, which I think is great," Iowa athletic director Gary Barta said. "It's great for fans, it's great for student-athletes, it considers travel, rivalries. With us, Wisconsin, Minnesota, Illinois, Northwestern, Nebraska, those just make great sense.
"It would be terrific if it works out, but we have to make sure we maintain and achieve competitiveness as well."
The ADs understand the need to maintain balance. As Purdue's Morgan Burke put it, "You don't want somebody to come through an 'easy' division."
But as many fans have pointed out, the Big Ten still could maintain competitive balance with a more geographic split. Ohio State and Michigan could form an Eastern bloc of sorts, but Wisconsin has won three straight Big Ten titles, Nebraska played for one last year and other programs like Michigan State and Northwestern have emerged.
Can the Big Ten align based both on geography and balance?
"I believe we can," Brandon said. "And that will always be somewhat subjective because all you can look at is history, and how a program has performed in the previous 10 years isn't necessarily indicative of how it's going to perform in the next 10. So there's some subjectivity to that, but the objective will be to create a circumstance where both divisions feel like they have equal opportunities to win and compete for the conference championship."
January, 28, 2013
1/28/13
8:31
PM CT
Big Ten athletic directors will meet several times over the next few months to hammer out some key decisions for the 2014 season and beyond. The most pressing, and arguably most important, issue will involve figuring out how many times to play each other during the season.
League officials chose to stay with eight conference games per season after Nebraska joined the league in 2011. But when Maryland and Rutgers come aboard next year, that could change. ESPN.com interviewed several conference athletic directors, who confirmed that a nine- and even a 10-game league schedule are on the table in the upcoming discussions.
"That's something that we have to really resolve quickly, because the ramifications of that discussion are significant," Michigan athletic director Dave Brandon told ESPN.com. "It's a high-agenda item."
The reason for the priority is obvious: More conference games means fewer nonconference opportunities. Some schools, like Nebraska and Minnesota, already have four out-of-league opponents lined up for the 2014 season and beyond, while others are waiting to see what the league decides before signing contracts with future opponents.
The Big Ten
announced in August 2011
that it would go to a nine-game league schedule. That was scrapped a few months later when the Pac-12/Big Ten alliance was brokered, but then that agreement was canceled the following spring before it ever began. Athletic directors we talked to were at the very least interested in revisiting the nine-game schedule idea.
Commissioner Jim Delany has said he'd like to see more conference games. Brandon and Ohio State athletic director Gene Smith both told ESPN.com that they favored that idea when the Big Ten balloons to 14 teams.
"As the conference expands, it would be unfortunate if a student-athlete came to the University of Michigan, played in the Big Ten Conference for four years and never even got to play or compete against one of the schools in the conference," Brandon said. "That doesn't make a lot of sense to me. As the number of institutions has grown, I believe we should take a look at at least moving to nine."
"I would like to go to nine or 10," Smith said.
Of the major conferences, only the Pac-12 and Big 12 currently play nine league games per season. No FBS conference plays 10 league games per year. The main advantage of adopting the latter, more radical idea would be balancing the conference schedule. Every team would then play five home and five road league contests, instead of having years with five road conference games and only four at home in a nine-game slate.
"Nine is challenging because of the statistical advantage for the home team over time," Purdue athletic director Morgan Burke said. "If you have some teams with five home games and others with only four, do you really have a true champion? To some people, that is a stumbling block."
But a 10-game schedule would bring its own share of obstacles. Such a plan leaves only two nonconference games and could make schools less inclined to play home-and-home intersectional matchups versus big-name opponents.
For example, Ohio State has already scheduled several high-profile series for the future, including home-and-home deals with Oregon, Texas and TCU. But with a 10-game conference schedule, the Buckeyes would have only six home games in years when it traveled to play opponents like the Ducks, Longhorns or Horned Frogs -- assuming it decided to keep those series.
"Most of us need seven home games in order to make our local budgets," Smith said. "Is there a way to overcome that? I don't know. We'll have to look at that. The conference is aware that it's an issue."
Would the extra inventory of conference games add enough value to the Big Ten's next TV contract to make up for the loss of home dates? Smith also points out that, with only two nonconference games, schools could potentially avoid paying huge guarantees to lower-level conference teams to fill out their schedule. Such teams are routinely getting $1 million or more to play sacrificial lamb against power programs in their giant stadiums.
Still, giving up home games is not a popular idea in a tough economic climate.
"Let's face it, we have a stadium that we're putting 112,000 people in every week," Brandon said. "It doesn't make a lot of sense to be shutting that stadium down and not playing as many events, and going to places where you're playing in front of crowds that are far less. We have to think about that financial consideration, and how do we leverage the assets we have in the most positive way for the conference and all the institutions?"
The forthcoming four-team playoff also complicates matters. Strength of schedule is expected to be a main component for the playoff selection committee. Would playing 10 games in the conference help or hurt Big Ten teams? In years when the league was viewed as down, like in 2012, it would most likely damage a league contender's chances, not to mention that 10 conference games means seven more guaranteed losses for Big Ten teams.
"I think [a 10-game schedule] could work if you're trying to schedule strong opponents in those other two games as well," Penn State athletic director Dave Joyner said. "The decision is, are you going to play two, three or four games outside of conference? I think a lot of it will depend on what the feeling is on how that would affect strength of schedule."
So a nine-game schedule appears to be a more likely option, but the thorny problem of an unbalanced number of home games remains. Could the league try to get creative, and perhaps add
more neutral-site conference games
to the mix? Anything and everything appears to be up for discussion.
"Maybe you could do it divisionally, where one division plays five home games one year, and then that division plays four home games [the next year]," Northwestern athletic director Jim Phillips said. "I don't know. But it should be interesting."
That last part is the only guarantee right now.
January, 25, 2013
1/25/13
9:00
AM CT
The Big Ten's bowl lineup will change in 2014, and the changes likely won't be limited to games and dates.
The entire bowl business could soon have a dramatically different look.
Several conference commissioners, including the Big Ten's Jim Delany, publicly discussed the
need to change the bowl business model
earlier this month during the week of the national title game. Declining bowl attendance is a concern, as are issues such as ticket distribution and the selection of teams. The Big Ten's athletic directors will discuss the future of the bowls when they meet next month at league headquarters in Park Ridge, Ill. -- they'll tackle not just the who, what, where and when, but the how and the why.
[+] Enlarge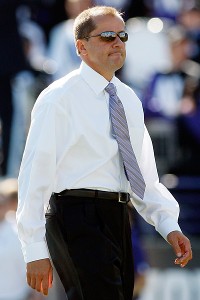 Jerry Lai/USA TODAY SportsNorthwestern's Jim Phillips and other Big Ten athletic directors anticipate changes to the bowl business model and selection process, possibly as soon as 2014.
"There are going to be some changes," Iowa athletic director Gary Barta told ESPN.com. "What I worry about is the watering-down of college football. College football's been on a meteoric rise since the creation of the BCS, both in stadium attendance and TV ratings. I think we're starting to see that saturation, and that's what I worry about going forward in the next 10 or 20 years. As we go into introducing the 2014 playoff, it is a chance for us to re-look at all of our bowls."
Several Big Ten athletic directors we contacted talked about having a more "national" bowl lineup beginning in 2014. They might as well have substituted the word "flexible."
Right now, the Big Ten's bowl lineup contains heavy doses of SEC, Big 12, Florida, Texas and Jan. 1. The selection order is fairly rigid. As a result, we've seen teams go to the same bowl in consecutive seasons (i.e. Nebraska at the Capital One in 2012 and 2013) or to the same state for a number of years. Wisconsin played in six consecutive bowls in Florida from 2004-2009, including back-to-back appearances in both the Capital One and Champs Sports Bowls.
The repetition problem exists even outside conference bowl tie-ins. Ohio State went to Arizona four times in a five-year stretch, three times for Fiesta Bowls (one of which was the national championship) and once for the BCS title game.
"I used the term bowl fatigue," Ohio State AD Gene Smith told ESPN.com. "When you go back to the same place multiple times … the novelty is lost."
The key to preventing bowl fatigue, several ADs say, is eliminating the rigidity of selections.
"We're going to try to get toward more looking at how do you put together a slate where you get good matchups, but at the same time avoid repeats … the bowls don't want that either," Purdue's Morgan Burke said. "I don't know that we can unteach what people have learned over the years -- 'We have the next pick, and the next pick.' Maybe you don't do that this round. Maybe we say, 'You're going to get a Big Ten team, and it will be part of a selection process.'"
Delany has mentioned the possibility of collaborating with other leagues on bowl tie-ins, essentially sharing the spots depending on the year and the attractiveness of the matchup.
"This is about the fans and the fans' experience and us really listening to what they're saying," Northwestern athletic director Jim Phillips said. "It's been documented that repeat institutions and repeat bowls and repeat matchups is not a recipe for success. People want fresh and new and exciting matchups. Any way we can do that with those bowl tie-ins, I would be in complete favor of that."
The Big Ten
hosted officials from 10-12 bowls last fall
and will discuss possible tie-ins with the athletic directors throughout the spring. It's likely the Big Ten adds at least one new bowl on the East Coast -- the New Era Pinstripe Bowl at New York's Yankee Stadium certainly is in the mix -- and possibly another in California, where it currently makes only one postseason appearance (Rose Bowl).
Another huge component is ticket distribution. Many
Big Ten schools struggled to sell their ticket allotments
from the bowls this past year, as fans could spend much less for tickets -- often better seats -- in the secondary market.
"What we have to do is work with the bowls to take that impact off of the institutions but work closely together on a sales strategy," Smith said. "Let's forget about the institution being responsible for X, and the bowl being responsible for X and the local organizing committee being responsible for X. Look at your aggregator sales plan, then come up with a cooperative strategy to make sure we're selling the bowl out. We've just got to think differently than we have in the past, and think about pricing, and [tiers] of pricing and the venues and things of that nature."
The ADs are mindful of the upcoming playoff. Although they'll be tackling several important items in the coming months, the Big Ten's bowl lineup and the bowl system as a whole will merit close attention.
"The landscape is shifting with the 2014 playoff introduction," Barta said. "I want to make sure we keep the bowls relevant."
October, 19, 2012
10/19/12
10:37
AM CT
Northwestern has acted quickly to fill one of its non-league schedule vacancies created by
Vanderbilt's decision to back out of games
in 2013 and 2014.

The Wildcats announced Friday that they will host Western Michigan on Sept. 14, 2013. They had been scheduled to play at Vanderbilt that day. Northwestern is still looking for a replacement for its 2014 home game against the Commodores, who also canceled a 2013 game against Ohio State this week.
Northwestern's 2013 non-league schedule is complete:
Aug. 31: at California
Sept. 7: Syracuse
Sept. 14: Western Michigan
Sept. 21: Maine
While some were hoping Northwestern would fill the Vanderbilt vacancy with another major-conference opponent -- or even a local game with Northern Illinois -- it can be difficult to match up schedules and contracts less than 11 months before the games. Northwestern AD Jim Phillips had to do something quickly after being put in a bad spot.
Wildcats coach Pat Fitzgerald said in a statement that Western Michigan coach Bill Cubit "has been a great friend for a long time and he runs a very successful program we have the utmost respect for." Western Michigan faced two Big Ten squads this season, falling to both Illinois and Minnesota on the road.
The 2013 game marks the first-ever meeting between Northwestern and Western Michigan, who also will square off in the 2016 season opener.
August, 3, 2012
8/03/12
4:40
PM CT
From the moment he was hired as athletic director, Mike Thomas has set out to
make Illinois the "king of Chicago"
and the state's definitive college program.

Many Illini fans would argue the Orange and Blue already had such a distinction. But mediocre football results combined with Northwestern's marketing campaign, built around the slogan "Chicago's Big Ten team," had clouded the picture a bit.
Illinois made a power play Friday,
revealing a marketing campaign built around
the theme, "ILLINOIS. OUR STATE. OUR TEAM." The theme and logo will be introduced throughout the state beginning this fall.
From the news release:
The theme will be used in a variety of ways including advertising, street banners, team posters, schedule cards, stadium signage and video board graphics. ... The "ILLINOIS. OUR STATE. OUR TEAM." campaign will be incorporated into a large-scale brand evaluation program that the DIA will partner with Nike beginning in 2013. The 18-month collaboration will result in an updated brand identity including new football uniforms for 2014."
Thomas said of the campaign, "This theme becomes a way for all of our fans to rally behind one central concept -- that the University of Illinois is our state's school. As the Fighting Illini, our student-athletes, coaches and staff are proud to represent the people of Illinois and we are proud to wear the state's name on the front of our jerseys."
Thomas certainly is looking to make a splash, especially after coming under criticism for his football and men's basketball coaching searches. Rallying the fan base always is a good idea.
On the other hand, this seems like a pretty obvious response to the campaign Northwestern launched in the summer of 2010. Led by athletic director Jim Phillips and marketing chief Mike Polisky, Northwestern made a marketing push for the Chicago market, which Illinois feels is its territory, and has been successful. Now Illinois is countering with a push to claim the state.
If there was no "Chicago's Big Ten team," would there be an "Illinois. Our state. Our team." campaign?
The rivalry between the two schools -- and athletic departments, for that matter -- clearly is getting spicier, which isn't a bad thing in my book. Illinois played "Sweet Home Chicago" over the public-address system immediately after its victory against Northwestern in football last October. New Illini football coach
Tim Beckman also is playing up the Northwestern series
with signs in the complex.
What's your take?
July, 20, 2012
7/20/12
1:11
PM CT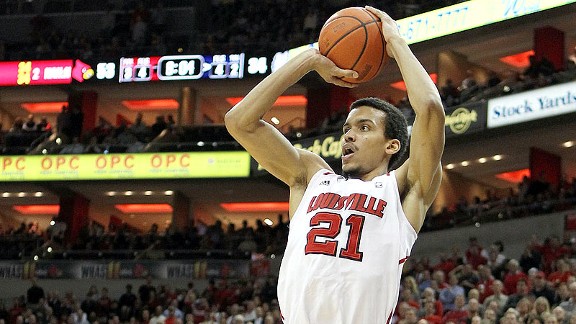 Andy Lyons/Getty ImagesThe addition of transfer Jared Swopshire gave Bill Carmody a much-needed replacement for John Shurna on the roster.
Everything that could go right has gone right for Bill Carmody since another heartbreaking ending to the elusive NCAA tournament quest.
Carmody got a vote of confidence from athletic director Jim Phillips and has multiple seasons left on his contract. The announcement on March 22 meant he would return for his 13th season. Carmody could have easily been sacked after the Wildcats finished 8-10 in the Big Ten, 19-14 overall.
Then, as if a gift had been placed at their Evanston doorstep, 6-8 Louisville senior
Jared Swopshire
(3.4 ppg, 3 rpg in 13.1 mpg) decided to transfer and play for the Wildcats immediately since he could seek a waiver as a graduating senior with a year left of eligibility.
Click here for the story
.
March, 14, 2012
3/14/12
2:25
PM CT
Northwestern and Stanford were already set to play a four-game series beginning in 2019. On Wednesday, the two schools decided to meet a little earlier, too.


The Wildcats and Cardinal now will also play a home-and-home series in 2015 and 2016. The first game will be in Evanston on Sept. 5, 2015 as the season opener. Northwestern will head to Palo Alto on Sept. 24, 2016.
The 2019 game will be at Northwestern on Sept. 14, and the teams will alternate home fields for the next three years.
"This was a great opportunity for Northwestern to expand on our upcoming series with Stanford and allow an exciting matchup to take place even sooner," Northwestern athletic director Jim Phillips said in a statement. "We're thrilled about the quality of our future nonconference opponents, with schools such as Notre Dame, Vanderbilt, Boston College, Syracuse, California and now Stanford. Couple that with our traditional Big Ten schedule and it is safe to say there will be plenty of exciting action in Chicago's backyard for years to come."
Stanford and Northwestern make natural partners because of their academics. The Pac-12 and Big Ten are entering into an agreement for interconference games in 2017, and this matchup could easily count as one of those from 2019 to 2022.
September, 29, 2011
9/29/11
12:51
PM CT
On the field, Illinois and Northwestern compete directly for tangible prizes: the Land of Lincoln trophy, bragging rights for the next year and, in the big picture, the Big Ten championship.
Off the field, the schools compete indirectly for a potentially more important but harder-to-define prize.
Chicago.
[+] Enlarge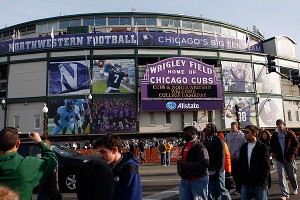 Jerry Lai/US PresswireNorthwestern and Illinois, who played at Wrigley Field last November, are both trying to establish a bigger presence in Chicago.
The Big Ten's two Illinois-based programs want a bigger piece of the league's biggest market. Although they'll employ different strategies, their goal is the same: a larger presence in the Windy City.
"This isn't about Northwestern vs. Illinois," Northwestern athletic director Jim Phillips told ESPN.com. "It's about institutions and programs trying to carve out a piece of the Chicagoland area."
Northwestern made the first move in the summer of 2010, launching its first-ever major marketing campaign, spurred by the tag line "Chicago's Big Ten team." The school targeted the Chicago market, putting up billboards, increasing advertising with media outlets and getting its football program in the spotlight.
The early returns have "extremely successful," Phillips said. Northwestern had the
nation's second-highest increase in average football attendance
from 2009 to 2010 (average increase of 12,259 fans). The school's corporate sponsorships have tripled in the past 18 months, according to Phillips.
"The benchmarks are all headed in positive direction," Phillips said, "but it's about long-term sustainability."
At his introductory news conference as Illinois' athletic director last month, Mike Thomas declared, "We want to be the king of Chicago." Thomas is putting together a plan on how to approach the Chicago market in new ways.
"Even prior to my taking the job, it was clear from my homework that there was more work to do up there," Thomas told ESPN.com. "We need to do a better job of marketing our brand and having a presence. You can define presence in a lot of different ways. Is it all the different media pieces? Is it billboards? Is it playing more contests up there?
"It can be a lot of different things, but how do we cater to those people, knowing that they're very important to the growth of all of our programs."
Not surprisingly, Illinois will target the large number of its alumni in Chicago, as well as those who grew up rooting for the Illini as the state's flagship college team.
"You would think we would have a leg up on people like that," Thomas said. "The percentages would tell you the opportunity for success is greater with them than those that didn't go to school here."
Northwestern has taken a different approach to marketing, largely out of necessity. With the second-smallest alumni base of any Big Ten school in Chicago, Northwestern has reached out to general sports fans and even those who root for other Big Ten teams.
"I don't think you have the spike or the ascension of numbers and attendance figures without garnering some of those individuals who don't have specific allegiances to teams," Phillips said.
Northwestern has relied on opposing fans to help fill Ryan Field, a trend that will continue to some degree. Illinois, meanwhile, will focus primarily on those with some ties to the school or its teams.
"It's going to be awfully difficult to get alumni of other Big Ten schools or people that have been die-hard, passionate fans of other Big Ten institutions for years to flip their allegiances and become Fighting Illini fans overnight or at all," Thomas said. "The focus should be those people who are already engaged in us, and then those who may be out there in the gray area, who hopefully we can get to gravitate toward our fan base."
Northwestern has the advantage of being located just north of Chicago's city limits. Illinois, meanwhile, is 130 miles away.
Thomas wants to play more Illini home games in the city. Illinois' basketball team has played at the United Center for years, but the football team could soon play contests at venues like Soldier Field or even Wrigley Field, where Illinois and Northwestern played last November in a Northwestern home game.
"There is a formula that probably works up in Chicago," Thomas said. "Does it mean more games? I think it does. What does that look like at the end of the day? I probably couldn't tell you right now. But hopefully we'll get it figured out sooner rather than later."
Both Thomas and Phillips understand the difficulty of boosting a brand in a pro-sports city saturated with teams. Thomas faced a similar challenge at his previous stop, the University of Cincinnati, as well as in his hometown of Denver, where he served as an assistant AD at the University of Denver. Phillips is a Chicago native and an Illinois alum who made stops at Notre Dame and Northern Illinois before coming to Northwestern.
[+] Enlarge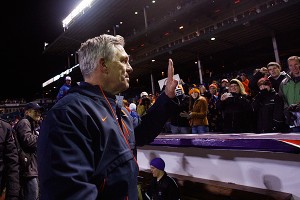 Jerry Lai/US PresswireIllini coach Ron Zook celebrates with the crowd after defeating Northwestern last season at Wrigley Field.
The two ADs are friends and praised one another for ramping up efforts in Chicago. They both agreed that the biggest step toward increased attention is winning on the field.
Phillips downplayed the direct competition off of it.
"What works for us may not work for them and vice-versa," he said. "Truthfully, I don't think we're competing for the same people."
The competition on the field, which resumes Saturday in Champaign, is more clear cut.
The Illinois-Northwestern rivalry seems to be spicing up. After Illinois thrashed Northwestern last year at Wrigley Field, Illini linebacker Martez Wilson, a Chicago native, said, "Our game plan showed who was Chicago's Big Ten team." At Big Ten preseason media days this summer, Illinois coach
Ron Zook took a shot at Northwestern's nonconference schedule
.
Illini coaches and players
have been salty leading up to this week's game
.
"We heard them say some things, like 'We recruit different kind of guys. They don't recruit our kind of guys,'" Illini linebacker Ian Thomas said. "We want to show them our kind of guys are better football players and a better team."
Zook said Tuesday that the schools don't recruit against each other much, adding, "we take some kids that they wouldn't take and they probably take some kids that we wouldn't take." But both staffs spend much of their time recruiting the Chicago area.
The Chicago element adds to what's at stake between the lines.
"The game's important to both of us for a lot of reasons," Zook said. "It's important because it is a Big Ten game. It's important because it's a rivalry and it's important because it's Chicago."
TOP 25 SCOREBOARD
Saturday, 12/20
Monday, 12/22
Tuesday, 12/23
Wednesday, 12/24
Friday, 12/26
Saturday, 12/27
Monday, 12/29
Tuesday, 12/30
Wednesday, 12/31
Thursday, 1/1
Friday, 1/2
Saturday, 1/3
Sunday, 1/4
Monday, 1/12
TOP PERFORMERS