Chicago Colleges:

Jim Tressel
October, 3, 2013
Oct 3
11:30
AM CT
EVANSTON, Ill. -- Northwestern's rise from national doormat to national darling to consistent winner is impossible to deny, even for farsighted skeptics who still discuss the program as if it were 1983, not 2013.
A team once best known for owning college football's longest losing streak can point to Big Ten titles in 1995, 1996 and 2000, five consecutive bowl appearances, and, finally, a bowl victory this past Jan. 1. But there's a scarlet and gray asterisk next to Northwestern's name. Of all the hurdles -- real or perceived -- the Wildcats have cleared since 1995, one opponent consistently trips them up and leaves them lying flat on their faces.
Ohio State hasn't merely dominated the all-time series against Northwestern, holding a 59-14-1 edge, including wins in the past four meetings and 28 of the past 29. Most of the matchups haven't even been competitive, beginning with the first, a 58-0 Buckeyes win a century ago.
Since a 60-0 win in 1973 at Ohio Stadium, the Buckeyes own 13 victories against Northwestern by 40 points or more and 21 victories by 20 points or more. Single-digit losses to Ohio State are almost as uncommon as wins for Northwestern. Even the Wildcats' championship seasons in 1995, 1996 and 2000 occurred without Ohio State on the schedule.
The dark days are over at Northwestern. No reasonable person could dispute that. But Ohio State remains a dark cloud hovering around the program. Saturday night, the fourth-ranked Buckeyes storm into Ryan Field for the most-anticipated regular-season Northwestern game in recent memory. The forecast, by the way, calls for showers.
[+] Enlarge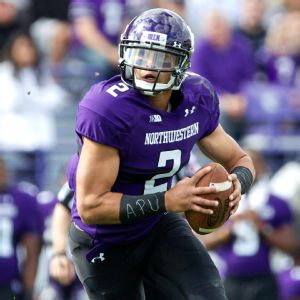 John Gress/Getty ImagesKain Colter and the Wildcats hope to end Ohio State's dominance with a win Saturday night.
Will Northwestern's big-stage appearance be a washout, or will the purple reign?
"It's going to be a big measuring stick for us, to see where we're at," Northwestern quarterback
Kain Colter
said Monday.
Nine years earlier, Noah Herron sat in the same room as Colter, discussing Northwestern's upcoming home game against an Ohio State team ranked No. 7 nationally. Herron, the Wildcats' running back at the time, and several of his teammates made comments that were true then and are true to this day but that still created a stir in Buckeye Country. Wide receiver Mark Philmore described the Buckeyes as "kids just like you out there."
"It was along the lines of, 'They're just Ohio State. They're the same guys that we are, playing for their school. They're no different than us,'" Herron recalled in a phone interview with ESPN.com this week. "It became poster-board stuff for their locker room, which is not what it was intended to be, but it was supposed to look at it from our approach. We're not playing their tradition, we're playing them. We're playing the current roster for 2004, not Archie Griffin and all these other great names that they've had."
Brett Basanez, the Wildcats' quarterback at the time, had a similar feeling. Despite playing with a separated throwing shoulder suffered the previous week, Basanez passed for 278 yards and two touchdowns and added 53 rushing yards, including a 21-yard dash to set up Herron's eventual winning TD.
Basanez had watched Ohio State's game against NC State and saw similarities between NC State's offense and Northwestern's.
"You're not playing Eddie George," Basanez said. "You're playing normal guys. Just play your game and win. We knew if we came out and played, we could score with them, we could score more than them. And that came to fruition as the game started."
Herron might have violated Big Ten etiquette by not paying homage to the Buckeyes. Ohio State came to Ryan Field eager to put Northwestern in its place.
Instead, the Wildcats won 33-27 in overtime. Herron scored the winning touchdown in what
one Northwestern fan website
calls the "33 game" -- Herron wore No. 33, scored the team's 33rd point on his 33rd carry and helped snap a 33-year losing streak to the Buckeyes.
"We weren't intimidated by them from the very beginning," Herron said. "Offense, defense, special teams, everybody played with that same kind of swagger, that, 'Hey, we're playing this team right now, nobody else.' Sometimes you catch a little heat for saying some things, but nevertheless they're true and they prove to be true. They're college kids just like us.
"Just because they're Ohio State, they don't get a free pass."
The current Northwestern players had nothing inflammatory to say this week about Ohio State. Colter praised the Buckeyes' coaches and said Ohio State has "athletes all over the board."
But the Wildcats also aren't in awe of Ohio State, which might have been a problem for Northwestern teams of the past.
"If you grow up watching college football, you hear about tradition, you hear about the successes that programs have had," Herron said. "You can be enamored by it. You can even be intimidated by it."
Herron acknowledges that, from top to bottom, Ohio State had more talent than Northwestern in 2004 and still does today. Wildcats coach Pat Fitzgerald agrees, saying Monday, "I think there's a talent gap between anybody in the top five and everybody else, including us. ... But we're pretty darn talented."
The talent gap has narrowed for Northwestern, as recruiting is on the rise under Fitzgerald. The are-you-kidding-me losses that used to plague Northwestern, particularly in nonleague play, have gone away. The Wildcats actually can stay ranked for more than a week.
But there are steps to legitimizing a program, and beating the Big Ten's most talented and visible program is one Northwestern eventually has to take, especially if it intends to return to the Rose Bowl.
Saturday night's opportunity, Basanez said, is more about Northwestern's future than its past.
"If you're judging your football program in the Big Ten, especially with [Buckeyes coach] Urban Meyer, with the tradition that [Jim] Tressel and other guys have had there, yeah, that's a measuring stick," he said. "It's very important to beat Ohio State because they're a Big Ten foe, but it's just as important to beat Michigan or Iowa. Everyone just thinks of Ohio State, but you beat them, arguably right now you're the best in the Big Ten."
Herron, who played five NFL seasons with four teams, calls the touchdown run in overtime against Ohio State his best moment on a football field. Personal achievement played a small role, as the win resonated for a team and a school still trying to escape its putrid past on the gridiron. The Ohio State win turned out to be the high point for the 2004 Wildcats, who went 6-6 and missed a bowl, thanks to a 1-3 mark in nonleague play.
The program since has been elevated. So have the stakes Saturday night.
"It is a measuring stick because it's the main stage, and it's seemingly been a team that Northwestern has had a hard time beating," Herron said. "Two ranked teams, game of the week, 'GameDay' is going to be there.
"What more can you ask for, not only for that team but for the program?"
November, 21, 2012
11/21/12
10:15
AM CT
Ten items to track around the Big Ten on the final weekend of the regular season:
1. Bigger than The Game:
Michigan defensive lineman
Will Campbell
told me this week that
The Game never wavers in importance
, whether Ohio State is 0-11 or 11-0. That's a good attitude for a player to have, but from the outside looking in, the Michigan-Ohio State game is much more appealing when there's a lot at stake for both teams. For the first time since 2007, that's the case. Ohio State aims for the sixth unbeaten, untied season in team history. Michigan can hand the Buckeyes their first loss and possibly reach the Big Ten title game. This one should be fun. "It makes the game even bigger," Ohio State cornerback
Bradley Roby
said.
2. Bo knows:
Stunned by his team's performance in a 63-38 loss to Ohio State, Nebraska coach
Bo Pelini sat in the visitors' media room
at Ohio Stadium and said, "Like I just told the football team, we need to win out. We need to win out." Few thought it would happen, and even Pelini's faith had to be wavering a bit at that low point. But Nebraska has won five consecutive games, rallying for three of the victories, and need only beat slumping Iowa in the Heroes Game to punch its ticket to Indianapolis. The Huskers have ridden the roller coaster all season, but they'd need a serious derailment in Iowa City not to fulfill Pelini's pledge.
3. Senior day in State College:
There might never be another senior day at Penn State quite like the one Saturday at Beaver Stadium. Penn State will recognize a class that kept the team together during a tumultuous summer that included severe NCAA sanctions being handed down and several key player departures. "There's no doubt," first-year coach Bill O'Brien said, "that they set the tone for the future of Penn State football." Unfortunately, Penn State will play without senior linebacker
Michael Mauti
, a top candidate for Big Ten defensive player of the year and the team's emotional leader. Mauti, who suffered a knee injury last week, will be recognized along with his classmates.
4. Spartans, Boilers face must-wins:
Both Michigan State and Purdue entered the season with lofty goals, particularly the Spartans, pegged by many to win the Big Ten and reach the Rose Bowl for the first time in a quarter-century. Few expected MSU and Purdue to be fighting for bowl eligibility in Week 13, but that's exactly the case. Michigan State must win at Minnesota, and coach
Mark Dantonio is confident
, saying Tuesday, "When we win Saturday -- and I'll say when -- we'll be a 6-6 football team." Purdue, meanwhile, aims for its third straight win when it hosts rival Indiana in the Bucket game. Will a 6-6 season save fourth-year coach Danny Hope?
[+] Enlarge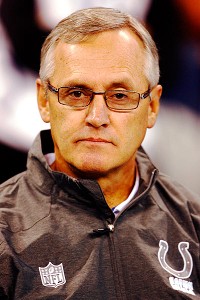 Brian Spurlock/US PresswireJim Tressel, now a consultant for the Indianapolis Colts, will be part of Ohio State's celebration of its 2002 national-title team.
5. Tressel's return:
Former Ohio State coach Jim Tressel will return to Ohio Stadium on Saturday for a reunion of the school's 2002 national championship team. It marks Tressel's first major public appearance at Ohio State since resigning from his post on Memorial Day in 2011. It will be interesting to see how the Buckeyes faithful react to Tressel, whose actions helped land the team in hot water with the NCAA. On the flip side, Ohio State's program is arguably better off with Urban Meyer as coach. "Some people will embrace it, some people will not,"
athletic director Gene Smith told The (Cleveland) Plain Dealer
. "Some people will feel it's awkward, some people will not. I'm not going to feel it's awkward because I'm realistic -- he was part of that team. And I know what he means to those players."
6. Their kind of town:
Northwestern and Illinois both want to increase their clout in the Chicago area. Pat Fitzgerald's Wildcats have been the more consistent program in the past decade and take an 8-3 record into Saturday's clash with the Illini at Ryan Field. With a win, Northwestern will match its highest victories total under Fitzgerald, who would tie Lynn "Pappy" Waldorf for the school's career coaching wins record (90). Illinois first-year coach Tim Beckman has emphasized the Northwestern rivalry from the moment he arrived. Perhaps his players will respond with a strong effort to end an otherwise miserable season.
7. Making their cases for awards:
The Big Ten hands out all its awards next week, and races for offensive and defensive player of the year are still very much in doubt. Mauti's injury creates a potential opening in the defensive player of the year race, and a lot could depend on what happens in Columbus, as candidates such as Michigan linebacker
Jake Ryan
and Ohio State's tandem of
John Simon
and
Ryan Shazier
take the field. Other candidates, such as Purdue defensive tackle
Kawann Short
, also are in action. Ohio State quarterback
Braxton Miller
remains the front-runner for offensive player of the year, but Nebraska's
Taylor Martinez
has been brilliant of late and could challenge Miller if he turns in a monster game at Iowa.
8. Boiler spoilers:
Two weeks ago, Indiana was a home victory from putting itself in line to represent the Leaders Division in the Big Ten title game. The Hoosiers now know their season will end Saturday in West Lafayette, as they won't be going bowling for the fifth consecutive season. But Kevin Wilson's team still can reclaim The Bucket and prevent Purdue from making a bowl game. Wilson talked Tuesday about how the season doesn't feel like it's ending, and with so many young players, the future is promising. He downplayed the spoiler role, saying Tuesday, "It has nothing to do with what it does for them; it's about what it does for us. Winning is good for us. Winning builds us." Indiana has eight home games next season and should be in the mix for a bowl. A victory Saturday would be a nice boost before a crucial offseason.
9. Gray's day:
Minnesota will recognize 15 seniors Saturday against Michigan State, and none has had a more unique career than
MarQueis Gray
. He arrived as a nationally heralded dual-threat quarterback recruit, played quarterback for a year, played primarily wide receiver for a year, started 10 games at quarterback in 2011 and opened this season as the top signal-caller but moved to wide receiver following an ankle injury. He will play primarily at receiver against the Spartans but had two rushing touchdowns last week and could see increased time in the backfield. Gray talked this week about
"closing the chapter" on his Gophers career
, and it'll be interesting to see how he performs in his final game at TCF Bank Stadium.
10. Denard and Devin:
Michigan's
Denard Robinson
is healthy again, but how much quarterback he will play against Ohio State remains to be seen. Robinson's replacement,
Devin Gardner
, has been spectacular since returning to the quarterback role, accounting for 13 touchdowns in the past three games, including six last week against Iowa. Michigan started the Iowa game with Gardner at quarterback and Robinson at running back, and offensive coordinator
Al Borges has the "creative juices" flowing
as he crafts the game plan for Ohio State. Robinson and Gardner certainly give Michigan's offense a different look -- and some extra homework for Ohio State's improving defense.
TOP 25 SCOREBOARD
Saturday, 12/21
Monday, 12/23
Tuesday, 12/24
Thursday, 12/26
Friday, 12/27
Saturday, 12/28
Monday, 12/30
Tuesday, 12/31
Wednesday, 1/1
Thursday, 1/2
Friday, 1/3
Saturday, 1/4
Sunday, 1/5
Monday, 1/6