Chicago Colleges:

John Carlson
April, 24, 2014
Apr 24
9:00
AM CT
SOUTH BEND, Ind. -- Scott Booker and his players take a lot of pride in the tradition of excellence their group has produced. But despite Tight End U facing more uncertainty at the position than in recent memory, Booker, the Notre Dame tight ends coach, does not find himself having to explain the legacy that this relatively young unit is trying to carry on.
[+] Enlarge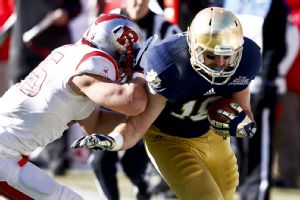 Jeff Zelevansky/Getty ImagesBen Koyack emerged as a receiving option last season, setting himself up for a breakout season as a junior.
"When they come here and they get recruited, it's easy to know about
Kyle Rudolph
,
John Carlson
,
Anthony Fasano
,
Mark Bavaro
back in the day," Booker said. "And obviously now recently,
Tyler (Eifert)
, Kyle and
Troy (Niklas)
. That's easy. That's what you do in recruiting, you do your homework.
"And when you do your homework as a tight end, coming out of high school, if you want to be successful, if you want to be on national TV every day and you want to catch a lot of balls and you want to have an opportunity to go to the league, I don't know what place is better. So you don't have to tell them where they're at."
Niklas' surprising early departure to the NFL put the Fighting Irish's tight ends on a learning curve this spring.
Ben Koyack
was forced into the No. 1 spot, with redshirt freshmen
Mike Heuerman
and
Durham Smythe
behind him. Freshmen
Nic Weishar
and
Tyler Luatua
will arrive this summer.
Koyack has drawn plenty of praise for the way he has carried himself among the youngsters since assuming his new role atop the depth chart.
"I think just the way he's coming every day prepared, ready to go," Booker said. "Watching the film before we watch the film as a unit. Talking to the guys, talking to Mike Heuerman, going out and eating with those guys. And just showing them how to be Notre Dame football players, and specifically Notre Dame tight ends, and the expectations that are put on us on a day-in, day-out basis. In all those facets he's been doing a better job continuing to grow."
Booker didn't want to compare Koyack to anyone before him, but the Oil City, Pa., native spoke with a renewed sense of confidence early in the spring, which can likely be attributed to his strong finish to the 2013 season. As a No. 2 tight end who was relegated to mostly blocking duties for much of last season, Koyack recorded 10 catches for 171 yards and three touchdowns, with all of those catches but a 19-yard scoring strike coming during the Irish's final six games.
Notre Dame is hoping that such improvement can have a trickle-down effect throughout the unit. Heuerman, who saw his redshirt all but confirmed early last season after having surgery to repair a hernia, is looking to add more weight, with the 225-pounder saying he sees himself adding 15 more pounds.
"It's all about making plays at the end of the day, and that's what I know I have to do," Heuerman said. "And now that Troy's gone, it kind of opens the door for someone to step in, so I'm excited to be able to be here now competing for that position and be here for summer and going to camp and (at the) end of the season still competing and making plays and doing what I do best, so I look forward to that."
May, 22, 2013
5/22/13
8:00
AM CT
We are 99 days away from the beginning of the final college football season that will end with a BCS title game. The College Football Playoff will replace the current system starting in the 2014-15 season. For now, we will look back at the best and the worst of Notre Dame during the past 15 years of the BCS era.
BEST
1. BCS title game appearance:
Notre Dame's 2012 season was one for the ages, despite the rout by Alabama in the Discover BCS National Championship. It was easily the program's best of the BCS era, and it has the program set up for future success in years to come under Brian Kelly.
[+] Enlarge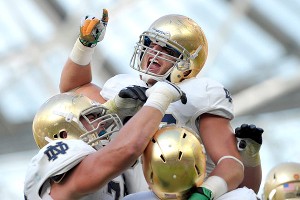 Matt Cashore/US PresswireTyler Eifert is just the latest tight end in Notre Dame's pipeline to the NFL.
2. Tight end play:
Tyler Eifert
rewrote the school record book for Notre Dame tight ends and was drafted in the first round.
Kyle Rudolph
was just named Pro Bowl MVP. NFL players
John Carlson
and
Anthony Fasano
each had more than 1,000 career receiving yards in an Irish uniform, too. Notre Dame has distinguished itself as Tight End U. during the BCS era.
3. Conference move:
Notre Dame was able to secure partial membership in the ACC moving forward, getting five guaranteed football games per year against that conference's members, gaining much better bowl access and securing a home for all of its other sports.
WORST
1. Bowl performances:
The Irish are 0-4 in BCS bowls, losing all four games by double digits, and three by 27 or more points. They are just 2-8 overall in bowl games during the BCS era, losing six of those games by double figures.
2. Key rivalry performances:
Notre Dame has winning records against Purdue and Stanford in the BCS era, but it has gone 6-7 against Michigan since 1998, including three consecutive last-minute losses from 2009-11, and will say goodbye to the rivalry after two more meetings. They are 6-9 against Michigan State in the BCS era, and 6-7 against Boston College during that stretch. They have lost to Navy twice, including a triple-overtime 2007 defeat that saw their record 43-game winning streak against the Midshipmen come to an end. And, as iconic as last season's victory at USC was -- clinching a national title game berth on the home field of the preseason No. 1 team and arch-rival, in a year the Irish themselves began the season unranked -- they are just 5-10 against the Trojans since 1998.
3. 2007:
Notre Dame opened the season with five consecutive losses, its worst start ever. (All losses were by double digits, and the Irish failed to score 20 points in each.) The Irish finished 3-9, the most losses in a single season in school history.
April, 10, 2013
4/10/13
9:00
AM CT
SOUTH BEND, Ind. -- The expectations for the next-in-line at Tight End U. are as basic as can be for three relatively untested faces. What
Alex Welch
,
Ben Koyack
and
Troy Niklas
have done in two-plus years hardly registers when measured against the legacies
Tyler Eifert
and others before him have left behind.
So yes, Niklas concedes that, just more than halfway through spring ball, there is still a feeling-out period among Notre Dame's tight ends, a trio that will bear large responsibility in one way or another on an offense that returns upward of seven starters but only two of its top six pass-catchers from last season.
"That's a tough question to answer," Niklas said. "But I would say the expectation for our group is just to block when we need to block, catch passes when we need to catch passes and just be as dynamic and aggressive and open to new things as we can and just be really flexible with what we do."
All is up for grabs at tight end, where Eifert re-wrote the school record books in grabbing 140 passes for 1,840 yards during the past three seasons.
[+] Enlarge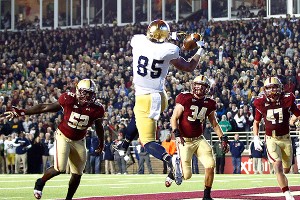 Mark L. Baer/US PresswireTroy Niklas counted this touchdown against Boston College among his five catches last season.
There is Niklas, a converted linebacker entering his third season with the Irish and second at tight end after grabbing five passes for 75 yards and a score in 2012. There is the junior Koyack, the most seasoned of the three despite grabbing just four balls the past two years while being limited to mostly blocking. And there is the redshirt junior Welch, who missed all of last season after an anterior cruciate ligament tear in his right knee suffered during fall camp ruined any hopes of becoming Eifert's No. 2 in 2012.
The distinction of succeeding a likely first-round pick in Eifert -- and NFL players Kyle Rudolph, John Carlson and Anthony Fasano before him -- is not lost on this group.
"I wouldn't say it's a pressure, it's kind of like a prestige," Welch said. "You feel good about yourself to be a part of the tight ends at the University of Notre Dame, but at the same time we're not trying to be any of those tight ends; we're going to be ourselves. We lost Tyler Eifert, he's a great tight end. He'll be playing in the NFL. But none of us are trying to replace him. We're just trying to be ourselves and go out there and help the team."
For Welch, that means getting back up to speed after a dream season spent on the sideline. Holding his own in winter workouts was the first big hurdle cleared, and now he is hoping to use the spring to make up for what was lost in a year off the field, with fall camp later serving as the true barometer among his peers.
"You don't really forget, just when you're out there on the field you take for granted certain things," Welch said. "When you get 15 practices under your belt you feel much more comfortable, especially after I got my knee done."
Emerging from the unit as the next future pro is currently off the radar. For now, this spring is simply a start toward filling out one of the offense's biggest holes.
"[Tight ends] coach [Scott] Booker always has high expectations in general," Koyack said, "but I feel like as long as we just do what we're coached to do, we may not be put in the same exact situation as Tyler was put into, but as long as we do well in the situations that we are put into I think that's pretty much the expectations of the group at this point."
TOP 25 SCOREBOARD
Thursday, 8/28
Friday, 8/29
Saturday, 8/30
Sunday, 8/31