Chicago Colleges:

John Jenkins
May, 2, 2013
5/02/13
7:56
PM CT
Notre Dame
will examine Notre Dame Stadium's location to try to convert it into a hub for student life and academic facilities
, the school announced Thursday.
[+] Enlarge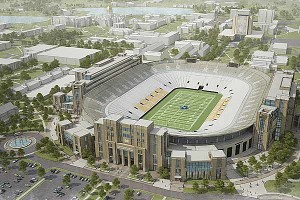 Courtesy of Notre Dame AthleticsThe University of Notre Dame announced Thursday that it is exploring an innovative approach to campus planning that would take advantage of the central location of the football stadium.
"Inspired by the University's campus master plan, we will study the possibility of accomplishing multiple objectives -- namely, preserve the campus' pedestrian character by taking advantage of a central location for needed facilities, retain the integrity of a legendary stadium, improve the visual attractiveness of the exterior stadium wall, and enhance the game-day experience for our football fans," Rev. John I. Jenkins, C.S.C., the University's president, said after presenting an outline of the initiative to members of the Board of Trustees at its spring meeting.
Potential areas that will be examined for construction additions to the stadium include classroom space, a student center, media resources and a press box, hospitality function locations, and premium seating options.
Costs for the potential additions, if there are any, are unknown, though the original stadium will remain intact no matter what.
Reps from the Offices of the Provost, Student Affairs, Executive Vice President, University Relations and Architect, Notre Dame Athletics and other departments will be involved in the study, as well as outside consultants.
January, 25, 2013
1/25/13
6:10
PM CT
SOUTH BEND, Ind. -- Top administrators at Notre Dame decided within hours of hearing about the
Manti Te'o
dead girlfriend hoax that it did not involve a crime and within two days had concluded there was no NCAA violation, according to a letter sent by the university president to board of trustee members on Friday.
The Rev. John Jenkins told trustees that despite "the unrelenting scrutiny of hundreds of journalists and countless others -- and repeated attempts by some to create a different impression -- "no facts relating to the hoax have been at odds with what Manti told us" on Dec. 27-28.
The letter was obtained Friday by The Associated Press from a university official who provided it on condition of anonymity because the private school's internal workings are confidential.
The eight-page document, including a four-page letter from Jenkins and a four-page outline of how Notre Dame handled the hoax, is both a defense and an explanation of the school's actions.
"We did our best to get to the truth in extraordinary circumstances, be good stewards of the interests of the university and its good name and -- as we do in all things -- to make the well-being of our students one of our very highest priorities," Jenkins concluded in his letter.
Some of the timeline Notre Dame outlined is well known, including that its star linebacker disclosed the scam to his coaches the day after Christmas and it remained unknown to the public until Deadspin.com broke the story on Jan. 16, long after the Fighting Irish lost the BCS championship to Alabama on Jan. 7.
Jenkins wrote that Notre Dame officials talked in the hours after hearing from Te'o on Dec. 26 and agreed there was no indication of a crime or student conduct code violation. Athletic director Jack Swarbrick spoke with Te'o the next day, and on Dec. 28 the school concluded there were no indications of an NCAA rules violation, which could have put Notre Dame's 12-0 regular season in jeopardy.
The school then made moves to find out who was behind the hoax, thereby protecting Te'o and itself.
"For the first couple of days after receiving the news from Manti, there was considerable confusion and we simply did not know what there was to disclose," Jenkins wrote.
On Jan. 2, after several days of internal discussion and a week after Te'o's disclosure, Notre Dame retained Stroz Friedberg, a New York computer forensics firm to investigate the case and whether any other football players had been targeted. The firm did not return phone or email messages left Friday.
To read the full story, click
here
.
November, 27, 2012
11/27/12
6:46
PM CT
With the coach of the nation's No. 1 team handling all of the postgame obligations of clinching a title-game spot, his boss was left out in the open.

In the long delay between Notre Dame's win at USC and Brian Kelly's news conference, athletic director Jack Swarbrick held court in a makeshift tent in a scene quite familiar in the Coliseum.

"This of course reminds me a little bit of being pinned up against the wall four years ago here by you guys," Swarbrick cracked.

Then, in 2008, the Irish had laid another egg against the Trojans, not even gaining a first down until the last play of the third quarter. Then-coach Charlie Weis' job was the source of much speculation, though Swarbrick stuck with him through one more year.

But not even Swarbrick saw Notre Dame's climb back to the top coming so fast, as he admitted that, despite the good vibes he got from Kelly -- whose contract he extended after consecutive 8-5 seasons -- he did not see a national title run before Year 4.

"He told me this summer we're going to be very good this year," Swarbrick said of Kelly, adding: "I just think everything coming together. It's all the pieces. It's not just one thing, but you could see it, too. The coaching staff was really good, great team leadership -- all the pieces were there."

Swarbrick said he didn't finally start to realize his vision Saturday night until Notre Dame's goal-line stand.

And, despite negative incidents big and small in the first two years, he said that Kelly had entered this season on the coolest seat in America, seeing the infrastructure the coach was building along the way.

"He knew how to build a program, and he could explain it," Swarbrick said. "He could articulate every element of it. He could tell me exactly what all those elements were and how he was going to address them, and that's what we were missing -- the program elements.

"As you could see, we had some really talented kids, great leaders. It wasn't our problem with the approach to the game, it was the other stuff. And he knew how to build that stuff. He demonstrated it, and that compelled me."

Swarbrick added that he was most happy about the win for the players who had been through the ups and downs of coaching changes and mediocre seasons.

Midway through Swarbrick's interview, his boss interjected to ensure that everyone received due credit.

"The only thing I would add, if I could: Brian did such a great job, but Jack is the one that put in the structures that allowed us to achieve the best graduation rate in college athletics as well as this great win today," school president Rev. John Jenkins said. "He won't credit himself, but he deserves a lot of credit."
November, 13, 2012
11/13/12
5:45
PM CT
CHICAGO -- Mike Aresco is a Catholic, so Notre Dame fans shouldn't read anything into his slip of the tongue Tuesday when discussing the Irish's move from the Big East to the ACC.

"Our feeling is, we're kind of agnostics at this point," the first-year Big East commissioner said. "We're happy to have them for three seasons. That's a good play on words."
Speaking after the Big East's annual presidents meeting at the O'Hare Marriott, Aresco stated that the ball is in Notre Dame's court as it relates to exiting the conference before the end of the official 27-month waiting period.
The Irish announced Sept. 12 that they would be moving all of their Big East sports to the ACC, with a five-game ACC football scheduling agreement likely taking effect in the 2014 season.
"Haven't had any additional talks with Notre Dame," Aresco said. "As far as we're concerned they'll play in the conference for three more seasons. We're thrilled to have them in the conference for three more seasons. If they have any thought about leaving early, they would really have to approach us.
"I haven't had any further talks with [athletic director Jack Swarbrick]. We had explored some things that didn't, frankly, ultimately go very far. At this point the ball is in their court. Right now, we're just expecting them to be in the conference for three seasons."
Pitt, Syracuse and West Virginia were all able to negotiate early departures as part of their exits from the Big East.
Pitt and Syracuse are each paying $7.5 million to join the ACC next season. West Virginia paid $20 million to go to the Big 12 this season.
"We're happy to have them for three seasons," Aresco said. "If they did want to leave early it would have to be on terms we could agree to. Jack and I have maintained from the beginning — and I met [school president] Father [John] Jenkins this week at the BCS meeting — that it was going to be amicable but we'd have to be satisfied that there was a reasonable solution, a reasonable settlement. And if there wasn't one, we're just happy to have them in the conference for the next three seasons."
Aresco said that Swarbrick has told him Notre Dame would be happy to stay through the current deal if an early exit cannot be worked out, adding that it has not affected the Big East's current television negotiations.
"The networks we're talking to know Notre Dame might be in and might not be in," Aresco said. "They know that even if it's only for three more seasons. This season is under current contract anyway, and they didn't play football. There's no issue. The networks are fully aware of what the situation is. We've informed them. I don't think they base any decisions one way or another. I can't tell you what they're thinking but they know the Notre Dame situation."