Chicago Colleges:

Johnny Manziel
December, 13, 2013
12/13/13
10:31
AM CT
By
ESPN Stats & Information
Melina Vastola/USA TODAY SportsFlorida State fans have made their pick, but Jameis Winston is just one of six Heisman finalists.
Six Heisman Award finalists will head to New York for Saturday's ceremony, the most that have received invites to the ceremony since 1994, when there were also six. The last time there were more was in 1988, with eight.
Although the favorite entering the ceremony is
Florida State
QB
Jameis Winston
, all six have made a solid case of why they are the best player in the country this season.
QB Jordan Lynch, Northern Illinois

Although Northern Illinois' bid to be a BCS buster was ended in the MAC Championship Game, Lynch's dual-threat ability kept the Huskies in it all season. He had 321 rushing yards against Western Michigan, the most by a quarterback in FBS history, breaking his own record of 316 set earlier in the year against Central Michigan.
Lynch ended the season with 1,881 rush yards, also an FBS record for a quarterback.
QB Johnny Manziel, Texas A&M
Manziel's bid to join Archie Griffin as the only multiple Heisman winners saw a transformation of his game. While his 2012 season was built more on his legs, his 2013 campaign saw him develop as a passer.
Manziel added a yard to his yards per attempt (from 8.5 in 2012 to 9.5 in 2013). His touchdown percentage also increased from 6.0% in 2012 to 8.4% this year. Also in 2013, 63 percent of his completions this season have gone for a first down or a touchdown, compared to 57.6 percent last year.
RB Tre Mason, Auburn
Even after a 1,000-yard rushing season last year, Mason wasn't on the short list of Heisman contenders until he finished the season with five straight 100-yard rushing games, including 304 against Missouri in the SEC Championship Game, the fifth-highest total all-time in an SEC game.
Mason's 2,137 all-purpose yards this season broke the Auburn school record, previously held by Bo Jackson. Mason's 22 rushing TD this season also set a school record.
QB AJ McCarron, Alabama
This is McCarron's third season as Alabama's starting quarterback, and he's improved every season. His opponent-adjusted QBR was 76.7 in 2011, 81.5 in 2012 and 83.5 this season.
He was even better against the tough SEC competition. In SEC games, McCarron had an 86.4 opponent-adjusted QBR, tied for the best in the conference. Fellow Heisman candidate Manziel was third (85.5).
RB Andre Williams, Boston College

This season, Williams became just the 16th player in FBS history to run for at least 2,000 yards in a season, and the first since Donald Brown did so for Connecticut in 2008.
Williams also showed big-play ability. He had 26 runs of at least 20 yards, the most by an FBS player since Kevin Smith had 26 in 2007. His 11 touchdowns on such runs are the most for any player in the last 10 seasons.
QB Jameis Winston, Florida State
Winston is the clubhouse leader for the Heisman, and as the FBS leader in opponent-adjusted QBR (90.9), he has good reason to be. The leader in opponent-adjusted QBR in three of the last six seasons went on to win the Heisman, including Manziel last year.
Winston has also showed a clutch presence on the field throughout the year. On third downs, Winston has a 98.9 Total QBR, leading all FBS quarterbacks. Over the last 10 seasons, the highest third-down Total QBR in a completed season was also 98.9, by Andrew Luck in 2010.
December, 11, 2012
12/11/12
9:00
AM CT
Notre Dame returns to practice Tuesday for the third time since the regular season ended, and it will welcome back a familiar face.

A six-city-in-seven-days, 9,936-mile tour of the awards circuit
has brought
Manti Te'o
full-circle back to the Irish. And -- amid the screaming, hitting and constant barking that awaits -- back to a place of comfort.
"I'm relieved that it's over," Te'o said after the Heisman Trophy ceremony. "I'm excited that I get the chance to prepare for Bama. I'm telling you guys: Heisman Trophy or national championship, I'm taking national championship 100 times out of 100, and I want to get back with my brothers.
"I saw them on TV [Friday] night during the awards show and I missed them. So it's time for me to go back home and be with my guys."
Last week's final tally was eight nominations, with Te'o bringing home hardware a record seven times, falling just short of the most coveted of them all, the Heisman.
Despite coming up short to Texas A&M's
Johnny Manziel
-- whose mom and dad donned a lei and Kukui nuts, respectively, after the family befriended the Hawaii native -- Te'o did not think his Heisman run marked a dead end for players on his side of the ball, citing his record 1,706 points, the most ever by an exclusively defensive player.
The linebacker hopes to turn the sting toward the Crimson Tide.
"It's motivation," Te'o said. "I always wanted to be the best and I just used that as motivation to be the best I can be. Obviously I have a lot of work to do and I'm just excited to get back and get things cracking."
The 255-pound Te'o joked two weeks ago that he had hoped every hotel he was going to stay in had a gym, so that he wouldn't come back looking like a defensive end.
Now he hopes to make the most of 13 practices and 27 days left to prepare for the national title game.
"I've been training this whole time, but just get back in the groove of things, put the pads back on, smack around some guys, study a lot of film -- that's what I love about this whole time," Te'o said. "I have weeks and weeks to study film. Usually I have about three days to study film during the season, but I have three weeks to study film. So I'll get well-acquainted with Alabama."
December, 8, 2012
12/08/12
9:14
PM CT
Manti Te'o
's historic Heisman Trophy chase came up short Saturday night, as voters went with Texas A&M sensation
Johnny Manziel
for football's most prestigious individual award.
It shouldn't come as too big of a surprise, given the fact that no exclusively defensive player has ever won the Heisman. But Te'o did come closer than any other pure defender ever, notching 1,706 points, behind Manziel's 2,029.
Yes, Manziel carries the label of freshman (or, more accurately, redshirt freshman), but when you play under center, break the SEC record for total offense (4,600 yards) in two games fewer than
Cam Newton
-- a previous Heisman winner -- and lead a road upset of then-No. 1 and defending national champion Alabama, well, you have a lot going for you.
The nickname Johnny Football is simply awesome, too.
If nothing else, Te'o was spared
another
New York trip, and he can re-join his Notre Dame teammates after Sunday night's trip to Newport Beach, Calif., for the Lott IMPACT award ceremony.
Te'o's week remains historic, and it will tough for a future player to top it, be it on offense or defense. He won six national awards, breaking
Charles Woodson
's 1997 record of five. Te'o won three awards Thursday night at the Home Depot College Football Awards Show, including the Maxwell player of the year award, which, by definition, is not exactly all that different from the Heisman Trophy.
The senior linebacker broke a barrier in winning that, too, becoming the first defensive player to win the Maxwell Award since 1980, and the first non-quarterback to win it in 10 years.
Now the whirlwind week is coming to a close, and Te'o can get back to the business of trying to beat Alabama and win a national title.
Something tells me that's more important to him.
December, 7, 2012
12/07/12
7:11
PM CT
Hugh Green looks at the evolution of football over time and cannot feign surprise when seeing that no exclusively defensive player has ever walked away with the college game's most prized individual award. But that doesn't mean he thinks it's right.
From spread offense variations to wider definitions of "unnecessary roughness," from 7-on-7 passing leagues all the way back to the legalization of the forward pass, Green sees one common theme as the sport has progressed.
"They have not made a rule change where offenses have the opportunity to score less points," said Green, the former Pitt and later Buccaneers and Dolphins star defensive end. "They always have rule changes that hamper the defense so that the offense can score more points. Like everything else that happens over the decades with that, defenses adjust. They make the offenses come up with another rule, which is the formula of why a defensive player is so important and why he should be characterized into that major award."
That major award is the Heisman Trophy, which will be given Saturday night to one of three finalists: Texas A&M quarterback
Johnny Manziel
, Kansas State quarterback
Collin Klein
or Notre Dame linebacker
Manti Te'o
.
[+] Enlarge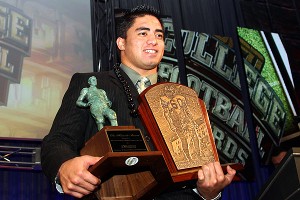 Cliff Welch/Icon SMI Manti Te'o has already garnered several awards, but can he add the Heisman to his trophy case?
No solely defensive player has notched the Heisman, with Michigan cornerback Charles Woodson being the lone winner (1997) who played mostly defense, though he also took reps at receiver and on special teams.
Green's 1980 season -- which featured 123 tackles, 17 sacks and four fumble recoveries -- earned him a second-place finish in 1980 behind South Carolina running back George Rogers. Green is closest to accept the famous stiff-arming trophy soley as a defender. (Iowa tackle Alex Karras finished second in 1957, too.)
That could change if Te'o's name is called this weekend at the Best Buy Theater in Times Square.
"I think first and foremost, for me it would be a great honor for my team," Te'o said. "Without my team, I wouldn't be a Heisman candidate. If we weren't 120, I wouldn't be a Heisman candidate. So without my team and their help, I wouldn't be going to New York. But definitely if I were to win and representing my school and my team and my family and defensive players in general, it would definitely be a great step for all of us.
"If it doesn't happen, then whoever does win it is truly deserving of the award. Anything, whatever happens, it's going to be good."
Manziel is considered the front-runner following an SEC-record 4,600 yards of total offense for the 10-2 Aggies. The redshirt freshman has the catchy nickname ("Johnny Football") and signature moment (last month's upset of then-No. 1 and defending champion Alabama) that have been Heisman hallmarks, based on history.
Working in Te'o's favor are nine takeaways (seven picks, two fumble recoveries), which are tied for the national lead, along with 103 tackles and the label of best player on the nation's No. 1 and only bowl-eligible undefeated team. Notre Dame's seven Heisman winners are tied with Ohio State for most of all time.
"People characterize what a defensive player does and doesn't do, which is score points," Green said. "I thought each and every time, [Te'o's] interceptions either prevented a touchdown or put his offense in position to score a touchdown or kick field goals. So it can be warranted that he does score points."
Te'o also has the character element, an often-overlooked part of the Heisman Trust mission statement, and something he has embodied in overcoming the deaths of his grandmother and his girlfriend within hours of each other earlier this season.
"There are so many superlatives that you can use about players throughout the country," Irish coach Brian Kelly said. "He's a college football player. He loves the game. He's passionate about the game. He's 21 years old and he acts like that. When he walks into a room, there's an energy and a passion for what he does.
"He raises the level of accountability amongst his teammates, and when you have that kind of energy and that kind of personality, it rubs off on everybody. He's a college football player that loves the game and he elevates the play of others around him."
Still, Te'o faces an uphill climb. Only seven defensive players have even been invited to the Heisman ceremony since players first began attending in 1981, the most recent being LSU fifth-place finisher Tyrann Mathieu last year. The Honey Badger, like Woodson, also made a big special teams impact and, like Manziel, also boasted the catchy nickname.
Nebraska tackle Ndamukong Suh's invite to New York following his monstrous 2009 campaign -- 85 tackles, 24 tackles for loss, 12 sacks, 26 hurries, three blocked kicks -- marked the first top-five finish by a defense-only player in 18 years.
That history was not lost on Suh, who was reminded of it everywhere he went after a Big 12 title game loss to Texas in which he notched seven tackles for loss, 4.5 sacks and two hurries. He felt he had a decent shot at winning, but he also knew that the crowded field that year could create some unpredictability, as he was joined in New York by a past winner (Tim Tebow) and two players who would face off in the national title game (Colt McCoy and winner Mark Ingram), along with Toby Gerhart.
"It's unfortunate that defensive guys don't get a better look," said Suh, who finished fourth and is now with the Lions. "I'm happy for Manti Te'o. I'll definitely be rooting for him. If I could vote for him, I'd definitely vote for him.
"I only saw one game of him playing, when he played against Oklahoma, but he seemed like a very dominant defensive player and I wish him the best, especially since I'm on the same side of the ball as him."
December, 4, 2012
12/04/12
7:48
PM CT
By
Tobin Petitpas, ESPN Stats & Info
US PresswireJohnny Manziel (left), Manti Te'o (center) and Collin Klein are the 2012 Heisman Trophy finalists.
Johnny Manziel finished the regular season with 3,419 pass yards and 1,181 rush yards. His 4,600 yards of total offense broke the SEC single-season record set by Cam Newton during his 2010 Heisman Trophy season. When Newton broke the record, he supplanted Tim Tebow's Heisman Trophy season of 2007.
Manziel has been responsible for 43 touchdowns this season, tied with Tajh Boyd and Jordan Lynch for the most in FBS. He had six games with at least two touchdowns passing and rushing. That's tied with Tebow in 2007 for the most such games in a season since 2000. Collin Klein is tied for second in FBS this season with three such games.
Manziel had 70 plays that gained 20 yards or more this season, 10 more than any other FBS player. He was tied for the eighth-most passes (52) and the second-most rushes (18) of 20-plus yards.
Manziel gained 784 rush yards on scrambles, the most in the SEC. He had 13 scrambles that gained at least 20 yards, including seven touchdowns. No SEC player had more total rushes or touchdowns of 20-plus yards, let alone scrambles.
Klein has scored a rushing touchdown in 11 straight games, the longest active streak in FBS. The only game that he did not have a rushing touchdown was against Missouri State, an FCS opponent. Since the start of last season, Klein has scored a rush TD in 23 straight games against FBS opponents. That is the longest such streak for any player in the last nine seasons.
Since the start of last season, Klein has an FBS-best 37 rushing touchdowns in goal-to-go situations. Klein has had at least one such touchdown in 22 of 25 games during that time period, including in his last 10 games in which he has at least one such attempt.
Klein has accounted for 69 percent of Kansas State's yards and 66 percent of its offensive touchdowns this season. Klein's percentages are slightly better than those of Robert Griffin III from his 2011 Heisman season at Baylor. Griffin accounted for 66 percent of Baylor's total and 61 percent of its touchdowns.
Manti Te'o has seven interceptions this season, tied for second-most in FBS and three more than any other linebacker. Te'o also has two fumble recoveries. His nine total takeaways are tied for the most in nation.
Te'o has 103 tackles this season, 42 more than any other player on Notre Dame. He has just two missed tackles all season. As a team, the Irish have missed 61 tackles this season, the third-fewest among AQ schools.
Notre Dame leads the nation in scoring defense (10.3 PPG) and is the only team that has not given up a touchdown drive longer than 75 yards this season. Every other FBS team has allowed at least three.
December, 3, 2012
12/03/12
6:22
PM CT
Manti Te'o
will be in New York
this weekend for the 78th Heisman Trophy ceremony
, making it two years in a row that a defensive player is a finalist for college football's highest individual honor.
LSU cornerback Tyrann Mathieu was a finalist last year, though he made a big impact on special teams as well.
Te'o is joined by Texas A&M quarterback
Johnny Manziel
and Kansas State quarterback
Collin Klein
.
Michigan cornerback Charles Woodson is the only defensive player to win the Heisman, in 1997, but he, too, saw time on special teams, along with wide receiver.
Te'o won the Butkus Award earlier Monday as the nation's best linebacker, and he will be in a different city each day this week for a different honor following a regular season that saw his team finish atop the rankings with a 12-0 record.
Te'o has 103 tackles, seven interceptions and two fumble recoveries for the nation's top scoring defense.
The official Heisman ceremony is 8 p.m. ET Saturday at the Best Buy Theater in Times Square.