Chicago Colleges:

Jonathan Turner
April, 18, 2014
Apr 18
8:00
AM CT
SOUTH BEND, Ind. — This week marked the first unofficial "off" week for
John Turner
. The redshirt sophomore's workload essentially doubled this spring, with the former safety learning a new position as a linebacker, a chore that would have been complicated enough had Notre Dame's defense not been undergoing a massive face-lift under new coordinator Brian VanGorder.
"After practice I usually go watch film with [outside linebackers] coach [Bob] Elliott, so I really haven't had any time off this spring," Turner said. "Just been putting in work, trying to get better."
Turner is hardly alone, as he is one of three notable players switching positions on the defensive side of the ball, an area that has become somewhat of a haven for fresh starts and surprises for the Irish during Brian Kelly's tenure as head coach.
James Onwualu
went from safety to linebacker this spring after playing wide receiver as a freshman last season. And
Matthias Farley
moved from safety to cornerback; he arrived at Notre Dame three years ago as a receiver.
Turner, who played cornerback while at Indianapolis Cathedral High, said the move from the secondary to linebacker this time around has been a far more difficult one, though the spring served as a nice transition period.
[+] Enlarge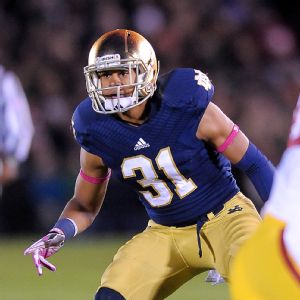 Cal Sport Media/AP ImagesJohn Turner is one of several underclassmen making a position switch for the Notre Dame defense.
"It was like a learning process the first, I'd say, eight, nine practices. Just getting used to like just being at the line of scrimmage, just being asked to do all the different jobs that they asked me to do," Turner said, adding that, toward the end of spring, "it's been starting to click a lot. Just knowing the defense and just being able to pretty much line up and do everything I need to for the most part."
Turner, who mostly played on special teams, is one of several underclassmen competing for potential starting roles on a retooled unit. Turner is getting practice time mostly in the Sam linebacker role in VanGorder's base defense. The circumstances are a bit different for Onwualu, if only because he earned meaningful action as a rookie last year, catching two passes for 34 yards.
Still, the 215-pound Onwualu's blend of size and athleticism made him an enticing prospect on the other side of the ball, with the sophomore starting this spring listed as a safety before being brought down into the box. He's mostly playing at the Sam position as well.
"Obviously the linemen are a little bit bigger, so you've got to learn how to beat them in different ways, and I'm trying to learn that every day with my technique and everything," said Onwualu, who played corner and safety at Cretin-Derham Hall (Minn.) High. "But I think that's really the only thing. My strength is up there with a lot of people, so I believe I can play in the box."
The moves are hardly unique to the Irish, as the position switches have become as much of a staple under Kelly as anything else. Four players who started in the secondary last year, for instance, had arrived to Notre Dame as receivers: Farley,
Austin Collinsworth
,
Bennett Jackson
and
KeiVarae Russell
.
VanGorder initiated this spring's moves shortly after his arrival, with the former New York Jets linebackers coach evaluating film and engaging in a series of conversations with both Kelly and the players.
"That evaluation started with film first, and then some training with them, watching them move around and all," VanGorder said. "But until you put the football down and put your cleats in the grass, there's a lot of ways to complete the evaluation. Now we're seeing them play the game of football, so there's some things we didn't have now that we've got to continue to evaluate. And then, in the end of this picture and the spring, we pretty much can define and profile a player in terms of who he is."
The returns from spring have been positive as the Irish search for unconventional ways to find playmakers among a relatively green group.
"I love him, I really do. I think he's a great guy. I think he's very honest and upfront about everything," Farley said of VanGorder. "You can talk to him about anything. He's personable, and that clicked from the start and I think everyone really feels that, and it's going to be really good for everyone moving forward."
March, 19, 2014
Mar 19
1:40
PM CT
Before Notre Dame opened spring practice earlier this month, Brian Kelly spoke of trying to find leaders on a young team with plenty of moving parts. Two weeks and just three practices later, that theme might be pushed to the back burner as the Irish search for identity within their personnel first.
[+] Enlarge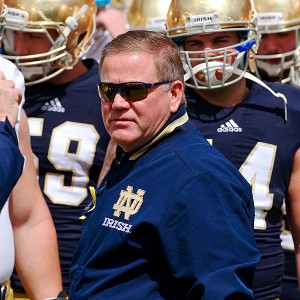 Matt Cashore/USA TODAY SportsHead coach Brian Kelly said Notre Dame players will focus on their positions this spring and on leadership over the summer.
"I normally would tell you in our first kind of get-together, it was really working on that leadership piece with our team, but our guys are so focused on their own deal right now, getting their own position work down, their own house in order," the fifth-year Irish coach said Wednesday. "They've got a lot of things going on, so that I think really what is most important is we get our handle on our personnel and really develop those guys at their positions right now. We'll spend some time in June, now that we have some time with our guys, we'll spend June really as that opportunity to develop that leadership with our guys.
"This spring is really going to be individually about gaining some consistency at those positions and who those guys are. I think that's how the spring needs to go for us."
Position changes have been common under Kelly, who noted that receiver-turned-safety
James Onwualu
could see time on both sides of the ball. Other players, such as safety-turned-linebacker
John Turner
and safety-turned-corner
Matthias Farley
, could carve out niches within Notre Dame's defensive packages.
Kelly was happy to see his players return from spring break in one piece and locked in on practice. The schedule laid out was less than ideal this spring, with Easter not until April 20 and with the school's break this past week, forcing the Irish to start practices earlier than normal (March 3 and 5) before going their separate ways for two weeks.
"I think they got away, they recharged their batteries, they enjoyed themselves, but they were mature enough to know that when they came back, they had some work to do," Kelly said. "I didn't feel like we took a step back in any fashion."
Notes
: Right guard
Christian Lombard
left practice early after spraining his wrist.
Conor Hanratty
replaced him. ... Notre Dame has not abandoned its search for reliable special-teams play. Kelly said he has broken out players into specific roles to ease the transition once fall camp arrives. "I don't know if you watched us, but we haven't been very good at special teams," he said.
TOP 25 SCOREBOARD
Thursday, 9/18
Saturday, 9/20