Chicago Colleges:

Juice Williams
March, 18, 2014
Mar 18
12:00
PM CT
I'll make a deal with you, Warren Buffett. You cut me a check for $10 million right now, and I'll spare you the embarrassment of acing your little challenge.
September, 10, 2013
9/10/13
1:00
PM CT
Football and marketing both rely on timing, and Illinois hopes its surprising on-field success in the first two games fuels a different type of blitz this weekend in Chicago.
For the first time in nearly two decades, Illinois will host a football game in the city it covets but rarely has captured, at least in recent years. Already at their victory total from last season, the Illini on Saturday take on No. 17 Washington at Soldier Field, making their first appearance on the lakefront since 1994 and just their second ever.
Billed as Illinois' Chicago Homecoming, the game caps off a
weekend of events
, including a luncheon with Dick Butkus, a Chicago native who launched his legend at Illinois and cemented it with the Chicago Bears. Butkus, a two-time All-American linebacker and Big Ten MVP who led the Illini to a Big Ten title and a Rose Bowl win against Washington 50 years ago, also will toss the coin before the game.
"We need to do something for the Chicago area because so many kids are leaving the state," Butkus told ESPN.com. "I just feel Illinois, with the largest number of alumni in the city of any school, we should be able to do a better job of recruiting kids out of here. We've got guys going to LSU, USC, the Michigans, Ohio States and Notre Dames, and even Northwestern.
"We've got to get back to getting our own kids to go to our own school."
The school's
promotional video
for the game is appropriately set to Diddy's "Coming Home," in which Skylar Grey sings:
I'm coming home, I'm coming home
Tell the world I'm coming home
Let the rain wash away
All the pain of yesterday
I know my kingdom awaits
And they've forgiven my mistakes
I'm coming home, I'm coming home
.
It will take more than rain to wash away the pain from the 2012 season, when Illinois went 2-10 and failed to win a Big Ten game, or forgive the program's inability to capitalize on a Rose Bowl run in 2007 and a series of elite players who became high NFL draft picks. But for the first time in more than a year, the sun shone on the Illini, whose 45-17 victory against a good Cincinnati team last Saturday couldn't have come at a better time.
"It was important, especially beating a very good football team," Illinois athletic director Mike Thomas told ESPN.com. "I know there's buzz around the program. You would think there would be an impact moving forward with the game this weekend."
While Grey sings of kingdoms, Thomas in August 2011 famously proclaimed that
he wanted Illinois to become "king of Chicago."
He had recently become Illinois' AD, and his ambitious approach made sense for a school with a huge alumni/fan presence in the market but one that had largely disappeared from the sporting radar, at least in football.
Illinois moved the needle to start the 2011 season, recording its first 6-0 start in 60 years. The Illini proceeded to make history of a different sort, dropping the rest of their regular-season games to become the first FBS team to start 6-0 and finish 6-6. The collapse cost coach Ron Zook his job, and Thomas' hiring of Tim Beckman -- after being rebuffed by Kevin Sumlin and others -- didn't inspire much excitement in Chicago and around the state.
And then the 2012 season happened, when nothing went right for Beckman and his team. The clunky campaign ended with a 50-14 loss at rival Northwestern, which had combined consistent on-field success with an effective marketing campaign ("Chicago's Big Ten team) to make a dent in Chicago's saturated sports market.
Illinois entered this season as a near-consensus last-place pick, and its homecoming game at Soldier Field --
scheduled before the 2012 season
-- looked like a tough sell, if not an impossible one, to a fan base that, despite its size, puts basketball first and seems quick to dismiss the football program, even in better times.
That's why the Cincinnati win could be so important. It allowed Illinois fans, including those in the Chicago area, to feel good about their program for the first time in a while.
"It gives us a sense of an identity," said senior wide receiver Miles Osei, who grew up near Chicago in Mount Prospect, Ill. "People in the Chicago area and people that follow Illinois football can sense that. Maybe in the past they haven't had that much of an identity, but we're definitely establishing it."
When Butkus grew up on Chicago's South Side, Illinois had a much stronger presence in the city. He remembers facing future Illini teammates such as Jim Grabowski and Gregg Schumacher in city playoff games.
Illinois coach Pete Elliott and his staff relentlessly recruited city players. Bill Taylor lured Butkus out of Vocational High School. But the
slush-fund scandal in 1966
led to Elliott's resignation, followed by 13 losing seasons in the next 14 years.
Butkus recalls that most of Elliott's assistants went to work for Levi Strauss in sales after things fell apart in Champaign.
"Dammit, those guys knew how to sell," Butkus said. "They were a young group, just great guys. You wanted to play for 'em. We had talented guys. I just do not understand why we have a tough time recruiting out of here. I guess playing at Soldier Field, we're trying to get the presence going, but you've got to work the high schools."
Beckman and his assistants are trying to do just that. They held three camps in the area this summer and a
spring scrimmage at Gately Stadium
on the city's South Side.
Zook made local recruiting splashes with players such as Martez Wilson and Juice Williams, both Chicago natives (Williams also attended Vocational High). The pipeline to elite prospects since has dried up a bit, although Aaron Bailey, a four-star quarterback from Chicago suburb Bolingbrook, headlined the 2013 class.
"It's huge," Beckman said. "It's not like three guys are up there and they recruit Chicago. Every coach on this staff has a piece of Chicago, so that everybody in that city gets to meet our coaching staff, from quarterback coach to DB coach.
"We're not to where we want to be, but we've definitely made strides."
[+] Enlarge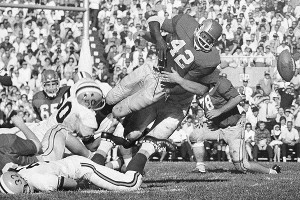 AP PhotoDick Butkus (50) made 145 tackles and caused 10 fumbles in 1963, leading the Illini to a Big Ten title.
Asked why Chicago has posed such a challenge for Illinois, Butkus replied, "If I knew that answer, I'd be a goddamn genius."
"That's been baffling me for 48 years," he said. "I don't understand it."
He hopes the Chicago homecoming can be a starting point, and the mood around the game and the events undoubtedly will be better after the Cincinnati win. The hope is that the good feelings will translate into more butts in seats on Saturday.
As of Tuesday, Illinois was approaching 40,000 tickets sold, according to Jason Heggemeyer, the school's associate athletic director for ticketing and sales. Thomas said 50,000 "might be a little bit ambitious" but added that the school's Chicago-based fans often wait to buy tickets for events like Illinois' annual basketball game at the United Center. The walk-up crowd also could be good.
"You'd hope Saturday's win would resonate with a good number of people," Thomas said. "We haven't played up there since the early 90s."
The weekend will be a test run of sorts, as Thomas is interested in playing more football games in Chicago. After launching
the "Illinois. Our State. Our Team" marketing campaign
in August 2012 and
forming a Chicago athletics advisory board in February
, Thomas is looking for different and more aggressive ways to brand Illinois in the area.
"You can't take a day off," Thomas said. "Year in and year out, you've got to have a real presence up there, and I don't think in the past that's been the case."
Thomas is right about the recent past, but there was a time when Illinois football truly resonated in the Midwest's largest market. Butkus lived through it, and he wants to bring it back.
"Shoot, we'd all like to play in the BCS championship, but that's not where we're at right now," he said. "At least give the team some support. If they know of anybody or their own kids looking to play, why wouldn't you go to Illinois? It's a great school.
"We've just got to spread the word and get people more excited about it."
September, 29, 2011
9/29/11
12:53
PM CT
Juice Williams is not in the NFL nearly two years removed from his final season at Illinois, but he hasn't given up hope of his dream.
[+] Enlarge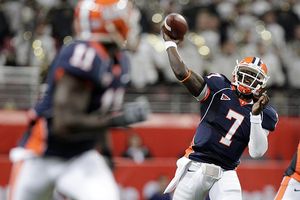 AP Photo/Jeff Roberson When Juice Williams was setting records at Illinois, he figured his next step would be the NFL.
Williams is back in his hometown of Chicago, working for a public relations marking firm and continually preparing himself for another NFL shot. He played with the Chicago Slaughter of the Indoor Football League this past season and could return there next year if another opportunity doesn't present itself.
Williams is optimistic the NFL will come calling again. He was previously cut by the Chicago Bears prior to their 2010 season.
"I'm only 23 years old," Williams said on Wednesday. "There's guys who first played in the NFL at 29 or 30 years old. That's definitely within reach. There's no doubt in my mind I have the skills to be there. It's a matter of getting in the right hands and being prepared."
Williams had assumed his post-college career would have gone smoother. At Illinois, he had set the Illini's record for all-time total offense, most starts as a quarterback, led the Big Ten in passing and total offense in 2008, had more than 8,000 passing yards and 2,500 rushing yards in his career and helped Illinois to the Rose Bowl.
"Of course, not being cocky, a guy with my stats I thought I would be in the NFL with some team," Williams said. "It didn't work that way. I have a different plan in my life. I have to take a different road to get there. I learned not to bicker and moan because I didn't get my way. I still have to make money. I still have two children I have to provide for.
"It's part of me growing up, the transition from boy to man. That was something I learned. I knew what I wanted in life. It doesn't mean time would stop to achieve those goals."
Instead, Williams works during the day to pay the bills and uses his free time to stay in shape and work on his quarterback skills. He trains at local health clubs, his old high school and sometimes travels back down to Champaign.
Williams does still keep his eye on the Illini. He especially has taken interest in current starting quarterback Nathan Scheelhaase's career. Scheelhaase was redshirting during Williams' final year. Like a proud mentor, Williams has been impressed by Scheelhaase' growth in his second year at the helm.
Ultimately, Williams believed Scheelhaase will go down as one of the Illini's greatest quarterbacks.
"Everything I've done at Illinois win-wise, strategic-wise, record-wise, I think he's going to break everything I did," Williams said. "He's a smart kid. He took the things I did, right and wrong, and molded himself into a great quarterback. I think that's going to be really good for him down the line. He has the best of both worlds."
Williams was hopeful this year's team will end up in a Rose Bowl like the 2007 squad, but he doesn't see a lot of similarities between them. In 2007, Illinois lost early and had to build momentum. He thought this year's team began with a surge after a 4-0 start and now has to find a way to keep it.
Williams plans to be at Illinois for Saturday's game against Northwestern. The Wildcats were always one of his favorite opponents even if they did abuse him.
"It was always a tough game for me," Williams said. "I would be beat up and bruised. It was always fun."
When asked for his prediction, Williams didn't give a score, just a team.
"Illini win," he said.
TOP 25 SCOREBOARD
Thursday, 11/27
Friday, 11/28
Saturday, 11/29
TOP PERFORMERS