Chicago Colleges:

Kendrick Nunn
November, 5, 2013
11/05/13
8:15
AM CT
Chicago Simeon junior forward
D.J. Williams
committed to Illinois on Tuesday.
Williams, a 6-foot-7, 203-pound small forward, chose the Illini over DePaul, Florida, Georgetown, Providence, Purdue and SMU.
"From my first time on campus, I was just thinking it was the right move," Williams said by phone on Tuesday morning. "I've liked [Illinois] coach [John] Groce on and off the court. It's also close to my home. My family can watch me play. The Big Ten is also one of the best conferences in the country."
Williams is ranked No. 28 in ESPN's Class of 2015 and is the highest-ranked recruit Groce has landed since being hired in March of 2012. Illinois has two top-50 recruits committed in the Class of 2014 and signed two top-100 recruits in the Class of 2013.
ESPN RecruitingNation scout/analyst Reggie Rankin thought Williams could be an impact player in the Big Ten and was another significant recruit for the Illini.
"I think he's a wing player that can score," Rankin said. "He's got great length. He's got a terrific mid-range game. He's active and he's got tremendous upside. He'll be an excellent wing scorer in the Big Ten. That's a tremendous get for them, especially from another instate, Chicago high school power.
"I think that now Groce has been there a year and he's more established that these things are going to happen more consistently. It may not be a steady stream, but I think he'll be able to get high-level underclassmen early because they're established there as a team and are doing well and are projected to do well. They also have an excellent class in play in 2014. I think it's part of Groce and his staff being more established and working their home turf, which is a tremendous recruiting ground for them."
Williams was optimistic he could attract other top players from his class and help build Illinois into a championship contender.
"I can now start recruiting for the other players to kind of join me," Williams said. "Illinois is rolling really good. With the players they have coming in and more from my year, I think we can make a big run in the NCAA tournament."
Williams is the third player from Simeon to commit to Groce. He previously signed shooting guard
Kendrick Nunn
and point guard
Jaylon Tate
from Simeon. Both are expected to play for the Illini as freshmen this season.
Simeon coach Robert Smith said he was proud to send players to Illinois.
"It's one thing [former Simeon coach Bob] Hambric talked to me about when I was younger, about keeping guys at home is always big for Simeon, Illinois and the state," Smith said. "I think it's a great opportunity. Our basketball is too good in the state to have everyone leave for other schools. That's my drive to let other people and coaches know to try to keep our guys home. It's not for everyone. It's best for some players to go to Kentucky, Duke and North Carolina because it doesn't fit here, but we should try to make our basketball rich and good in Illinois."
Williams has made a number of unofficial visits to Illinois during the past few years. His most recent visit came during Illinois' football homecoming on Oct. 26.
Illinois assistant coach Paris Parham was the lead recruiter on Williams.
Illinois is also among the final four schools for Chicago Curie senior forward
Cliff Alexander
, who is ranked No. 3 in the Class of 2014 by ESPN. He will announce between DePaul, Illinois, Kansas and Memphis on ESPNU on Nov. 15.
"Williams' commitment certainly can't hurt with Alexander," Rankin said. "It shows another Chicago high-level player has earned their trust to go to Illinois."
Williams is Illinois' first Class of 2015 recruit.
September, 16, 2013
9/16/13
4:30
PM CT
I had doubts when Illinois picked John Groce to lead its program in 2012 after Bruce Weber was dismissed.
My doubts were really tied to Illinois, not Groce. He clearly had credentials. He'd led Ohio to that season's Sweet 16, where the Bobcats lost an overtime war to North Carolina. Prior to his tenure in the MAC, he'd spent time under Thad Matta at Ohio State.
Yet, he'd entered a challenging situation. Weber reached the 2005 national title game with Dee Brown and Deron Williams but he never found that perch again. Years of disappointment followed that achievement.
The recruiting battles he lost -- many involving kids in nearby Chicago -- were critical in the team's gradual decline.
So once Groce took the job, he immediately faced one major question: Can he bring elite talent to Champaign?
That's the only question any coach has to answer. But Illinois' leaders have faced even more scrutiny due to their proximity to a recruiting hub named Chicago (although it's really not
that
close to Chicago).
Well, Groce's latest coup proves that Illinois' spot on the recruiting map has been elevated -- locally and nationally -- since he arrived.
Quentin Snider
, ranked 28
th
in the 2014 class per RecruitingNation, chose Illinois last week, even though some thought he'd pick UCLA (see my colleague
Eamonn Brennan's post on the SoCal recruiting war
). But Groce made a fourth-quarter pitch to the point guard that obviously worked.
More on the Snider move
from ESPN.com's Adam Finkelstein:
But Illinois made a late push to get Snider on campus last weekend, allowing it to make a final impression. The Illini followed that up by traveling to Louisville the next day to conduct an in-home visit to help Groce seal the deal.

Snider was a late addition to this year's point guard market after having previously been committed to Louisville for almost two years.

He decommitted on July 31 due to concerns about the number of other talented guards on the Cardinals' roster. In Illinois and UCLA, Snider narrowed his choices to two programs who could provide him what Louisville could not -- an opportunity to run the show from the start.

The commitment is a potentially huge addition for Illinois because it was able to land one of the last remaining point guards capable of making an immediate impact. After Groce's 2013 recruiting class was headlined by a pair of ESPN 100 swingmen in Kendrick Nunn and Malcolm Hill, along with an athletic and skilled big man in Austin Colbert, his top priorities in 2014 were to get a post player and a point guard.
Groce's 2014 class is now ranked fourth overall by RecruitingNation. With Nunn and Hill -- a pair of Illinois kids -- anchoring his 2013 class, UI finished 15
th
nationally.
Next year could be a tough one for an Illinois team that will rely on multiple transfers and young faces after losing Brandon Paul and D.J. Richardson. Then again, Nunn and Co. could make an immediate impact and push the Illini into another NCAA tournament slot.
But regardless of what happens this season, the talent pipeline is rich. Groce has already proven many doubters wrong. Last season, he led the team to an upset of No. 1 Indiana and an NCAA tournament victory in his first year on the sideline.
If the program's prospects fulfill their potential and stick around for more than a year, Groce could turn Illinois into a Big Ten player and national title contender again.
That might not seem clear in 2013-14.
But Groce is definitely loading up in Champaign.
Illinois is rising. Quickly.
September, 20, 2012
9/20/12
4:45
PM CT
Simeon senior guard
Kendrick Nunn
may not be the savior of the Illinois basketball program, but he may just attract that player.
[+] Enlarge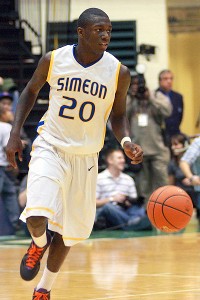 Scott Powers,/ESPNChicago.comKendrick Nunn is the 17th best shooting guard ranked by ESPN.
Nunn, who committed to the Illini on Saturday, certainly has basketball gifts. He can shoot. He can defend. He'll play hard. He'll do what is asked of him.
Whether he's a future all-American or has the NBA in his future, that's difficult to say now. He's a 6-foot-2 shooting guard who is ranked No. 56 in the country and is the 17th best shooting guard by ESPN and is ranked as high as 36th and low as 60th by other national recruiting sites. Within Illinois, City/Suburban Hoops Report recruiting analyst Joe Henricksen ranks Nunn behind Simeon teammate
Jabari Parker
, the nation's No. 1 player, and Belleville East's
Malcolm Hill
, another Illinois recruit.
Nunn's value to Illinois goes well beyond that, though.
For one, he's the first Chicago recruit for Illinois first-year coach John Groce. It doesn't hurt that Nunn is also from the state's premier program. Secondly, Nunn is the type of player who seems to fit into any system and tends to be on winning teams. Simeon and the U17 USA national team can attest to that. Finally, others players appear to like him as a person and teammate.
All of those reasons add up to Nunn possibly being the most important Illini recruit in the past decade.
September, 15, 2012
9/15/12
4:28
PM CT
Illinois
coach John Groce landed his first marquee recruit Saturday as Simeon senior guard
Kendrick Nunn
committed to the Illini, according to Nunn's father.
Nunn, who is ranked No. 56 in the ESPN 100, committed while he was on an official visit to Illinois on Saturday.
Read the entire story.
September, 12, 2012
9/12/12
3:14
PM CT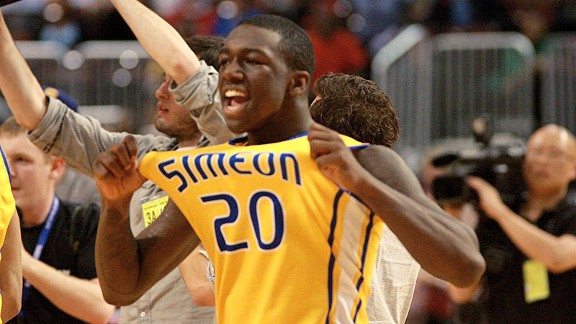 Scott Powers/ESPNChicago.comKendrick Nunn likes the idea of being the player to turn things around for Illinois.
Simeon senior guard
Kendrick Nunn
has eliminated UCLA from his final list of five schools, and Memphis could soon follow with the same fate, leaving Illinois, Marquette and Ohio State, his father said on Wednesday.
Nunn's father, Melvin Nunn, said UCLA was cut from his son's list after the Bruins took a recent commitment from
Allerik Freeman
, who is ranked the No. 14 senior shooting guard in the country by ESPN. Nunn is ranked the No.17 shooting guard.
Melvin said Memphis may soon also fall from the list. Nunn had planned an official visit to Memphis on Sept. 21, but Melvin said he has yet to hear from any Memphis coaches to confirm the details. The Tigers also received a commitment from shooting guard
Markel Crawford
, who is ranked No. 34 at the position, in August.
August, 21, 2012
8/21/12
10:19
PM CT
By
morrisk
| ESPNChicago.com
Simeon senior guard
Kendrick Nunn
, an ESPN 100 recruit, has set up dates for his five official visits, his father said on Tuesday.
Nunn released a list of five schools he was considering on Aug. 3 and will visit all of those schools in September and October. He will visit
Illinois
from Sept. 14-16,
Memphis
from Sept. 21-23,
UCLA
from Sept. 28-30,
Ohio State
from Oct. 5-7 and
Marquette
from Oct. 12-14, according to Melvin Nunn.
Nunn, a 6-foot-2 shooting guard, is ranked No. 54 in the ESPN 100. He's considered the state of Illinois' second-best senior behind his high school teammate
Jabari Parker
, who is the nation's top-ranked player.
Nunn averaged 15 points for Simeon last season and helped it to its third consecutive state championship. He also helped Team USA win gold in the FIBA U17 World Championship this summer.
August, 3, 2012
8/03/12
1:54
PM CT
Simeon senior guard Kendrick Nunn, an ESPN 100 recruit, released Friday a list of five schools he was considering to attend -- in alphabetical order, they are Illinois, Marquette, Memphis, Ohio State and UCLA.
Read the entire story.
June, 26, 2012
6/26/12
9:41
PM CT
Some of the Chicago area's most prominent high school and clubs coaches reacted positively Tuesday to
Illinois
hiring assistant coach Paris Parham.
Parham replaces Isaac Chew on Illinois coach John Groce's staff after Chew departed last month for a position at
Marquette
. Parham is expected to be the Illini's lead Chicago recruiter. He is a Chicago native, played at Dunbar High School in Chicago, coached at Phillips High School and Morgan Park High School in Chicago's Public League and has recruited the city and surrounding suburbs the last five years for
Illinois State
.
"It's rare a person gets an opportunity to do a do-over," said Whitney Young coach Tyrone Slaughter, whose roster includes nationally-ranked juniors
Jahlil Okafor
and
Paul White
. "I think coach Groce and the Illinois program got a do-over. We all liked the Chew hire, but I think the Paris Parham hire is one we love. It's means nothing negative against Chew. It's about the relationship we all have with Paris.
"I'm elated. This is one of the few times in Illinois basketball hire history that I can say I'm excited."
March, 29, 2012
3/29/12
3:18
PM CT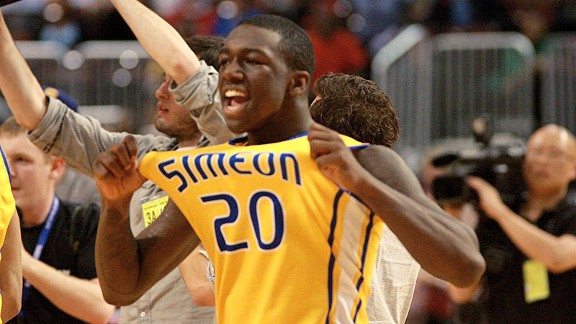 Scott Powers/ESPNChicago.comKendrick Nunn was a fan of John Groce long before he was hired by the Illini.
ESPNU Super 60 junior guard Kendrick Nunn, who plays at Chicago's Simeon Career Academy, has a previous relationship with new Illinois coach John Groce and could be interested in playing for the Illini.
Nunn made an unofficial visit along with his father, Melvin Nunn, to Ohio and met with Groce in September, 2010. Groce was the second coach to offer Nunn a scholarship, and father and son came away impressed by Groce.
Nunn, a 6-2 guard, is ranked No. 57 in ESPN's Class of 2014 Super 60. He was one of Simeon's top three players along with No. 1 junior Jabari Parker and Marquette recruit Steve Taylor and helped the Wolverines to their third consecutive state title this past season. He played on the U.S.'s under-16 2011 FIBA Americas gold medal team. He was previously committed to Texas A&M.
Groce was introduced as the Illini's new coach on Thursday.
TOP 25 SCOREBOARD
Thursday, 9/18
Saturday, 9/20
TOP PERFORMERS
M. Gordon Wisconsin - RB
13 car, 253 yds, 5 tds