Chicago Colleges:

Kentucky
September, 3, 2013
Sep 3
4:18
PM CT
ESPN 100 senior point guard
Tyler Ulis
has eliminated USC from his recruiting list and is down to Iowa, Kentucky and Michigan State, according to his father.
Ulis, a 5-foot-9 point guard from Marian Catholic in Chicago Heights, Ill., is ranked No. 38 in the Class of 2014 and the No. 8 point guard by ESPN. He trimmed his list to four schools in early August.
"Yes, we did [eliminate USC;] we never said it in the media or anything, but did speak to USC about it a couple weeks ago," James Ulis, Ulis' father, wrote in a text message on Monday. "Didn't want to just take a visit if Tyler had cooled on possibly going there. We thanked [them] for their time and we wanted to allow them to have an opportunity to recruit another PG."
Ulis made an official visit to Iowa this past weekend and will make official visits to Michigan State on Sept. 6-7 and Kentucky on Sept. 8-9. Kentucky recently offered Ulis a scholarship on an unofficial visit, and Iowa and Michigan State previously offered him.
James believes his son's commitment could come as early as the weekend of Sept. 14.
June, 19, 2012
6/19/12
10:58
PM CT
CHICAGO -- The NCAA may now permit coaches to call and text recruits unlimitedly, but the restrictions in contacting Simeon's Jabari Parker, the nation's Class of 2013 recruit, haven't changed.
Parker remains off limits. His parents, Sonny and Lola Parker, do not permit college coaches to contact Parker directly. They must call or text them.
"Everybody doing their job, but they still can't have Jabari's number," Sonny said on Tuesday. "That ain't changed.
"We want him to enjoy being who he is. If he wants to talk, we'll ask him first. Right now, we don't want him to be over-bombarded because coaches can sometimes be aggressive, and that can be overwhelming."
Sonny said all of the coaches have stuck to the rules and have not attempted to contact Parker directly. Just in case, though, Parker did change his number recently.
"It's okay," Sonny said of the new NCAA rules. "It's how you handle it. Don't get overwhelmed, don't get caught up. They have to do their job. We're doing our job."
Coaches have been reaching out to Parker's parents in the last week. Sonny said they've heard from Duke, Illinois, Kentucky, Louisville, Michigan State, among others.
"I talked to (Duke coach Mike Krzyzewski) the other day," Sonny said. "He wished me a Happy Father's Day. My voicemail is filled. It's been filled for a year."
Parker, who was the ESPNChicago.com 2011-2012 Player of the Year, and his family haven't discussed recruiting much yet. Sonny said Parker would trim his list to five schools at the end of the summer and begin to make visits.
Parker is currently training with the 17-and-under USA team in Colorado for the upcoming FIBA World Championship in Lithuania.
December, 8, 2011
12/08/11
7:07
PM CT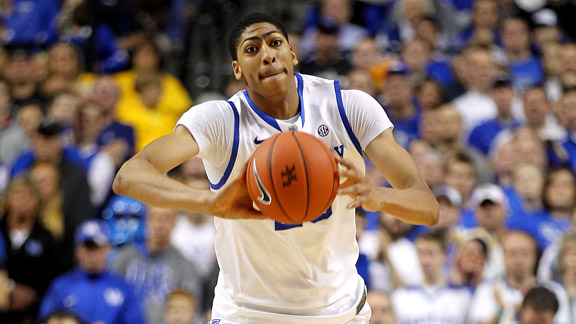 Andy Lyons/Getty ImagesIt's still amazing how far Anthony Davis has come in such a short time.
Illinois produced one of its most talented high school basketball classes in 2011. Now as freshmen, a number of them are already making an impact in the college game.
Here's a look at the most notable ones:
Anthony Davis, Kentucky, Perspective High School (Chicago)
Davis, a 6-10 forward, is considered the nation's top freshman and is the early favorite to be the No. 1 pick in the NBA draft. It's still so strange that only a few in Chicago knew about him until after his junior season. He's averaging 12.3 points, 9.1 rebounds, 4.5 blocks, 1.4 steals for the top-ranked Wildcats.
Ryan Boatright, Connecticut, East Aurora High School
Plenty of people doubted Boatright could continue to be a dynamic playmaker at the college level because of his size -- listed at 6-feet. So far, Boatright has proven them wrong. While it's still early, he's showing the Allen Iverson comparisons aren't far off. He's averaging 18.5 points, three rebounds, 4.5 assists and one steal.
Chasson Randle, Stanford, Rock Island High School
While Boatright and Davis didn't show much interest in any of the in-state schools, Randle, a 6-1 guard, chose Stanford over the Illini. He's been stellar so far for Stanford. With the Cardinal off to an 8-1 start, Randle has averaged 11.2 points, 3.7 rebounds, 2.1 assists and 1.6 steals.
David Sobolewski, Northwestern, Benet Academy (Lisle)
Sobolewski quickly earned the trust of his Wildcats coach Bill Carmody and his teammates as the team's starting point guard. He's been playing 31.8 minutes a game and averaging 7.3 points, 3.1 rebounds and four assists. He has the chance to be a four-year starter for Northwestern like his predecessor
Michael Thompson
.
Tracy Abrams, Illinois, Mount Carmel High School (Chicago)
The Illini's Chicago recruits haven't done a whole lot yet. Abrams is logging the most minutes out of
Nnanna Egwu
,
Myke Henry
and
Mike Shaw
. Abrams is averaging 16.2 minutes to go along with 3.1 points, 2.3 rebounds, 1.6 assists and 0.7 steals.
Sam Thompson, Ohio State, Whitney Young (Chicago)
Thompson is seeing the floor a bit for No. 2 Ohio State. He's averaging 3.4 points, 1.3 rebounds and 1.5 assists in 9.9 minutes for the Buckeyes.
Jamee Crockett, DePaul, Crete-Monee High School
Crockett, a 6-4 forward, earned his first career start for DePaul against Loyola on Wednesday. He's become more comfortable playing college basketball in recent weeks. He's averaging 5.6 points, 1.3 rebounds and 0.8 steals.
Julius Brown, Toledo, Hillcrest (Country Club Hills)
Brown's numbers are as good as any freshman from the state. He's averaging 13.6 points, 2.8 rebounds, 4.5 assists and 1.8 steals for Toledo, which is 6-2.
Abdel Nader, Northern Illinois, Niles North (Skokie)
Nader, a 6-7 forward, has been one of the few highlights for the Huskies this season. Considered a recruiting steal, Nader's averaging 10.1 points, 3.9 rebounds, 0.9 steals and one block in 24.7 minutes.
Roosevelt Jones, Butler, O'Fallon High School
Jones, a 6-4 forward, has jumped into the starting lineup for the Bulldogs. He's averaging 5.5 points, 5.4 rebounds, 1.8 assists and 0.9 steals. He had a double-double against Xavier.
Greg Travis, UIC, Curie High School (Chicago)
Travis has been one of the Flames' more consistent players early on. He's averaging 7.9 points, 2.7 rebounds, 3.1 assists and 1.3 steals in 24.4 minutes.
Derrick Marks, Boise State, Plainfield Central High School
Marks has contributed right away for Boise State. He's averaging 8.8 points, 2.6 rebounds, 2.1 assists and 1.0 steals for Boise State.
TOP 25 SCOREBOARD
Saturday, 12/21
Monday, 12/23
Tuesday, 12/24
Thursday, 12/26
Friday, 12/27
Saturday, 12/28
Monday, 12/30
Tuesday, 12/31
Wednesday, 1/1
Thursday, 1/2
Friday, 1/3
Saturday, 1/4
Sunday, 1/5
Monday, 1/6