Chicago Colleges:

Kentucky Wildcats
June, 27, 2012
6/27/12
8:20
PM CT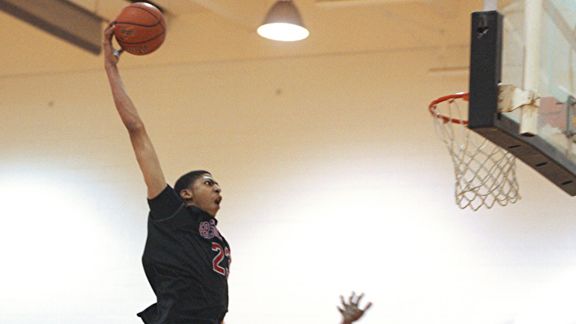 Scott Powers for ESPN.comAnthony Davis didn't have the confidence of a top pick when walked in to Tai Streets gym in 2010.
Anthony Davis didn't want to practice with former NFL wide receiver Tai Streets' club basketball team, MeanStreets, when Davis showed up for the first time in the spring of 2010.
At that point, Davis was unknown by nearly everyone. He hadn't played club basketball since he was in junior high, and his high school, Perspectives, wasn't somewhere college coaches or even local Chicago media traveled to check out players.
Looking to give Davis exposure, he and his father, Anthony Sr., approached Streets for an opportunity to play on his Nike-sponsored team. Streets agreed and invited Davis to a practice.
"I remember I had on my sheet a 6-7 player from Perspectives," Streets said. "He was another big body. The first time he came to practice he didn't think he could play with those guys. His dad made him stay, and the rest is history."
The rest is history.
MeanStreets gave Davis a chance to showcase his game in front of first national scouts and then college coaches. By the end of the summer, he was nearly everyone's No. 1 player in the country and was headed to Kentucky. Now two years later, he's a won national championship and is expected to be the No. 1 pick in the NBA draft on Thursday.
It's all unbelievable to Streets.
"It's amazing just how it happened so fast," Streets said. "When I first saw him, no, I didn't that was realistic. As it went on and it kept going and going, I was like this is going to be special. No. 1 pick would never have crossed your mind. He kept improving, and he kept showing."
Streets still often texts with Davis. Streets said he'll pass on any advice from his NFL career when he feels Davis needs it, but he doesn't think he does right now.
"I think it helps that all the attention he got came so late," Streets said. "That helps 100 percent. Kids nowadays, they're going to be told they're the greatest thing since they were in sixth or seventh grade. It helps he didn't get that until his last year of school. Everything happened so fast. He's had to work for everything."
May, 13, 2011
5/13/11
8:04
PM CT
Next week's NBA pre-draft camp in Chicago will have a Chicago feel to it.
Four Chicago-area products were among the 54 players invited to the camp, which will be held at ATTACK Athletics in Chicago from May 18-22.
Point guard Demetri McCamey (Illinois, St. Joseph High School), combo guard DeAndre Liggins (Kentucky, Washington), forward Jereme Richmond (Illinois, Waukegan) and point guard Iman Shumpert (Georgia Tech, Oak Park) will participate in the camp.
The players will be measured, put through a variety of drills and be given an official NBA physical during the camp. Teams can also hold private interviews with players.
Mike Dunigan (Oregon, Farragut) and Jacob Pullen (Kansas State, Proviso East) are also potential NBA draft picks. Pullen was not invited to the pre-draft camp. Dunigan is currently playing in Estonia and could not attend the camp because of a scheduling conflict.
ESPN NBA draft analyst Chad Ford has projected for Richmond to be a bubble first-round selection, McCamey and Shumpert to be second-round picks and Dunigan, Liggins and Pullen to go anywhere from the second round to undrafted.
November, 10, 2010
11/10/10
9:20
PM CT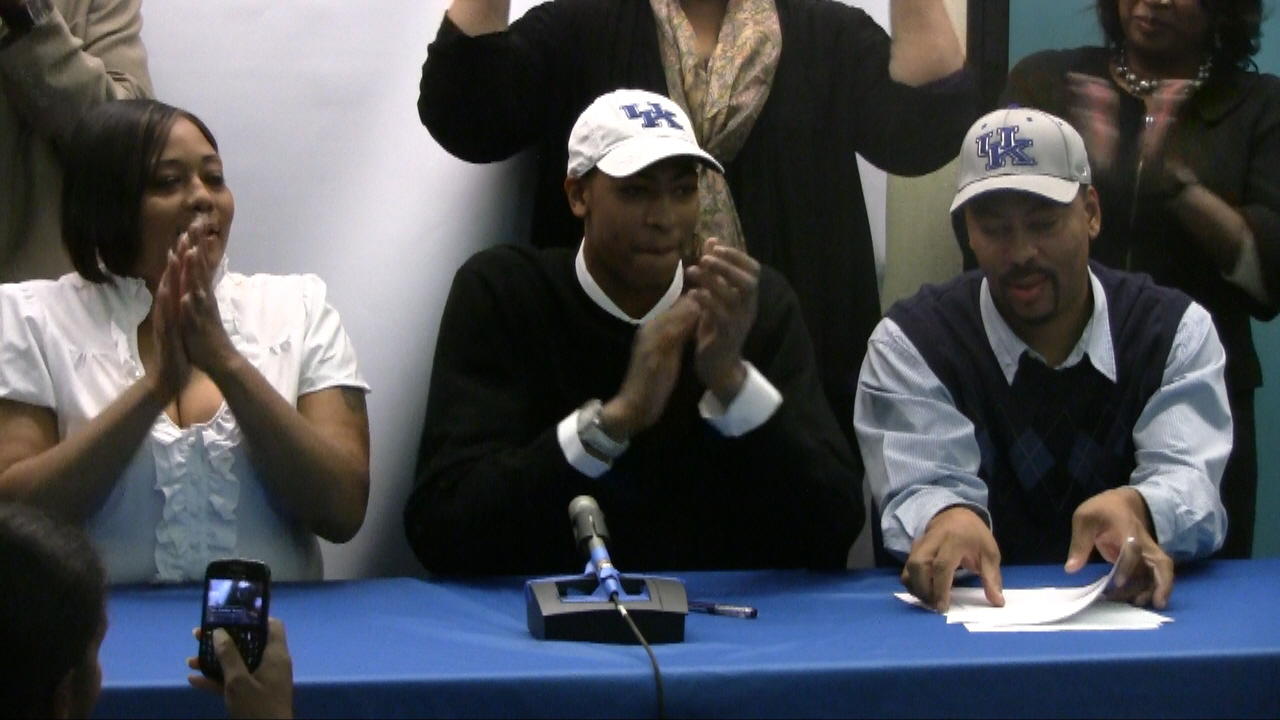 CHICAGO --
Anthony Davis
was almost an unknown in the basketball world as recently as seven months ago.
[+] Enlarge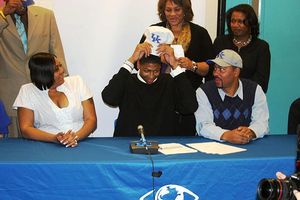 Scott Powers / ESPNChicago.comAnthony Davis, the nation's No. 2 recruit, signed a National Letter of Intent to play college ball at Kentucky on Wednesday.
The only reason Davis wasn't completely off the map was because there was one college basketball coach who had recognized the 6-foot-10 forward as a talent. While Davis flew under the radar to everyone else because he attended a school of only a few hundred students and didn't play club basketball, Cleveland State coach Gary Waters had caught of wind of Davis and went as far as offering a scholarship.
On Wednesday as 200-plus Perspectives' students chanted Davis' name while he signed his letter of intent to play at Kentucky, Davis reflected back on what had been an unforgettable seven months and what might have been if he hadn't been discovered.
Most likely, Wednesday, the first day of college basketball's early signing period, would have been a monument day at Cleveland State if the events didn't play out as they did.
"I was going to go there," said Davis, who is ranked No. 2 in the Class of 2011 by ESPN. "Playing AAU really helped me a lot. If I hadn't played AAU, I wouldn't be here today. There's a lot of people who doubted me, a lot of critics. I used that as motivation. [They said,] 'I wasn't going to go high D-I. I was going to go mid-major.'"
With what began with a decision to give club basketball a try as a way to gain more exposure, Davis and his versatile play became the talk of the hoops community nearly overnight. He skyrocketed up the national rankings, and nearly every coach in the country was falling over each other offering him a scholarship.
It was a series of events that rarely occurs in basketball recruiting in this day and age.
"I think it's a great story," ESPN Recruiting's Reggie Rankin said. "It's one of those you're glad to see a happy ending to. Here's a kid who is going from being a relatively unknown player in the spring time to going to play for the winningest program in the country. That's pretty extreme."
Davis' mother Erainer Davis said the same.
"I never would have thought that things like this would have happened," she said. "I knew he was good. I thought he was pretty good at basketball. We told him your turn will come around. Then all of sudden he went to play AAU with MeanStreets, and it blew up out of nowhere."
Davis chose Kentucky over DePaul, Ohio State and Syracuse in August because he felt the Wildcats and their coach John Calipari gave him the best opportunity to win a national championship and play in the NBA.
Kentucky's Class of 2011 is ranked No. 1 by ESPN -- the Wildcats signed four top 25 players on Wednesday. Along with Davis, the Wildcats brought in
Michael Gilchrist
,
Marquis Teague
and
Kyle Wiltjer
.
"We all think we're going to win a national championship, and I think that's going to happen as long as the four of us are there," Davis said. "That's one of our biggest goals, and something we need to accomplish. If our team this year wins, that'll be banner No. 8, and we're going to try and get No. 9. If they don't win, I guess we're going to get banner No. 8.
"Whatever Kentucky needs me to do and coach Calipari needs me to do to win a national championship, I'm going to do."
Davis' recruitment to Kentucky did involve some controversy. In August, the Chicago Sun-Times reported someone close to the Kentucky program had agreed to pay $200,000 to secure Davis' commitment, and that Davis' father, Anthony Davis Sr., had asked three other schools for $125,000-$150,000.
Kentucky and the Davis family have denied the allegations all along and continued to do so on Wednesday.
"I have no idea [why they wrote that,]" Davis Sr. said. "Maybe there were schools jealous of coach Calipari and Anthony picking Kentucky. That's my assumption. I'm not sure. I truly believe one of the other schools he didn't pick was upset.
"It wasn't difficult. We knew what they wrote wasn't true. Anthony was a little upset because he's been getting all the good, and he finally got a little bit of the bad. I had a talk with him and explained to him, 'That you know, you're going to get a lot of good, you're going to get a lot of bad, but it's how you take it and run with it.' So when the story came out, he still chose Kentucky. We're happy as a family."
Davis Sr. said they do still plan on suing the Sun-Times, and his attorney was still working through the situation.
February, 23, 2010
2/23/10
4:08
PM CT
[+] Enlarge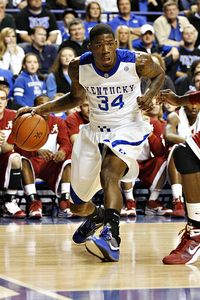 Mark Zerof/US PresswireDeAndre Liggins has played 25 or more minutes in six of Kentucky's past eight games.
DeAndre Liggins was best known in Chicago as the Big Ticket. He was the 6-foot-6 guard at Washington who with his big smile and aptitude for triple-doubles was always worth the price of admission.


Kentucky couldn't wait to get him. Liggins opted for the Wildcats over Illinois, Kansas, Texas and Memphis [his future Kentucky coach John Calipari originally missed out on him]. Liggins had the potential to be a game-changer and future pro with his extraordinary passes, adequate scoring ability and size. Former Wildcats coach Billy Gillispie once said he thought Liggins could be as good as Dee Brown and Deron Williams was for the Illini.


The Big Ticket, the DeAndre Liggins that Chicago best remembers, though, wasn't the same player Kentucky got to know through 1½ college seasons. From refusing to enter a game as a freshman to riding the bench for most of Gillispie's final Kentucky days to not playing at all the first nine games under Calipari this season due to an undisclosed reason, Liggins has been mostly a headache to his coaches. His disappointing play has achieved a rarity on message boards -- agreement.


That was until South Carolina handed Kentucky its first loss of the season on Jan. 26 and made the Wildcats stay at No. 1 short-lived. Ever since, Liggins has become a key piece in Kentucky's plan. He has played 25 or more minutes in six of the team's past eight games and averaged 5.5 points, 4.3 rebounds, 1.3 assists, 0.9 steals and 0.6 blocks during that span.


TOP 25 SCOREBOARD
Saturday, 12/21
Monday, 12/23
Tuesday, 12/24
Thursday, 12/26
Friday, 12/27
Saturday, 12/28
Monday, 12/30
Tuesday, 12/31
Wednesday, 1/1
Thursday, 1/2
Friday, 1/3
Saturday, 1/4
Sunday, 1/5
Monday, 1/6
TOP PERFORMERS