Chicago Colleges:

Kerry Cooks
April, 2, 2014
4/02/14
2:30
PM CT
SOUTH BEND, Ind. — Spring football can be used as a time for players to fully recover from injuries or to ease their way back into shape following surgery. Several
Notre Dame
assistants spoke with reporters Wednesday for the first time in a long time, and they addressed the condition of several recovering players.
[+] Enlarge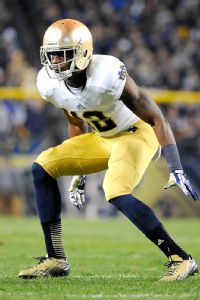 AP Photo/Chris BernacchiNotre Dame cornerback Devin Butler is cleared for everything but contact this spring after offseason shoulder surgery.
Defensive backs coach Kerry Cooks, on cornerback
Devin Butler
(offseason shoulder surgery):
"Going into the fall, we thought that (Butler and Cole Luke) would definitely be competing right now in the spring. It's obviously a setback for him, anytime you're missing a new system, and he's missing new techniques and he's actually missing that full-speed opportunity to see it vs. the offense. But I've been grabbing him after practice and working him for 10-15 minutes. He's doing all of our individual work, so he's cleared for basically everything other than contact right now. ... We want to make sure that shoulder's healed up before we put him in that. So he's coming along well, he's staying into it mentally, he's locked into our meetings, he's asking a lot of questions. So he's doing everything that you can ask a kid who's injured to do."
Cooks on safety
Nicky Baratti
(shoulder injury that kept him out all of 2013 season):
"A little bit different for Nicky, because he missed basically all of training camp and all of the season. So he's almost back to, just from a mental standpoint, again, new system to that freshman year. So, 'OK, how do I do this? How do I get from Point A to Point B? What is he talking about?' And again, going through that reaction phase, his comfort level's got to come when he's actually engaging wide receivers, taking on blocks, making tackles to build confidence that that shoulder's OK."
And here's defensive line coach Mike Elston on
Chase Hounshell
, who has missed each of the last two seasons with shoulder injuries:
"Well, it's taken Chase a little bit to feel comfortable with using his shoulder and being aggressive. I think today I finally saw a different side of him that used to be Chase, so we'll see as the rest of the spring progresses. But your third one, you're a little apprehensive at times. I think now he's starting to get a little more comfortable with it and feel better about it."
December, 12, 2013
12/12/13
9:00
AM CT
Kyle Flood was answering a question about his depleted staff on Tuesday when Brian Kelly chipped in a few minutes later with his unsolicited take.
[+] Enlarge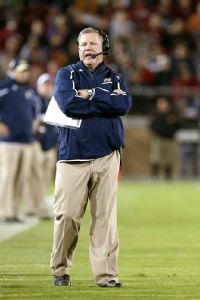 Kelley L Cox/USA TODAY SportsDespite losing both coordinators, the Irish are in good hands with Brian Kelly.
"And just to add on to Kyle's situations with his staff," the Notre Dame coach said at Yankee Stadium. "I just want to let him know he's got too many staff members. When I was at Cincinnati, we had three staff members and we coached in the bowl game against Western Michigan, so you've got way too many. And we won that game, so I think he's fine. I don't think you have to worry about him having not enough coaches."
At this rate, it would be easy to say that the concerns now fall on Kelly, who lost his second coordinator to a head-coaching job in an eight-day span Wednesday when Bob Diaco
accepted the UConn post
. That came in the wake of Chuck Martin
packing his bags for Miami (Ohio)
. The moves hamstring the Irish staff as it readies for Rutgers on Dec. 28's New Era Pinstripe Bowl, and as it gears up for the mad dash to national signing day in the 39 days following the 2013 finale.
The initial reaction across players and fans, per routine, was overreaction. Tweets
decrying Diaco
for looking out
for himself
were soon deleted, eventually giving way to
more
and
more
congratulatory remarks for a man whose next career step was only a matter of time.
Make no mistake, this is far from the situation that is taking place in Piscataway, N.J., where Flood, the second-year head coach,
let go of three assistants
after an underwhelming 6-6 campaign. The Scarlet Knights step into the Big Ten next season. And this is far from the case that Kelly was referencing in that bowl press conference, as he had just taken the Cincinnati job and had only three of his Central Michigan assistants with him by the time the Bearcats faced, and defeated, Western Michigan in the International Bowl nearly seven years ago.
"It certainly creates a little bit of a challenge," Flood said of Rutgers' situation, "but I'm confident that people are put in positions where they can be successful, and that's really my job as the head football coach, to make sure we got a coach assigned at every position and in all three phases and the coordinator role."
Kelly's challenge is considerably smaller. This is Notre Dame, after all.
Initial reaction among recruits speaks to that
, with most youngsters recognizing that much of what they were promised remains in place so long as Kelly is at the forefront. If Diaco does not bring along other Irish assistants with him to Storrs, Conn., Kelly will have a much easier time filling the holes on his staff. Kerry Cooks, let's not forget, has also been the co-defensive coordinator these past two years, and he will probably take on Diaco's responsibilities for (at least) the rest of the month.
The fact this Notre Dame team went 8-4 and had its top two assistants get hired to run their own shows speaks volumes about where the program is now. Jimbo Fisher lost seven assistants in a season that ended with Florida State winning the Orange Bowl, and the Seminoles have turned out oh-so fine in the year since. This is a good problem to have,
and as IrishIllustrated's Pete Sampson said
, one coordinator leaving right after the other could trigger an eventful race back to South Bend to occupy Kelly's office whenever he should depart.
That's down the road. For now, the calendar has 19 days remaining in a year that began with a letdown against Alabama in the national title game and will likely end with a win against Rutgers -- with plenty of embarrassment (Manti Te'o, Everett Golson) and departures (
Gunner Kiel
, two receivers) sandwiched in-between.
As they did in this past year, the Irish will enter 2014 hoping to close whatever gap remains toward a national title. And while
Jameis Winston
isn't walking through that door, the two most important elements of that chase, Kelly and Golson, still are.
December, 17, 2012
12/17/12
8:13
PM CT
SOUTH BEND, Ind. -- Yolanda Phillips often had to remind the second of her two kids,
KeiVarae Russell
, of who the parent was in their family. And despite having another son, Keith -- who is four years older than KeiVarare -- Phillips and the rest of the family couldn't help but refer to her second-born as "Little Man" ever since he was an infant.
"He's always been outgoing," Phillips said. "He's always been something else. Wherever we go, he's always going to talk to everybody, always holding me up. He's always been an outgoing person."
Little Man has grown up fast in six short months at Notre Dame, going from running back recruit to emergency starting cornerback following
Lo Wood
's camp Achilles tear, and emerging as an integral piece for the nation's No. 1 scoring defense along the way.
[+] Enlarge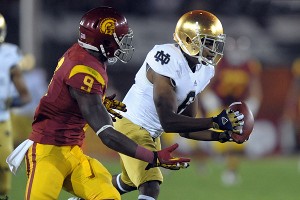 Kirby Lee/USA TODAY SportsCornerback KeiVarae Russell has adjusted to life as a starter quickly for Notre Dame.
Russell's tests have come big and small with the Irish, from a blown assignment in a season-opening rout of Navy to challenging the acclaimed aerial attacks of Oklahoma and USC in primetime road contests.
Asked if he still felt like a freshman, the fast-talking, always-smiling Russell quipped: "I wasn't a freshman after the first game, what you mean?"
Russell starred at cornerback for Mariner (Wash.) as a prep junior and cameoed at safety as a senior, though running the ball was his forte. Upon arriving to Notre Dame, his late-summer switch to the other side of the ball surprised all but one person.
"When he got to high school he wanted to step away and play offense," said his grandfather, Sylvester Phillips, every bit as gregarious as Russell. "I'd always tell him: '
Man
, you need to be on defense!' So when he went to Notre Dame and the coaches saw the same thing I saw, that he could be on defense, we just laughed about it."
Phillips' first game came Sept. 22 against Michigan, his birthday weekend. Russell made the trip worthwhile by recording his first career interception. Just three weeks earlier, Russell had been reeling a bit after surrendering the first opponent touchdown of the season, in Dublin.
Cornerback
Bennett Jackson
, captain
Manti Te'o
and position coach Kerry Cooks laughed at him afterward, telling the rookie, in plain terms, to pick his head up and get over it. He blitzed on, acting instead of thinking, a formula that had served him well as a prep student.
Then, Russell did everything from starring for coach John Ondriezek's team on the field to ascending to student-council president and dining with special-needs students off it.
"One of my first comments to him as a ninth-grader was that you're a person that will make a difference in others' lives -- you have that ability, you have those opportunities," Ondriezek recalled telling Russell. "And there are a lot of people that have that opportunity to be successful, but they never are because they don't possess that drive and commitment and desire to succeed that he has."
For Martin Luther King Day during his senior year, Russell was invited to nearby Voyager Middle School as its featured guest speaker.
He told Ondriezek that he was nervous. Coach told the senior to treat the occasion like another game. By the time it ended, Russell was receiving a standing ovation from his younger peers.
"Once he gets started, once that first word comes out, he speaks so well, so fluent," Phillips, his grandfather, said. "He listens. He answers the questions and says what he wants to say. Even every game, he'll tell you he's nervous, he's got jitterbugs and everything. But once the game starts, it's over."
Russell is more to the point: It is arrogance, and it is a necessity at defensive back, freshman or not.
His message during the regular-season finale against USC's dynamic duo of
Marqise Lee
and
Robert Woods
illustrates that.
"I looked to both of them in the eyes and said: 'I'm going to beat you guys. I don't care if you're ranked No. 1 and 2 in the country,' " Russell said.
"I had to grow up real soon, real quick, and I learned that," he said. "You can't use the excuse of being a freshman. Once you get to college football, age is nothing. … When I first got here I was making excuses. Like during camp, I was like: OK, this is my first year. But I grew out of that real soon.
"I was like: They offered me a scholarship for a reason. I was one of the best in the country, so I've got to show why."
December, 10, 2012
12/10/12
9:50
PM CT
Befitting a season seemingly from the past, Notre Dame made the theme for its Friday night awards banquet "The Echoes."
Seventeen "Echoes" were handed out at the DeBartolo Performing Arts Center by the entire Notre Dame staff, including the team MVP echo to
Manti Te'o
, who accepted the award live via satellite from atop 30 Rock in New York. Te'o was for the Heisman Trophy presentation the following night.
The highlights of the night:
Matthias Farley
's bowtie,
Theo Riddick
's Armani belt and Louis Nix's brief acceptance speech: "I'd like to thank my mom. She had a beautiful son and he's here today." The senior parents' video was a hit for the second straight year as well.
Here's a list of the night's winners:
Offensive scout team player of the year, presented by offensive GA Bill Brechin
Winner
:
Nick Fitzpatrick
(also nominated:
Bruce Heggie
, William Mahone)
Defensive scout team player of the year, presented by defensive GA Josh Reardon
Winner
:
Tyler Stockton
(also nominated:
Joe Romano
,
Joe Schmidt
)
Offensive newcomer of the year, presented by offensive coordinator Chuck Martin
Winner
:
Everett Golson
(also nominated:
DaVaris Daniels
,
Christian Lombard
,
Troy Niklas
)
Defensive newcomer of the year, presented by co-defensive coordinator Kerry Cooks
Winner
:
KeiVarae Russell
(also nominated:
Sheldon Day
, Matthias Farley,
Danny Spond
)
Irish Around the Bend award (community service), presented by director of player development and engagement Ernest Jones
Winner
: Mike Golic Jr.
A-Team award (accountability, appreciation, achievement), presented by defensive line coach Mike Elston
Winner
:
Kapron Lewis-Moore
Count On Me award (reliable, unselfish), presented by running backs/slot receivers coach Tony Alford
Winner
: Theo Riddick
Father Lange Iron Cross award, presented by strength and conditioning director Paul Longo
Winner
:
Braxston Cave
Special teams award, presented by tight ends coach/special teams coordinator Scott Booker
Winner
:
Kyle Brindza
Pietrosante award (courage, loyalty, teamwork, dedication, pride), presented by outside receivers coach Mike Denbrock
Winner
:
John Goodman
,
Robby Toma
Moose Krause defensive lineman of the year, presented by assistant head coach/co-defensive coordinator Bob Diaco
Winner
: Louis Nix and
Stephon Tuitt
Offensive lineman of the year, presented by offensive line coach Harry Hiestand
Winner
:
Zack Martin
Rockne Student-Athlete award, presented by safeties coach Bob Elliott
Winner
: Danny Spond
Next Man In award, presented by head coach Brian Kelly
Winner
:
Tommy Rees
Offensive player of the year, presented by Kelly
Winner
:
Tyler Eifert
Defensive player of the year, presented by Kelly
Winner
:
Zeke Motta
MVP, presented by Kelly
Winner
: Manti Te'o
August, 20, 2012
8/20/12
10:57
PM CT
As Thursday's media day wound down, Kerry Cooks was asked by yours truly about the progress of Notre Dame's cornerbacks.

Here are the words that came out of the Irish cornerbacks coach's mouth over the ensuing 37 seconds:
"I think that
Lo Wood
wright now is probably playing outside of himself. He's playing, really, better than what I would have anticipated him playing at this point. He's our most experienced cornerback as far as actually going into the games and playing, and now it's really starting to show up. He's just playing with a different edge. It's one of those things that's really hard to explain. But he's confident, he's making plays, he's smart, he's being savvy, he's doing all those things that a guy who's played a lot of football for you will do. And he really hasn't played a lot. He's played the most, but he hasn't played a lot."
Now Wood won't be playing at all in 2012,
a victim Monday of an Achilles injury
that will rob him of his junior season. He has a redshirt year remaining and will presumably be back for 2013 and, depending on circumstances, 2014. As Cooks noted, Wood was the Irish's most experienced corner and their biggest surprise of camp, a notion head coach Brian Kelly acknowledged earlier this month.
What now?
Bennett Jackson
had the boundary spot locked up, but playing alongside him will likely be
Jalen Brown
, converted running-back recruit
KeiVarae Russell
or
Josh Atkinson
. Running back
Cam McDaniel
was moved to corner in the spring to add depth but had been cross-training at both positions as recently as late last week. Freshman safety recruit
Elijah Shumate
was moved to cornerback during camp. Versatile fifth-year safety
Jamoris Slaughter
saw some action at corner in the spring, but the Irish are already
down a man at safety
with the loss of
Austin Collinsworth
(shoulder surgery). And, of course, the Tee Shepard experiment lasted less than two months, something the four-star cornerback
reminded us all about once again earlier Monday in another tweeting barrage
.
For those keeping count, that's two (Brown, Atkinson) remaining healthy Notre Dame cornerbacks who were actually recruited at the position.
Aaron Lynch
transferred this spring, but Notre Dame's defensive line has enough talent to still be strong.
Tommy Rees
got arrested a short while later, but three other highly touted quarterbacks had been waiting in the wings to start the season. As for Wood's injury? Well, the Irish never exactly
knew
what they would be getting from a first-time starting corner, and they will still have to wait until Sept. 1 to get an answer.
It's just much less certain.
January, 2, 2012
1/02/12
11:05
AM CT
Notre Dame will have some familiar faces in new places next season.
Bob Diaco has been named assistant head coach, Chuck Martin has been named offensive coordinator, Kerry Cooks has been named co-defensive coordinator and Scott Booker has been promoted to full-time assistant, the Irish announced Monday, four days after their season ended with a Champs Sports Bowl loss to Florida State and five days after head coach Brian Kelly said he was excited to be able to keep his staff in place for 2012.
Former running backs coach Tim Hinton and former offensive line coach and running game coordinator Ed Warinner have left to pursue other opportunities.
Diaco, Martin, Cooks, Booker, Tony Alford (receivers), Mike Denbrock (tight ends) and Mike Elston (defensive line/special teams) have all received contract extensions as well.
Diaco is promoted after two seasons as defensive coordinator and linebackers coach, duties he will still be responsible for. Martin, who coached safeties and served a recruiting coordinator, replaces Charley Molnar, who took the head coaching job at Massachusetts last month.
Martin succeeded Brian Kelly as head coach at Grand Valley State for six seasons and directed the offense, continuing the same system Kelly had installed.
"Chuck is a very talented coach that will make our offense better in the future due to his knowledge of our offensive system as well as how defenses like to attack it," Kelly said in a statement. "I wanted someone that knew the system I'm familiar with and our experience coaching together will make for an easy transition. Chuck did a great job directing the Grand Valley State offense after I left and led the program to unprecedented heights. I look forward to witnessing the impact he'll have on our offense."
Cooks coached cornerbacks last season and outside linebackers the year before. Booker has been an offensive intern the past two seasons and will be assigned a specific position in the future.
Hinton has long been rumored to be joining Urban Meyer's staff at Ohio State, though neither school had an immediate announcement and Hinton
deflected those rumors Dec. 19
, saying:
"Here's what I know: I am coaching at the University of Notre Dame. That's all for everything else, and that's all for everybody else. I've got one thing to do: I'm gonna coach
Cierre Wood
, I'm gonna coach
Theo Riddick
, which kind of got you guys last week, didn't it? And I'm gonna coach George [Atkinson III] and Cam [McDaniel] and that's the only thing we can do. And that's the bottom line: We're coaching the heck out of them. And do I want to be at Notre Dame? Absolutely."
The loss of Warinner comes as a bigger surprise, though it is unclear where his next stop will be.