Chicago Colleges:

Kevin Harper
November, 6, 2013
11/06/13
1:00
PM CT
SOUTH BEND, Ind. -- The package was called "Desperado," a phrase both Pittsburgh and Notre Dame fans would probably rather never hear or speak of again.
It was not discovered until the day after the Fighting Irish's triple-overtime win over the Panthers last year that cornerback
Bennett Jackson
and receiver
Chris Brown
, both No. 2 for the Irish, were on the field together when Kevin Harper's potential 33-yard game-winning field sailed wide right after a bad snap.
[+] Enlarge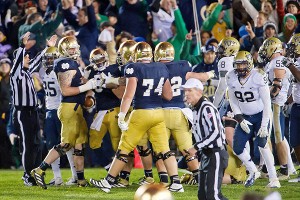 Matt Cashore/US PresswireEverett Golson's game-winning touchdown in the third overtime last season gave the Irish a heart-stopping victory over Pitt.
For the Panthers, it was an oversight that all but cost them a program-defining win for new coach Paul Chryst. For the Irish, it was a crisis averted, one of several minor miracles in a magical season.
It was another hold-your-breath moment in a series that, for one reason or another, has never lacked for drama. A primetime atmosphere awaits Saturday night at Heinz Field when the Panthers and the Irish square off. One team is fighting to clinch bowl eligibility, the other is clinging to BCS-bowl hopes and, well, here we go again.
"It happens," Pitt linebacker
Todd Thomas
said of the officials' error last season. "Two No. 2s on the field, it happens. Refs make mistakes, so everybody's not perfect. So it happens. So we just put the loss behind us and just carried on to the next week. But it happens. Everybody's not perfect."
Notre Dame has beaten Pitt by three points in each of the last two years, including a 15-12 tractor-pull of a contest in 2011 that both teams are best served to forget. The Irish are 6-3 against the Panthers since 2002, but eight of those games have been decided by eight points or fewer.
There have been seven total overtimes across two of those games -- a four-overtime Pitt win in 2008 and last year's three-overtime Notre Dame victory, its last close call on the way to the BCS title game.
"You know what, we're letting it go, it's old news," Pitt end
Bryan Murphy
said. "Whatever happened last year happened. We're not paying attention to it. We're just moving on from there. That's all last year. We were a different team, they were a different team. So we're not even concentrating on anything that happened last year."
Chryst echoed that sentiment during his Monday press conference in Pittsburgh, though tight end
J.P. Holtz
had a decidedly different tone when he
told reporters that he did not like Notre Dame, calling their coaches "really cocky."
The comments seemingly made their way back here to Irish coach Brian Kelly, who said Tuesday: "They don't seem to like Notre Dame very much, and they want to beat Notre Dame."
Though in just his fourth year at Notre Dame, Kelly is more familiar with Pitt than any other opponent in the last seven years, having faced the Panthers in each of his three seasons at Cincinnati before playing them annually so far while with the Irish.
He has also faced the Panthers' new starting quarterback, redshirt senior
Tom Savage
, who appeared in Rutgers' 2009 season-opener against the Kelly-coached Bearcats.
"A big kid, strong-armed, and obviously they like to throw the football with him," Kelly said of Savage. "He's got some talented receivers. We're going to have to prepare ourselves for a kid that likes to throw the football and has some weapons."
The best of those weapons, redshirt senior
Devin Street
, is two weeks removed from becoming Pitt's career leader in receptions. Though winless and held to 42 or fewer yards in each of his three contests against the Irish, Street has no particular distaste for the team he will face this weekend.
"We don't go in disliking anyone, but we definitely have a respect for Notre Dame and the tradition and that type of team," Street said. "But we don't hate them or anything like that. I think they're a great team."
Both teams are coming off consecutive games against option teams -- Pitt losing to Navy and Georgia Tech, Notre Dame beating Air Force and Navy.
And both will reconvene in two years, and roughly every three years after that, as part of the Irish's five-game-per-year scheduling agreement that takes effect next year with the ACC, which Pitt is finishing out its first season in.
"Everyone knows Notre Dame; Notre Dame is one of the most historic football programs in the country, and they always will be," Murphy said. "I think it's amazing to have a team like that on your schedule. That's always a primetime game for us. I think it's huge for our team going forward to always have that game because we always play great against them. It's always just an amazing game between us two, so I think it's important that we continue that matchup."
November, 4, 2012
11/04/12
4:17
PM CT
Notre Dame survived a potentially self-inflicted mistake Saturday, one that could have put its perfect season in further jeopardy.
When Pitt's
Kevin Harper
missed a 33-yard field goal in the second overtime that would have ended the game had it gone in, the Irish had
Bennett Jackson
and
Chris Brown
, both of whom wear No. 2, on the field together.
By rule, Notre Dame should have been penalized and the Panthers should have gotten a first down.
"No exception to [the rule]," coach Brian Kelly said during his Sunday teleconference. "It was a coaching mistake. ... We've got to do a better job -- an oversight that can't happen."
Kelly said he noticed the gaffe right after the play.
Pitt ended up kicking a field on its next drive to start the third overtime before
Everett Golson
rushed for the game-winning touchdown.
Notre Dame had been penalized for a similar mistake once earlier this season, when
Dan McCarthy
and
Justin Ferguson
, both No. 15, were on the kick return unit together in Week 2 against Purdue. Ferguson has since changed his jersey to No. 82.
"We have an easy way for us to make sure that this doesn't happen again," Kelly said. "[Jackson and Brown] won't be on the field again. It's on me now, so I'm going to make sure it doesn't happen."
Nichols still hurting
: Kelly said tackle
Tate Nichols
may have taken a step back with a knee injury and will get an MRI this week, though information won't be available until later in the week.
November, 3, 2012
11/03/12
10:23
PM CT
SOUTH BEND, Ind. --
T.J. Jones
walked into the postgame interview room donning a puffy winter hat with earflaps, the victory meal box safely in his hands.
"Chicken, bread, some beans," the junior said, looking down at dinner, "all right."
Some comfort clothing and food for a Saturday night preceded by four hours, seven minutes of nerve-racking drama that refused to end until Notre Dame, once and for all, had vanquished its ninth opponent of the season.
If the Irish are going to do what more and more are starting to believe they can -- improbably run the table, validate the third-year coach stigma and somehow sneak into the national title game -- they will count their lucky stars when looking back at what was anything but a Picasso.
Notre Dame 29, Pitt 26.
Triple overtime.
This was everything the 2011 campaign was -- except the final score, meaning this unlikely 2012 run can roll on.
"I'm tired of talking about last year," coach Brian Kelly said. "I think this year the way our guys believe in each other, they believe in their coaches, they believe. They've won these games before. They believe they're going to win. I just think it's a great group of guys. The leadership is outstanding. We've got great competitors, and we've made some plays at the end that we needed to make.
"I just think it's more about this group and how they believe in each other and they believe in their coaches."
That's six believes in one answer, yet there was really no other way to describe how the Irish climbed out of a 20-6 fourth-quarter hole and reached 9-0.
[+] Enlarge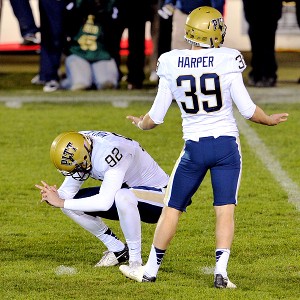 Matt Cashore/US PRESSWIREA missed 33-yard field goal attempt by Pitt's Kevin Harper in the second overtime allowed Notre Dame to win in the third OT.
They committed five penalties in the first quarter, eradicating their most productive opening period of the year in a frame that finished tied at 3.
They missed one field goal attempt and an extra-point attempt, leaving a metaphorical gray cloud hanging above two potential game-tying drives.
They pulled one quarterback, benched the replacement after a costly pick and watched the original starter throw a seemingly dooming interception in the end zone with less than four minutes to play, jeopardizing all the good the previous eight games had brought.
Then, after the original starter took his biggest growth spurt -- responding with a two-play scoring drive that ended with him plunging across the goal line to convert a needed two-point conversion -- they watched their running back cough up the ball on a goal-line leap in overtime No. 2, setting Pitt up for a 33-yard game-winning field goal try.
"Please fall or get a bad snap," Jones pleaded to no one in particular. "Penetration, miss it -- something. You want to yell, you want to like run on the field. There's a lot of different emotions that you want to do, but you can't."
DaVaris Daniels
felt a pit in his stomach and turned away.
Zack Martin
sat and stared straight down into nothing.
And Kelly, the man who once cracked after a spring game that watching his starting quarterback gave him a heart attack?
"I really -- in all of those situations, there is just so much going on that I can't ever stop for one play and think about one play," Kelly said, his head down as he allowed himself a brief laugh. "I'm always thinking about something else that has to happen. So I couldn't give you a great answer other than I hope he misses, because I'd like to win this game."
Kevin Harper
missed from 33. Notre Dame got the ball back.
Everett Golson
completed the next step of his evolution by diving in from a yard out, withstanding a replay review to cap his 301-yard day.
The Irish survived a misplaced page from the 2011 scrapbook -- three giveaways to Pitt's none. An exasperated Kelly survived a postgame presser straight out of last year -- a couple of testy answers following a close win.
The Irish can use Sunday morning's extra hour to sleep a little bit better, knowing some way, somehow, they survived their most frightening scare of the season.
"It's a very special team," Martin said. "We got great guys fighting to the end, but we've been on the other side of this for so many years, and I think the character of the guys we have here, and the way we fight to finish a game, is really thick. And it's gotten us to that next level."
November, 3, 2012
11/03/12
7:21
PM CT
SOUTH BEND, Ind. — Notre Dame remains perfect after a
29-26
triple-overtime win against Pitt. Here's how it happened:


It was over when
:
Kevin Harper
missed a 33-yard field goal attempt in the second overtime that would have won it for Pitt. He hit one in the next OT, but the Irish left no doubt by scoring a touchdown on an
Everett Golson
rush from 1 yard out to clinch it.
Game ball goes to
: Golson came up big for Notre Dame when it mattered most, leading the Irish out of a 20-6 fourth-quarter deficit and diving in for the game-winning touchdown run. Golson finished the day 23-of-42 for 227 yards with a touchdown pass and an interception. He had 15 carries for 74 yards.
Stat of the game
: Notre Dame somehow survived despite losing the turnover margin 3-0. Pitt had questionable play-calling late with the lead and was unable to put away the Irish. Tough loss to swallow for the Panthers.
September, 27, 2011
9/27/11
3:34
PM CT
Notre Dame committed two more turnovers Saturday at Pitt, which was actually an improvement after giving the ball away five, five and three times in its first three games, respectively.
[+] Enlarge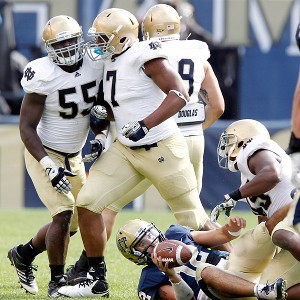 AP Photo/Keith SrakocicNotre Dame's Stephon Tuitt, 7, celebrates with Prince Shembo, 55, after sacking Pittsburgh's Tino Sunseri. The Irish defense has been at its best following a turnover by the offense.
Nonetheless, the Fighting Irish are tied with Tulsa for the nation lead with 15 turnovers, and they are all alone at the bottom in turnover margin, at -2.50.
The latter figure is of less importance to the Irish because of just how effective their defense has been. And, more specifically, because of how effective their defense has been once the offense turns the ball over.
Following Notre Dame's past four turnovers, Irish opponents have totaled just 12 yards on 14 plays, an average of just less than .86 yards per play. Two field goals are all the Irish have allowed during that stretch.
The sudden-change defense was at its absolute best in the first quarter Saturday, after Pitt's Andrew Taglianetti forced a
Tommy Rees
fumble on a third-and-12 at the Irish 26 yard line.
Pitt took over at the 23, committed a false start penalty and, two plays later, lost five more yards when Manti Te'o sacked
Tino Sunseri
. The drive, which ended with a 45-yard Kevin Harper field goal to put Pitt ahead 3-0, totaled -5 yards on four plays.
A week earlier, following a
John Goodman
fumbled punt deep in his own territory in the fourth quarter, Notre Dame's defense responded three plays later by picking off Michigan State's
Kirk Cousins
in the end zone to seal the game.
"I think Coach [Bob] Diaco and the defensive staff do a great job of talking about it," Brian Kelly said of his defensive coordinator during his Sunday teleconference. "I think it's something that we coach every day and talk to our players about, and they then -- I think right now, any time you have some early success in that, it starts to build a confidence level where they are talking about it themselves, and I think we have got that going for us."
That's no lie. Just a week earlier, following the Irish's win against the Spartans, Te'o said being ready for such situations is part of the defense's DNA.
Fifth-year safety and captain Harrison Smith said the unit has come to enjoy being ready to get back out there, acknowledging the unusualness of the statement by adding, "as sick as it sounds."
Notre Dame's defense has just five takeaways on the season, but Kelly doesn't see that as a problem.
Given the circumstances the unit has been put in, it is doing just fine.
"Well, I think there's a balance there in terms of big plays," Kelly said. "We really have not let up any big-play runs, and if you are going to gamble a little bit and look to get that takeaway, there's a chance that you give up some more big plays.
"We are philosophically more in line with wanting to be gap sound and disciplined against the run game. I mean, we are doing pretty good this year relative to teams in running the football. I'm more interested in that right now than gambling on defense to get some more turnovers."
BOWL SCORES
Saturday, 1/24
Saturday, 1/17