Chicago Colleges:

Kirk Cousins
May, 21, 2012
5/21/12
2:10
PM CT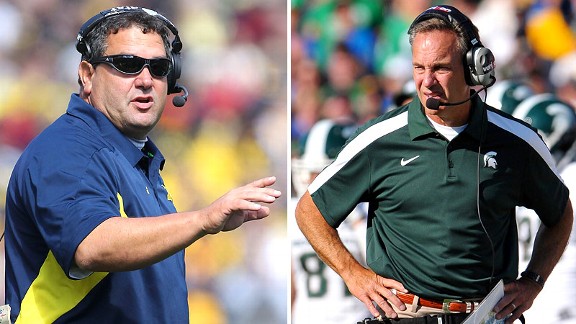 Getty Images, US PresswireBrady Hoke and the Wolverines square off against Mark Dantonio and the Spartans on Oct. 20.
During the course of spring practice, Big Ten bloggers Adam Rittenberg and Brian Bennett visited 11 of the 12 league schools, getting an up-close look at the players and coaches who will shape the 2012 season.
Now it's time for them to share their thoughts on what they saw and learned this spring, and you can follow along as they exchange emails. Check out the Leaders Division exchange here. They now turn their focus to the Legends Division.
Adam Rittenberg:
Let's take a look at what I believe to be the stronger division in 2012. You spent a lot of time in the Mitten State last month, and while you didn't gorge yourself like you did in America's Dairyland, you got the money quote of spring ball from
Michigan State coach Mark Dantonio
, who said, "We're laying in the weeds. We've beat Michigan the last four years. So where's the threat?" How spicy is the Michigan State-Michigan rivalry getting, and how good do you think these two teams will be this season after visiting both campuses?
Brian Bennett:
Oh, there was some serious gorging going on at Zingerman's in Ann Arbor and Sparty's in East Lansing. Good thing there's only one spring practice session per year.
Anyway, I went into the spring thinking Michigan and Michigan State were the two strongest teams in the league, and I didn't see anything to change my opinion. While the Wolverines are more focused on Ohio State and even Alabama, they know they have to end their losing streak against Michigan State. And the Spartans take serious pride in that four-game run while bristling at all the offseason accolades thrown toward Brady Hoke's team. Oct. 20 can't come soon enough, as far as I'm concerned.
If the two teams played right now, I'd definitely take Michigan State. Dantonio has done a terrific job of developing depth on both lines and all over the defense. There's not a deeper team in the Big Ten, and the Spartans' physical play has given Michigan fits. The Wolverines still need to figure some things out in the trenches, especially on the defensive line, but that's one area where Hoke and defensive coordinator Greg Mattison excel. I believe these two teams will be neck and neck all year for the Legends title.
Of course, there's another team lurking in the division, and that's Nebraska. You went to Lincoln this spring, and it sounded like
the Cornhuskers are feeling mighty ambitious this season
. Do they have the necessary tools to back up their lofty goals?
Adam Rittenberg:
It was interesting to see a team openly discuss the national title, Brian, especially in a league like the Big Ten. Huskers safety
P.J. Smith
even went so far as to say a Big Ten title and a Rose Bowl championship would be "kind of disappointing." That's bold. Nebraska would have to skip a step or two to reach that point, but I can see where the confidence stems from. There's a greater comfort level between players and coaches in Lincoln, and also between the coaches and what they face in the Big Ten. Offensive coordinator Tim Beck was candid about the difficulty of preparing for so many new opponents, particularly since Nebraska's offensive and defensive systems are a little different from what we see in the rest of the league.
Quarterback
Taylor Martinez
received good marks from the coaches, and his focus on footwork could translate into a more consistent passing attack. Beck certainly wants to be a bit more balanced, and Nebraska returns pretty much everyone at wide receiver and tight end. We often hear the cliche that it's all about the quarterback, but it holds true with Nebraska. If Martinez actually makes strides as a passer -- he'll be operating in the same offense as the starter for the first time in his high school or college career -- the Huskers will put up points this fall. But after watching Martinez last season, it's fair to have some doubts about No. 3.
The defense expects to exploit a schematic advantage we heard a lot about last season but didn't see much on Saturdays. I like coordinator John Papuchis, and Bo Pelini made two good staff additions in D-line coach Rick Kaczenski and secondary coach Terry Joseph. They're all about details and accountability, and they believe they'll be able to replace star power with greater depth in certain areas. Nebraska also should be strong in special teams. Do the Huskers have a unit better than Michigan State's defense? Not right now. But Nebraska could end up being the division's most complete team by season's end.
Getting back to Michigan State and Michigan. Both teams lose tremendous leaders from 2011 (Kirk Cousins, Mike Martin, Jerel Worthy, Joel Foreman, David Molk, Ryan Van Bergen). Who do you see filling those roles this year?
Brian Bennett:
That's a good question, and one that will have to be answered this summer. For Michigan State,
Andrew Maxwell
impressed me as a guy who can lead in a similar way as Cousins did; he'll just have to play well at quarterback and battle through adversity. The Spartans have some seniors on defense who can lead, like
Anthony Rashad White
and
Johnny Adams
, but they also have some highly respected juniors in
Max Bullough
and
William Gholston
.
But they are replacing some very valuable leaders, just as Michigan is doing.
Denard Robinson
has worked on becoming more vocal and sounded like a different guy in interviews this spring. There's no question he has the respect of his teammates.
Craig Roh
and
Jordan Kovacs
seem like natural leaders on defense, and offensive tackle
Taylor Lewan
says he wants to take on that role as well. But leadership can't be forced, and it remains to be seen if either team can find such strong captains as guys like Cousins and Martin were.
[+] Enlarge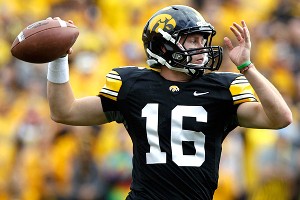 AP Photo/Charlie NeibergallIowa quarterback James Vandenberg threw for 3,022 yards and 25 touchdowns last season.
Speaking of question marks, I feel like Iowa and Northwestern are two of the bigger mystery teams in the league. Both have talent and potentially potent offenses, but they'll also need some players on defense to rise up out of the shadows. What did you take out of your visits to Iowa City and Evanston this spring?
Adam Rittenberg:
Let's start off with Iowa, which underwent some major changes this spring with a new offensive coordinator (Greg Davis), a position coach promoted to defensive coordinator (Phil Parker) and several more assistants shuffling, arriving or being promoted. The players seemed to embrace the changes, and coach Kirk Ferentz basically said the team needed a fresh start even though he didn't want to lose his previous coordinators. There's a lot of excitement about Davis' offense, which will be more up-tempo than what we've seen in the past from Iowa. Quarterback
James Vandenberg
really seems to get it, but will he have enough weapons around him to execute? The running back curse struck again this spring with
Jordan Canzeri
's ACL injury. Iowa needs young and/or unproven players to step up there, and wide receiver isn't a deep group. It'll be a big summer for
Keenan Davis
.
The feeling I had coming out of Evanston is that Northwestern will be a younger team but potentially a better one. The Wildcats say goodbye to an accomplished senior class that featured some outstanding players like quarterback
Dan Persa
. But was it the most talented group? I don't think so. Northwestern has improved its recruiting efforts in recent years, and the team could begin seeing the benefits this year. There are a lot of new faces at spots like defensive back and defensive line. I was impressed with cornerback
Nick VanHoose
and end
Deonte Gibson
. The wide receiving corps should be one of the Big Ten's best, even if Kyle Prater isn't eligible until 2013. The Wildcats might not have many familiar names at receiver, but they boast incredible depth there. This team still has question marks -- secondary, pass rush, running back, quarterback -- but the talent level is getting a bit better.
Neither of us made it up to Minneapolis this spring, but we both talked with Gophers players and coaches. What was your sense of the second spring under coach Jerry Kill?
Brian Bennett:
We swear it's nothing personal, Gophers fans. Both of us would have enjoyed a trip to the Twin Cities, but the schedule just didn't work out.
Anyway, I did sense more confidence from the Minnesota players and coaches we interviewed. That's not surprising, given that it's the second year for Kill's staff and more familiarity almost always brings a better comfort level.
MarQueis Gray
really started to come on late last season and appears to have made strides as a passer. He could be one of the league's top playmakers this year. Overall, the Gophers look to have a little more talent this year, thanks to some junior college imports, youngsters who got experience last year and
Troy Stoudermire
coming back at cornerback. The defense should have more speed, though it remains undersized. The big question for me is who will emerge as weapons alongside Gray, especially at receiver.
But I think that, with a manageable nonconference schedule, Minnesota has a chance to win five or more games this year and it will be much more competitive in Big Ten play than it was early last season. The Legends Division looks more balanced top to bottom than the Leaders and should be fun to follow all year.
January, 12, 2012
1/12/12
10:00
AM CT
Another 8-5 season left a lot to be desired for Notre Dame fans. Nonetheless, there were plenty of memorable moments from the Irish's 2011 campaign.
1. Jonas Gray's remarkable stretch.
Coach Brian Kelly said he had never seen it all click for a senior the way he had with Gray. The running back rushed for 791 yards and 12 touchdowns, including at least one in eight consecutive games. Unfortunately, he tore an ACL against Boston College, ending his college career. But when on the field, Gray was the feel-good story of 2011.
[+] Enlarge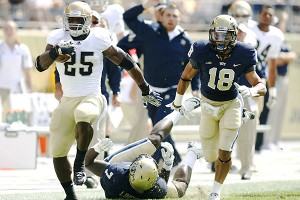 Charles LeClaire/US PresswireRunning back Jonas Gray, left, averaged 6.9 yards per carry in a season cut short by a torn ACL.
2. Manti Te'o announces return.
This might have come off the field, but the likely first-round pick couldn't help but blurt out his announcement to return to school for one more year Dec. 11, while at the Lott IMPACT Trophy ceremony. The junior linebacker is the team's best all-around player and exemplifies all that's right about the game, on and off the field.
3. Aaron Lynch's sack and forced fumble vs. MSU.
One week after not playing at Michigan, the freshman end announced his arrival to college football, turning the game around with a big hit on
Kirk Cousins
in what went on to be the Irish's first victory, and their most impressive one. Lynch had a standout freshman campaign and will be a star for the Irish moving forward. Robert Blanton's game-sealing interception deserves some recognition as well.
4. Michael Floyd's TD vs. FSU.
A ridiculous five bobbles. Two defenders absorbed. An upper-body injury suffered that kept him out of the rest of the game. Still, the senior held on for his 100th catch of the season, and final one of his career, as Floyd hauled in Notre Dame's only offensive touchdown in the Champs Sports Bowl.
5. Andrew Hendrix's run vs. Air Force.
Late in the fourth quarter of a rout, the sophomore quarterback burst up the middle for 78 yards, his legs giving out two yards shy of the end zone. Hendrix turned plenty of heads in his first college game, and he will fight it out with two others this offseason for the starting quarterback job with two others.
December, 5, 2011
12/05/11
6:08
PM CT
It's time to take a look at what's on your minds with the regular season over and a trip to the Champs Sports Bowl remaining.
Roald "Roe" Gonzalez from Austin, Texas, writes:
Our 105,000 DKR memorial Stadium is awaiting for Notre Dame to Drop by annually for out Turkey Day Shoot out with Notre Dame. Any chance Notre Dame is even considering the invite from De Loss Dodds?
Matt Fortuna:
Roe, I don't see that happening in the near future. Notre Dame plays Stanford until 2019, and the Irish's series with USC doesn't seem to be going anywhere. At least for the next eight years (imagine what the college sports landscape could look like in 2019?), I can't see Notre Dame adding Texas on an annual basis.
Ryan from McSherrystown, Pa., writes:
Hi Matt,Love your work. Just finished reading your last chat on ESPN and just wanted to see what you think about my optimism for ND next year. This is mostly about the schedule. You point out these games as being the tough ones. USC, OU, STANFORD, MSTATE, MICH, MIA..right? Here is my case. The top 3 QB's in next years NFL draft will come from 3 of those schools. Barkley, Jones, Luck will all be gone and all those schools will be playing with new or young QB's. We are due to beat Mich and Cousins is gone at MSTATE..I don't see MIA as being that tough and they weren't very good this year. Mich is the only one of those teams who brings back their QB and we had them beat at MICH this year. Thoughts...Thanks
Matt Fortuna:
Thanks, Ryan. You bring up an interesting point with the quarterbacks, but I still don't see Notre Dame entering 2012 as a better team than most of the ones you mentioned. I think we'll learn a lot about Stanford when it no longer has
Andrew Luck
, so the Cardinal remain up in the air. Being due to beat Michigan means nothing when the Irish have lost three close ones to the Wolverines the last three years. Michigan will only get better in Brady Hoke's second year and with one more year of
Denard Robinson
. Michigan State, even without
Kirk Cousins
, is a program that is on the rise. None of this is to say the Irish can't win any of those games, but they do face an awful lot of opponents who are at least capable of beating them — even more than this year, and this was a more experienced team that lost to South Florida.
Joe from Telsau writes:
Re: Crist article - REALLY?A rent a player is OK, Wow!!Please shut up, why do we always have to hear bspn peoples opinion. I hope the ncaa does away with this stupid LOOP HOLE.
Matt Fortuna:
Sorry, Joe, I'm having trouble hearing you over all of those capital letters. Seriously, though, I see some instances where the rule is taken advantage of and not used for its intent (see: Jeremiah Masoli). And yes, clearly academics are not the main factor in players taking advantage of this rule. But since when did academics dictate where recruited athletes go to college? Sure, academics are often one of several factors. And yes, some schools adhere to higher academic standards than others while recruiting. But a player who graduates and lives up to his end of the bargain academically should be entirely free to go wherever he wants to after, provided the interest is mutual. What does
Dayne Crist
stand to benefit from staying one year at Notre Dame as a backup while already having a degree? He graduated early, before his scholarship would have expired, and he should be rewarded for that.
Mitch writes:
Ok, Matt. We know all about where FSU's defense is ranked. But doesn't their schedule put them in a position to do just that? Looking at the rushing attempts from the opponents they played, you see teams only having 10-15 rushing attempts all together. Seems to me like they haven't really been worn down since they allowed 100+ yards to Wake.
Matt Fortuna:
Great point, Mitch. The best rushing offense Florida State played all season was Maryland's, which ranked 44th in the nation. I'm curious to see what Notre Dame can do with
Jonas Gray
no longer back there, and if
Theo Riddick
can make a difference at running back. Considering the Irish averaged just 1.8 yards per carry as a team against Stanford, the nation's No. 5 rush defense, they have some work to do.
October, 16, 2011
10/16/11
2:17
PM CT
Five lessons from the week that was in Big Ten football.
1. Wisconsin is the Big Ten's only national title contender:
Not a huge revelation, but it became official Saturday as both Michigan and Illinois lost to leave Wisconsin as the Big Ten's only unbeaten team. The Badgers have absolutely dominated the competition through the first six games, outscoring their opponents by a combined count of 301-58. Bret Bielema's squad is clearly the class of the Big Ten at this point, and there could be a substantial gap between Wisconsin and the rest of the league. We'll find out this week as Wisconsin visits East Lansing, a place where it has struggled in recent years (three straight losses).
[+] Enlarge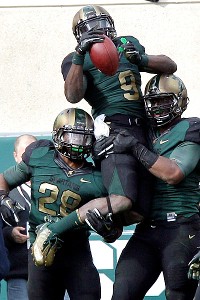 AP Photo/Carlos OsorioIsaiah Lewis' interception against Michigan helped the Spartans remain undefeated.
2. Spartans are team to beat in Legends division:
Michigan State is the only unbeaten team in the Legends division, and the Spartans established themselves as top dogs with a 28-14 win against archrival Michigan. With three division road games left -- Nebraska, Iowa and Northwestern -- Michigan State had to take care of business on its home field. The nation's top-ranked defense contained
Denard Robinson
and forced mistakes, the biggest a pick-six by Isaiah Lewis. Michigan State's offense surged behind
Edwin Baker
,
Kirk Cousins
and
Keshawn Martin
. Michigan State now has a chance to make a league-wide statement next week against Wisconsin before resuming division play.
3. Michigan hasn't arrived:
Brady Hoke kept trying to warn us, saying his team was overrated and that it wasn't close to his expectations for Michigan football. The Wolverines had some red flags during their 6-0 start, but they managed to cover up their warts with solid second-half adjustments and some heroic play from their quarterback. Well, we saw what happened when Michigan's flaws ran up against a good team on the road. Robinson's shortcomings as a passer were exposed, especially in a windy environment, and the Wolverines' defense got pushed around by a young Spartans offensive line. Michigan is clearly not anywhere near ready to be ranked in the top 10. The good news is, the Wolverines are still good enough to beat every team left on their regular-season schedule.
4. Illinois has a ways to go, too:
Like Michigan, the Illini got off to a 6-0 start based in part on their comfortable home schedule. And like Michigan, we wondered just how for real this team was. Illinois had been living on the edge this season, winning its previous three home games by a total of nine points. The margin for error narrowed to nothing against Ohio State, which used a dominating defensive performance and power running game to humble Ron Zook's team. When you lose by 10 at home and the other team completed only one pass, you've been outmuscled. The Illini weren't as good as their record, but they still have enough talent to get to a good bowl game.
5. The next bubble to burst might be Penn State:
The Nittany Lions deserve credit for being 6-1, and the defense continues to shine. But like Illinois and Michigan, they have some highly-exploitable weaknesses: namely, their offense. Purdue nearly pulled the upset in State College, and who knows what the outcome would have been if Carson Wiggs didn't miss a field goal and an extra point. Our point is, the Nittany Lions could be in trouble once they start facing the better teams on their schedule, particularly the ones who can score at least a couple of touchdowns. As this weekend taught us, a team's flaws will eventually catch up with it.
September, 27, 2011
9/27/11
3:34
PM CT
Notre Dame committed two more turnovers Saturday at Pitt, which was actually an improvement after giving the ball away five, five and three times in its first three games, respectively.
[+] Enlarge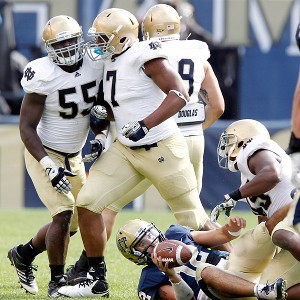 AP Photo/Keith SrakocicNotre Dame's Stephon Tuitt, 7, celebrates with Prince Shembo, 55, after sacking Pittsburgh's Tino Sunseri. The Irish defense has been at its best following a turnover by the offense.
Nonetheless, the Fighting Irish are tied with Tulsa for the nation lead with 15 turnovers, and they are all alone at the bottom in turnover margin, at -2.50.
The latter figure is of less importance to the Irish because of just how effective their defense has been. And, more specifically, because of how effective their defense has been once the offense turns the ball over.
Following Notre Dame's past four turnovers, Irish opponents have totaled just 12 yards on 14 plays, an average of just less than .86 yards per play. Two field goals are all the Irish have allowed during that stretch.
The sudden-change defense was at its absolute best in the first quarter Saturday, after Pitt's Andrew Taglianetti forced a
Tommy Rees
fumble on a third-and-12 at the Irish 26 yard line.
Pitt took over at the 23, committed a false start penalty and, two plays later, lost five more yards when Manti Te'o sacked
Tino Sunseri
. The drive, which ended with a 45-yard Kevin Harper field goal to put Pitt ahead 3-0, totaled -5 yards on four plays.
A week earlier, following a
John Goodman
fumbled punt deep in his own territory in the fourth quarter, Notre Dame's defense responded three plays later by picking off Michigan State's
Kirk Cousins
in the end zone to seal the game.
"I think Coach [Bob] Diaco and the defensive staff do a great job of talking about it," Brian Kelly said of his defensive coordinator during his Sunday teleconference. "I think it's something that we coach every day and talk to our players about, and they then -- I think right now, any time you have some early success in that, it starts to build a confidence level where they are talking about it themselves, and I think we have got that going for us."
That's no lie. Just a week earlier, following the Irish's win against the Spartans, Te'o said being ready for such situations is part of the defense's DNA.
Fifth-year safety and captain Harrison Smith said the unit has come to enjoy being ready to get back out there, acknowledging the unusualness of the statement by adding, "as sick as it sounds."
Notre Dame's defense has just five takeaways on the season, but Kelly doesn't see that as a problem.
Given the circumstances the unit has been put in, it is doing just fine.
"Well, I think there's a balance there in terms of big plays," Kelly said. "We really have not let up any big-play runs, and if you are going to gamble a little bit and look to get that takeaway, there's a chance that you give up some more big plays.
"We are philosophically more in line with wanting to be gap sound and disciplined against the run game. I mean, we are doing pretty good this year relative to teams in running the football. I'm more interested in that right now than gambling on defense to get some more turnovers."
September, 22, 2011
9/22/11
4:19
PM CT
SOUTH BEND, Ind. -- Previously in his coaching career, until around his early days at Cincinnati, Brian Kelly would see multiple freshmen take the field at once on Saturdays and almost cringe.
This past Saturday, he saw seven different first-year players take the field at times for Notre Dame, and what they did reminded him how college football has changed in just a short period of time.
"I don't know that you ever want to play as many freshman that we're playing, but times are changing," Kelly said. "College football is such that these kids are coming in physically so much more mature that they can come in and physically handle the rigors of playing major college football."
Freshman
George Atkinson III
stood out by returning a first-quarter kickoff 89 yards for a touchdown. That came one Michigan State possession after rookie Aaron Lynch forced a fumble by sacking
Kirk Cousins
.
[+] Enlarge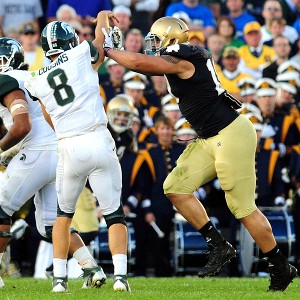 Chris Williams/Icon SMINotre Dame's Aaron Lynch proved that he can put pressure on opposing quarterbacks during his freshman season.
"As soon as I hit him, just like a surge of energy went through my body," Lynch said of the sack. "Just set the tone for the rest of the game."
Lynch finished the game with six quarterback hurries, one week after not even seeing the field against
Denard Robinson
and Michigan.
The 6-foot-6, 265-pound Lynch acknowledged how much different it was going against Big Ten offensive linemen Saturday, especially since his high school opponents were at times 100 pounds lighter.
Not being able to simply bull rush someone at this level was a rude awakening.
"He gets better with playing more with his technique and then building confidence," defensive line coach Mike Elston said. "Buying into what we're coaching hasn't been easy because it hasn't worked for him in practice, because he's not doing it right. So he's back and forth on using the proper technique and not using it. And then in a game he used it and it worked out well and he built confidence on it."
The give and take was fairly simple.
"They told me I wasn't gonna play if I didn't do it right," Lynch said.
As one of five Fighting Irish freshmen who enrolled in the spring, Lynch had a longer time to earn the trust of his coaches.
Kelly credited the strength and conditioning director, Paul Longo, for getting the freshmen physically ready to shorten the learning curve.
"You're looking at Aaron Lynch going against four- and five-year players, and you worry about their physical ability to get in there and mix it up," Kelly said. "But the last four or five years, these guys are weight training all year, nutrition is important to 'em, they're taking care of their bodies, and they're coming in. And Coach Longo said this -- I didn't -- he said this was physically the most impressive group relative to their conditioning level when they came here.
"Usually they come in a few weeks after the veterans are here. They come in and they're lost. They're so far behind. This group was not. They were physically ready to compete right away."
Even then, however, there is an adjustment period.
Lynch could only go roughly six plays at a time on Saturday, something he acknowledged was difficult, but a feat that also showed how far he had come with one offseason.
"I know before the season started I wouldn't have been able to go six straight plays," he said. "It's kind of hard to do six straight plays now, just going into my first game and actually having to put that pressure on my back. But I feel like just work hard during practice and go to the ball every time you see it, you'll be straight. You won't be really tired, because you got the energy going and adrenaline rushing and stuff like that, so you'll be straight."
Sophomore noseguard Louis Nix, who didn't play last season, had to drop more than 40 pounds before he could take the field for the first time this season.
This past spring, Kelly told him to expect 12-15 snaps per game, and Nix said that wouldn't be good enough. With fellow noseguard Sean Cwynar dealing with a broken right hand, Nix has lived up to his word, playing 30-40 snaps per game and starting twice so far, surprising even himself with his stamina.
"Last year or the year before, I probably could have did two snaps," the now-326-pounder said with a laugh.
Such contrast between the early development of Lynch and Nix helps explain why defensive coordinator Bob Diaco has a blanket philosophy on playing freshmen.
"I don't think at this point in time that there's any timetable," Diaco said. "Just, when you're ready, we're ready. When you're ready, we're ready. That's it. And when you're ready to do the jobs, whatever they are, you don't have to do be able to do all the jobs, if you can do some of the jobs. You're ready, we're ready.
"When you're ready to go in and you're better than everybody else at that spot, when you're ready to go in and whip your individual matchup, when you're ready, we're ready."
September, 17, 2011
9/17/11
9:08
PM CT
1. These guys can rush:
Aaron Lynch set the tone early by sacking
Kirk Cousins
and forcing a fumble. The defense continued the assault all day long, getting to Cousins time and time again and rendering the Spartans' run game moot.
2. Special teams can make all the difference:
George Atkinson III
's kickoff return for a score made it 14-3 early and the Irish never looked back. The return came after MSU's first scoring drive and gave Notre Dame plenty of momentum and distance the rest of the way.
3. Turnovers need to be curtailed:
Three turnovers are still too many.
Tommy Rees
, at 19, is still growing as a quarterback and will make mistakes, but senior
John Goodman
's fumble of a punt return deep in his own territory could have been costly if not for Blanton's pick three plays later. Three is better than five, and the Irish have at least showed they're capable of bouncing back from mistakes by not letting up against MSU on Saturday. But at some point the bleeding has to stop.
4. Don't look now, but the Irish could be in business:
The Irish should be favored in every game moving forward except for the final one, at Stanford. For now, they can focus on a Pitt team that looked more vulnerable Saturday than the Irish themselves through the first two weeks, as the Panthers blew a 21-point lead to Iowa in a 31-27 loss. Purdue and Air Force follow for Notre Dame before its bye, after which it will host rival USC in its first home night game in 21 years.
September, 17, 2011
9/17/11
6:04
PM CT


SOUTH BEND, Ind. -- Notre Dame erased the woes of two rough weeks and finally got into the win column, leading Michigan State from start to finish in a
31-13 win
Saturday.
Robert Blanton's goal-line interception and ensuing 82-yard return to the MSU 11 sealed the victory for the Fighting Irish, who had just turned it over on a
John Goodman
fumble on a punt return with less than five minutes to play.
Notre Dame turned the ball over three times Saturday but was able to overcome those mistakes thanks to a solid defensive performance. The unit turned the Spartans into a one-dimensional unit on offense, as Michigan State's ground game never got going.
Be sure to keep it here for more coverage after the game from the Irish's first victory of the season.
September, 14, 2011
9/14/11
10:40
PM CT
Well, I must say I was feeling pretty good about
last week's prediction
after
Tommy Rees
' touchdown pass with 30 seconds left made it 31-28 Notre Dame. Of course,
Denard Robinson
changed everything.
A new week brings a new team from Michigan, with Notre Dame still searching for win No. 1. It will likely take the Fighting Irish winning out for their BCS bowl aspirations to be met, but that should be the last thing on everyone's mind. For now, to be cliche, it really is about one game at a time.
Kirk Cousins
and the Michigan State offense won't throw a bag of tricks at the Irish the way
B.J. Daniels
and Robinson did in the first two weeks, but they provide a stiff test nonetheless. The Spartans have a stable of four running backs who see meaningful carries and can wear out opposing defenses. But this is exactly the brand of football the Irish were built for, with a strong front-seven and finally some depth on the defensive line that wants to hit hard and hit fast.
Behind Rees, Notre Dame's offense likely won't click the way it did early last week, not against an MSU defense that ranks fourth in the country. But, as is the case with his defense, Rees should know what to expect from a deliberate unit, as opposed to the schemes Michigan threw at him a week ago. The Irish's offensive line, meanwhile, has been champing at the bit for a game like this, especially after the squad's fourth-quarter shortcomings on third-and-short against the Wolverines. Expect that to be an area the Irish better execute in.
Of course, none of this will matter if the Irish can't hang on to the ball. Call me crazy, and forgive me if I sound like I'm repeating myself, but I just don't see a scenario with this team shooting itself in the foot again and again. Ten turnovers through two games is abnormal, to say the least, and the conditions Saturday should be ideal compared to Week 2's rowdy atmosphere and Week 1's torrential downpour.
Throw in the fact that Notre Dame has played opponents of note so far compared to MSU's competition (Youngstown State of the FBS, Florida Atlantic), and I just have a hard time seeing the Irish lose this game.
Prediction: Notre Dame 23, Michigan State 17