Chicago Colleges:

Kurtis Drummond
October, 13, 2014
10/13/14
4:00
PM CT
So, the streak of Monday mailbags from me leading to chaotic Saturdays ended last week at one, but I still think we should give it another test. If nothing else, it's a great way to keep the time moving until football returns in the Big Ten again.
@AWardESPN was it more on Saturday that Iowa's O ate up IU's D or that Indiana lost all hope without Sudfield?

— Michael Toolen III (@emptyqbd) October 13, 2014
Austin Ward:
There's no question that
Nate Sudfeld
's injury was a significant blow to the Hoosiers after they had climbed back into the game last weekend at Iowa, but I don't think it can realistically be pointed to as the reason Kevin Wilson's club dropped another decision in the league. The defense, quite frankly, is still too big of an issue for Indiana to be a consistent winner, and it's pretty likely going to keep it out of a bowl game now that Sudfeld is out for the rest of the year. The passing game already hadn't been quite as effective as in years past for the Hoosiers even with Sudfeld healthy, although
Tevin Coleman
's incredible production has done a pretty good job of offsetting those troubles. But as long as the Hoosiers keep forcing themselves into shootouts, even against offenses that had previously struggled like Iowa had early in the year, they just can't be taken seriously as a threat in the Big Ten. And especially now after going from a surplus of quarterbacks down to essentially none with the experience needed to operate the spread at a high level, the second half could be pretty rough for the program.
---
@AWardESPN As long as Dak Prescott continues on a role, I have no doubt he'll win the Heisman, but do you think Melvin should be invited?

— johnsg20 (@Johnsg22015) October 13, 2014
Austin Ward:
If the matter is solely based on what a player does on the field and not a popularity contest or a tribute to the starting quarterback of the nation's No. 1 team, there's really no case against
Melvin Gordon
being at the Heisman Trophy ceremony. Maybe the Wisconsin star is unlikely to win it because his team has struggled to a couple losses even while he's piled up eye-popping numbers, but if anything, what he's done in rolling up more than 1,000 yards with 13 touchdowns through six games is even more impressive because of the limitations of the offense he's playing in this season. Illinois was loading up the box with seemingly every defender on the roster last weekend because the Badgers posed virtually no threat to pass at all, and Gordon still sliced it up for 175 yards and four scores. The things Gordon is capable of blow the mind, and the Badgers would be a truly frightening team if they were even average at quarterback this season. But perhaps if voters look close enough at that weakness for Wisconsin, Gordon's candidacy could get a boost and ensure that he does win up in New York City at the end of the year.
---
@AWardESPN Could Kurtis Drummond go from All-BT to benched? He gets beat in coverage consistently and whiffs too often in run support.

— Trevor Stratton (@trevorstratton) October 13, 2014
Austin Ward:
The Michigan State safety certainly wasn't at his best on Saturday against Purdue, but he wasn't alone in blowing some assignments in a game that may have prompted some second thoughts about a team that is presumed to be the class of the Big Ten again after winning it all last season. Giving up a bunch of points to Oregon is one thing. Getting burned for 31 points against Purdue is quite another, and the most troubling thing for coach Mark Dantonio should be the plays that were giving the Spartans fits last weekend are the same ones Ohio State will run with much better athletes during the East Division showdown on Nov. 8. As for Drummond, he has let a couple interceptions slip through his hands and he may be pressing to do too much at times, but he has the experience and knowledge of the system to snap out of a recent funk. And after the near meltdown against Nebraska and the breakdowns at Purdue, the sooner the better for the Spartans.
---
@AWardESPN There's some speculation about potential Heisman runs from Abdullah or Coleman. What can JT Barrett do to join the conversation?

— Mark Walker (@MarkovWalker) October 13, 2014
Austin Ward:
On the pace the redshirt freshman is currently on, all Barrett needs right now is to keep doing what he's been doing over the past few weeks. The Buckeyes are gaining confidence every week at the same time Barrett is becoming more comfortable in the offense, and the progress is clear to see as he delivers accurate passes, manages the run game like a veteran and wins over teammates with his leadership in the huddle. The path to the kind of recognition
Braxton Miller
earned over the past two years is a bit more complicated now that Melvin Gordon, Tevin Coleman and
Ameer Abdullah
are posting huge individual numbers. But if the Buckeyes run the table and win the Big Ten with Barrett continuing to account for multiple touchdowns every week, he's going to be tough for people to ignore when the ballots are cast for the league Offensive Player of the Year, even if a national trophy might be out of reach thanks to memories of the Virginia Tech loss.
---
@AWardESPN What's ur vision for B1G teams starting to finally free up money for coaching/asst coach hires? It's obviously limiting league.

— Robbie Hendricks (@roberthendricks) October 13, 2014
Austin Ward:
There could be two interesting test cases for that theory coming up soon at Michigan and Illinois. I agree that schools have to invest in the product if Big Ten teams are going to compete for national championships, and the SEC has proven that paying top dollar for coaches, facilities and anything else remotely tied to football usually leads to results. If Michigan, for example, wants to ensure that it remains on even footing with the game's elite, it shouldn't let anything financially stand in its way when it goes shopping for the next coach to lead the program. And that's not just at the top -- the best coordinators in the country or the top position coaches should all be compensated that way also, or else they'll go work for a program that will pay them accordingly. The Big Ten schools can certainly afford to pony up.
August, 21, 2014
8/21/14
9:00
AM CT
There is no official preseason all-conference team in the Big Ten (or official predicted order of finish, etc.). But we here at ESPN.com have got you covered with our preseason all-league picks on offense, defense and special teams.
And here they are:
Offense
QB: Connor Cook, Michigan State
:
Braxton Miller
's injury opened up this spot on the first team. Penn State's
Christian Hackenberg
and Indiana's
Nate Sudfeld
were potential choices here too, but Cook's Big Ten title game and Rose Bowl MVP finish earn him the nod.
RB: Melvin Gordon, Wisconsin
: Well, sure. He could lead the nation in rushing, unless ...
RB: Ameer Abdullah, Nebraska
: ... Abdullah, his good friend, beats him to it. In a league blessed with great running backs, these two stand out the most.
WR: Stefon Diggs, Maryland
: There is a lot of uncertainty in the Big Ten at receiver heading into 2014. This much is certain: If Diggs can stay healthy, he'll be one of the nation's best.
WR: Shane Wynn, Indiana
: Wynn scored more touchdowns than any other Big Ten receiver the past season, and now he steps into a more featured role.
TE: Devin Funchess, Michigan
: Funchess might play wide receiver almost exclusively, in which case this should be viewed as a third wide receiver spot on the team. The matchup nightmare looks poised for a big season.
OT: Brandon Scherff, Iowa
: He might just be the best left tackle in college football in 2014. He's definitely got NFL scouts drooling.
OT: Rob Havenstein, Wisconsin
: An enormous road grader at right tackle. Trying to shed him and catch Melvin Gordon is just not fair.
OG: Kaleb Johnson, Rutgers
: He thought about leaving for the NFL after the past season but instead gave the Scarlet Knights a boost by returning. He has started 37 straight games.
OG: Kyle Costigan, Wisconsin
: He could be the next rising star in Wisconsin's offensive lineman factory.
C: Jack Allen, Michigan State
: A second-team All-Big Ten pick the past season, the former high school wrestling champion has no let up in his game.
Defense
DE: Shilique Calhoun, Michigan State:
He's the returning Big Ten defensive lineman of the year and could become the conference's defensive player of the year in 2014, unless ...
DE: Randy Gregory, Nebraska:
... Gregory edges him out for the honor. The pass-rush specialist outpaced Calhoun in sacks (10.5) the past season, and Bo Pelini said Gregory has "
only scratched the surface
of what he's going to be down the line."
DT: Michael Bennett, Ohio State:
He anchors the best defensive line in the conference and was named to the All-Big Ten's second team last season.
DT: Carl Davis, Iowa:
He still thinks Scherff would get the best of him if they squared off, but Athlon thought highly enough of Davis to make him a fourth-team preseason All-American.
LB: Chi Chi Ariguzo, Northwestern:
The quiet Ariguzo likes to let his play do the talking, and it chatted up a storm this past season -- to the tune of 106 tackles and four interceptions.
LB: Mike Hull, Penn State:
He was a coin-flip from transferring to Pittsburgh during the sanctions, but now he's the leader of this revamped defense.
LB: Jake Ryan, Michigan:
Ryan shocked onlookers last season by taking less than seven months to go from ACL surgery to playing in a Big Ten game. Hopes are higher now for the healthy redshirt senior, as he has registered a stop in the backfield in 25 of his past 30 games.
CB: Trae Waynes, Michigan State:
He's taking over at
Darqueze Dennard
's boundary cornerback position, but he's up for the challenge. He's already on the watch lists for the Bednarik and Thorpe awards.
CB: Blake Countess, Michigan:
He tied for the Big Ten lead in interceptions (6) the past season -- despite
battling lower abdominal pain
most of the year.
S: Kurtis Drummond, Michigan State:
The blue-collar DB started 21 straight games and was a Sports Illustrated All-American the past season.
S: Ibraheim Campbell, Northwestern:
A smart and instinctive player, Campbell has been remarkably consistent for the Wildcats. He's a three-time all-academic B1G player and has eight career interceptions.
Special teams
K: Michael Geiger, Michigan State
: As a freshman in 2013, he made 15 of his 16 field-goal attempts.
P: Mike Sadler, Michigan State
: An ESPN.com All-American in 2013, Sadler combines with Geiger to give the Spartans the best 1-2 kicking tandem in the league.
KR: Kenny Bell, Nebraska
: He led the Big Ten in return yardage the past season (averaging 26.5 yards per kick) and took one 99 yards for a touchdown at Penn State.
PR: Kevonte Martin-Manley, Iowa
: He averaged 15.7 yards per return in 2013 and scored on two punt returns in the same game.
Selections by school:
Michigan State: 7
Iowa: 3
Michigan: 3
Nebraska: 3
Wisconsin: 3
Northwestern: 2
Indiana: 1
Maryland: 1
Ohio State: 1
Penn State: 1
Rutgers: 1
Illinois: 0
Minnesota: 0
Purdue: 0
July, 28, 2014
7/28/14
6:00
PM CT
By
Austin Ward, Mitch Sherman
and
Josh Moyer
| ESPNChicago.com
CHICAGO -- The season has unofficially started in the Big Ten.
Coaches are talking about the importance of taking it one game at a time while chasing a conference title. Players have busted out their finest suits and are raving about how difficult the offseason conditioning program was at their schools. And the media grabbed some free food between interviews.
There is one more day to go before the circus leaves Chicago, but before we get to that, the Big Ten blog is handing out some awards to put a bow on the opening day.
Best-dressed player:
Michigan State safety
Kurtis Drummond
. The honors could just as easily have gone to teammates
Shilique Calhoun
or
Connor Cook
, the former for his bow tie and the latter for his accessorizing with his enormous championship ring. But Drummond stole the show as the sharpest of the Spartans, who clearly looked the part of returning conference champs.
I think the Best Dressed award has been locked up today. Kurtis Drummond, folks. pic.twitter.com/XAnHXjJWKP

— Austin Ward (@AWardESPN) July 28, 2014
.
Most fun-loving players:
The bright spotlight and huge crowd around him might have kept Ohio State coach Urban Meyer a bit guarded, but his players certainly welcomed the attention and weren't afraid of being playful with the media. Tight end
Jeff Heuerman
loosened things up by locking quarterback
Braxton Miller
in a headlock, and after that, both decided to moonlight as media members by sneaking over to ask Meyer a few questions toward the end of a session -- a rare glimpse at the personalities off the field of two of the league's best talents on it.
Ohio State's Jeff Heuerman and Braxton Miller decided to join the media today and interview Urban Meyer. pic.twitter.com/scWhYDZRNs

— Austin Ward (@AWardESPN) July 28, 2014
.
Biggest missed opportunity:
The Wisconsin-LSU matchup to open the season is appealing enough at a neutral site. But the Badgers and Tigers could have taken the intrigue to another level by hosting those games at two of the loudest, most hostile stadiums in the country -- if only Gary Andersen had been around a couple of years earlier. The Badgers' coach said he "would have said yes" to a home-and-home series at Camp Randall and in Death Valley, a tantalizing what-might-have-been if the Tigers might have been as willing as Andersen.
Most appropriate Twitter handle:
Nebraska's
Kenny Bell
(@AFRO_THUNDER80). The 6-foot-1 receiver was probably the easiest player to pick out of a crowd, as his puffy afro towered over opposing players. Bell's play didn't earn him an award last season -- he was honorable mention on the All-Big Ten team -- but we just couldn't go one more day without recognizing that 'fro.
The instantly recognizable @AFRO_THUNDER80 pic.twitter.com/OJMwHynz40

— Adam Rittenberg (@ESPNRittenberg) July 28, 2014
.
Best-dressed coach:
Penn State's James Franklin. Every day, the head coach spends 22 minutes to shave his head in every direction and trim that goatee ... so it seems slightly surprising that he is probably the coach who spends the most time on his head, considering he's bald. But, hey, it takes time to pull that look off -- and he was also looking dapper with that Penn State lapel, blue tie and matching pocket square. Franklin often jokes that he doesn't need to sleep, so maybe he uses some of that extra time to pick out the right clothes.
James Franklin and our Josh Moyer are sharing head shaving techniques. Seriously. pic.twitter.com/S7iVnnNvo9

— Brian Bennett (@BennettESPN) July 28, 2014
.
Quote of the day:
Penn State linebacker
Mike Hull
has learned under three head coaches -- Joe Paterno, Bill O'Brien and Franklin -- during his career, and their personalities really couldn't have been any different. Hull laughed while providing their takes on social media as an example.
"Yeah, I've seen the whole evolution," he said. "Joe didn't know what Facebook was, O'Brien called Facebook 'Spacebook' and, now, Coach Franklin probably has every social media there is to have. It's crazy."
Most Big Ten quote:
"How are you going to approach the Rose Bowl?" -- Michigan coach Brady Hoke, lamenting some aspects of the College Football Playoff in years, like this season, when the Granddaddy of Them All is to serve as a national semifinal game. Hoke suggested that some of the pageantry associated with the game -- for instance, the Beef Bowl team competition at Lawry's, a prime rib restaurant in Beverly Hills -- will be eliminated because of the high stakes and need for a regular game-week regimen. Of the traditional Rose Bowl, Hoke added: "It's the greatest experience in America for kids."
Most Iowa quote (maybe ever):
"Sometimes, old school is a good school." -- Hawkeyes coach Kirk Ferentz on his program's resistance to some of the offensive innovation that has swept college football.
Best quote about a player not in attendance:
"I don't like standing too close to him because it seems like the wind is always blowing through his hair. When he smiles, this little thing comes off his tooth like in the toothpaste commercial." -- Penn State coach James Franklin on sophomore quarterback
Christian Hackenberg
.
June, 9, 2014
6/09/14
11:10
AM CT
Few preseason prognosticators create as much excitement around their summer picks as Phil Steele.
The college football guru packs a tremendous amount of information and research into his preseason magazines. And Steele has released his choices for the 2014 All-Big Ten team, which you can find
here
.
[+] Enlarge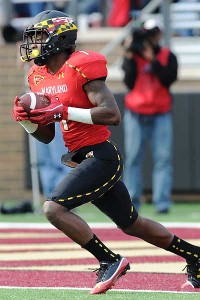 Bob DeChiara/USA TODAY SportsMaryland receiver Stefon Diggs could make an immediate impact in the Big Ten.
Some thoughts on the selections:
Steele sees newcomers Maryland and Rutgers bringing some talent into the league quickly, as he has two Terrapins (wide receivers
Stefon Diggs
and
Deon Long
) and two Scarlet Knights (guard
Kaleb Johnson
and linebacker
Steve Longa
) on the first team. ... A mild surprise on the first team is Michigan State linebacker
Taiwan Jones
, who will attempt to take over the middle spot from
Max Bullough
this year. ... The first-team defensive line is absolutely loaded, with Nebraska's
Randy Gregory
, Michigan State's
Shilique Calhoun
, and Ohio State's
Michael Bennett
and
Joey Bosa
. Iowa's
Carl Davis
and Minnesota's
Theiren Cockran
were relegated to second-team status. ... Speaking of the second team, Steele puts Northwestern wide receiver
Kyle Prater
there, apparently expecting big things at long last from the former USC transfer. ... Steele also has Ohio State's
Dontre Wilson
and
Devin Smith
breaking out as second-team All-Big Ten receivers. ... Penn State fans might be a bit miffed to see
Christian Hackenberg
as only the third-team quarterback. Michigan State's
Connor Cook
is Steele's choice for second-team QB, with
Braxton Miller
obviously No. 1. ... Michigan State leads the way with five players on Steele's first-team offense and defense. Ohio State has four, while Wisconsin, Nebraska and Michigan each have three.
Steele also has released
his preseason All-America team
, which includes some familiar Big Ten names. Here's a quick rundown:
First team:
Wisconsin RB
Melvin Gordon
Ohio State DT Michael Bennett
Michigan State DE Shilique Calhoun
Second team:
Nebraska RB
Ameer Abdullah
Iowa OT
Brandon Scherff
Nebraska DE Randy Gregory
Ohio State DE Joey Bosa
Iowa PR
Kevonte Martin-Manley
Third team:
Ohio State QB Braxton Miller
Maryland WR Stefon Diggs
Michigan WR
Devin Funchess
Iowa DT Carl Davis
Michigan LB
Jake Ryan
Michigan State CB
Trae Waynes
Michigan State S
Kurtis Drummond
Illinois PR
V'Angelo Bentley
Indiana LS
Matt Dooley
Fourth team:
Michigan State RB
Jeremy Langford
Ohio State TE
Jeff Heuerman
Wisconsin OT
Rob Havenstein
Northwestern RB/KR
Venric Mark
April, 7, 2014
4/07/14
2:30
PM CT
Michigan's defense controlled play throughout the spring game Saturday at Michigan Stadium, echoing a theme throughout most of the league that day.
Several Big Ten squads held scrimmages or open practices, and the defenses had the edge in most of them. The offenses stepped up in a few, and several quarterbacks appear to be separating themselves.
Let's recap the weekend scrimmages. (Note: Scrimmages that were closed to the media and had no available statistics.)
WISCONSIN

Despite a new-look front seven and several position changes, Wisconsin's defense dominated Saturday's scrimmage. Cornerbacks
Sojourn Shelton
and
Darius Hillary
both had good days against an undermanned receiving corps, and coach Gary Andersen called the quarterback play very average. "We have a long way to go in the throw game, and that's disappointing," Andersen said. "If we want to be a good team, we have to figure that out." The defense also shined against the run, even against top backs
Melvin Gordon
and
Corey Clement
.
PURDUE

Technically, the
Boilers' offense won Saturday's jersey scrimmage
at Ross-Ade Stadium. But the defense looked stronger for much of the day, recording seven sacks and two takeaways. Unofficially, five Boilers recorded sacks, including two from tackle
Michael Rouse
III, who finished with three tackles for loss. Coach Darrell Hazell said of the defensive line, "They played in the [offensive] backfield."
Top quarterbacks
Danny Etling
and
Austin Appleby
struggled, combining to complete 21 of 42 passes for 205 yards with a touchdown (Etling) and an interception (Appleby). Running back
Raheem Mostert
highlighted the offense with 134 yards and two touchdowns on only nine carries. Mostert is making a strong push this spring to be Purdue's No. 1 running back.
MINNESOTA

The Gophers' defense loses top performers
Ra'Shede Hageman
and
Brock Vereen
from last fall's unit, but it controlled play on Saturday. Minnesota's D held the offense without a point on its first seven possessions in the scrimmage. Safety
Cedric Thompson
had an excellent interception off a deflection on the first drive. The offense picked it up later in the scrimmage, as quarterback
Mitch Leidner
found
KJ Maye
for a 50-yard touchdown strike, and both Leidner and
Berkley Edwards
had long touchdown runs.
NEBRASKA
Here's one offense that flexed its muscles on Saturday after being subdued earlier in the week. Quarterback
Tommy Armstrong Jr.
had an "efficient" performance, according to coach Bo Pelini, as he continues to look like the team's top signal-caller. Armstrong ran for two touchdowns. Sophomore
Terrell Newby
received a lot of work at running back as
Ameer Abdullah
sat out, and receiver
Jordan Westerkamp
turned a short pass into a long gain. Defensive tackle
Aaron Curry
left the field with a neck injury, but Pelini thinks he'll be fine.
MICHIGAN STATE

The offense
recorded a 27-25 win
against the defense in MSU's first spring jersey scrimmage, as quarterback
Connor Cook
completed 15 of 21 passes for 187 yards with two touchdowns and an interception. Wide receiver
DeAnthony Arnett
, who has been relatively quiet since transferring from Tennessee, had five receptions for 67 yards and a touchdown.
Tyler O'Connor
, competing for the backup quarterback job, had a good day (10-for-15 passing, 132 yards, TD).
After allowing a touchdown on the opening possession, the defense forced four consecutive stops. Standouts included safety
Kurtis Drummond
(six tackles, 1 TFL, interception), end
Shilique Calhoun
(two sacks) and linebacker
Chris Frey
, an early enrollee, who had two sacks and three tackles for loss.
ILLINOIS

The Illini had their second off-site practice of the spring, traveling to Sacred Heart-Griffin High School in Springfield for a controlled scrimmage on Friday night. Quarterback
Wes Lunt
continues to look like Illinois' starter. According to
Rivals.com's Doug Buchson
, Lunt completed his first 14 pass attempts against the second-string defense for about 250 yards and two touchdowns. Freshman wideout
Mike Dudek
continues his strong spring, and receiver
Geronimo Allison
had a 45-yard touchdown catch from Lunt.
Defensive linemen
Kenny Nelson
and
DeJazz Woods
stood out against the second-team offensive line, consistently penetrating the backfield. Cornerback
Caleb Day
also looked good.
RUTGERS

The most important thing coming out of Rutgers' first spring scrimmage was
some clarity at quarterback
, as
Gary Nova
,
Mike Bimonte
and
Chris Laviano
all worked with the first-team offense. Although a rash of injuries made it tough to get a true gauge, Bimonte had the best day, leading two touchdown drives. Coach Kyle Flood said all three signal-callers will continue to work with the top offense. Flood singled out defensive linemen
Darius Hamilton
and
Kemoko Turay
for their play during the scrimmage.
NORTHWESTERN

Like several other Big Ten teams, Northwestern can't have full-blown scrimmages because of its injury situation. But the Wildcats had their top units match up for stretches of Saturday's practice on the lakefront.
Trevor Siemian
entered the spring as the No. 1 quarterback and appears to be ending it the same way. Siemian looked sharp on his first series, completing all three of his attempts. Dropped passes were a problem for much of the day, but wide receiver
Kyle Prater
, a USC transfer who has battled injuries for much of his career, had a one-handed grab on a pass from
Zack Oliver
. Cornerback
Matt Harris
and safety Kyle Queiro both made plays for the defense.
OHIO STATE
The Buckeyes invited students inside the Woody Hayes Athletic Center for Saturday's practice, creating some
cool scenes
. Several young players stood out, namely cornerback
Eli Apple
, who had two interceptions and a big hit. Running back
Curtis Samuel
, an early enrollee, also sparked the crowd with a 50-yard touchdown run. Linebacker has been an area of concern for Ohio State, but
Darron Lee
and
Chris Worley
both made some plays on the outside.
Ezekiel Elliott
is looking more like Ohio State's top running back, as he showed his size and versatility during the practice.
March, 6, 2014
3/06/14
3:00
PM CT
We're taking snapshots of each position group with every Big Ten team entering the spring. Up next: the defensive backs.

Illinois:
The secondary returns mostly intact from 2013, as Illinois returns starters at both cornerback spots (
V'Angelo Bentley
and
Eaton Spence
), as well as
Zane Petty
, who started the final seven games at free safety.
Taylor Barton
, who opened last season as a starting free safety, also is back. Building safety depth is important this spring as Illinois must replace
Earnest Thomas III
. Barton will compete with
Jevaris Little
and others for playing time. The depth is much better at corner as
Darius Mosely
and
Jaylen Dunlap
both saw significant action as freshmen last fall.

Indiana:
Like Illinois, Indiana returns a lot in the defensive backfield but must improve after struggling to stop opponents in 2013. The Hoosiers also lose only one starter in safety
Greg Heban
, a mainstay during the past four seasons. There's a lot of experience at cornerback with returning starters
Tim Bennett
(senior) and
Michael Hunter
(junior), along with reserve
Kenny Mullen
(senior). Decorated recruit
Rashard Fant
, who redshirted in 2013, will compete for significant playing time. Senior safety
Mark Murphy
will lead the secondary, and sophomore
Antonio Allen
could fill the other safety spot when he returns from an ACL tear. Building depth here always is a priority at IU.

Iowa:
The situation isn't as dramatic as the linebacker spot, but Iowa still must replace two productive players in cornerback
B.J. Lowery
and safety
Tanner Miller
, who combined for six interceptions in 2013. Lowery is the more significant loss, as he had 19 passes defended and three forced fumbles. The good news is
Desmond King
looks like a budding star and he will move into the featured role Lowery occupied.
Jordan Lomax
,
Sean Draper
and others will compete to start opposite King. Strong safety
John Lowdermilk
returns after a solid junior season. Lomax also could play free safety and will compete there with
Anthony Gair
and
Nico Law
, who both appeared in all 13 games last fall as reserves.

Maryland:
The back four aims for better results on the injury front and on the field in 2013. Maryland returns both starters at safety in
Sean Davis
, the team's leading tackler with 102 last fall, and
Anthony Nixon
, but there should be competition behind them with
A.J. Hendy
and
Zach Dancel
. The cornerback position is worth watching this spring as
Dexter McDougle
departs and
Jeremiah Johnson
remains limited by a toe injury.
Will Likely
has opened the spring as a starter, and
Alvin Hill
could rise up after recording 24 tackles last season.

Michigan:
The secondary took a step back in 2013 and
all jobs are open
even though Michigan returns two veteran cornerbacks --
Blake Countess
and
Raymon Taylor
-- and some experience at safety.
Jabrill Peppers
, the nation's No. 2 overall recruit according to ESPN Recruiting Nation, will play a major role for the Wolverines this fall, whether it's at corner, safety or nickel. Junior
Jarrod Wilson
started the first seven games of last season at free safety, and
Dymonte Thomas
is a good candidate to start at one of the safety spots. Michigan should expect more from this group in 2014.

Michigan State:
Will opposing offenses invade the
No Fly Zone
in 2014? Not if Michigan State can fill several spots, none bigger than
Darqueze Dennard
's at cornerback. Dennard, a unanimous All-American and the Jim Thorpe Award winner, departs to the NFL, and junior
Trae Waynes
slides into the featured corner role after a promising sophomore season. The competition opposite Waynes heats up this spring as
Ezra Robinson
,
Darian Hicks
,
Jermaine Edmondson
and
Arjen Colquhoun
compete. Free safety
Kurtis Drummond
boasts 21 career starts and enters 2014 as one of the league's top safeties.
RJ Williamson
likely will fill
Isaiah Lewis
' spot at strong safety, and
Demetrious Cox
provides depth.

Minnesota:
Like the Gophers' defensive line, the secondary loses a huge piece in
Brock Vereen
, who played both safety and cornerback last season. But there might be enough returning pieces to fill the void. Cornerback
Eric Murray
had a
very solid first season as a starter
, and Minnesota also brings back
Derrick Wells
and
Briean Boddy-Calhoun
, both of whom have starting experience. Leading tackler
Cedric Thompson
and
Antonio Johnson
finished last season as the starting safeties, and both are back. Senior
Grayson Levine
provides some experience in a reserve safety role.

Nebraska:
An important spring awaits new defensive backs coach Charlton Warren, who must identify new starters at cornerback, safety and nickel. The Huskers are replacing
Ciante Evans
and
Stanley Jean-Baptiste
, who combined for eight interceptions, 18 passes defended and 15 tackles for loss in 2013. Safety
Andrew Green
, who made 10 starts in 2013, also leaves. The good news is cornerback
Josh Mitchell
had an excellent bowl game and will fill a starting spot. Leading tackler
Corey Cooper
also returns at safety. There's not much experience at corner other than Mitchell, and
Daniel Davie
, Auburn transfer
Jonathan Rose
and others will compete. Nebraska brings back more at safety with
Harvey Jackson
, who made three starts in 2013, and junior
Charles Jackson
.

Northwestern:
That the Wildcats' secondary could be one of the team's biggest strengths seemed laughable three years ago, but it could be true this fall. All four starters return, led by safety
Ibraheim Campbell
, one of the Big Ten's most productive defenders (262 career tackles). The depth at cornerback looks strong as starters
Nick VanHoose
and
Matt Harris
return, along with
Dwight White
and
Daniel Jones
, who opened 2013 as a starter and is coming back from an ACL tear.
Traveon Henry
should start alongside Campbell, and there are some promising young safeties like
Godwin Igwebuike
.

Ohio State:
Pass defense proved to be Ohio State's downfall in 2013, and the Buckeyes' secondary will be under the microscope this spring as new assistant Chris Ash steps in. Ohio State loses All-Big Ten cornerback
Bradley Roby
and will lean more on
Doran Grant
, who started opposite Roby in 2013. Ash also expects big things from
Tyvis Powell
, who will start at one of the safety spots. Safety
Vonn Bell
finally logged significant playing time in the Orange Bowl and could become a permanent starter as a sophomore. Veteran
Ron Tanner
and
Cam Burrows
also are in the mix at safety. There should be good competition to start opposite Grant, as
Armani Reeves
tries to hold off redshirt freshmen
Gareon Conley
and
Eli Apple
.

Penn State:
After a season of moving parts and inconsistent plays, Penn State hopes for a more settled secondary.
Adrian Amos
, who alternated between cornerback and safety last season, will lead the group and brings plenty of experience.
Jordan Lucas
likely will start opposite Amos at cornerback after making strides toward the end of his sophomore season. PSU loses some leadership at safety with
Malcolm Willis
and
Stephen Obeng-Agyapong
departing and will lean on
Ryan Keiser
and
Jesse Della Valle
, both of whom have starting experience. Converted wideouts
Trevor Williams
and
Malik Golden
provide depth at cornerback and safety, respectively.

Purdue:
The rotation from 2013 returns almost completely intact, but Purdue loses a very big piece in cornerback
Ricardo Allen
, a four-year starter. Cornerback
Frankie Williams
enters his third year as a starter and will slide into Allen's featured role, while the competition for the other top corner spot will feature
Antoine Lewis
and
Leroy Clark
, among others. Purdue has plenty of experience at safety with
Taylor Richards
, who started every game in 2013, and
Anthony Brown
, who replaced the injured
Landon Feichter
and had 69 tackles. Feichter also is back from a broken leg.

Rutgers:
This group is anxious to turn the page after a season filled with personnel issues and poor performance (Rutgers finished 120th nationally in pass defense). Senior safety
Lorenzo Waters
leads the group after recording 62 tackles and two forced fumbles in 2013.
Johnathan Aiken
will try to start opposite Waters at free safety, although he'll be pushed by
Delon Stephenson
and
Tejay Johnson
, who started three games last fall.
Gareef Glashen
started six games last season and seems likely to retain one of the top cornerback spots. There will be competition at the other between
Anthony Cioffi
and
Nadir Barnwell
, both of whom started games as true freshmen in 2013. The most intriguing player to watch is cornerback
Ian Thomas
, who
returns to the team after quitting midway through last season
, one that he began as a starter.

Wisconsin:
The Badgers are relatively young at both secondary positions but boast far more experience at cornerback than safety. Junior
Darius Hillary
and sophomore
Sojourn Shelton
started all 13 games at cornerback last season.
Peniel Jean
adds even more experience at the position. Safety is much less settled as
Dezmen Southward
graduates,
Michael Caputo
shifts to linebacker and
Tanner McEvoy
returns to quarterback.
Nate Hammon
and
Leo Musso
both played in all 13 games last fall as reserves. Newcomers like
Serge Trezy
and
Austin Hudson
could compete for time when they arrive this summer.
December, 16, 2013
12/16/13
9:00
AM CT
The Big Ten released
its all-conference teams
as selected by coaches and the media earlier this month. We didn't have a vote for the media teams, and we don't pretend to know as much about football as the league's coaches.
But we can also say with confidence that we watched more Big Ten football here at the blog than anyone else. So here are our picks for the 2013 ESPN.com All-Big Ten team:
Offense
[+] Enlarge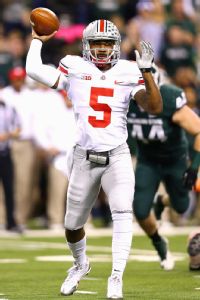 Andy Lyons/Getty ImagesBraxton Miller is one of six Buckeyes on ESPN.com's All-Big Ten team.
QB:
Braxton Miller
, Ohio State
RB:
Carlos Hyde
, Ohio State
RB:
Ameer Abdullah
, Nebraska
WR:
Allen Robinson
, Penn State
WR:
Jared Abbrederis
, Wisconsin
TE:
Devin Funchess
, Michigan
OL:
Jack Mewhort
, Ohio State
OL:
Brandon Scherff
, Iowa
OL:
Taylor Lewan
, Michigan
OL:
Corey Linsley
, Ohio State
OL:
Ryan Groy
, Wisconsin
Defense
DE:
Shilique Calhoun
, Michigan State
DT:
Ra'Shede Hageman
, Minnesota
DE:
Randy Gregory
, Nebraska
LB:
Ryan Shazier
, Ohio State
LB:
Chris Borland
, Wisconsin
LB:
Max Bullough
, Michigan State
LB:
James Morris
, Iowa
DB:
Darqueze Dennard
, Michigan State
DB:
Kurtis Drummond
, Michigan State
DB:
Bradley Roby
, Ohio State
DB:
Brock Vereen
, Minnesota
Specialists
K:
Jeff Budzien
, Northwestern
P:
Mike Sadler
, Michigan State
KR:
Kenny Bell
, Nebraska
PR:
Kevonte Martin-Manley
, Iowa
OK, so we cheated just a bit on positions, going with three tackles on our offensive line and a 3-4 defense. But considering the coaches had six defensive backs and two punters on their first team, we don't feel too bad about it. ... We wanted to include Scherff, Lewan and Mewhort on the first team, because we thought they were the three best linemen in the league. If we had to field an actual team with these guys, we're sure we could figure it out. It was a tough call between Groy and Penn State's
John Urschel
, whom we love for his on- and off-the-field accomplishments. We just felt Wisconsin had the better overall season as an offensive line, so we went with Groy. ... We went with the 3-4 because linebacker was such a deep position in this league -- so deep that we had to leave off some deserving players, like Michigan State's
Denicos Allen
-- while defensive line wasn't nearly as strong. ... The defensive backfield was a tough call (no wonder the coaches had an, ahem, pick six there). Dennard was a lock, and we felt that Drummond was the league's best safety in a year when that position was a bit weak conference-wide. We like what Vereen did in providing versatility and leadership for the Gophers, and Roby overcame a slow start to do his usual fine work. We had to leave off very good cornerbacks like Michigan's
Blake Countess
, Nebraska's
Stanley Jean-Baptiste
and Iowa's
B.J. Lowery
-- but that's what a second team is for. Stay tuned. ... Ohio State leads the way with six selections, followed by Michigan State with five. It's almost as if those were the two best teams in the league or something.
November, 18, 2013
11/18/13
9:00
AM CT
There's minimal movement in the Power Rankings as the top teams took care of business and both Minnesota and Iowa spent Saturday on the couch.

Our big debate continues to be whether to put Wisconsin or Michigan State at No. 2 behind front-runner Ohio State. The Spartans are getting more love nationally and deservedly so after starting Big Ten play at 6-0. They found some different ways to win against Nebraska, including the "Charlie Brown" fake field goal attempt.
But we've been bullish on Wisconsin for a while now, and the Badgers have done nothing to change our minds. Wisconsin's defensive performance against an Indiana team that has given defenses fits all seasons makes it tough to drop the Badgers. So we're not.
The margin is very thin between Wisconsin and Michigan State, and Wisconsin will be tested more this week as it visits rival Minnesota.
Penn State and Indiana trade places this week, and Nebraska moves down a spot.
Here's one final look at the
Week 11 rankings
.
Now, for the newest rundown ...
1. Ohio State (10-0, 6-0 Big Ten; last week: 1):
Urban Meyer's crew had another fast start, jumping ahead of Illinois 21-0 in the first 11 minutes, 30 seconds. Ohio State received big performances from running back
Carlos Hyde
(246 rush yards, 4 TDs), quarterback
Braxton Miller
(184 rush yards, TD, 2 pass TDs), and cornerback
Bradley Roby
(INT return for TD). But the defense surrendered 420 yards and 35 points, which isn't good. Ohio State can clinch the Leaders division title this week against Indiana.
2. Wisconsin (8-2, 5-1; last week: 2):
Much of the focus is on Wisconsin's historic rushing performance: 554 yards, the second-highest total in team history, and three 100-yard rushers in
James White
,
Melvin Gordon
and
Corey Clement
. But the Badgers' defense deserves a lot of credit for bottling up Indiana's quick-strike offense, holding the Hoosiers to just three points, 14 first downs and 224 total yards. Wisconsin continues to get zero respect nationally but could gain a little with a strong performance at Minnesota this week.
3. Michigan State (9-1, 6-0; last week: 3):
The Spartans are a win -- or a Minnesota loss -- from punching their ticket to Indianapolis for the Big Ten championship game. They found themselves in a surprisingly high-scoring game Saturday against Nebraska but controlled the clock and made big plays in all three phases. Running back
Jeremy Langford
(151 rush yards, 3 TDs) and safety
Kurtis Drummond
(forced fumble, interception) were among the standouts. MSU visits Northwestern this week.
4. Minnesota (8-2, 4-2; last week: 4):
Get ready for the biggest Gophers home game in recent memory as rival Wisconsin comes to town with the Axe on the line. Minnesota needs a win and a Michigan State loss to woeful Northwestern to remain in the Legends division race.
David Cobb
and the Gophers' power run offense faces a Wisconsin defense playing at a very high level these days. Minnesota will need a stout effort from
Ra'Shede Hageman
and the defensive line against Wisconsin's ground attack.
5. Iowa (6-4, 3-3; last week: 6):
How much of a step forward will Iowa take this season? We'll find out the next two weeks as the Hawkeyes close the regular season against Michigan and Nebraska. Both games are quite winnable, and Iowa's four losses all have come against ranked opponents. Iowa has won three of its past four home contests against Michigan and boasts a defensive front seven that could give the Wolverines fits.
6. Nebraska (7-3, 4-2; last week: 5):
Credit Bo Pelini's team for rallying in the second half and moving the ball surprisingly well against the nation's No. 1 defense. But Nebraska made far too many mistakes to beat the Legends division front-runner, committing five turnovers in the game. Junior
Ameer Abdullah
(123 rush yards) continues to look like one of the nation's best running backs, but he needed more help around him Saturday. The Huskers now visit Penn State.
7. Michigan (7-3, 3-3; last week: 7):
It's not pretty for the Wolverines right now, although their ability to get off a last-second field goal to tie the game at Northwestern was a thing of beauty. Michigan's offense struggled until overtime, but a stout defense kept the team in the game, and quarterback
Devin Gardner
continues to display his toughness. Brady Hoke's crew finally won a league road game and looks to do the same this week at Kinnick Stadium, where it has struggled in recent years.
8. Penn State (6-4, 3-3; last week: 9):
Home cookin' once again proved to be exactly what Penn State needed, as the Nittany Lions rebounded from a road loss at Minnesota by beating Purdue rather easily.
Zach Zwinak
made his case to be the team's top running back with 149 rush yards and three touchdowns, and quarterback
Christian Hackenberg
completed 16 of 23 pass attempts as the Lions converted 10 of 12 third downs. Penn State remains in Happy Valley this week for its final home contest against Nebraska.
9. Indiana (4-6, 2-4; last week: 8):
Wisconsin once again brought out the worst in Indiana, which had its weakest effort of the season. The defense remains a mess, as Indiana surrendered a record 554 rush yards, including seven gains of 30 yards or more. Perhaps more surprising, a high-powered offense did next to nothing, held more than 300 yards below its average. Barring a miracle this week at Ohio State, Indiana will miss a bowl for the fifth straight season, a major disappointment given a schedule with eight home games.
10. Northwestern (4-6, 0-6; last week: 10):
Kicker Jeff Budzien said after Northwestern's latest setback that if he had been told the team would be 4-6 he "would have laughed at you." The Wildcats' utter inability to close out games is no laughing matter. How does a team that used to be so good in the clutch now find every imaginable way to lose games? Northwestern is almost certainly home for the holidays. Then again, this dumpster fire of a season can't end soon enough.
11. Illinois (3-7, 0-6; last week: 11):
There's certainly some fight in these Illini, even on the sideline, as head coach
Tim Beckman and offensive coordinator Bill Cubit had to be separated
following a safety in the third quarter. Beckman can't be too upset at Cubit, the biggest reason for Illinois' improvement this season. It's too bad the Illini haven't seen similar strides from a defense that can't stop anybody right now. Beckman really needs a win this week at Purdue as Illinois tries to snap its 20-game league road losing streak.
12. Purdue (1-9, 0-6; last week: 12):
Baby steps. Purdue's offense is making them after a historically poor start to Big Ten play. The Boilers scored 21 points at Penn State, and quarterback
Danny Etling
(223 pass yards) had a decent day throwing the ball. The run game remains invisible and the defense couldn't get off the field or slow down Penn State's run or pass game. If Purdue is going to show some real progress before ending this miserable season, the time is now as Illinois visits Ross-Ade Stadium.