Chicago Colleges:

Kyle Flood
October, 17, 2014
10/17/14
7:00
AM CT
I went to college with Brook Berringer. I did not know him well.
Berringer was 17 months older than me. The few times I interviewed him for the school newspaper, I thought he seemed much older than that, probably because he somehow stayed above the fray -- especially late in his career as a quarterback that happened to coincide with the most controversial and successful period in Nebraska football history.
Because of my own youth and lack of awareness, I failed at the time to recognize the impact of Berringer on people in Nebraska.
I saw him as just another guy with a good story. That is, until April 20, 1996, two days after Berringer died when the small plane he piloted crashed in a field north of Lincoln.
At Nebraska's spring game, instead of celebrating consecutive national championships or another batch of Cornhuskers drafted into the NFL -- Berringer likely would have been among them -- the school and state mourned its fallen hero by playing a video tribute on the big screens.
Sports are often emotional. But not like that. That was not about sports. The stadium went completely silent. It remains the only time I've shed tears while sitting in a press box. I was far from alone.
The Big Ten Network documentary, "Unbeaten," a 54-minute production on the life and death of Berringer, set to premier after the Nebraska-Northwestern game on Saturday, will similarly stir emotions for those who remember Berringer, and it will educate a generation of fans too young to have watched him play.
This fall marks the 20-year anniversary of his greatest football achievement, leading Nebraska to eight wins in place of injured star Tommie Frazier.
The documentary, directed by Matthew Engel and Kevin Shaw with Bill Friedman, BTN coordinating producer for original programming, hits all the right notes on Berringer.
It features no narration, only sound from a diverse lineup of former Berringer teammates and testimony from others, including Nebraska assistant Ron Brown, who recruited Berringer to Lincoln, and
Kyle Orton
, who has worn No. 18 since high school as a tribute to the QB.
An archived Berringer interview away from the field is particularly haunting. Forgotten audio from Keith Jackson lends important historical perspective.
"We wanted Brook to have a voice," Engel said.
For Nebraska fans, the first half of the film largely serves as review of the 1994 and '95 seasons, with impressive insight into the complicated dynamic of the Frazier-Berringer relationship. The final 25 minutes includes powerful reporting on the plane crash and its aftermath, poignant footage and a final sequence certain to move viewers like that April Saturday 18 years ago in Lincoln.
"He's a guy who represents all that's good about a college football player," Friedman said. "He was a symbol of how Nebraskans want their football to be portrayed."
Berringer's impact is lasting, memorialized with a statue of the quarterback in uniform with his coach, Tom Osborne, that stands outside the entrance Nebraska's athletic offices on the north side of Memorial Stadium.
Shaw said he visited Lincoln prior to documenting Berringer and saw the statue without knowing its significance. In learning about Berringer and remembering the statue, Shaw said, it was a "wow moment."
"It was like, that's
that
guy," he said.
With "Unbeaten," BTN succeeded in creating a film that will touch Nebraskans and teach others across the Big Ten about a quarterback who's worth remembering for another 20 years and beyond.
Let's go around the league:
East Division
West Division
September, 12, 2014
9/12/14
8:00
AM CT
An interesting dynamic has played out at Penn State and Rutgers this week.
The Scarlet Knights have said they're approaching this as another game -- but they acknowledged it's
not
just another game. The Nittany Lions have also said they're approaching this as another game -- but because it
is
just another game.
"We are just as motivated in this game as were for Akron," James Franklin said. "And we are just as motivated for this game as we were for Central Florida."
Said Kyle Flood, regarding his players: "I want them to be excited about this game. They should be excited about this game. Games like this are the reason you play college football at a place like Rutgers."
Flood was inundated with questions about the Nittany Lions; Franklin begged for questions about the Scarlet Knights. The only thing fans want to talk about in Piscataway, New Jersey, is Saturday's game; the only thing fans want to talk about in Happy Valley is reduced sanctions.
Said Franklin: "I know you guys are going to ask me 55 questions that don't have to do with Rutgers, but I would like to talk about Rutgers, Rutgers, Rutgers -- and then maybe a little bit more about Rutgers."
The first question of Franklin's weekly news conference: Can you describe the atmosphere and emotions after the NCAA's announcement?
"Were you on the phone when we said we were going to talk about Rutgers, Rutgers, Rutgers and more Rutgers?" Franklin asked with a laugh.
It's worth noting that Franklin mentioned "Rutgers" so much, because Flood hasn't said "Penn State" once. He's decided to refer to PSU as "the team from Pennsylvania" since ... well ... at least this fall.
Even among players, the contrast has been stark.
"Everyone knows it's a big game. In the back of our minds, it's a big game -- but we're going to treat it like it's any other game on the schedule," Rutgers wideout
Leonte Carroo
said. "It would be a great win for the program, a huge win for the program and for recruits and for everything."
Penn State linebacker
Brandon Bell
was also asked if, as a New Jersey native, he put any added emphasis on this game -- or if he thought his team at least watched its words this week, so as not to add any bulletin-board material.
"They're obviously going to be looking for anything to fuel them up, as they've been hyping up the game a lot," Bell said. "It's their first Big Ten game; they should be excited. But, pretty much, we're just looking at it as another game this week."
So, there you have it. Two seemingly different mind-sets going into this game. We'll see which one wins out Saturday ...
Now on to the links:
East Division
West Division
July, 24, 2014
7/24/14
10:00
AM CT
You may have heard, Big Ten media days is right around the corner. The event runs Monday and Tuesday at the Hilton Chicago, with all 14 league coaches and 42 players set to attend.
Here are 10 storylines to watch next week:
Jim Delany on the state of college football. Don't expect the Big Ten boss to drop any bombs in line with the comments made by Big 12 commissioner Bob Bowlsby this week in Dallas. But Delany speaks his mind, and he feels strongly about the need for fixes in college athletics. With the NCAA Division I Board of Directors' vote on power-conference autonomy set for next month and the verdict due soon in the Ed O'Bannon antitrust lawsuit -- Delany was a key NCAA witness -- the commish will no doubt make news with his comments.
Rutgers and Maryland, you're up. Let's see what these Rutgers Scarlet Knights and Maryland Terrapins look like as their long wait to play Big Ten football is nearly over. It's been nearly two years since these schools made plans to join the league. And they enter the Big Ten in different places than what may have been expected back in 2012. Maryland is trending up and Rutgers down, but things can change in a hurry. For now, it'll be nice to hear from the Terps' sixth-year senior QB C.J. Brown and dynamic receiver Stefon Diggs. Rutgers defensive tackle Darius Hamilton looks like one of the league's best.
The Big Ten goes back on the big stage in September. Who remembers Week 3 last season? It was the Saturday that the UCLA Bruins, Arizona State Sun Devils and Washington Huskies beat the Nebraska Cornhuskers, Wisconsin Badgers and Illinois Fighting Illini, respectively. And for good measure, Central Florida won at the Penn State Nittany Lions. The poor Big Ten showing drew a collective eye roll from fans and media nationally and stomped out any early-season momentum for the league. Well, it's a new year, and Michigan State's Sept. 6 visit to Oregon might rank as the No. 1 intersectional matchup nationally. Wisconsin-LSU in Houston on Aug. 30 is almost as intriguing. Other important games for the league include Ohio State-Virginia Tech, Nebraska-Miami and the last scheduled installment of Michigan-Notre Dame.
Ameer Abdullah shares his message. Nebraska's senior I-back will speak from the heart, for sure, on Tuesday at the league's annual kickoff luncheon. Abdullah has a great story to share as the youngest of nine siblings raised as a devout Muslim in Alabama. Under-recruited out of high school, he chose Nebraska as the least heralded of three backs in his signing class. This year, he's got the chance to become the first three-time 1,000-yard rusher at Nebraska, a program filled with tradition at his spot in the backfield.
Braxton Miller, the best player without any titles to show for it. Miller is 22-2 in his past 24 starts. Sure, the losses came to end last season in the Big Ten championship game against Michigan State and the Orange Bowl to Clemson, but his record speaks for itself. He's the two-time reigning offensive player of the year in the Big Ten, and with another season like the past two, he'll race past the statistical marks of nearly every player to precede him in Columbus. But what is Miller's legacy without a championship? He'd rather face that question in December.
James Franklin talks and people listen. The first-year Penn State coach ranks atop the list of must-see speakers in Chicago. Since taking the Penn State job on Jan. 11, Franklin has wowed crowds with his energy, and he's revitalized the Nittany Lions' profile as a recruiting power in spite of lingering NCAA sanctions. As the lone new head coach in the league -- not counting Kyle Flood and Randy Edsall -- Franklin offers a breath of fresh air. And because of his SEC background, observers outside of the conference will take note of his comments.
The dawn of the playoff era. Ready or not, the Big Ten is set to enter the first year of the College Football Playoff. A year ago, Michigan State likely would have earned a spot in the semifinal round. But can the Big Ten produce another team worthy of football's final four? The Spartans remain a contender, though that trip to Oregon in Week 2 looms large. Ohio State is another team to watch and probably the most popular pick from the Big Ten to make it to a New Year's Day semifinal in Pasadena or New Orleans. It'll be a topic at media days.
Michigan, now is the time to look like Michigan. The honeymoon is over for coach Brady Hoke, entering his fourth year as he tries to avoid a third consecutive season of declining win totals. The Wolverines slipped to 7-6 a year ago amid major offensive woes after a 5-0 start. Hoke's offensive line still looks ill prepared to stop the Big Ten's top defensive fronts. The schedule is again somewhat backloaded, with Michigan State and Ohio State among the final five games, so Hoke's hot-shot recruits may get a few more weeks to mature.
Jerry Kill's health. Minnesota's fourth-year coach, as much as he'd like to avoid the topic, will face more questions in Chicago about the epileptic seizures that forced him to coach from the press box for much of last season. The Gophers rallied behind their ailing coach. It was a feel-good story, though one that no one in the Twin Cities or elsewhere would like to relive. Kill has made excellent progress in the past several months. The coach and his players are anxious to put this issue to rest.
The quarterbacks. Don't look now, but the Big Ten is turning into a league of quarterbacks. If nothing else, it appears better, for the time being, than the SEC in this category. Seven of the league's signal-callers are scheduled to appear in Chicago, including Miller, MSU's Connor Cook, Michigan's Devin Gardner and Northwestern's Trevor Siemian. It would be nice, of course, to hear from Penn State sophomore Christian Hackenberg at this event and other rising field generals like Nebraska's Tommy Armstrong Jr. and Iowa's Jake Rudock. But hey, we'll take what we can get.
June, 30, 2014
6/30/14
12:00
PM CT
Today marks the birthdays of Mike Tyson and Lizzy Caplan, the anniversary of the merging of East And West Germany's economies and, of course, Philippine-Spanish Friendship Day. Oh, and I got married two years ago today. Probably should have mentioned that first.
To the links:
May, 6, 2014
5/06/14
9:00
AM CT
So there's this little event called the NFL draft that begins Thursday night in New York. First you've heard of it? Don't fret. There has been virtually no buildup.
Like every year, we'll recap the Big Ten's draft performance, but we're admittedly more focused on the players still in the conference. That's why we're bringing back our version of a mock draft, where we select current Big Ten players to help current Big Ten teams. We did this
last year
and it was a lot of fun.
Here's how it works: All current Big Ten players are eligible to be drafted (incoming recruits are not). The teams will pick in reverse order of
regular season finish last year
, just like the NFL. Big Ten newcomers Rutgers and Maryland will pick based on their 2013 records in other leagues, so they will select fifth and sixth, respectively.
We're also making picks based on several factors. It's not simply about selecting the best overall player. What does a team need based on its personnel and schemes? Ohio State quarterback
Braxton Miller
might not be the best fit for a non-spread offense. Also, eligibility matters as some teams might want to build for the future and make a real push in 2015 or 2016 rather than this fall.
Things get a bit messy as once a player gets drafted, it creates a hole on his former team. But that's all part of the draft debate.
Our first seven first-round picks are below. We'll finish up the first round a little later.
Pick No. 1: Purdue
Adam Rittenberg says the Boilers select ... Iowa LT Brandon Scherff
[+] Enlarge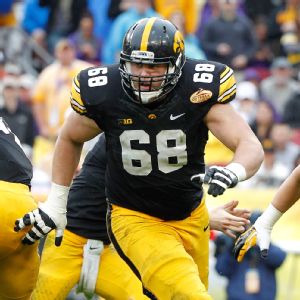 Kim Klement/USA TODAY SportsBrandon Scherff is one of the Big Ten's best linemen and would be a great fit for a lot of teams.
Purdue's priority is line play, and while both fronts need help, I like the potential more on defense. The offensive line must improve significantly for Purdue to have any chance this fall, and it's why the Boilers need Scherff, a first-team All-Big Ten selection who
could have been a first round draft pick
if he had declared. Even though Scherff is a senior, he makes Purdue better immediately.
Brian Bennett says the Boilers select ... Ohio State DE Joey Bosa
Let's face it: Purdue is in a major rebuilding effort and won't be contending any time soon. So eligibility matters here. Bosa is a true sophomore who could offer the Boilermakers three more years of high-end production and the big-time pass rush the Boilermakers haven't had in a while. I say a defensive end goes first in both the NFL (
Jadeveon Clowney
) and imaginary Big Ten drafts.
Pick No. 2: Illinois
Rittenberg says the Illini select ... Michigan State DE Shilique Calhoun
I thought about Braxton Miller as Illinois needs a quarterback, but I have enough faith in coordinator Bill Cubit to find the answers. Illinois' defense was the big problem in 2013, especially the line. Calhoun, a junior, provides a significant playmaking presence after recording 7.5 sacks, a league-high four forced fumbles and 14 tackles for loss last fall.
Bennett says the Illini select ... Calhoun
As bad as the Illini were against the run last year, they could probably use a defensive tackle even more. But since I don't see a lot of surefire, dominant run-stuffers in the league right now, Calhoun is a solid pick here for a defense-hungry team. Tim Beckman is in win-now mode, so eligibility isn't as big of a factor here.
Pick No. 3: Northwestern
Rittenberg says the Wildcats select ... Ohio State QB Braxton Miller
I thought about going offensive line here, as Northwestern really struggled up front in 2013. But Miller is simply too good a fit for a spread offense that needs a major jolt after finishing 10th in the Big Ten in scoring (26.2 ppg). The return of running back
Venric Mark
plays a role here, too, as the Miller-Mark speed combination would be extremely tough to stop.
Bennett says the Wildcats select ... Penn State QB Christian Hackenberg
Sure, Miller is probably a better fit for Northwestern's preferred offensive style than Hackenberg, but I just can't see Hackenberg -- who has three years of eligibility left after an outstanding freshman season -- falling lower than third in this draft. Mick McCall would be more than happy to build his offense around this young stud.
Pick No. 4: Indiana
Rittenberg says the Hoosiers select ... Nebraska DE Randy Gregory
Gregory nearly began his college career in the Hoosier State at Purdue before heading to a junior college and then to Nebraska, where he dazzled in his first season, recording 19 tackles for loss, a league-high 10.5 sacks and 18 quarterback hurries. It's no secret Indiana needs stars on defense, especially up front.
Bennett says the Hoosiers select ... Gregory
[+] Enlarge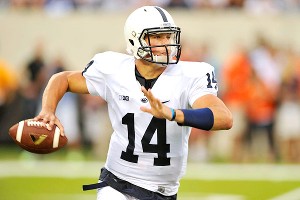 Nabil K. Mark/Centre Daily Times/Getty ImagesChristian Hackenberg doesn't fit the offensive style of all the Big Ten teams, but his future might be the brightest of all the league's QBs.
As much as Kevin Wilson loves offense and quarterbacks, I could see him being tempted by Miller (or even somehow trading up to get Hackenberg). But he knows as well as anyone that Indiana is desperate for playmakers on defense. Gregory would fit in extremely well in the Hoosiers' new 3-4 and might be enough to get them over the hump and into a bowl game immediately.
Pick No. 5: Rutgers
Rittenberg says the Scarlet Knights select ... Penn State QB Christian Hackenberg
I considered going defensive line here as Rutgers needs to bulk up there, but a difference-maker at quarterback takes precedence. Hackenberg looks like a future NFL player and has three seasons of eligibility remaining, which would be huge for a Rutgers program transitioning to the Big Ten.
Bennett says the Scarlet Knights select ... Ohio State QB Braxton Miller
Though Miller only has one year of eligibility left, snagging him at No. 5 for a team with major quarterback issues is a coup for the Scarlet Knights. Kyle Flood might need to reach a bowl game to feel safe about his job in 2015, so why not roll with the two-time Big Ten offensive player of the year?
Pick No. 6: Maryland
Rittenberg says the Terrapins select ... Nebraska RB Ameer Abdullah
Yes, I know Maryland returns a lot of options at running back, but none brings Abdullah's consistency, production and leadership. He'll stay on the field for a unit ravaged by injury and bring the toughness for a program transitioning to a physical league.
Bennett says the Terrapins select ... Michigan State CB Trae Waynes
The Terps are pretty solid on offense, assuming everyone comes back healthy.
Will Likely
had an impressive spring at one cornerback spot, but the other starting job is up for grabs. Waynes could instantly solidify that secondary and the junior could potentially lock down one side of the field for two years for Randy Edsall.
Pick No. 7: Michigan
Rittenberg says the Wolverines select ... Wisconsin RB Melvin Gordon
Offensive line would be my preference here but there isn't a guaranteed difference-maker available. Fortunately, Gordon doesn't need much room to do some special things with the ball in his hands. He gives Michigan's shaky run game a true big-play threat, and the combination of Gordon and
Derrick Green
could turn out very well.
Bennett says the Wolverines select ... Iowa offensive tackle Brandon Scherff
Brady Hoke would run to the podium to turn in this pick if Scherff was still on the board. He only has one year of eligibility left, but the Hawkeyes' left tackle could add much-needed stability and leadership to a Wolverines offensive line with all kinds of question marks.
April, 30, 2014
4/30/14
5:00
PM CT
What's on your mind?
rtXC from Denison, Texas, writes: Hey, Brian, love the blog! After the SEC's "groundbreaking" announcement to stay at eight conference games and have each of its teams play one team from the Power 5, would you like to see the other conferences band together and make a stand? Other than certain SEC-ACC rivalries and current contracts for future games, how about the four conferences band together and abstain from scheduling SEC teams in the future? That'd surely solve things, eh?
[+] Enlarge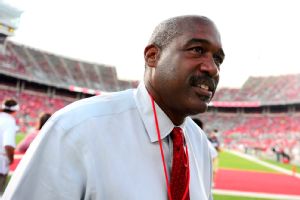 Andrew Weber/USA TODAY SportsOhio State AD Gene Smith says the SEC's decision puts the onus on a strong nonconference schedule.
Brian Bennett:
It would make scheduling all but impossible for the SEC, but I don't think other leagues are as outraged over the decision by the SEC to stay at eight games as many fans are. I talked to Ohio State athletic director Gene Smith earlier this week and asked him if he had an opinion on the SEC's decision. Here's what he said:
"No, not really. I don't know about my colleagues in the league, but I think when you look at different conferences, they have to do what they have to do based on their makeup, based on their geography and their fan base. Whether they go nine or eight games, that's really based on who they are. I really don't have a preference and would not want to even try and direct how those conferences should go. They're living in it, they're working in it, they know their travel issues and all that stuff, so for someone outside to project, I just don't think that's right."
Smith did add that the SEC's decision "will ultimately depend on what they're doing in the nonconference. Because their in-conference strength of schedule, the majority of the time, is going to be pretty good. But when you leave four games to the nonconference part of your schedule, you've got to make sure you're able to get who you need to get in order to make that overall schedule strength good."
Translation: SEC teams had better not shy away from playing strong teams in the nonconference, and they'd better hope the teams they schedule years in advance are actually good when the games arrive (see Ohio State's conundrum with the Cal series). Ultimately, the best way to get some uniformity in conference games is not some sort of boycott. It's having the playoff selection committee send a strong message about strength of schedule in its choices for the four-team event.
---
Eric from Iowa writes:
Give the so called "Big 5" conferences more power, eh? More power to create their own rules on things like stipends, medical coverage, family travel benefits, recruiting, etc? ... I'm not going to pretend those conferences aren't already the big money makers of college football, but giving them the autonomy to make these rules for themselves vs. a poor old little MAC school who already struggles to keep up ... proof that the Central Michigans are in place to provide home games for Michigan and MSU, and that's pretty much it.
Bennett: Well, how is that really any different? The Central Michigans of the world are in no way, shape or form on the same playing field right now as the Michigans and Michigan States anyway. The money gap is huge and will continue growing. I think there's an honest desire from the power conferences to give back more to the players (in part, sure, because they're afraid a court or legislature will force them to do so if they don't act first), and if all that's holding them back are mid- and low-major schools that can't afford it, then there need to be different rules in place.
---
Tony from Auburn Hills, Mich., writes:
When Darrell Hazell was announced as head coach for Purdue, everyone assumed he would be bringing that TresselBall that he carried to Kent State, even though Purdue has been a spread team since Joe Tiller brought it to the league. Then the season happened and, well, none of us is really sure what identity the offense was supposed to have. But in
the Q&A from last week's lunch links
, Hazell said he thinks they'll be a spread team this season. So was this really his plan from the beginning, or is this a change out of pure necessity due to poor recruiting and awful play from the O-line?
Bennett: Hazell has always preached physicality and a strong running game as his base philosophy, so hearing him talk about the spread was surprising -- though as Ohio State showed the past two seasons, the two aren't always mutually exclusive. You're right, Tony, in that Purdue had zero identity last season (or maybe I should say it's identity was a zero) on offense or defense, and the coaching staff might have misread the talents of the players. With an offensive line that's not close to being dominant and speedsters such as Akeem Hunt and Raheem Mostert, the spread might be a better use of the Boilers' current talent, much of which was recruited for a spread system, after all. The smartest coaches adapt their system to the players they have, not the other way around.
---
John C. from Princeton Jct., N.J., writes:
Been a lifelong RU football fan. Have the Knights winning three games this year. May steal one or two more. The athletic department is a mess. And it seems every week it gets worse. Coach Kyle Flood (nice man) plays not to lose. Watch the games, and you will see it. This lack of "killer instinct" has to overflow to the players. I can give multiple examples. What do you think?
Bennett: I don't know about a lack of a killer instinct, but Flood and predecessor Greg Schiano certainly seemed to play a conservative style -- especially on offense. Perhaps that will change with Ralph Friedgen calling the plays, but we shall see. It's not like that type of style would be out of step in the Big Ten, after all. There's no doubt that the Scarlet Knights' inaugural Big Ten schedule is very difficult, and out-of-league games at Washington State and at Navy are no gimmes by any stretch. I think Rutgers will win more than three games, but 5-7 might be a reasonable accomplishment against that slate.
---
Bran Stark from Winterfell writes:
Penny-for-your-thought type of question, Brian ... Iowa clearly has the "easiest" conference schedule of the three preseason favorites of the B1G's West. Next, Wiscy gets Big Red at home and finally my Huskers have to travel to Iowa City, Madison, and East Lansing, coming in at the hardest of the three favorites. If memory serves me correctly, Bo Pelini hasn't lost to any B1G teams twice in a row, and only the terrible Longhorns have notched that feat against him. How much, if at all, do you think the fact that the last time Nebraska played all three of those home teams it ended with losses will have on the team? Mind you, some of those losses came in grand fashion.
Bennett: Thanks for taking time out of your busy warging schedule to write in, Bran. ("Game of Thrones" nerd alert). That's an interesting stat on Pelini, but I'm not sure that history has any bearing on the future. Teams just change too much from year to year for the past season to be a huge factor. And remember the Huskers needed some major comebacks in games against Northwestern, Ohio State and Michigan State to avoid back-to-back losses. The schedule, though, is definitely worth noting. Nebraska clearly got the toughest draw of the three teams you mentioned. Based on returning talent alone, I would make the Huskers the West Division favorite by a nostril. The schedule could end up keeping them out of Indianapolis. Truly worthy championship teams can overcome it, though.
April, 22, 2014
4/22/14
9:00
AM CT
Last week, in response to a
mailbag question from reader and Rutgers fan Ed
, I came up with a hot-seat ranking for all the coaches in the Big Ten.
That list sparked a bit of discussion in some places, notably Nebraska. How accurate were my rankings, and what were some of the factors that went into them? I thought I'd bring Adam Rittenberg into the debate for a little bit of fact vs. fiction.
[+] Enlarge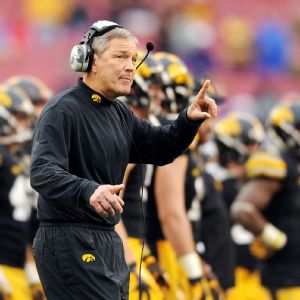 Steve Mitchell/USA TODAY SportsKirk Ferentz, who began at Iowa in 1999, appears to be secure heading into 2014.
Brian Bennett:
Adam, I listed seven coaches as being completely safe, barring some unforeseen scandal: Ohio State's Urban Meyer, Michigan State's Mark Dantonio, Penn State's James Franklin, Minnesota's Jerry Kill, Northwestern's Pat Fitzgerald, Wisconsin's Gary Andersen and Iowa's Kirk Ferentz. While Ferentz hasn't won at an elite level of late, his contract keeps him basically unfireable. Fact or fiction on my Tier 1 of coaches?
Adam Rittenberg:
Fact. It would truly take something disastrous, Brian, for one of these coaches to lose his job. Ferentz helped himself last season as another losing campaign would have placed more pressure on Iowa's administration to part ways with their highly paid coach. Unless the Hawkeyes take a significant step backward in 2014, which is tough to do given an extremely favorable schedule, Ferentz is on very secure footing. Minnesota
awarded Kill a contract extension and a raise
in February, and with facilities upgrades on the way, no change is imminent. The rest are as safe as you can get in this line of work.
BB
: My second tier included three coaches who should be fine but could be sweating things out if they have a rough season: Indiana's Kevin Wilson, Purdue's Darrell Hazell and Michigan's Brady Hoke. Some might say Hoke is actually on a hot seat, but I think his first-year success, recruiting and support from athletic director Dave Brandon means he is at least a year away from feeling any substantial pressure. Fact or fiction on these guys?
AR:
I would say fact on both Wilson and Hazell and possibly fiction on Hoke. Wilson has to make a bowl game fairly soon after IU squandered a great opportunity last season (eight home games). But Indiana athletic director Fred Glass, upon
hiring Wilson in 2010
, stressed the need for continuity at a program that hadn't had much since Bill Mallory. A 1-win or 2-win season could change things, but I can't see IU making another change, especially with recruiting on the rise and the offense surging. Hazell is a second-year coach, so unless Purdue lays another 1-11 egg, he's fine.
As for Hoke, his first-year success seems a long time ago. Michigan's recruiting has looked better in February than October, although some players still need time to develop. It comes down to this: if Michigan wins nine or more games, he's fine. If Michigan wins eight or fewer games, it gets interesting. Are the Wolverines losing close games to good teams or getting blown out? How do they perform against their three top rivals -- Ohio State, Michigan State and Notre Dame -- on the road? Are the offensive problems being fixed? You're right that Brandon doesn't want to fire his guy. But if Michigan gets blown out in its three rivalry games and still can't run the ball consistently, Brandon might not have a choice. Remember, Hoke has set the bar -- Big Ten title or bust -- and he's not reaching it.
BB:
OK, now we're down to the four guys I put on the hot seat. Let's take them individually, starting with perhaps the most controversial one. You'd have to suffer from amnesia not to remember how close Bo Pelini came to losing his job at Nebraska last season. But is it fact or fiction that he's on a hot seat?
[+] Enlarge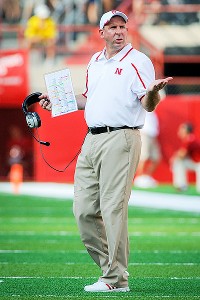 Eric Francis/Getty ImagesBo Pelini is 58-24 as coach of Nebraska.
AR:
Fact. I'm not sure where the pro-Pelini push is coming from. Does a bowl win and some Twitter fun with
@FauxPelini
really change anything? Nebraska has been a bigger national story during its spring game the past two seasons than when the games actually count. While it's nice to this side of Pelini, the only thing that matters is winning more games and getting Nebraska that elusive conference championship.
BB:
I debated whether to include Randy Edsall from Maryland, who showed progress last season and has dealt with many tough injuries. But moving to the new league and not overwhelming fans for three seasons convinced me he needs to deliver a bowl game this year, or at least be very competitive. Fact or fiction?
AR:
Fact. Athletic director Kevin Anderson has been supportive of Edsall, but Maryland needs to see continued progress this season, despite the transition. The injury situation has to turn around eventually, so we should get a better gauge of a team that, on paper, should be better. But the schedule isn't easy. It also doesn't help to have Franklin, once Maryland's coach-in-waiting, in the same division.
BB:
The other Big Ten newbie also has a coach on the hot seat, according to my list. Kyle Flood is only in his third season and did win nine games his first season. But he was on shaky ground last winter and replaced both coordinators, which is a sign of a coach trying to hang on. Fact or fiction on Flood's seat being warm?
AR:
Fact. A coaching shuffle like the one Rutgers had almost always precedes a make-or-break type season for the head guy. Although athletic director Julie Hermann must consider the upgrade in competition and a brutal initial Big Ten schedule (East Division plus crossovers against both Nebraska and Wisconsin), a bowl-less season could spell the end for Flood. Rutgers has reached the postseason in eight of the past nine years.
BB:
And, finally, Tim Beckman. He has won just one conference game at Illinois. I'd be surprised if anyone disagreed with his placement on this list, but what say you in regard to fact or fiction?
AR:
Fact. Although AD Mike Thomas hired Beckman, he'll face even more pressure to make a change if Illinois misses a bowl for a third consecutive season. The Illini showed improvement last fall, but they'll have to take another step for Beckman to secure Year 4.
April, 7, 2014
4/07/14
2:30
PM CT
Michigan's defense controlled play throughout the spring game Saturday at Michigan Stadium, echoing a theme throughout most of the league that day.
Several Big Ten squads held scrimmages or open practices, and the defenses had the edge in most of them. The offenses stepped up in a few, and several quarterbacks appear to be separating themselves.
Let's recap the weekend scrimmages. (Note: Scrimmages that were closed to the media and had no available statistics.)
WISCONSIN

Despite a new-look front seven and several position changes, Wisconsin's defense dominated Saturday's scrimmage. Cornerbacks
Sojourn Shelton
and
Darius Hillary
both had good days against an undermanned receiving corps, and coach Gary Andersen called the quarterback play very average. "We have a long way to go in the throw game, and that's disappointing," Andersen said. "If we want to be a good team, we have to figure that out." The defense also shined against the run, even against top backs
Melvin Gordon
and
Corey Clement
.
PURDUE

Technically, the
Boilers' offense won Saturday's jersey scrimmage
at Ross-Ade Stadium. But the defense looked stronger for much of the day, recording seven sacks and two takeaways. Unofficially, five Boilers recorded sacks, including two from tackle
Michael Rouse
III, who finished with three tackles for loss. Coach Darrell Hazell said of the defensive line, "They played in the [offensive] backfield."
Top quarterbacks
Danny Etling
and
Austin Appleby
struggled, combining to complete 21 of 42 passes for 205 yards with a touchdown (Etling) and an interception (Appleby). Running back
Raheem Mostert
highlighted the offense with 134 yards and two touchdowns on only nine carries. Mostert is making a strong push this spring to be Purdue's No. 1 running back.
MINNESOTA

The Gophers' defense loses top performers
Ra'Shede Hageman
and
Brock Vereen
from last fall's unit, but it controlled play on Saturday. Minnesota's D held the offense without a point on its first seven possessions in the scrimmage. Safety
Cedric Thompson
had an excellent interception off a deflection on the first drive. The offense picked it up later in the scrimmage, as quarterback
Mitch Leidner
found
KJ Maye
for a 50-yard touchdown strike, and both Leidner and
Berkley Edwards
had long touchdown runs.
NEBRASKA
Here's one offense that flexed its muscles on Saturday after being subdued earlier in the week. Quarterback
Tommy Armstrong Jr.
had an "efficient" performance, according to coach Bo Pelini, as he continues to look like the team's top signal-caller. Armstrong ran for two touchdowns. Sophomore
Terrell Newby
received a lot of work at running back as
Ameer Abdullah
sat out, and receiver
Jordan Westerkamp
turned a short pass into a long gain. Defensive tackle
Aaron Curry
left the field with a neck injury, but Pelini thinks he'll be fine.
MICHIGAN STATE

The offense
recorded a 27-25 win
against the defense in MSU's first spring jersey scrimmage, as quarterback
Connor Cook
completed 15 of 21 passes for 187 yards with two touchdowns and an interception. Wide receiver
DeAnthony Arnett
, who has been relatively quiet since transferring from Tennessee, had five receptions for 67 yards and a touchdown.
Tyler O'Connor
, competing for the backup quarterback job, had a good day (10-for-15 passing, 132 yards, TD).
After allowing a touchdown on the opening possession, the defense forced four consecutive stops. Standouts included safety
Kurtis Drummond
(six tackles, 1 TFL, interception), end
Shilique Calhoun
(two sacks) and linebacker
Chris Frey
, an early enrollee, who had two sacks and three tackles for loss.
ILLINOIS

The Illini had their second off-site practice of the spring, traveling to Sacred Heart-Griffin High School in Springfield for a controlled scrimmage on Friday night. Quarterback
Wes Lunt
continues to look like Illinois' starter. According to
Rivals.com's Doug Buchson
, Lunt completed his first 14 pass attempts against the second-string defense for about 250 yards and two touchdowns. Freshman wideout
Mike Dudek
continues his strong spring, and receiver
Geronimo Allison
had a 45-yard touchdown catch from Lunt.
Defensive linemen
Kenny Nelson
and
DeJazz Woods
stood out against the second-team offensive line, consistently penetrating the backfield. Cornerback
Caleb Day
also looked good.
RUTGERS

The most important thing coming out of Rutgers' first spring scrimmage was
some clarity at quarterback
, as
Gary Nova
,
Mike Bimonte
and
Chris Laviano
all worked with the first-team offense. Although a rash of injuries made it tough to get a true gauge, Bimonte had the best day, leading two touchdown drives. Coach Kyle Flood said all three signal-callers will continue to work with the top offense. Flood singled out defensive linemen
Darius Hamilton
and
Kemoko Turay
for their play during the scrimmage.
NORTHWESTERN

Like several other Big Ten teams, Northwestern can't have full-blown scrimmages because of its injury situation. But the Wildcats had their top units match up for stretches of Saturday's practice on the lakefront.
Trevor Siemian
entered the spring as the No. 1 quarterback and appears to be ending it the same way. Siemian looked sharp on his first series, completing all three of his attempts. Dropped passes were a problem for much of the day, but wide receiver
Kyle Prater
, a USC transfer who has battled injuries for much of his career, had a one-handed grab on a pass from
Zack Oliver
. Cornerback
Matt Harris
and safety Kyle Queiro both made plays for the defense.
OHIO STATE
The Buckeyes invited students inside the Woody Hayes Athletic Center for Saturday's practice, creating some
cool scenes
. Several young players stood out, namely cornerback
Eli Apple
, who had two interceptions and a big hit. Running back
Curtis Samuel
, an early enrollee, also sparked the crowd with a 50-yard touchdown run. Linebacker has been an area of concern for Ohio State, but
Darron Lee
and
Chris Worley
both made some plays on the outside.
Ezekiel Elliott
is looking more like Ohio State's top running back, as he showed his size and versatility during the practice.
March, 17, 2014
3/17/14
9:30
AM CT
The road trip has reached the home stretch with the month of November and Big Ten division races (hopefully) heating up. By now, we've logged thousands of miles, spend thousands of dollars and likely gained a few pounds, thanks to the culinary and beverage establishments we've frequented along the way.
For those just joining us (and really, where have you been?), we're each selecting one Big Ten game to attend each week during the 2014 season. We aren't tied down by a travel budget or nagging editors. If we want to attend a game -- depending on matchup, location, culinary offerings or any other factors -- we can go.
Let's check out the options for Week 10:
Nov. 1
Indiana at Michigan
Maryland at Penn State
Illinois at Ohio State
Wisconsin at Rutgers
Northwestern at Iowa
Purdue at Nebraska
Open week: Michigan State, Minnesota
Brian Bennett's pick:
Wisconsin at Rutgers


Not the best slate of games to choose from here, at least on paper. So I'll take the opportunity to go visit one of the newest Big Ten members and to see Wisconsin for the first time all season.
This game has blowout potential; remember how rudely the Badgers welcomed Nebraska to the Big Ten and how easily they often dispatch lesser opponents. But Rutgers' defense has been pretty solid over the years, so I'm interested to see how the Scarlet Knights handle that massive Wisconsin offensive line and the running game led by
Melvin Gordon
and
Corey Clement
. Few teams pound you like the Badgers, and it will certainly be an eye-opener for Rutgers.
Of course, coach Kyle Flood's team will simply have to hope to be in one piece by this point in the season, after playing Penn State on Sept. 13, Michigan on Oct. 4, Ohio State on Oct. 18 and Nebraska on Oct. 25. Welcome to the league, fellas.
By comparison, Wisconsin will have had it relatively easy in league play to this point and should be set up well for the showdowns against Nebraska and Iowa later in November. I'm sure I will pick at least one of those games to attend, if not both. For now, I'll enjoy returning to my Big East roots and having some fun in north Jersey. Maybe I'll even tempt fate and my cholesterol count with
a fat sandwich
.
Adam Rittenberg's pick:
Northwestern at Iowa


November begins with a yawn as the Big Ten slate features no must-see matchups (again, blame the double-bye). Although Indiana and Michigan could set some more scoring records at the Big House, I'm going to head west to Iowa City for my first game at Kinnick Stadium since 2011. It's always one of my favorite Big Ten venues, and Iowa fans should be geared up for an opponent they'll never admit is a rival but one that gets under their skin.
Despite losses in two of the past three seasons, Northwestern has won six of the teams' last nine meetings. Iowa lost three straight home games to Northwestern before winning the last two, including a 17-10 overtime triumph last October. This is typically a close matchup and should be again as both teams return many of their core pieces from 2013.
Both defenses played really well last season, and it will be interesting to see if the offenses do more this time around. Northwestern likely will pass more with
Trevor Siemian
at quarterback, while Iowa will counter with a good group of running backs and a powerful line led by tackle
Brandon Scherff
. Iowa's new-look linebacking corps should be settled in as they go against Northwestern star running back
Venric Mark
, who missed last year's contest. Northwestern's defensive line will have to hold up against
Mark Weisman
and the Hawkeye ball carriers.
This is a big game for both teams and could factor into the West Division race. Kinnick, I've missed you. Save me a turkey leg.
Road trip itinerary
Week 1:
Brian at Penn State-UCF (in Dublin, Ireland); Adam at Wisconsin-LSU (in Houston)
Week 2:
Adam at Michigan-Notre Dame; Brian at Michigan State-Oregon
Week 3:
Brian at Minnesota-TCU; Adam at Penn State-Rutgers
Week 4:
Adam at Miami-Nebraska; Brian at Miami-Nebraska
Week 5:
Brian at Cincinnati-Ohio State; Adam at Minnesota-Michigan
Week 6:
Adam at Nebraska-Michigan State; Brian at Nebraska-Michigan State
Week 7:
Brian at Penn State-Michigan; Adam at Northwestern-Minnesota
Week 8:
Adam at Iowa-Maryland; Brian at Nebraska-Northwestern
Week 9:
Brian at Michigan-Michigan State; Adam at Ohio State-Penn State
December, 28, 2013
12/28/13
4:04
PM CT
Notre Dame finally pulled away from Rutgers to escape Yankee Stadium with a 29-16 win Saturday in the New Era Pinstripe Bowl. Here's how it went down:


It was over when: Tarean Folston punched it in from three yards out with 3:38 remaining to make it 26-16 and give Notre Dame some much-needed breathing room. Redshirt senior Dan Fox picked off Rutgers quarterback Chas Dodd on the ensuing drive to effectively seal the game. Kyle Brindza added a 49-yard field goal to make it 29-16.
Game ball goes to: Folston was named the starter by coach Brian Kelly earlier this week. Before the game, Kelly issued a statement saying that George Atkinson III (and cornerback Jalen Brown) would not play due to a violation of team rules, which Atkinson tweeted (and then deleted) was him texting during a team meal. In any event, Folston took advantage of Atkinson's absence and might have gained the front-runner status for the starting running back job heading into next season. He capped his rookie year with 73 yards and a touchdown on 17 carries, adding three catches for 21 yards. Kudos to Cam McDaniel for being his reliable self, as he had 17 carries for 80 yards and added three catches for 29 yards. The duo did this behind an offensive line missing its three regular interior starters.
Stat of the game: Pick your poison: Notre Dame completely outdid Rutgers in first downs (31-16), total yards (494-236), takeaways (4-1) and time of possession (38:16-21:44). It is hard to imagine how the Scarlet Knights managed to stay in this game for so long (19-16 with four minutes left).
Unsung hero: Brindza connected on 5 of 6 field goal attempts on what was an uneven surface, helping Notre Dame put up points whenever its offense could not punch it in. That was two field goals clear of the Irish's bowl game record. Credit to TJ Jones for catching five balls for 66 yards and carrying it four times for 16 yards and a touchdown in his college finale as well. (Oh, and let's not overlook Louis Nix, who is injured and has signed with an agent, meaning he could not travel with the team. That did not stop him from providing terrific Twitter commentary throughout the afternoon.)
What it means for Notre Dame: Let's just say the Irish had a lot more to lose in this one than they had to gain. But they can exit 2013 with a 9-4 record, their second-best mark since 2006. From an optimist's perspective, this is probably what was expected outside of the program when starting quarterback Everett Golson got suspended from school in May and once the injuries kept mounting as the season progressed. Stephon Tuitt's NFL decision will play a huge role in determining preseason expectations for this team, but getting Golson and many offensive weapons back will be huge for a program that has yet to really turn the corner offensively in four years under Kelly.
What it means for Rutgers: Goodbye American Athletic Conference, hello Big Ten. The Scarlet Knights had some opportunities to make this game a lot more interesting, but a number of questionable calls prevented them from gaining some much-needed momentum in this game, which in turn prevented them from gaining some positive momentum going into their new conference. First, coach Kyle Flood elected to decline an offside penalty on an 18-yard field goal by Kyle Federico, passing on an opportunity to go for a short touchdown in a game with little to lose and few touchdown opportunities to be gained. Later, the Scarlet Knights ran a halfback pass from the Irish 20 with Justin Goodwin, who tossed an interception to KeiVarae Russell. Michigan State made a similar mistake against the Irish earlier this year, and that one also was picked, a game-turning play in what turned out to be the Spartans' lone loss this season.
To watch the trophy presentation of the New Era Pinstripe Bowl, click here.
December, 12, 2013
12/12/13
9:00
AM CT
Kyle Flood was answering a question about his depleted staff on Tuesday when Brian Kelly chipped in a few minutes later with his unsolicited take.
[+] Enlarge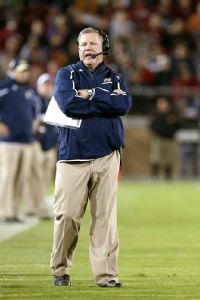 Kelley L Cox/USA TODAY SportsDespite losing both coordinators, the Irish are in good hands with Brian Kelly.
"And just to add on to Kyle's situations with his staff," the Notre Dame coach said at Yankee Stadium. "I just want to let him know he's got too many staff members. When I was at Cincinnati, we had three staff members and we coached in the bowl game against Western Michigan, so you've got way too many. And we won that game, so I think he's fine. I don't think you have to worry about him having not enough coaches."
At this rate, it would be easy to say that the concerns now fall on Kelly, who lost his second coordinator to a head-coaching job in an eight-day span Wednesday when Bob Diaco
accepted the UConn post
. That came in the wake of Chuck Martin
packing his bags for Miami (Ohio)
. The moves hamstring the Irish staff as it readies for Rutgers on Dec. 28's New Era Pinstripe Bowl, and as it gears up for the mad dash to national signing day in the 39 days following the 2013 finale.
The initial reaction across players and fans, per routine, was overreaction. Tweets
decrying Diaco
for looking out
for himself
were soon deleted, eventually giving way to
more
and
more
congratulatory remarks for a man whose next career step was only a matter of time.
Make no mistake, this is far from the situation that is taking place in Piscataway, N.J., where Flood, the second-year head coach,
let go of three assistants
after an underwhelming 6-6 campaign. The Scarlet Knights step into the Big Ten next season. And this is far from the case that Kelly was referencing in that bowl press conference, as he had just taken the Cincinnati job and had only three of his Central Michigan assistants with him by the time the Bearcats faced, and defeated, Western Michigan in the International Bowl nearly seven years ago.
"It certainly creates a little bit of a challenge," Flood said of Rutgers' situation, "but I'm confident that people are put in positions where they can be successful, and that's really my job as the head football coach, to make sure we got a coach assigned at every position and in all three phases and the coordinator role."
Kelly's challenge is considerably smaller. This is Notre Dame, after all.
Initial reaction among recruits speaks to that
, with most youngsters recognizing that much of what they were promised remains in place so long as Kelly is at the forefront. If Diaco does not bring along other Irish assistants with him to Storrs, Conn., Kelly will have a much easier time filling the holes on his staff. Kerry Cooks, let's not forget, has also been the co-defensive coordinator these past two years, and he will probably take on Diaco's responsibilities for (at least) the rest of the month.
The fact this Notre Dame team went 8-4 and had its top two assistants get hired to run their own shows speaks volumes about where the program is now. Jimbo Fisher lost seven assistants in a season that ended with Florida State winning the Orange Bowl, and the Seminoles have turned out oh-so fine in the year since. This is a good problem to have,
and as IrishIllustrated's Pete Sampson said
, one coordinator leaving right after the other could trigger an eventful race back to South Bend to occupy Kelly's office whenever he should depart.
That's down the road. For now, the calendar has 19 days remaining in a year that began with a letdown against Alabama in the national title game and will likely end with a win against Rutgers -- with plenty of embarrassment (Manti Te'o, Everett Golson) and departures (
Gunner Kiel
, two receivers) sandwiched in-between.
As they did in this past year, the Irish will enter 2014 hoping to close whatever gap remains toward a national title. And while
Jameis Winston
isn't walking through that door, the two most important elements of that chase, Kelly and Golson, still are.
December, 11, 2013
12/11/13
11:00
AM CT
OK,
now
I wish Notre Dame picked a warm-weather bowl site.