Chicago Colleges:

lacrosse
December, 30, 2011
12/30/11
8:37
PM CT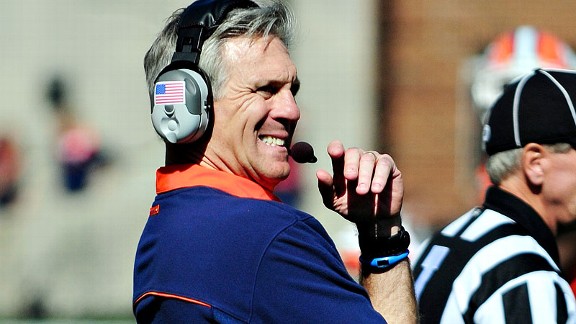 Reid Compton/US PresswireRon Zook's tenure at Illinois ended as the team collapsed to close the season.
Here's a look back at Illinois college sports in 2011.
1. The fall of Jereme Richmond: Richmond, a McDonald's All-American, was considered Illinois coach Bruce Weber's greatest recruiting get. He was expected to arrive and elevate the Illini to national status again. But nothing went as expected. Following a disappointing up-and-down freshman season, which ended with him being suspended for the NCAA tournament, Richmond decided to leave Illinois and enter the NBA draft. Richmond went undrafted. His life took an even worse turn in August when he was arrested on charges of aggravated unlawful use of a weapon, battery, disorderly conduct, possession of a firearm and assault after he allegedly confronted his girlfriend's father. Just recently, he was placed on home detention.
2. Zook's era ends, Beckman's begins: Illinois coach Ron Zook was fired on Nov. 27 after seven seasons. Zook looked as if he was going to save his job when the Illini got off to a 6-0 start to the season, but they suffered an epic collapse, losing their final six regular-season games. Illinois first-year athletic director Mike Thomas named former Toledo coach Tim Beckman the new football coach on Dec. 9. Beckman will now to bring stability to a program that has been inconsistent.
3. Northwestern lax champions again: The Northwestern women's lacrosse team won its sixth national championship in seven years when the Wildcats defeated Maryland 8-7 on May 29. Tournament MVP Shannon Smith had four goals in the game and 18 goals in four tournament games.
4. Northwestern football wins at Nebraska: Northwestern pulled off one of the season's biggest surprises when the Wildcats defeated No. 10 Nebraska 28-25 on the road on Nov 5. Kain Colter threw for 115 yards and a touchdown, rushed for 57 yards and two touchdowns and caught three passes for 57 yards. Colter became the first player to accumulate 100 passing yards, 50 rushing yards and 50 receiving yards in one game since ESPN began keeping such statistics in 2000.
5. Illinois dances again: The Illinois men's basketball team was the lone team from the state to reach the NCAA tournament again in 2011. Led by a group of seniors, including team leader Demetri McCamey, the Illini defeated UNLV in round of 64 and lost to Kansas in the following round. Illinois finished 20-14 for the season.
6. Juice's farewell: Michael "Juice" Thompson closed out his Northwestern men's basketball career in 2011. He finished ranked first in career assists (528), minutes played (4,633) and games played and started (129), second in 3-pointers made (276), third in points (1,689) and fifth in steals (159). Northwestern reached a school-record three consecutive NIT tournaments with Thompson running the point.
7. Illinois rallies to defeat 'Cats: In football, Illinois fought back from a 28-10 second-half deficit to defeat Northwestern 38-35 in Champaign on Oct. 1. Illinois quarterback Nathan Scheelhaase scored on a 1-yard run with 13 seconds left to pull off the comeback win. Scheelhaase threw for 391 yards and three touchdowns and rushed one touchdown.
8. Big East Rookie of the Year: The DePaul men's basketball team hasn't had much to celebrate in the Big East in recent years, but freshman Cleveland Melvin brought some optimism back to Lincoln Park in 2011. Melvin averaged 14.3 points and 5.0 rebounds and was named the Big East Rookie of the Year on March 8, joining the likes of Carmelo Anthony, Patrick Ewing and Allen Iverson.
9. Illinois baseball wins Big Ten: The Illinois baseball team overcame a 4-6 Big Ten record to win 11 of its last 14 games and captured its first conference title since 2005. Matt Dittman hit a walk-off home run to defeat Indiana to win the regular-season title. In the Big Ten tournament, Illinois defeated Ohio State 5-4 by scoring four runs in the ninth inning and later won the tournament title with two wins over Michigan State. Illinois went 2-2 in the NCAA tournament.
10. Illinois falls short in NCAA championship: The Illini women's volleyball team lost to UCLA 25-23, 23-25, 26-24, 25-16 in the NCAA championship on Dec. 17. Illinois went 32-5 for the season.
11. Northern rallies to win MAC football title: Northern Illinois Huskies fought back from a 20-0 deficit to defeat Ohio Bobcats 23-20 in the MAC championship on Dec. 2. It was the Huskies first MAC championship since 1983. Northern Illinois quarterback Chandler Harnish threw two of his three touchdowns passes in the fourth quarter.

May, 29, 2011
5/29/11
6:14
PM CT
STONY BROOK, N.Y. -- Northwestern won its sixth NCAA women's lacrosse championship in seven years Sunday, getting four goals from Shannon Smith, including the game-winner with 4:36 remaining, in an 8-7 victory over top-ranked Maryland.
Read the entire story.
May, 3, 2011
5/03/11
4:12
PM CT
EVANSTON, Ill. -- The bar set for Northwestern senior lacrosse captain Colleen Magarity is almost unfair.
[+] Enlarge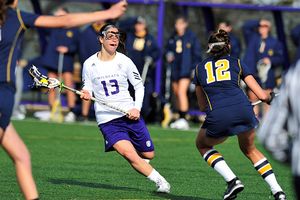 David Carlson Colleen Magarity feels more like a basketball point guard after making the move from defense.
Six of the Wildcats' last senior classes have played in the NCAA women's lacrosse championship game. Five of them won the national title. Two teams went undefeated. Three teams lost just one game. One team fell twice.
There's little room for error to meet those standards. That's why when the Wildcats lost back-to-back games earlier this season for the first time since 2003, Magarity quickly leaped to hit the panic button.
"We have the target on our backs all the time," Magarity said. "People love that we lost [twice this season.] They love to see us lose. I think it fuels us to work harder and prove them wrong."
Since the Wildcats dropped consecutive games to Florida and Johns Hopkins in mid-April, the Wildcats have taken advantage of that fuel and responded with three consecutive wins over ranked opponents. Now with a 15-2 record and a top-three national ranking, Northwestern is ready for another national championship push.
On their return path to winning, Northwestern has made some on-the-field adjustments, but Magarity and her fellow seniors have also stepped up their leadership.
"I had to take some control," Magarity said. "Losing isn't fun. With my teammates, we came together, and we really realized there needed to be change, and the change needed to happen now. We don't have a year to come back from this.
"We're overcoming adversity. We had back-to-back losses. It's my team. I need to take leadership of it with my other captains and seniors."
One of the team's greatest emphases in recent weeks has been playing together. While Northwestern does possess some very talented individual players, especially junior Shannon Smith, who is among the nation's leaders in goals and assists, its offense has struggled at times this season.
The Wildcats have lost only five games in the last seven years when Northwestern and its opponent both have scored in double figures. Two of those defeats were this season, losing to Florida 13-11 and Johns Hopkins 12-11. Goals haven't come as easy to this team as they have in the past, and the Wildcats have worked to fix that.
[+] Enlarge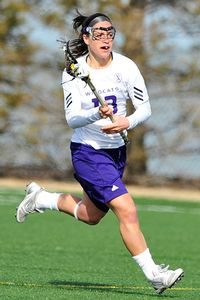 David Carlson Magarity's leadership is one of her most valuable traits.
"We were trying to get things done so quickly on offense," Magarity said. "We have to work the ball around and wear down the defense. We just wanted to do this, do that, make the big play.
"Every team is different. What we've learned is you can't rely on past team's successes. It's a completely different year and a completely different team. You also can't rely on people's individual talent just thinking they're going to win us the game. We have to do it together. It's a team sport."
In looking to make the offense more team-oriented, Northwestern coach Kelly Amonte Hiller moved Magarity up from the defensive end to the offensive one. Magarity was an offensive star in high school in Pennsylvania, so she had experience there. More importantly, Amonte Hiller thought Magarity would bring a calm presence to the team's attack.
"We just felt we needed a little bit of leadership in that area," Amonte Hiller said. "She has great leadership skills and is very steady. She does the little things that no one wants to do all over the field, just the small things like the ground balls, the communication, that make a big difference."
Magarity welcomed the shift. Who doesn't like to score goals and dish off assists? Magarity also saw it as an opportunity to pretend she was a point guard on the basketball floor again. She earned all-conference honors twice at the position in high school.
"I've always loved basketball," Magarity said. "Basketball is pretty much my favorite sport other than lacrosse. Shannon Smith knows I see the field like I did when I played point guard. She was excited to see me there. I'm always looking for that backdoor play.
"I think a pick goes a long way. It's just engrained in my head -- [John] Stockton-to-[Karl] Malone all day. If you execute the pick and roll, no one can stop it."
Magarity put her offensive tools to use against Stanford on Northwestern's Senior Day on April 24. With the game tied 4-4, Magarity made a hard cut toward the net, catching her defender off guard. Teammate Kat DeRonda hit Magarity with the ball as she approached the net, and Magarity quickly fired the ball in the net's left corner to put the Wildcats ahead.
It was Magarity's second goal of her Northwestern career, and her first since scoring as a freshman on April 20, 2008.
"I was ready to score," Magarity said. "I wanted to score. It was a fun day."
Magarity and her fellow seniors didn't shed a tear on the day, though. They don't believe it's anywhere near the end of the line for them.
"When it came down to it, it was another game," Magarity said. "It's not my last game ever. I think we're getting to the fun part of the season. This is why we play."
April, 18, 2010
4/18/10
4:56
PM CT
Northwestern's win streaks of 41 overall and 58 at home came to an end Sunday afternoon in an 18-16 loss to North Carolina.
It was a rematch of last season's NCAA championship game, which Northwestern won 21-7.
"A loss is never a fun thing, and this one is a tough one to take," head coach Kelly Amonte Hiller said in a story on the school's Web site. "I don't necessarily subscribe to the notion that a loss can be a good thing, but now that we have lost, we need to see what we can take from it.
Click here to read the entire story.