Chicago Colleges:

Landry Jones
October, 26, 2012
10/26/12
8:18
PM CT
SoonerNation's
Jake Trotter
and
ESPN.com Notre Dame
football writer
Matt Fortuna
answer questions about No. 8 Oklahoma's matchup with No. 5 Notre Dame this weekend:
1. Who is under more pressure to win?
Jake Trotter:
There's a ton of pressure on Notre Dame to win. Outside of the Brady Quinn years, the Irish haven't really been a factor in the national title picture in almost 25 years. This is their chance. But there might be even more pressure on the Sooners. The game is at home, and Oklahoma has a reasonably legitimate shot at getting to the national title if it can get past this game. The fan base is getting antsy. Another 10-2 or 9-3 season will only augment that.
Matt Fortuna:
Weird as it may sound, I think Notre Dame is playing with house money at this point. The Irish have seven wins already -- which no one saw happening -- and have games left against Pitt, Boston College and Wake Forest. Ergo, they are likely a 10-win, BCS-bowl bound team at the worst right now. Steal one in Norman, and now we're looking at an 11-0 Notre Dame team going into its regular-season finale at USC.


2. Can OU run the ball on Notre Dame?
Trotter:
The Sooners have been running the ball well since inserting junior college transfer
Damien Williams
into the starting lineup. If they're able to run the ball on Notre Dame, too, the game is basically over. More likely it'll be tough sledding against a front seven loaded with future pros. But if Williams and fullback
Trey Millard
can keep the Irish honest as threats to run, that should take enough pressure off quarterback
Landry Jones
and the passing game.
Fortuna:
If the Sooners can, the Irish can kiss their upset hopes goodbye. But Notre Dame has been outstanding against the run and has not allowed a rushing touchdown all season (nine straight games dating back to last season). Oklahoma needs to establish a ground threat early to open things up for Landry Jones and the passing game, which is where the Sooners have the biggest advantage.
October, 26, 2012
10/26/12
8:18
PM CT
As always, thanks to our friends at ESPN Stats & Info and both sports information departments for these tidbits.
Notre Dame has not allowed any opponent to score more than 17 points in 2012. Oklahoma has been held to 17 points or fewer just once in its last 35 games dating back to 2009. The Sooners rank fifth in scoring offense this season (44.7 points per game).
Florida and Notre Dame are the only teams to beat three ranked opponents so far. The Gators are the only team this season with two wins over top-10 opponents.
Notre Dame has allowed the fewest offensive touchdowns of any FBS team this season (five). The Irish have allowed just two in their past five games, both last week against BYU. The only other team to allow fewer than eight offensive touchdowns this season is Alabama (six).
Manti Te'o and Bennett Jackson have four interceptions each this season. Only one duo of defenders has more combined picks: Fresno State's Phillip Thomas (seven, leading the nation) and Derron Smith (four).
In goal-to-go situations, Notre Dame opponents have rushed it 13 times and have not reach the end zone. The Oklahoma offense has rushed it 28 times in goal-to-go situations and has scored 15 times (53.6 percent). Of the 44 teams with at least 25 runs in goal-to-go situations, Oklahoma is third, trailing Oklahoma State (56 percent) and Louisiana Tech (56.3).
Notre Dame has allowed opponents to score on 16.9 percent of their drives this season, the third-lowest percentage in the nation. Just 7.2 percent of opponents' possessions have ended in touchdowns, the lowest percentage in the country. Notre Dame is the only team in the nation that has not allowed a touchdown drive longer than 75 yards.
Notre Dame has allowed a touchdown on 21.1 percent of its opponents' red zone drives this season, the lowest percentage in the last nine seasons. Its opponents have more turnovers (5) than touchdowns (4) in 19 red-zone drives.
Landry Jones improved his completion percentage on throws of 20 yards or more in his sophomore and junior seasons but has regressed this season, completing 9 of 32 attempts with two touchdowns. He completed more than half of his 20-yard throws for the first time this season last week against Kansas, but entered that game with 11 straight incompletions on the same passes.
Jones has attempted 13 percent of his passes from outside the pocket in his career and has thrown 27.3 percent of his career interceptions from outside the pocket.
October, 26, 2012
10/26/12
10:30
AM CT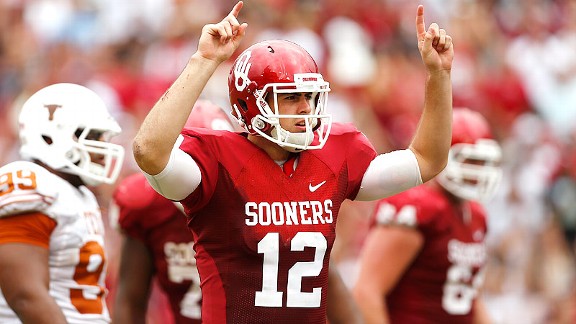 AP Photo/Aaron M. SprecherNotre Dame has yet to face anybody like Landry Jones this season.
SOUTH BEND, Ind. -- The closest thing Notre Dame has seen to someone like
Landry Jones
this season is debatable. The closest thing Jones has seen to Notre Dame?
Allow the fifth-year Oklahoma quarterback to explain the early-season loss to Kansas State.
"It still kind of hurts," Jones said. "You don't ever want a game to slip away from you and you don't ever want to lose that early in the season. Yes, Kansas State is a good team, for sure -- no doubt about that. But it still hurts.
"You still think about it, and you can go, 'What if?' all you want, but that game is behind us now. Yes, it still does hurt, but you have to move on from it, and we are playing ball now."
Notre Dame is hoping to pressure Jones into looking more like the man who turned it over twice in a Sept. 22 home loss to the Wildcats than the one who has responded by throwing for a total of 880 yards in three straight wins.
Jones was hurried twice and sacked twice in his team's lone defeat, and he had a fumble returned for a score. He has not been officially hurried since, absorbing just two sacks and throwing for seven touchdowns with just one pick.
"He's gotten into a good rhythm," Irish coach Brian Kelly said. "He hasn't been disrupted very much. And I think, like most good quarterbacks, if you can get into a good rhythm and you're not disrupted, you're going to be pretty effective. You can see that's been the case."
The Irish secondary has lost two first-teamers for the season and is starting just one player who's been on defense his whole career, but the unit has put together the nation's No. 14 passing defense through its 7-0 start. However, six of Notre Dame's opponents rank outside the top 60 in passing, with Miami the lone outlier at No. 23. (Oklahoma is 26th).
The Hurricanes dropped a pair of would-be touchdown passes on their opening drive versus the Irish and never really threatened after, scoring just three points.
"It's exciting for us, and we know that they're a team that likes to throw the ball, especially try and get the ball over the defensive backs' heads," senior safety
Zeke Motta
said of Oklahoma. "But I think it's going to be a good challenge for us, and we've seen something similar to that in Miami, so at least we have a little taste and we know kind of what to expect. So it's all in our preparation this week and we're really excited about it."
Jones is not a threat to run, but he is quick to get rid of the ball.
"Pocket presence, his ability to put the ball where he needs to, his accuracy," Motta said, rattling off what he noticed from film. "He's probably the best quarterback we're going to face to date."
Which puts the onus on the nation's No. 2 scoring defense to slow down a machine that averaged 52 points over its past three games.
"I am a lot different now," Jones said of his past three games. "I have been playing a lot better. Obviously, after games like Texas Tech, Texas and last week against Kansas, you are going to have a lot higher confidence, and I think everyone on this team is going to have higher confidence because of the way we have been playing."