Chicago Colleges:

Les Miles
May, 3, 2013
5/03/13
2:30
PM CT
In some ways, social media is often a popularity contest. And few fare better in popularity contests than Notre Dame, which attracts attention like no other on an annual basis, win or lose.

The latest example comes from the Tulsa World's Kelly Hines, who compiled a list of college football coaches by Twitter followers.
No. 2 on the list? Brian Kelly.
The fourth-year Irish coach has 91,042 Twitter followers as of the writing, trailing only LSU's Les Miles, who has 105,760.
Anyone who has seen Miles live-tweet a sporting event in the past should not be all that surprised, given the Tigers coach's seemingly unfiltered thoughts on everything.
Kelly's successor at Cincinnati, new Tennessee coach Butch Jones, checks in at No. 3 on the list, at 75,300 followers.
Other coaches of interest to Notre Dame fans are USC's Lane Kiffin (18th, 29,790), Kansas' Charlie Weis (28th, 17,460), MSU's Mark Dantonio (39th, 9,425), BYU's Bronco Mendenhall (53rd, 4,560), Nevada's Brian Polian (60th, 3,046), Temple's Matt Rhule (66th, 2,289), UMass' Charley Molnar (76th, 1,548) and Navy's Ken Niumatalolo (84th, 837).
April, 24, 2013
4/24/13
9:00
AM CT
Another list, another debate — though this one should again have Notre Dame fans pleased following the Irish's 2012 campaign.
The Sporting News' Matt Hayes
released his list of college football coach rankings this week
, one week after AthlonSports
delivered a list of its own
. Athlon had Brian Kelly ranked fourth. Hayes has Kelly fifth.
His reasoning:
5. Brian Kelly, Notre Dame: How impressive has Kelly been at ND? The weight of the program hasn't crushed him like it did every other coach since Lou Holtz retired. The Alabama loss in last year's BCS National Championship Game was brutal, but he somehow managed to get a team with significant flaws (freshman quarterback, tight-end-oriented passing game) all the way to the big game. He won championships at the NCAA lower divisions, won conference championships at the non-BCS and BCS levels, and will win a national title at Notre Dame.
The usual suspects top this list: Alabama's Nick Saban and Ohio State's Urban Meyer. After that? The debate really begins.
Boise State's Chris Petersen is No. 3, followed by Oklahoma's Bob Stoops.
Athlon's list, meanwhile, had Kansas State's Bill Snyder at No. 3.
There really are no right or wrong answers with any of these, depending on your view. Program-builder? Hard to argue with Snyder, Petersen or Northwestern's Pat Fitzgerald, who comes in at No. 8 on Hayes' list. Length of success? Few can doubt Stoops' mark in Norman, though consecutive BCS-bowl-less campaigns have not made him the most popular guy among the die-hards lately.
Then there are the real head-scratchers, guys like Virginia Tech's Frank Beamer, who comes in at No. 34 on Hayes' list but is No. 9 on Athlon's. Les Miles is another one who seems to draw opposing reactions, as the LSU coach is ninth on Hayes' list but 24th on Athlon's.
Most can agree with Saban and Meyer at the top. After proving this past season that Notre Dame can succeed at the highest level, Kelly is making a case for himself to be right up there, too.
Former Notre Dame coaches Charlie Weis and Bob Davie check in at Nos. 57 and 87, respectively.
April, 11, 2013
4/11/13
8:00
AM CT
Much of college football debate is based on lists and rankings. Notre Dame fans know this as much as anyone after a 2012 regular season that did not see the Irish rise from fourth to first in all of the major polls until the three teams ahead of them dropped games.

Those same fans will have a hard time being upset with the list that AthlonSports released this week:
College football head coaches, Nos. 1-125
.
Brian Kelly's spot? No. 4.
Steven Lassan writes:
Not many coaches in college football can rival Kelly's resume in four stops as a head coach. Kelly's first head coaching gig came in 1991 at Grand Valley State, and he stayed in that capacity until 2003. During 13 years with Grand Valley State, Kelly went 118-35-2 and won two Division II titles. After his success with the Lakers, Kelly went 19-16 with Central Michigan, which included a MAC championship in 2006. Kelly moved on to Cincinnati at the end of the 2006 season and guided the Bearcats to back-to-back Big East titles in 2008 and 2009. After back to-back 8-5 seasons with Notre Dame, Kelly led the Fighting Irish to an appearance in the BCS National Championship game at the end of the 2012 season. Despite the blowout loss to Alabama in the title game, Kelly clearly has the program back on track to be an annual top 10-15 team.
The three men ahead of Kelly? Alabama's Nick Saban, Florida's Urban Meyer and Kansas State's Bill Snyder. Few can make a legitimate argument right now against the first two, as each is the owner of multiple national championships at college football's highest level. The Snyder spot could be up for debate, but when you take into account his longevity -- and remember just how bad the Wildcats were before his arrival -- it is tough to top what he has done in his 21-year career, ring or no ring.
How about some of the names above whom Kelly is ranked? South Carolina's Steve Spurrier (No. 5), Oklahoma's Bob Stoops (No. 7), LSU's Les Miles (No. 24) and Texas' Mack Brown (No. 28) are title-winners who finished behind Kelly on the list, though Miles is the only of that quartet whose best years have been among his most recent ones.
Other names of note to Notre Dame fans are UCF's George O'Leary (No. 68), New Mexico's Bob Davie (No. 89) and Kansas' Charlie Weis (No. 106).
April, 4, 2012
4/04/12
8:00
AM CT
Travis Haney debuted this week on ESPN.com, and his first piece looks at
potential impact newcomers this spring

.
Not surprisingly, Notre Dame quarterback
Gunner Kiel
makes the five-man list.
To date, there has been more chatter about Kiel's winding road to South Bend -- first Indiana, then LSU, then Notre Dame -- than his potential impact in 2012. Expect the focus to gradually shift, though, toward the January enrollee's ability.

Where does he stand in relation to other suitors such as Tommy Rees and Andrew Hendrix? Impossible to say this early, but Kiel is at least in the conversation, and that's saying something. Perhaps it says as much about the Irish's need for an emergent quarterback as anything else (only five teams threw more INTs in 2011 than the Fighting Irish).

It takes maturity to play as a freshman, clearly. Kiel passed one of his first tests on that front: When quizzed by reporters for the first time since enrolling, he did not jab back at LSU coach Les Miles after a spurned Miles had questioned Kiel's leadership potential. Instead, Kiel said the comments would be used as motivation.
Kiel is the only quarterback on Haney's list.
March, 24, 2012
3/24/12
7:34
PM CT
SOUTH BEND, Ind. -- Just because
Gunner Kiel
should still be in high school right now does not mean he is absolved from the tantrums each of his current teammates have received at one point or another.
"I don't think I've gotten the full, full red-face look yet," Kiel quipped Saturday of coach Brian Kelly during his first meeting with reporters since enrolling at Notre Dame.
"It's not really yelling. He's just been coaching me more," Kiel said. "Whenever he yells it's for a reason: You know you've done something wrong, you know it. He's just there to help you. So he's a really good coach and I feel really honored to play for him."
[+] Enlarge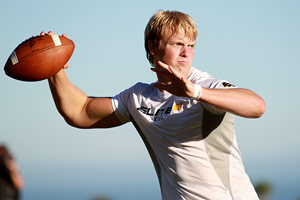 Tom Hauck for ESPN.comAfter a hectic recruiting process, QB Gunner Kiel said he's found happiness at Notre Dame.
Kiel came to the conclusion that Kelly and Notre Dame were the right fit for him after a dizzying recruitment that saw the Columbus East (Ind.) quarterback switch his allegiance from Indiana to LSU before showing up on Notre Dame's campus and enrolling Jan. 17, prompting Tigers coach Les Miles to publicly question Kiel's leadership abilities at a national signing day banquet.
"You can't really control that," Kiel said. "I did pull out at the last minute. I still have all the respect for LSU. Their fans definitely understood. LSU is a great place, but it wasn't the best fit for me. I'm a Midwest guy and I like to stay close. I'm just going to use that as fuel, but I'm not going to disrespect him in any way, shape or form. He's a great coach and they're a great team.
"But I feel great to be at Notre Dame. Love the place, love the guys, love the coaches, love the surroundings. It's a great community, they're all welcoming, everyone is really nice. It's definitely the perfect fit for me."
Harsh weather when Kiel arrived to Notre Dame led to confusion for the newcomer, who said he got lost going to classes on his first day amidst the snow-covered campus. An unusually warm start to spring practices this week, however, has been refreshing as he dives he into his college academic work and a four-man quarterback race.
"It's completely different from high school," Kiel said. "And knowing, like for me, my high school just had spring break this week, so knowing I had to go to school and get up early and work out was like, 'Dang.' But it feels good to be here. To be a part of this team is very special to me and it turned out for the best for sure."
Kiel said he has been able to block out the distractions surrounding his recruitment and eventual choice of the Irish, as he hopes to beat out three others for the starting quarterback job this fall.
Such are expectations with a prospect rated as the top player in his state and No. 3 quarterback in the nation by ESPNU.
"Things got pretty hectic with recruiting," Kiel said. "But I had a great supporting cast behind me. My family was always there for me, my friends. Staying close definitely meant a lot. Of course I want my family to come and watch me play. And knowing that I can go home on the weekends, I can get away from something crazy. If I have a rough week, I can go home on a weekend and recharge my batteries. I thought that was definitely huge for me."
Right now, though, he is just happy to be at Notre Dame, roughly four hours from home, with the whirlwind recruitment process now in the rearview mirror.
"For me, I struggled with recruiting," Kiel said. "I put so much stress on myself and overanalyzed everything that I kept pushing back my decision, and I just kept freaking out whenever I wanted to get into something. Whenever I would settle, I would just have one foot in instead of jumping in. I would just freak out at the last minute, I guess. So I just stressed myself out and got overwhelmed a little bit."
TOP 25 SCOREBOARD
Saturday, 8/30
Thursday, 8/28
Friday, 8/29
Sunday, 8/31
TOP PERFORMERS