Chicago Colleges:

Lou Holtz
November, 20, 2012
11/20/12
2:56
PM CT
Brian Kelly received a card from Ara Parseghian this week, just like he does every week. Kelly picks Lou Holtz's brain from time to time as well, seeking advice from coaches who have won national titles at Notre Dame.

The gestures aren't limited to legends, though.

"Charlie Weis knows Notre Dame," Kelly said during his Tuesday news conference. "I got a wonderful note from Charlie last week. It was heartfelt, and it talked about the seniors and wishing them the best, and it was really a terrific note from Charlie. It was very classy. We get a lot of that communication with the former Notre Dame coaches and it's really nice."

As much as the players have been showered with attention in class and online, as much as campus has been buzzing about being home to the nation's No. 1 team, Kelly has heard from all corners as well, saying he received a handful of congratulatory texts when Kansas State and Oregon fell and that the communication lines have been open with Notre Dame icons past and present.

"I get my weekly card from Ara each week; he hand writes a note to me," Kelly said. "The great thing is he's so unassuming. He's done this and been there, but he'll write a note like he doesn't want to assume anything. He's never given any advice, just talking as a Notre Dame fan and alum. It's just great to get that combination with him.

"As it relates to Lou, I talk to him about some specific things that I would like his opinion on. Ara's much more of a fan, supportive. I invite him up every home game to my box and he politely declines because he thinks he's got the best seat in front of the television. That's our conversation. And then with Lou it's more about some specific things."

The players, meanwhile, have noticed the No. 1 sign lit up atop Grace Hall, so Kelly hasn't ignored the obvious.

He insists, however, that whatever celebration period there may have been is now over, and the team is back to the usual business of reviewing its Wake Forest tape and preparing for Saturday's game at USC.

"It's a lot better when that light's on than when it's not on," Kelly said. "I'm sure it's better going to class. I'm sure it's better in the dorms. I'm sure it's a better feeling, a more positive approach to everything. That's unquestionable. But does it affect way they way they come to work every day? No, it does not."
December, 28, 2011
12/28/11
8:18
PM CT
Kez McCorvey still shows his players the catch 18 years later. In the film room of Bethel (Tenn.) University, the Wildcats' wide receivers coach focuses on the details of the play, "560 vertical," and not so much on the circumstances surrounding it, which NBC play-by-play man Charlie Jones summed up thusly:
"So the perfect season for the Seminoles, Bobby Bowden's shot at the national championship, coming down to this play. It is fourth down and goal to go. Twenty-yard line. 2:31 left."
Eventual Heisman Trophy winner and NBA point guard Charlie Ward took the shotgun snap from the 20, dropped three steps and fired a bullet over the middle that looked destined for the hands of Notre Dame safety Brian McGee. Instead, the ball dropped into McCorvey's hands for the touchdown, cutting the Irish's lead in half and granting Florida State new life in what was then the Game of the Century -- Nov. 13, 1993.
[+] Enlarge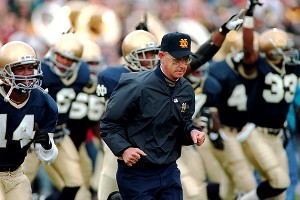 Photo/Joe RaymondLou Holtz's Irish team upset No. 1-ranked Florida State in 1993.
"My guys here, they'll get plays they think we just invented or something," said the 39-year-old McCorvey, who still gets on the practice field to demonstrate routes for his NAIA pupils. "And I'll tell them we've been running that play forever. 'Look here on YouTube. I'm old as dirt, we're not even doing a good job of doing it and I'm slow and old and I can score, so here.' "
The improbability of the play had McCorvey and his teammates thinking fate had intervened -- "I don't wanna make it sound like Florida State is all that and a bag of chips, but we'd just never been in a situation where we'd been out of a game, so we just never quit."
The celebration, however, was short-lived, one of many twists and turns of a season that saw No. 2 Notre Dame upset No. 1 Florida State, 31-24, only to watch the Seminoles be declared national champions less than two months later despite having the same number of losses.
The schools will renew their rivalry in Thursday's Champs Sports Bowl in Orlando, Fla., a smaller stage later in the year that will lack the 800-plus media members, dozens of fake credentials, coach's dinner party and rapid trash-talking that surrounded South Bend, Ind., that fall week in 1993.
The messages that week, at least from up top, could not have been any more different.
"Leading up to it, obviously Coach Holtz's thing was at the beginning that we may get beat by 50, and that was just Lou Holtz, that's just how he handled things," said former Irish safety Jeff Burris, who scored the Irish's last two touchdowns of the game as a running back. "And by Monday or Tuesday, 'We'll be happy to be in the game by halftime.'
"Just his mentality was that way, but he was always focused on, 'If we do this the right way it might be a game.' And by Thursday or Friday it was, 'We'll win this game, and this is how we'll win this game.' "
For Florida State, meanwhile, it was business as usual.
"I would love to tell you we did it bigger than the Miami game, but we didn't," said McCorvey, citing a win over the No. 3 Hurricanes a month earlier. "Nothing against Notre Dame, but we felt like since we beat Miami we could win the national championship, so we'd been accustomed to that type of pressure. Coach Bowden, too. It wasn't as big a deal going into games -- the pressure, game situations. So we didn't do a whole lot of things that we hadn't done before."
Yet McCorvey couldn't help himself during the week leading up to the game, making references to "Rock Knutne" and being quoted as saying: "I appreciate what Notre Dame has accomplished, but those old guys don't play anymore. You can't win with mojo or magic. Joe Montana isn't going to put on the pads and win for them."
"I think it was a little bit of ignorance with the Knutne comment," McCorvey laughed. "That was me being young."
Still, the scene was unlike any all parties involved had ever been a part of.
Tickets were going for $1,000. ESPN's "College GameDay" was making its first on-campus appearance, albeit in front of just a few dozen loyal fans stationed on the concourse of the Joyce Center, where Notre Dame's basketball team plays.
"You can tell this is not just a football game; this is a happening," host Chris Fowler said on the air. "Paul Azinger, Roger Clemens, Spike Lee — lots of folks are gonna be here. Al Gore. Andre Agassi. Some others got turned down. As further proof this is transcendent-game status."
Signs in the parking lot offered assets such as an Orlando vacation or a Mercedes-Benz for entrance into Notre Dame Stadium that day.
"When they said it was the Game of the Century," former Irish quarterback Kevin McDougal said, "it really was."
Two days before the game, Holtz and his wife, Beth, invited 50-60 media members stationed in South Bend over to their Woodland Hills home, 10 minutes from campus.
"My then fiancée and I arrived in South Bend on Thursday," Michael Messaglia, Holtz's son-in-law, said. "Expecting a quiet night at her parents' house, we arrived to a house full of reporters."
After Beth Holtz sent reporters out with cookies in napkins as they left, and after Holtz handed out small boxes of golf balls, the Boston Globe's Dan Shaughnessy wrote in his day-of-game column:
"That settled it. It doesn't matter if Florida State wins today by four touchdowns; I will write only good things about Notre Dame. I have broken bread with Lou. After today's game of the century, I will have only one question.
"What time is dinner before the BC game?"
Of course, the high of Shawn Wooden knocking down Ward's final pass of the Game of the Century was met the following week with a hangover against Boston College, as the Eagles engineered a 41-39 shocker that played a pivotal role in deciding the national championship.
Notre Dame beat Texas A&M in the Cotton Bowl on Jan. 1. Florida State won its last two regular-season games before topping undefeated Nebraska in the Orange Bowl the same day.
The Seminoles finished atop both The Associated Press and coaches' polls, giving Bowden his first national championship, though the regret wasn't limited to the Irish's side.
"You look back and you think you won the national championship, but you wanted to go 13-0," McCorvey said. "You wanted to not lose a game that whole year and leave your legacy as one of the best teams that ever played. The Notre Dame loss was something that kind of tarnished that a little bit."
October, 8, 2011
10/08/11
8:42
PM CT
SOUTH BEND, Ind. --
Andrew Hendrix
was running for the end zone, no question about it. He had completed every pass he threw Saturday, had just burst through the line and was seeing nothing but six points in front of him.
But he couldn't help but look back.
"If there was a video board I probably would've seen who was behind me," Hendrix said with a laugh. "But I was checking behind me to see who was behind me, whether I had to make a move on somebody or not, and I ended up losing my balance just at the right time to not get in.
"So it was a little embarrassing, but I'm all right with it."
The humble Hendrix had nothing to be ashamed of, as at that point -- up 33 in the fourth quarter -- the biggest question remaining in Notre Dame's
59-33 rout
of Air Force was whether or not the sophomore quarterback would run out of gas during his 78-yard run.
He did, falling forward at the 2, before
George Atkinson III
punched it in three plays later for the Fighting Irish's final points during a historic day for Notre Dame's offense.
For much of the day, it was tough to figure out who was having the hardest time inside Notre Dame Stadium:
Air Force's defense, which gave up 560 total yards and 59 points, including touchdowns on Notre Dame's first six drives?
[+] Enlarge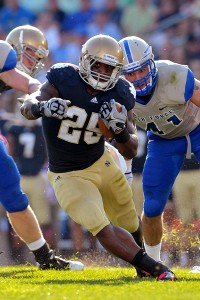 Matt Cashore/US PresswireNotre Dame's Jonas Gray rushed for 69 yards on seven carries with two touchdowns.
The group of high school prospects on hand, who had to wonder if this place was as beautiful every October as the 80-degree temperatures and day-long sunshine would have one believe?
Or Notre Dame's media relations staff, which issued historical reference after historical reference over the press box loudspeaker throughout the offensive showcase?
No Irish team had scored so many points since a 62-0 win over Rutgers in 1996, Lou Holtz's final game at Notre Dame Stadium. The same stadium had never seen as many as 92 total points scored, which the Irish and Falcons combined for Saturday.
And no Notre Dame quarterback had rushed for more than 100 yards since Carlyle Holiday did so in 2001 against Boston College.
Hendrix, seeing his first action this season after not playing his freshman season, entered the game in the first quarter and hit
Michael Floyd
for what amounted to minus-3 yards.
It was smooth sailing from there.
Hendrix finished the day 4-for-4 passing for 33 yards and, more importantly, rushed it six times for 111 yards.
Most of the heavy lifting came on that 78-yard run mid-way through the fourth quarter, the game no longer in doubt and everyone inside the stadium holding their collective breath before Hendrix finally gave out at the 2.
How sudden did that happen? The public address announcer inside the press box had to reiterate the "no cheering" rule, as reporters couldn't help but be stunned by what they saw.
The reaction on the home sideline was far more exciting.
"I did not see that happening," running back
Jonas Gray
confessed. "He did kind of break away from the guy, but I think he just kind of ran out of gas."
Gray, a senior, had a message for Hendrix as he came back to the sideline following the Irish's touchdown to end the drive.
"I told him to not get caught ever again," Gray quipped. "I've been through that situation. I told him to never look back, just believe in his speed."
This was supposed to be about how Notre Dame's defense would handle Air Force's vaunted attack, especially with starting end Ethan Johnson sidelined and two freshmen seeing extended playing time in Aaron Lynch and Stephon Tuitt.
Another freshman end, Chase Hounshell, made his Irish debut as well, but it was a moot point after Jamoris Slaughter forced a fumble on the Falcons' first play.
If Air Force was going to have any chance of hanging with Notre Dame, it could not afford to cough it up and play catch-up, because there was just nothing it could do defensively.
"We got two key turnovers by our defense that we were able to set up, and any time you get a chance to turn over Air Force and put points on the board, it allows you to extend away from them," Brian Kelly said. "And you need some extension from them sometimes in terms of points because they are so difficult to defend, and I think we saw that today."
The fact Air Force actually outgained Notre Dame, 565-560, shows the potential that was there on the other side.
But Kelly and Notre Dame know that means nothing if they cannot protect the ball, something the Irish accomplished by going a second straight week with no turnovers.
They have now put up better than 500 yards of total offense in four of their first six games, winning the last two of them. And they have now won four in a row after two straight defeats.
As Hendrix came out to line up in victory formation with 33 seconds to go Saturday, the student section couldn't help but look ahead.
"Beat-S-C," it chanted, referencing the Irish's battle with the Trojans in the two weeks.
Funny how things play out. Notre Dame kept beating itself to start the season. Now with the momentum going in the Irish's favor, their toughest opponent may be the bye week that comes a week from now.
September, 8, 2011
9/08/11
5:51
PM CT
By
Scott Turken
| ESPNChicago.com
"You are a legend because your team wasn't tough enough to run the ball."
"I'm a legend because your defensive backs weren't coached well enough to stop me."
-- Smack talk between Lou Holtz and Desmond Howard, both members of the College Football Hall of Fame, in advance of a notable anniversary.
Twenty years later, a surprise call and brilliant catch define one of college football's most storied and heated rivalries: Notre Dame vs Michigan.


For Holtz, who is the last man to lead Notre Dame to a national title, and 1991 Heisman winner Howard, a simple phrase -- fourth and inches -- conjures up conflicting emotions.


[+] Enlarge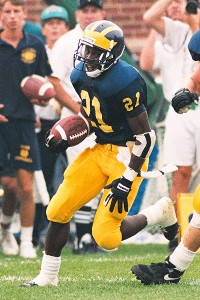 AP Photo/Joe RaymondBefore making his spectacular catch, Desmond Howard scored on a 29-yard end-around as Michigan built a 17-0 lead.
"Fourth and inches means a huge smile," Howard said.
"Fourth and inches and they throw a fade ... no way!" Holtz countered.


While some younger fans may see the Notre Dame-Michigan matchup and say, "What's the big deal?" the late 80s and early 90s marked the halcyon days for two of college football's winningest programs. Today, Holtz's predilection for hyping his opponent seems completely devoid of false praise when describing the matchups with Michigan: "great, emotional, well-played and almost always two Top-10 teams. Games played with great class and great execution."


Long-time college football play-by-play man Brent Musburger describes the rivalry at the time as, "simply one of the best in all of college football."


To bring the rivalry up to date, if Notre Dame-Michigan were a Twitter feed, the hash tags today would be the same as they've been for decades.

#Playlikeachampiontoday

#Thosewhostaywillbechampions

#HerecometheIrish

#Hailtothevictors

#TouchdownJesus

#MichiganMan



The 1991 game in Ann Arbor marked the third consecutive matchup with both teams in the Top 10. Notre Dame won the previous two games in notable fashion. In 1989, in a 1-vs-2 showdown at Michigan Stadium, Rocket Ismail stole the show with two kick returns for touchdowns. In the postgame press conference, Bo Schembechler screamed, "Special teams killed us!" as he pounded his fist on the table. Holtz remembers Bo saying: "I will never kick it to Rocket as long as I coach," and added "Bo was all class."



It was the last time the men coached against one another.



The legendary "Michigan man" who coined the rally cry "Those who stay will be champions" and who became a fixture in millions of Michiganders' and Midwesterners' lives left the game for health reasons at the end of the year.



The following season, Notre Dame came into the game ranked No. 1 with Rick Mirer making his first career start in South Bend. Mirer led a comeback that culminated in the game-winning TD with less than two minutes to play.



Holtz's teams had beaten Michigan four straight times. The lowest ranking for either team in those games was No. 16. The combined margin of victory in the previous three games -- 11 points.



Holtz, naturally, chalked it up to something that the Irish are known for. "Lucky I guess," he said. "After 1987, we always expected to win. Didn't always win, but we thought we would."



Musburger called the 1991 game for ABC. "It was very important for the Wolverines to win this game. After all, if you're going to have a rivalry, the rival has to snap back and win one".



"They were a thorn in our side," Howard said. "I wanted to beat them so bad, I could taste it."



The third-ranked Wolverines hosted the seventh-ranked Irish on a September day on the new natural-grass turf at the Big House.



Michigan went up 17-0, stoked by a 29-yard TD on an end-around by Howard. But the Irish stormed back, trailing 17-14 heading into the fourth quarter.


"

Fourth and inches, their offensive line averages over 300 pounds a man and they throw a fade to Desmond into double coverage. We helped them make Desmond a legend.

"

-- Lou Holtz
With 9:02 remaining, the Wolverines faced fourth and inches at the Notre Dame 25-yard line. Gary Moeller, in his second season as head coach at Michigan, called a timeout.



Howard, who had already been dubbed "The Magic Man," knew he was a serious option.



"There's no hiding that either I was going to get the ball or (quarterback Elvis Grbac) was going to hand it off, if he saw something else. That was it", Howard said.



When Grbac, Howard's high school teammate, came to the line, more than 100,000 fans expected a conservative play call.



"They were in a very tight I-formation. It looked like a power running play, but then that quick pump fake ..." Musburger said.



Bobby Bowden, Jimmy Johnson, or maybe LaVell Edwards might have had the gumption to call such a play, but this was Michigan -- an uber-conservative offense predicated on strength up front and good backs. The Wolverines defined three-yards-and-a-cloud-of-dust football.



Even two decades later, Holtz gets heated talking about it. "What in the world are you doing?" he asked. "You got to be kidding me!"



Grbac floated the ball to the corner, and Howard, in double coverage, laid out to make a spectacular catch. The Big House, which can be especially quiet for the population of a sizable small town, erupted.



"This is just one of those plays that people recall in college football," Musburger said. "Desmond had to stretch out and make an almost unbelievable catch in the end zone. "



It took a while for the play to sink in for Howard.



"It wasn't until after the game that we realized the magnitude of that play," Howard said. "And then, later in that week -- when the Sports Illustrated came out and I was on the cover -- is when it really hit everybody."



Holtz couldn't believe the call. "Fourth and inches, their offensive line averages over 300 pounds a man and they throw a fade to Desmond into double coverage. We helped them make Desmond a legend."



Moeller, a long-time Schembechler assistant, doesn't get his due for the play, according to Musburger.



"Throughout the great rivalry between the Midwest schools, this was one of the great play calls of all time," Musburger said. "Fourth and inches, don't try to get a first down, don't attempt a long field goal, let's go for the touchdown. Man, that took some guts and Moeller made the call."



Howard appreciated Moeller's gamble in the 24-14 victory.



"I was just so grateful to coach for giving us the opportunity," Howard said. "He could have just chose to run the ball and everyone in the stands would have been happy, whether we made it or not. It seemed like the logical play in that situation. But he chose to roll the dice, and he gave us the opportunity to do something great, and we capitalized on it."



While Holtz acknowledges the brilliance of the catch, the moment evokes emotions of a rivalry predicated upon the hatred of losing to a respected, but reviled foe. "I felt from that time on, Michigan lost its Bo Schembechler toughness," he said.



Years later, the picture of Howard's catch is a staple in many a "Meechigan" fan's office or basement. You can find paintings on eBay and the "Hail, Hail" cover of Sports Illustrated is still featured prominently in the recruiting lounge at Schembechler Hall (home of UM's football facilities). The play is also run, seemingly on a loop, every September when the rivals meet again.



Twenty years later, as a man who gets paid to analyze the game that made him famous, Howard says: "That play never gets old. I could never get tired talking about that play. To be able to contribute the way I did and leave lasting plays, I don't really think there are words to describe just how special and significant that is."



Significant enough, in the Midwest at least, to make Howard a legend.



Scott Turken is a producer with ESPN's Production Migration unit, which powers the video on ESPN's local sites. Send feedback to scott.turken@espn.com. Follow him on Twitter @Turk0219.
December, 14, 2010
12/14/10
3:15
PM CT
By
Wes Morgan
| ESPNChicago.com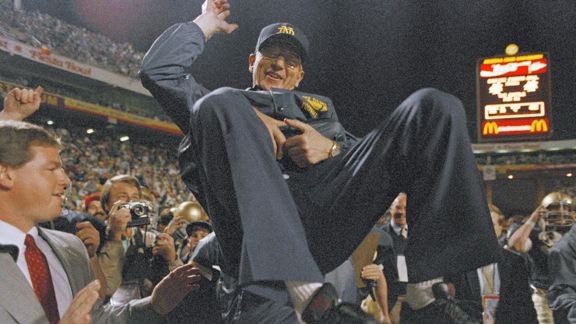 AP Photo/Rob SchumacherLou Holtz rode off in style after a win in the 1989 Fiesta Bowl capped off a perfect season.
Editor's note: This is the second in a series examining Notre Dame's bowl history.
After Dan Devine stepped down as Notre Dame coach following a 9-2-1 record in 1980, the university gambled on a prep coach who had sent plenty of talent out of Cincinnati's Moeller High School straight to South Bend.
Gerry Faust also was hired because of an impressive 178-23-2 record while at Moeller, as well as his ties to former Fighting Irish coach Hugh Devore. Devore coached Faust, a quarterback, at Dayton in the late 1950s. It was a crapshoot bringing the amiable Faust aboard. Notre Dame went 30-26-1 in his five-year tenure, qualifying for the postseason just twice before Lou Holtz's services were acquired in 1986.
A 5-6 start wasn't what ND fans hoped for in Holtz's first season. The next fall, however, the Irish landed in the first of nine bowl games in his 11-year stop in South Bend.
As the Irish and first-year coach Brian Kelly prepare to take on Miami in the Sun Bowl in El Paso, Texas, on Dec. 31, here's a look at how Notre Dame performed in both bowl games under Faust and the first two under Holtz.
1983 Liberty Bowl
Faust inherited nine of his former Moeller stars but couldn't duplicate the same success, combining for an 11-10-1 record through his first two seasons. Still, the Irish entered the season opener against Purdue ranked No. 5 in 1983 and they shellacked the Boilermakers by 46 points before unranked Michigan State and Miami. Notre Dame dropped its final three to land in Memphis on Dec. 29 against default rival Boston College. Sophomore Allen Pinkett rushed for 111 yards and two touchdowns, with junior Chris Smith adding 104 yards on the ground, as ND upended the 13th-ranked Golden Eagles, 19-18.
1984 Aloha Bowl
The year started with a resounding thud inside the Hoosier Dome in Indianapolis as No. 8 Notre Dame lost a 23-21 heartbreaker against Purdue. It was a season of streaks after that, with three straight wins, three losses and then four victories to close out the schedule. The strong finish boosted the Irish to No. 17 and Hawaii, where they lost to 10th-ranked SMU by a score. Notre Dame tied the game on Mark Brooks' 11-yard TD run in the third quarter, but Brandy Brownlee rumbled in from two yards out on SMU's next possession -- his second score of the game -- to regain the lead for good en route to a 27-20 win.
1988 Cotton Bowl
For the first time since 1980, the Irish qualified for a New Year's Day game, as the '87 season produced an 8-3 record in Holtz's second go-round. The Irish, however, staggered into the Cotton Bowl against No. 13 Texas A&M having dropped their final two games, including a 24-0 drubbing by Miami. Heisman winner Tim Brown, a Dallas native, returned home and caught a 17-yard pass touchdown pass from Terry Andrysiak just three minutes in for the early lead. But the Jackie Sherrill-coached Aggies showed no mercy in a 35-10 victory.
1989 Fiesta Bowl
Payback. Holtz led the Irish to a perfect season in '88, which included wins over No. 9 Michigan, No. 4 Miami and No. 2 USC. All that was standing in Notre Dame's way was a 3rd-ranked West Virginia outfit at Sun Devil Stadium in Tempe, Ariz. Quarterback Tony Rice threw for 211 yards and a pair of touchdowns, including a backbreaking 29-yard strike to Raghib "Rocket" Ismail, as linebacker Frank Stams cleaned up defensively to polish off a 34-21 victory for a national championship.
May, 27, 2010
5/27/10
5:21
PM CT
By
Wes Morgan
| ESPNChicago.com
You either love Notre Dame football with glowing fervor or despise it with equal fire. Enjoying the Fighting Irish's monumental struggles over the past three seasons -- a 16-21 mark that led to Charlie Weis' ouster -- the program's critics argue ND is no longer relevant.


The evidence to support such a claim is strong; the Irish are undoubtedly wounded, severely listing and flat-out embarrassed. But they've been here before.


With the second-highest winning percentage in the land (.733), 11 national championships and a game-day atmosphere that forces even the most outspoken skeptic to acknowledge the powerful spirit that permeates South Bend in the fall, Notre Dame's past struggles are often overlooked.


The last three seasons of Charlie Weis' five-year tenure -- the worst stretch in Notre Dame history -- awakened the wrong echoes, ones of Joe Kuharich and Gerry Faust.


After being named coach of the year at Cincinnati in 2009, Irish fans hope Brian Kelly can immediately pull the program back to national relevancy. Here's a look at two legendary ND skippers who restored South Bend's shine in a hurry.


A breath of fresh air
Kuharich presided over a dismal 17-23 record from 1959-62, including eight straight losses in 1960 and back-to-back .500 seasons that ultimately bled dry his players' dwindling emotional reservoir. Like Weis, Kuharich's experience coaching in the professional ranks didn't translate to the college level.


Hugh Devore, who served in the same capacity nearly 20 years earlier, was called upon again to fill in as interim coach in 1963 after Kuharich called it quits during a spring practice.


Despite much admiration by players, Devore went 2-7 that year knowing he was only a temporary solution while school brass searched for a permanent replacement.


And in walked Ara Parseghian in 1964, widely regarded as one of the most inspired seasons in Irish history. Notre Dame finished 9-1, coming just 93 seconds short against dream-snatching Southern Cal of an undefeated season and national championship after five years without a winning record.


Parseghian, a motivator and developer of talent, went on to win a pair national titles over an 11-year career that ended with a sterling 95-17-4 mark. The '64 season, however, was a watershed moment for a program on life support.


Holtz makes his mark
Taking over for Dan Devine in 1981, Gerry Faust inherited an Irish squad that included nine of his former Cincinnati Moeller High School players. But a 5-6 mark that year, followed by 20 more losses over the next four seasons, ended what became known as "The Bold Experiment."


When Lou Holtz was hired away from Minnesota in 1986, the Irish showed vast improvement despite another 5-6 campaign. Notre Dame lost five games by a combined 14 points. A trip to the Cotton Bowl the following season set up an undefeated run through 1988, a victory over West Virginia in the Fiesta Bowl and an NCAA title.


Holtz coached 132 games in 11 seasons at ND and posted a staggering 100-30-2 record, second only to Knute Rockne in total victories.