Chicago Colleges:

Luke Fickell
March, 3, 2014
3/03/14
4:00
PM CT
Let's beat a case of the Mondays and another depressing winter storm with this edition of the mailbag. Remember to
keep your questions coming
, as Adam and I are both doing two mailbags per week now. Or you can always
tweet us
your questions.
Kyle from Madison, Wis., writes:
With spring games on the horizon, we once again see the difference between the BIG and the SEC; where BIG spring games are a moderately attended sideshow that might be fun for a family, SEC games routinely sell out. Is there any way to increase interest among BIG fan bases for these games, and is there any benefit (besides, in the case of Wisconsin, raising extra money for a cause) to doing so?


Brian Bennett: I wouldn't classify Ohio State's spring game as "moderately attended;" the Buckeyes led the nation in spring-game attendance in 2012 with more than 81,000 and set a record with more than 95,000 at the 2009 event. (That figure dipped to 37,000 last year, but Ohio State moved its spring game to Cincinnati in 2013 because of renovations at the 'Shoe). Nebraska got more than 60,000 people to come out to its spring game last year, which became memorable because of Jack Hoffman's inspiring touchdown run. Penn State had more than 60,000 two years ago, and I would expect a big crowd at Beaver Stadium next month to see the beginning of the James Franklin era.
Still, Kyle is right that the average spring game attendance in the Big Ten is typically less than that of the SEC. Just check out
this list
from last spring. But one of the main factors on attendance at those events is weather, and of course, April weather in the Midwest can be a whole lot more unpredictable (and sometimes downright unfriendly) than it is in the South. Unlike with real games in the fall, most fans and alums don't plan for weeks on making it to a game; they look at the weather and see if it's worth it to sit outdoors and watch a practice. Spring games are a great way for fans to get a glimpse of their team during the long offseason, especially those with kids, but they're not usually all that exciting, either. And with every team's spring game available on the Big Ten Network or elsewhere, I can't blame anyone for finding something better to do on an April weekend.
---
Andy from Beavercreek, Ohio, writes:
Does Bo Pelini's raise signal a commitment to the coach, or is it a "Hey, recruits, don't run screaming when we lose a few games" raise?

Brian Bennett:
It's neither, Andy. The $100,000 pay raise Pelini got was worked into his contract in 2011 and was nothing more than a scheduled formality. The more interesting question is whether he'll get a one-year extension to keep his current deal at five years. It hasn't happened yet, but it still could. Ultimately, though, we all know that 2014 is what's most important for Pelini's future. If Nebraska has a mediocre or subpar year, athletic director Shawn Eichorst might be inclined to make a change. If Pelini can finally deliver a conference title or at least maintain the nine- and 10-win plateau without as much off-the-field drama as last year, he'll likely be safe.
---
Jared from Columbus, Ohio, writes:
Can you think of another year where Ohio State's defense would have accounted for 30 percent of the best offensive performances of the season? I've heard the excuse that the talent was down from the norm, but you can't tell me the Buckeyes had less talented athletes than many teams that outpreformed them on D. Are you surprised there hasn't been more talk about accountability of the coaches, especially with a guy like Urban Meyer at the helm?

Brian Bennett:
It was by no means a vintage year for the Silver Bullets, though most of the bad Ohio State defensive performances came in the final weeks of the season. Depth became a major issue, especially in the Orange Bowl, and I was a bit surprised some younger players such as
Vonn Bell
didn't see more reps earlier in the year. (Though, to be fair, the Buckeyes were 12-0 and ranked No. 2 going into the Big Ten title game). Meyer has said over and over again that Ohio State's defense has not been up to standards, especially at linebacker. He has not really criticized his coaches or defensive coordinator Luke Fickell much at all publicly, and I'm not sure what purpose that would serve. The offseason hiring of Chris Ash from Arkansas to be co-defensive coordinator spoke volumes, however, and I'd expect him to have a big role in the defense this year.
---
Luke B. via Twitter writes:
Do you think Indiana's two-QB system can work, or would it be in IU's best interest to pick one and stand by him?

Brian Bennett:
I would argue that it can work and that it did work, for the most part, last season, as the Hoosiers fielded the Big Ten's top passing offense despite juggling
Nate Sudfeld
and
Tre Roberson
at quarterback. Sudfeld started off the season hot but faded a little down the stretch as Roberson took on a bigger role. Sudfeld throws it a little better than Roberson, but Roberson has better wheels. Conventional wisdom suggests that you need to pick just one guy, but Northwestern had success with a two-quarterback system in 2012 and used the same plan last season. Would coach Kevin Wilson like to see one guy totally separate and command the offense this spring as the clear No. 1? Probably. But part him probably also likes the idea of having two guys push each other constantly and knowing he has an option should one struggle on gameday.
---
LP from NYC writes:
Brian: Nobody really talks about this but it feels to me that one the reasons the B1G made the decision to expand East was to protect one of their power brands, who at the time was just given the worst penalty in the history of college sports. Now that my Nittany Lions have shocked the world, including Jim Delany, do you think the B1G brass regrets this decision even a little bit? I mean, can you imagine if they went after Carolina and Duke instead of Rutgers and Maryland?
Brian Bennett:
While there were rumors of the ACC courting Penn State and it's no secret the Nittany Lions felt isolated, I don't think the NCAA penalties had any impact whatsoever on the league's decision to expand East. This was all about opening up new markets, both for TV eyeballs, new fans and recruiting purposes. That's why the Big Ten chose schools located in the highly populated New York/New Jersey and Washington D.C./Baltimore/Virginia, even if the specific programs offered nothing extra special in terms of football. North Carolina and Duke would have given the league better "brands" (though not all that much in football), but they wouldn't have created as much potential areas for growth. It's also odd to me to suggest that league officials would regret the expansion decision when Rutgers and Maryland haven't even officially joined the conference yet.
February, 25, 2014
2/25/14
9:00
AM CT
Spring football kicks off earlier than normal in the Big Ten, as Michigan takes the field Tuesday, Northwestern follows Wednesday and eight other squads begin their sessions by March 8.
The accelerated schedules seem appropriate in a league filled with players, coaches and teams itching for fresh starts.
New assistants get their first chance to repair struggling units, whether it's Doug Nussmeier with Michigan's offense, Brian Knorr with Indiana's defense or Chris Ash and Larry Johnson with a once-feared Ohio State defense. Quarterback competitions begin or resume at nine places, as new faces such as Illinois'
Wes Lunt
, Nebraska's
Johnny Stanton
and Minnesota's
Chris Streveler
enter the mix, while veterans like Wisconsin's
Joel Stave
and Michigan's
Devin Gardner
try to retain their starting jobs.
Happy Valley continues to buzz about new Penn State coach James Franklin, who seems to galvanize everyone whom he encounters. But Franklin barely has been around his new players and finally begins the real work with a team facing very real challenges.
[+] Enlarge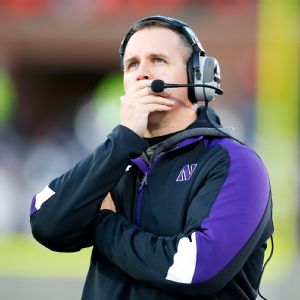 AP Photo/Jeff HaynesNorthwestern coach Pat Fitzgerald hopes his team can start a rebound from a disappointing, injury-riddled 2013 season.
Spring also allows teams such as Northwestern, Michigan, Purdue and Indiana to look forward after disappointing seasons. Michigan State, meanwhile, continues to bask in the Rose Bowl glow but looks toward its next goal -- a national championship -- as spring ball kicks off March 25.
"It's big-picture stuff, building relationships with the players and everyone associated with the program," Franklin told ESPN.com. "The other thing is laying a really good foundation with the philosophies and schemes of how we're going to do things. That's going to happen naturally over time, but I'm not the most patient person. I wish it would have happened yesterday."
Franklin doesn't water down his goals for Penn State, especially in recruiting, but he's also realistic about the challenges of a reduced roster. The Nittany Lions return strong pieces such as quarterback
Christian Hackenberg
and defensive back
Adrian Amos
,
but the two-deep has some holes that Franklin and his assistants must address, while installing new schemes.
"It's one thing when you get put in this situation in the first place with limited scholarships," Franklin said, "but the longer you're in it, the more effect it has. We've got some depth issues, there's no doubt about it, across the board. We're going to have to get creative."
Northwestern also is focused on depth after being hit hard by key injuries in 2013. Pat Fitzgerald blames himself and his staff for failing to get enough second-stringers ready, which proved costly in close Big Ten losses.
After their first bowl-less winter in six years, the Wildcats responded well in the weight room, as more than 50 players recorded personal bests. Although 11 players will miss spring practice, including standout running back/returner Venric Mark, the depth should be better in areas like the secondary.
"We're really emphasizing taking ownership of the finish," Fitzgerald said. "Finishing your technique, finishing the call, finishing the route. There's a lot of disappointment in the way the program didn't take the next step forward."
Michigan coach Brady Hoke
restructured the roles of his defensive assistants
for 2014, but the Wolverines' offense will be in the spotlight this spring after a wildly inconsistent season. Gardner, who continues to recover from a foot injury and likely won't be 100 percent until midway through the spring, will compete with
Shane Morris
,
Russell Bellomy
and midyear enrollee
Wilton Speight
.
But other positions, such as offensive line, figure to be just as important as Michigan tries to achieve Hoke and Nussmeier's vision.
"We had good intentions as far as what we wanted our identity to be, but obviously I don't think it came out the way we'd like it to," Hoke said. "The quarterback position is as important as any, and we have a guy [Gardner] who is very talented and had some really good games and games where we had to protect him better, have a better run game and take pressure off of him, and I don't think we did."
While Michigan turns the page on offense, Ohio State focuses on a defense that allowed 115 points in its last three games and finished 110th nationally in pass yards allowed (268 YPG). The Buckeyes lost top defenders
Ryan Shazier
and
Bradley Roby
, but they also added two accomplished assistants.
Johnson, who churned out NFL linemen during 18 years at Penn State, chose Ohio State instead of remaining in State College. Ash leaves a sole coordinator role at Arkansas for a co-coordinator role at Ohio State, where he'll work with the embattled Luke Fickell and others to mend the defense through a simplified scheme.
"Back in the day when Ohio State played great defense, you knew what you were going to get," Ash said. "They
played with swagger, played with confidence, played with toughness. We have to get back to that. The simplicity of the things we're going to do will lead to faster players, more plays made and a more aggressive defense.
"I wasn't here [in 2013], but I can tell you what Coach Meyer has told me, what Luke Fickell has told me and what I watch on film. I can see there's some hesitation, there's some uncertainty. Why that is, I don't know. But it's my job to get it fixed."
Purdue has plenty to fix after a 1-11 season, and players not surprisingly are
wearing T-shirts with the word "FORWARD" on the backs
. Maryland and Rutgers move forward to a new conference after an offseason that saw several staff changes, including new coordinators at Rutgers (Ralph Friedgen, Joe Rossi).
There's a fresh start of sorts at Wisconsin, as a large and decorated senior class departs. Coach Gary Andersen's markings will be more obvious with his second team, which begins practice March 7.
Wisconsin is just one of many places where the top quarterback job is at stake. Lunt, who sat out last season after transferring from Oklahoma State, competes with
Reilly O'Toole
and
Aaron Bailey
at Illinois.
"Competition's competition, no matter where it's at," said Lunt, who has added about 15 pounds since his arrival and checks in at 225. "It's different because it's different people, different coaches, but I'm excited for it."
He's not alone in the Big Ten. Spring ball can't start soon enough.
December, 20, 2012
12/20/12
2:01
PM CT
Paying top dollar for assistant coaches has become an issue in the Big Ten lately. Bret Bielema cited his inability to pay and retain assistants at Wisconsin as a major reason why he left for Arkansas. Purdue made a bigger commitment to its overall staff salary when it hired Darrell Hazell to replace Danny Hope.
How do the Big Ten teams stack up when it comes to salaries for assistants? Luckily, USA Today has
just compiled a database
looking at what every FBS program pays its staffs. The study found that the average major college football assistant
now makes $200,000 per year
, a number that is on the rise. According to USA Today, pay for assistants rose 10 percent from last year and is up 29 percent from 2009, the latter of which is higher than the increase in salary for head coaches during that time period.
Here is what Big Ten teams spent on their staffs in 2012, not including the head coach (Note: Because Northwestern and Penn State are not subject to the same state open-records laws as other schools, their information was not available):
Ohio State: $3.29 million
Michigan: $2.93 million
Illinois: $2.3 million
Michigan State $2.2 million
Nebraska: $2.15 million
Iowa: $2.1 million
Minnesota: $2.1 million
Indiana: $2 million
Wisconsin $1.77 million
Purdue: $1.61 million
As you can see, Wisconsin was near the bottom of the pack in the Big Ten. Purdue has given Hazell a pool of $2.1 million for assistant coaches, which would put the Boilermakers right about the average for league schools. Ohio State and Michigan are the two richest schools and have not surprisingly made the biggest commitment to salaries. When you add in Urban Meyer's salary, the Buckeyes are paying nearly $7.6 million per year in football salaries. You get what you pay for, I guess, as Ohio State went 12-0.
While the Big Ten's median salary pool for assistants was just over $2 million in 2012, the median in the SEC was around $2.5 million. According to USA Today, the SEC paid its assistants an average of $315,000, the most in the nation. The Big 12 was second at just under $290,000.
LSU is spending more than $4 million on assistants, while Alabama is doling out more than $3.8 million on assistants. Auburn ($3.77 million), Tennessee ($2.98 million), Florida ($2.89 million), Georgia ($2.77 million) and Texas A&M ($2.68 million) also far outspent most Big Ten schools, while Arkansas ($2.56 million in 2012) is making a larger commitment to assistant pay under Bielema.
Finally, here's a look at the top-paid coordinators in the Big Ten among the 10 schools whose information was available via public records:
Luke Fickell, co-defensive coordinator, Ohio State: $761,000
Greg Mattison, defensive coordinator, Michigan: $758,900
Al Borges, offensive coordinator, Michigan: $658,300
Pat Narduzzi, defensive coordinator, Michigan State: $501,700
Tom Herman, offensive coordinator, Ohio State: $456,000
Everett Withers, co-defensive coordinator, Ohio State: $456,000
Tim Banks, defensive coordinator, Illinois: $400,000
Chris Beatty, co-offensive coordinator, Illinois: $400,000
Billy Gonzales, co-offensive coordinator, Illinois: $400,000
Tim Beck, offensive coordinator, Nebraska: $372,300
Tracy Claeys, defensive coordinator, Minnesota: $340,000
Matt Limegrover, offensive coordinator, Minnesota: $335,000
Greg Davis, offensive coordinator, Iowa: $325,000
Dan Roushar, offensive coordinator, Michigan State: $307,000
Mike Ekeler, co-defensive coordinator, Indiana: $306,600
Doug Mallory, co-defensive coordinator, Indiana: $306,600
Phil Parker, defensive coordinator, Iowa: $301,500
John Papuchis, defensive coordinator, Nebraska: $300,000
Gary Nord, offensive coordinator, Purdue: $275,000
Chris Ash, defensive coordinator, Wisconsin: $267,050
Matt Canada, offensive coordinator, Wisconsin: $265,000
Seth Littrell, offensive coordinator, Indiana: $255,500
Tim Tibesar, defensive coordinator, Purdue: $250,000
Fickell, Borges and Mattison are three of 18 assistants nationwide who earned at least $600,000 in 2012, according to the study. There were 14 assistants paid that much last season and nine in 2010. Ohio State offensive line coach Ed Warinner is the highest paid position coach in the league, at a salary of $357,800.
October, 15, 2011
10/15/11
5:27
PM CT
CHAMPAIGN, Ill. -- Ohio State isn't dead yet.


After months of disappointment on and off the field, the Buckeyes earned the right to lift their arms in victory. Behind a suffocating defense and the triumphant return of top running back
Dan Herron
, Ohio State beat No. 16 Illinois
17-7
for its first Big Ten win. The Illini lost for the first time this season after living on the edge for several weeks.
Ohio State coach Luke Fickell deserves a lot of credit for keeping the team focused and united after the collapse at Nebraska. Fickell undoubtedly will be thrilled with his defense, which bounced back with an impressive performance against
Nathan Scheelhaase
,
A.J. Jenkins
and one of the Big Ten's most dangerous offenses. The win wasn't pretty to many, but Fickell, as a longtime defense coach, had to be loving it.
Behind several defensive standouts -- DT Johnathan Hankins, DL John Simon, S Tyler Moeller, CB Bradley Roby, CB Travis Howard -- Ohio State kept Illinois off the scoreboard for more than 53 minutes. The Buckeyes forced three second-half takeaways, converting the first two into touchdowns.
Quarterback
Braxton Miller
didn't complete a pass until the fourth quarter -- he connected for a 17-yard touchdown on his first attempt -- but Ohio State limited mistakes on offense and received a terrific performance from Herron.
Now the Buckeyes head into a much-needed bye before their showdown against Wisconsin.
I'll have much more from Memorial Stadium, so don't go anywhere ...