Chicago Colleges:

Mark Hollis
June, 5, 2014
6/05/14
2:01
PM CT
The Big Ten hasn't hidden its desire to expand the brand to the East Coast in advance of Rutgers and Maryland joining the league July 1. A new league office is set up in New York City, and
television agreements are being worked out
with distributors in the region.
But no initiative -- other than bringing in Maryland and Rutgers -- sparked more reaction than the league's announcement that the
2017 men's basketball tournament would be held at Verizon Center
in Washington D.C. Since its inception in 1998, the hoops tournament had been held only in two Big Ten strongholds: Chicago and Indianapolis.
[+] Enlarge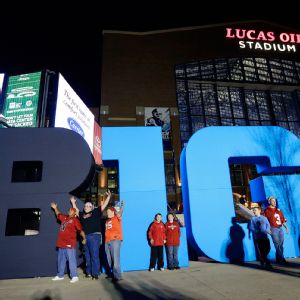 AP Photo/AJ MastThe Big Ten has found great fan support at its championship events.
Concern mounted among fans and others that the Big Ten, through
its desire to live in two regions
, would alienate its base in the Midwest.
"Our conference is founded in the Midwest, and it's important we continue to understand those roots," Michigan State athletic director Mark Hollis said at last month's administrators' meetings. "While excited to have this new frontier, our foundation is in Chicago and Indianapolis and Detroit and other areas. I just want to make sure we protect our homeland while flanking out to a very important East Coast."
The Big Ten on Thursday let its core fans know it hasn't forgotten about them. The
league announced future sites
for its football championship game and men's and women's basketball tournaments. All of the events will be held in Indianapolis or Chicago.
Here's the breakdown:
Football championship game:
Remains in Indianapolis through the 2021 season. The 2014 and 2015 events already had been announced for Lucas Oil Stadium, and the new agreement covers 2016-21.
Men's basketball tournament:
Will be held at Chicago's United Center in both 2019 and 2021 and at Indianapolis' Bankers Life Fieldhouse in 2020 and 2022. As previously announced, Chicago will host in 2015, Indianapolis will host in 2016 and Washington D.C. will host in 2017. Negotiations on the site for the 2018 event continue and an announcement should come later this month.
Women's basketball tournament:
New agreement has the event at Indianapolis' Bankers Life Fieldhouse from 2017-2022. As previously announced, the 2015 event will be held at Sears Centre Arena in Hoffman Estates, Illinois, and the 2016 event will take place at Bankers Life Fieldhouse in Indianapolis.
"We've always intended to use those cities," Big Ten commissioner Jim Delany told ESPN.com on Thursday. "They've been great partners. We're fortunate to have great fan bases in both places, tried and true success in both of these cities.
"It gives us a lot of stability going forward."
Despite the Washington D.C. event in 2017, Indianapolis and Chicago were always part of the Big Ten's future vision. There were "no surprises," Delany said. But he added that the Big Ten will continue its push to integrate in the East Coast.
"I'd be shocked if we didn't have very deep engagement in both regions," he said. "With the number of institutions, fan bases, cities, I'd expect there to be a rotation."
"

Our conference is founded in the Midwest, and it's important we continue to understand those roots.

"

-- Mark Hollis, Michigan State athletics director
There won't be a rotation for the football championship game, at least in the immediate future. Delany still considers the game a new event that needs to be developed, and the league never seriously considered moving the game from Indianapolis in the next cycle.
There was no formal bidding process like there was in 2011, when groups from both Indianapolis and Chicago presented to the Big Ten athletic directors and coaches.
"We're not at the stage of experimentation with respect to indoor quality, the centrality of it; it's a new event," Delany said. "We've been cautious in trying to grow it, trying to understand it. We always thought it will be central. By the time we'll finish up [the agreement], it will be 11 years there.
"After 11 years we'll figure out how successful it's been, how much it's grown, whether that kind of alternative venue makes sense. But at this point, we're building it, stabilizing it, creating a great brand around it, making it as accessible as possible."
There's no doubt Indianapolis puts on a great event at a world-class facility and has logistical advantages over a site like Chicago. But Chicago remains the hub of Big Ten fans and
should gain future consideration
, as should other cities like Detroit and Minneapolis, which recently was awarded the 2018 Super Bowl for its new football stadium.
The Big Ten will continue to monitor cities and facilities. Delany gushed about the recent Big Ten baseball tournament in Omaha, which
set several attendance records
.
"We've got a
bowl game in Detroit
, we've got hockey [tournaments] in Detroit and Minnesota, great sports towns, great sports venues," Delany said. "We will obviously watch the facilities and events that go there and will stay in close contact with those communities. As this cycle plays out, there will be more communications."
Bottom line: The football title game isn't leaving the Midwest any time soon, which makes sense with only two teams involved and often little time to plan. Big Ten basketball fans should prepare for other tournaments outside the traditional footprint. It's an easier event to move, because all 14 teams and fan bases are involved.
But Thursday's announcement signifies that the Big Ten still knows where its bread is buttered.
May, 20, 2014
5/20/14
10:30
AM CT
This September's 42nd Notre Dame-Michigan matchup is likely the last between the schools for the foreseeable future. That doesn't, however, mean that the appearances of Big Ten teams on the Irish's schedule are coming to an end.
Michigan State and Purdue have been stalwarts on Notre Dame's slate -- more than Michigan. And athletic directors from both schools are happy to see their respective rivalries with the Irish continue, even if they're on an abbreviated basis.
Among imminent matchups, Notre Dame will "host" the Boilermakers Sept. 14 at Lucas Oil Stadium in Indianapolis for its annual off-site Shamrock Series game. The Irish have a home-and-home scheduled with the Spartans for 2016 (at ND) and 2017 (at MSU).
"[Notre Dame athletic director] Jack [Swarbrick] and I are in constant communication, and it's not adversarial whatsoever. But it's a situation where, both with us going to nine [conference] games and with them having to move into the ACC scheduling model, it's created some significant challenges for both of us," Michigan State athletic director Mark Hollis told ESPN.com. "And right now we're kind of in a position of, we know the next two, we know we have two more in the future and we're just kind of taking it one step at a time. We've been in constant communication."
The future, Hollis told local reporters last week, includes an agreement to play a home-and-home in 2026 and 2027, as well as a neutral site game, possibly in Chicago, in 2023.
Notre Dame and Purdue, meanwhile, have five more scheduled games -- Sept. 19, 2020 at Purdue; Sept. 18, 2021 at Notre Dame; Sept. 14, 2024 at Purdue; Sept. 13, 2025 at Notre Dame; and in 2026 on a date and in a neutral site that has yet to be determined.
"I think the relationship between the schools is -- you're not going to take it to San Juan," Purdue athletic director Morgan Burke told ESPN.com. "But we have alums all over the country, too. Strong populations in Texas, in California, in Florida. The likely sites are Chicago and Indianapolis."
Notre Dame coach Brian Kelly
said last week that most of his scheduling conversations with Swarbrick start with Michigan, Michigan State and an SEC team
. But Wolverines athletic director David Brandon told ESPN.com's Adam Rittenberg in an email that there had been no discussions with the Irish.
The mood might have soured between the two schools -- Sept. 7 at Notre Dame will be their last matchup following the Irish's 2012 exercising of a three-year opt-out clause in the series -- but that has not been the case between the Irish and the rest of the Big Ten.
"Jack and I have known each other for a long, long time," Burke said. "He had a hard deal because when the Big East went the way it went, he had to find a home for lots of sports. What he had to do then was to negotiate, he had to use some of the football inventory to do that, and that's what created the issue. There's no issues with wanting to play Purdue or Michigan State. The Michigan thing there's a little bit of a tiff, I guess. But I don't think so.
"Our history goes back a long time. So what we tried to do was to make sure that there was at least a path forward. In other words, don't just announce Lucas Oil and it stops, but try to show people that we're going to play more than just once every 10 years. That's the best we could do now. Who knows what the landscape will be down the road? My hope is that someday, I hope we don't look back and say we lost something that started in 1946, because there are Purdue and Notre Dame folks who have been going to those games for years and tailgated. And you've had some great athletic contests with some great family relationships. And as we break some of this stuff apart and get bigger leagues, do you lose some of those relationships, and 10 or 15 years from now, does that hurt you?"
With Purdue having played Notre Dame 85 times, and with Michigan State having played the Irish 77 times, both schools are hoping that the answer to that question is a resounding no.
"There's going to be fewer games with Notre Dame because of the national landscape, and that's one of the unfortunate parts of conference expansion, is those nonconference games take secondary step," Hollis said. "But it's important to Michigan State that we continue to play on a national stage, so we'll have Notre Dame as much as we can have Notre Dame. They want as many games, we want as many games, it just all has to fit."
May, 15, 2014
5/15/14
2:35
PM CT
Michigan
and
Notre Dame
are contracted to play just once more in the foreseeable future, but many -- including Fighting Irish coach Brian Kelly -- want to see the series continue in some form.


"We would like to play Michigan and Michigan State again," Kelly said at a Notre Dame golf event in Olympia Fields, Ill.
Notre Dame hosts Michigan once more, on Sept. 6.
Michigan State
, who had played the Irish every year since 1997, is off the schedule until the rivalry briefly resumes in 2016 and 2017.
Michigan State athletic director Mark Hollis told MSU beat writers Wednesday that the schools tentatively have a home-and-home series set for 2026 and 2027, as well as a neutral-site game, possibly in Chicago, in 2023.
But Notre Dame and Michigan -- annual opponents since 2002 and common opponents since 1978 -- have nothing set beyond this season.
Read the rest of Adam Rittenberg and Matt Fortuna's story
here
.
May, 15, 2014
5/15/14
11:10
AM CT
ROSEMONT, Ill. -- If you've listened to Jim Delany lately, you undoubtedly have heard the Big Ten commissioner talk about living on the East Coast, not just visiting.
It's all part of the Big Ten's push to be a bi-regional conference with the additions of new members Rutgers and Maryland on July 1. The league has
partnered with the Big East
for the Gavitt Tipoff Games in men's basketball and moved the 2017 men's basketball tournament
to the Verizon Center in Washington D.C
. The football championship game, which will remain in Indianapolis at least through 2015, likely will
stay in the center of the league
.
[+] Enlarge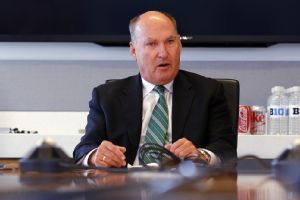 AP Photo/Nam Y. HuhJim Delany knows the Big Ten has to walk a fine line between building the Big Ten's presence out East while not forgetting its Midwest roots.
Delany, a New Jersey native and the driving force behind the Maryland and Rutgers additions, is not surprisingly devoting much of his time and energy to all things East Coast.
"The challenge will be living in two regions," Delany said Wednesday after the league's athletic directors met. "All the major conferences are doing it. Nobody has done it before. That will require a real concerted effort to build, make friends, become relevant and build relationships. That's what we're in the process of doing.
"But the other side of it is that 80 percent of our historic fan base and our alums aren't in this region."
In some ways,
that's
the real challenge for Delany and the Big Ten: building the brand in a new, competitive region, without forgetting where you came from and what made you who you are.
"I want to get a better sense of what our landscape is going to look like in the conference with the Eastern push," Michigan State athletic director Mark Hollis said. "It's an extremely important component for the conference. It's important for Michigan State because of the donors we have there. But you don't want to leave the Midwest in the wake of an Eastern push.
"Our conference is founded in the Midwest, and it's important we continue to understand those roots. While excited to have this new frontier, our foundation is in Chicago and Indianapolis and Detroit and other areas. I just want to make sure we protect our homeland while flanking out to a very important East Coast."
Hollis is absolutely right. While time, money and some events should be devoted to the new territory, the Big Ten can't alienate its base, a large chunk of which remains miffed about the new additions. But the Big Ten's latest expansion always was less about the specific schools than their locations.
If the ACC hadn't added Pitt and Syracuse -- infringing on the eastern edge of the Big Ten's current footprint, because of Penn State -- there might not have been a need to get bigger than 12. But the Big Ten felt it needed to protect Penn State and enhance its footprint, especially with a new TV contract on the horizon.
"That's the new Big Ten," Wisconsin AD Barry Alvarez said. "We all have to accept it, our fans have to accept it. We want to welcome our two new members in Rutgers and Maryland, and we want a presence in the East. We want to take advantage."
It's Delany's job to capitalize on those advantages, while not turning his back on the region that defines the league.
"You're going to see a rotation [of events] and a respect for both regions," Delany said. "You're going to see a representation in both regions with our competitions, our championships, our television network and our alumni base."
May, 14, 2014
5/14/14
6:30
PM CT
ROSEMONT, Ill. -- The Big Ten spring administrators' meetings wrapped up Wednesday with more discussion about the proposed NCAA governance changes,
nonconference scheduling
, athlete welfare and other topics.
Here are some notes from Day 2:
COST OF ATTENDANCE
Big Ten schools are in agreement that increasing the value of athletic scholarships to federal cost-of-attendance figures needs to happen. They've felt this way for years.

But the increase means different things for different institutions and different leagues, as some, like the Big Ten, sponsor more sports than others. The Big Ten ADs spent much of their meetings discussing the details.
"It varies from $1,200-$4,900 [per scholarship] just in our league," Wisconsin athletic director Barry Alvarez said. "I think ours is in the $3,000-$4,000 range, so we're probably talking about another $1 million to $1.5 million just on cost of attendance. I'm very supportive of that. I've always been supportive of whatever we can do for the student-athletes."
Such a large gap, however, could allow some programs to use their more valuable scholarships as advantages in recruiting. Michigan State AD Mark Hollis, who said the cost-of-attendance plan would be about $1 million for the school, thinks there needs to be a "firewall" between athletic departments and financial aid offices in how numbers are calculated.
"Every school tends to take whatever information they have available and try to make it to their advantage," Hollis said. "It'd be a bad situation to use cost-of-attendance as a recruiting advantage, but the likelihood is that will come into play."
FUTURE FOOTBALL CHAMPIONSHIP GAME SITES
[+] Enlarge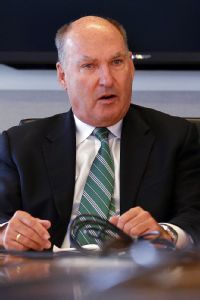 AP Photo/Nam Y. HuhJim Delany expects the Big Ten football title game to remain in the Midwest.
The Big Ten expects to finalize future sites for football championship games and basketball tournaments after the league's presidents and chancellors meet in early June. Indianapolis has hosted the first three football title games and is contracted to host the 2014 and 2015 games.
Although the men's basketball tournament heads to Washington, D.C., in 2017 and likely will make other future appearances on the East Coast, the football championship isn't expected to leave the Midwest.
"A central location would be the presumption," commissioner Jim Delany said of future sites.
DEFENDING THE COLLEGIATE MODEL
Delany said the Big Ten would "aggressively" defend itself against several antitrust lawsuits challenging the collegiate model, even if the cases go all the way to the U.S. Supreme Court. He said polls show most people don't want unions with college sports, pay-for-play systems or some type of minor-league system.
"There's a tremendous public interest in what we do," Delany said, "and some of what we do could be improved upon. I think people are just saying to us, 'Get it right, get it balanced.'"
Delany sees that as a three-step process: restructure and reform; defend themselves against litigation and advocate for all college athletes. How they address cost-of-attendance, athlete time demands, health coverage and other topics will be under the microscope.
The commissioner reiterated the need to set up a
voting model
to push through change.
"We're going to have a scorecard," Delany said, "and the question is going to be, what did you accomplish?"
TIME SPENT ON SPORTS
Athlete welfare was a big topic here this week, including increased amount of time they devote to their sports. Delany, who
brought up the issue last summer
, wants to consult athletes and coaches about how to strike a better balance with time.
The major conferences could implement "dead periods" after seasons or in the summer. Delany mentioned study abroad programs and internships, two opportunities many students enjoy but most athletes cannot, as areas that should be explored.
"We need to really inspect the experience," Delany said, "talk to the athlete, talk to the coach, and come up with a template is that is more flexible and more balanced."
ODDS AND ENDS
Iowa was not offered a night game this season and will not appear in prime time for the second straight year, but athletic director Gary Barta doesn't think it suggests the school has second-class status in the league. "At the end of the day, we'd love to have one or two night games a year," Barta said. "We don't have one this year. That's not going to affect the way we go into the season. We're going to be excited and play the games."

Purdue athletic director Morgan Burke reiterated that athletes need more power in shaping the decisions that affect their experiences. He also thinks recently graduated athletes could be involved in the discussion because they can devote more time. "You want to make sure the voice is not a token thing," Burke said. "I've found that if you engage people at the earliest possible time on all the facts you have, the chances of having wide disagreements dissipates. You drive yourself closer together."

Alvarez, a member of the playoff selection committee, is concerned about the rising cost of travel with an expanded football postseason. He saw it firsthand this spring as Wisconsin's men's basketball team made the Final Four. "We have to be sensitive about [ticket] pricing," Alvarez said. "It's been brought up."

It wouldn't be a Big Ten meeting if the expansion question didn't come up. But Hollis doesn't think the league is looking to increase beyond 14 members. "We're going to 22," he joked. "We're settled at the number that we have. Expansion is always done for strategic reasons. Sometimes it's reactionary to what's being done on the national landscape, but it was extremely important to the Big Ten to ensure that Eastern corridor was protected as other conferences had rubbed into some of our traditional markets. The new Big Ten logo is not a B-1-6. It's actually a B-one-G.
May, 14, 2014
5/14/14
4:00
PM CT
ROSEMONT, Ill. -- The SEC and ACC think eight is great, but the Big Ten has no plans to go back on its move to nine league games beginning in the 2016 season.
The Big Ten isn't ignoring the upcoming college football playoff and the potential paths to the field of four, but its reasoning for the move -- namely, to play one another more often in an expanded conference -- hasn't changed.
"Fans like Big Ten games," league commissioner Jim Delany said Wednesday. "If you look at Big Ten attendance around Big Ten games, it tends to be better than the average nonconference game. Also, the commissioners have been clear about strength of schedule and winning championships in conference as the tiebreakers in the college football playoff.

"That's an additional reason for us to do that."
But the move to nine league games doesn't mitigate the challenge of nonconference scheduling. In fact, the unbalanced home-road ratio, combined with a league-wide initiative to stop scheduling FCS opponents, has created new issues to navigate.
Several Big Ten athletic directors this week talked about a smaller inventory of nonleague opponents. This drives up the cost for Big Ten teams to schedule home games that aren't returned (guarantee games). Most Big Ten teams require seven home football games per year to meet budget demands.
"Where are the guarantees going to go as far as the demand and the supply of the opponents to come in and play you?" Michigan State AD Mark Hollis said. "You only have three nonconference [games]. You can have one home-and-home situation and then have to buy two games to get to your seven.
"If the net on those games becomes a level where the visiting team's making more than the home team, then you have to start looking at other options."
Hollis has been reluctant to explore neutral-site games, and while some Big Ten teams have them scheduled -- Wisconsin opens the next three seasons against SEC opponents at neutral sites -- most want to keep games on campus. The Big Ten is working with its schools on scheduling for the 2016, 2017, 2018 seasons and beyond. Hollis thinks more scheduling agreements will happen in the short term rather than games 10-15 years in advance.
One idea discussed this week at both
ACC
and Big Ten meetings is league members scheduling one another in games that don't count in the conference standings. Michigan and Minnesota considered
scheduling a nonleague game in 2010,
a season where the longtime rivals weren't on each other's slates.
Iowa and Penn State last season scheduled a
nonleague wrestling meet
and will continue to do when the teams don't match up on the Big Ten schedule.
"We put together our own parameters in terms of the cost," Iowa AD Gary Barta said, "so I could see some of that happening potentially in other sports."
Michigan State on Tuesday announced a home-and-home series with Arizona State, which Hollis called a "blessing" because of the quality of the opponent and the location. The Spartans play longtime rival Notre Dame in 2016 and 2017, and Hollis told local reporters that MSU and Notre Dame have a
verbal agreement for a home-and-home series
in 2026-27, as well as a possible neutral-site game in Chicago in 2023.
The SEC's and ACC's schedule decisions sparked strong reaction because the five major conferences, competing for four playoff spots, won't have a standardized schedule model. But Big Ten leaders don't seem concerned about the differences.
"I could conceive of somebody playing eight conference games and four very strong nonconference games, and having a stronger strength of schedule than somebody who played nine conference games and three weak nonconference games," Delany said. "So we've tried to address it with more conference games, one major game against an opponent from a group-of-five conference, and that we're not playing [FCS] teams."
March, 10, 2014
3/10/14
4:00
PM CT
I had a good time covering Arch Madness this past weekend. My astute, professional opinion: Wichita State is really, really good.
But the hoops moonlighting is over. Back to football -- and more of your emails ...
Luke from Lincoln, Neb., writes:
What's your take on
Jamal Turner
getting reps at QB? I know he has gotten reps in previous years but less significant reps. Will anything come of it, or is it just some spring experiment?

Brian Bennett:
First of all, I commend Bo Pelini for giving us media types something interesting to write/blog/debate so early in spring practice. So bravo on that. I suspect this is mostly an experimental thing. Turner is a senior, so he doesn't need a ton of spring reps at QB. But it also gives Nebraska some options, especially in some potential Wildcat alignments.
Tommy Armstrong Jr
. is not the runner that
Taylor Martinez
was, at least not yet in his career, and
Ameer Abdullah
gets enough carries. Turner could bring a speed element to the quarterback spot, a place where the Huskers have no experience behind Armstrong as is. If nothing else, it gives Nebraska's early-season opponents something to think about as they game plan this spring and summer.
---
Kevin from Rock Island, Ill., writes:
To me, it seems the Illinois QB race will come down to
Wes Lunt
and
Aaron Bailey
. If Lunt wins the job (as many expect), does Bailey stay at QB for limited sets, and as a backup, or do they use his athleticism to help fill a position of need at WR? Lunt has had injury issues in his past (why he lost his job at OSU), but Illinois is desperately in need of more playmakers.
Brian Bennett:
While I understand why Illinois' coaches want to term this as an open competition, I'd frankly be very surprised if anyone other than Lunt is the team's starting quarterback. His skill set just seems to fit Bill Cubit's offense perfectly. Bailey is an interesting case. He's too good of an athlete for the Illini to keep him off the field, and
Reilly O'Toole
is a serviceable backup. I think receiver is a natural potential landing spot for Bailey, especially given the team's need there. But prepping him now at quarterback is still a good idea, especially with Lunt's injury history.
---
@HawkFlies via Twitter writes:
Any chance there is a QB controversy in Iowa City this spring?
Brian Bennett:
I doubt it. Kirk Ferentz said he will let
C.J. Beathard
compete with
Jake Rudock
for the job, and there's no question that Iowa needs better play in general from the quarterback position. But as Ferentz also said on signing day, "C.J. still has some catching up to do. Jake has really accelerated." I find it hard to believe that Ferentz will make a switch after Rudock started all 13 games last fall, unless Beathard makes great strides this spring or Rudock really falters. And given that the Hawkeyes play things pretty close to the vest, I doubt we'll see or hear much this spring that would actually lead to any sort of controversy.
---
Jeff from Whitewater, Wis., writes:
In your opinion, is Wisconsin a possible darkhorse to make a BCS bowl? Outside of the LSU game, the toughest games the Badgers will have are at Iowa, at Northwestern and then home against Nebraska. If the receivers can be somewhat productive and secondary can eliminate some of their lapses, I think they can run away with the West.

Brian Bennett:
The Badgers are a real long shot to make a BCS bowl this fall since BCS bowls no longer exist. What you probably mean is a contract bowl. Time to adjust our college football vocabulary. Really, the goal now has to be the College Football Playoff, though realistically Wisconsin would probably have to beat LSU and then run the table or maybe lose just once to make the four-team event (and remember for this coming season, the Rose Bowl is a national semifinal). The playoff committee will also choose teams for the other four major bowls. But I get your point. Gary Andersen's team has a great schedule in 2014, though some lingering questions about the passing game and the defense must be answered. I could easily see Wisconsin winning nine or 10 games with that schedule, and the Badgers are a major West Division threat.
---
John from Brighton, Mich., writes:
I've had this argument with a friend several times. It regards the outlook of the conference over the next 10 years or so. I think projecting forward, Michigan State has overtaken Michigan as a program, and the top of the conference is going to be a battle between the Spartans and Ohio State for the next decade. Am I misguided in my view, and do you think that Michigan is going to be "back" to what it was?
Brian Bennett:
Trying to project a decade in advance might make for fun arguments with your friends, but it's nearly impossible to forecast with any level of accuracy or confidence. Boom and bust cycles are just too short. Look at where Florida State and Texas were just a few shorts years ago compared to now. Michigan State is clearly riding high right now and is in better shape than Michigan. As long as Mark Hollis and Mark Dantonio are around, I expect the Spartans to remain a major factor. But will that be the case in 10 years? Who knows? Michigan has resources that only a few programs can match. Eventually that sleeping giant will come to life, whether it's under Brady Hoke or someone else. At least I think so.
---
Corey from East Lansing, Mich., writes:
Speaking as a Spartan fan, I can't say UofM switching to a 3-4 is all that scary. My thinking is that they don't have the bodies to put three 300-pound linemen on the field together. Hoke and his staff have recruited for running a base 4-3 and have to stick with it. Mixing in the 3-4 is a nice change of pace possibly, but running it as their base doesn't seem like the answer to me. I'm more interested to see if more Big Ten teams don't start copying Pat Narduzzi's aggressive 4-3 zone schemes, especially since Urban Meyer is coming out and saying he wants to be more aggressive. What do you guys see happening in the near future?

Brian Bennett:
Some teams have borrowed bits and pieces from the Spartans' defensive scheme, but for as successful as Narduzzi has been with it, you'd expect even more copycatting. Part of the reason is that most coaches and defensive coordinators don't have the stomach (or the personnel, for that matter) for playing as much man-to-man pass coverage as Michigan State does. As Narduzzi told me in late November, "People know what we're doing, but they don't know how we do it. We're the only team in the country that does zone pressure like this. There's a risk to it if you don't know what you're doing."
Defenses in the Big Ten need to be big enough up front to take on the power run game but also have enough speed to counter the proliferating spread offenses. Whether that comes out of a 4-3 or 3-4 isn't really as important as having great athletes, a consistent philosophy and experience within the system. One of the overlooked aspects of Michigan State's success was how so many guys had learned and practiced just one position in the same system for years and years. It's often not so simple as changing a scheme and expecting a quick fix.
February, 17, 2014
2/17/14
9:00
AM CT
The Big Ten's combination of big stadiums, big fan bases and big tradition has historically made football attendance a rather small issue.
America's two largest football venues -- Michigan Stadium and Beaver Stadium -- sit on Big Ten campuses, and three of the seven football stadiums with six-figure capacities are in the league (Ohio Stadium is the other). Michigan has led the nation in college football attendance for the past 15 years, and the Big Ten occupied three of the top five spots and seven of the top 23 spots in
attendance average for the 2013 season
.
[+] Enlarge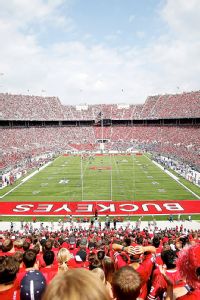 Kirk Irwin/Getty ImagesOhio State averaged 104,933 fans at its seven home games in 2013, which ranked No. 2 in that nation behind Michigan.
The Big Ten in 2013 set records for total attendance (6,127,526) and attendance for league games (3,414,448), and ranked second behind the SEC in average attendance per game (70,431), a slight increase from 2012.
So what's the B1G deal? Eight of the 12 league programs saw a decline in average attendance last season. Some have seen numbers drop for several years.
Student-section attendance
is a
growing concern
, and the Big Ten is tracking the
troubling national
attendance trends
.
"We've been blessed because we haven't been hit with the significant drop-off that many other conferences and schools have experienced," Ohio State athletic director Gene Smith told ESPN.com. "However, we've seen it in certain games, or in not necessarily ticket sales but people actually coming to games.
"So we're concerned."
The league is taking a proactive approach, starting last season with the formation of a football game-day experience subcommittee, which Smith chairs. The committee in August announced that Big Ten schools would be
allowed to show an unlimited number of replays
on video boards at any speed. Schools previously could show one replay at no less than 75 percent of real-time speed.
The move drew positive reviews from fans and no major complaints from game officials.
"If people can see the replay at home on TV, you can't give them a lesser experience in the stands," Purdue athletic director Morgan Burke said.
A "more robust" replay approach is on the way for 2014, and Big Ten leaders are looking at other ways to bolster the stadium experience, which, as Burke noted, seems to have reached a tipping point with the couch experience.
Here are some areas of focus:
Cellular and Wi-Fi Connections
In August, the subcommittee encouraged each Big Ten school to explore full Wi-Fi in stadiums as well as Distributed Antenna System (DAS) coverage to enhance cell-phone functionality. A fan base immersed in smartphones, social media and staying connected demands it.
"Everybody realizes improvements have to be made," said Kerry Kenny, the Big Ten's liaison to the game-day experience subcommittee. "People want to be updated on other games. They want to go in there and take photos or Instagram videos or tweet. They want to be able to stay in touch with family and friends that aren't there but are watching."
Penn State installed Wi-Fi throughout Beaver Stadium in 2012 but is the only Big Ten school to have complete access. Illinois athletic director Mike Thomas said he hopes to have total Wi-Fi in the school's football stadium by the fall, if not the 2015 season. Nebraska's regents last month
approved a $12.3 million Wi-Fi project
for its stadium, and Wisconsin hopes to have full stadium Wi-Fi this season.
Most schools are focused on boosting cell service, which is more feasible and widespread. Ohio State installed more than 200 antennas in Ohio Stadium to improve cell service. For complete Wi-Fi, it would need about 1,200 antennas.
"We don't know what the cost is, but we know it's somewhere north of seven figures," Smith said. "We're studying it, as are my colleagues in the Big Ten."
Student attendance
Student sections aren't nearly as full as they used to be on Saturdays, both in the Big Ten and in the nation. ADs are well aware of the downturn and have tried different approaches to boost attendance.
Michigan in 2013 implemented a
general admission policy
, hoping to get more students to show up early, but
reviews weren't favorable
. Minnesota provided a
new student tailgating area
and
better ticket packages
. Illinois held a clinic for international students, who have told Thomas they'd come to games if they knew more about football.
The technology component resonates for students. Michigan State athletic director Mark Hollis told CBSsports.com that many students didn't show up for a 2012 game against Iowa because
they couldn't send text messages in the rain
.
Even if Ohio State doesn't install complete Wi-Fi at The Shoe, it could do so for the student section.
"Our surveys show that less than 25 percent of the crowd actually uses their cellular device [during games]," Smith said, "but of that 25 percent, a supermajority are students. You want to be able to provide that access."
In-Game Entertainment
"

Everybody realizes improvements have to be made. People want to be updated on other games. They want to go in there and take photos or Instagram videos or tweet. They want to be able to stay in touch with family and friends that aren't there but are watching.

"

Kerry Kenny, the Big Ten's liaison to the game-day experience subcommittee, on Wi-Fi in stadiums.
The days of public-address announcers listing scores from other games during timeouts are over. Schools want to give fans a broader view on Saturdays, whether it's putting live feeds of other games on video boards or replaying highlights shortly after they happen.
"I was at a game at Purdue this year," Kenny said, "and they showed a highlight of a touchdown in the Wisconsin-Iowa game within a couple minutes of that touchdown being scored."
Added Thomas: "If you're watching ESPN or watching a game at home, those are the kinds of experiences you should give people in your venue."
Big Ten athletic directors and football coaches last week discussed having more locker-room video or behind-the-scenes content that can be shown only within the stadium.
"You're in an era where people want to know what's it like before the game, after the game," Burke said. "It humanizes us if people see that side, the highs and the lows."
Burke likens Purdue's sideline to a "Hollywood production," as the band director, a disc jockey and a show producer coordinate in-game music on headsets. Several schools post tweets from fans at games on video boards to create a more interactive experience.
Ticketing and timing
Last month, Penn State became the latest Big Ten school to
adopt variable ticket pricing for single games
, acknowledging, "We have been listening to our fans." Attendance has
dropped 11.2 percent from 2007 to 2012
, while
frustration has grown with the Seat Transfer and Equity Plan (STEP) program.
Big Ten schools are getting more creative with ticket plans in response to attendance concerns. Northwestern last season
implemented a modified "Dutch auction" system
where a portion of tickets were sold based on adjusted price demand rather than set prices.
Purdue last fall
introduced mobile ticket delivery
, which allows fans to download tickets directly to their devices.
Kickoff times are another attendance indicator, as Big Ten schools located in the central time zone often struggle to fill the stands for 11 a.m. games. The Big Ten gradually has increased its number of prime-time games, and while Burke considers mid-afternoon games ideal, more night kickoffs likely are on the way, including those in early November.
Ohio State is in the process of installing permanent lights at Ohio Stadium.
"I'm a big fan of evening games," Thomas said.
As attendance becomes a bigger issue, the Big Ten and its members have surveyed fans about what they want at games. Wisconsin last fall established a 25-member fan advisory council, with two students. The school has received feedback about concessions, parking and whether fans would prefer digital programs rather than the traditional magazine-style ones.
"So much of it is when somebody comes to your venue," said Justin Doherty, Wisconsin's associate athletic director for external relations, "they have an experience that makes them want to come back."
May, 10, 2013
5/10/13
9:46
AM CT
By
Adam Rittenberg, Brian Bennett
and
Matt Fortuna
| ESPNChicago.com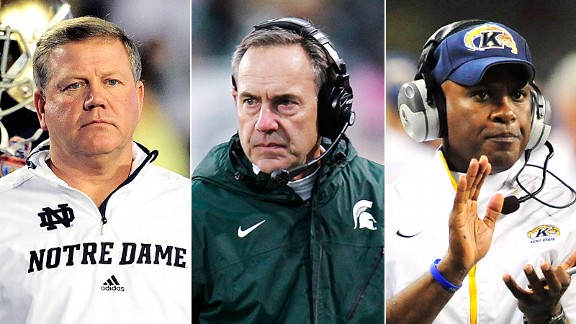 Getty ImagesThe Big Ten's nine-game conference slate and Notre Dame's ACC arrangement will make it tough for Brian Kelly's Irish to keep up rivalries with Mark Dantonio's Spartans and Darrell Hazell's Boilers.
After Notre Dame finalized its arrangement with the ACC last fall, it
decided to suspend its annual series against Michigan
. It begs the question: What will become of Notre Dame's other two Big Ten rivalries against Purdue and Michigan State?
All three schools have decisions to make. The Big Ten's move to a nine-game conference schedule beginning in 2016 makes it harder for Purdue and Michigan State to play Notre Dame annually in a home-road alternation. For example,
Michigan State's 2017 slate
includes a home game against Alabama, a road game against Notre Dame and five Big Ten road games, limiting the school to just six home dates, one below its stated minimum to meet the budget. Purdue also says it needs to play seven home games per season, and its
Notre Dame home-road schedule doesn't match up
with when it will play five Big Ten home games and five Big Ten road games. "We're off cycle," Purdue athletic director Morgan Burke told The (Lafayette) Journal and Courier.
Notre Dame has its own scheduling concerns with guaranteed ACC opponents every year and a desire to play a true national schedule.
Although Michigan-Notre Dame gained the most national attention in recent years, both Purdue and Michigan State have more historic rivalries with the Irish. Purdue and Notre Dame first met in 1896 have played every season since 1946. Michigan State and Notre Dame first met in 1897 and have played in all but two seasons since 1959.
What will happen to these two series? We gave our takes on the three teams.
Adam Rittenberg on Purdue

The buzz around much of the Big Ten is to cut ties with Notre Dame altogether. The Irish didn't want to be in the Big Ten. They got a deal from the ACC they'd NEVER get from the Big Ten. So why should Big Ten teams keep playing Notre Dame? While it seems easy to tell Notre Dame what it can do with
that Shillelagh
, it's not so simple for a program like Purdue. In fact, I think the Boilers should do whatever they can to keep the Irish on the annual schedule as often as possible.
Purdue fans might skewer me for this, but Purdue needs Notre Dame more than Notre Dame needs Purdue. Why? National attention. When Purdue plays Notre Dame, the Boilers get the national spotlight. When Notre Dame visits Ross-Ade Stadium,
ABC/ESPN immediately chooses the game
for prime time. When else does that happen for Purdue?
The Notre Dame game resonates for Purdue fans. It fills the stands at Ross-Ade Stadium, which has
looked like a ghost town
on fall Saturdays in recent years. When Purdue beats Notre Dame, people pay attention. Sure, Purdue can add some other strong non-league opponents. I liked the Oregon series from a few years back. But playing Notre Dame and beating Notre Dame has tremendous value for Purdue, its program and its recruiting efforts.
Burke says Purdue can't have six home games for budgetary reasons. Well, Michigan had six home games last year, so it can happen from time to time. I'm OK with Purdue taking a short break from Notre Dame here and there, but the Boilers would be foolish to completely cut ties with their in-state rival. This series is good for Purdue fans and good for the program. Purdue should fight to keep it going.
Brian Bennett on Michigan State

Much like with Purdue, there is a lot of history in the
Megaphone
series between Michigan State and Notre Dame. That includes 75 all-time meetings, the so-called Game of the Century in 1966 and, more recently, the Little Giants miracle of 2010. Only four years since 1949 have the two schools not played during the fall. It's a great series and one that should be kept if possible. Now here comes the but ...
... But the two schools are already scheduled to take two-year breaks after every four games between now and 2032, with the first two-year hiatus starting next season. So playing Notre Dame every single year is already a moot point. With the coming nine-game Big Ten conference schedule and the Spartans' agreements to play high-profile nonconference opponents like Oregon (2014 and '15) and Alabama (2016 and 2017), athletic director
Mark Hollis has some tough decisions to make
. Michigan State will face a very difficult road in the stacked East Division during Big Ten play as it stands. Does it make sense to play the Irish along with another strong program in the nonconference schedule? No, probably not.
The Spartans should try to work things out to where they can play Notre Dame in years when they don't have other marquee nonconference opponents while taking on those other high-profile teams during breaks with the Irish. Michigan State fans wouldn't really miss the Golden Domers that much when they're playing a team like Oregon or Alabama instead. The Spartans should strive to keep Notre Dame on the schedule frequently, but not so much that they handicap their own seasons in the process.
Matt Fortuna on Notre Dame

Much like a team in a conference, Notre Dame has eight annual games from 2014 on that will be set for the foreseeable future: USC, Stanford, Navy and five against ACC opponents. The Irish have already canceled their series with Michigan from 2015 on, leaving the status of the Michigan State and Purdue series up in the air.
Both of you make fair points: The Boilermakers, frankly, need Notre Dame more than Notre Dame needs them, and the Spartans already have quite the nonconference slate on-deck in the coming years.
Where does this leave the Irish?
Some will argue that the program gets whatever it wants, whenever it wants and, like Adam alluded to, should be left alone. But there is no denying that this program moves the needle, especially when playing Big Ten teams.
Every Notre Dame game at a Big Ten stadium since its Sept. 20, 2008, tilt at MSU has been in prime time, save for a 2009 game at Michigan ... which just began playing home night games in 2011, the only two of which were scheduled against Notre Dame.
But there is history to be saved in these series, and efforts from all sides should be made to keep these two, along with the Michigan one, going on a rotating basis. Notre Dame has played Purdue 84 times, which is the same number of times it has played rival USC (which it is keeping on the schedule for West Coast exposure) and only two fewer times than it has played Navy (which it is keeping for history).
Notre Dame's cancellation of its series with the Wolverines was a matter of necessity for the Irish, who needed to create as much scheduling flexibility as possible. The program's series with MSU already has scheduled two-year breaks for 2014-15, 2020-21 and 2026-27. And if the Purdue series does not match up with when the Boilers will play five Big Ten home games and five Big Ten road games, I'm sure smart men like Burke and Jack Swarbrick can get creative, though the onus should fall primarily on Burke.
The irony should not be lost: In keeping with a true national schedule and bringing its brand to different parts of the country, Notre Dame cannot abandon its Midwestern home.
September, 25, 2012
9/25/12
7:26
PM CT
Notre Dame just got finished dusting off three straight Big Ten teams, beating Purdue, Michigan State and Michigan in order. It was an impressive run but one that might not be possible again in the near future.
The Irish have notified Michigan that they are
opting out of their games
against the Wolverines from 2015 to 2017, the Associated Press first reported Tuesday. The two schools were already scheduled to take a hiatus in 2018-19. That means we won't see a Michigan-Notre Dame game for at least five straight years after 2014 and maybe longer, as nothing beyond that is guaranteed.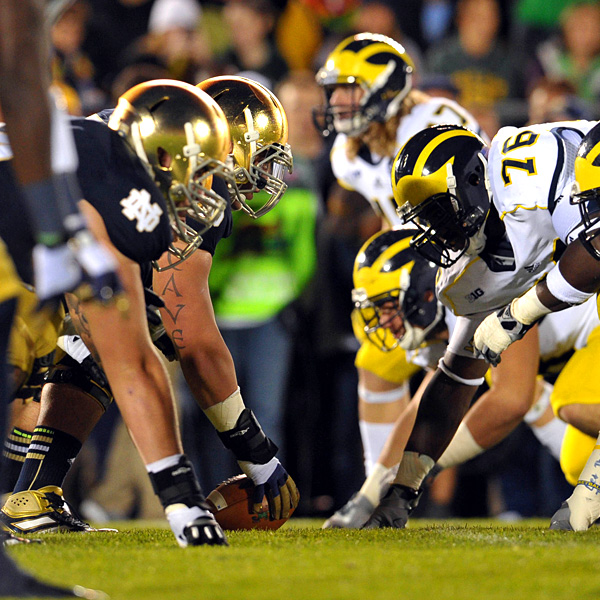 Matt Cashore/US PresswireNotre Dame has notified Michigan that it is exercising a three-year out in their series contract.
This is about more than just Michigan, though. This signals a new era in the Notre Dame-Big Ten relationship. Michigan State and Purdue both have cherished series against the Golden Domers that are no longer safe.
The Irish are clearly moving in a new direction. They recently joined the ACC in all sports but football while agreeing to play five football games per year against ACC teams. With Notre Dame wanting to keep Stanford, USC and Navy on the schedule and desiring to play in major recruiting areas, their need to face three Big Ten teams every year has diminished significantly.
For Michigan, it's a loss but not a crippling one. The Wolverines lose a regional rival, but playing Notre Dame doesn't carry nearly the cachet that it once did. Michigan fans don't live and die by this game like they do Ohio State. Fans will miss it, but they probably won't yearn for it.
In fact, they might not even notice if athletic director Dave Brandon replaces Notre Dame with high-profile games like this year's opener against Alabama. Michigan has already scheduled Pac-12 opponents Utah, Colorado and Oregon State for the near future. Brandon will have to scramble a bit to fill holes in the '15 and '16 schedules because many agreements are signed years in advance. Hopefully, though, the maize-and-blue use this opportunity to play marquee matchups, because that's what a program of this magnitude ought to do, especially with strength of schedule likely a large component of the forthcoming playoff structure. Brandon is a bold-enough thinker to recognize this.
The Spartans have a deal with Notre Dame that extends through 2031, although it's unknown what kind of out clauses the Irish have in that contract. Last week, Michigan State athletic director Mark Hollis
told MLive.com
, "Everything's not up to them. What's up to them is to make a request to alter the contract, and once they make that request, then it will be up to us on how we want to respond."
Hollis already has some big-time games on the future docket, including Oregon (2014 and 2015), Alabama (2016 and '17) and Miami ('20, '21). The Spartans played Boise State this year and will continue that series. They will play a strong schedule regardless, but the Notre Dame series has been good for them on the whole, especially when you consider that their top rival, Michigan, does not view them the same way.
Purdue is the team that should be really nervous here. The Boilermakers really value their in-state rivalry against Notre Dame and love the exposure it brings for a program that sometimes struggles to attract attention. You get the feeling athletic director Morgan Burke would schedule the Irish twice a year if he could.
But the Purdue series does little to benefit Notre Dame except that it is a very manageable road trip in odd years. It doesn't help Irish recruiting efforts or create much of a stir outside of northern Indiana. If Notre Dame truly wants to start being more of a coastal program, then there's little reason for it to play Purdue every year. While the Boilers will do everything they can to keep the series going, they shouldn't be surprised to see a Dear John letter from South Bend arriving in their mailbox soon.
Notre Dame didn't want to join the Big Ten, and the Big Ten would never have agreed to the kind of one-foot-in, one-foot-out arrangement the Irish made with the ACC. So both parties will move in different directions.
The Notre Dame games have been mostly beneficial for the conference, but in years when the Irish weren't that good, they dragged down the nonconference schedules. This year, they handed the Big Ten three losses. Today's news isn't necessarily No. 4.
February, 14, 2012
2/14/12
11:22
AM CT
This might shock some of you, but head football coaches don't always do their own tweeting.
Northwestern's Pat Fitzgerald usually controls the content on
his Twitter account
, but his director of football operations, Cody Cejda, also posts from time to time. Cejda also has his personal Twitter account.
The tangled Web of social media landed Fitzgerald and Northwestern in some hot water during the weekend. After New York Knicks sensation Jeremy Lin led his team to a win against the Los Angeles Lakers on Friday night, a tweet appeared on Fitzgerald's page stating: "Officially on the Jeremy Lin bandwagon. There's finally an NBA player who plays hard and says the right things off the court."
Some saw the complimentary tweet toward Lin as a shot at the rest of the NBA. A few thought it was racist. The fact it came from a coach who works about 15 miles North of where Derrick Rose works his magic with the Chicago Bulls looked especially bad. Isn't Northwestern supposed to "Chicago's Big Ten team?"
Although Michigan State athletic director Mark Hollis appeared to
concur with the tweet
, the Pat-Fitzgerald-Hates-Derrick-Rose buzz
began to build
.
Turns out, the tweet came from Cejda, not Fitzgerald. According to Northwestern, Cejda meant to post the tweet on his personal account but hit the button for Fitzgerald's page. The tweet was quickly removed, but in this day and age, it's too late.
"The tweet was meant as a compliment to Lin and not in disrespect to anyone," associate director of athletic communications Doug Meffley told the Chicago Sun-Times. "Fitz is a huge Derrick Rose fan."
Fitzgerald has voiced his praise for Chicago teams before on Twitter, especially his
beloved Chicago White Sox
. But for the most part, he keeps the tweets Northwestern-specific.
Probably should keep it that way going forward.