Chicago Colleges:

Marquette
August, 3, 2012
8/03/12
1:54
PM CT
Simeon senior guard Kendrick Nunn, an ESPN 100 recruit, released Friday a list of five schools he was considering to attend -- in alphabetical order, they are Illinois, Marquette, Memphis, Ohio State and UCLA.
Read the entire story.
February, 27, 2012
2/27/12
1:18
PM CT
The struggles of DePaul and Illinois in recent years have been largely blamed on their in-state recruiting. While both programs have attracted some Illinois players, they've struggled to sway the most significant ones and in some cases failed to project players who became stars.
Here are my top 100 players the state has produced since 2003, which spans Illinois coach Bruce Weber's career and that of three DePaul coaches. The criteria for this list included success in college and the pros for the older players and ability and potential for the younger ones.
1. Derrick Rose (Memphis, Class of 2007):
DePaul and Illinois were said to be in the mix, but neither seemed to have a real chance. Rose wanted a shot at a national championship in his one year in college. Memphis lost in the national championship game in that one season, and the Tigers later had to vacate the season due to NCAA violations -- some of which had to do with Rose. He was the No. 1 pick by the
Chicago Bulls
in 2008 and is the reigning NBA MVP.
[+] Enlarge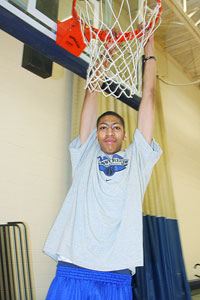 Scott Powers/ESPNChicago.comAnthony Davis was rated as the nation's top recruit in the Class of 2011.
2. Anthony Davis (Kentucky, 2011):
Davis mentioned DePaul for a bit and Illinois tried to get involved like everyone else, but John Calipari trumped everyone again. Davis has all but locked up honors as the top freshman and top defender in the college ranks. He also is a leading candidate to be named National Player of the Year. Kentucky is the No. 1 team in the country, and Davis is expected to be the No. 1 pick in the 2012 NBA draft.
3. Evan Turner (Ohio State, 2007):
DePaul and Illinois offered Turner, but Ohio State won out. Turner was undervalued nationally coming out of high school, but he was the second-best player in the state's Class of 2007 next to Rose. After being named the Big Ten player of the year as a junior, Turner was drafted No. 2 in the 2010 draft and averages 8.4 points and 5.7 rebounds for the
Philadelphia 76ers
.
4. Shaun Livingston (Duke, 2004):
Livingston chose Duke over Illinois and Arizona, but ended up entering the NBA draft instead. He was taken No. 4 overall by the
Los Angeles Clippers
. He suffered a career-changing knee injury in 2007 and is now a role player for the
Milwaukee Bucks
.
5. Shannon Brown (Michigan State, 2003):
Brown was already committed to Tom Izzo by the time Weber took over at Illinois. Brown started nearly every game of his three-year career at Michigan State. He was taken in the first round of the 2006 NBA draft. He averages 8.7 points for the
Phoenix Suns
.
6. JaVale McGee (Nevada, 2006):
McGee played his senior year in Chicago and didn't receive a whole lot of interest. Northwestern recruited him, and he signed with Nevada. He spent two years at Nevada and was selected in the 2008 NBA draft. He now starts for the
Washington Wizards
and is averaging 12.0 points, 8.8 points and 2.7 blocks.
7. Julian Wright (Kansas, 2005):
Bill Self swooped in and convinced Wright to commit to Kansas during a home visit. Wright was thought to be heavily considering DePaul and Illinois. He spent two years at Kansas before being picked No. 13 in the 2007 NBA draft. He last played in the NBA in 2011.
8. Wayne Blackshear (Louisville, 2011):
Blackshear included DePaul and Illinois on his list, but Louisville was the team to beat after he visited there. He just recently began playing for Louisville after suffering an injury prior to the season. He's expected to be a future NBA player.
9. Iman Shumpert (Georgia Tech, 2008):
Shumpert eliminated Illinois before his final list. He chose Georgia Tech over Marquette and North Carolina. Shumpert led Georgia Tech in scoring, rebounding and assists his junior season. He left school early and was drafted No. 17 in the 2011 NBA draft. He's started 17 games in his rookie season for the
New York Knicks
.
[+] Enlarge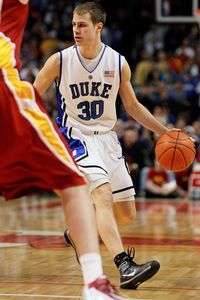 Jonathan Daniel/Getty ImagesJon Scheyer averaged 14.4 points per a game and started three of his four seasons at Duke.
10. Jon Scheyer (Duke, 2006):
Scheyer came down to Duke and Illinois, and the lure of Coach K and the Blue Devils' storied program won out. Scheyer won a national championship as a senior. He averaged double-digit points throughout his career and is now playing overseas.
11. Sherron Collins (Kansas, 2006):
Collins chose Kansas and former Illinois coach Self over the Illini. Collins' class won 130 games and a national championship in his four years at Kansas. Collins was among the top guards in the country his last two seasons and is now playing overseas.
12. Meyers Leonard (Illinois, 2010):
The Illini were on Leonard as early as anyone, and he awarded them with his commitment. He was ranked No. 47 overall in the Class of 2010 by ESPN. He's blossomed as a sophomore for Illinois and is expected to be a future lottery pick. He could be among the nation's premier college players if he stays for another season.
13. Jereme Richmond (Illinois, 2010):
Richmond committed to the Illini as a freshman. He wavered in his commitment at times, but remained loyal to the Illini. He showed glimpses of his potential as a freshman, but his first year at Illinois was defined by its rockiness. He entered the NBA draft after one year and was not selected. He was later arrested for gun charges. Richmond is now playing for the Sauk Valley Predators of the Premier Basketball League.
14. Jerel McNeal (Marquette, 2005):
McNeal chose Marquette over Dayton and Purdue. Despite being one of top players in the Chicago area, McNeal wasn't highly touted nationally. He is Marquette's career leader in points and steals. He is now playing overseas.
15. Jacob Pullen (Kansas State, 2007):
Pullen had considered Illinois, but decided on Kansas State. Pullen was a star in the Big 12 during his final seasons at Kansas State. He averaged 19.2 and 20.2 points in his last two years. He is now playing overseas.
16. Ryan Boatright (Connecticut, 2011):
Boatright committed to USC as a freshman, later committed West Virginia and finally ended up at Connecticut. He wasn't given much national respect out of high school, but he was the best high school player in the Chicago area last season. He's now starting as a freshman for the Huskies.
17. Jeremy Pargo (Gonzaga, 2005):
Pargo also considered Illinois during his recruiting process. He had a memorable career at Gonzaga and is now a backup guard for the
Memphis Grizzlies
.
18. Demetri McCamey (Illinois, 2007):
McCamey was outshined by high school teammate Evan Turner his senior season, but was still among the state's top players. McCamey was a four-year starter for the Illini and earned all-conference honors his final three seasons. He is now playing overseas.
19. Patrick Beverley (Arkansas, 2006):
Illinois was in the mix for Beverley. He starred at Arkansas for two seasons before being suspended and then leaving the team. He was selected in the 2009 NBA draft and is now playing overseas.
20. DeAndre Liggins (Kentucky, 2008):
Liggins played his final high school season at an out-of-state prep school. Liggins started for Kentucky his junior year and helped the Wildcats to the Final Four. He entered the draft early and was taken in the second round in 2011. He plays for the
Orlando Magic
.
[+] Enlarge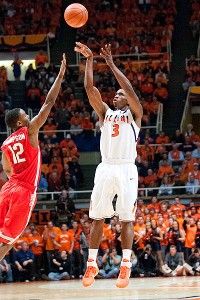 Bradley Leeb/US PresswireGurnee native Brandon Paul averages 14.7 points a game for Illinois and had a 43-point game earlier this season.
21. John Shurna (Northwestern, 2008):
Shurna wasn't highly recruited and fell into Northwestern's lap. He recently became the school's all-time leading scorer. He has a shot at being drafted after this season.
22. Brandon Paul (Illinois, 2009):
Paul was the state's top high school player in 2009, but didn't receive a lot of national recruitment. Paul was erratic his first two years at Illinois, but has taken strides to becoming a star this year. He has NBA potential.
23. Michael Dunigan (Oregon, 2008):
Dunigan, a McDonald's All-American, and his AAU teammate
Matt Humphrey
were considering Illinois, but opted to attend Oregon together. Dunigan left Oregon after two seasons and has been playing overseas since.
24. Mac Koshwal (DePaul, 2007):
Koshwal was ranked as high as No. 18 in the Class of 2007 by one scouting service. Koshwal was near a double-double throughout his career at DePaul. He left after his junior season and was not drafted.
25. Bobby Frasor (North Carolina, 2005):
Frasor, a McDonald's All-American, picked North Carolina over Stanford. Injuries derailed his career, but Frasor was still a role player for the Tar Heels and helped them to a national championship. He recently retired from playing overseas to pursue a coaching career.
The next 10
26. Jamarcus Ellis:
Junior college, Indiana, 2004
27. Stefhon Hannah:
Junior college, finished at Missouri, 2004
28. Jerome Randle:
California, 2006
29. Michael Thompson:
Northwestern, 2007
30. Chasson Randle:
Stanford, 2011
31. Tracy Abrams:
Illinois, 2011
32. Drew Crawford:
Northwestern, 2009
33. Jack Cooley:
Notre Dame, 2009
34. D.J. Richardson:
Illinois, 2009
35. Lenzelle Smith Jr.:
Ohio State, 2010
Next 65*
•
Maurice Acker:
Ball State, finished at Marquette, 2005
•
Joseph Bertrand:
Illinois, 2009
•
Ben Brust:
Wisconsin, 2010
•
Calvin Brock:
Illinois, 2004
•
Brian Carlwell:
2006, Illinois, finished at San Diego State
•
Joevan Catron:
2006, Oregon
•
Justin Cerasoli:
2004, Seton Hall, finished at Loyola
•
Bill Cole:
2007, Illinois
•
D.J. Cooper:
2009, Ohio
•
Jamee Crockett:
2011, DePaul
•
Justin Dentmon:
2004, Washington
•
Kevin Dillard:
2008, Southern Illinois, now at Dayton
•
Dion Dixon:
2008, Cincinnati
•
Alex Dragicevich:
2011, Notre Dame
•
Osiris Eldridge:
2006, Illinois State
•
Brandon Ewing:
2005, Wyoming
•
Nnanna Egwu:
2011, Illinois
•
Myke Henry:
2011, Illinois
•
Colin Falls:
2003, Notre Dame
•
Carlton Fay:
2007, Southern Illinois
•
Tony Freeman:
2005, Iowa, finished at Southern Illinois
•
Reggie Hamilton:
2007, now at Oakland
•
Crandall Head:
2008, Illinois, now at a junior college
•
Matt Humphrey:
2008, Oregon, now at Boston College
•
Lewis Jackson:
2008, Purdue
•
Othyus Jeffers:
2003, junior college, finished at NAIA
•
Aaron Johnson:
2007, UAB
•
Anthony Johnson:
2010, Purdue
•
Jeremy Jones:
2009, junior college, now at Kansas State
•
Lazeric Jones:
2008, junior college, now at UCLA
•
Roosevelt Jones:
2011, Butler
Verdell Jones: 2008, Indiana
•
Frank Kaminsky:
2011, Wisconsin
•
Jeremiah Kelly:
2008, DePaul
•
Robert Kreps:
2007, UIC
•
Mario Little:
2006, junior college, finished at Kansas
•
Kevin Lisch:
2005, Saint Louis
•
Sam Maniscalco:
2007, Bradley, now at Illinois
•
Dameon Mason:
2003,Marquette, finished at LSU
•
Richard McBride:
2003, Illinois
•
Mike McCall:
2010, Saint Louis
•
Chas McFarland:
2006, Wake Forest
•
Charles McKinney:
2011, DePaul
•
Trent Meacham:
2004, Dayton, finished at Illinois
•
Nate Minnoy:
2005, Purdue, finished at NAIA
•
Bryan Mullins:
2005, Southern Illinois
•
Jeremy Nash:
2006, Northwestern
•
Cully Payne:
2008, Iowa, now at Loyola
•
Shaun Pruitt:
2004, Illinois
•
Jason Richards:
2004, Davidson
•
Brian Randle:
2003, Illinois
•
Rayvonte Rice:
2010, Drake
•
Justin Safford:
2007, Missouri
•
Matt Shaw:
2004, Southern Illinois
•
Mike Shaw:
2011, Illinois
•
Stan Simpson:
2008, Illinois, now at Memphis
•
Jamar Smith:
2005, Illinois, finished at Southern Indiana
•
Ahmad Starks:
2010, Oregon State
•
David Sobolewski:
2011, Northwestern
•
Mike Stovall:
2007: Oregon State, finished at DePaul
•
Sam Thompson:
2011, Ohio State
•
Mike Tisdale:
2007, Illinois
•
DeAndre Thomas:
2005, junior college, later at Indiana
•
Willie Veasley:
2006, Butler
•
Will Walker:
2006, DePaul
* In alphabetical order
April, 27, 2011
4/27/11
8:06
PM CT
Jerel McNeal's professional basketball career has hit more bumps than he would have anticipated two years into it.
His adversities began from the start with the NBA draft on June 25, 2009, which he calls was one of the hardest days of his life. Coming off a solid senior season at Marquette, McNeal was confident his name would be one of the 60 announced that evening. He sat in front of his television and waited for hours for a call from a team. It never came.
[+] Enlarge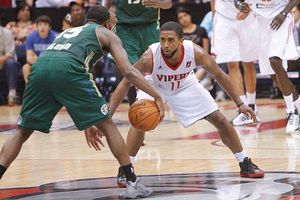 Dana/Dutch CowgillFormer Marquette star Jerel McNeal has excelled in the D-League playoffs for the Rio Grande Valley Vipers, averaging 25.8 points, 6.0 rebounds and 6.3 assists.
Crushed, McNeal ended up signing with Dexia Mons-Hainaut in Belgium. He averaged 15.3 points, 2.4 rebounds and 2.4 assists in the Ethias League, Belgium's highest level, and his future looked bright. But late in the season, he faced another trying day, and this time it was his own doing.
McNeal tested positive for marijuana, and Dexia Mons-Hainaut sent him packing. McNeal, a former Hillcrest High School star, returned home to the Chicago area, and again wasn't sure where his career was headed.
McNeal landed NBA summer league opportunities with the
Charlotte Bobcats
and
Chicago Bulls
, but his minutes were limited, and he never felt he was given a fair shot. In Las Vegas with the Bulls, he didn't play in either of the team's first two games, and he became so fed up that he departed for home.
McNeal's professional career was just over a year old, but it was already a mess, and he faced another crossroads. His choices were to go back overseas or play in the NBA Development League. Playing internationally meant more money, but the D-League presented the potential for an NBA call-up.
McNeal opted for the latter. He understood the D-League was a risk, but it was one he was willing to take.
"I felt like people knew I could play, and I knew I was good enough to play on that [NBA] level," McNeal said. "That was one of the hardest things for me -- seeing guys on NBA rosters and knowing I'm better than some of these guys."
McNeal chose wisely.
In the D-League playing for the Rio Grande Valley Vipers, he has excelled. He was among the league's most balanced players, averaging 19.4 points, 3.9 rebounds, 4.4 assists and 1.3 steals in the regular season. Now in the playoffs, he's taken it to another level, averaging 25.8 points, 6.0 rebounds and 6.3 assists and leading the Vipers into the D-League finals, which continue on Wednesday
"I feel like everything happens for a reason for me," McNeal said. "I had this opportunity to come back and make it to the NBA and prove myself. Even taking a financial hit, everything was worth it for me. I feel like this year I have proved to people who had doubts or questions I could play."
Former NFL player Tai Streets has known McNeal since his earliest basketball days. Streets coached McNeal in club basketball throughout his high school career, and one lesson he learned was never to doubt him.
"The kid doesn't take no for an answer," said Streets, who runs the MeanStreets club program. "He just puts his mind to it. All the things they say he can't get done, he gets it done. I'm one of the guys who thought he shouldn't go to Marquette. I was like, 'Man, maybe go somewhere smaller, somewhere easier than the Big East.' I was dead wrong. He was exceptional."
Just as important as McNeal's numbers this season has been his play at point guard. The one constant question about him has been whether he could play the position at the highest level. He was a 6-foot-3 shooting guard his entire career, and NBA teams needed him to be more.
McNeal has convinced Vipers coach Chris Finch this season he's capable.
"I think he's been one of the most underrated and under-the-radar guys in the D-League in terms of his production and us winning," said Finch, whose roster also includes former Illinois Mr. Basketball Jon Scheyer. "Jerel's a basketball player. He can play either guard position. He can score. He can create. We need him on the floor. We ask him to do a lot."
The Charlotte Hornets were impressed enough with McNeal's point guard play that they signed him to a 10-day contract when
Chris Paul
suffered a concussion in early March.
Just as McNeal will never forget the day of the 2009 NBA draft, his memory of receiving that phone call from the Hornets is as memorable. After overcoming so many early trials in his career, McNeal finally saw things turning his way.
"It was an unbelievable feeling for me," McNeal said. "It was probably one of the most special days in my life. After four hard years of college, I felt like I had put the work in and had the numbers to back it up. First year coming out of college, I thought it would happen, and it was a big letdown. Ever since, it's been a long, grinding road to get that point.
"For it to happen that way, I felt like I got there the hard way, but it made it that much sweeter for me. I felt like I earned it. After I got the phone call, I just sat there for awhile."
McNeal didn't see any game time during his stay with the Hornets, but he returned to the D-League confident it wouldn't be his last NBA tour. Finch agrees.
"We tell all of our guys getting to that next level is a process," Finch said. "The more teams he gets in front of, the more he can show what he can do. I really believe he has the game to play at that level."
Facing the closing days of his second professional season, McNeal is reflective of his journey so far. He has his regrets, especially what happened in Belgium, but he also has learned from those mistakes. His career has hit more bumps than he would like so far, and he's optimistic his future is bound to be smoother.
"I think it was good for me," McNeal said. "I feel like I matured a lot. It's part of being a professional. I took full ownership of it. You live and learn. You make mistakes, but it's how you react to them. That's why this year was so important to me."
October, 28, 2010
10/28/10
3:14
PM CT
CHICAGO -- ESPNU Top 100 prospect Mike Shaw, of De La Salle, committed to Illinois at a news conference on Thursday.
The 6-foot-8 Shaw chose Illinois over DePaul and Marquette. He is ranked 69th overall in the Class of 2011 and the eighth best power forward by ESPN recruiting.
Read the entire story.