Chicago Colleges:

Marquette Golden Eagles
November, 19, 2012
11/19/12
11:19
AM CT
This year marks the 30th anniversary of the game that tiny Chaminade (then an NAIA school) upset Ralph Sampson's top-ranked Virginia team on Dec. 23, 1982 -- leading to the creation of the Maui Classic (now EA Sports Maui Invitational). Because there are plenty of teams in the field with plenty of question marks and plenty to prove, there may be plenty of room for an upset or two this season.
The basics:
Nov. 19-21 at Lahaina Civic Center in Maui, Hawaii
The set matchups:
Monday -- Butler vs. Marquette, 3:30 p.m. ET; Mississippi State vs. UNC, 6 p.m.; Texas vs. Chaminade, 9:30 p.m.; USC vs. Illinois, midnight. (Consolation games and semifinals on Tuesday; consolation games and championship game Wednesday.)
The favorite:
North Carolina.
Although the 11th-ranked Tar Heels are still getting their bearings after losing four starters from last season's Elite Eight team, they've got some talented pieces to meld together, beginning with sophomore forward
James Michael McAdoo
and junior wing
Reggie Bullock
. This three-day tournament will be an important test, though, for UNC's ballhandling (freshman
Marcus Paige
is the starter), scoring (it has struggled in stretches) and confidence. If any falter, so could the Heels.
FIVE PLAYERS TO WATCH
Javan Felix, Texas
-- With
Myck Kabongo
sidelined (see below), the point guard is one of three freshmen to start for the Longhorns. He's struggled with his shooting over two games (5-for-18), but even more worrisome is that he's struggled to hold on to the ball. He recorded 11 turnovers to go with 10 assists in wins over Coppin State and Fresno State, and he'll need to be more efficient this week.
Trent Lockett, Marquette
-- The former Arizona State forward transferred to be closer to his ill mother and adds a scoring threat to a team that lost last season's leading scorers, Darius Johnson-Odom and Jae Crowder. After averaging 13 points and 5.8 rebounds for the Sun Devils last season, he's averaged 7.5 points and 4.5 rebounds this season.
[+] Enlarge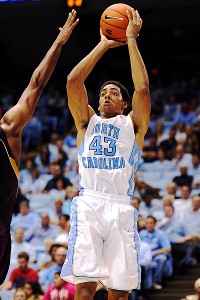 Cal Sport Media via AP ImagesJames Michael McAdoo has been the leading scorer and rebounder for the Tar Heels in each of their games so far.
James Michael McAdoo, UNC
-- Everyone wondered whether the sophomore could consistently pick up where he left off in March -- and he has. The forward has been both confident and focused, and is leading the Tar Heels with 21.3 points and 11 rebounds per game over their first three wins. With his team's inexperience in the post, he'll need to continue to come up big for UNC to be successful.
Omar Oraby, USC
-- The 7-foot-2, 260-pound transfer from Rice was granted an NCAA hardship waiver to play this season just before the regular-season opener, and he has taken advantage of the opportunity. He averaged 10.5 points, 6.5 rebounds and 1.5 blocks off the bench in the Trojans' two wins and should be a physical post challenge for foes in this tournament.
D.J. Richardson, Illinois
-- The senior guard capped a 16-point rally with a buzzer-beating 3-pointer in overtime to top Hawaii 78-77 in the wee hours of Saturday morning. You might not have seen the play, considering the late timing. But the team's leading rebounder (5.7 per game) and third-leading scorer (11.0) needs to keep coming up big for the Illini to stay in the winner's bracket.
FIVE BIG QUESTIONS
Will Myck Kabongo do anything more than watch?
Texas' sophomore point guard was allowed to travel with the team to Hawaii, but he has not been cleared to play as the NCAA continues to investigate him for possibly receiving impermissible benefits during the offseason. His status could be a difference-maker in this tournament.
Will Butler start connecting from the outside?
Arkansas transfer
Rotnei Clarke
and freshman
Kellen Dunham
were supposed to help fix Butler's outside shooting woes from a year ago, when the Bulldogs shot worse than 30 percent from beyond the 3-point arc. But the duo are a combined 10-for-28 in two games (including 2-for-10 in a 15-point loss to Xavier) on 3-pointers, and the Bulldogs are shooting only 31 percent from long distance.
Can Mississippi State stay healthy?
It needs to, because the Bulldogs have only six healthy scholarship players with which to play three games in three days. Junior guard
Jalen Steele
, who recorded 16 points in MSU's season-opening loss, broke his wrist in the team's win over Florida Atlantic. The Bulldogs also suspended forward
Colin Borchert
last week for violating team rules, and freshmen
Jacoby Davis
and DeAndre Applewhite are also out for the season with knee injuries.
Can UNC keep its shooting sharp?
The Tar Heels, who need outside shooting to be a strength, finally started hitting from the outside during Friday night's win at Long Beach State, making 10 of 27 3-pointers, including six during a pivotal 23-7 second-half run. That was after beginning the season by making only a combined 7 of 27 3-point shots in their first two games. Wings Reggie Bullock,
P.J. Hairston
and
Leslie McDonald
need to keep connecting.
Will Chaminade pull another upset?
Probably not. But on the 30th anniversary, it's fun to wonder whether the now-Division II school could do it again ....
THE PICKS
Opening games: Marquette over Butler, UNC over Mississippi State, Texas over Chaminade, Illinois over USC
Semifinals: UNC over Marquette, Texas over Illinois
Championship game: UNC over Texas
October, 11, 2012
10/11/12
2:13
PM CT
This week, ESPN.com is breaking down the nonconference schedules of each and every team in a dozen of nation's top leagues. On Monday, we began with the
ACC
,
SEC
and
C-USA
. We started Tuesday with the
A-10
and now it's off to the Big East ...

CINCINNATI
Toughest:
Global Sports Invitational (Nov. 23-24 in Las Vegas)
Next-toughest:
Alabama (Dec. 1), vs. Marshall (Dec. 15 in Charleston, W.Va.), vs. Xavier (Dec. 19 at US Bank Arena), New Mexico (Dec. 27)
The rest:
UT-Martin (Nov. 11), Mississippi Valley State (Nov. 13), North Carolina A&T (Nov. 18), Campbell (Nov. 20), Arkansas-Little Rock (Dec. 6), Maryland-Eastern Shore (Dec. 8), Wright State (Dec. 22)
Toughness scale (1-10): 5
-- The Bearcats earn a slight bump thanks to a trip to Vegas that includes a game against Iowa State and then either UNLV or Oregon. But otherwise there isn't a lot to get excited about here. Even the Crosstown Shootout has lost a little luster, moved off campus after the brawl and muted by a seriously depleted Xavier roster.

CONNECTICUT
Toughest:
vs. Michigan State (Nov. 9 in Germany), vs. NC State (Dec. 4 in NYC), Washington (Dec. 29)
Next-toughest:
Paradise Jam (Nov. 16-19), Harvard (Dec. 7)
The rest:
Vermont (Nov. 13), Stony Brook (Nov. 25), New Hampshire (Nov. 29), Maryland-Eastern Shore (Dec. 17), Fordham (Dec. 21)
Toughness scale: 8
-- Welcome to the hot seat, Kevin Ollie. Jim Calhoun has done you little in the way of a favor, leaving a Huskies team in the midst of reconstructing itself a tough schedule. The Armed Forces Classic with the Spartans on the base in Germany will be a spectacle in the best sense of the word, but followed just four days later with a not-so-easy game against perennial America East contender Vermont. And that's just the first week. There's also a preseason top-10 team in NC State and a decent field in the Virgin Islands that includes New Mexico and several dangerous mid-majors.

DEPAUL
Toughest:
Cancun Challenge (Nov. 20-21)
Next-toughest:
at Arizona State (Dec. 12)
The rest:
UC Riverside (Nov. 9), Gardner-Webb (Nov. 15), Austin Peay (Nov. 17), Fairfield (Nov. 27), at Auburn (Nov. 30), at Chicago State (Dec. 5), Milwaukee (Dec. 9), Northern Illinois (Dec. 16), UMBC (Dec. 22), Loyola-Chicago (Dec. 29)
Toughness scale: 2
-- There's a rationale here that's understandable. DePaul has to walk before it can run and frontloading an impossible schedule will do no good for a team still trying to crawl its way up the Big East standings. But maybe a little something to move the needle wouldn't be a bad idea. The Cancun event is about it and that offers up retooling Wichita State and either Iowa or Western Kentucky.

GEORGETOWN
Toughest:
vs. Florida (Nov. 9 in Jacksonville), Legends Classic (Nov. 19-20 in Brooklyn, N.Y.)
Next-toughest:
Tennessee (Nov. 30), vs. Texas (Dec. 4 in New York)
The rest:
Duquesne (Nov. 11), Liberty (Nov. 14), Mount St. Mary's (Nov. 24), Towson (Dec. 8), Longwood (Dec. 10), Western Carolina (Dec. 15), American (Dec. 22)
Toughness scale: 8
-- This schedule is potentially even better. If the Hoyas beat UCLA in Brooklyn, they'll likely take on preseason No. 1 Indiana the next day. That's after the opener against Florida and before tough games against Tennessee and Texas. Georgetown, looking for a second straight better-than-expected season, will be well-tested by the beginning of December. If they aren't beaten up or beaten down, the Hoyas will come out the stronger for it in time for Big East play.

LOUISVILLE
Toughest:
Battle 4 Atlantis (Nov. 22-24), at Memphis (Dec. 15), Kentucky (Dec. 29)
Next-toughest:
Illinois State (Dec. 1), vs. Western Kentucky (Dec. 22 in Nashville)
The rest:
Manhattan (Nov. 11), Samford (Nov. 15), Miami-Ohio (Nov. 18), at Charleston (Dec. 4), UMKC (Dec. 8), Florida International (Dec. 19)
Toughness scale: 8
-- The beauty in this schedule is what you don't see -- namely the Battle 4 Atlantis schedule after the first-round date with Northern Iowa. Missouri, Stanford, Memphis, VCU, Duke and Minnesota round out the field of heavy hitters, all of whom will give the top-5 Cards plenty to handle. And the date with Kentucky is always a nice friendly little waltz, too.

MARQUETTE
Toughest:
vs. Ohio State (Nov. 9 in Charleston, S.C.), Maui Invitational (Nov. 19-20), at Florida (Nov. 29), Wisconsin (Dec. 8)
Next-toughest:
LSU (Dec. 22)
The rest:
Colgate (Nov. 11), Southeastern Louisiana (Nov. 13), UMBC (Nov. 26), Savannah State (Dec. 15), at Green Bay (Dec. 19), North Carolina Central (Dec. 29)
Toughness scale: 8
-- Another schedule with a hidden gem -- that would be a potential tango with North Carolina in Maui. But only if the Golden Eagles get past Butler, no easy task. Even without that, though, Buzz Williams has set his team up nicely, with not just some big names but a good mix of contrasting styles -- from uptempo Florida to no-tempo Wisconsin. You can even forgive Marquette for its dose of supposed 'easy' games. There's enough heft here, including that opener against the Buckeyes, to excuse any number of softies.

NOTRE DAME
Toughest:
CVC Classic (Nov. 16-17 in Brooklyn, N.Y.), Kentucky (Nov. 29)
Next-toughest:
vs. Purdue (Dec. 15 in Indianapolis)
The rest:
Evansville (Nov. 10), Monmouth (Nov. 12), George Washington (Nov. 21), St. Francis-Pa. (Nov. 24), Chicago State (Nov. 26), Brown (Dec. 8), IPFW (Dec. 17), Kennesaw State (Dec. 19), Niagara (Dec. 21)
Toughness scale: 5
-- It's not awful -- and it could get better, with Florida State perhaps waiting in the wings in Brooklyn (ND opens with A-10 favorite St. Joe's there) -- but this isn't exactly the same as the Irish's football schedule. Yes, Kentucky coming to town for the SEC/Big East Challenge is a great feather in the cap, but there are too many teams here that aren't guaranteed NCAA tournament selections to get hyped up about.

PITTSBURGH
Toughest:
NIT Season Tip-Off (Nov. 12-23)
Next-toughest:
Detroit (Dec. 1)
The rest:
Mount St. Mary's (Nov. 9), Fordham (Nov. 12), Oakland (Nov. 17), Howard (Nov. 27), vs. Duquesne (Dec. 5 at Consol Energy Center), North Florida (Dec. 8), Bethune Cookman (Dec. 15), Delaware State (Dec. 19), Kennesaw State (Dec. 23)
Toughness scale: 3
-- Yikes. This is a whole lotta meh for the Panthers. The NIT will help. Assuming they beat Fordham and/or Robert Morris or Lehigh (the latter of which won't be easy), a trip to MSG will likely produce a matchup with Michigan and either Virginia or Kansas State. The rest is pretty grim, but then again so was Pitt last season. It might be not be a bad way to go about the season.

PROVIDENCE
Toughest:
Puerto Rico Tip-Off (Nov. 15-18)
Next-toughest:
Mississippi State (Dec. 1), at Boston College (Dec. 22)
The rest:
NJIT (Nov. 10), Bryant (Nov. 12), Fairfield (Nov. 23), Holy Cross (Nov. 27), Rhode Island (Dec. 6), Colgate (Dec. 18), at Brown (Dec. 28)
Toughness scale: 2
-- You almost can't fault the Friars here. It's not their fault New England basketball is a mess. If it weren't, games against Rhode Island and BC would have some heft. But truth be told, Ed Cooley ought to be sighing in relief here. Without heralded freshman Ricardo Ledo, Providence needs a little more time to build, and this schedule ought to allow for that. There might be some meat in San Juan with an opener against UMass and Tennessee and NC State in the field. But there's not much else to see here.

RUTGERS
Toughest:
at Ole Miss (Dec. 1)
Next-toughest:
at Princeton (Nov. 16), vs. Iona (Dec. 8 in NYC)
The rest:
St. Peter's (Nov. 9), Sacred Heart (Nov. 12), Boston U (Nov. 20), UNC Greensboro (Nov. 25), George Washington (Dec. 11), UAB (Dec. 16), Rider (Dec. 28)
Toughness scale: 1
-- When the toughest games you have are against the Ivy League and a middle-of-the-pack SEC contender (which was scheduled for them), there just isn't much to crow about. This is a schedule built to get Rutgers wins but not much else.

ST. JOHN'S
Toughest:
Charleston Classic (Nov. 15-18)
Next-toughest:
Detroit (Nov. 13), South Carolina (Nov. 29)
The rest:
Holy Cross (Nov. 21), Florida Gulf Coast (Nov. 24), NJIT (Dec. 1), at San Francisco (Dec. 4), Fordham (Dec. 8), vs. St. Francis-NY (Dec. 15 in Brooklyn, N.Y.), UNC Asheville (Dec. 21)
Toughness scale: 4
-- The Red Storm could get a bump in Charleston, where they open with the home-team Cougars and could draw Murray State in the second round and maybe Baylor or Colorado down the road. So that's not awful. But otherwise Steve Lavin has a manageable -- if not entirely easy -- reentry into his coaching career, as does his young roster.

SETON HALL
Toughest:
Hall of Fame Tipoff Classic (Nov. 17-18 in Uncasville, Conn.)
Next-toughest:
at LSU (Nov. 29), at Wake Forest (Dec. 8), vs. LIU-Brooklyn (Dec. 22 in Brooklyn, N.Y.)
The rest:
UMKC (Nov. 9), Norfolk State (Nov. 12), Maine (Nov. 21), St. Peter's (Nov. 25), NJIT (Dec. 4), North Carolina A&T (Dec. 15), Longwood (Dec. 19), Stony Brook (Dec. 28)
Toughness scale: 3
-- This could get better if the Pirates play Ohio State at Mohegan Sun (that would require a win over Washington) and would have been better if Wake Forest was what Wake Forest used to be. But going by the "play the hand you're dealt" adage, Seton Hall is holding a pair of 3s at best.

SOUTH FLORIDA
Toughest:
at Oklahoma State (Dec. 5)
Next-toughest:
UCF (Nov. 10), George Mason (Dec. 29), at UCF (Jan. 2)
The rest:
Maryland-Eastern Shore (Nov. 16), Loyola-Chicago (Nov. 17), Western Michigan (Nov. 18), Bradley (Nov. 20), at Stetson (Nov. 26), Youngstown State (Dec. 18), Bowling Green (Dec. 21)
Toughness scale: 3
-- The Bulls had to fight and pray to make it into the NCAA tournament a season ago, a serious bubble team until the Big East tournament. This schedule won't do much to make March easier should USF be successful again. There's just enough here to turn the committee's head, so it will be up to the Big East slate to make South Florida viable.

SYRACUSE
Toughest:
vs. San Diego State (Nov. 9 at Battle of the Midway), vs. Temple (Dec. 22 in NYC)
Next-toughest:
Princeton (Nov. 21), at Arkansas (Nov. 30), Long Beach State (Dec. 6), Detroit (Dec. 17)
The rest:
Wagner (Nov. 18), Colgate (Nov. 25), Eastern Michigan (Dec. 3), Monmouth (Dec. 8), Canisius (Dec. 15), Alcorn State (Dec. 29), Central Connecticut State (Dec. 31)
Toughness scale: 6
-- I'm done with arguing the merits of Jim Boeheim's schedule because he always wins. He wins games, lots of them, and he wins the argument, quieting the scheduling critics (present company included) with deep March runs. This isn't awful, but it's not saliva-inducing wonderful either. So what? It will work. Just watch.

VILLANOVA
Toughest:
2K Sports Classic (Nov. 15-16), Temple (Dec. 5)
Next-toughest:
Marshall (Nov. 11), at Vanderbilt (Dec. 1), Saint Joseph's (Dec. 11)
The rest:
Columbia (Nov. 20), at La Salle (Nov. 25), at Penn (Dec. 8), Delaware (Dec. 16), at Monmouth (Dec. 22), NJIT (Dec. 28)
Toughness scale: 4
-- The 2K Sports Classic, with Purdue as the opener and either Alabama and Oregon State in the second game, raises the bar slightly and the chronically hard-to-win Big 5 games help, too, especially now that some of those teams have life again. But this is by no means the most menacing schedule Jay Wright has ever concocted for his team. Which might be wise. The Wildcats, remember, were not exactly the most menacing team a season ago.
July, 26, 2012
7/26/12
11:09
AM CT
Tournament bracket
for the EA SPORTS Maui Invitational
When and where:
Nov. 19-21 at Lahaina Civic Center in Maui, Hawaii
Initial thoughts:
This year marks the 30th anniversary of what many consider the greatest upset in college basketball history -- when tiny Chaminade, then an NAIA school, upset Ralph Sampson's top-ranked Virginia team on Dec. 23, 1982. The stunning upset (in what was supposed to be an easy stopover game for the Cavaliers, on their way home from Tokyo) spurred creation of the Maui Classic, now known as the EA Sports Maui Invitational. Chaminade, now a Division II school, still serves as host, and it will be interesting to see if there is a surprise or two this season. After all, North Carolina will still be rejiggering its lineup after losing four starters to the NBA draft; Texas has to figure out how to replace J'Covan Brown's 20.1 ppg; and Marquette will still be looking to see which members of last season's supporting cast will step up and stand out without
Jae Crowder
and
Darius Johnson-Odom
.
[+] Enlarge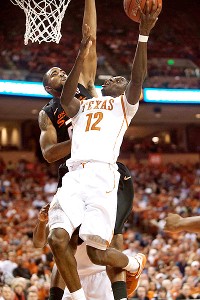 Brendan Maloney/US PresswireSophomore point guard Myck Kabongo will direct a talented group of freshmen at Texas.
Meanwhile, Illinois (John Groce) and Mississippi State (Rick Ray) will be breaking in new coaches; USC's Kevin O'Neill will be melding a passel of new players (including a couple of transfers and a couple of guys sidelined by injuries last season); and Butler will be trying to prove it can shoot the ball a whole lot better than 2011-12 (28 percent on 3-pointers). Chaminade, by the way, holds an all-time record of 6-76 in this tournament.
Matchup I can't wait to see:
Illinois-USC could be interesting just because everything is so new. After losing 12 of its final 14 games, Illinois fired Bruce Weber and replaced him with Groce, who led Ohio to the Sweet 16 in March. USC is also coming off a bad season, having won only one conference game. But a couple of transfers from Wake Forest (Ari Stewart and
J.T. Terrell
) and a high-scoring forward from UC Irvine (Eric Wise), plus the return of point guard
Jio Fontan
and center Dewayne Dedmon from knee injuries, have folks wondering if the Trojans can bounce back all the way to March.
Potential matchup I'd like to see:
UNC-Texas. Granted, these two are scheduled to play in Austin on Dec. 19, but why not a preview in paradise? The title game would feature a bunch of rookie big men --
Joel James
and
Brice Johnson
for UNC;
Cameron Ridley
,
Prince Ibeh
and
Connor Lammert
for Texas -- with a chance to make a big impact.
Five players to watch
Vander Blue, Marquette:
It's hard to get a whole lot of attention when you're in a starting lineup with guys like Jae Crowder and Darius Johnson-Odom. But now that they've gone to the NBA, the Golden Eagles need the junior to improve upon his 8.4 points and 4.4 rebounds from last season.
Rotnei Clarke, Butler:
The Bulldogs are hoping the senior guard -- who sat out last season per NCAA transfer rules -- will add some accuracy from outside. He averaged 15.2 points and made 43.8 percent of his 3-pointers during his junior season at Arkansas before opting out. Butler made fewer than 30 percent of its 3-point shots last season.
Myck Kabongo, Texas:
The Longhorns bring in a deep recruiting class, led by heralded center Cameron Ridley. But they'll need Kabongo, a sophomore point guard, to get him the ball. And to be a strong leader to the newbies.
Marcus Paige, North Carolina:
Whether the freshman point guard begins the season as a starter probably depends on how well senior
Dexter Strickland
has recuperated from February ACL surgery. Either way, the Iowa product (who also had foot surgery during the offseason) will be counted on to contribute quickly. And a lot.
J.T. Terrell, USC:
Trojans coach Kevin O'Neill is excited about the addition of Terrell, and the 6-3 guard will get a chance to show why. He averaged 11.1 points and 1.6 assists at Wake Forest in 2010-11, but played at Peninsula College in Washington last season. Terrell withdrew from Wake after he was arrested last September and charged with driving while impaired.
Title-game prediction
North Carolina over Texas. The Tar Heels preceded their last two national championships by winning the Maui Invitational. And although they don't have that caliber of a team this season, they do have some talented returning veterans (Dexter Strickland,
Leslie McDonald
,
Reggie Bullock
) already out to prove they are being overlooked.
Who others are picking:
Eamonn Brennan:
Butler over Texas
Andy Katz:
North Carolina over Texas
Jason King:
North Carolina over Texas
Myron Medcalf:
North Carolina over Texas
Dana O'Neil:
North Carolina over Texas
June, 18, 2012
6/18/12
10:24
PM CT
The
DePaul
-
Marquette
rivalry got even more interesting Monday as Marquette named former DePaul head coach Jerry Wainwright as its director of basketball operations.
Wainwright spent 4 ˝ seasons at DePaul and compiled a 59-80 overall and 20-51 Big East record before being fired by the Blue Demons on Jan. 11, 2010.
"We are very grateful to add coach Wainwright as the final member of our staff," Marquette coach Buzz Williams said in a statement. "I have known coach since early in my career and have always been humbled by his willingness to share wisdom with me as I have advanced.
"I never knew as we were building our relationship, that an opportunity like this would ever materialize, but I am very grateful that it has. His wealth of knowledge and experiences will help everyone in our program on one level or another."
Wainwright spent the 2011-12 season as
Fresno State
's associate head coach.
Wainwright is originally from Berwyn, Ill. and coached early in his career at East Leyden High School and Highland Park High School in the Chicago suburbs.
May, 29, 2012
5/29/12
10:26
PM CT
Isaac Chew confirmed Tuesday he was leaving
Illinois
' staff for
Marquette
less than two months after being hired as an Illini assistant.
February, 6, 2012
2/06/12
10:47
PM CT
ROSEMONT, Ill. -- Here's a quick look at No. 19
Marquette
's 89-76 win over
DePaul
on Monday.


How it happened:
One would have thought Marquette would come out motivated Monday after losing to
Notre Dame
its last time out, but the Golden Eagles struggled in the early going against DePaul. The Blue Demons jumped out to an early lead and extended it to 12 points with 4:21 left in the first half. Soon after, Marquette switched to a full-court man defense and changed the course of the game. The Golden Eagles closed the first half on 11-2 run and stretched it to a 19-3 run within three minutes of the second half. It was all Marquette the rest of the way.
What it means:
With the win, Marquette continued to keep itself in the Big East race. The Golden Eagles improved to 9-3 in the Big East.
Syracuse
still sits at the top of the conference with a 10-1 record.
Georgetown
(8-3) and Notre Dame (7-3) are also in striking distance. For DePaul, it was another disappointing defeat, especially after leading by double digits in the first half. The Blue Demons are tied with
Providence
at the bottom of the Big East with 2-9 records.
Player of the game:
Junior Cadougan
did a bit of everything for Marquette. He had 12 points, five rebounds, seven assists and one steal.
Stat of the game:
Marquette scored 54 of its points on layups and dunks.
What's next:
Marquette returns home to face
Cincinnati
on Saturday. DePaul hits the road for the next two games. The Blue Demons travel to Notre Dame on Saturday and
Connecticut
on Feb. 15.
February, 4, 2012
2/04/12
7:30
PM CT
SOUTH BEND, Ind. -- Its best player out for the season, its morale deflated by a 20-point loss at Gonzaga in its first road test, a Notre Dame team that flopped against every name opponent it faced through the season's first month had a hard time envisioning itself as a player in the Big East with conference play quickly approaching.
"Maybe
deep
, deep down, but I mean, deep in there," Irish forward
Jack Cooley
confessed Saturday. "We just always gotta keep faith and just see what was gonna happen. We knew something had to change and hoped something clicked, and it did. It really did."
The transformation of Notre Dame from Big East afterthought to conference contender was never on display more than in its 76-59 thrashing of Marquette at the Joyce Center, the Irish's fourth straight win ending the Golden Eagles' seven-game winning streak.
The Irish entered Big East play a little more than a month ago with an 8-5 record, three double-digit losses and no
Tim Abromaitis
, a preseason all-conference pick who tore the ACL in his right knee in late November. Flash forward to the first weekend of February and here they are, 15-8 overall, 7-3 in conference play and just a half-game behind Georgetown and Marquette for second place in the Big East.
Less than three months after Mike Brey wondered if his players could improve enough "in the back of my mind, to get to the NIT," the 12th-year coach has not shied away from double-bye talk in next month's Big East tournament.
"I mentioned it to them a little bit as far as standings and what that means, and certainly that's something we're staring at, man. That's been good to us," Brey said, adding, "Obviously if you finish in the top four, you're in. You're an NCAA tournament team. We got seven wins. We got a lot of good wins in that left column in the league, as far as an NCAA-tournament résumé."
Among them: A Jan. 7 double-overtime win at then-No. 10 Louisville, a rout of then-undefeated and No. 1 Syracuse two weeks later and a strenuous victory at then-No. 19 Connecticut last Sunday.
Then came Saturday's performance in a contest that -- for the first 20 minutes, at least -- seemed destined to be another burn-it-out, tempo-turning test of mental endurance against a far more athletic squad.
The more eager Irish, however, broke a 30-26 game wide open in the second half.
[+] Enlarge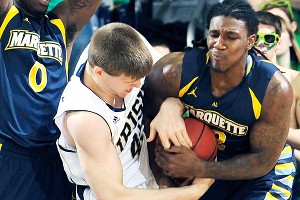 AP Photo/Joe RaymondJack Cooley and Notre Dame scrapped past Marquette on Saturday, boosting their NCAA tourney hopes.
They jacked up 3s from all corners, hitting 8-of-13 in the second half and forcing Marquette coach Buzz Williams to call timeout after timeout -- three in a 2-minute, 54-second stretch late in the second half.
No matter. Notre Dame utilized an 18-2 run during a nearly six-minute stretch, including 14 unanswered points to effectively put the game away.
"I thought [the score] was always teetering back and forth early in the second half," Williams said. "I then tried to keep it close by calling [a lot] of timeouts. I was just trying to keep it in contention, but they just continued to beat us off the bounce. We were scrambling around and that's why they had 22 assists. A lot of those 28 makes were uncontested shots. Eleven of the 23 shots were 3s, so that tells you they force rotation a lot."
Indeed, Brey said afterward he thinks he fields the best passing team in the country. He said sophomore off-guard
Jerian Grant
(12 points, eight assists) is the fastest player in the Big East. And, like everyone else, he lavished praise on the maturity of
Pat Connaughton
, whose 95-mph heat on the baseball diamond will remain the sidebar if he continues to deliver like he did on Saturday.
The 6-foot-5 Connaughton had game highs of 23 points and 11 rebounds, connecting on 9-of-12 field goal attempts and shooting 5-for-8 from downtown.
His monster rejection of
Junior Cadougan
closed the first half, and his slam with less than two minutes in the game punctuated the rookie's most complete performance.
"Anybody that stands on that mound, he stands on that mound, he's got the game on his shoulders -- there's a psyche there that maybe other freshmen can't have," Brey said of Connaughton. "He's had the game on his backside many, many times. So lining up a 3 to put you up six, or make big free throws, I think that's where it converts over. But people are still surprised, our opponents in the league, how athletic he is. The way he rebounded today in there, he blocked some shots, he was just flying all over the place."
The scene at the final horn hardly resembled that of Notre Dame's last game here, the court-storming stunner over Syracuse two weeks ago. Brey and his players simply walked to the student section, exchanging several high-fives before heading back to their locker room, a national ranking likely awaiting them Monday.
Those NIT hopes Brey envisioned not too long ago are now a distant memory, a carrot he knew better than to verbally share with his young team. Now, the self-proclaimed "loosest coach in America," the three- and potentially four-time conference coach of the year, will have to ready a young group that has grown faster than he expected, one he said he can refer to as "men" the next time they gather.
"I'll tell you one thing, we got a heck of a strong résumé," Brey said. "Our résumé is very strong with what we've done. And it's exciting to think about, that that's possible for this team after where we were. But I think our guys are very focused on showing up on Selection Sunday. And God bless them, they should be. Because they have put us in this position with their kind of focus and business-like approach, to go get it."
February, 4, 2012
2/04/12
7:29
PM CT
SOUTH BEND, Ind. -- Here's a quick look at Notre Dame's
76-59 win
over No. 15 Marquette:
How it happened:
Notre Dame broke a tight game wide open in the second half behind an 18-2 stretch that featured 14 unanswered points. The Irish hit 8 of 13 3-point attempts in the final 20 minutes, leading to Marquette timeout after Marquette timeout. The Irish, seemingly left for dead after
Tim Abromaitis
tore an ACL in November, have now won four straight games to improve to 7-3 in the Big East, a half-game out of second place behind Marquette and Georgetown, which are both 8-3. The Golden Eagles had their seven-game winning streak snapped in ugly fashion.


Stat of the game:
This game was won behind the arc, where Notre Dame shot 11 of 23 and Marquette made just 2 of 13 attempts. Notre Dame hit three straight 3-point attempts during one point late in the second half, effectively closing the door on Marquette.
Star of the game:
Freshman
Pat Connaughton
was hot all afternoon, finishing with a game-high 23 points off 9 of 12 shooting. Connaughton hit 5 of 8 3-point attempts and caused trouble for Marquette the entire game.
What's next:
Marquette has a quick Midwest turnaround Monday at DePaul, where the Golden Eagles will try to get back on track. Notre Dame looks to continue its winning ways Wednesday at West Virginia, where the Irish's four-game winning streak will be put to the test.
TOP 25 SCOREBOARD
Thursday, 8/28
Friday, 8/29
Saturday, 8/30
Sunday, 8/31