Chicago Colleges:

Matt Barkley
November, 23, 2012
11/23/12
5:45
PM CT
By
ESPN Stats & Information
Matthew EmmonsWith one more win, Manti Te'o (right) and Notre Dame will play for the right to be No. 1.
(USC hosts Notre Dame on Saturday at 8 p.m. ET on ABC.)
If the
Notre Dame Fighting Irish
can win on the road against the
USC Trojans
. History could, again, repeat itself.


Four different head coaches have been responsible for Notre Dame's eight national championships in the AP poll era (since 1936). All four captured their first national title in their third season at Notre Dame, and head coach Brian Kelly is in his third season at the helm in South Bend.
Notre Dame is one win from playing for the BCS Title thanks in larger part to its defense. The Irish have conceded a touchdown on 6.7 percent of their opponents' possessions, the lowest percentage in FBS this season.
Notre Dame's red zone defense also is the best in the nation, allowing a touchdown on 24.1 percent of their opponents' drives inside the 20-yard line. (Opponents have seven touchdowns and five turnovers in 29 red zone possessions.) That's the lowest percentage for any FBS team in the last eight seasons.
The defense is led by senior linebacker
Manti Te'o
. With two more tackles, Te'o will join Bob Crable as the second Notre Dame player with three 100-tackle seasons. Te'o also leads the Irish with six interceptions after not having any in his first three seasons.
Notre Dame's defense will be tested one more time, this time by one of the best wide receivers in the country. USC's
Marqise Lee
has more receiving yards (821) in his last four games than 52 FBS teams during that time span. Lee has gained more yards after the catch (837) than any player from any BCS-AQ school, and leads FBS with eight 100-yard receiving games. However, only one player this season has 100 yards receiving against Notre Dame,
Jalen Saunders
from Oklahoma.
However, Lee will not have
Matt Barkley
throwing to him – the senior quarterback will not play because of a sprained shoulder. Since 2002, USC's only loss to Notre Dame came in 2010 when Barkley (then a sophomore) had a sprained ankle and did not play.
Without Barkley, USC may turn to its running game. The Trojans are averaging 160 rushing yards per game, and has gained 10 yards or more on almost 17 percent of their rush attempts.
Curtis McNeal
has 324 yards in USC's last two games, but he'll face a Notre Dame defense that has allowed just three running backs to rush for 80 or more yards this season.
November, 19, 2012
11/19/12
9:16
AM CT
By
Pedro Moura
| ESPNChicago.com
LOS ANGELES -- USC quarterback Matt Barkley suffered a sprained AC joint in his right shoulder against UCLA on Saturday and will not play against No. 1 Notre Dame this week, Trojans coach Lane Kiffin said Sunday night.
Read the entire story.
November, 14, 2012
11/14/12
10:30
AM CT
Manti Te'o
is one of
15 "players to watch"
for the Walter Camp Football Foundation's player-of-the-year award.

Notre Dame's senior linebacker is one of just two defensive players on the list, joining Georgia linebacker
Jarvis Jones
.
Jones has 56 tackles, 10.5 sacks and five forced fumbles, while Te'o has 92 tackles and six interceptions.
I know Notre Dame fans don't want to envision it, but imagine if those two were playing alongside each other on the same defense? (Te'o was all but set to commit to USC, while Jones used to play there.)
The Trojans, by the way, are the only team with two players on the list, in quarterback
Matt Barkley
and receiver
Marqise Lee
; the Irish will face them next week.
Quarterback
Collin Klein
and running back
Kenjon Barner
, from No. 1 Kansas State and No. 2 Oregon, are also on the list.
Five finalists will be announced Nov. 28, with the winner being announced during the 6 p.m. ET edition of "SportsCenter" on Dec. 6.
October, 24, 2011
10/24/11
6:36
PM CT
On the same day USC quarterback
Matt Barkley
didn't back down from his teammates' comments about Notre Dame quitting, the one who caused most of the the uproar did.
Trojans linebacker
Chris Galippo took to the Twitter world on Monday to apologize
for his postgame remarks from two days earlier, posting: "If I offended anyone with my post game comments Saturday, I do apologize. I have great respect for their players and their program..."
Galippo caused a stir following USC's 31-17 win over Notre Dame by saying that the Irish — who did not use any of their three timeouts as USC ran the ball 10 straight times over the game's final 6:43 — had quit.
"At the end there, when they didn't call those timeouts, they just quit,"
Galippo said Saturday, according to ESPNLA.com's Pedro Moura
. "And that's what Notre Dame football's about. They're not anything like USC."
"We're coming halfway across the country to play these guys," Galippo added. "They hyped it up. This was their Super Bowl. They had 26 or 27 official visits this weekend.
"This was it for them."
Earlier Tuesday, on
710 ESPN Radio with Max Kellerman and Marcellus Wiley
, Barkley agreed with Galippo's postgame assertion.
"I would agree with that," Barkley said. "I was shocked that they didn't use the timeouts because we got on the field with seven or so minutes left. Six, whatever, about seven minutes left, and I thought they were gonna, planning on stopping us and then saving their timeouts for the end when they had the ball. But then it got down to around two minutes and they still hadn't used their timeouts and we were still controlling and moving the ball down the field. And even inside of two minutes they didn't call anything.
"And it seemed from our sideline, from our perspective, that they did give up. It seemed uncharacteristic of Notre Dame, and I wouldn't have wanted to have been on that sideline."
October, 24, 2011
10/24/11
2:20
PM CT
Matt Barkley didn't back away from assertions by his USC Trojans teammates that Notre Dame quit in the final minutes of their game Saturday in South Bend, Ind.
"I would agree with that," Barkley said Monday in an interview with Max Kellerman and Marcellus Wiley on 710 ESPN. "I was shocked that they didn't use the timeouts because we got on the field with … about seven minutes left, and I thought they were planning on stopping us and saving their timeouts for the end when they had the ball. …
Read the entire story.
October, 22, 2011
10/22/11
8:28
PM CT
SOUTH BEND, Ind. — Here's a quick breakdown of the first half, as USC
has a 17-10 lead
over Notre Dame.


Turning point:
George Atkinson's 96-yard kickoff return for a touchdown with 3:22 left in the first half completely changed the tone of this game, as it got the Irish on the board and injected some juice into the stadium. The Irish responded by stopping USC on its next drive and then marching downfield, setting up a 24-yard David Ruffer field goal right before halftime.
Stat of the half:
USC has outgained Notre Dame, 253-127. The Trojans have had their way offensively while the Irish had trouble getting anything going in the first half until their final drive, when they marched 68 yards in 10 plays and just 1:04. Notre Dame will need to build off that last drive as it closes the gap on what was once a 17-0 Trojans lead.
Best player in the half:
Matt Barkley
has completed 12 of 20 passes for 125 yards and two touchdowns, directing three USC scoring drives and giving the Trojans an early three-possession lead. Notre Dame did a better job of slowing down the Trojans' offense as the half progressed and will need to continue to do that to complete the comeback.
October, 22, 2011
10/22/11
7:48
PM CT
SOUTH BEND, Ind. — That was quick, no?
USC has jumped out to an early 14-0 lead at the end of one, and it looks like it could be a long night for the Irish if they don't figure things out fast.


The Trojans marched 66 yards on 13 plays on their first drive, using 11 rushes to chew up 7:39 of clock time. They then went 62 yards on six plays — four passes — to take a two-score lead.
Matt Barkley is 6-for-6 with 52 yards and two touchdown passes, and a banged-up Marc Tyler has rushed for 54 yards on eight carries so far.
Notre Dame, meanwhile, went three-and-out on its first two drives and will try to avoid a third three-and-out when the second quarter gets underway, as the Irish face third-and-5 when play resumes.
This is obviously not the kind of start the Irish were hoping for after a bye week and plenty of buildup, and they will need to act fast on both sides of the ball to keep this one from getting out of hand early.
October, 12, 2011
10/12/11
10:00
AM CT
Bold prediction:
Notre Dame will lose a game between now and Nov. 26 at Stanford.
This is bold in the sense that the Irish will likely be favored in all five of their games before their trip to Palo Alto, Calif. Despite how Notre Dame has played the past four weeks, the fact remains that the Irish tripped over themselves twice to open the season and nearly did the same Week 4 at Pitt. Give the Irish credit for not folding after an 0-2 start, but there are still few real breaks remaining in the schedule, and you can be sure Notre Dame will get each team's best shot from here on out.
[+] Enlarge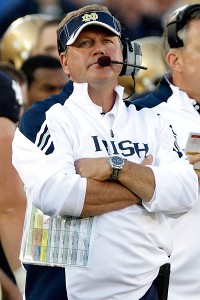 John Gress/Getty ImagesBrian Kelly and Notre Dame will likely be favored in every game until the season finale at Stanford.
What to look forward to:
Can this offense sustain its momentum?
Notre Dame has eclipsed the 500-yard mark in four of its first six games, including its last two. The Irish haven't turned the ball over in either of their past two games, either. And they have added another threat under center in the mobile
Andrew Hendrix
. Four of the remaining six defenses Notre Dame will face are currently ranked 61st or lower in total defense, with Stanford (19th) and Wake Forest (26th) being the two best as of now. How lethal this offense looks out of the bye week -- under the lights against rival USC, no less -- will say a lot about the potential of the unit in its second year under Brian Kelly.
Top Three Impactful Games:
Oct. 22 vs. USC, Oct. 29 vs. Navy, Nov. 26 at Stanford
Oct. 22
The USC game is always a big one, regardless of how well each team is playing. The Trojans may enter with just one loss depending on how they fare at Cal this Thursday. They feature an explosive offense that features quarterback
Matt Barkley
and the receiver
Robert Woods
. Throw in the first night game at Notre Dame Stadium in 21 years, in addition to extended rest for both teams, and the hype will be unlimited leading up to the battle for the Jeweled Shillelagh.
Oct. 29
We all know what Navy did to Notre Dame last year and what it has done to the Irish in three of the past four years. The Irish defense looked much better against the option this past Saturday against Air Force, and one would have to think Notre Dame knows better than to overlook the Midshipmen given their recent history with them. But this is a Navy team that currently leads the nation in rushing, at 366 yards per game, and one that the Irish will have to get up for after what is sure to be an emotionally taxing game against USC a week earlier.
Nov. 26
The Irish will likely be playing for a BCS spot if they win all five games before it, and Stanford may be playing for a national title spot if it enters at 11-0. Even a one-loss Cardinal team will likely be playing for a BCS spot as well, and this is certainly the biggest challenge remaining on Notre Dame's schedule. Closing the season with a road win at what is currently a top-10 team will certainly leave a strong impression on voters and bowl selection committees.
TOP 25 SCOREBOARD
Thursday, 12/5
Friday, 12/6
Saturday, 12/7
TOP PERFORMERS