Chicago Colleges:

Matt MacPherson
May, 21, 2013
5/21/13
2:30
PM CT
Northwestern's recruiting wish list and sales pitch hasn't changed much in recent years.
Head coach Pat Fitzgerald and his staff still seek a certain fit: an academically oriented player who clicks with the program's culture and recognizes the benefits of playing Big Ten football miles from the city limits of the nation's third largest market. Northwestern's coaches talk about "not only a four-year decision but a 40-year decision, the rest-of-your-life type decision," Matt MacPherson, the team's recruiting coordinator and running backs coach, recently told ESPN.com.
[+] Enlarge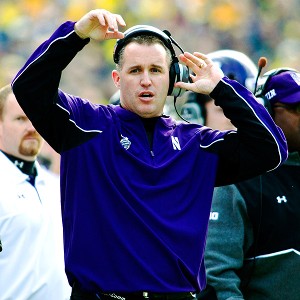 AP Photo/Tony DingPat Fitzgerald has the Northwestern football program headed in the positive direction, winning games and attracting quality student athletes.
Northwestern is still identifying and bringing players who fit, but more of its targets are higher-level prospects and more of its competitors are higher-level programs. The Wildcats are hitting their mark at an unprecedented rate, leading the Big Ten with 10 commitments for their 2014 class, which ranks 17th nationally in
RecruitingNation's latest ratings
.
Colleague Jared Shanker writes that
Northwestern's recent success on the field has boosted its recruiting to the next level
.
The Wildcats went 10-3 in 2012 and ended the season No. 17 in the final AP poll. It was the first time that Northwestern had won 10 games in a season since 1995, when it went 10-1 and appeared in the Rose Bowl. It also marked the first time Northwestern finished a season ranked since 1996.

Fitzgerald was a linebacker on those '95 and '96 teams. He was an ambassador for recruits who signed in the winter of '97, one of Northwestern best classes ever.

Northwestern landed several national recruits in that class, much like it is doing in the 2014 class. Craig Albrecht, Chris Jones and Sam Simmons were all highly sought-after recruits who signed with Northwestern out of high school. Fitzgerald said then-coach Gary Barnett never broke the mold of what he was looking for in a recruit to bring in the higher-profile prospects.

Now Fitzgerald is following a similar path.

"[The 2014 recruits] stayed true to what fits our program," Fitzgerald said. "We feel great about all the young men, feel great we recruited the right fit. We respect you if you do it differently, but we're more focused on the right fit and if he fits the culture of our locker room."
According to MacPherson, Northwestern's message to potential recruits remains the same, but the way they view the program has changed after five straight bowl appearances and, finally, a postseason win on Jan. 1 in the Gator Bowl.
"From what we do and how we do it, not a whole lot has changed," MacPherson said. "From the perception of where our program is, that's changed a bunch. People see us now as a perennial bowl team. ... You look at Northwestern and you talk about winning football games, a great education, being in Chicago. What's not to like? Tell me when that gets bad.
"There's always been the great education, there's always been the great city of Chicago. Now you throw the football success on top of that, and it's just a great package that opens a lot of people's eyes."
Northwestern's coaches also are talking up a new
$220 million on-campus facility
, announced in September, that will house the football program along the shores of Lake Michigan. Athletic director Jim Phillips said last week that $70-80 million has been raised toward the project, and ground could be broken this fall.
Fitzgerald talked with Shanker about the "great momentum" currently around the program. MacPherson sees it on the recruiting trail.
"We are getting in some battles with some different programs than we have in the past," he said. "Obviously, that's a good thing. But at the end fo the day, you still have to do your evaluation and those guys you bring into your program have to be valuable players and be productive players for you. Is it great for our profile and be competing against teams that you see in the Rivals and the ESPN Insider ratings? Yeah, that's great. But it'll always go back to production once you get 'em on your team."
May, 10, 2013
5/10/13
9:46
AM CT
Northwestern's offense has been rooted in the same philosophy -- players, formations, plays -- since coordinator Mick McCall arrived in 2008. McCall shapes his scheme around the players first before choosing formations and plays that maximize their skills.
In the first four seasons under McCall, most of the players ended up being wide receivers and quarterbacks. Most of Northwestern's formations highlighted the wideouts and most of the plays were passes. Northwestern's offense had a clear passing lean, especially in 2009, when the Wildcats ranked 13th nationally in pass offense. The Wildcats didn't neglect the ground game, but when it came time to identify the best players, the running backs didn't make the cut.
[+] Enlarge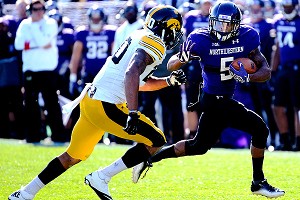 Mike DiNovo/USA TODAY SportsLast season Venric Mark became the first Northwestern running back to eclipse 1,000 yards in a season since Tyrell Sutton in 2006.
"There's been some times in the past at Northwestern in the running back room where there was one guy, and that was it," Matt MacPherson, the team's running backs coach since 2006, told ESPN.com.
MacPherson clearly has his one guy in senior
Venric Mark
, who earned second-team All-Big Ten honors in 2012 after rushing for 1,366 yards and 12 touchdowns. Mark, who earned All-America honors as a return man, was Northwestern's first 1,000-yard rusher since Tyrell Sutton in 2006.
But MacPherson thinks Northwestern's options in the backfield go beyond Mark.
"I feel like we have four or five guys in my room right now that we can go win Big Ten football games with," MacPherson said. "That gives you a lot of flexibility, and it allows you to do a lot of different things. I came out of spring very pleased with the way they performed."
Mark remains the undisputed starter and will get the lion's share of the carries in the fall. He sat out most live-tackling drills this spring as a precaution, which allowed the other backs --
Mike Trumpy
,
Treyvon Green
,
Stephen Buckley
and
Malin Jones
-- to get more reps.
Trumpy racked up 349 yards and three touchdowns on 76 carries as Mark's primary backup in 2012. Green endured a tough season with injuries and personal issues but bounced back and "had a great spring," MacPherson said. Both Buckley and Jones redshirted in 2012 but likely worked their way into the carries rotation with good springs.
"Our running back room has gotten deeper," McCall said. "We've got some guys that can play in a lot of different situations there. We've continually gotten better in that room."
Northwestern made a noticeable shift toward the run last fall behind Mark and dual-threat quarterback
Kain Colter
. After finishing no better than 45th nationally in rushing in McCall's first four seasons as coordinator, Northwestern surged to 19th nationally last year (225.4 ypg).
The rushing focus should continue as long as more running backs meet the first principle of McCall's philosophy. MacPherson thinks they will, and Northwestern might go with a two-back formation, which it used for 10-12 plays per game in 2012, more often this season.
"In my room, those eyes light up when they know we're going to start running the ball a bunch," MacPherson said, "and we're going to have two running backs on the field at the same time. That's something for them to get excited about. That just gives another aspect of competition, knowing that, OK, Venric may be the guy, but when we get into the two-back set, who's going to be the other guy?"
It's a question MacPherson is glad to be asking.
October, 17, 2012
10/17/12
3:30
PM CT
EVANSTON, Ill. -- Northwestern running back
Venric Mark
doesn't need a doctor to make the diagnosis.
Like most things in his life, he can do it all by himself.
"I have little man's syndrome," Mark told ESPN.com. "I've had that all my life, since Day 1. I've always been the small guy in the group. I've always been the guy that people go, 'Oh, no, let's not pick him.' So in my head, I'm thinking, 'OK, you're not going to pick me. I'm going to show you why you should have.'"
Any college coach who wouldn't pick Mark after the first half of the 2012 season hasn't been paying attention.
[+] Enlarge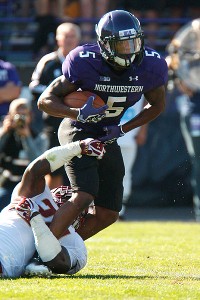 AP Photo/Matt QuinnanRunning back Venric Mark is on pace to break 1,000 yards.
Mark might be 5-foot-8 and 175 pounds, but he's the single biggest reason why Northwestern sits at 6-1, right in the thick of the Legends division race. Along with Iowa running back
Mark Weisman
and Penn State wide receiver
Allen Robinson
, Mark has been one of the Big Ten's surprise offensive stars through the first seven weeks, rushing for 792 yards and eight touchdowns.
He ranks fifth in the league and 15th nationally in rushing average (113.9 ypg). He also leads the league and ranks fourth nationally in all-purpose yards (184.6 ypg), recording two punt returns for touchdowns and 15 receptions, one for a touchdown. After putting himself in position to break most of Northwestern's career return records, Mark's emergence at running back has put the team's all-time career all-purpose yards mark (5,271 by Damien Anderson) very much in play.
"He's just playing at a high level right now," Northwestern coach Pat Fitzgerald said. "... He's a joy to coach."
Northwestern had 1,000-yard rushers every season from 2002-06, but none since. The team has lacked a true threat at running back since Tyrell Sutton departed after the 2008 season. For an offense born out of the Rich Rodriguez-style spread, it was a problem.
Few would have pegged Mark, a return specialist who struggled to find a true position for two years, to be the answer. Just don't tell him that.
"He has a level of intensity that if he was Muhammad Ali, he'd be knocking everybody out," said Northwestern linebackers coach Randy Bates, who recruited Mark out of Houston's St. Pius X High School.
Several times after runs, Mark has confronted defenders more than a half-foot taller than him.
"With football, emotions run high, people talk," Mark said. "For me, that's fuel. When they say, 'You ain't getting this,' that just motivates me."
Mark's edginess is his defining trait, even more so than the top-level speed that got him on the field at Northwestern as a returner and has been showcased on long runs, like scoring bursts of 48 and 26 yards last week against Minnesota. He's not a scat back who spends all his time on the perimeter.
He's a between-the-tackles runner who, along with quarterback
Kain Colter
, has boosted Northwestern's red zone run game, a weakness of the offense in previous years.
"Inside zone is his favorite play," Northwestern running backs coach Matt MacPherson said. "You have to be a special kid, a tough kid, and Venric is pound-for-pound one of the toughest guys on our team. He embraces that role. He wants it."
McPherson likened Mark to former Northern Illinois star Garrett Wolfe, who checked in at 5-7 and 185 pounds and while displaying tremendous speed in space, also had success between the tackles. Wolfe led the nation in rushing (1,928) in 2006.
When Bates began recruiting Mark, he heard some doubts about whether Mark could play in the Big Ten because of his size. Mark won Bates over with his intensity, a quality they share ("We're both pretty whacked-out in our own way," Bates joked).
The question always seemed to be where Mark would play.
Special teams was a given, and Mark became Northwestern's primary returner as a true freshman in 2010, averaging 26.2 yards on kick returns with a touchdown, and 12.9 yards on punt returns. He also stood out on kick coverage.
"There's no doubt in my mind if ever played anywhere at the next level, he could be on all special teams," Bates said. "He was a punt gunner and he was a kickoff guy, and obviously great returning. All that special teams value, even if he never played a snap on offense or defense, he already was a good player."
The coaches tried Mark at slot receiver, but he had just six receptions in his first two seasons, playing behind All-Big Ten selection Jeremy Ebert. There was some talk of using him on defense, but it never materialized. Although Mark came to Northwestern with the idea of simply being the team's starting returner, he wanted more and wasn't happy at receiver.
"I wanted the ball," he said. "I'm that type of player, I'm not going to lie to you. I like having the ball in my hands."
The coaches moved Mark from receiver to running back midway through the 2011 season.
"We weren't quite sure what position we were going to start him at, and as you can see, we were wrong," Fitzgerald said. "Hindsight being 20-20, we wish he would have started in the backfield sooner."
MacPherson knew Mark could make plays in space. His concern was how Mark would handle the mental challenge of being a running back in the Big Ten, where "you get the crap beat out of you," while remaining effective as a receiver and a blocker in Northwestern's offense.
Offensive coordinator Mick McCall wants to get Mark 25 touches per game. While MacPherson admits those won't be 25 inside zone plays, Mark has shown he can be a featured back, despite his size.
"I can take licks," Mark said. "Being a running back, you're going to get bumps and bruises. But it's how you play with them, it's your mindset. Coach MacPherson always talks about [defenders as] nameless, faceless victims. That's what they are."
How many victims has Mark taken this season?
"A lot," he said. "Us as a team, we've taken a lot. And we plan on taking a lot more."