Chicago Colleges:

Max Redfield
September, 14, 2014
Sep 14
1:31
AM CT
INDIANAPOLIS -- Remarkably, Purdue gave Notre Dame a good game. Again. This one was in doubt until the fourth quarter before the No. 11 Fighting Irish pulled away with a
30-14
win to improve to 3-0 and remain undefeated in Shamrock Series games. They now enter a bye week before facing Syracuse on Sept. 27 in East Rutherford, N.J.
Here are the biggest takeaways from Saturday night at Lucas Oil Stadium:
[+] Enlarge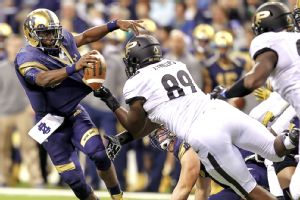 Michael Hickey/Getty ImagesDespite being sacked four times, Everett Golson was able to make big plays with his arm and his legs against Purdue.
1) The Irish handle "adversity" well.
Yes, that was the buzzword following a 16-point win, appropriate or not. In the context of the number of injuries Notre Dame's secondary suffered, that will work, as starting cornerback
Cole Luke
left the game with what coach Brian Kelly said was a neck injury and safety
Nicky Baratti
left with yet another shoulder injury. The unit was already down safety and captain
Austin Collinsworth
because of a Grade 2 MCL sprain. The Irish also lost receiver
Amir Carlisle
early in the game with an MCL sprain, were without defensive end
Andrew Trumbetti
, who was still banged up from the Michigan game, and did not use starting right guard
Christian Lombard
, still nursing a high-ankle sprain. That doesn't include the five players suspended due to the academic probe.
But seven penalties did not help matters, especially with starting safety
Max Redfield
getting ejected in the second quarter for targeting, further depleting a thin secondary. Hats off to true freshman
Drue Tranquill
, a former Purdue commit who was thrust into plenty of meaningful action and performed well.
"He did great," Kelly said. "He doesn't know what he's doing, but he's awesome. He's running around there. I say that kiddingly because he does know what he's doing. But we're trying to really keep it simple for him out there. He was such a locked-in kid. We're able to do some things with him, and he's only been here, what, eight, 10 weeks? Where would we be without that young man? It's really pretty incredible."
2) Everett Golson's still got it going.
At times, Notre Dame's offense looked like it went with the gameplan of "let Golson dance around and make something happen." More often than not, he did just that, hitting running back
Greg Bryant
for his first career catches -- a pair of 17-yarders off broken plays -- and finishing 25 of 40 for 259 yards with two touchdowns and, most importantly, no turnovers. Golson also was the Irish's leading rusher, notching 56 yards on the ground and another touchdown despite being sacked four times being hurried six times by the Boilermakers. His leaps will continue to be a big storyline all season long, and he now boasts a 13-1 record as a Notre Dame starting quarterback (.929), second to only Johnny Lujack (20-1-1, .932).
He has said and done all the right things off the field as well.
"I also missed a wide-open pass, I don't know if y'all watched the film," Golson said, critiquing his 15-yard touchdown run. "I definitely missed a pass. Yeah, it was good for us, we got a touchdown, but as far as me, I want to be more of a pocket-passer. I missed the pass. I just have to execute better."
3) Paging the offensive line.
Far too early to hit the panic button here, but the play up front could use some improvements before Stanford comes to town Oct. 4. To be fair, the unit was missing its fifth-year senior in Lombard (
Matt Hegarty
replaced him), and though only one of the Irish's five offensive penalties came from a lineman (a
Steve Elmer
false start), Golson was sacked four times by Purdue. That number probably could have been higher if not for Golson's mobility. Notre Dame averaged just 3.7 yards per rush after averaging just 1.7 yards per rush in last week's rout of Michigan. Take away the quarterback on Saturday and that average against the Boilermakers drops to 3.46 yards per rush. Again, it is very early, but if there's one unit that needs to pick up its play as Notre Dame readies for the meat of their schedule, it is the offensive line.
"We're not sustaining," Kelly said. "I mean, we're in position. We're falling off a block here. We miss a fit here. And maybe it's just the continuity took us a little bit longer. It's nothing big, but it's everything.
"It's going to get better. They will get better. It's just we're not where we need to be. We're going to keep working, keep grinding. We'll get there. We're just not there yet. We're on the 3-yard line, we're running a double-team into the B-gap, we slip and fall. Somebody fires through the B-gap. Little things like that. They got to get cleaned up before we get to where we want to be offensively."
September, 7, 2014
Sep 7
3:06
AM CT
SOUTH BEND, Ind. —
Joe Schmidt
is a former walk-on who worked his way to a scholarship before earning Notre Dame's starting middle linebacker role. He is a coach's dream who never makes one game or snap out to be bigger than it really is.
Yet when Schmidt entered the media room after Notre Dame's
31-0 win
over Michigan, the optimist in him was outdone by the sheer absurdity of the goodbye his young and unproven defense had just delivered the Wolverines.
"You want to believe that this is something you can accomplish every time you go on the field," Schmidt said. "And there's still a lot of things we could've done better today, but …"
He paused for three seconds and collected himself with a deep breath.
"Shoot. This is a great feeling right now."
As finales go, this was more
Sopranos
than
Breaking Bad
, a much-hyped shootout that turned into a dramatic letdown. Notre Dame didn't just send Michigan back to Ann Arbor with a 1-1 record and a bad taste in its mouth from being on the losing end of these programs' final meeting. No, the Irish flat-out demoralized the Wolverines. They bullied their hapless offensive line, shredded their patchwork secondary and delivered one indignity after another following a week that did nothing but suggest the visitors would be the ones who would enter with chips on their shoulders.
[+] Enlarge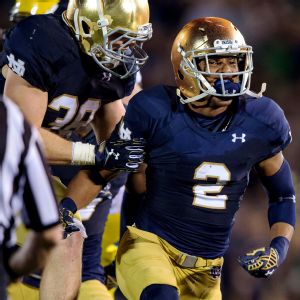 Matt Cashore/USA TODAY SportsCody Riggs, right, and Joe Schmidt celebrate one of Notre Dame's three interceptions against Michigan quarterback Devin Gardner.
Michigan had played 365 straight games in which they scored points before Saturday. These Irish met them in a dark alley here in Week 2, and they rendered them rudderless.
"I just got the stat from [SID Michael] Bertsch: 1984 was the last time these guys were shut out?" Schmidt said as he double-checked with reporters. "I think that kind of speaks for itself on how great this feels right now for me and for this defense and for this team."
Michigan left here last time feeling disrespected, with athletic director David Brandon on the receiving end of a cancellation letter from counterpart Jack Swarbrick. The Wolverines had said what Notre Dame did to them was a slap in the face. To add insult to injury, the Irish announced Thursday they would play a future series against Michigan's arch-rival, Ohio State.
What Notre Dame did to Michigan before a sellout crowd under the lights was far more humiliating.
The Wolverines seemingly dared
Everett Golson
to beat them with his arm. He looked every bit as lethal as he did last week against Conference USA member Rice and completed 23 of 34 passes for 226 yards with three touchdowns.
Michigan's quarterback,
Devin Gardner
, received help from no one but
Devin Funchess
, which led coach Brady Hoke to defend why he stuck with his signal caller after Gardner threw three interceptions and lost a third-quarter fumble on a reckless spin move Schmidt saw coming from a mile away.
"Sometimes it just opens up, and as a defensive player, that's the stuff you lay awake at night dreaming of," Schmidt said. "Quarterback's back, ball's right there, you know you can force the fumble."
Gardner's predecessor, Denard Robinson, had tossed four picks and lost one fumble in a 2012 loss to Notre Dame. That was against the No. 2 scoring defense in the country, the catalyst behind an Irish team that went all the way to the BCS title game.
This year's defense started eight new faces from a year ago in its second game under new defensive coordinator Brian VanGorder,
who himself turned into an overnight internet celebrity for a raucous late-game celebration
.
"I would say it really just ceases all the doubts about, We're young, 'Can we execute?'"
Jaylon Smith
(10 tackles) said.
VanGorder can be forgiven for his excitement, but the best was yet to come.
Whereas Hoke had quipped last year that Notre Dame was chickening-out of this rivalry — a brushfire Michigan threw gasoline on by playing the "Chicken Dance" after its win over Notre Dame in 2013 — Notre Dame fans took matters into their own hands in the closing minutes and started a
stadium-wide rendition of "Na Na Hey Hey Kiss Him Goodbye."
And that wasn't even the final indignity.
On what looked like it would be the final play of the game, Gardner was picked off one last time by
Elijah Shumate
, who returned it 61 yards for a touchdown. Michigan personnel had already made their way to the locker room, having escaped the hysteria engulfing Notre Dame Stadium — except the officials ruled
Max Redfield
had roughed the passer on the return, the touchdown didn't count and the game couldn't end on a defensive penalty. This made for an awkward delay, as the playing grounds cleared and a chunk of the Wolverines' roster
made the long walk back through the tunnel and onto the FieldTurf
before going right back up after the Irish showed mercy and took a knee.
"We temper it by knowing that we got a long season ahead of us, and it counts as one, it doesn't count as two," said coach Brian Kelly, who tried so hard all week to not give in to the hype. "If it counted as two, we would probably be a little bit happier, but it counts as one.
"But there's no question -- I would be lying if I told you that it doesn't feel great to shut out Michigan 31-0."
September, 1, 2014
Sep 1
9:00
AM CT
SOUTH BEND, Ind. -- All of that drama surrounding the
Notre Dame Fighting Irish
the entire month was seemingly reduced to a pair of plays Saturday that yielded different results.
There was the first
Everett Golson
bomb to
C.J. Prosise
, which Prosise dropped. And there was the second Golson bomb to Prosise, which Prosise caught.
The 55-yarder was Golson making something out of nothing before launching a rocket that went right through the unguarded receiver's hands. The 53-yarder, two plays after a turnover and just five seconds before halftime, was Golson again making something out of nothing -- avoiding a sack, barely setting his feet and absorbing a hit as he
threw the ball roughly 62 yards through the air
and into the hands of Prosise for his first career touchdown.
[+] Enlarge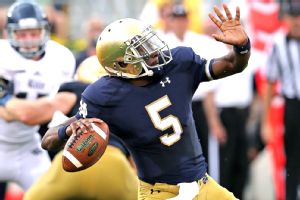 Jonathan Daniel/Getty ImagesNotre Dame will need Everett Golson's big arm and big plays when Michigan visits on Saturday.
"He has a cannon, as you can see," Prosise said of Golson. "He winds up and that thing flies. It's really nice to have that."
That Golson shook off the small bit of in-game adversity to deliver Prosise his first career touchdown is one thing. That the Irish's quarterback made a pair of otherworldly throws look so routine is quite another.
Notre Dame was entering its 48-17 season-opening win against Rice under the cloud of four players being suspended as part of an internal academic probe. The Irish learned Thursday that a fifth would be held out. The same day, they lost another safety, this one a captain in
Austin Collinsworth
, who will also miss at least Saturday's game against Michigan with a Grade 2 MCL sprain.
They turned in about as complete of an opening-game performance as coach Brian Kelly could have hoped for, with Golson looking every bit like the key piece that can finally make this offense roll. They enter Michigan week, their last Michigan week for the forseeable future, uncertain about their five suspended players, three of whom would almost certainly be factors in a game as big as this one. The game is, seemingly, the biggest obstacle before October. It's part of a slate Kelly himself described last week as "manageable" before the heavy-hitters line up, and a game the Irish absolutely need to have if they are to go on to a successful season.
There is the anticipation of the last meeting for a while against the Wolverines, whom Kelly knows best as a team that has beaten him three times in four years. There is the Notre Dame Stadium night-game atmosphere, which has not exactly been kind to the home team since it returned in 2011 -- first with an embarrassing loss to USC, then with two strenuous wins against Michigan and USC by a combined 27-16 margin.
But the Irish should have little trouble avoiding the noise, as Kelly likes to say. They graded out spectacularly in that area in Week 1, and they had much more on their plates going into Rice than they do going into Michigan.
Kelly's answer Sunday when asked about avoiding this week's outside influences was telling:
"Similar to what I've done in past years," he said. "We really keep our focus on what our technique and our own individual work needs to get better at. For example,
(Elijah) Shumate
and
Max Redfield
, they can't be thinking about Michigan because they have to learn how to communicate better, really focus on that.
Chris Brown
has to do a better job of getting in and out of his breaks. We're really, really focusing on the individual and what they have to get better at this week.
"If we really focus on those things and really drill hard on those, it keeps their mind at what they need to get better at instead of thinking about big-picture items. That's kind of how we go about it. It keeps the guys so much on what will help them win."
So he mentioned Michigan, once. He mentioned little else as it relates to peripheral opponents. On the same day-after-opener teleconference last season, he had more or less fueled week-long hate talk by suggesting the Wolverines weren't a rival. Last season's Irish team, fresh off a title-game appearance, probably needed the fire lit under it more than this season's team does.
Kelly saw what this group did Saturday with bigger distractions when facing an inferior opponent. Now comes a truer test that will likely dictate what kind of season this could be.
April, 1, 2014
Apr 1
8:00
AM CT
SOUTH BEND, Ind. --
Max Redfield
may be exhibit A when it comes to tempered expectations. The former four-star prospect has shown enough promise through his first spring at Notre Dame to warrant plenty of praise from the staff, though never without a caveat or two.
Take this, Wednesday from new defensive coordinator Brian VanGorder:
"He's getting better and better. He's going to make mistakes. I've seen him before, I've dealt with him before, so you've got some patience, but at the same time still keep the high standards and expectations to him."
Or this, four days earlier from head coach Brian Kelly:
"I don't think there's any questioning his athletic ability. There's still a learning curve there for him in terms of what we're doing defensively. But he's such a gifted athlete that it's so hard to look past his athletic ability, even though he's chasing the No. 2 in the flat when he's got the deep middle. We're still in the learning curve with Max but he's so gifted, that's why you coach.
"You've got to get Max Redfield ready. We're going to get him ready."
A freshman season that ended with his first career start was a sign of slow but steady progress for Redfield, who couldn't even get on the field in the regular-season finale a month earlier despite the Irish entering Stanford down two safeties due to suspension.
Still, there was that New Era Pinstripe Bowl against Rutgers, a milestone Redfield referred to as his "a-ha moment," as he now knows he is good enough to eventually get things right during another transition period, this one coming with VanGorder's more aggressive scheme.
"You can't really imitate the speed of the game until you're really in it, which is cool for me to get that start under my belt in the Pinstripe Bowl," Redfield said. "I feel like knowing what the speed is like somewhat -- obviously Rutgers isn't going to be the same as Florida State, and I understand that and I know I need to make tons of improvements from there until we get into the next season. But it was great to get that start under my belt. I was really thankful for that and I feel I've been growing ever since."
The Mission Viejo, Calif., native was always forthcoming about his underwhelming rookie campaign (12 tackles in 12 games), admitting to struggling with communicating and adapting to the college game. But the confidence is certainly there from his coaches, which means it is certainly there for him, which means these next five months give the 6-foot-1, 194-pounder plenty of time to bridge the gap and adapt to another challenge.
"I wouldn't say frustrating, because it is what it is," Redfield said of the new defense. "Everybody has to do the same thing, it's not like I'm being singled out or any other defensive player is being singled out. We all have to learn the system, whatever system we're in. Obviously it was a big change but it's going well and I can't complain."
March, 27, 2014
Mar 27
12:00
PM CT
March, 26, 2014
Mar 26
3:40
PM CT
SOUTH BEND, Ind. -- It would probably be easier to list the players Brian VanGorder wasn't asked about Wednesday during his first spring meeting with the media. And though few of the guys he discussed outside of
Joe Schmidt
drew heavy praise of note, it is clear that
Notre Dame
's new defensive coordinator is a fan of all he has in front of him.
He just knows not everything is going to click overnight.
[+] Enlarge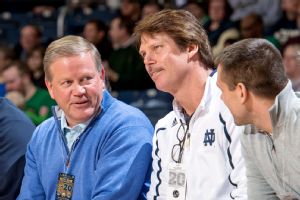 Matt Cashore/USA TODAY SportsNew Fighting Irish coordinator Brian VanGorder (center) will coach a talented but young defense.
"There's a lot of mistakes out there right now, which is not unexpected," VanGorder said. "We get a lot of looks from our offense, and we're in the middle of installs, some players are getting a lot of looks being thrown at them right now. We're moving some guys around, trying to evaluate — it's an evaluation period for us, too. We're trying to find a comfort zone with respects to our players' ability and where he's going to fit best for us as we build our scheme. So a long ways to go, but I really like the players. Hard-working, they come ready each and every day. They're just a good group of players and mentally, they're fun to deal with. Good culture."
Being a veteran of 11 other college and pro stops has helped VanGorder fine-tune the installation blueprint, and he joked that he didn't know what the word "resistance" meant when asked if there had been any from his players in the early going.
But combating the coach's experience is the more versatile offense that his unit is facing every day, along with the overall greenness of a group that features just five total scholarship players entering their final seasons of eligibility (
Josh Atkinson
,
Austin Collinsworth
,
Kendall Moore
,
Justin Utupo
and
Ishaq Williams
).
"It's a little bit typical of some places that I've gone into," VanGorder said of the installation process, "but I guess the thing that probably stands out here is our youth, we're so young. Really young in the front seven especially. Young players. Again, so we've got to speed the process up and bring them along. That's the objective."
The 4-3 vs. 3-4 debate, meanwhile, will have to die another day, as VanGorder said he wants to be multiple and that the 4-3 base the Irish have often used through six spring practices is more a product of early installation. And he said there's no getting around the fact that it will be an uphill battle for some of the injured regulars (
Jarrett Grace
and
Tony Springmann
, among them) to become acclimated with the new system upon their expected full returns in August camp.
Still, the defensive differences from last year to this year have been enough for offensive coordinator Mike Denbrock to notice, beyond the predictably stout play from names such as
Jaylon Smith
and
KeiVarae Russell
.
"I think our defensive line as a whole has gotten more aggressive with what they're doing," Denbrock said. "They're playing more into the gaps and playing more up the field. Those guys kind of flash on me. I think secondary wise, there's probably five or six or seven guys I could say, 'Wow, I like seeing that. I like what this guy is doing. This guy is challenging the heck out of my guys and making them work.' From
Max Redfield
to
Matthias Farley
. You guys have had the chance to see a couple practices, but even the practices you guys haven't seen, a lot of the characters remain the same. A lot of the guys that are kind of flashing at you in the practices you've gotten a chance to see are doing that day in and day out and that's obviously a tremendous thing for our football team."
Notes
: VanGorder joked that his son, prep quarterback Montgomery VanGorder, joining the Irish as a preferred walk-on this summer is "great for Notre Dame." Asked if he wishes he could coach him, VanGorder said: "I learned a long time ago with my five kids, don't coach them. They're all athletes. It didn't work well so I kind of backed off. Gave them things here and there but kind of let their coaches coach them and let me be dad." ... Asked for his philosophy of man coverage and pressing at the line of scrimmage, VanGorder said: "I'd love to do that. I think my mindset is to, especially in today's game, is to take more and more control on defense by being aggressive and it starts out there. That's where you start your decisions as a coach."
December, 30, 2013
12/30/13
9:00
AM CT
By
Matthew Ehalt
| ESPNChicago.com
NEW YORK -- As the
Notre Dame
football team prepares to replace several key defensive starters and install a new defensive coordinator this offseason, former defensive coordinator Bob Diaco's words about filling those voids stand out to sophomore corner
KeiVarae Russell
.
"He [said it's] like it's baking the cake. Instead of putting the sugar you put the spice in," Russell said. "It's still going to turn out to be a cake. It's going to be a different taste of it."
Notre Dame's players and coach are expecting that cake will taste quite good next season.
[+] Enlarge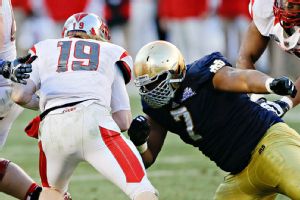 AP Photo/Frank Franklin IINotre Dame could lose defensive lineman Stephon Tuitt to the 2014 NFL draft.
As Notre Dame readies to bring in a new defensive coordinator and potentially replace six starters from Saturday's
29-16 win over Rutgers
in the New Era Pinstripe Bowl at Yankee Stadium in the Bronx, N.Y., the Fighting Irish are optimistic they won't miss a beat defensively next season.
Notre Dame coach Brian Kelly said the team has its new defensive coordinator in place,
reported to be Jets linebackers coach Brian VanGorder
, and an announcement will be coming soon as the contract had not been finalized as of Saturday. VanGorder will replace Diaco, who left prior to the bowl game to become the head coach at UConn.
"We're going to have a lot of really good players coming back, I feel really confident in that," Kelly said. "[I'm] really excited about the prospects next year defensively in the guys we got coming back."
Notre Dame's defense shined against Rutgers, forcing four interceptions and holding the Scarlet Knights to just 236 total yards. More than half of the starters from that game, though, might not be back next season. Defensive lineman
Kona Schwenke
, linebackers
Prince Shembo
,
Dan Fox
and
Carlo Calabrese
, and cornerback
Bennett Jackson
all started their final game for Notre Dame.
Junior defensive lineman
Stephon Tuitt
also started against Rutgers and could skip his final season and declare for the draft. If he does, he will join senior defensive tackle
Louis Nix III
, who did not play against Rutgers after undergoing season-ending surgery but signed with an agent to forgo his final year of eligibility.
"He'll now focus on making that decision. We've had a couple of conversations. He knows all the information," Kelly said of Tuitt. "My job is to provide him with all the information about the decisions that he's about to make. I'm pretty certain he'll make his decision here very, very soon."
As he looks to next season, Kelly likes the core group of defensive players, and believes the team will benefit if it's able to achieve more continuity. Notre Dame started 19 different players on defense this year, as freshman safety
Max Redfield
made his first career start in the Pinstripe Bowl.
Kelly specifically mentioned Russell, who had an interception against Rutgers, and sophomore linebacker
Jarron Jones
as two players the defense can build around next season. Russell is confident he can be a major player for the new defensive coordinator and be a cornerstone for the defense next season.
"I personally believe I'm going to be the best corner next year in the country," Russell said. "This game shows me the development I had from the start of last year and from the beginning of the year to where I've progressed. My man-to-man skills have gotten a lot better throughout the year. Sky's the limit for me. This shows I can really be the best corner in the country, it just takes a lot of work to do that, and this offseason I'm going to work on all my assets."
November, 26, 2013
11/26/13
12:30
PM CT
Eight offensive linemen have seen serious action for Notre Dame this season. Eight defensive linemen have seen serious action, too.
Being down so many players in the trenches is hardly an ideal situation when bracing for Stanford, but the Irish have built themselves to be ready for a moment like this, with their backs against the wall and unfamiliar names stepping to the forefront.
[+] Enlarge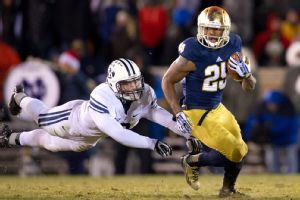 Matt Cashore/USA TODAY SportsFreshman running back Tarean Folston has started to pick up his production in recent weeks.
"We've trained ourselves year-round to get to this point, where even though we may be thin in some areas, we play a lot of players," Irish coach Brian Kelly said during his Tuesday press conference. "And we'll move them in and out, like we did on Saturday. You saw our units moving players in and out. So I'm not concerned about wearing out. I'm more concerned about us taking care of the football and doing the things that I talked about before."
Those include keeping the big plays to a minimum as well as getting more production out of the running game, a task that becomes more challenging without center
Nick Martin
, whom Kelly said suffered an MCL tear in his left knee that will sideline him for six months, including spring ball.
Next-man-in
Matt Hegarty
will look to build off his three-quarter performance last Saturday, when the Irish rushed for 235 yards, 78 of which came from touted freshman
Tarean Folston
.
Kelly had high praise for Folston, who has increased his production as of late and has had an easier time fitting in this year than other highly recruited rookies. Safety
Max Redfield
is among them, as he's had trouble getting on the field despite being the No. 23 overall recruit in the 2013 ESPN 300.
When you think, you stink, Kelly said, and Redfield has been charged with understanding a lot more in the defensive backfield than Folston has in the offensive backfield.
"Let's just take Tarean Folston and Max Redfield, two very gifted young men," Kelly said. "Tarean has had to wait for his chance, he's getting more of it as the season progresses. Max has 10 times as much on his plate at that position as Tarean Folston -- 10 times -- in terms of coverage checks and formation adjustments and communication, all of those things, which are all going into the knowledge base for him.
"He's going to be a dynamite player for us. But there's so much knowledge in our system in the way we play. If we were a close-the-middle-of-the-field, cover-1 team, he probably would have been standing back there in Week 1, if that's what we did. That's not our system. We're a two-deep team and there's a lot going on and he's learned a lot, he's grown a lot and he's at a position now where he's starting to feel pretty comfortable."
October, 9, 2013
10/09/13
9:00
AM CT
SOUTH BEND, Ind. —
Max Redfield
will look across the field next weekend and see up to three different former high school teammates when Notre Dame renews its rivalry with USC.
Yes, the Fighting Irish's matchup with the Trojans will be a big contest, for reasons both both pragmatic and, in Redfield's case, kind of personal.
[+] Enlarge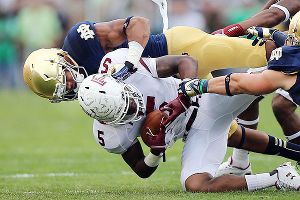 Brian Spurlock/USA TODAY SportsHighly touted freshman safety Max Redfield has seen almost all of his playing time this season come on special teams.
"I want to say it's not, but obviously I have previous connections to USC, a lot of people I know on that team," Redfield said Tuesday. "But once it comes down to it, it's just another opponent. You prepare for every team the same way and it's just another game."
The Irish's bye week gave way to six true freshmen making their media debuts this week, with Redfield highlighting the group given all of his promise and, frankly, lack of production.
It is not that the four-star athlete from powerhouse Mission Viejo (Calif.) High has underperformed through six college games; it is that he has rarely gotten the chance to.
Redfield is as upset as all of the outsiders, but he knows that ultimately falls on him and him alone.
"Yeah, I mean, I feel frustrated still," Redfield said. "I still don't have everything down like I obviously want to. Still making the little mistakes that you obviously need to get down to be a big contributor in the game, and that's why obviously I'm not there. And yeah, it's a process, like the coaches keep telling me, and I've tried to accept it. It's still frustrating, obviously."
The 6-foot-1, 194-pound Redfield arrived on campus this summer as ESPN's No. 2 overall athlete from the Class of 2013. He has appeared in five of six games, making just two tackles and spending most of his time on the kickoff, kick return and punt return units.
Redfield said his first week on campus served as a wake-up call, with the newcomer soon figuring out how much learning he had in front of him despite starring at a prep machine that has sent 18 players to FBS schools in the last five years.
The talent is there. The confidence that comes with mastering a position that essentially demands a type-A personality is slowly coming along.
"Probably just being demonstrative with the calls," Redfield said of his biggest struggle. "You need to know -- obviously depending on what formations, all that kind of stuff -- what defenses to make the specific call, and if you don't know a certain formation and how that defense goes with that formation, then you can't make the call.
"I felt like I was a pretty demonstrative person in high school, and obviously it's harder to be that in college if you don't know what's going on fully."
Notre Dame coach Brian Kelly said earlier this week that Redfield was closer to moving into a bigger role, reiterating the weight of what the rookie is tasked with doing.
"There's so many calls, so many things going on out there," Kelly said. "It's a quarterback position when you're out there at that safety position. It's not just dropping into Cover 2."
The next opportunity for Redfield to demonstrate that growth comes Oct. 19 in a night contest against USC, which will be playing its second game under interim coach Ed Orgeron. Redfield decommitted from the Trojans last November, but he is not patting himself on the back for avoiding a program just months before it let go of its head coach, Lane Kiffin, who lasted all of five games this season.
"I try to just focus on the now," Redfield said. "I'm at Notre Dame now. I don't really think about USC as much. Notre Dame's a great school. [USC's] having their troubles. I'm sure they'll pick it back up. It's a great university and a great team."
January, 4, 2013
1/04/13
6:12
PM CT
ST. PETERSBURG, Fla. -- Notre Dame's push continues for the No. 1 spot in the ESPN recruiting class rankings.
The Irish added a pledge tonight during the Under Armour All-America Game from
Max Redfield
of Mission Viejo, Calif., the nation's No. 4 athlete and No. 36 prospect in the ESPN 150. Redfield again spurned Notre Dame rival USC, from which he decommitted in November, though he continued to consider the Trojans.
Notre Dame appeared in the lead for Redfield after he bolted from the Trojans. He spoke glowingly of the Irish after an October official visit to South Bend, Ind., to watch the Irish defeat Stanford in overtime.
His commitment is the 23rd for Notre Dame, which counts 10 members of the ESPN 150 in its Class of 2013. Redfield, the No. 3 prospect in California, ranks behind linebacker
Jaylon Smith
of Fort Wayne, Ind., and running back
Greg Bryant
of Delray Beach, Fla., on the Notre Dame list.
The Irish, after a 12-0 regular season that landed them in the BCS title game against Alabama at 8 p.m. ET Monday on ESPN, have gained momentum in recruiting. Bryant, No. 2 nationally at running back and 27th overall in the ESPN 150, joined the class in December.
Tarean Folston
, the nation's No. 9 athlete from Cocoa, Fla., committed this week during practice sessions for the UA Game to vault Notre Dame to No. 2 in the class rankings, behind Alabama.
The 6-foot-2, 181-pound Redfield, who started in Friday's UA game and is projected to play safety in college, also had visited Washington and recently considered Ohio State.
The recruiting score is extra sweet for Notre Dame as it continues to watch the Trojans suffer. Redfield made an official visit to USC, which finished 7-6 this season with three straight losses -- including a 22-13 defeat in Los Angeles to Notre Dame on Nov. 24. He also gave his final home visit to USC coaches about three weeks ago, but it wasn't enough to swing him back.
The Trojans have also endured the losses of WR commits
Sebastian LaRue
and
Eldridge Massington
and defensive tackle
Eddie Vanderdoes
, sending USC from the top spot to No. 5 in the class rankings.
Meanwile, Notre Dame pushes forward. A win Monday over Alabama would only further aid the Irish's quest to surpass the Crimson Tide.
TOP 25 SCOREBOARD
Wednesday, 12/24
Saturday, 12/20
Monday, 12/22
Tuesday, 12/23
Friday, 12/26
Saturday, 12/27
Monday, 12/29
Tuesday, 12/30
Wednesday, 12/31
Thursday, 1/1
Friday, 1/2
Saturday, 1/3
Sunday, 1/4
Monday, 1/12
TOP PERFORMERS