Chicago Colleges:

Mike Davis
June, 24, 2011
6/24/11
11:31
PM CT
Illinois coach Bruce Weber began to worry for his former players as the NBA draft pushed into the late second round on Thursday night.
"I knew which teams had called us," said Weber, who watched the entire draft with his current team. "If this team picks this guy ... You're whittling things down. Some of the teams hadn't worked guys out, and you probably knew they were long shots to get picked up."
As Weber feared, none of his former players would be among the 60 players selected into the 2011 draft.
Heading into the draft, there had been the possibility of three former Illini players to be taken. Power forward Mike Davis had an outside shot at going late in the second round. Small forward Jereme Richmond was considered a late second-round pick. Point guard Demetri McCamey had the greatest odds, and there were rumors he could be drafted in the first round.
"I was disappointed," Weber said. "Each case was different. Most of the feedback we got from teams was Demetri was going to get drafted. We had heard as high as the late first round. I got that from a lot of people. That's the craziness of the draft. One or two teams that liked you pick someone else or someone they didn't think would be available is."
[+] Enlarge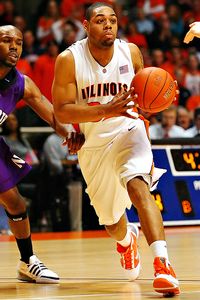 Dennis Wierzbicki/US PresswireIllinois guard Demetri McCamey had four solid seasons in Champaign, but didn't get drafted.
McCamey's camp had a similar reaction to the draft.
"Very shocked," McCamey's agent Roger Montgomery texted on Friday morning. "Had zero clue he would go undrafted."
McCamey was still coming to grips with what happened on Friday. Montgomery texted that McCamey was "not in the mood to talk."
ESPN basketball analyst Stephen Bardo was also surprised, but he thought McCamey might be better off by not being drafted late in the second round.
"You can now go to a team that has a need," Bardo said. "Demetri might be better off to choose which team he goes to. It's a situation where he might have a better chance to make it the NBA than a late second-round pick."
The Atlanta Hawks could be one destination for McCamey. Weber said the Hawks had expressed a lot of interest in McCamey before the draft, but they had only one selection on Thursday and went with a big man.
For Richmond, his future includes more uncertainty. Richmond left Illinois after one season despite plenty of people telling him he should stay, but he was certain he would hear his name called on Thursday.
Draft experts had projected Richmond as a potential late first-round pick early in the process, but he continued to slide the last few months. ESPN NBA draft analyst Chad Ford had Richmond going to the Cleveland Cavaliers as the 54th overall pick in his final mock draft.
Richmond had a rocky freshman season for the Illini. He left the team for a few days and returned home to deal with a personal issue in January, was involved in an altercation with teammate Brandon Paul at the Big Ten tournament and was benched for the Illini's two NCAA tournament games for violation of an athletic department rule. On the court, he showed glimpses of his McDonald's All-American ability, but also struggled.
Bardo didn't think Richmond would be selected based on his off-the-court issues.
"I wasn't surprised that Jereme Richmond didn't get drafted," Bardo said. "I think he had too many question marks and rumors coming out about him. These guys do their due-diligence. They're investing millions of dollars in these players. They're going to know things going on. They start talking to people in the program. If things are negative all around, that's not a good sign.
"Unfortunately, I think he's like a lot of players. It's NBA or bust. It's amazing to me. I think younger players today they're getting no advice. It was always when I was coming through if you didn't go in the first round, you'd go back to school. It was as simple as that."
Weber wished Richmond would have returned.
"In Jereme's case, it's a tough thing because he had another option," Weber said. "Those guys were seniors and didn't have options. It was certainly emphasized in talking to his family, and they made the decision and now he has to take a shot at the D-League or look overseas."
A message left for Richmond's agent was not immediately returned on Friday.
Making the future even more unknown for all three players is a probable NBA lockout, which would lead to the NBA's summer leagues being cancelled.
"It's going to be a long wait-and-see process," Bardo said.
Bardo realized Friday would be a difficult day for those not drafted, but he thought there was a way of making the best of it.
"It's a painful lesson," Bardo said. "A guy like Jereme Richmond, who is obviously not getting good advice, he's probably walking around in a daze. He probably didn't expect to be in this situation. But whatever doesn't kill you makes you stronger. It humbles you. There's nothing wrong with being humbled. You can stay angry or get to work. Hopefully, they will get to work and will be ready when all this is resolved."
March, 11, 2011
3/11/11
9:42
PM CT
INDIANAPOLIS -- Let the campaigning begin.
Over the next 48 hours, Illinois coach Bruce Weber will be on a mission to convince everyone that the NCAA tournament selection committee should include his Illini among the 68 teams in this year's bracket.
Weber will tout the Big Ten's wealth of talent. He will talk about Illinois' four top-50 RPI wins, six more top-100 wins and a 16th-ranked strength of schedule. He will also talk about Illinois passing the so-called eye test.
[+] Enlarge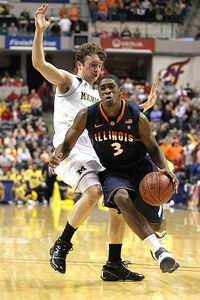 Andy Lyons/Getty ImagesIllinois' Brandon Paul drives against Michigan's Zack Novak in the Illini's loss Friday.
And Weber may get his way come Sunday. ESPN bracketologist Joe Lunardi still believed Illinois was in the NCAA tournament field as of Friday night.
But after watching an experienced Illinois team squander a 12-point lead in the final eight minutes Friday and collapse against another bubble team in Michigan, it's hard to walk away from the Illini' 60-55 loss and feel as if they really deserve to be in the tournament.
Friday's game against Michigan was thought to potentially be make or break for both teams, and Illinois broke under that pressure as it did last year when they missed the NCAA tournament cut.
With less than 10 minutes remaining in Friday's Big Ten quarterfinal, Illinois appeared as if it just might run away from the Wolverines. Illini sophomore
Brandon Paul
built their lead to 51-39 with a 3-pointer with 8:35 remaining.
It took five minutes, 32 seconds for Illinois to score again. And while Illinois was missing shots and turning the ball over possession after possession, Michigan climbed back into the game. The Wolverines closed the game out on a 21-4 run to ensure its own tournament chances.
"We kind of got tentative, we didn't attack the basket as much," Illinois senior
Mike Tisdale
said. "They make a few shots here and there. It's disappointing. We had a chance. They made plays and we didn't."
Fellow senior
Mike Davis
said: "It sucks we had the game. We had it controlled the whole game. … Just to a lose game, you're not supposed to lose. We had the game won. You let it slip out your hands. You just hope we don't let our postseason slip out of our hands, let the tournament slip out of our hands."
Like last season, Illinois had too much riding on the Big Ten tournament. The Illini didn't do enough again in the regular season to put its doubters to rest.
Last year, it was non-conference losses to Bradley and Utah and a 10-8 record in an average Big Ten that did Illinois in. This season it could be a horrendous loss to UIC at the United Center and an up-and-down 9-9 conference season, which included losses to Indiana and Northwestern in an improved Big Ten.
One difference from last season is Illinois' RPI is better. It was ranked 75th in RPI when the Illini were left out last year, but they are 38th this year.
"I feel like I we have done enough in the regular season to get us a strong bid," Paul said. "We feel like last year we might have got robbed a bit. Hopefully, this year will be a little different."
Tisdale was less optimistic after remembering what Illinois went through last year.
"That was our hope last year, and we're in the same spot," Tisdale said. "I don't really want to get the hopes up too high. I'm going to keep praying we do. It's out of our hands now."
There evidently will be a lot of praying going on in Champaign over the weekend.
"We just got to pray that we're in," Davis said. "I'm a little nervous right now. We're in the same spot as last year. We don't have 20 wins."
Weber didn't know what to think.
"You know, I feel that we played a tough non-conference schedule, we played quality opponents, we've beaten top-50 teams, you know, we competed in one of the best conferences in the country," Weber said. "But at the same time, we went through it last year, and you just don't know. You have to wait and see what happens over the next couple days, and if there are any upsets or anyone else sneaks in, because you don't know if you'll be the team to be left out.
"I thought if we would have won today, I would have been very confident that we'd be playing next week in the NCAA tournament. I still feel good, but at the same time we've just got to wait and see what happens with everybody else."
March, 10, 2011
3/10/11
10:50
AM CT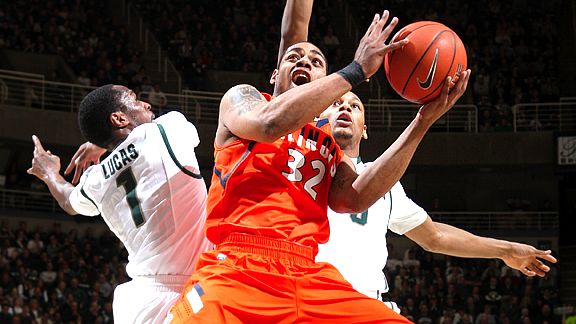 AP Photo/Al GoldisDemetri McCamey has had memorable Big Ten games, and he may need another to secure an NCAA invite.
Illinois allowed the NCAA tournament selection committee to determine its fate last season, and that didn't work out so well for the Illini.
The plan this season was to avoid that same scenario, but after an inconsistent regular season, Illinois is facing nearly an identical situation. Unless the Illini defeat Michigan in the Big Ten tournament quarterfinals on Friday, they will likely be watching Sunday's selection show with one hand over their eyes.
It so happens Michigan is also feeling so-so about its NCAA tournament chances right now. Of course, a win over the Illini would give the Wolverines some security, too.
"I know they're going to come out hungry because they feel like if they win they're in," Illinois senior forward
Mike Davis
said.
Illinois senior center
Mike Tisdale
understands what's at stake for both teams.
"They got work to do," Tisdale said. "It's not going to be easy for any of us. They're not going to come in and lay down. I would like to say we are [in the tournament,] but we do have work to do. We're not going to lie down. We're going to play, and we're going to play to win."
Illinois' senior group has experienced some success in the Big Ten tournament. As freshmen, they made a run to the tournament's title game despite being the 10th seed. As sophomores, they defeated Michigan in the quarterfinals and lost to Purdue in the semifinals. Last season, they beat Wisconsin in the quarterfinals and lost in overtime to Ohio State in the semis.
"We've actually done pretty well there lately," Tisdale said of Conseco Fieldhouse. "I feel comfortable on that court. I think the rest of the seniors do as well. I think we'll go out there and hope to make shots."
Senior point guard
Demetri McCamey
has had some memorable Big Ten tournament games over his career. He put up 26 points in an upset of Purdue as a freshman. He delivered 22 points in last year's game against Ohio State. In his four years, he's averaged 12.1 points, 3.5 rebounds and 4.3 assists in conference tournament games.
Sophomore guard
D.J. Richardson
will be looking to follow McCamey's lead this week and try to snap out of a recent funk. Richardson has scored a total of 15 points in his last six games.
Davis has been in Richardson's shoes and has been trying to guide him.
"I told him to just stay positive, think about other things than scoring," Davis said. "When I was a freshman and sophomore, I only thought about scoring. He's not a one-dimensional player. That's something I told him. He's so much more talented than scoring. The scoring will come."
Illinois has stepped up its play in recent weeks. After losing three of four games in late February, the Illini arrive to the Big Ten tournament having won two out of their last three.
"We're playing better now," Tisdale said. "It's a good thing to be playing better at the end. That's the focus. We have to continue doing that."
October, 12, 2010
10/12/10
7:42
PM CT
CHAMPAIGN, Ill. – Illinois senior forward
Mike Davis
glanced at the back wall of the Illini's practice gym in the Ubben Complex.
Davis already knew what he'd see before doing so. He had stared in that direction on plenty of occasions over his last three seasons.
[+] Enlarge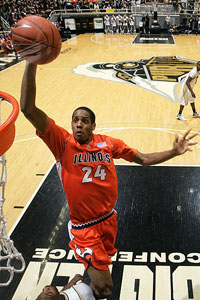 Joe Robbins/Getty ImagesSenior Mike Davis doesn't want to leave Illinois without winning a Big Ten title.
This time was no different. There on the wall hung banners for all of Illinois' Big Ten basketball championships, and again he recognized that none of them had been won during his time there.
"We're back to business," Davis said during Illinois' basketball media day on Tuesday. "Back to trying to get a banner up there. I have no legacy here.
Demetri McCamey
has no legacy here. We want to hang a banner, so people can remember us by it. 'That [2010-11] team hung a banner. They won a Big Ten championship.' That's what I want to leave."
Illinois' four seniors -- Davis, McCamey,
Bill Cole
and
Mike Tisdale
-- haven't achieved in the last three years what they hoped to when they arrived in Champaign. Now with one season left, their one and only goal is to leave a lasting mark on the program.
So far, the seniors' legacy is a 61-44 overall record, a 26-28 Big Ten record, one NCAA Tournament first-round exit and last year's NIT quarterfinal loss to Dayton at Assembly Hall.
In McCamey's eyes, it's not exactly an impressive resume.
"You look at it, as far as being the point guard and wins and losses, and you look back as far as not making [the NCAA Tournament] for two years and then you make the NIT and then you go and lose the first round to a mid-major school. There's really no success there as far as postseason. At the same time, you got to say, 'Seniors, this is what we got to do.'"
Tisdale expressed a similar thought.
"We've been here for a couple years now, and we haven't hung a banner," Tisdale said. "This year our attitude is: we have to win. We got to win something because over the past couple years we haven't achieved what we could have. This year our focus is winning and winning only."
The goals the seniors have set out for themselves are a Big Ten championship followed by a long run in the NCAA Tournament.
"I don't care about the [individual] numbers," said McCamey, who is a Wooden Award candidate. "It's about the wins and trying to get Illinois to a Final Four, Elite 8 and back to the NCAA Tournament. It's all about trying to win and going out with a bang. One day, hopefully tell your kids how you did your senior year and the success you had as a senior."
There is optimism around the Illini this season. With Davis and McCamey back after testing the NBA waters, Tisdale adding weight and playing with the U.S. select team this summer, the improvement of sophomore guards
Brandon Paul
and
D.J. Richardson
, Cole and sophomore
Tyler Griffey
proving depth at the forward position and the addition of a highly-touted recruiting class, which is headlined by McDonald's All-American
Jereme Richmond
, Illinois' seniors believe this will finally be the year for them.
"It's going to be our deal [as seniors] and get everyone else into it," Cole said. "Bring those young guys along. If the younger guys catch on, we'll be really tough to beat this year. I thought we had the best offseason by far since we've been here. It was putting [last season] behind us and realizing how good we can actually be this season."
May, 11, 2010
5/11/10
8:06
PM CT
Juniors
Demetri McCamey
and
Mike Davis
aren't sure whether they would be remembered for anything at this point in their
Illinois
careers.
They both have had their share of individual successes over their three seasons in Champaign, but so had plenty of other skilled players who have now been forgotten. They realize what has made the likes of
Dee Brown
, Deron Williams, Kendall Gill and Nick Anderson so beloved and unforgettable to the Illini nation to this day was that they were not only gifted players, but they also won a ton of games.
Read the full story
May, 8, 2010
5/08/10
12:48
PM CT
Illinois coach Bruce Weber felt as if he was in limbo the past few weeks as he awaited Demetri McCamey's and Mike Davis' decisions whether to remain in the NBA draft or return to school for one final year.


With both deciding Saturday to withdraw from the draft, Weber was finally able to breathe a sigh of relief and could stop trying to invent ways to replace his starting point guard and power forward for next season.


"This time of year, you can usually relax a little bit, and now it's more interesting than any other times," Weber said Saturday afternoon. "I'm proud of how they handled it. They communicated. They listened. They listened to what the NBA was saying. They did it the right way. Is there always some fear factor there? Yeah, it's always there.


"We can now focus what's at hand -- the new season."

Read the entire story.
April, 30, 2010
4/30/10
10:42
PM CT
Illinois juniors Mike Davis and Demetri McCamey will work out for the Portland Trail Blazers on May 7, according to Illinois assistant coach Jerrance Howard.


Davis and McCamey have until May 8 to withdraw from the draft to keep their college eligibility.


McCamey, a 6-foot-3 point guard, averaged 15.1 points, 3.6 rebounds, 7.1 assists and 1.5 steals this past season. Davis, a 6-9 forward, averaged 10.7 points and 9.2 rebounds.


ESPN's NBA draft analysts have predicted that both could go as high as the second round but also go undrafted.


Scott Powers covers high school and college sports for ESPNChicago.com and can be reached at spowers@espnchicago.com.
March, 23, 2010
3/23/10
8:51
AM CT
[+] Enlarge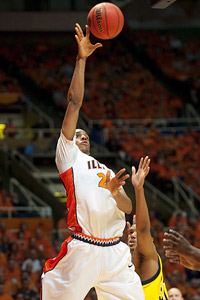 AP Photo/Robert K. O'DaniellIllinois' Mike Davis had 16 points and 16 rebounds on Monday against Kent State.
CHAMPAIGN, Ill. -- The NIT is important to Illinois coach Bruce Weber. That's certain.

Whether junior forward Mike Davis feels the same isn't so definite.


Earlier this week, Davis said he was "dreading playing in the NIT" and "I'd rather go to the [NCAA] tournament and lose in the first round than go in the NIT and win it."


Now, Davis says he didn't mean that. On Monday, he did his best to eliminate any record of his previous remarks and replace them with, "You know my emotions were running high the other day. The NIT is a great tournament."


Those words were the ones Davis used a handful of times during interviews following Illinois' 75-58 win over Kent State in the second round of the NIT at Assembly Hall on Monday. He even opened up the postgame press conference by making a statement about his earlier quotes.


"NIT is a great tournament" is what Davis is now saying, but it's not necessarily what he feels. You get the sense that Davis is now simply echoing the company line.