Chicago Colleges:

Mike Golic Jr.
May, 12, 2014
May 12
9:00
AM CT
Notre Dame walked away from NFL draft weekend with eight of its former players getting picked, tied with Alabama for the second most of any school in the country, behind LSU's nine. The eight picks also marked the most in a single draft for the Irish in 20 years, as they had 10 draftees in 1994.
In addition, six former Notre Dame players signed with NFL clubs after the draft, with five of those players coming from last season's team.
Seven of Notre Dame's defensive starters from the Discover BCS National Championship following the 2012 season have now been drafted as well:
Kapron Lewis-Moore
(Ravens, 200th),
Manti Te'o
(Chargers, 38th) and
Zeke Motta
(Falcons, 244th) last year;
Stephon Tuitt
(Steelers, 46th),
Louis Nix
(Texans, 83rd),
Prince Shembo
(Falcons, 139th) and
Bennett Jackson
(Giants, 187th) this year.
It's not a stretch to say that linebacker Danny Spond, who also started against Alabama in the title game, was on track to be drafted prior to retiring before last season because of hemiplegic migraines. It's also worth noting that safety
Jamoris Slaughter
, who was drafted 175th overall by the Browns last year, started on the Irish's 2012 defense before suffering a season-ending Achilles' tear in Week 3. Two defensive starters from that title game,
KeiVarae Russell
and
Matthias Farley
, still have two years of eligibility left at Notre Dame.
Here's a recap of Notre Dame's 2014 draft weekend. Irish transfers
Shaquelle Evans
(fourth round, 114th overall) and
Aaron Lynch
(fifth, 150th) were both drafted as well.
DRAFTED
LT
Zack Martin
,
Dallas Cowboys
(first round, 16th overall)
DE Stephon Tuitt,
Pittsburgh Steelers
(second, 46th)
TE
Troy Niklas
,
Arizona Cardinals
(second, 52nd)
NG Louis Nix,
Houston Texans
(third, 83rd)
LG
Chris Watt
,
San Diego Chargers
(third, 89th)
LB Prince Shembo,
Atlanta Falcons
(fourth, 139th)
CB Bennett Jackson,
New York Giants
(sixth, 187th)
WR
TJ Jones
,
Detroit Lions
(sixth, 189th)
UNDRAFTED FREE AGENT SIGNINGS
RB
George Atkinson III
,
Oakland Raiders
LB
Dan Fox
, New York Giants
LB
Carlo Calabrese
,
Cleveland Browns
QB
Tommy Rees
,
Washington Redskins
NG
Kona Schwenke
,
Kansas City Chiefs
C/G
Mike Golic Jr.
,
New Orleans Saints
November, 19, 2013
11/19/13
9:00
AM CT
SOUTH BEND, Ind. --
Tommy Rees
and
Chris Watt
live together at Notre Dame, so the quarterback was sure to give the left guard heat when it looked like something as minor as a PCL tear would sideline one of the signal caller's anchors and best friends.
"You can ask him. I constantly tell him he's limping on the wrong leg or milking it," Rees said. "I always ask him, 'Which leg is it again?' Trying to prompt him to mess up."
It was the right leg, to be clear. And it did, in fact, end up keeping Watt out of the Nov. 2 game against Navy, before he returned the following week at Pitt.
[+] Enlarge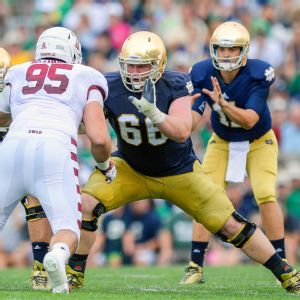 Robin Alam/Icon SMIChris Watt had played in 47 straight games, including 30 straight starts, before sitting out the Nov. 2 game against Navy with an injury.
"Yeah, he's been doing that," Watt said of Rees. "Telling me to go buy some milk, things like that. But it's all in good fun."
But such ribbing has the exception to the rule, underscoring just how fortunate and proactive Watt has been with his body. The same goes for Watt's sidekick and fellow roommate
Zack Martin
, too.
Watt and Martin have been bedrocks up front for the Irish, fifth-year seniors who have started for three-plus years on the left side of the offensive line. They have been through Senior Day before, though this Saturday against BYU will mark their official finales at Notre Dame Stadium.
The continuity has been a point of pride for the linemen, with Watt saying that one of the hardest things he has had to do in college was telling offensive line coach Harry Hiestand before the game against the Midshipmen that he would not be able to go. That marked the first contest either Watt or Martin had missed in college. Watt had played in 47 straight games before that, starting in the last 30. Martin, meanwhile, has started every single game since redshirting in his freshman season of 2009 -- 47 of the 49 at left tackle -- and he will break the school record for career starts if he starts these final three games.
"They have really shown those young players what it takes as a unit, as a group, in the weight room, in the practice field, and how to stick together as a group," Kelly said. "Now on the field, consistency of performance. So they've got two seniors there that have really set a high bar for everybody else to follow."
Other linemen have come and gone -- Notre Dame has seen a grand total of six players start at the other three offensive line positions these last three seasons, with two of them,
Christian Lombard
and
Mike Golic
Jr., starting in multiple spots. But Martin and Watt have been the heartbeat of the offensive line for much of the
Brian Kelly
era.
The duo has become so in-sync over the years that Martin seemingly spoke on behalf of Watt several weeks ago when talking about Watt's injured knee, saying that he himself could feel it improving based on some practice reps together.
"When we're working combination blocks it's either I'm setting it up for him or he's setting a block up for me, so I can definitely feel it," Martin said. "If he's setting one up for me I can definitely feel the difference with a full strength [knee]."
Martin laughed when asked how long it took to develop such synergy, saying he did not know. Taking care of their bodies in hopes of being in that position certainly does not hurt.
"They've learned to eat better along the way. They've also trained hard in the offseason," said Keith Martin, Zack's father. "Oftentimes that prevents injuries. I'm not saying it's 100 percent, but they've learned throughout the years to not just take care of your bodies during the season, but [that] how you prepare during the offseason is important."
Martin and Watt
put in extra work this summer with the five-man freshman class of offensive linemen
in hopes of accelerating their growth. Martin, the program's 18th two-time captain, said the work ethic has been hard to avoid throughout his career, as he credited his father, a former Kentucky defensive lineman, for instilling the mantra in him.
Zack and his brother, center
Nick Martin
, said they have never missed a game at any level, though Zack got lucky with the timing of an ankle injury in last year's regular-season finale at USC and Nick is currently playing through a broken hand suffered in his last outing, Nov. 9.
Nick joked that their father had claimed "he had broken something supposedly and played through it" in college, with Keith clarifying that he had played through foot and pectoral injuries during his career 30 years ago.
The durability of Notre Dame's left side has not gone unnoticed, especially by the man whose security has been affected most by this run of reliability.
"Zack and Watt have been doing it for a long time on the left side for us, and to play in the trenches like that and -- knock on wood -- be healthy for as long as they have is unbelievable," Rees said. "When you have that kind of consistency and familiarity up there it makes the whole offense go, and it really helps some of our younger offensive linemen who haven't played feel confident and know they have guys to turn to."
May, 9, 2013
5/09/13
9:00
AM CT
2012 record:
12-1
2012 conference record:
N/A
Returning starters:
Offense: 6; defense: 8; kicker/punter: 1
Top returners

QB
Everett Golson
, WR
TJ Jones
, WR
DaVaris Daniels
, LT
Zack Martin
, LG
Chris Watt
, RT
Christian Lombard
, DE
Stephon Tuitt
, NG
Louis Nix
, LB
Dan Fox
, LB
Carlo Calabrese
, LB
Danny Spond
, LB
Prince Shembo
, CB
Bennett Jackson
, CB
KeiVarae Russell
, S
Matthias Farley
Key losses
RB Theo Riddick, RB Cierre Wood, WR Robby Toma, TE Tyler Eifert, C Braxston Cave, RG Mike Golic Jr., DE Kapron Lewis-Moore, LB Manti Te'o, S Zeke Motta
2012 statistical leaders (*returners)
Rushing:
Riddick (917 yards, 5 TDs)
Passing:
Golson* (187-of-318 for 2,405 yards, 12 TDs, 6 INTs)
Receiving:
Eifert (685 yards, 4 TDs)
Tackles:
Te'o (113)
Sacks:
Tuitt* (12)
Interceptions:
Te'o (7)
Spring answers
1. Golson in charge of offense.
Now in his second year as the starting quarterback, Golson is in charge of what Brian Kelly hopes will become a quarterback-driven offense. Golson has been much more vocal on and off the field since the 2012 season, and the hope is that he can help the offense dictate the pace of the game week to week this fall.
2. Jarrett Grace ready to step up.
Te'o leaves a giant hole in the middle of the Irish defense after three-straight 100-plus tackle seasons, but Grace looks ready to step in and assume the starting role. Will he notch seven interceptions this season, like Te'o in 2012? Unlikely. But the staff has liked his progress from the get-go, and he has not been fazed by all of the hoopla surrounding the "Mike" position since Te'o's departure.
3. DB depth.
Last season, the Irish entered the fall with two new starting cornerbacks. By Week 3, they were down
Lo Wood
and safety Jamoris Slaughter because of Achilles injuries. This year Wood is back, as is safety
Austin Collinsworth
, adding plenty of depth to a secondary that returns three starters. It will give the defense much more flexibility after the unit broke in three new starters in 2012. Several talented safety recruits are on the way, too.
Fall questions
1. Backfield answers.
George Atkinson III
is the most experienced of the backs, bulking up this offseason and readying for the closest thing to a No. 1 role that the Irish offense allows.
Cam McDaniel
has been reliable in limited action, and USC transfer
Amir Carlisle
impressed the staff before going down with another injury, this time a broken collarbone that kept him out for most of the spring. There is
Will Mahone
and a pair of four-star recruits on the way as well, but the bottom line is that none have handled a majority of the carries at the college level yet and are filling big shoes from last season in Riddick and Cierre Wood.
2. Receiver depth.
Davonte Neal
and
Justin Ferguson
transferred this spring, leaving the Irish with a bit of a numbers issue.
C.J. Prosise
has converted to a full-time receiver and could compete for the starting slot role for 2013, but a group already down four of its top six pass-catchers from 2012 can ill-afford another injury or defection, and will likely need some early production from a talented group of freshmen.
3. Defensive leaders.
This isn't necessarily an issue so much as an unknown. Last year's three seniors were tremendous vocal presences, helping the defense become greater than the sum of its parts in finishing second nationally in scoring. This year's unit could be deeper and more talented, and if it can work together like last year's, it could see similar success in 2013. Jackson, Farley and Nix figure to emerge as front-runners for defensive captain spots this fall.
January, 8, 2013
1/08/13
3:19
AM CT
MIAMI -- Notre Dame senior running back
Theo Riddick
sat on his locker, head down.
The tears continued to roll down his cheeks. Occasionally he would wipe some away with a Gatorade towel. However, Riddick could not erase the memories, or the hurt, from Monday's
42-14 loss
to Alabama in the Discover BCS National Championship.
"All I can say," Riddick said, with his eyes staring at the ground, "is we have a great future in front of us."
The future does look much better around South Bend these days. As disappointing as Notre Dame's throttling was, the Irish went from unranked in the preseason to a No. 1 ranking, 12-0 regular season and first berth in the BCS title game.
"It doesn't matter what happened tonight, because I'll remember the guys in this locker room as a brotherhood," said senior center
Mike Golic Jr.
, who also fought back tears.
"Hopefully this is a springboard for the players coming back. I heard (senior)
Braxston Cave
say if the pain you're feeling right now is not enough to motivate you in the offseason, then you might not have a pulse."
The program's pulse was getting weaker and weaker at the end of the Charlie Weis era.
That all changed with the arrival of coach Brian Kelly.
For Brett McMurphy's full column, click
here
.
January, 5, 2013
1/05/13
5:30
PM CT

Mark Schlabach discusses the BCS title game with Notre Dame offensive lineman Mike Golic Jr.
December, 10, 2012
12/10/12
9:50
PM CT
Befitting a season seemingly from the past, Notre Dame made the theme for its Friday night awards banquet "The Echoes."
Seventeen "Echoes" were handed out at the DeBartolo Performing Arts Center by the entire Notre Dame staff, including the team MVP echo to
Manti Te'o
, who accepted the award live via satellite from atop 30 Rock in New York. Te'o was for the Heisman Trophy presentation the following night.
The highlights of the night:
Matthias Farley
's bowtie,
Theo Riddick
's Armani belt and Louis Nix's brief acceptance speech: "I'd like to thank my mom. She had a beautiful son and he's here today." The senior parents' video was a hit for the second straight year as well.
Here's a list of the night's winners:
Offensive scout team player of the year, presented by offensive GA Bill Brechin
Winner
:
Nick Fitzpatrick
(also nominated:
Bruce Heggie
, William Mahone)
Defensive scout team player of the year, presented by defensive GA Josh Reardon
Winner
:
Tyler Stockton
(also nominated:
Joe Romano
,
Joe Schmidt
)
Offensive newcomer of the year, presented by offensive coordinator Chuck Martin
Winner
:
Everett Golson
(also nominated:
DaVaris Daniels
,
Christian Lombard
,
Troy Niklas
)
Defensive newcomer of the year, presented by co-defensive coordinator Kerry Cooks
Winner
:
KeiVarae Russell
(also nominated:
Sheldon Day
, Matthias Farley,
Danny Spond
)
Irish Around the Bend award (community service), presented by director of player development and engagement Ernest Jones
Winner
: Mike Golic Jr.
A-Team award (accountability, appreciation, achievement), presented by defensive line coach Mike Elston
Winner
:
Kapron Lewis-Moore
Count On Me award (reliable, unselfish), presented by running backs/slot receivers coach Tony Alford
Winner
: Theo Riddick
Father Lange Iron Cross award, presented by strength and conditioning director Paul Longo
Winner
:
Braxston Cave
Special teams award, presented by tight ends coach/special teams coordinator Scott Booker
Winner
:
Kyle Brindza
Pietrosante award (courage, loyalty, teamwork, dedication, pride), presented by outside receivers coach Mike Denbrock
Winner
:
John Goodman
,
Robby Toma
Moose Krause defensive lineman of the year, presented by assistant head coach/co-defensive coordinator Bob Diaco
Winner
: Louis Nix and
Stephon Tuitt
Offensive lineman of the year, presented by offensive line coach Harry Hiestand
Winner
:
Zack Martin
Rockne Student-Athlete award, presented by safeties coach Bob Elliott
Winner
: Danny Spond
Next Man In award, presented by head coach Brian Kelly
Winner
:
Tommy Rees
Offensive player of the year, presented by Kelly
Winner
:
Tyler Eifert
Defensive player of the year, presented by Kelly
Winner
:
Zeke Motta
MVP, presented by Kelly
Winner
: Manti Te'o
August, 3, 2012
8/03/12
5:00
PM CT
SOUTH BEND, Ind. -- It looks like
Austin Collinsworth
may be the only player who will not be taking the LaBar Practice Complex fields Saturday when Notre Dame opens fall camp.

Coach Brian Kelly said Friday that the junior safety, who underwent surgery this spring to repair a torn labrum in his left shoulder, would likely be out until late October or early November, given the roughly six-month recovery timetable he was given. Collinsworth has played each of his first two years with the Irish and still has a redshirt year remaining.
Kelly said that redshirt sophomore wide receiver Luke Massa (knee) is limited but cleared to do a lot of work. Converted sophomore tight end Troy Niklas (head) is 100 percent after missing the end of the spring.
The right side of the offensive line will be tinkered with throughout the spring, as Mike Golic Jr. and Nick Martin battle for the starting guard spot while Christian Lombard appears to be the No. 1 tackle. Needing three or four players on the right side to be interchangeable, Kelly said that Martin could see some time at tackle with Tate Nichols as well.
The defense will use five inside linebackers with Carlo Calabrese suspended for the opener against Navy, rotating in Kendall Moore, Joe Schmidt and Jarrett Grace.
Kelly is "very pleased" with the off-field progress of Everett Golson, who admitted to struggling academically when first arriving on campus in the spring of 2011.
Kyle Brindza sounds like the man to beat for kickoffs, while Nick Tausch seems to have a leg up on field goals and extra points: "I think going through the spring Nick Tausch showed himself to be a pretty consistent kicker for us, PAT, field goal," Kelly said. "I think we're still working with him and Brindza. Kyle has shown a strength, as you know with the ball moving up to the 35yard line now. We feel that both are capable. But Kyle's a little bit stronger and may be able to kick that thing out of the back of the end zone every time. So we'll continue to work on that. But moving forward, I think Nick had a very good spring for us. We feel confident in his ability. Kyle is right there at the waiting. I think we've got two really good kickers at that position."
Freshman receiver Davonte' Neal will wear jersey No. 19. Freshman running back recruit KeiVarae Russell has been converted to cornerback, giving the Irish six scholarship corners. Russell will wear jersey No. 6. The rest of the freshmen jersey numbers remain unchanged from this list.
Redshirt freshman receiver DaVaris Daniels switched from jersey No. 16 to No. 10. Class of 2010 recruit and current Notre Dame freshman safety Chris Badger, back from his two-year Mormon mission, will wear No. 16.
Kelly said that Notre Dame would have only recruited Penn State players -- who, in light of NCAA sanctions, are eligible to transfer without restriction and can play for a new school in 2012 -- had they de-committed and publicly expressed their desire to transfer.
May, 10, 2012
5/10/12
10:30
AM CT
Best spring game performance:
Everett Golson
, considered the biggest mystery in the four-man quarterback battle entering the spring, was 11 of 15 for 120 yards and two scores. He carried it six times for 25 yards. Most importantly, he was the only quarterback to not turn the ball over.
Best overall unit:
The running back/slot receiver group coached by Tony Alford is loaded with talent.
Theo Riddick
and
George Atkinson III
made big play after big play in the spring game (though Atkinson will have to protect the ball better after fumbling twice). We all know what
Cierre Wood
is capable of after a 1,000-yard season while splitting carries with Jonas Gray in 2011. And we might even see a bit of
Robby Toma
in the backfield, though the senior remains an invaluable pass-catcher for the Irish.
Best position battle:
Other than under center? Let's go with the right side of the offensive line, where
Mike Golic Jr.
,
Nick Martin
and
Christian Lombard
look to have the inside track for the two open spots.
Biggest surprise (good):
John Goodman
raised some eyebrows with his play this spring, earning most improved player on the offensive side of the ball and getting to be a captain for the spring game. Coach Brian Kelly said he's been the go-to receiver this spring, and Goodman wants to reward the staff's faith in him after he was invited back for a fifth year.
Biggest surprise (bad):
Aaron Lynch has transferred to South Florida, leaving the Irish down a man on the defensive line.
Kapron Lewis-Moore
, a previous starter, will slide back into Lynch's role, but the loss of an elite pass-rusher who had no trouble bursting onto the scene as a freshman is a blow to the team.
November, 12, 2011
11/12/11
12:35
PM CT
Cierre Wood
began the season as Notre Dame's starting running back.
Jonas Gray
has started the Irish's last two games. No, there isn't an injury or dip in performance. The two have just been seemingly interchangeable in the backfield this season.
[+] Enlarge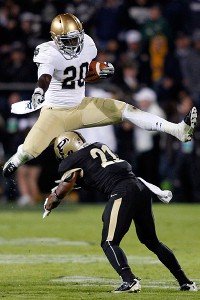 AP Photo/AJ MastNotre Dame's Cierre Wood is 42nd in the nation in rush yards per game at 89.8.
Wood is 42nd in the nation with 89.8 rushing yards per game. Gray, who averages 66 rushing yards per game, ranks 83rd. Notre Dame is one of just eights teams with multiple players among the top 100 in rushing yards per game.
Here, Wood, a junior, talks about the dynamic with Gray, the improved short-yardage game and the running backs' blocking efforts.
It may not have registered until everyone looked up the stats the next day, but Saturday was your first-ever second-half comeback win under Brian Kelly. Do you look at that as maybe a step or a sign? Is that something that's talked about on the team?
CW:
Not really. It's just fighting back, really just that will to not give up and keep going, which we base everything we do off of, which is the next man in. A lot of guys were playing injured that game, but everybody just kept going in because we knew what the task was to come back and win. And we got the job done.
Jonas said after [Wake Forest] missed that field goal late, his first thought on the sideline was, Give me and Cierre the ball, we're gonna run this clock out, we're gonna win. And he said that's a mentality that's kind of had to foster over the course of the year. How have you seen the confidence in the run game grow and know that's your situation right there?
CW:
The run game has been a huge factor this whole year. It started off good in the beginning and it's still going strong. Now we base everything off of our run game. We have to have a physical presence in the run game in order for everything else to fall into place and stuff like that. So in order to get our jobs done at all times, we always need to start running the ball.
How much easier is your life when you have a back who can step in and do the things you do?
CW:
It's extremely easy, to be honest with you. While he's in there, he's doing his thing. While I'm in there I'm doing my thing. We both go in there, we're both gonna produce. So somebody's gonna get the job done.
Is it particularly fulfilling to see the light kind of click on for him during his last chance, to overcome the fumbles in the past and really have a strong senior season?
CW:
Yeah. Since the beginning of the summer I told him we're gonna have to run the tables. We're gonna have to start everything and put the team on our backs and stuff like that. And that's what we did. I told him we're gonna start the run game and it was gonna come from us too, as far as starting it off and getting everything rolling, and that's exactly what we did. I'm happy to see Jonas doing great. I'm his No. 1 fan. Every time he scores I'm always the first one out there to give him a high-five and stuff like that. Coming here, Jonas wasn't playing that much and I'm very very happy to see him making it.
It didn't seem like you guys really missed a step when Braxston [Cave] went out, but when you do see a member of the offensive line go down, particularly at such a big spot like the center, what's the running backs' philosophy there? Obviously you're not on the line with them, but what are you thinking?
CW:
I wasn't worried about anything. As soon as Mike [Golic Jr.] came in there I told him, "Let's go. The ball is dropped. We're rolling with or without you, really." But he knew that coming in. Just like you said, we didn't miss a beat.
One of the things you guys have talked about throughout the year — and that doesn't really get a lot of attention — is the blocking by the running backs. It's one of those things [running backs coach Tim] Hinton was saying earlier: People won't know you're doing a good job until you do a bad job and there's a sack or something that was your responsibility. How much pride do you guys take in that, and how much have you learned to embrace that?
CW:
We take a huge amount of pride in that. That's very very important to us as running backs and to our team as a whole. We haven't allowed a sack, as far as from the backs, this whole season. We wanna go the whole season without allowing any sacks as far as from our end. Our coach always says to be a Notre Dame running back you have to play physical and you have to pass-protect. And that's one of our code of conduct rules that we have. That's basically what we live by and we just get the job done.
It seems like the short-yardage game, that was something at Michigan that wasn't there for you guys late in the game but obviously was this past week at Wake Forest. Is that more of a mentality thing? Is it a physical thing? How has that kind of manifested itself over the course of seven or eight weeks?
CW:
It's a mindset really. You've gotta get into that mindset where you just feel like, hey, nobody's stopping you, no one man can take you down. Coming into the season I put that on myself and that's been there this whole time. I told Jonas we both have to have that mentality at all times. And he jumped on-board with it. We just hit the ground running ever since.
November, 8, 2011
11/08/11
8:48
PM CT
SOUTH BEND, Ind. -- Mike Golic Jr. and
Robby Toma
just took on bigger jobs this week, as they will both start Saturday against Maryland
in light of injuries
to Braxston Cave and
Theo Riddick
.
Cave will be out for the season with a foot injury, while Riddick (hamstring) is expected to return after Saturday's game.
Golic Jr. filled in for the majority of the final three quarters Saturday and played well, having no issues with snapping to
Tommy Rees
while the offensive line went its fifth straight game without surrendering a sack.
"Mike came in, played very well for us," coach Brian Kelly said. "You know, I think when you look at the center position, there's always a great concern because, you know, that guy is put in a very difficult situation, shotgun snaps, changing up the cadence, calling out some of the defensive fronts and structures, but Mike has done a nice job and we have a great deal of confidence, and that's a next-man-in situation for us with Mike going in there."
Toma, meanwhile, gets a chance that many felt was long overdue. The 5-foot-9, 185-pounder filled in for Riddick at times last season because of injury and had 14 catches for 187 yards, including four catches of at least 20 yards.
Toma, a junior, has just three catches for 35 yards and a touchdown this season.
The good news for Notre Dame is that Manti Te'o and Aaron Lynch are not expected to miss any time because of ankle injuries suffered Saturday. Kelly said Ethan Johnson should return from his ankle injury as well, six weeks after spraining it on the first snap Oct. 1 at Purdue.
Kelly said the Irish will have to be smart with Te'o as it relates to practice. The junior linebacker played through an ankle injury early in October.
"He won't do a lot of individual work, we won't have him in run support, he won't be doing things like that," Kelly said, "but he'll be involved in most of our team stuff."
November, 6, 2011
11/06/11
1:48
AM CT
WINSTON-SALEM, N.C. -- Jimmy Newman's 42-yard field goal sailed wide right, and
Jonas Gray
and
Cierre Wood
immediately wanted the ball.
Five-minutes, 24 seconds remained. And even though Wake Forest had all three timeouts remaining, there was not a doubt in either back's mind that the Demon Deacons' luck had run out in an eventual
24-17 loss
to Notre Dame.
"Definitely, definitely," Gray said. "That was the first mindset we had. The guys were doing a great job blocking on the perimeter and inside. We knew what we had to do was run the clock out, and by doing that we had to run the ball."
Wood got the first two carries, totaling 11 yards. Gray, who made his second straight start, took it from there, rushing it five straight times for 16 yards, the final carry a third-and-1 conversion that sealed the game with 1:40 left.
The Irish had let other hosts stick around in primetime games before, and they had been bitten, most notably when they struggled in short-yardage situations late in a last-second loss at Michigan. But Gray, who has improved as much as anyone during the course of the season, said the team takes on a different mentality now.
[+] Enlarge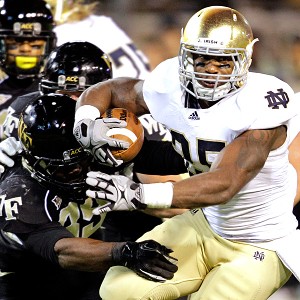 AP Photo/Chuck BurtonJonas Gray had 92 yards on 19 carries with a long run of 25.
"We welcome it," the senior said.
Gray finished with 92 yards on 19 carries -- again, ironically, hurting his yards per rush average in his chase of George Gipp's single-season school record of 8.1.
For that, he can blame a review that followed his 26-yard third-quarter rush into the end zone, as it got marked down at the 1, where he punched it in from two plays later for his ninth touchdown in the last six games.
That score tied things up at 17 after the Irish went into the half down seven, Wake Forest's offense keeping the banged-up defense on its toes with the elusive
Tanner Price
running the show.
Brian Kelly won his 14th straight November/December regular-season game, and his 20th in his last 22 tries. And he did it the hard way.
When a third-quarter flea-flicker resulted in a 54-yard interception return and eventually first-and-goal for Wake Forest, down seven in the third, Harrison Smith forced a fumble that was recovered by Gary Gray.
The next time the Demon Deacons got so close, Stephon Tuitt recorded a sack, Smith blew up a backfield pass for another loss and Newman missed from 42 yards.
Notre Dame played the majority of the game with Mike Golic Jr. at center instead of Braxston Cave, who left the game after the first play of the second quarter with an undisclosed injury. All-everything linebacker Manti Te'o "was playing on one leg," Kelly said, after the junior left Wake Forest's last drive of the third quarter before returning on the next series.
Defensive end Aaron Lynch had to leave the game on two separate occasions, further depleting an already depleted defensive line, and T.J. Jones somehow made it back after taking a vicious hit on an impressive six-yard grab early in the third quarter.
"We got a lot of guys banged up. A lot of guys banged up," Kelly said. "We'll give you a full report on that when I get a sense of, we got guys that are gonna be -- hey, listen, it's November, too. So there's gonna be some guys that come to practice on Tuesday not full-speed. But these guys are tough, they're gritty and they'll answer the bell."
Earlier, Kelly was less pleased with a question about Notre Dame's passing game.
Tommy Rees
finished the night 14-of-23 for 166 yards with two touchdowns and two picks.
"I mean is there a negative to everything? Is there a negative?" Kelly said. "We just won a football game, on the road. I mean, what kind of, really, what kind of question, what do you want me to say? What's the answer? We won 24 to 17 against a good football team, and you want to know what's wrong with the passing game. You know what's wrong with it? Um, the coach doesn't call good plays. How's that? There's nothing wrong with it. We're fine. We just won a good game."
It's the best game Notre Dame can win before Nov. 26, as it will face hapless Maryland and Boston College before traveling to what Kelly said will be "hopefully an undefeated Stanford team."
Kelly was later asked if he was looking forward to Stanford, and he made sure to not look ahead with two games left before the regular-season finale.
"No, no, we're on the right track," Kelly said. "We're not too far ahead. The guys know what they're playing for. We're playing for a consistent performance. We have a sign, I don't know if you know this, but we have a sign that says 'Play Like A Champion.' And to play like a champion you have to play consistently. You can't have spurts.
"Tonight was a great step in that direction, of playing on the road, against good competition, down at halftime, come back a couple of times -- that's resolve. That's toughness. That's gritty. We've been trying to build this and it's starting to come and you can see it. And that's why I'm proud of my guys tonight."