Chicago Colleges:

Mike Hankwitz
April, 21, 2014
Apr 21
3:30
PM CT
EVANSTON, Ill. -- Defense wasn't the reason Northwestern went 5-7 in 2013.
Sure, the unit was on the field for the play that encapsulated a hard-luck season: a Hail Mary touchdown pass as time expired that gave Nebraska a 27-24 victory and set off pandemonium in Lincoln. Wildcats defensive coordinator Mike Hankwitz is right when he states: "We were five plays away from winning five more games, and we needed to make five more plays on defense somewhere."
The defense could have collected a few more takeaways in Big Ten play after a surge early in the season. It could have made another stop against Ohio State, Minnesota, Nebraska or Iowa that might have been the difference.
But if Northwestern's offense is anywhere close to its normal production, the team easily wins seven or eight games. End of story.
The offseason spotlight is on the offense as it ditches a two-quarterback system -- senior
Trevor Siemian
will be the sole operator -- and likely returns to its pass-first roots. Things are much quieter for the defense, which returns nine starters, including all four in the secondary. It's
possibly the team's strongest position group
.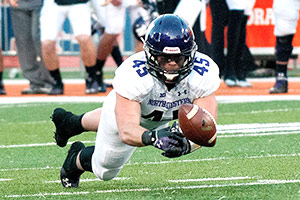 Bradley Leeb/USA TODAY SportsNorthwestern linebacker Collin Ellis is moving inside, hoping to help boost a defense that was a little too soft in the middle in 2013.
It's not a stretch to suggest this could be the strongest defense in coach Pat Fitzgerald's tenure. Northwestern can go two or three deep at every secondary spot, thanks to the emergence of several redshirt freshmen this spring. Veteran playmakers
Chi Chi Ariguzo
and
Collin Ellis
return at linebacker, and speedy ends
Dean Lowry
,
Ifeadi Odenigbo
and
Deonte Gibson
spark the pass rush.
But perimeter strength might not mean much if Northwestern doesn't firm up its core.
"Defensive football is a lot like baseball," Fitzgerald said. "You better be great at the catcher, pitcher and center fielder, the belly of your defense, and that shortstop and second baseman are plenty important, too. [In football] you've got to be strong at D-tackle, the linebacker position and safety. I'm not minimizing the ends and the corners, but if you don't have those things inside, the belly of your defense gets exposed.
"You can't stop people."
Northwestern didn't stop the inside run consistently enough in 2013. Ohio State's
Carlos Hyde
pounded away for 168 rush yards and three touchdowns on a night when quarterback
Braxton Miller
struggled. Other running backs -- Wisconsin's
Melvin Gordon
and
James White
, Minnesota's
David Cobb
, Nebraska's
Ameer Abdullah
, Michigan State's
Jeremy Langford
-- eclipsed 100 yards against the Wildcats, who surrendered 192 rushing yards per game in Big Ten play.
Injuries at defensive tackle, particularly the midseason loss of
Sean McEvilly
, hurt the Wildcats. Northwestern needs McEvilly and
Chance Carter
to stay healthy and
C.J. Robbins
and
Greg Kuhar
to keep developing. Both Robbins and Kuhar received increased practice time this spring as McEvilly missed the whole session following foot surgery and Carter missed the first nine workouts because of injury.
"Everyone knows the fastest way to get somewhere is straight down the middle," Carter said. "That goes with the D-tackles first. We're the first line of defense. We have to be more fundamentally crisp."
The safety spot should be fine as
Ibraheim Campbell
, an excellent run defender with 262 career tackles, anchors the secondary. But there are questions at middle linebacker as Ellis moves over from the strong side to replace
Damien Proby
.
Ellis, lighter than Proby at 233 pounds, admits he has to play the position differently, using his speed and lateral quickness.
"As a linebacking corps, we are quick," Ellis said. "What we're saying is the defensive tackles, if they get in the wrong gap, stay there and we can recognize that and fill."
If the defense can fill those gaps and firm up its midsection, it could be the reason for more Wildcats wins this season.
September, 18, 2013
9/18/13
1:00
PM CT
EVANSTON, Ill. -- Northwestern coach Pat Fitzgerald knows football fans in Chicago spend their Sundays watching a defense fixated on takeaways. As a Chicago Bears fan, he's one of those people.
[+] Enlarge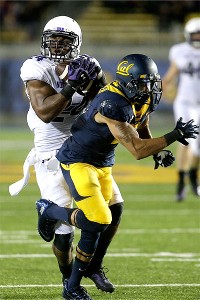 AP Photo/Ben MargotIbraheim Campbell is leading Northwestern's charge for more turnovers having picked off passes in five straight games.
Fitzgerald hopes the same folks see the same thing on Saturdays as they tune in for Wildcats' games. So far this season, "Chicago's Big Ten team" has embraced the takeaway trend trademarked by Chicago's NFL team.
After topping the Big Ten takeaways chart last season with 29, Northwestern is tied with Michigan State for the league lead with eight through the first three games (tied for sixth nationally). All eight Wildcats takeaways have been interceptions, which leads the FBS, and
they've converted them into 45 points
.
Northwestern has 17 interceptions in its last six games, stretching back to last season, and junior safety Ibrahaim Campbell has picked off passes in each of the past five contests, a new team record. Linebacker
Collin Ellis
recorded two interceptions Aug. 31 in the season opener at, returning both for touchdowns and
claiming national defensive player of the week honors
.
"I don't know, maybe it's just a Chicago thing," Fitzgerald said following Tuesday's practice. "We're definitely inspired by [the Bears'] defense and really, we've pulled a lot of their plays off and given them as examples to the players."
The Bears led the NFL with 44 takeaways last season and were among the league leaders for much of former coach Lovie Smith's tenure. Even though Smith is gone, the Bears already have six takeaways in their first two games, tied for the second-most in the NFL.
Football coaches are known to go far and wide to find effective teaching tools for their players. Northwestern's staff simply looked "down the road," defensive coordinator Mike Hankwitz said, at what the Bears have been doing for years.
Last season, Northwestern defensive backs coach Jerry Brown had players watch video of Bears cornerback Charles "Peanut" Tillman forcing fumbles with his "Peanut punch" move. Tillman led the NFL with 10 forced fumbles last season and boasts 39 for his career.
"We took some highlights off TV and showed how they're always punching at the ball," Hankwitz said. "And we did cause some fumbles. [Former safety Jared Carpenter] caused one, punching the ball out. Ibraheim caused two, punching the ball.
"Now that they see that it works, we're starting to build a little more of a takeaway culture."
Northwestern had at least one forced fumble in nine games last season, jarring the ball loose three times in wins against Vanderbilt and Minnesota. Campbell and three defensive linemen --
Tyler Scott
,
Quentin Williams
and Brian Arnfelt -- all recorded multiple forced fumbles.
Hankwitz also started to mix coverages more as the season went along. The different looks, combined with increased pressure from the line, led to a surge of interceptions, including four in the Gator Bowl victory over Mississippi State.
"Like anything in life, you achieve what you emphasize," Fitzgerald said. "I don't want these high school coaches to think we're doing some magical turnover circuit or rubbing on the ball with some magic stick and all of a sudden it comes to us. It's just emphasizing it and making our guys aware up front to the quick game of, 'If you're not necessarily going to get home, get your hands up,' being aware of route progressions and where a quarterback may go."
Hankwitz credits Northwestern's linemen for getting their arms in passing lanes, noting that three interceptions this season stemmed from deflections, including both of Ellis' pick-sixes against Cal. Scott and fellow linemen
Dean Lowry
and
Chance Carter
already have combined for eight pass deflections.
The 5-foot-11, 205-pound Campbell has been the face of the team's takeaway surge. Although Hankwitz has coordinated defenses since 1982, he can't remember another one of his players recording interceptions in five straight games.
Campbell attributes the streak to simply maximizing his playmaking opportunities.
"With the time I've been playing, the game has slowed down tremendously," said the junior, in his third year as a starter. "I know what to look for more, and it's paid off a lot."
[+] Enlarge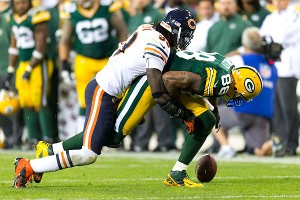 Jeff Hanisch/USA TODAY SportsThe "Peanut Punch," a favorite weapon of the Bears' Charles Tillman has caught on at Northwestern.
Northwestern has become a more opportunistic defense in recent games, but it remains vulnerable in certain areas, surrendering 442.3 yards per game, including 319.3 pass yards, second most in the Big Ten. Hankwitz notes that most of the yards stem from a few big plays. Several have come against redshirt freshman cornerback
Dwight White
, who stepped in for injured starter
Daniel Jones
against Cal and quickly became a target for opposing quarterbacks.
There's no doubt that takeaways can cover up yards allowed -- turnover margin is the game's most important metric -- but Campbell wants to tighten things up before Big Ten play begins Oct. 5 against Ohio State.
"If we have explosion plays going against us, a takeaway isn't going to make that go away," he said. "Those are still things we need to fix, but it obviously helps because you can't have an explosion play if you don't have the ball."
Fitzgerald's goal is to have a defense built on "the complete and total commitment to taking the ball away." The Wildcats aren't there yet. Although takeaways for points seemed to rescue Northwestern at Cal, Fitzgerald was disappointed that the Wildcats couldn't corral three Cal fumbles. Western Michigan coughed up the ball last Saturday at Ryan Field, but Northwestern couldn't recover it.
Wildcats players will continue to think turnover, just like the Bears do.
"They're great tacklers and everything like that, but they're excellent at taking the ball away," Campbell said. "That's something we're trying to create here.
"We're right down the street from Chicago, so it would be a great thing to establish in the city."
April, 10, 2013
4/10/13
2:00
PM CT
EVANSTON, Ill. -- Mike Hankwitz didn't inherit a bare cupboard when he arrived as Northwestern's defensive coordinator in 2008.
The defense included several future NFL players, including end Corey Wootton and cornerback Sherrick McManis. Eight starters returned, and the unit improved from 88th nationally in points allowed to 26th in Hankwitz's first season.
But something was missing. As Hankwitz surveyed the number of spread offenses in college football -- not to mention the one his defense practiced against every day at Northwestern -- he knew the Wildcats' defense needed a speed boost.
"We had some players with good speed, but as a total defense, we didn't have that same speed at every position," Hankwitz told ESPN.com. "In this day in age with spread offenses, you need to have athletes who have the ability and speed to make plays in space. That's where we were a little deficient at the time. If you had a guy hurt, the next guy might not have been as fast. So we recruited to that end. We tried to recruit better speed to cornerback, and we're making progress in that way.
"As a whole, our team defensive speed has improved, and we're excited about that."
It was noticeable last season as Northwestern's defense improved to 47th nationally after plummeting to 80th the year before. Several younger players who were part of the speed-driven recruiting push played key roles, including defensive backs
Ibraheim Campbell
and
Nick VanHoose
, linebacker
Chi Chi Ariguzo
and linemen
Dean Lowry
and
Deonte Gibson
.
Northwestern's speed upgrade on defense has jumped out during spring practice. In Tuesday's workout, Lowry zoomed past a tackle for an easy "sack" against quarterback
Trevor Siemian
. Speed has helped cornerback
Dwight White
put himself in position to start opposite VanHoose in the fall. The same holds true for safeties like
Traveon Henry
,
Jimmy Hall
and
Terrance Brown
, competing to start next to Campbell.
"Our team speed is definitely much improved," head coach Pat Fitzgerald said. "Our secondary runs as well as it has at all four positions."
The popularity of the spread offense, which Northwestern has used since 2000, fueled the team's speed push in recruiting. Northwestern needed more athletes who could make plays in space, especially in the secondary.
Not surprisingly, the secondary had the most dramatic upgrade last season, and depth at both cornerback and safety has improved for 2013. The secondary not only has more speed but better size.
"Traveon Henry's a 6-[foot]-1, 200-plus-pound safety, Jimmy Hall's the same way, Terrance Brown is the same way; we've upgraded our size at corner," Fitzgerald said. "Most of our guys used to be 5-foot-9 and 5-foot-10. Now we're 5-11 and 6-foot. That size-speed combination is critically important if we want to take the next step in this league."
Greater speed allows Hankwitz to be "a little more aggressive" with his defensive calls. It also helps younger players get on the field early as they can overcome some weaknesses technically and fundamentally.
"Last year, being a little undersized at D-end as a freshman, I relied on my speed a lot of times to beat tackles," said Lowry, who had a sack, six quarterback hurries and three tackles for loss as a true freshman. "When you're fast, it sets up moves, so if a tackle is overset, you come back with a counter. You've got to make sure you use your technique, use your hands where the coaches teach you. But having the extra speed, it's almost like you can't teach that.
"It's something most guys don't have."
Northwestern's speed push started with the linebackers and spread quickly to the secondary, but the line hasn't been neglected. Redshirt freshman end
Ifeadi Odenigbo
, the team's most-decorated recruit in years, only started playing football as a high school sophomore but made his mark with speed,
twice tracking down
Braxton Miller
in a playoff game.
Both Odenigbo and Gibson ran track in high school, while both Gibson and Lowry played basketball.
"They're very, very athletic," said senior end
Tyler Scott
, who finished . "Dean's very athletic. Deonte, when he's healthy, is a force coming off the edge. And Ifeadi, he's got some speed that we haven't seen here for a while."
Northwestern's defense expects to be seeing more of that speed in the coming seasons.
"We're still not quite there where we have all five classes at an elite level athletically," Fitzgerald said, "but I think we're really close."
April, 10, 2012
4/10/12
11:01
AM CT
EVANSTON, Ill. -- Pat Fitzgerald doesn't deny the hard evidence, but he also feels there's more to Northwestern's case.
Yes, the Wildcats have seen their wins total drop in each of the past three seasons, from nine in 2008 to eight in 2009 to seven in 2010 to six last fall. After back-to-back 5-3 marks in Big Ten play in 2008 and 2009, Northwestern has seen its league record flip in each of the past two seasons.
It doesn't take a mathematics major at Northwestern to see where things are going and ask the question: Has the program lost momentum?
"You can nitpick everything you want, but there has never been more positive momentum in the history of our program," Fitzgerald told ESPN.com. "If you're going to choose one thing to make it be whether or not you have momentum, that's unrealistic. But we've got to win football games and we've got to finish games better than we did a year ago.
[+] Enlarge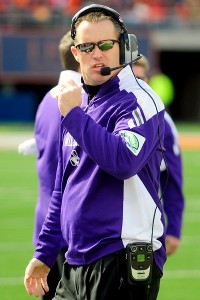 Reid Compton/US PresswireNorthwestern coach Pat Fitzgerald remains confident that his program is on the right track.
"The program's definitely getting better. You can analyze that one area of wins and losses, which obviously I understand is critically important, but the difference between one or two games is not very much. We could have easily had six wins when we won nine. There's such a fine line."
It's Fitzgerald's job to look at the entire picture, and he notes some of Northwestern's recent accomplishments: four consecutive bowl appearances for the first time in program history; the winningest departing senior class in the program's history; a team GPA of 3.14; a 2012 recruiting class rated by many as the best in Fitzgerald's tenure. The school is also working on a facilities plan that could be a game-changer for the football program, which lags behind most of its Big Ten brethren.
Still, college football is a bottom-line business, and if Northwestern can't reverse the won-loss trend, its bowl appearances streak will end this season.
"Have we achieved our goals? Absolutely not," Fitzgerald said. "Are we hungry to do that? Absolutely. Are we working diligently to tweak the areas we need to improve? Absolutely."
Northwestern will try to make upgrades with a younger roster -- only 11 total starters return on offense and defense -- but quite possibly a more talented one. The team must fill several gaps, none more significant than
Dan Persa
's at quarterback, and hopes to do so by having what it believes to be stronger recruiting classes begin to pay dividends.
It's no secret the defense needs help after backsliding sharply in the past year and a half. Since a 6-2 start in 2010, Northwestern has surrendered 30 points or more 11 times. Last fall, the defense couldn't get off of the field (114th nationally in third-down defense at 50 percent conversions), fell victim to explosion plays and generated barely any pressure (106th in sacks, 104th in tackles for loss).
"You've got to make 'em earn everything," defensive coordinator Mike Hankwitz said. "If they make great throws and great catches, you can live with those things. But we had some situations last year where we busted a coverage because of communication or we didn't have anybody back there. They didn't have to make the perfect throw or the perfect catch.
"We can execute better, no question."
The challenge is to improve communication and execution with a group heavy on youth. Although Northwestern returns all three starting linebackers, it will use young players in all three sections of the defense, including redshirt freshman cornerback
Nick VanHoose
, sophomore linebacker
Chi Chi Ariguzo
and redshirt freshman defensive end
Deonte Gibson
.
Consider that
Ibraheim Campbell
, a redshirt sophomore safety who led the team with 100 tackles in 2011, is viewed as the clear leader of the secondary.
Communication has been a focal point this spring, as players are taking extra measures to ensure they're on the same page.
"When I yell out a call to the D-line, the only way I know they got it is if they tap their hip," linebacker
David Nwabuisi
said. "We started forgetting about little stuff like that [in 2011]. Now when I make a call, if the D-lineman doesn't tap his hip, I keep on yelling at him until he does. Same thing with DBs to linebackers."
Communication shouldn't be an issue for
Kain Colter
, who started three games at quarterback in place of the injured Persa last season and evolved into arguably the Big Ten's most versatile offensive weapon (654 rush yards, 673 pass yards, 466 receiving yards, 18 total touchdowns). Colter is the best athlete to call signals at Northwestern since the team implemented the spread offense in 2000, but to maintain the program's recent run of top-shelf quarterbacks, he needs to become a more polished passer.
The junior emphasized velocity and arm strength during the winter -- he tore the labrum and the biceps in his throwing arm as a high school senior -- and expects to execute the high-percentage passes that drive the Wildcats' offense this fall. He'll have plenty of weapons as Northwestern boasts most likely its deepest receiving corps ever, even if USC transfer
Kyle Prater
can't play right away.
"My timing's getting a lot better, my arm strength's a lot better," Colter said. "I feel like I can make all the throws on the field. That hasn't been a problem this spring."
Northwestern loses four-year starters on both sides of the ball, an NCAA record holder in Persa, two-time All-Big Ten honoree
Jeremy Ebert
and
Drake Dunsmore
, the inaugural winner of the Kwalick-Clark Award as the Big Ten's top tight end. Fitzgerald likened the personnel turnover to a shift change at a factory and acknowledges the team dynamic is different.
Given the declining wins total, though, some new blood might not be a bad thing, and the coaches feel the team's overall talent level is on the uptick.
"There's better talent than people think," offensive coordinator Mick McCall said. "The cupboard's not bare. We've got guys who can play football. They just haven't had the experience yet.
"It's just their time. Let's go play."
April, 5, 2012
4/05/12
3:33
PM CT
The quarterback hurry is one of the more misleading statistics in football. It seems to be subjectively recorded and varies widely from team to team.
But Northwestern can take something away from the category known as QBH. According to statistics recorded by each Big Ten team, Northwestern finished third in the league (behind Michigan State and Nebraska) with 24 hurries in 2011. According to the official Big Ten statistics, the Wildcats ranked dead last in sacks with 17.
Translation: pressuring the quarterback isn't horseshoes.
[+] Enlarge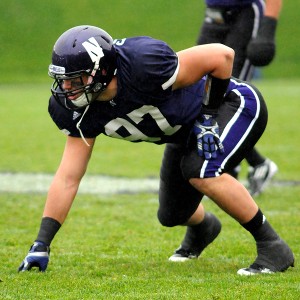 Cal Sport Media via AP ImagesTyler Scott is "on the cusp of being a breakout guy nationally," said Wildcats coach Pat Fitzgerald.
"We left a lot of sacks out there last year," Northwestern defensive coordinator Mike Hankwitz told ESPN.com. "We had a lot of missed tackles. And we got hurt on some quarterback scrambles where we got pressure and he was able to find a crease."
Tyler Scott
takes Hankwitz's words to heart. Scott, a junior defensive end, showed snippets of promise last fall, displaying good speed and recording 31 tackles, an interception, two pass breakups, a team-high three fumbles recovered and, yes, two quarterback hurries.
But he only recorded one sack, two shy of the team lead. Only two Big Ten teams, Northwestern and Minnesota, didn't have a player ranked among the Big Ten's top 20 in either sacks or tackles for loss in 2011.
Not surprisingly, spring practice has been all about the pass rush for the 6-foot-4, 265-pound Scott.
"Many times I was not getting to the quarterback or not squeezing the pocket," he said. "I've started to make some improvements in that. My problem was I was going up the field too much and not attacking the man. So I'm trying to focus on attacking a spot every time and being more active with my hands."
Run defense became the peak priority for Northwestern after the 2010 season, when it surrendered 185 rush yards per game and 5.1 yards per carry. While the defense made slight improvements there -- 177.3 ypg, 4.5 ypc -- the pass rush suffered for the second consecutive year.
After recording 30 sacks in 2009, the Wildcats have just 33 combined in the past two seasons. Twenty teams had more than 33 sacks in 2011 alone. The lack of pressure particularly hurt Northwestern on third down, as opponents converted exactly half of their attempts (90 of 180) against the Wildcats, the highest percentage in the Big Ten and the seventh-highest percentage nationally.
Northwestern had been decent to good on third down in Hankwitz's first three years as coordinator -- ranking 28th, 23rd and 42nd nationally -- but the bottom fell out last fall.
"We were aware of it, but we didn't have that mentality to say, 'Yeah, we're getting off the field,'" Scott said. "It was just another down."
The mentality should change during the offseason, and Hankwitz is evaluating what he can do schematically, including whether he rushed only three linemen too often on third down. But the easiest solution is to have an effective pass-rusher or two emerge.
Scott seems to be the obvious choice.
"
Tyler Scott to me is on the cusp of being a breakout guy nationally," coach Pat Fitzgerald said following last Saturday's scrimmage. "He's got some special qualities."
Scott wants one of those qualities to be putting quarterbacks on the ground this fall.
TOP 25 SCOREBOARD
Thursday, 8/28
Friday, 8/29
Saturday, 8/30
Sunday, 8/31