Chicago Colleges:

Mike McGlinchey
April, 17, 2014
4/17/14
8:00
AM CT
SOUTH BEND, Ind. -- Few would blame
Matt Hegarty
had he hung his head entering this spring. The redshirt junior has had a roller-coaster ride at Notre Dame, from seeing the perfect regular season of 2012 cut short due to a series of mini-strokes to being thrust into role of starting center for the Fighting Irish's final two games last season.
That the former guard was a more than capable fill-in in the middle is a testament to his versatility. That he stayed there with the first team for most of this spring is a testament to his attitude.
Nick Martin
started at center in 2013 and will again in 2014 despite spending this spring recovering from an MCL tear suffered in his left knee during a Nov. 23 win over BYU. This might have indirectly hampered Hegarty, seasoned and talented enough to possibly start elsewhere on the line but relegated to mostly snapping duties.
Still, his performance in March and April are enough to warrant a chance to compete in fall camp for the top left guard spot, which was a revolving door of sorts among
Steve Elmer
,
Conor Hanratty
and, when necessary, Hegarty.
"It was good being able to have a little bit of momentum kind of coming in playing there a little bit at the end of the year," Hegarty said of starting last season, "and then it's always great to get a lot of reps in the spring like this. I couldn't ask for anything more there, but it's been great as far as trying to develop my blocking."
Redshirt freshman
Mike McGlinchey
saw plenty of time with the first team at right tackle this spring, and Hanratty -- owner of three career starts -- filled in at right guard after
Christian Lombard
went down in March with a dislocated right wrist that kept him out of the rest of spring drills. Elmer, who started four games last season as a freshman, saw plenty of time at left guard, though he might project better as a tackle.
It may essentially come down to whether coach Brian Kelly thinks both his offensive line and the precocious McGlinchey could benefit more with the 6-foot-7.5 behemoth as an immediate starter, as it seems Elmer is flexible enough to be a player where needed, having seen action in 2013 at every spot but left tackle and center.
"(Hegarty's) had a really good spring. We want to give him a chance to compete at left guard," Kelly said. "So if that's the case, are we better with him at left guard and Elmer at right tackle, or better with McGlinchey at right tackle and Elmer at guard? So if you want to boil it down, it's who's the left guard with Elmer at right tackle, or Elmer at left guard and McGlinchey at right tackle? So that's going to kind of sort itself out in preseason camp."
April, 11, 2014
4/11/14
6:30
PM CT
One more time before the spring game ...
Derrick from Warsaw, Ill., writes:
Matt, first off, thanks for doing such a great job covering the Irish! I always look forward to reading everything you write! My question is, with all the great options the Irish have at running back heading into the season, how do you see everything going at the running back position? Will one guy get the lion's share of the carries? Do they go with the hot hand? Or will each guy get a fairly equal share of touches? Thanks! And keep up the great work!
Matt Fortuna:
Thanks for the kind words, Derrick. I think everyone will get a fair share early.
Cam McDaniel
is obviously the veteran of the group and will probably "start" the season with the first unit, but I don't see it being a traditional 1-2-3 pecking order. I said it last year (and was wrong) and will say it again now: I do think the bulk of the workload will go to
Greg Bryant
if he's playing near the top of his game. After all of his talk this spring about being "hungry and humbled," I think the light will click on for him in 2014.
---
Brian Henighan from Medina, Ohio, writes:
During the practices leading up to the Pinstripe Bowl, we heard a lot about how
Torii Hunter
was looking very good. There was some good hype around this kid before and after his injury. Spring practices are now nearly over and I haven't heard his name mentioned one time. How is he doing/progressing? It's just strange for his name to completely disappear lately.
Matt Fortuna:
Brian, I was actually wondering the same thing recently, as he rebounded from his leg injury last year to win offensive scout team player of the year: Here's what offensive coordinator Mike Denbrock said when I asked him Monday: "He is absolutely physically very gifted, and right in the mix with all those young guys as far as what we feel like he can do potentially down the road. Like a lot of young guys, the more he sees things, the more he does things, the better he's going to be. He's not where we need him to be yet, but you can see so many positive things that are going to happen there moving forward. We're just trying to speed up the process as fast as we can."
---
[+] Enlarge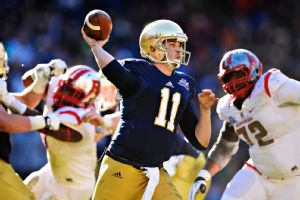 Joe Camporeale/USA TODAY SportsTommy Rees' legacy at Notre Dame will likely grow with time.
Jeremy from Bethlehem, Ga., writes:
Hey Matt, great job on the blog! I was curious on your take of
Tommy Rees
' legacy. He has been on the losing side of some games that they should have won, like Stanford. But he has won some big games in his career, such as against No. 14 Utah in 2010, being the closer in 2012 to go on to the BCS championship game, and against Michigan State this past year.
Matt Fortuna:
Jeremy, like most things, I think it will only grow with time. Sure, a lot of the turnovers are what stick out in most fans' minds right now, but you have to look at the bigger picture. Notre Dame had flat-out awful quarterback luck in three of Rees' four seasons there. And yet, the Irish were lucky beyond relief to have a guy like Rees who not only knew, but embraced his role, stepping in unfazed every step of the way. And in the one year they had good quarterback luck, in 2012? That 12-0 regular season doesn't happen without Rees being the great teammate he was, relieving the guy who took his job and leading the Irish to some crucial wins. Speaking of which, that locker room absolutely loved him, which speaks louder to anything the rest of us could say.
---
Thomas Witty from Northbrook, Ill., writes:
Hey Matt! I've been looking at the offensive line for this year and it seems like there is a lot of talent overall. I've seen on various sites that they have
Ronnie Stanley
and
Mike McGlinchey
playing tackle, but do you think
Steve Elmer
could get a chance, too? Also, I was excited last year when they got
Hunter Bivin
because he seemed like a great player. How do you see him factoring into the mix in the coming years/this year? Lastly, it seems that the talent of the offensive line has increased a lot. Do you think the offensive line could change from good to great in the coming years or even this year? As always, I love reading your blog!
Matt Fortuna:
Thanks for the kind words, Thomas. Brian Kelly actually addressed this topic Wednesday, saying that the left guard spot could very well be affected by the right tackle spot, which would be between Elmer and McGlinchey. That could provide an opening at left guard for
Matt Hegarty
, who has plenty of experience across the line and has filled in at center for
Nick Martin
this spring. As for the depth question, we'e seen Notre Dame sign nine offensive linemen across the 2013 and 2014 recruiting classes. So while the numbers are down this spring -- especially on days such as Wednesday, when Elmer had a stomach ailment and the Irish were down to eight healthy offensive linemen -- the addition of four more come fall camp should be a big boost to this group's daily progress.
March, 12, 2014
3/12/14
9:00
AM CT
SOUTH BEND, Ind. -- The opening question to
Christian Lombard
, per protocol, was about which position he preferred playing, guard or tackle. The response, also per protocol, was that the redshirt senior is fine wherever his coaches choose to line him up.
But the biggest questions surrounding Notre Dame's fluid offensive line situation don't revolve around whether Lombard will be in the starting lineup. He will start, that much appears certain. And, if the first 30 minutes of the Fighting Irish's first spring practice are any indication, it might very well be at right guard for the second straight season.

A more pressing question comes on the left side, where Notre Dame replaces a pair of bedrocks in
Zack Martin
and
Chris Watt
, NFL-bound linemen who started 52 and 37 games, respectively.
Ronnie Stanley
and
Steve Elmer
took the first reps at left tackle and left guard, respectively, but filling the leadership void of the departed seniors is a task that will ultimately fall on Lombard.
"He was an example guy," Lombard said of Martin, a two-time captain. "He definitely talked, too, but he was the same guy in and out every single day. Consistency was his big deal. Guys would try and emulate what he would do, coming in with that professional attitude, like he's going to be at the next level. He was just a professional all the way around."
The soft-spoken Lombard sees a similar approach in himself, and it's one he'll have no choice but to take on given his seniority over Stanley (redshirt sophomore), Elmer (sophomore) and right tackle
Mike McGlinchey
(redshirt freshman).
Stanley occupied the spot next to Lombard last season before the latter missed the final six games after undergoing back surgery. Elmer was essentially all over the place in 2013, playing everything but center over the course of the season.
Meanwhile, the 6-foot-7», 300-pound McGlinchey has impressed behind the scenes after redshirting during his first season on campus, with Lombard quipping that the tackle's stamina is so impressive that "he could practice for 48 hours straight."
"He's a tough, physical kid," Notre Dame coach Brian Kelly said of McGlinchey. "Toughness, mental toughness, physical toughness. Long, athletic. He's got all the tools. He just needs experience and time, and he's fighting to get on the field. It's a very competitive situation. He's got all the tools necessary for him to be a starter for us.
"It's going to be time and place: When is that time, and when does he get that opportunity?"
Redshirt junior
Matt Hegarty
was the starting center Tuesday, filling in for injured classmate
Nick Martin
.
December, 10, 2012
12/10/12
9:50
PM CT
Notre Dame has gotten quite the lift off the field following a 12-0 regular season on it.
Look no further than this past weekend, when four-star running back Greg Bryant
pledged to the Irish
, one day after the school
beat out Ohio State for Class of 2014 Watch List offensive lineman Jimmy Byrne
.

Bryant, Notre Dame's 22nd 2013 commit, immediately becomes the Irish's second-highest rated prospect, beyond Jaylon Smith. And he will likely have the chance to step in immediately, with the Irish losing Theo Riddick and possibly Cierre Wood after this season.
With Bryant, George Atkinson III, Cam McDaniel, the yet-to-be-seen Amir Carlisle and freshman William Mahone, the Irish should have no shortage of backs to turn to next season, and the different styles each brings will create an interesting dynamic.
The addition of Bryant
moved Notre Dame up one spot, to No. 3, in ESPN's class of 2013 recruiting rankings, behind USC and Florida
.

You can read scouts' take on Bryant
here
.

Below, we break down the Irish's 2013 and 2014 recruiting classes. The 2013 class features eight ESPN150 prospects (*), four ESPN300 prospects (**), 17 four-star commits and one five-star. The Class of 2014 consists of four players, three of whom are ESPN Watch List members.
Class of 2013
Five-star OLB Jaylon Smith (Fort Wayne, Ind./Bishop Luers)*
Four-star RB Greg Bryant (Delray Beach, Fla./American Heritage-Boca-Delray)*
Four-star WR Torii Hunter Jr. (Prosper, Texas/Prosper)*
Four-star OLB Alex Anzalone (Wyomissing, Pa./Wyomissing)*
Four-star OT Colin McGovern (New Lenox, Ill./Lincoln-Way West)*
Four-star OT Hunter Bivin (Owensboro, Ky./Apollo)*
Four-star DE Isaac Rochell (McDonough, Ga./Eagles Landing Christian Academy)*
Four-star OLB Doug Randolph (Woodberry Forest, Va./Woodberry Forest)*
Four-star QB-DT Malik Zaire (Kettering, Ohio/Archbishop Alter)**
Four-star CB Devin Butler (Washington/Gonzaga)**
Four-star RB Jamel James (Katy, Texas/Cinco Ranch)**
Four-star TE-Y Mike Heuerman (Naples, Fla./Barron Collier)**
Four-star ATH Rashad Kinlaw (Galloway, N.J./Absegami)
Four-star ATH James Onwualu (St. Paul, Minn./Cretin-Derham)
Four-star OT Mike McGlinchey (Philadelphia/William Penn)
Four-star ILB Michael Deeb (Plantation, Fla./American Heritage)
Four-star OT Steve Elmer (Midland, Mich./Midland)
Four-star CB Cole Luke (Chandler, Ariz./Hamilton)
Three-star OT John Montelus (Everett, Mass./Everett)
Three-star WR Corey Robinson (San Antonio/San Antonio Christian)
Three-star TE-Y Jacob Matuska (Columbus, Ohio/Bishop Hartley)
Three-star WR William Fuller (Philadelphia/Roman Catholic)
Class of 2014
March, 28, 2012
3/28/12
12:55
AM CT
Receiver
Corey Robinson
(San Antonio/San Antonio Christian), son of basketball Hall of Famer David Robinson,
committed to Notre Dame late Tuesday
, becoming the Irish's ninth commitment for the class of 2013 and, more importantly, their sixth since Saturday.

"On the trip, I felt it myself. I felt the connection," David Robinson told our Damon Sayles. "I felt this could be a place where I could leave my son and feel good about it. The decision wasn't all mine, so I wanted him to be sure, too."
How quickly things have changed. Notre Dame entered the spring on the heels of
Tee Shepard
's de-commitment, the school's fifth from the 2012 class. Momentum was gone and then, with a strong Junior Day showing this past weekend, it suddenly shifted back in Notre Dame's favor.
To recap the past four days ...
Saturday: Offensive tackles Colin McGovern (New Lenox, Ill./Lincoln-Way West) and Hunter Bivin (Owensboro, Ky./Apollo), the latter a Watch List member, commit to the Irish following Junior Day.
Sunday: ESPNU 150 Watch List quarterback Malik Zaire (Kettering, Ohio/Archbishop Alter) and Watch List offensive tackle Mike McGlinchey (Philadelphia/William Penn) commit to Notre Dame, giving the Irish four commits in a two-day span after entering the weekend with a three-man class.
Monday: Athlete Rashad Kinlaw (Galloway, N.J./Absegami) commits, giving the Irish their first cornerback in the last two classes.
Tuesday: Robinson commits following a trip to Wake Forest.
Watch List tight end
Jacob Matuska
(Columbus, Ohio/Bishop Hartley,) athlete
James Onwualu
(Saint Paul, Minn./Cretin-Derham) and Watch List offensive tackle
Steve Elmer
(Midland, Mich./Midland) are the Irish's other commitments.