Chicago Colleges:

Mike Sadler
November, 27, 2013
Nov 27
2:30
PM CT
The college football award finalists were revealed earlier this week, and for the Big Ten, it brought
more snubs than selections
. Although standouts like Ohio State linebacker
Ryan Shazier
, Michigan State cornerback
Darqueze Dennard
and Purdue punter
Cody Webster
are up for national awards, others like Wisconsin linebacker
Chris Borland
and Nebraska running back
Ameer Abdullah
surprisingly didn't make the cut.
Today's poll question asks: Which Big Ten player was snubbed the most for a national award?
Here are the candidates (in alphabetical order) ...

Nebraska running back Ameer Abdullah (Doak Walker Award):
Abdullah wasn't a finalist for the Doak despite leading the Big Ten and ranking seventh nationally in rushing (134.8 ypg). He has eclipsed 100 rush yards in all but one game -- he had 98 against UCLA -- and in every Big Ten contest. Abdullah averages 145.4 yards in league games and 6.4 yards per carry for the season.
Wisconsin linebacker Chris Borland (Dick Butkus Award)
: Borland amazingly didn't make the Butkus list despite a decorated career at Wisconsin filled with All-Big Ten honors. He tied the NCAA career record for forced fumbles last Saturday with his 14th, and he's averaging 12.2 tackles and 1.3 tackles for loss in his past five games, leading a defense that ranks fifth nationally in points allowed and seventh against the run.
Northwestern kicker Jeff Budzien (Lou Groza Award)
: After winning Big Ten co-kicker of the year honors in 2012, Budzien continued to excel this season, leading the league in both field goals (20) and field-goal attempts (22), a conversion rate of 90.9 percent. He was a major asset for a Northwestern offense that has struggled to find the end zone in Big Ten play. Only two kickers have more field goals than Budzien, but he wasn't among the Groza finalists.
Penn State wide receiver Allen Robinson (Biletnikoff Award):
Like Budzien, Robinson won the Big Ten's top award for his position in 2012, and keeps producing at a high rate. He leads the Big Ten in both receptions (89) and receiving yards (1,310), ranking fifth nationally in receiving yards per game (119.1) and eighth in receptions average (8.1). But it wasn't enough to get him on the list of Biletnikoff Award finalists.
Michigan State punter Mike Sadler (Ray Guy Award):
Spartans coach Mark Dantonio considers the punt the "most important single play in football," and Sadler has helped MSU tremendously this year, averaging 42.4 yards per punt and placing 27 punts inside the opponent's 20-yard line (15 fair catches). He was especially important early in the season when the Spartans struggled mightily on offense, and he has successfully executed two fakes. But it wasn't enough to get him on the list of finalists for the Guy Award.
November, 25, 2013
Nov 25
6:20
PM CT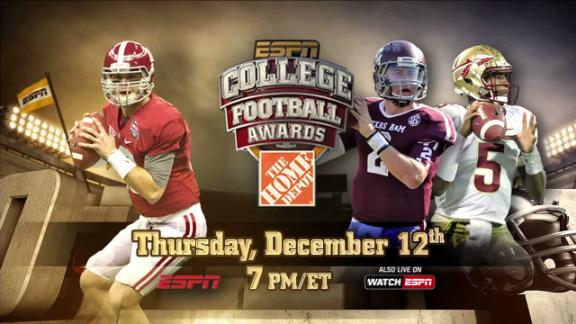 It is my duty as a Big Ten reporter to pass along pertinent information about national college football awards. Before doing so, let me preface this by pointing out that I'm generally not a fan of these awards as they miss the mark more often than not.
I'm not trying to slight the Big Ten players named finalists, who are deserving of the honors. But several others also should be included and are not. It's a shame, but it's also not a surprise.
Here are the Big Ten finalists named today:
Ray Guy Award (top punter):
Cody Webster
, Purdue
Jim Thorpe Award (top defensive back):
Darqueze Dennard
, Michigan State
Butkus Award (top linebacker):
Ryan Shazier
, Ohio State
Again, congrats to Webster, Dennard and Shazier.
Now, for the snubs. No
Chris Borland
on the Butkus list? Brutal. He has been the top playmaker on one of the nation's more improved defenses.
Northwestern kicker
Jeff Budzien
should be among the finalists for the Lou Groza Award, which continues to make puzzling selections year after year.
Nebraska running back
Ameer Abdullah
should be among the finalists for the Doak Walker Award. Although Arizona's Ka'Deem Carry, Boston College's
Andre Williams
and Washington's
Bishop Sankey
all are great backs, Abdullah merits a spot among them after gaining 100 rush yards in all but one game, where he gained 98. A real shame.
Michigan State's
Mike Sadler
also should join Webster on the Ray Guy list. He has been a huge part of the Spartans' division-title-winning team.
Add Penn State's
Allen Robinson
to the list, as the Big Ten's top wide receiver isn't among the finalists for the Biletnikoff Award.
There you have it: a lot more to disappoint than to celebrate. With the college football awards, you shouldn't be surprised.
November, 18, 2013
Nov 18
11:00
AM CT
Twelve seconds.
That's how much time remained in regulation at Northwestern after Michigan quarterback
Devin Gardner
hit
Jeremy Gallon
on a 16-yard pass. The clock was running. What happened next was what Wolverines coach Brady Hoke said "might be the best single play I've ever seen."
The Michigan field goal unit sprinted onto the field. Holder
Drew Dileo
, who had run a pattern as a wide receiver, ran in from the other side of the field and slid into position. The snap came with one second to go, and kicker
Brendan Gibbons
made a 44-yarder to send the game into overtime, where the Wolverines eventually won.
Northwestern coach Pat Fitzgerald was upset that his team didn't get a chance to substitute its block team in. The Wildcats were in disarray as the field goal try went up. Referee Bill LeMonnier
explained to a pool reporter afterward
that on the final play of the half, teams aren't automatically given the right to substitute on field goal defense.
That play goes down as the second-craziest finish to regulation of a Big Ten game this year. In the Wisconsin-Arizona State game, there were 18 seconds left when
Joel Stave
downed the ball. The Badgers never got to run another play.
Take that and rewind it back ...
[+] Enlarge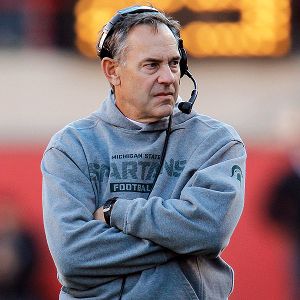 Bruce Thorson/USA TODAY SportsMark Dantonio and the Spartans control their own destiny to reach the Big Ten title game.
Team of the week:
Michigan State. It was not a vintage defensive performance for the Spartans, who allowed 28 points to a Nebraska offense that turned the ball over five times and played with a stitched-together line. But Mark Dantonio's team still won by double digits on the road in Lincoln for its first win over the Huskers while clinching at least a share of the Legends Division title. Then there's this: Through 10 games, the Spartans are averaging 30.9 points per contest.
Worst hangover:
Northwestern finds more ways to lose than anybody. The Wildcats had a dominant defensive effort against Michigan in allowing no touchdowns in regulation. But they had a 7-yard shank punt that set up a Michigan first-and-goal,
Ibraheim Campbell
dropped an easy interception on the Wolverines' final drive, and they couldn't pounce on a fumble in overtime. Northwestern has lost twice in overtime, once on a Hail Mary and in games that went down to the final drives against Minnesota and Ohio State. Sheesh.
Best call:
Nebraska had to be ready for some Michigan State tomfoolery, right? We've seen it so many times from Dantonio in a big game.
And it worked again on Saturday. The Spartans lined up for a field goal on fourth-and-1 from the Nebraska 27, leading 27-21 in the fourth quarter. Punter
Mike Sadler
, who serves as the holder on field goals, took the snap and pushed his way forward for 3 yards. The play was called "Charlie Brown," evoking memories of Lucy snatching the ball away in "Peanuts." But Sadler was actually supposed to check out of the play because of the way Nebraska was set up, and the play was never designed to go up the middle where he ran.
"That was the last thing going through my mind," said Sadler, who went up the middle on a successful punt fake at Iowa last month. "I was just trying to think of my touchdown dance."
He didn't score, but
Connor Cook
delivered a touchdown pass three plays later to all but seal the victory.
Big Man on Campus (Offense):
Ohio State running back
Carlos Hyde
piled up five total touchdowns while rushing for 246 yards on just 24 carries versus Illinois. He had touchdown runs of 51 and 55 yards in the final four minutes to put the game on ice.
Big Man on Campus (Defense):
In a game that didn't feature a whole lot of defense, Ohio State's
Ryan Shazier
still managed an impressive stat line at Illinois: 16 tackles, 3.5 tackles for loss, 1.5 sacks and a forced fumble. He had the safety on
Reilly O'Toole
that gave the Buckeyes some breathing room. And while he had a chance to turn that into a touchdown had he not celebrated a bit too soon, Shazier still had an outstanding performance considering Ohio State's other two starting linebackers were out with injuries.
[+] Enlarge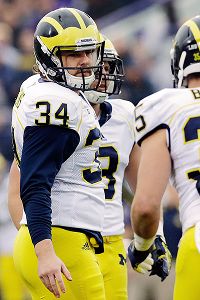 AP Photo/Nam Y. HuhBrendan Gibbons hit a 44-yard field goal as time expired to put Michigan into overtime at Northwestern.
Big Men on Campus (Special teams):
This goes to the entire Michigan field goal unit, including Gibbons, Dileo, snapper
Jareth Glanda
, special-teams coordinator Dan Ferrigno and everyone else involved in that unbelievable play at the end of regulation at Northwestern. That was a team effort, and if one guy was a half-second late, the Wolverines lose. (Tips of the cap also go out to Purdue's
Raheem Mostert
and Illinois'
V'Angelo Bentley
, who both scored on returns).
Sideline interference:
Illinois coach Tim Beckman
had to be separated
from offensive coordinator Bill Cubit on the sidelines after quarterback Reilly O'Toole was sacked in the end zone. Both coaches later said it was just a heat-of-the-moment thing, and Cubit added, "You'd be shocked at how many times" that happens during games. But it's still not a good look for Beckman, whose sideline mishaps the past two years include getting called for interference penalties and getting caught using chewing tobacco.
Who needs tickets?:
Want to see a Big Ten game, but you don't have more than 50 cents in your pocket? Then this week's Illinois-Purdue Basement Bowl is for you. On
StubHub this morning
, several tickets to Saturday's game at Ross-Ade Stadium could be had for as little as 39 cents. Get 'em while they're hot!
Fun with numbers (via ESPN Stats & Info):
Wisconsin ran for 554 yards Saturday versus Indiana. It was the second most in school history, behind the 564 the Badgers compiled against the Hoosiers last year. So in the past two games against IU, Wisconsin has rushed for 1,118 yards and 13 touchdowns; on Saturday the Badgers had three 100-yard rushers (James White, Melvin Gordon and Corey Clement) and an 86-yard rusher (Jared Abbrederis, on reverses). The Badgers' running game added 35.8 expected points to their net scoring margin; two of the top 10 rushing EPA games in the FBS the past 10 years were posted by Wisconsin against Indiana. The Badgers still fell far short of the Big Ten rushing record of 832 yards, set by Minnesota in 1905. But they do get Indiana again next year, so you never know.
ESPN's strength of schedule rankings (out of 126 FBS teams):
Alabama: 48th
Florida State: 60th
Ohio State: 88th
Baylor: 95th
November, 17, 2013
Nov 17
9:00
AM CT
Recognizing the best and the brightest around the Big Ten in week 12 …

Ohio State RB Carlos Hyde.
Ohio State coach Urban Meyer said that Hyde made the difference for the Buckeyes in a 60-35 win. The senior rushed for four touchdowns and 246 yards on 24 carries and tallied another receiving touchdown (he had two catches totaling 26 yards). It was Hyde's first 200-yard game of the season and more than double his previous season average of 117 yards per game.
Michigan kicker Brendan Gibbons and holder Drew Dileo.
Down three points with under 10 seconds remaining in regulation, the Michigan offense was sprinting off the field, the kicking team sprinting on the field and Dileo was sliding in to this holding position for Gibbons (yes, literally, sliding). Gibbons nailed a 44-yard field goal to send the game in to overtime, which the Wolverines eventually won after triple OT.
Wisconsin running backs.
The Badgers accounted for 554 rushing yards against Indiana.
James White
(205 yards, 1 touchdown),
Melvin Gordon
(146 yards, 1 touchdown) and
Corey Clement
(108 yards, 2 touchdowns) became Wisconsin's third 100-yard rushing trio this season. Wisconsin tallied seven runs of 30 yards or more and White recorded a 93-yard touchdown run which set a program record for the longest run. The Badgers' 554 rush yards are the most by an FBS team this season.
Nebraska RB Ameer Abdullah.
The Big Ten's leading rusher had his seventh 100-yard game of the season (bringing his rushing total this season to 1,213) and he became the first running back to rush for more than 100 yards against the Spartans defense. He accounted for 123 yards on 22 carries and his one TD of the day was a 12-yard receiving touchdown (his only catch of the day). MSU came into the match up giving up just 43 rushing yards per game -- which Abdullah tripled.
Illinois DB V'Angelo Bentley.
Coming into this weekend the Buckeyes had allowed just 1.5 yards per punt return and haven't allowed any kind of a return on 92 percent of their punts. But with the Illini down 28-0 on Saturday Bentley managed to get past more than half of Ohio State's punt coverage team and go 67 yards to the end zone. Not only did he become the first player to have success against this group, he also gave Illinois its first sign of life against the Buckeyes.
Honorable mention: Michigan State kicker Mike Sadler.
With a six-point lead in the fourth quarter and the Spartans faced with a fourth-and-1 on the Cornhuskers 27 yard line, Mark Dantonio called for a fake field goal play. Sadler was supposed to go right, but the formation wasn't quite what MSU expected, so instead of checking out of it and going for a field goal he rushed for three yards up the middle and a first down, setting up an MSU score.
November, 4, 2013
Nov 4
11:00
AM CT
We had our first, full six-game conference day on Saturday, and half of those games came down to the absolute wire.
If you're not at the top end of the Big Ten (hello, Ohio State, Wisconsin and Michigan State) or the bottom (sorry, Purdue), chances are you're going to find yourself in a very tight game in November. That's why execution at the end of halves and end of games is so big, and why some of what we saw Saturday was troubling.
[+] Enlarge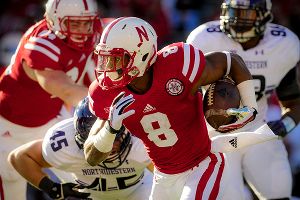 Eric Francis/Getty ImagesAmeer Abdullah rushed 24 times for 127 yards in Nebraska's thrilling win over Northwestern.
Take Illinois, for example. The Illini moved the ball almost at will at Penn State and had several chances to grab a lead. At the end of the first half, coach Tim Beckman's team displayed atrocious clock-management skills after getting a first-and-goal opportunity. Illinois would have gone to halftime with no points had Penn State not committed a personal-foul penalty with no time left that led to a field goal. The Illini would eventually lose when
Nathan Scheelhaase
threw an interception on the first play of their overtime possession.
Indiana's transgression was even worse. The Hoosiers had the ball on the Minnesota 9-yard line, trailing 42-39, in the final minute. They then called for a swing pass to running back
Tevin Coleman
that
Nate Sudfeld
appeared to deliver a little early. Coleman hadn't yet turned around for the ball and was still behind Sudfeld, making it a lateral. Coleman didn't catch the ball and didn't immediately realize it was live, while the Gophers scooped it up to save the win.
IU coach Kevin Wilson said the swing pass was "not an ideal call." Uh, yeah. It wasn't going to result in a touchdown, and the risk of a backward pass made it a curious choice. Wilson also made another questionable decision earlier, going for the two-point conversion after the Hoosiers had scored to take a 39-35 lead. He explained his reasoning later that Indiana would have a chance to remain tied by blocking a PAT in the event Minnesota scored a touchdown. But what are the odds of that? Had Wilson simply kicked the extra point for the 40-35 lead, the Hoosiers could have later kicked a short field goal for the win.
And then there was the ending of the Northwestern-Nebraska game. By now, you know what happened, with the Huskers winning on a play they call "Geronimo."
Ron Kellogg III
heaved the ball about 55 yards in the air, where it was tipped by a Northwestern defender into the waiting arms of
Jordan Westerkamp
.
A crazy fluke of a play? OK, maybe. But the Wildcats -- who say they practice against the Hail Mary every Thursday -- made the unpardonable mistake of not accounting for the deepest receiver in the end zone.
"You can never let someone get behind the pile," coach Pat Fitzgerald said. "That's pretty much it."
Northwestern could have avoided the pain of the play if, after reaching the Nebraska 1-yard line on second down in the final two minutes, it had scored a touchdown instead of settling for a field goal.
It's the little things at the end of halves and games that could decide the outcome of some more November Saturdays.
Take that and rewind it back:
Team of the week:
Michigan State. The Spartans
bullied, battered and bruised
Michigan in one of the most impressive defensive performances we've seen in a while. They should be favored in their final three games, even though the next two (at Nebraska and at Northwestern) are on the road. Michigan State fans might actually root for Michigan this week, because a Wolverines' victory over Nebraska this week would give Mark Dantonio's team a two-game lead over everybody in the Legends Division.
Worst hangover:
Michigan. This may be a literal, physical hangover for the Wolverines, who were beaten up all day in East Lansing.
Devin Gardner
looked shell-shocked as his
jersey was covered with mud
after taking so many hits. At least this week's game is at home. Brady Hoke is just 5-7 in true road games in three years.
Best play:
Nothing more needs to be said about Westerkamp's Hail Mary catch. Just
enjoy the video again
.
Biggest unsung play:
The Westerkamp catch would never have happened if not for
Ameer Abdullah
's heroics earlier on the final Nebraska drive. The Huskers faced fourth-and-15 when Kellogg scrambled and threw a dump-off pass to his running back. Abdullah caught the ball at the 34-yard line and needed to get just past the 39 for a first down. Two Northwestern defenders barreled in on him. But Abdullah shook off a tackle at the 36, got hit near the 38 and then lunged forward with the ball to just cross the first-down marker. Abdullah has left no doubt this season who Nebraska's best player is.
Big Man on Campus (Offense):
Penn State's
Bill Belton
ran for 201 yards and a touchdown on 36 carries versus Illinois. All that was nearly forgotten when he fumbled near the goal line late in the fourth quarter. But all was forgiven as the Nittany Lions came back to win in OT.
[+] Enlarge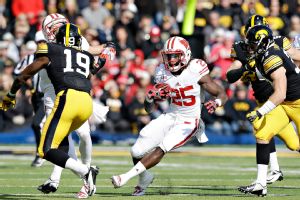 AP Photo/Charlie NeibergallRB Melvin Gordon was kept in check (17 rushes, 62 yards), but the Badgers rolled Iowa 28-9.
Big Man on Campus (Defense):
We could pick just about every Michigan State defender here. We'll single out linebacker
Denicos Allen
, who had nine tackles, two sacks and another tackle for loss. Allen is having a tremendous season and putting himself in the conversation for first-team All-Big Ten honors at the league's deepest position.
Big Men on Campus (Special teams):
Michigan State's
Michael Geiger
drilled all three of his field goal attempts in a game where offense was at a premium for three quarters, and punter
Mike Sadler
helped keep Michigan pinned in bad field position by averaging 40.8 yards on five kicks. The Wolverines started three of their drives from the 10-yard line or worse. No surprise there. Michigan State leads the country in punts downed inside the opponent 10, with 15.
A rule that needs review:
Wisconsin's
Jack Russell
appeared to make a 54-yard field goal at the end of the first half, but Iowa had called a timeout just before the snap. The Hawkeyes then proceeded to call two more timeouts in a row, and Russell would finally miss the attempt after several minutes of waiting. Credit Iowa coach Kirk Ferentz for using the ploy, since there is no sense in saving first-half timeouts. But can anyone argue this is good for the game? I don't think teams should be allowed to call more than two consecutive timeouts without a play happening. It disrupts the flow of the game and certainly doesn't embody the spirit of sportsmanship and collegiality the Big Ten claims to prioritize.
Again, that's not a criticism of Ferentz, just the rule. (And am I the only one who
thinks of this
when discussing whether to put Jack Russell in a timeout situation? Yeah, I probably am).
Fun with numbers (via ESPN Stats & Info):
After holding Michigan to minus-48 rushing yards on Saturday, Michigan State's defensive numbers have gone from outstanding to other-worldly. The Spartans are now allowing an average of just 43 rushing yards per game. The next best team in the FBS is Louisville at 82 yards per game. MSU is also giving up just 1.61 yards per rush attempt, which is a full yard lower than any other team in the country. Opponents are gaining zero or negative yardage on 36.5 percent of their attempts against the Spartans, also the highest number in the land, and only 22.7 percent of rushes versus that defense have gone for 5 yards or more. We could go on and on, but you get the point.

With its 56-0 win over Purdue following a 63-point effort versus Penn State, Ohio State registered its third back-to-back 50-plus point performance in two seasons under Urban Meyer. The program did that only four times total in the previous 122 seasons. The offense has been incredibly productive, as 38.4 percent of the Buckeyes' plays have gone for either a first down or a touchdown and 53.9 percent of those plays have gone for at least 5 yards. That latter figure is the highest in the FBS.

Do bye weeks help? Wisconsin would say yes. The Badgers have won last their past seven games following a bye week, including Saturday's win over Iowa. All of those victories have come by at least 19 points.

Penn State's Allen Robinson now ranks second in the nation in receiving yards per game, at 130.4. He trails only Oregon State's Brandin Cooks, who is averaging 149.3 yards per game. What might hurt Robinson come awards time is that he has only six touchdown catches. Cooks, by comparison, has 14. (And remember that Robinson missed half of the season opener because of a suspension).

Since October began, Michigan is averaging just 2.69 yards per rush attempt, which is 116th out of 123 teams in that span. (Purdue is dead last at 1.45 yards per attempt). In that same time period, the Wolverines have 63 rushes for zero or negative yards, more than any other FBS team.
October, 18, 2013
Oct 18
1:30
PM CT
We've reflected on the
first half of the Big Ten season
, evaluated
each team
and looked ahead to what promises to be a
more exciting second half
.
As we put a bow on the first half, we're selecting a midseason All-Big Ten team. This list certainly isn't as significant as the postseason squad, but these players merit recognition for their performances during the first seven weeks of the season.

The envelope, please ...
OFFENSE
QB:
Nathan Scheelhaase
, Illinois
RB:
Melvin Gordon
, Wisconsin
RB:
Ameer Abdullah
, Nebraska
WR:
Allen Robinson
, Penn State
WR:
Jared Abbrederis
, Wisconsin
TE:
Ted Bolser
, Indiana
C:
Corey Linsley
, Ohio State
OL:
Spencer Long
, Nebraska
OL:
Brandon Scherff, Iowa

OL:
Rob Havenstein, Wisconsin

OL:
Jack Mewhort, Ohio State
DEFENSE
DE: Shilique Calhoun, Michigan State
DT: DaQuan Jones, Penn State
DE: Tyler Scott, Northwestern
LB: Chris Borland, Wisconsin
LB: Ryan Shazier, Ohio State
LB: Max Bullough, Michigan State
LB: James Morris, Iowa
DB: Darqueze Dennard, Michigan State
DB: Stanley Jean-Baptiste, Nebraska
DB: Ibraheim Campbell, Northwestern
DB: Blake Countess, Michigan
SPECIALISTS
K:
Jeff Budzien
, Northwestern
P:
Mike Sadler
, Michigan State
KR:
Marcus Jones
, Minnesota
PR:
Kevonte Martin-Manley
We'll start with the quarterback spot, which has been underwhelming around most of the league, partly because of injury. It was a close call between Scheelhaase and Penn State true freshman
Christian Hackenberg
, but Scheelhaase gets a slight edge with more touchdown passes and fewer interceptions. We had another tough decision at the No. 2 running back spot between Abdullah and Iowa's
Mark Weisman
, who has been very productive so far. Ultimately, Abdullah has made more out of his carries and got the nod.
The Big Ten's depth at linebacker prompted us to go with a 3-4 defensive alignment for the midseason team. We had some debate for the lone defensive tackle spot between Jones, Ohio State's
Michael Bennett
and Minnesota's
Ra'Shede Hageman
, but went with Jones, the league's leader in tackles for loss (8.5). Linebacker is so deep that it was tough limiting the list to only four. We ultimately went with Morris over Illinois'
Jonathan Brown
because Morris has made more game-changing plays. Cornerback has been a deeper position than safety through the first half, so we went with three corners and only one safety.
Kick returner was another close call between Minnesota's Jones and Illinois'
V'Angelo Bentley
.
October, 7, 2013
Oct 7
11:00
AM CT
There's a trick to calling trick plays.
It's not just the design of the foolery or how it's executed. It's when you call them. And of course, they're brilliant when they work and head-scratchers when they blow up.
Take a pair of fake punts on Saturday as an example. In Iowa City, Michigan State called for one from its own 37-yard line in the fourth quarter while leading Iowa 20-14. Mark Dantonio named the play "Hey Diddle Diddle" because punter
Mike Sadler
would run up the middle. Sadler actually veered right, but he gained 25 yards and set up a key field goal.
"We just sort of felt, if the moment was right, we'd do it," Dantonio told reporters after the game. "I just wanted to make sure our players know, they're at risk on the football field."
[+] Enlarge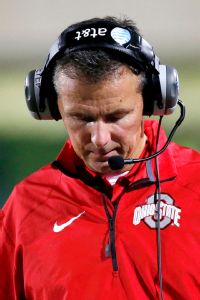 AP Photo/Charles Rex ArbogastUrban Meyer's call for a fake punt didn't work this time.
Urban Meyer has always been a risk-taker, and most of his decisions in the past year and a half have paid off for Ohio State. But one backfired at Northwestern on Saturday and could have proved costly.
Meyer put the fake punt on from his own 32 in the second quarter, but punter
Cameron Johnston
came up well short of the sticks. Northwestern used the field position to kick a field goal and go up 20-13. The Buckeyes coach later said calling for the fake at that time was an error, but that won't change his mindset.
"That's who we are," he said. "We're going to run a fake punt again. I tell our players all the time: We're an aggressive team, we do what we've got to do to win games."
Sometimes you live by the trick play, sometimes you die by it. Dantonio has a history of using comically named gadget plays, but his halfback pass idea at Notre Dame earlier this year proved disastrous as it was picked off, costing the Spartans momentum in a close game. Nebraska botched a fake punt against UCLA when it tried to have a 300-pound defensive lineman rumble for a first down. Wisconsin executed a brilliant fake punt at Arizona State in Week 3 when linebacker
Chris Borland
passed for a first down.
When pulled off, trick plays can give a team a huge boost. When they fail, they can leave a coach with egg on his face. The trick is knowing when and where to call them.
Take that and rewind it back ...

Team of the week:
With nods to Michigan State (which pulled out a big road win at Iowa) and Indiana (which snapped a 16-game losing streak versus Penn State) this honor belongs to Ohio State for a second consecutive week. Going to Northwestern was the Buckeyes' biggest challenge of the season, and they found themselves trailing for the first time since the second quarter of last year's season finale versus Michigan. They used their powerful offensive line to battle back and got a few key stops on defense in the fourth quarter for their 18th consecutive victory. Ohio State is halfway to an undefeated regular season with a highly advantageous schedule remaining.

Worst hangover:
No matter how its season was going, Penn State could always count on one thing: beating Indiana. The Nittany Lions had never lost to the Hoosiers in 16 tries. So when the Hoosiers not only ended the streak but put an exclamation point on it by taking a 42-17 fourth-quarter lead and winning by 20, that raised a giant red flag over Penn State's season. This week's sold-out, white-out home game against Michigan looked like a great way for Lions fans to celebrate the reduction of their NCAA sanctions. Now, it could be a deflating reminder of the cost of those sanctions.
Big Man on Campus (offense):
Heading into the Northwestern game, Meyer said of
Carlos Hyde
, "We're going to ride that horse." And boy did the Buckeyes ever climb aboard their workhorse tailback. Hyde ran for 168 yards and three touchdowns, the last one coming when he had the presence of mind to reach the ball across the plane on third down while falling backwards to save Ohio State's winning streak. Hyde ran like a guy who knew football was almost taken away from him after his poor decision this summer, and
he became emotional when talking about it afterward
.
Big Man on Campus (defense):
In
our Friday Q&A
, Michigan State cornerback
Darqueze Dennard
expressed his frustration with not having an interception through the first five weeks while saying he was very close. Dennard then went out and picked off two passes at Iowa, one in the first quarter and one in the fourth. The Hawkeyes were forced to try to beat Dennard through the air because they couldn't run the ball (see below).
Big Man on Campus (special teams):
Michigan State freshman kicker
Michael Geiger
missed his first field goal attempt against Iowa from 36 yards. That had to bring back bad memories for Spartans fans, because key missed field goals were an overlooked factor in last year's 6-6 regular season. But Geiger then made his next four tries, from 27, 35, 49 and 40 yards. Given the state of Michigan State's offense, it probably needs a reliable kicker more than most teams. That's why Geiger was an important recruit, and why Spartans fans should be happy that the Geiger counter is dialed in right now.
Best play:
Kenny Bell
's
one-handed catch
on his way to a 37-yard touchdown put Illinois away for good and gave Bell a secure spot on Nebraska's season highlight film. Teammate
Ameer Abdullah
's 43-yard touchdown run off an option pitch might have been the day's second-best play.
A spot of bother:
Did
Kain Colter
and Northwestern get victimized by a bad spot on the quarterback's fourth-and-1 rushing attempt late in the game? Possibly. But when you mess up the center exchange and then fall into a pile of bodies, it's hard to get the benefit of the doubt, and replays were not conclusive.
The bigger question might be whether the Wildcats got a little too conservative on that drive as they trailed 34-30. Just about all night, they had torn through Ohio State's pass defense, including a 67-yard completion to
Rashad Lawrence
on the previous possession that set up a touchdown. Pat Fitzgerald likely wanted to burn some clock and put his team in position to win the game with a touchdown and not have his defense go back on the field. Still, after opening the drive with a 9-yard completion, the Wildcats ran the ball on their next five plays. The final four runs gained only 8 yards, and Colter came up an inch short of the first down at the Buckeyes' 34.
Fun with numbers (via ESPN Stats & Info)
Michigan State now leads the country in rushing defense, allowing just 50.4 yards per game. The Spartans held Iowa, which came to Saturday's game averaging 244 yards per game on the ground, to just 23 rushing yards. Since the start of 2011, Michigan State has held 20 opponents to fewer than 100 yards rushing, including all five games in 2013.

One reason for Ohio State's success has been its field position advantage, thanks to a strong punting game. The Buckeyes' opponents have started their possessions after a punt, on average, at the 18-yard line. That's second-best in the nation behind Houston.

Nebraska's Stanley Jean-Baptiste and Michigan's Blake Countess are tied for the national lead with four interceptions each. Countess' 149 interception return yards are most in the FBS, and Jean-Baptiste's 134 ranks third.

Indiana's strong passing attack isn't just a dink-and-dunk routine. The Hoosiers are averaging 14.66 yards per pass completion, best in the Big Ten and No. 14 in the FBS. Of those completions, 61.9 percent of them have gone for at least 10 yards.

Bill O'Brien has hardly kept the reins on true freshman quarterback Christian Hackenberg. He is attempting 36.4 passes a game, most in the Big Ten and No. 17 nationally. Hackenberg attempted 55 passes Saturday against Indiana.

Who has played the toughest schedule so far? According to one stat, it's Indiana. The Hoosiers' FBS opponents' winning percentage is 85.4 percent, second highest in the nation behind Washington. The weakest schedule, using that measurement, is Michigan State, whose FBS opponents' winning percentage is just 41.3 percent.

Michigan has scored either a touchdown or a field goal on 81.3 percent of its drives inside the opponent's 40-yard line, tops in the league and No. 7 nationally. The Wolverines are also No. 3 in the FBS in red zone touchdown efficiency, reaching the end zone 81.8 percent of the time they break the opponent's 20-yard line.
January, 10, 2013
Jan 10
11:00
AM CT
The Big Ten won only two bowl games this season, but several players stood out around the league.
Let's take a look at ESPN.com's Big Ten All-Bowl squad ...
OFFENSE
QB:
Devin Gardner
, Michigan -- There weren't many good choices around the league, but Gardner fired three touchdown passes and racked up 214 pass yards. He has accounted for at least two touchdowns in all five of his starts at quarterback for the Wolverines.
RB:
Le'Veon Bell
, Michigan State -- The nation's ultimate workhorse running back did his thing in his final game as a Spartan. Bell had 32 carries for 145 yards and a touchdown, recording his eighth 100-yard rushing performance of the season. He also threw a 29-yard pass on a pivotal third-down play.
RB:
Rex Burkhead
, Nebraska -- Another back who stood out in his final collegiate game, Burkhead racked up 140 rush yards and a touchdown on 24 carries, and added four receptions for 39 yards. It's really too bad we didn't get to see what Burkhead could have done all season when healthy.
[+] Enlarge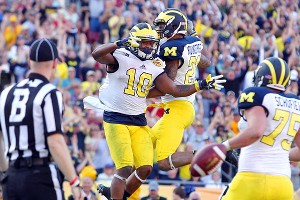 Kim Klement/USA TODAY SportsJeremy Gallon celebrates one of his two touchdown catches against South Carolina.
WR:
Jeremy Gallon
, Michigan -- Gallon recorded career highs in receptions (9) and receiving yards (145), and scored two touchdowns against a strong South Carolina defense in the Outback Bowl. It was his third 100-yard receiving performance of the season.
WR:
Derrick Engel
, Minnesota -- Along with quarterback
Philip Nelson
, Engel provided some hope for Minnesota's future on offense with 108 receiving yards on four receptions in the Meineke Car Care Bowl of Texas. His 42-yard reception marked the third longest of Minnesota's season.
TE:
Dan Vitale
, Northwestern -- The freshman provided offensive balance Northwestern needed against a Mississippi State team that focused on taking away
Venric Mark
and the run game. Vitale recorded team highs in both receptions (7) and receiving yards (82) as Northwestern ended the nation's longest bowl losing streak in the TaxSlayer.com Gator Bowl.
OL:
Taylor Lewan
, Michigan -- Everyone remembers
Jadeveon Clowney
's near decapitation of Michigan's
Vincent Smith
in the Outback Bowl -- which
resulted from a miscommunication
between Lewan and tight end
Mike Kwiatkowski
-- but the Wolverines' left tackle did a good job overall against college football's most dominant defensive lineman. Lewan anchored a line that helped Michigan put up decent numbers against an elite defense.
OL:
Zac Epping
, Minnesota -- Minnesota's offensive line showed flashes of the dominance it displayed for much of the Glen Mason era against Texas Tech. The Gophers racked up 222 rush yards and two touchdowns on 54 carries, as Epping and his linemates opened up holes for
Donnell Kirkwood
,
Rodrick Williams
and
MarQueis Gray
.
OL:
Brian Mulroe
, Northwestern -- Mulroe made his 40th career start and helped Northwestern finally get over the hump in a bowl game. The Wildcats had a balanced offensive attack, avoided the penalty flag and didn't allow a sack against Mississippi State.
OL
:
Cole Pensick
, Nebraska -- Stepping in for the injured
Justin Jackson
at center, Pensick helped the Huskers find success running the ball against Georgia, especially up the middle. Nebraska had 239 rushing yards in the Capital One Bowl.
OL:
Travis Frederick
, Wisconsin: The Badgers rushed for 218 yards against Stanford, which came into the Rose Bowl with the nation's No. 3 rush defense. They also gave up only one sack to a defense which led the FBS in that category. Frederick played very well at center and announced he would skip his junior year to enter the NFL draft a few days later.
DEFENSE
DL:
Quentin Williams
, Northwestern -- Williams set the tone for Northwestern's win with an interception returned for a touchdown on the third play from scrimmage. He also recorded two tackles for loss, including a sack, in the victory.
DL:
William Gholston
, Michigan State -- Another player who stood out in his final collegiate game, Gholston tied for the team lead with nine tackles, including a sack, and had a pass breakup in the Buffalo Wild Wings Bowl win against TCU. The freakishly athletic defensive end stepped up in a bowl game for the second straight season.
DL:
Tyler Scott
, Northwestern -- Scott and his fellow linemates made life tough for turnover-prone Mississippi State quarterback
Tyler Russell
in the Gator Bowl. The Wildcats junior defensive end recorded three tackles for loss, including two sacks, and added a quarterback hurry in the win.
DL:
Ra'Shede Hageman
, Minnesota -- The big man in the center of Minnesota's defensive line stood out against Texas Tech, recording six tackles, including a sack, and a pass breakup. Gophers fans should be fired up to have Hageman back in the fold for the 2013 season.
LB:
Max Bullough
, Michigan State -- Bullough once again triggered a strong defensive performance by Michigan State, which held TCU to just three points in the final two and a half quarters of the Wings bowl. The junior middle linebacker tied with Gholston for the team tackles lead (9) and assisted on a tackle for loss.
LB:
Chris Borland
, Wisconsin -- The Badgers' defense clamped down against Stanford after a slow start, and Borland once again stood out with his play at middle linebacker. The standout junior led Wisconsin with nine tackles as the defense kept the Badgers within striking distance in Pasadena.
LB:
Jake Ryan
, Michigan -- Ryan capped a breakout season with another strong performance in the bowl game, recording 1.5 tackles for loss, a fumble recovery and half a sack. He'll enter 2013 as a top candidate for Big Ten Defensive Player of the Year honors.
CB:
Michael Carter
, Minnesota -- Carter finished off a strong senior year with two interceptions, a pass breakup and seven tackles in the 34-31 loss to Texas Tech.
CB:
Nick VanHoose
, Northwestern: The redshirt freshman picked off a Mississippi State pass and returned it 39 yard to set up the game-clinching touchdown in the fourth quarter.
S:
Jared Carpenter
, Northwestern: The senior was named MVP of the Gator Bowl win with a game-high 10 tackles and a near interception late in the game.
S:
Ibraheim Campbell
, Northwestern: The Wildcats dominate our all-bowl team secondary for good reason. Campbell had an interception and a pass breakup against the Bulldogs.
Specialists
P:
Mike Sadler
, Michigan State -- The punters took center stage in Tempe as both offenses struggled, and Sadler provided MSU with a huge lift in the field-position game. He set Spartans bowl records for punts (11) and punting yards (481), averaging 43.7 yards per punt with three inside the 20-yard line. His booming punt inside the TCU 5 helped lead to a game-turning fumble by the Horned Frogs'
Skye Dawson
.
K:
Brendan Gibbons
and
Matt Wile
, Michigan -- Both kickers share the honors after combining to go 3-for-3 on field-goal attempts in the Outback Bowl. Gibbons, the hero of last year's Sugar Bowl, connected from 39 yards and 40 yards in the first half. Wile hit a career-long 52-yard attempt in the third quarter, setting an Outback Bowl record.
Returner:
Troy Stoudermire
, Minnesota -- It took a bit longer than expected, but Stoudermire finally set the NCAA record for career kick return yards with a 26-yard runback on the opening kickoff against Texas Tech. The senior cornerback finished the game with 111 return yards, including a 37-yard runback, on four attempts.
December, 10, 2012
12/10/12
9:51
PM CT
As you may have noticed,
we weren't exactly big fans
of the
official All-Big Ten teams
that were announced last month.
We don't claim to know more about football than the league's coaches, not for a second. But after watching every Big Ten game all season long, we found ourselves scratching our heads at some choices that didn't seem to jibe with what we were seeing. Well, it's time to put our money where our mouths are and offer our official ESPN.com picks for the 2012 All-Big Ten team. Now you can argue with our choices, which look like this:
Offense
QB:
Braxton Miller
, Ohio State
RB:
Montee Ball
, Wisconsin
RB:
Le'Veon Bell
, Michigan State
WR:
Allen Robinson
, Penn State
WR:
Kenny Bell
, Nebraska
TE:
Kyle Carter
, Penn State
OT:
Taylor Lewan
, Michigan
OG:
Spencer Long
, Nebraska
C:
Matt Stankiewitch
, Penn State
OG:
Brian Mulroe
, Northwestern
OT:
Jack Mewhort
, Ohio State
Defense
DL:
John Simon
, Ohio State
DL:
Johnathan Hankins
, Ohio State
DL:
Jordan Hill
, Penn State
LB:
Michael Mauti
, Penn State
LB:
Ryan Shazier
, Ohio State
LB:
Jake Ryan
, Michigan
LB:
Chris Borland
, Wisconsin
DB:
Bradley Roby
, Ohio State
DB:
Ciante Evans
, Nebraska
DB:
Darqueze Dennard
, Michigan State
DB:
Daimion Stafford
, Nebraska
Special teams
PK:
Jeff Budzien
, Northwestern
P:
Mike Sadler
, Michigan State
All-purpose:
Venric Mark
, Northwestern
The first thing you might notice with our team is that we're lining up as a 3-4 defense. We decided to go with only three defensive linemen and four linebackers because linebacker was such a strong position for the league this year. And even with four, we still left off very worthy players such as Wisconsin's
Mike Taylor
, Penn State's
Gerald Hodges
and Michigan State's
Max Bullough
. Going with three down linemen meant we excluded Purdue's
Kawann Short
, a great player who was slowed by injuries during the heart of the Boilers' schedule. ... One of our toughest calls was at tight end. You can make a great case for either Carter or Michigan State's
Dion Sims
, and their numbers are incredibly close. ... We chose four defensive backs instead of two corners and two safeties, just as the Big Ten does with its official teams. And we were happy to do so since we thought the safety position was a little lacking this year overall. And since Evans is a nickelback, it kind of works, anyway. ... We went with Michigan State's Bell in a close call over Northwestern's Mark but still got Mark on our team as the all-purpose player, which fits his skills since he is a top-flight punt returner. ... Ohio State leads the way with six selections, followed by Penn State with five and Nebraska with four.
October, 22, 2012
10/22/12
5:53
PM CT
Take that and rewind it back.
Team of the week:
Penn State. Plenty of candidates this week, as Michigan ended Michigan State's four-game winning streak in the rivalry, Nebraska got a much-needed road victory and Wisconsin kept chopping in the Axe series. But no team was as impressive as the Nittany Lions, who went on the road in a hostile atmosphere and simply dismantled Iowa from start to finish in a 38-14 win. That was as complete a performance as you're going to see in this league, and as Adam wrote on Saturday, Bill O'Brien's team is no longer
just a nice little story
.
[+] Enlarge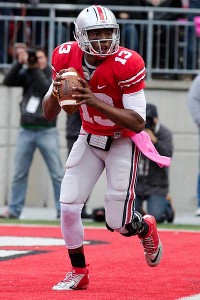 Greg Bartram/US PresswireBackup quarterback Kenny Guiton led the Buckeyes to an overtime win against Purdue on Saturday.
Game of the week:
Lots of good ones, including Michigan's nailbiter over Michigan State, Nebraska's comeback over Northwestern and even Indiana's loss at Navy. But for pure drama, it's hard to beat the Ohio State-Purdue game and how it ended. To review: the Buckeyes trailed by eight points and took possession at their 39-yard line with less than a minute to go.
Braxton Miller
was in the hospital and backup
Kenny Guiton
was at quarterback. Somehow, Ohio State made it work, driving for a touchdown and then the tying two-point conversion on a beautifully designed play. There seemed to be little doubt who would win in overtime after that, though Urban Meyer seemed stunned after the 29-22 decision. "I'm still trying to figure this bad boy out," he said. "We won, right?"
Biggest play:
The first play of that Ohio State tying drive was a 39-yard completion from Guiton to
Devin Smith
that made everything else possible. It was a slow-developing play that the Buckeyes were a little hesitant to call because it demands such good protection by the O-line. Maybe too good, as Purdue coach Danny Hope complained that his defense "probably would have [gotten to Guiton] if we didn't have quite so many hooks and so many hands on our jerseys." Regardless, it was still a play that will go down in Ohio State lore.
Best call:
It came in a losing effort, but we enjoyed seeing the return of Mark Dantonio's gambling special-teams ways in Michigan State's loss to Michigan. On fourth-and-9 from the Spartans' 23-yard line early in the fourth quarter, punter
Mike Sadler
sprinted for a 26-yard gain. That extended a drive that led to the field goal that put Michigan State up 10-9. I just wish Dantonio had been as aggressive on the fourth-and-1 from Michigan's 21-yard line earlier in the game, when the Spartans went for the field goal -- and missed it.
Best new wrinkle:
It sometimes feels as if Wisconsin doesn't need a quarterback, given its strength at offensive line and depth at tailback. The Badgers gave that idea a try Saturday against Minnesota, putting running back
James White
at quarterback and using seven offensive lineman, two tight ends and
Montee Ball
as a receiver. They called it the "Barge" formation because of how many large humans were involved. White ran four times out of the "Barge" and gained 30 yards, including a 14-yard touchdown. That gives defenses something else to think about, and Bielema said there are plays where White can throw out of the formation.
Big Man on Campus (Offense):
Taylor Martinez
has gotten crushed for his failures on the road, so it's only fair that he should be praised for winning an important game away from Lincoln. Granted, Northwestern had a couple of chances to pick him off in the fourth quarter, and if that happens, the narrative for Nebraska and Martinez is a whole lot different right now. But Martinez deserves credit for leading fourth-quarter scoring drives of 80 and 76 yards and finishing 27-of-39 passing for 342 yards with three touchdowns and -- most important -- no interceptions. He also rushed for 65 yards and a score.
Big Man on Campus (Defense):
Penn State's linebackers have gotten the, um, Lions' share of attention this season on the defense. But senior defensive tackle
Jordan Hill
made himself known against Iowa, recording nine tackles, including two for loss, a sack and a quarterback hurry. Iowa finished with only 20 rushing yards.
Big Man on Campus (Special teams):
Here's what I imagine
Brendan Gibbons
was thinking before his game-winning, 38-yard kick against Michigan State: "Zooey Deschanel, Mila Kunis, Natalie Portman." Actually, Gibbons said this time he was thinking about the Michigan seniors, not brunette girls as he was before hitting the game-winner in the Sugar Bowl. But this one was just as big, and one of his three field goals on the day in a 12-10 win. A hardy shout out goes to
Matt Wile
, who booted a 48-yarder for the Wolverines, and to Purdue's
Akeem Hunt
for his 100-yard kickoff return against Ohio State.
Worst hangover:
Purdue, Michigan State and Northwestern are all solid nominees here, but Iowa wins the least-coveted award in the rewind. Not only were the Hawkeyes destroyed at home by Penn State, they also lost starting left tackle
Brandon Scherff
to injury for at least the rest of the regular season, and starting guard
Andrew Donnal
may be out a while as well. That was Iowa's third home loss of the season already. The Hawkeyes still have no passing game, and while they can salvage something out of this season, things look a lot less promising than they did a week ago.
Strangest moment:
Northwestern had to go to a silent count for its final drive of the game against Nebraska. Which wouldn't have been weird, except that the Wildcats were playing at home. Ryan Field has never been the most intimidating home atmosphere, and Nebraska fans invaded in such large numbers and made so much noise that it felt like a road game for the Northwestern players at the end. "We didn't prepare for that all week," quarterback
Kain Colter
told the Chicago Tribune about the silent count.
August, 27, 2012
8/27/12
10:30
AM CT
It's time.
After a seemingly endless offseason, game week has arrived, and the Big Ten bloggers are ready to forecast the 2012 season. We study this league year-round and try to get as much of a feel for how things will play out as possible. Still, as you know, and as you love to remind us, we're occasionally off the mark (sometimes more than occasionally).

Let's get things started with the team predictions ...
Brian Bennett
Legends Division
Michigan State: 10-2 overall, 6-2 Big Ten
Michigan: 8-4, 5-3
Nebraska: 9-3, 5-3
Iowa: 8-4, 5-3
Northwestern: 7-5, 4-4
Minnesota: 5-7, 2-6
Leaders Division
Wisconsin: 9-3 overall, 5-3 Big Ten
Ohio State: 10-2, 6-2
Purdue: 7-5, 4-4
Penn State: 6-6, 3-5
Illinois: 6-6, 3-5
Indiana: 3-9, 0-8
Big Ten championship:
Michigan State defeats Wisconsin
Adam Rittenberg
Legends Division
Michigan State: 10-2 overall, 6-2 Big Ten
Michigan: 9-3, 6-2
Nebraska: 9-3, 5-3
Iowa: 8-4, 4-4
Northwestern: 6-6, 3-5
Minnesota: 5-7, 2-6
Leaders Division
Wisconsin: 10-2, 6-2
Ohio State: 9-3, 5-3
Purdue: 7-5, 4-4
Penn State: 7-5, 3-5
Illinois: 6-6, 3-5
Indiana: 3-9, 1-7
Big Ten championship:
Michigan State defeats Wisconsin
OK, OK, so we're a little boring with these -- rematch of last year's title game, Michigan State winning, etc. Let's shake things up with some individual predictions for the season, which we reserve the right to change down the line.
Bennett
1. The Big Ten's run of BCS at-large bids comes to an end. The only two teams that finish with fewer than three losses are Michigan State, which goes to the Rose Bowl, and Ohio State, which is ineligible for the postseason. The SEC, Pac-12 and Big 12 all get BCS at-large bids.
2. Purdue stuns Wisconsin at home but can't keep up the momentum, coming up one game short of earning the Leaders Division title.
3. Nebraska turns the tables on Michigan and Wisconsin, avenging last year's blowout losses by beating both at home. But the Huskers lose their final game at Iowa and are eliminated from the division-title hunt.
Rittenberg
1. Michigan rallies from back-to-back losses to Michigan State and Nebraska to win its final three games, including an overtime thriller at Ohio State. The Wolverines then punctuate their season with an impressive victory against LSU in the Capital One Bowl.
2. Speaking of the bowls, the Big Ten redeems itself on New Year's Day with a 4-1 record, including a Michigan State victory in the Rose Bowl. Northwestern also records its first bowl win since 1949 in the TicketCity Bowl. The Big Ten records just its second winning bowl performance since the 2002 season.
3. Michigan State rallies to win the title game, thanks in part to
Mike Sadler
doing his best Brad Nortman impression and flopping on a punt, drawing a penalty on the Badgers late in the fourth quarter.
Le'Veon Bell
rushes for 200 yards in the victory.
Check the blog throughout the week as we break down the Big Ten's four major awards -- Offensive Player of the Year, Defensive Player of the Year, Coach of the Year and Freshman of the Year -- in video form.
October, 3, 2011
10/03/11
12:00
PM CT
Don't look back in anger. Well, unless you're a fan of Nebraska, Ohio State, Purdue, Northwestern or Minnesota. Then we'll allow it.
Team of the week:
Wisconsin. The only real question about the Badgers after their first four games was how they would fare against better competition. Then they steamrolled Nebraska 48-17. Any more questions?
[+] Enlarge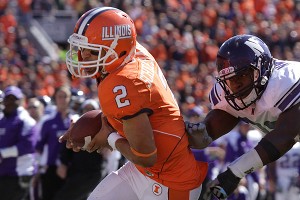 AP Photo/Seth PerlmanConsistency will be a major focus for Illinois QB Nathan Scheelhaase next season.
Best game:
Illinois' 38-35 win against Northwestern. This game was full of twists and turns, as Northwestern built a 28-10 third quarter lead, only to watch the Illini rally for 21 straight points. The Wildcats reclaimed the lead with 1:15 left, but
Nathan Scheelhaase
scored on a 1-yard run with 13 seconds left to end it. After it was over, the Illinois scoreboard proudly proclaimed its homeboys as "The State of Illinois' Undefeated Big Ten Team" while the speakers blared "Sweet Home Chicago," Sinatra's "My Kind of Town" and Kanye's "Homecoming." What, was the band Chicago unavailable for a live performance?
Biggest play:
There were plenty to choose from in the Illinois-Northwestern game, but I'm going with one that might have been overlooked from early in Michigan State's 10-7 win against Ohio State. The Spartans botched the punt snap on their first possession, and Buckeyes defenders were bearing down on punter Mike Sadler deep in his own territory. Sadler somehow recovered, eluded the rush and got off a 37-yard punt. If disaster strikes there for Michigan State, Ohio State might have scored, gained confidence and changed the entire complexion of that game.
Best call:
Maybe we should call this the most interesting calls, not necessarily the best. Michigan offensive coordinator Al Borges unveiled a new wrinkle against Minnesota, putting
Devin Gardner
in at quarterback with
Denard Robinson
and two other running backs also in the game. The Wolverines used it a handful of times, employing a double pitch and a double pass. They also used a halfback pass from
Vincent Smith
for a touchdown. Let's be honest: Michigan didn't need any trickery against Minnesota in a 58-0 blowout. But Borges has just given every other Big Ten defensive coordinator something else to worry about.
Big Men on Campus (Offense):
Illinois receiver
A.J. Jenkins
and Wisconsin quarterback
Russell Wilson
. Jenkins broke a school record with 268 receiving yards plus three touchdowns on 12 catches in the Northwestern win. It was the fourth-best receiving day ever by a Big Ten wideout. Wilson led the Badgers to the win in the biggest game of the year so far in the Big Ten by completing 14-of-20 passes for 255 yards and two touchdowns. He also ran for 32 yards and a score.
Big Man on Campus (Defense):
Wisconsin linebacker Mike Taylor. He made a career-high 14 tackles, one of them for a loss, and intercepted a pass in the second quarter of the Badgers' win. Nebraska entered the game averaging more than 42 points, but was held to just 17.
Big Man on Campus (Special teams):
Penn State's Anthony Fera. He drilled three field goal attempts (from 22, 27 and 33 yards) in a 16-10 win against Indiana. He also punted seven times for an average of 39 yards, placing three inside the 20-yard line.
Worst hangover:
Purdue. While acknowledging the terrible Saturdays that Minnesota and Ohio State also suffered through, the Boilermakers legitimately thought they could beat Notre Dame. They had two weeks to get ready for a night game at home, making this a real circle-the-wagons type of game. After the Irish won 38-10, the Purdue bandwagon has three broken wheels and a flat tire.
Strangest moment:
Let's go back to Purdue for this one. Early on in that game, the Boilers forced an Irish incompletion on third down from their own 10. But safety Albert Evans was called for a celebration penalty for high-fiving some fans in the end-zone stands. Notre Dame would cash in with its second touchdown. "They said I high-fived someone," Evans told reporters. "I was in the moment, so I couldn't tell you who I high-fived. The band was right there. I guess you can't high-five anyone." Can't blame Evans too much for his premature celebration, as it was one of the few times all night the Purdue defense got a stop.
TOP 25 SCOREBOARD
Thursday, 12/5
Friday, 12/6
Saturday, 12/7
TOP PERFORMERS