Chicago Colleges:

Missouri Tigers
April, 10, 2013
4/10/13
7:24
PM CT
Seton Hall
sophomore guard
Aaron Cosby
didn't realize when he narrowed his list of schools to transfer to that his final choices --
Illinois
and
Missouri
-- were rivals.
"I didn't even know until I was on Twitter," Cosby said by phone Wednesday. "Fans from both schools were talking about each other. I asked if this was some sort of rivalry, then I found out they play every year. I had no idea. I didn't do it on purpose."
Needless to say, Cosby will soon be adding another piece of drama to the annual Illinois-Missouri Braggin' Rights Game. He'll be eligible to play in his first one in the 2014-2015 season after he sits out next season.
Cosby will visit both schools in the coming days. He flies to Illinois on Thursday and will stay there until Saturday. On Saturday, he'll travel to Missouri and depart there on Monday. He plans to make his decision next week.
What the winning school will get is a 6-foot-3, 190-pound combo guard who started 58 games for Seton Hall in his first two seasons. He averaged 12.6 points, 3.0 rebounds and 2.6 rebounds as a sophomore. He also shot 42.6 percent from the field, 40 percent from 3-pointer range and 75.2 percent from the free-throw line.
Cosby could see himself playing for either program.
"With Illinois, I like coach [John] Groce," said Cosby, who is from Louisville, Ky. "He had offered me when he was at Ohio. I've known him since then. I like how he coaches and his playing style. I like what he's done at Illinois. They had a great year. They exceeded expectations."
Cosby also has a list of positives for Missouri.
"Missouri is kind of the same thing," Cosby said. "They have an up-tempo style of play. Coach [Frank] Haith really took charge of the recruiting. He made it clear he wants me, and that I will really fit well with his style."
December, 22, 2012
12/22/12
10:48
PM CT
ST. LOUIS --
Missouri Tigers
coach Frank Haith has taken
Phil Pressey
aside in the past when he has felt the junior point guard has been trying to do too much and needs to be reined in.
By the numbers, Saturday's performance against the
Illinois Fighting Illini
would have warranted that.
But even though Pressey continued to shoot after plenty of misses and ended up with the worst shooting day of his career, hitting just 3 of 19 field goals, it never crossed Haith's mind to have that conversation with Pressey.
"There's times when Phil is just caught in wanting to take the game on sometimes, and he can," Haith said. "I compare him to T.J. Ford. T.J. Ford was like that, too. But there's times you got to back off a little bit and trust your teammates.
[+] Enlarge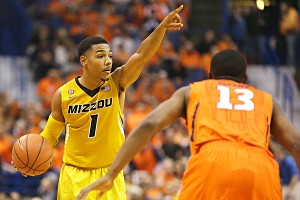 AP Photo/Jeff RobersonPhil Pressey overcame a poor shooting night to lead Missouri past Illinois on Saturday.
"But he was such in a great flow tonight where I didn't have to say anything to him. I didn't know he took 19 shots, to be honest with you, until the end."
And that's where the brilliance of Pressey's game lies:
He's the sort of player who doesn't have to score -- even if he's trying to score -- to impact a game. In Missouri's 82-73 win over Illinois in the Braggin' Rights game, Pressey proved to be the difference by pushing the ball, finding open teammates, defending well and being a leader.
Illinois coach John Groce certainly looked past Pressey's shooting performance when he described his game.
"I thought he was dynamic," Groce said. "In terms of getting inside the lane ... as good of a point guard as we've played through 13 games. He reminded me of the kid I coached at Ohio,
D.J. Cooper
, with his shiftiness, his vision and ability to put balls on target, his ability to see. And then he reminded me as well with that shiftiness and vision of the kid [Mike] Conley that I had a chance to coach as an assistant at Ohio State who is now with the Grizzlies. He's special in that regard."
"Then he puts pressure on your defense in transition," he said. "He's fast. Trying to get him corralled and under control isn't easy. We didn't do as good of a job as we wanted to do."
Pressey was especially difficult to handle with the game winding down. With Missouri ahead 68-64, Pressey took over in the final minutes to assure the win. He scored eight points of his 12 points and dished out one of his game-high 11 assist in the final 4:30.
Missouri senior forward
Laurence Bowers
didn't know what he'd do without Pressey.
"He's the coach on the floor," Bowers said. "I definitely think he's the best point guard in the nation. If he can't get his offense going, he definitely gets everyone else going. He's a pass-first point guard.
"Today, he struggled with his shot, but in the clutch he made big plays for us, and we benefitted."
While everyone else wasn't counting Pressey's misses, he noticed the number was rising. Despite all that, Pressey remained positive.
"Just trying to stay in attack mode," Pressey said. "If I'm not hitting my shot, I'm just trying to get my guys involved."
Pressey offered a unique view about his misses.
"Even though I was missing those shots, I felt like it was an opportunity for our bigs to clean up those misses," Pressey said. "My dad always told me if you can't pass, just throw it up and your big will get a rebound. When I see a big coming over, I know I have guys like Laurence and the rest of my bigs who can clean that up."
Haith, who was sitting next to Pressey, laughed along with the rest of the room.
"We can't let anyone know that's our game plan," Haith said.
December, 22, 2012
12/22/12
9:54
PM CT
ST. LOUIS -- What every Illinois critic wanted to know about the Illini was what would happen to them if they had a bad shooting day against a good team.
[+] Enlarge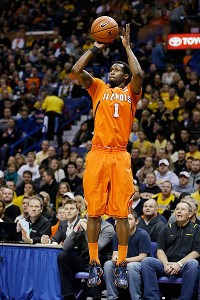 AP Photo/Jeff RobersonIllinois finished just 8-of-32 from 3-point range in a loss to Missouri.
The Illini had lived by the 3-pointer against good teams (Butler, Gonzaga) and slipped past a couple average teams thanks to their superior athleticism and skill. The result was 12 consecutive wins to start the season.
On Saturday, the critics got their wish. The Illini's hot 3-point shooting eluded them against one of the nation's best teams, No. 12 Missouri.
While No. 10 Illinois dropped its first game of the season, 82-73, largely due to its outside struggles, coach John Groce found plenty of positives to take from Saturday's game. As horrific as Illinois was from 3-point range -- 8-of-32 –- his team still hung right with Missouri, and that meant a lot to him.
"I want to give our guys a lot of credit," Groce said. "I told them in the locker room I was really proud of them and their effort. I thought we played extremely hard.
"We don't allow one game to define us. I know it's an important game. It's a rivalry game. We certainly have respect for that. But we're going to play around 35-plus games. Our deal is what our body of work is between Oct. 12 and April 1. We want to continue to get better. My guys showed me something tonight. They showed some fight and played with great passion, and I'm real proud of them for that."
That's the thing. The Illini never clung to the dream of an undefeated season. They were glad to be among that small elite class for as long as they were. So when they did finally fall on Saturday, the Illini's focus wasn't on the disappointment of not being unbeaten anymore, but rather the lessons they could learn from a loss.
December, 22, 2012
12/22/12
7:42
PM CT
ST. LOUIS -- A quick look at No. 12 Missouri's 82-73 win against No. 10 Illinois in the Braggin' Rights game Saturday at the Scottrade Center.
Overview:
Missouri has had Illinois' numbers in recent years, and the Tigers continued that trend Saturday as they defeated the Illini for the fourth consecutive season in one of their more intense and physical rivalry games.
The Illini had been living by the 3-pointer through their first 12 wins, and they died by it against the Tigers. They connected on only 8 of their 32 3-point attempts. Illinois was shooting .386 from 3-point range heading into the game.
While Illinois struggled from deep, Missouri played to its two strengths -- point guard
Phil Pressey
and its size. Tigers big men
Laurence Bowers
and
Alex Oriakhi
combined for 36 points and 24 rebounds. Pressey had trouble shooting, but he still dictated the pace and had a game-high 11 assists.
Turning point:
Missouri wasn't able to pull away from Illinois until the final minutes. The Tigers closed the game on a 10-3 run. Pressey and
Jabari Brown
combined for eight points in the run.
Key player:
Pressey proved the theory that a player can influence a game without shooting well. He was 3-of-19 from the field and finished with 12 points. But he still was a difference-maker as he pushed the tempo and found open teammates.
Key stat:
The Tigers outrebounded Illinois 58-35, including 22-14 on the offensive glass.
Miscellaneous:
This was the third consecutive season both teams came into the game ranked. They were a combined 63-5 in the past three seasons leading up to the Braggin' Rights games. ... Illinois junior guard
Joseph Bertrand
was 9-of-9 from the field in last season's game and hit his first shot Saturday. He missed his next three. ... Illinois senior guard
Brandon Paul
scored a team-high 23 points and had five assists.
Up next:
Illinois closes out its nonconference schedule by hosting Auburn at the United Center in Chicago on Dec. 29. The Illini have lost their past two games in Chicago, falling to UNLV by 16 points last season and being upset by UIC the season before. ... Missouri has two more nonconference games remaining before beginning SEC play. The Tigers travel to UCLA on Dec. 28 and host Bucknell on Jan. 5.
January, 19, 2012
1/19/12
9:15
AM CT
Notre Dame entered 2011 as the
Associated Press' preseason
No. 16 team, expectations high and a BCS-bowl berth in sight.

Things didn't go according to plan. But were the Irish the biggest disappointment of this past college football season?
Turns out they'll have to settle for No. 2 in that category.
CBSSports.com's Brett McMurphy
broke down the preseason AP poll
, using it as a measuring stick to see whom the voters were right (or close to being right) about while acknowledging those they whiffed on. McMurphy listed the 48 schools that received a vote in the preseason poll and calculated the difference from where they finished in the final poll.
The numbers showed that preseason No. 8 Texas A&M, at minus-41, was the biggest disappointment of 2011, with Notre Dame right behind the Aggies at minus-33. Ohio State (minus-31), Mississippi State (minus-29) and Florida (minus-27) rounded out the top five disappointments. Those five, plus Missouri (preseason No. 21, minus-8) and Auburn (preseason No. 23, minus-4) made up the seven schools that were not ranked in the final poll after being ranked in the preseason.
Preseason unranked Baylor (plus-36) finished as the biggest surprise.
And, in a reassuring sign for sportswriters everywhere, No. 7 Stanford, No. 14 TCU and No. 19 Georgia finished in the exact same spots as their preseason rankings.
TOP 25 SCOREBOARD
Thursday, 9/18
Saturday, 9/20