Chicago Colleges:

Myke Henry
June, 9, 2013
6/09/13
2:33
PM CT
Former
Illinois
forward
Myke Henry
said Saturday he is transferring to
DePaul
.
Henry, a 6-foot-6, 230-pound forward, averaged 3.2 points and 10.6 minutes in 35 games during his sophomore season at Illinois last year. He will sit out next season and have two years of eligibility remaining per NCAA rules.
"I really like what they have to offer me," Henry wrote in a text. "I like the style of play that the coaches run. I like it because it's a new start for me, and I think I can really help them get this thing off the ground."
Read the entire story.
February, 7, 2012
2/07/12
8:34
PM CT
Everyone expected
Illinois'
core this season to be its returning players.
Brandon Paul
,
D.J. Richardson
and
Meyers Leonard
had a lot placed on their shoulders, and they've lived up to those expectations for the most part. The trio has accounted for 40.6 points, 15.9 rebounds, 6.3 assists, 2.9 steals and 3.1 blocks a game this season.
Where the Illini thought they could find the sort of depth to make them a stronger team was in their highly-touted incoming recruiting class. Illinois' 2011 class was ranked No. 11 in the country and included four of ESPN's top-100 players. There weren't any considered to be instant superstars in the class, but the thought was most of them could contribute something this season.
[+] Enlarge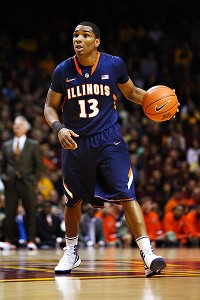 Brace Hemmelgarn/US PresswireIllinois freshman Tracy Abrams has started 10 games this season.
Through 23 games, that hasn't been the case. As the season has unfolded, Illinois coach Bruce Weber has gone more and more away from playing most of his freshmen. Only
Tracy Abrams
has seen consistent minutes in every Big Ten game, and none of the freshmen are averaging more than three points on the season.
Here's a look at Illinois' freshmen this season:
Tracy Abrams, point guard:
Abrams, who was ranked No. 81 in the Class of 2011, has been the star of Illinois' recruiting class. Abrams was seeing backup point guard minutes the first half of the season and averaged 15.2 minutes during the non-conference slate. With
Sam Maniscalco
suffering an ankle injury, Abrams has now averaged 25.3 minutes during Big Ten play. Abrams is averaging 3.0 points, 2.4 rebounds and 1.9 assists in 23 games, including 10 starts, this season.
Nnanna Egwu, center:
Egwu was ranked the No. 10 center and 70th overall player in the Class of 2011. He's filled in off the bench for Leonard throughout the season, but he hasn't played consistent minutes. He played less than a minute against
Northwestern
on Sunday. He's averaged 1.9 points, 1.6 rebounds, 0.7 rebounds and 10 minutes in all 23 games.
Mike Shaw, power forward:
Shaw was ranked No. 91 in the Class of 2011. He was a role player at times this season, but he has fallen out of Weber's rotation lately. He hasn't played in the last six games. He's averaged 1.1 points, 2.3 rebounds and 8.3 minutes in 15 games.
Myke Henry, small forward:
Henry was ranked No. 97 in his class. Henry saw little time during the non-conference season, and he's received slightly more minutes during the Big Ten campaign. Weber has touted his offensive ability, but has criticized his defensive game. He played 17 minutes in Illinois' win over
Michigan State
, but played just one minute against Northwestern on Sunday. He's averaged 3.0 points, 1.3 rebounds and 8.1 minutes in 15 games.
Ibby Djimde, center:
Djimde could have probably benefitted from a redshirt season. He saw the floor early in the season, but has played a total of nine minutes in the Big Ten season. He's averaged 0.4 points, 1.0 rebounds and 4.4 minutes in 12 games.
Here's a look at how the top 15 recruiting classes have fared this season:
[+] Enlarge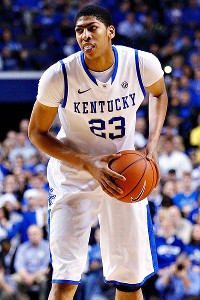 Mark Zerof/US PresswireKentucky's Anthony Davis is not your average freshman.
1. Kentucky:
The Wildcats' freshmen rarely look like freshmen.
Anthony Davis
, who is from Chicago, is averaging 13.9 points, 10.1 rebounds and 4.8 blocks.
Michael Kidd-Gilchrist
is averaging 12.6 points, 7.5 rebounds, 2.2 assists, 1.2 steals and 1.1 blocks.
Marquis Teague
is averaging 9.6 points and 4.3 assists. Even freshman forward
Kyle Wiltjer
is averaging 5.9 points and 2.3 assists in 13.7 minutes a game.
2. Duke:
Freshman guard
Austin Rivers
averages a team-best 14.5 points. He's also averaging 3.1 rebounds, 2.0 assists and 1.0 steals.
Quinn Cook
is also contributing 5.1 points and 2.2 assists.
3. St. John's
The Red Storm has struggled this season, but its freshmen have been outstanding.
D'Angelo Harrison
is averaging a team-best 16.4 points.
Moe Harkless
is averaging 15.8 points, 8.6 rebounds, 1.6 steals and 1.7 blocks.
Phil Greene
, another Chicago native, is averaging 7.6 points, 2.8 assists and 1.2 steals.
Sir'Dominic Pointer
is averaging 6.3 points, 4.7 rebounds and 1.6 steals.
4. Texas:
The Longhorns have also gotten plenty of production from their freshman.
Sheldon McClellan
is averaging 11.0 points, 3.2 rebounds and 1.0 steals.
Myck Kabongo
is averaging 9.6 points, 3.3 rebounds, 5.2 assists and 1.3 rebounds.
Jonathan Holmes
(7.8 points, 5.1 rebounds),
Julien Lewis
(7.6 points, 3.7 rebounds, 1.1 steals) and
Jaylen Bond
(4.0 points, 4.7 rebounds) are also contributing.
5. North Carolina:
The Tar Heels haven't gotten a whole lot out of their freshmen this season.
P.J. Hairston
(6.9 points, 2.3 rebounds) and James McAdoo (5.2 points, 3.6 rebounds) are the only freshmen consistently contributing.
6. Ohio State:
Buckeyes coach Thad Matta hasn't turned to his freshmen much this season.
Sam Thompson
(2.7 points, 1.1 rebounds), another Chicago native, and
Amir Williams
(2.1 points, 2.6 rebounds) have appeared in most games.
7. Arizona:
The Wildcats rely heavily on their older players, but
Nick Johnson
(9.2 points, 3.0 rebounds, 2.3 assists) and
Josiah Turner
(7.0 points, 3.0 rebounds, 2.1 assists, 1.3 steals) have been helpful.
8. Louisville:
The Cardinals have been without their prized recruit
Wayne Blackshear
, who starred at Morgan Park.
Chane Behanan
has contributed 9.7 points and 7.9 rebounds in 25.0 minutes a game.
9. Arkansas:
Freshman
B.J. Young
has been leading the way for the Razorbacks. He's averaging 13.8 points, 3.2 rebounds, 2.1 assists and 1.3 steals.
Rashad Madden
(7.6 points, 3.6 rebounds),
Devonta Abron
(5.7 points, 4.7 rebounds, 1.0 steals) and
Hunter Mickelson
(4.8 points, 3.7 rebounds) also contribute.
10. Syracuse:
Jim Boeheim has an experienced group and has only used his freshmen in small roles.
Rakeem Christmas
is averaging 3.3 points and 3.3 rebounds in 13 minutes.
Michael Carter-Williams
is averaging 3.3 points and 2.4 assists in 12.3 minutes.
11. Illinois:
See above.
12. Virginia Tech:
The Hokies have struggled this season overall, but their freshmen have provided for them.
Robert Brown
is averaging 7.3 points and 2.1 assists in 22 minutes.
Dorian Finney-Smith
is averaging 5.7 points and 7.0 rebounds in 28.3 minutes.
C.J. Barksdale
(3.0 points, 2.9 rebounds) and Marquis Ranking (2.8 points, 1.3 assists) have also contributed.
13. Alabama:
The Crimson Tide are in the middle of the pack in the SEC. They have a handful of freshmen helping out.
Trevor Lacey
(7.0 points, 3.4 rebounds, 2.1 assists, 0.7 steals),
Levi Randolph
(6.3 points, 3.6 rebounds, 1.1 steals),
Nick Jacobs
(5.7 points, 3.7 rebounds, 1.0 blocks) and
Rodney Cooper
(3.7 points, 2.4 rebounds) have contributed for Alabama.
14. Georgetown:
The Hoyas have gotten plenty of production from
Otto Porter
, who is averaging 8.4 points, 6.6 rebounds, 1.6 assists, 1.2 steals and 0.9 blocks.
Jabril Trawick
(3.9 points, 1.5 rebounds),
Greg Whittington
(3.2 points, 2.7 rebounds) and
Mikael Hopkins
(2.6 rebounds, 1.2 rebounds) have also contributed off the bench.
15. Pittsburgh:
The Panthers probably expected more out of their freshman this season.
John Johnson
(5.1 points, 1.5 assists) and
Cameron Wright
(2.7 points, 1.8 rebounds) have been the only consistent contributors.
January, 4, 2012
1/04/12
10:52
PM CT
EVANSTON, Ill. -- Illinois freshman
Myke Henry
wasn't happy when he returned to Chicago during the team's holiday break in late December.
Henry sat on the bench for six of Illinois' first 13 games and played more than eight minutes in a game just once.
It wasn't what Henry had expected. He was a top-100 national recruit coming out of Chicago's Orr Academy. He averaged 25 points a game as a high school senior against other top talent.
According to a source close to Henry, when he returned home from Chicago in December, he even mentioned transferring from Illinois. It wasn't much more than talk, but the idea was somewhere in his head.
Henry returned to Champaign and discussed his struggles with Illinois coach Bruce Weber. He was told it was something most freshmen went through, and Henry tried to understand and stay positive.
On Wednesday against Northwestern, Henry's perseverance finally paid off.
Weber stuck with Henry with Wednesday's game against Northwestern on the line. Tied at 56 and the final seconds ticking down, teammate
Brandon Paul
missed an inside shot, and Henry grabbed the rebound, went up for the shot and was fouled.
With his mother watching from the stands, Henry, who later admitted he was quite nervous, sank the first free throw to put Illinois ahead. He missed the second, but it didn't matter as Northwestern's game-winning attempt was blocked by
Meyers Leonard
and Illinois held on for a 57-56 win.
"It kind of eased the pain, the nervousness," Henry said of making the first free throw. "Once I made it, I was fine after that. I had a lot of family and friends out there. My mom was out there. She was happy at the end."
Henry was also pleased. He finally was able to contribute to the team. He finished with six points on 2-of-5 shooting, grabbed two rebounds and played 15 minutes.
Despite all his early frustrations, Wednesday made it all worth it.
"It wasn't easy," said Henry of the early portion of the season. "I just had to stick with it. [Weber] just kind of told me I was a freshman, and you hit a wall when you're a freshman. You just have to play through it."
Henry's performance wasn't the sensational type he had in high school, but his former club coach Mike Irvin could see glimpses of his old self against Northwestern.
"The rebound he got and took it up, that's Myke Henry," said Irvin, who runs the Mac Irvin Fire. "That's what he's been doing his whole high school career. It's funny that he come in here and does it, grab the offensive rebound with five seconds left, get fouled and go to the free-throw line. Basically, he won the game for them."
Henry's mission now is to do more of that.
"Playing time gains confidence with the coaches," Henry said. "I just have to solidify myself. I think I did that today. I think it helped."
TOP 25 SCOREBOARD
Saturday, 12/21
Monday, 12/23
Tuesday, 12/24
Thursday, 12/26
Friday, 12/27
Saturday, 12/28
Monday, 12/30
Tuesday, 12/31
Wednesday, 1/1
Thursday, 1/2
Friday, 1/3
Saturday, 1/4
Sunday, 1/5
Monday, 1/6
TOP PERFORMERS