Chicago Colleges:

Nate Montana
September, 12, 2010
9/12/10
4:51
PM CT
By
Wes Morgan
| ESPNChicago.com
The most important meal of the day didn't sit well with Notre Dame football coach Brian Kelly on Sunday, less than 24 hours after a 28-24 loss to Michigan.
It was the first time since Nov. 17, 2007, when West Virginia knocked off Cincinnati, that Kelly lost a regular season home game. And once again Rich Rodriguez was the coach to spoil Kelly's fun.
"You know, I made that comment this morning at a breakfast we had with recruits that I'm not really sure how to handle myself here this morning after a loss," Kelly said. "But I can tell you it doesn't feel good, and I'm sure that this mood will not change until we get a chance to win again."
Michigan quarterback
Denard Robinson
had his way with the Irish defense, racking up 502 yards of offense and officially announcing his Heisman Trophy candidacy. But it was the Wolverines' game-winning drive, with run-first Robinson completing passes at will, that irked Kelly.
"At the end of the day, where we feel like we need to do a better job is obviously in zone coverage," Kelly said. "What we have to do this week is we have to win football games. And that means, quite frankly, we've gotta execute better, we've gotta line up in the right position, we've gotta be assignment correct and that happens on Tuesday, Wednesday and Thursday. We're going to make sure that gets coached hard during the week and there won't be any smiling faces around here until we get a win.
"What is not on the shoulders of Denard Robinson is when they're in no-back and they can complete the football into the short field. That's on us. We have players in a position, they've got to make those plays. We've got to be able to coach that and we've got to get our players to do a better job in that situation."
[+] Enlarge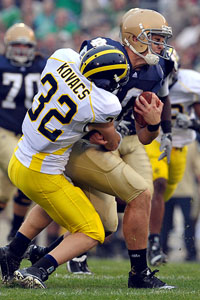 Matt Cashore/US PresswireJordan Kovacs worked tirelessly just to make his dream of suiting up at Michigan a reality.
Notre Dame operated without starting quarterback
Dayne Crist
for most of the first half after the junior complained of blurred vision after a blow to the head during his team's opening touchdown march. Crist returned in the third quarter and finished with 277 yards and a pair of scores. He threw one interception, the third of the day for the Irish, who couldn't get much going with backups
Tommy Rees
and
Nate Montana
.
Kelly said he has no intention of drafting freshmen
Andrew Hendrix
or
Luke Massa
into action, but he'll continue to develop Rees, who enrolled last spring, and Montana, a junior who spent last season toiling at the junior college level.
"We're not going to play Massa and we're not going to play Hendrix," Kelly said. "So I've got to get ready those two kids [Montana and Rees] -- flat out. That's my job, I'm going to see to it. We're going to have to do things a little bit differently during the scripting of our No. 2 reps to make certain that I've got a package that they can handle. It was too much for them [Saturday]; they can't take the same plays that our first group does. Doesn't mean we can't put a successful package for them, but it's got to be different for those two guys and I've got to get that done this week."
Getting receiver
Michael Floyd
more catches is also something Kelly would like to work on.
"We've got to move him around," Kelly said. "As you know, any time he was into the short field he got doubled over the top. So, you saw in the second half we started moving him to the field, we freed him up. Couple of opportunities where he needs to catch the ball as well. It works both ways. He's got to catch the ball a couple of times where he should have caught it and we've got to keep working on ways to get him the football in different looks."
Kelly went on to address the health of his team as it prepares for Saturday's game at Michigan State:
On Crist:
"He had swelling in the left side of his face from when he hit. When he ran the ball before the first touchdown, where he got the big gain, he kind of hit the ground and a helmet hit him at the same time and he picked up some swelling after the game. It was more of a contusion that kind of got him a little off-balance. He wasn't clear. It wasn't a concussed situation. So we monitored it, we looked at him today, he was really clear.
"But at the end of the day, the evaluation of it, he grew up in the second half. He showed poise in the pocket that he hadn't showed to this point. He really matured in the second half of this football game."
On fifth-year senior center Dan Wenger:
"When he was diagnosed as having another concussion, [he] was put through the normal battery of tests in making that assessment. Our doctors deemed it necessary to hold him from contact for three weeks. So we are in that cycle of waiting for three weeks. It will be a family decision where we go from there relative to him going back out there or not. So that's not a decision we're going to make for another three weeks."
On senior linebacker Steve Paskorz:
"Paskorz will have surgery. His knee will need to be repaired and that surgery will take place this week. So he'll be lost for the season."
On special teams/defensive line coach Mike Elston, who missed Saturday's game:
"We're still going through a battery of tests to find out what this virus is that's knocking him out. I think he gave, last count, 72 vials of blood to try to figure out what this virus is. We're hoping to hear some hard news on it here Monday or Tuesday. I can tell you this, Mike, he's been, from an energy standpoint, he's been fighting this virus for a while. He's had good days, bad days, but I'm not going to get into any of the specifics right now."
September, 11, 2010
9/11/10
10:12
PM CT
By
Wes Morgan
| ESPNChicago.com
SOUTH BEND, Ind. -- The truth doesn't always set you free. In fact, the truth just tethered Notre Dame coach Brian Kelly to Tommy Rees and Nate Montana for at least the next six days.
[+] Enlarge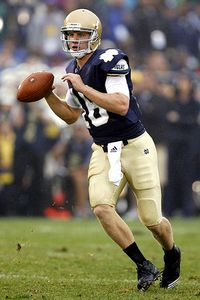 Brian Spurlock/US PresswireNate Montana wasn't ready to step in at QB for the Irish.
What Saturday's 28-24 home loss to Michigan proved is what was suspected all along, though mostly ignored amid the optimism Kelly's hiring inspired in South Bend: the Fighting Irish don't have a fighting chance without junior quarterback
Dayne Crist
.
When an injured Crist did not return to the field following an Irish touchdown in the first quarter, the parking break was pulled on Brian Kelly's warp-speed spread offense.
"I think anytime your starting quarterback goes [down] there's always that first sense of, 'Oh my gosh, our starting quarterback's out,'" Kelly said.
That's the "Ward Cleaver" version of what Irish fans were really thinking when Rees, a freshman lining up under center for the first time, floated a flea-flicker pass into the hands of Michigan's Jonas Mouton on his first career attempt.
Rees lasted five plays. Next.
Montana, a junior who's never started at the college level, not even last year at Pasadena City College, failed to clear the fence at the end of the runway on his first two throws, smacking the paws of Michigan's defensive linemen. He threw an interception midway through the second quarter and what little confidence he had vaporized.
An underthrown pass that could have gone for a score with just a few seconds to play in the half did find the hands of Theo Riddick, who went out of bounds at the 3-yard line. Kelly opted to go for a TD instead of taking a 3-pointer and Montana's pass to end the quarter overshot the end zone by nearly 10 yards.
"I did a poor job preparing them," Kelly said. "Yeah, I gotta do a better job to put both those guys in there. We know who our backup quarterbacks, in terms of the candidacy, who they are. I just have to do a better job getting them ready. Maybe created a package that was just for them and had that been the case, maybe they could have managed the game a little better."
Crist took a blow to the head on Notre Dame's opening drive, which he finished off with a 1-yard sneak. Blurred vision in his right eye kept him shelved until the start of the third quarter.
He gave the Irish a 20/20 look the rest of the way, finishing 13-for-25 for 277 yards and a pair of touchdowns, including a 95-yarder to tight end Kyle Rudolph pulled the turf out from under the Wolverines with under four minutes to play. Ultimately, it wasn't enough to counter the mistakes made while Crist stood alone on the sideline trying to regain focus and the unearthly performance of Michigan QB Denard Robinson.
"Incredibly tough," Crist said about being a spectator. "You want to be out there competing with your guys. And it's awful anytime you're on the sideline. That's not where you want to be. It was definitely a tough situation."
It's a situation that popped up sooner than expected, but one that was inevitable for an Irish offense that exposes Crist -- already a work in progress -- to plenty of contact.
For now, Kelly's "Next Man In" mantra means little if the line is empty behind his starter.
September, 11, 2010
9/11/10
3:47
PM CT
SOUTH BEND, Ind. -- Notre Dame quarterback
Dayne Crist
left the field early in the first quarter of Saturday's game against Michigan at Notre Dame Stadium after he was injured scoring on a one-yard quarterback sneak on the Fighting Irish's opening drive.
Read the entire story.
July, 17, 2010
7/17/10
8:00
PM CT
SOUTH BEND, Ind. -- The son of former Notre Dame standout Joe Montana was among 11 Fighting Irish athletes arrested on misdemeanor charges of underage drinking at a party Friday night.
A total of 44 people were arrested after city police responded to a call about a fight near a roadway and discovered the party, said St. Joseph County Police assistant chief Bill Redman.
Read the full story.
May, 13, 2010
5/13/10
3:58
PM CT
By
Wes Morgan
| ESPNChicago.com
[+] Enlarge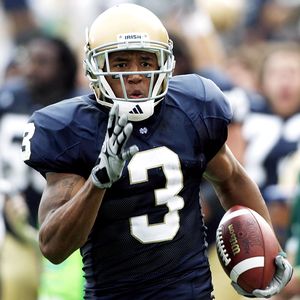 Brian Spurlock/US Presswire Michael Floyd gives new quarterback Dayne Crist a freakishly-talented target during his first season under center.
Overshadowed by a an unfulfilling 6-6 record last season, the Notre Dame football team moved the ball efficiently en route to one of the program's highest-powered offenses in history. Six starters who helped the Fighting Irish roll up 451.8 yards per game return this fall, but first-year coach Brian Kelly entered the spring knowing there were several holes to plug.
The spring game on April 24 gave us a broader look at what Kelly is working with. Some position battles appear to be over, while others are expected to be rekindled in August when the entire freshman class arrives.
GONE TO CAROLINA
As Jimmy Clausen gets used to his new southern digs with the Carolina Panthers, junior quarterback
Dayne Crist
takes up residence in the fish bowl. Wearing No. 16, walk-on Nate Montana harnessed his Hall of Fame father's legend in South Bend and delivered another fine performance ... in a scrimmage. His aberrational performance may have been the buzz of the Blue-Gold game, but Montana has a better shot of walking across the surface of Hesburgh Library's reflecting pool than dethroning Crist.
It has to be some measure of comfort for Kelly knowing what Montana, who managed to hold off early enrollee Tommy Rees -- a freshman QB far more suited for the spread offense -- is capable if needed. However, the No. 2 spot is very much in the air and will only grow more complicated once freshmen Andrew Hendrix and Luke Massa arrive on campus.
Crist has the dubious distinction of entering this season at Notre Dame with only 20 career pass attempts -- the least amount of experience since Ron Powlus in 1994 and failed-experiment Demetrius Jones in 2007, both of whom had zero attempts to their credit before starting under center. But with a great arm, sharp mind and more charisma in his chinstrap than Clausen ever had, Crist is more than a serviceable replacement.
TAKING STOCK OF THE STABLE
Using the spring game alone as a barometer for future success in the running game at Notre Dame has failed miserably. Remember Junior Jabbie in 2007? How about Travis Thomas the year before? If Blue-Gold dominance really served as a gaze into the crystal ball, then senior walk-on Patrick Coughlin, who rushed for 80 yards on 11 takes, will be a Heisman Trophy candidate and sophomore
Cierre Wood
, after breaking out for 111 yards on 10 carries, might take the hardware home by season's end. Try again.
Wood's performance, which included a 44-yard touchdown scamper, was impressive, however, leaving fans very comfortable with a pack of running backs led by senior Armando Allen. In 382 carries, Allen's never popped for over 26 yards and doesn't elicit many fist pumps. To be fair, he has never worked behind top-notch offensive lines. Allen's primed to have a great season, though it won't be a surprise to see as many as four tailbacks getting serious work, combining as one of the most talented units on the team.
ALL HANDS ON DECK?
Losing Biletnikoff Award winner Golden Tate to the NFL is no reason to panic, not with wide receiver
Michael Floyd
and tight end
Kyle Rudolph
-- a pair of juniors that make grizzled defensive coordinators curl up in a fetal position under their office desks -- galloping back in 2010.
Talk about making Crist's transition a bit more manageable, Floyd is a physical freak with circus-catch capability. Rudolph is a gamer who can catch the ball in traffic and bail out an inexperienced quarterback. In open space, both can chew up yards and Floyd is a threat to find the end zone with each touch. If the duo remains healthy, first-team All-America honors await.
Throw in dynamic freshman Tai-ler Jones, senior
Duval Kamara
, running back transplant
Theo Riddick
(sophomore), speedy junior
Deion Walker
, star-in-the-making Shaq Evans (sophomore) and shifty slot
Roby Toma
(sophomore) and the Fighting Irish are stacked at receiver.
Tight end
Mike Ragone
was a pleasant surprise in the spring game, catching six passes for 75 yards and a score. His recent snag might erase all progress made, however. Ragone's
Saturday arrest for marijuana possession
on the Indiana Toll Rode might net the senior a semester suspension or worse, according to Notre Dame's student handbook. Ragone, with two years of eligibility, was formally charged Wednesday at LaGrange (Ind.) County Circuit/Superior Court with the misdemeanor that carries a maximum sentence of a year in jail.
Brian Hardin, director of football media relations told the Associated Press that Kelly had spoken with Ragone and "feels it is a serious matter" and that any team-related recourse would be "handled internally."
If Ragone isn't on the sideline this fall, that leaves just senior
Bobby Burger
and sophomores
Tyler Eifert
and
Jake Golic
as backup tight ends -- a trio combining for a whopping two catches.
Early enrollee Alex Welch, a Cincinnati product, has a leg up after going through spring practices and might find more repetitions when camp begins.
TOP 25 SCOREBOARD
Thursday, 8/28
Friday, 8/29
Saturday, 8/30
Sunday, 8/31