Chicago Colleges:

Nick Hill
February, 26, 2014
Feb 26
1:00
PM CT
Spring practice is off and running in the Big Ten, as Michigan took the field Tuesday and Northwestern followed on Wednesday. We're taking snapshots of where each team stands at each position group.
We've already discussed the quarterbacks -- and will have much more on the way -- so the series begins with the running backs.

Illinois:
The Illini are in a bit better shape here than they were the past two springs, as veterans
Josh Ferguson
and
Donovonn Young
both return. Ferguson averaged 5.5 yards per carry and added 50 receptions for 535 yards as the primary playmaker for Illinois' revamped offense. Young added 376 yards on 93 carries. The Illini are looking for others behind the top two, and Dami Ayoola is back with the team after being dismissed in September for a rules violation.

Indiana:
Tevin Coleman
quietly put together a superb sophomore season and leads the Hoosiers' running backs in 2014. Coleman provides big-play ability after averaging 7.3 yards per carry with 12 touchdowns on only 131 attempts in 2013. Indiana loses
Stephen Houston
but brings back veteran
D'Angelo Roberts
, who will play behind Coleman. Younger players such as sophomore
Laray Smith
could get a look here.

Iowa:
Not only did the Hawkeyes toss AIRBHG to the side and get through the season without any major injurie, but they bring back everyone for 2014. Senior
Mark Weisman
leads the contingent after rushing for 975 yards and eight touchdowns last fall.
Jordan Canzeri
came on strong late in the season and is showing no effects from his ACL tear in 2012. Veteran
Damon Bullock
also returns to the mix, and Iowa has talented younger backs such as
LeShun Daniels Jr.
at its disposal. Good situation here.

Maryland:
The Terrapins wide receivers tend to get more attention, but the team also returns its top three running backs from 2013 in
Brandon Ross
,
Albert Reid
and
Jacquille Veii
. Maryland also regains the services of Wes Brown, who finished second on the team in rushing as a freshman in 2012 before
being suspended for all of last season
.
Joe Riddle
is back in the fold as well. The group brings different strengths, from power (Brown) to speed (Veii) to a mixture of both (Ross, Reid).

Michigan:
Sophomore
Derrick Green
enters the spring as the frontrunner to be Michigan's lead back, although coach Brady Hoke wants to ramp up competition everywhere. The Wolverines struggled to consistently run between the tackles, but the 240-pound Green could change things. Hoke also is excited about another sophomore,
De'Veon Smith
. Michigan moved
Ross Douglas
from cornerback to running back, and
Justice Hayes
and
Wyatt Shallman
also are in the mix. "We've got more depth," Hoke said.

Michigan State:
Things look much more promising than they did last spring, when the Spartans ended the session with a linebacker (
Riley Bullough
) as their top back.
Jeremy Langford
emerged as a very solid option during the season, rushing for 1,422 yards and 18 touchdowns. He's back as the clear-cut starter, and
Nick Hill
also returns. It will be interesting to see if
Gerald Holmes
makes a push, or whether
Delton Williams
remains on offense.

Minnesota:
Here's another team that finds itself in very good shape at running back entering the spring.
David Cobb
leads the group after rushing for 1,202 yards and seven touchdowns as a sophomore. Veterans
Donnell Kirkwood
and
Rodrick Williams Jr
. are still around, and highly touted redshirt freshman
Berkley Edwards
will take the field after missing last fall because of knee and ankle injuries. Perhaps the best news will come in the summer as decorated recruit
Jeff Jones
arrives.

Nebraska:
Notice a theme here? Nebraska is yet another Big Ten squad that can feel very good about its running backs entering the spring.
Ameer Abdullah
elected to bypass the NFL draft for one final season at Nebraska, where he led the Big Ten with 1,690 yards on 281 carries as a junior. Abdullah will contend for national awards in the fall.
Imani Cross
, who rushed for 10 touchdowns last year, is one of the nation's top backups.
Terrell Newby
and others add depth behind the top two.

Northwestern:
Top back
Venric Mark
(ankle) will miss spring practice following surgery, and reserve
Stephen Buckley
(knee) also is rehabbing, but Northwestern has no reason to panic.
Treyvon Green
, who filled in well for Mark last season with 736 rushing yards, will get much of the work.
Warren Long
also is in the mix after appearing in seven games as a true freshman. Northwestern also loaded up at running back in recruiting to solidify the position for years to come.

Ohio State:
This will be a position to watch in the spring as Ohio State must replace
Carlos Hyde
, who was nearly unstoppable during Big Ten play last fall. Veteran
Jordan Hall
also departs, and
Rod Smith
will be the veteran of the group despite only 83 career carries. The Buckeyes have some talented young backs, from
Dontre Wilson
, who saw significant playing time last fall, to
Bri'onte Dunn
,
Ezekiel Elliott
and
Warren Ball
. Keep an eye on Elliott, who averaged 8.7 yards per carry in limited work last season but could emerge this spring.

Penn State:
If it feels like
Zach Zwinak
and
Bill Belton
have been competing for carries forever at Penn State, it's because they have. Zwinak and Belton have been part of Penn State's running back rotation for the past two seasons and enter another competition this spring with talented sophomore
Akeel Lynch
, who rushed for 358 yards on only 60 carries last season. It will be interesting to see how much Lynch can push Zwinak and Belton in the team's first spring under a new coaching staff. Penn State has depth issues at several positions, but running back isn't one of them.

Purdue:
The Boilers finished 122nd nationally in rushing offense last season, so the fact all of their running backs return might not spark mass celebration. Senior
Akeem Hunt
leads the group after recording 123 of the team's 319 rushing attempts in 2013. Other veterans
Brandon Cottom
and
Raheem Mostert
also are back, along with younger ball-carries such as
Dayln Dawkins
and three backs --
Keyante Green
,
David Yancey
and
Keith Byars II
-- who redshirted last fall and could have much bigger roles.

Rutgers:
Here's yet another team that returns basically its entire stable of running backs for spring ball.
Paul James
is the name to watch, as he rushed for 573 yards in the first four games last season before suffering a leg injury. James' health is a concern for Rutgers, which could also turn to
Justin Goodwin
, who showed some flashes following James' injury.
Savon Huggins
, who entered last season as the starter before losing ground, is in the mix as he looks to re-establish himself on the depth chart.

Wisconsin:
How many teams can lose a 1,400-yard rusher and still claim to have the best running back group in the Big Ten?
James White
is gone, but Wisconsin remains in very good shape in the backfield.
Melvin Gordon
bypassed the NFL draft for another year in Madison after rushing for 1,609 yards and 12 touchdowns on only 206 carries. Gordon should move into more of a featured role beginning this spring, although he'll be pushed by
Corey Clement
, who had 547 yards and seven touchdowns on only 67 carries.
Jeff Lewis
provides another option behind the top two.
April, 10, 2013
4/10/13
4:54
PM CT
Every Legends Division head coach, along with a player from each of the six teams, participated in a Big Ten spring teleconference with the media on Wednesday.
Here are some notes and updates from those teams:

IOWA
After six practices, the Hawkeyes' three-man quarterback race between Jake Rudock, Cody Sokol and C.J. Beathard is "about where we expected," head coach Kirk Ferentz said. All three are receiving equal reps, and all are working with the first-, second- and third-team offenses. "At this point, it's a jump ball for all three guys," Ferentz said.
Accountability is a big theme this spring at Iowa after the team endured its worst season (4-8) in more than a decade. Ferentz said he can't bury his head in the sand after a season like last year's. "We have to do a better job in all areas and that starts with me," he said. Linebacker James Morris was candid about the legacy he'd like to leave at Iowa. "The mark we've left so far, if we're being completely honest, isn't a particularly good one," Morris said. "I'm not happy about it, but I'm excited we have one more opportunity to change things."
Ferentz said Sunday's open practice in West Des Moines gives Iowa a chance to say thanks to its fans in the central and western parts of the state. Hawkeyes players enjoy the chance to perform in front of their fans. "It's something to break the monotony of spring ball," Morris said. "This will be something different."
Morris wants to see Iowa's defense translate its red-zone effectiveness -- the Hawkeyes allowed only 15 touchdowns on 48 red-zone chances in 2012 and held opponents scoreless 10 times -- to the rest of the field. Better communication also is a focal point for the defense this spring.

MICHIGAN
Head coach Brady Hoke said the team will explore the possibility of adding a junior-college quarterback or a graduate transfer from an FBS program to address the position. Russell Bellomy, the projected backup, is scheduled for ACL surgery May 1 and could miss the entire season. Walk-on Brian Cleary is working as the No. 2 quarterback this spring behind Devin Gardner, and heralded recruit Shane Morris arrives in the summer. Asked generally about redshirting players, Hoke didn't sound as if he'd hesitate to use a player like Morris. "No matter if they're fifth-year seniors or true freshmen, the best players have to play," he said. "If you don't do your justice on playing the best players, you're going to cheat the kids on this team."
Both Hoke and left tackle Taylor Lewan praised the young players competing for the three vacant starting spots on the interior offensive line. Hoke has seen "a lot of progress" with players like Ben Braden, Kyle Kalis, Chris Bryant, Blake Bars and Joey Burzynski. Lewan sees more "maulers" along Michigan's line as the unit aims to be more physically dominant this season in a pro-set scheme.
Lewan said the experience of playing for Michigan and the opportunity to win a Big Ten championship led him to decide to return for his senior season rather than enter the NFL draft, where he likely would have been a first-round pick. He said his decision was his own, and that those who haven't played for Michigan can't truly understand the lure of remaining there. "There's no better decision I could have made than coming back to the University of Michigan," he said.
Lewan said defensive end Frank Clark could be on the All-Big Ten radar by the end of the season, while Hoke singled out Chris Wormley for having a strong spring with the D-line. Hoke said running back Fitzgerald Toussaint is progressing well as he recovers from leg surgery.

MICHIGAN STATE

MINNESOTA
Head coach Jerry Kill said injured offensive tackle Ed Olson (ankle) and defensive lineman Roland Johnson (knee) are both progressing well, and he expects both to be ready to go for fall camp.
Kill had high praise for safety Brock Vereen, saying he could follow his brother, Shane, into the NFL. "He's gotten better and better since we've been here, and he's turned into a great football player in our minds. We look for him to have a very productive year."
Vereen said the team is practicing with a new sense of confidence. "We're finally comfortable with coach Kill's system. We know what they expect from us. And that just makes it a lot easier to show up every day and do what we need to do."
Vereen on how far away the Gophers are from contending in the Legends Division: "We are closer than a lot of people think. If you look back to last season, a lot of those games we lost were in the fourth quarter. A loss is a loss, but at the same time, we were in a lot of those games. It's about pushing through, which is something we learned the hard way, but we still learned. ... I think we're going to shock some people this year."

Linebacker David Santos (arm) will miss a portion of summer workouts but will be back before the Huskers open preseason camp, head coach Bo Pelini said. Defensive linemen Vincent Valentine and Greg McMullen, who missed Saturday's spring game, aren't seriously injured and will be fine for workouts and camp.
Although Nebraska's defense had its ups and downs this spring, redshirt freshman linebacker Jared Afalava stood out. Pelini expects a lot of production this fall from Afalava, who is "probably further ahead of where I thought he'd be." Pelini also praised senior defensive end Jason Ankrah, saying the coaches gave him more freedom to move around this spring. "Hopefully, his best year is yet to come," Pelini said.
Senior quarterback Taylor Martinez expects Nebraska to throw the ball "a lot more" this season, mainly because of the team's strength at wide receiver with Kenny Bell, Jamal Turner and others. Martinez said expectations are extremely high for the offense, and that coordinator Tim Beck is more comfortable calling plays. "I'd rather throw the ball 30 times a game … get the football to those guys and let them do their thing," Martinez said. Pelini has no argument, saying "the best is yet to come" with Martinez at quarterback.
Martinez said the Memorial Stadium crowd was about as loud as he's ever heard it when 7-year-old cancer patient Jack Hoffman ran for a 69-yard touchdown in Saturday's spring game.

NORTHWESTERN
The Wildcats won't hold a traditional spring game this year but just a normal practice session. Head coach Pat Fitzgerald said 13 players had surgeries after the season, and the team was limited to eight healthy offensive linemen this spring. "We've had to tweak things, so that's why we've kept the same routine throughout all 15 of our practices," he said.
Some of the lesser-known Northwestern players who have had good springs, Fitzgerald said, included backup quarterback Zack Oliver, receiver Mike Jensen, superbacks Mark Szott and Jack Schwaba and defensive lineman C.J. Robbins. Fitzgerald said he's been "very, very impressed" by Robbins, who has been injured the past two years.
A question on offering prospects early prompted this response from Fitzgerald: "I have just a fundamental issue with offering a kid a scholarship that doesn't have a driver's license. Just barely shaving. And because he looks good in shorts doesn't mean he's going to be a great Big Ten football player. The glorification of these kids at a young age is unfair to them. It's putting unfair and unrealistic expectations on them."
Defensive end Tyler Scott, who Fitzgerald said is "poised to take the next step," said he's worked hard on becoming a more vocal leader this year and on his pass-rushing techniques. "I'm trying to bring more tools to that aspect of the defense," he said.
September, 23, 2011
9/23/11
4:31
PM CT
Kyle Brindza has had a pretty eventful freshman season. He's been handling Notre Dame's kickoffs while hearing cries from Fighting Irish fans to handle punts. And you may have noticed his blinding footgear through three games.
Here, Brindza delves into all of those subjects, and explains just how difficult it is to balance kicking and punting.
I'm sure you've been getting drilled about this, but tell me the story of the shoes.
"Obviously as a bigger kicker, bigger than most of the other kickers, I have big feet, so it's kind of hard to find a size shoe for me. And there's only one specific shoe I like to kick with, that's Adidas. Coming into an Adidas school, I always kicked with Nike. I changed my style of shoe and I was like, 'Hey, can I get white and gold?' And they were like, 'No, they don't have those.' I was like, 'All right, the black ones then.' So they were like, 'All right, we'll order some.' They end up ordering some, I come to my locker one day, there was two boxes and they already left before I could even look at the box. The first box I opened, they were like purple, so I was like, 'All right, no, I'm not gonna wear those.' So I put them away. And then the next one, they were neon-yellow. I was like, 'I mean, there's no other choice, so I guess I'll wear these, because I'm not wearing no purple shoes.' "
[+] Enlarge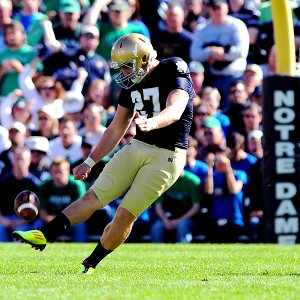 Chris Williams/Icon SMI Freshman Kyle Brindza has drawn attention for his kickoffs and blinding footwear.
What size are you?
"I'm 12.5, 13. You gotta special order stuff, but I guess they didn't have any in my size."
Brian Kelly said he never saw you hit the way you did on Saturday and that you had to remind him you were more than just a special teams player.
"In high school, during the season since I played soccer and football I wasn't able to play a position. I always wanted to play linebacker and tight end, but in the offseason I was able to mess around. So I was always in some tackling drills, my coach taught me some tackling form, because if it came down to me making the tackle, I need to know how to tackle instead of just diving out there and trying to get to the shoelace. So he taught me how to tackle. And Coach Kelly seemed, he looked at me for a second, then he brushed it off because then he realized, 'Oh, he's kind of a big guy. And he's not gonna go out there and just make a little whiff of a tackle.' But I did remind them I'm not just a kicker in high school. I was able to work out in the weight room and actually do some drills."
But did you actually play any other positions on the field in high school?
"No, not in games."
So was that extra gratifying for you to make that hit Saturday?
"I haven't had to even make a tackle on a kickoff ever since my sophomore or freshman year, and it was against him (Nick Hill). Same kid. We played his team in high school."
Did you talk to him after and remind him?
"Just a little, yeah."
Mike Elston said you weren't a punter in high school, and I think he meant it in the sense that you weren't recruited as one. But were you your team's regular punter?
"Yeah, I think it was my sophomore year, that's when I started picking up punting. My freshman and my sophomore year I was like, 'Hey, I'm just gonna go to college for kickoffs and field goals.' And then our quarterback, our starting quarterback was actually the punter, and my coach was like, 'Hey, he's leaving next year, so you need to learn how to punt.'
"So I started going to my kicking coach, I was like, 'Hey, can you teach me how to punt? I need to pick it up this year.' And I picked it up right on time before our starting quarterback got hurt my sophomore year. So I started punting, I wasn't the best punter. I just went out there and basically threw it out there and kicked it.
"It's a lot different from when I played goalie in soccer. I was able to bomb the ball because I knew that form, but punting form was a lot different.
"And then junior year I started picking up more, and that's when it really came along, and I was able to win some punting competitions along with the field goal competitions and was also an all-state punter my junior year. And senior year I started picking it up more. Punting is a unique thing where you can overstride too much or you can short-step it and you're gonna shank it. And coming in as a freshman, I was like, 'All right.' They told me I was gonna be a punter also, along with the field goal kicker and kickoffs, but they said, 'We're not gonna throw too much at you.' And I told them I don't want a lot on my plate.
"So basically what I've been working on most is kickoffs, and that's been what's got me on the field. Also when you do kickoffs you gotta work with field goal form. And so as a freshman I'm not trying to throw too much on my plate to mess up my form. And obviously a little bit of that is to take a little bit away from the form of punting to focus more on what you can to help out the team. And obviously it's been helping out the team a lot. And Turk's had a couple rough games but this past game he picked it up a lot. And I'm in there each day trying to help him out the most and trying to critique his form and help him out because I truly do know what's going on and all that. But he's gonna come a long way and all I know is if he punts like he does in practice in games, he's a Ray Guy finalist like that. He's amazing in practice."
So you played football and soccer all four years in high school?
"Yup."
Tough balance?
"It was a tough balance. I never really picked up the form of punting because I was also a goalie and it was kind of like I would lose my form in both. But my junior year I was like, 'All right, I need to pick up the form.' So I know I'm gonna be able to pick up the form, it's almost like high school again. I need to balance my form for both field goal, kickoff and punting here in college. So it's almost like high school again where I just need to realize again that, 'Oh, it's gonna come along. Don't worry, it's gonna come.'"
TOP 25 SCOREBOARD
Saturday, 12/21
Monday, 12/23
Tuesday, 12/24
Thursday, 12/26
Friday, 12/27
Saturday, 12/28
Monday, 12/30
Tuesday, 12/31
Wednesday, 1/1
Thursday, 1/2
Friday, 1/3
Saturday, 1/4
Sunday, 1/5
Monday, 1/6
TOP PERFORMERS