Chicago Colleges:

Norwood Teague
February, 13, 2015
Feb 13
8:00
AM CT
Credit Kirk Ferentz for trying. Is it enough, though?
The Iowa coach, in preparation for his 17th season,
announced changes Thursday to his staff assignments
. Not coaching changes, but hey, something is better than nothing, right?
To summarize, LeVar Woods, formerly the linebackers coach, will take over the tight ends. Brian Ferentz is now the run game coordinator in addition to his responsibilities as offensive line coach. And Seth Wallace, who assisted with the defensive line last year, now coaches the nickels and cornerbacks.
Change does not come easily at Iowa, where the head coach's release of a postseason depth chart, in a departure from previous seasons, raised brows last month.
Iowa's offense needs an infusion of energy. Maybe quarterback C.J. Beathard can provide it. But the elder Ferentz is wise not to rely entirely on that. He's banking also on Woods, a linebacker on Ferentz's first two teams who did nice work on the defensive side, and the coach's son in an increased role.
Marc Morehouse of the Cedar Rapids Gazette suggests that the new job description for Brian Ferentz rates as the
most interesting of the changes
. But what will the younger Ferentz do as run game coordinator? Certainly, he's not about to supercede offensive coordinator Greg Davis, who has his hands full with quarterbacks Beathard and Jake Rudock.
Fact is, though, Iowa's quarterbacks -- and its defense -- would benefit most from a dynamic running game. The Hawkeyes' 4.12 yards per rush in 2014 ranked 10th in the Big Ten. It lacked explosiveness.
Brian Ferentz has extended Iowa's notable tradition of producing solid offensive linemen. If his work translates to the run game at large, maybe he can help get his dad back on the right track.
Nothing official out of Piscataway, New Jersey,
yet on the potential hire of business consultant Jeff Towers as Rutgers' recruiting coordinator, but Stewart Mandel of FoxSports.com is
offering praise
for coach Kyle Flood.
Mandel likens Towers, who has no known experience in football, and other similar hires at major programs to general managers at the pro level -- without the ability to trade or draft players, of course. (Don't get any ideas.)
Much remains unknown about the specifics of Towers' business experience. The only details uncovered came from his LinkedIn profile. Regardless, if Flood makes this move, clearly he believes in Towers to bring a new type of leadership to the business side of the Rutgers program.
College football programs are built like corporations today. Nearly every major program employs an operations director, the most effective of whom possess freedom in making decisions on non-coaching matters. So why not have a GM-like figure to run the personnel department, otherwise known as recruiting operations?
The size and structure of these staffs loom as a possible issue for the Power 5 conferences to debate. Even so, unless major restrictions are imposed -- unexpected in this age of autonomy -- hires like Towers will soon be viewed as standard practice.
Let's get to the links:
East Division
West Division
May, 22, 2014
5/22/14
9:00
AM CT
After taking a look at the most recent
database of revenues and expenses in college sports
, we're putting the Big Ten under the microscope. Our four-part series -- the rest of which can be found here -- concludes with a look at recruiting expenses and why they've grown.
Penn State defensive coordinator Bob Shoop can still remember sifting through thick stacks of manila recruiting folders in the mid-90s and reaching for a shelf of VHS tapes hanging above his desk.
There were no real recruiting support staffs to speak of. He'd pop a recruit's game tape into a VCR and then ready himself with a notepad.
Fast forward, fast forward.
There's the recruit.
Fast forward, fast forward.
[+] Enlarge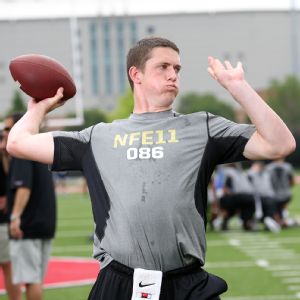 Tom Hauck for Student SportsDigital and online technologies are helping schools discover prospects like Clayton Thorson earlier and make more educated scholarship offers.
"Recruiting's changed a lot," Shoop told ESPN.com. "Our recruiting staff, they'll cut up tapes for me now. I don't have to sift through hours of recruiting tape anymore. Our interns will hand me 10 clips for a 2016 safety or something like that. You're investing to recruit good people."
As technology has evolved, so has recruiting -- and recruiting budgets. In just the past six seasons, according to a recent analysis from "Outside the Lines," recruiting budgets encompassing all sports have increased at 13 of 14 Big Ten schools and risen by at least 30 percent at eight of those. Higher gas prices, increased postage and other variables have undoubtedly played a role but several coaches and athletic directors also stressed how bigger staffs -- a result of newer technology -- have inflated those numbers.
At Penn State, Shoop can now rely on two full-time staff members, two graduate assistants and a team of 30 students/interns to help with recruiting. At Northwestern, the recruiting staff has tripled in just the last six to eight years. And, at Ohio State, one full-time position was recently added, in part, to help with recruiting presentations.
"Our technology has increased quite a bit," OSU athletic director Gene Smith said. "That's a big number for us."
That technology, such as online game film, has placed a bigger focus on immediacy. In an age where a top prospect's highlights can be filmed today and broken down by college coaches tomorrow, staffs can no longer wait until the offseason to evaluate players. And they can't drop everything on a Friday night in October, either, to give up game plan tweaks in favor of digesting film from a high school junior.
"Your coaches are doing this thing in the football season called coaching," said Chris Bowers, Northwestern's director of player personnel. "The time allocation a position coach would spend in March, he's not going to allocate that same amount of time in December or October. He can't. So, yes, there's been an increase in staff for sure.
"I would say at most universities -- I can't speak for everyone -- the recruiting staff is probably two to three times bigger than it was in '06."
In September of 2012, the Wildcats were able to jump early on the
Clayton Thorson
bandwagon because of that extra staff and technology. The ESPN 300 quarterback, who signed with Northwestern in February, hadn't started under center prior to 2012.
So, when he was due in Evanston, Ill., for a Saturday night game, Bowers noticed his high school coach uploaded his film to the Hudl website that Friday evening. Bowers contacted a GA, requested he cut-up some highlights -- and then forwarded the finished product to the coaching staff. Thorson received an offer that Saturday, partially based on something that was filmed less than 24 hours before.
And if this had all happened just a few years before, then how long would it have taken to make that same judgment call? Months?
"

You're investing to recruit good people.

"

-- Penn State defensive coordinator Bob Shoop
"Yes!" Bowers said. "… Even if you were an aggressive recruiting staff, the high school coaches would still need to bring you a DVD or mail it to you -- and they might not do it until the end of the season."
Nationally, recruiting budgets have risen across the board, so it's hardly limited to the Big Ten. Still, the conference seems to be outpacing the competition. Between 2008 and 2012, Big Ten teams placed within the top-10 nationally in recruiting spending on just five occasions. In 2013, four conference teams (Michigan, Ohio State, Nebraska, Penn State) placed within the top 10 -- and Illinois wasn't far behind at No. 12.
But coaches and athletic directors were slow to label last season a turning point. After all, it's not as if the staffs had all doubled overnight. Instead, they cautioned, there were other variables that needed to be taken into account. At Wisconsin, for example, the budget is artificially low because the Badgers are provided a private plane and don't need to charter flights as much. At Iowa, a booster donation wasn't included in the recruiting numbers until a few years ago -- which could account for part of the jump. And at Minnesota, due to the campus location, increased flight and hotel expenses impacted the budget more than schools elsewhere.
"We can't drive as much as others," Gophers athletic director Norwood Teague added. "So we've got to keep building the budget and being aggressive."
Regardless, the trend of spending more on recruiting each season appears to be a difficult one to stop. Whether it's an increased staff or costs elsewhere, few universities take a step back in spending.
But, on the bright side, it could be worse -- at least the era of "Be kind; please rewind" is long gone.
"That required a significant amount of manpower hours," Shoop said with a laugh. "And in some ways, now, it's a pro model. It's not like you have an entire scouting department, but I'm sure we're getting closer to that model now than ever before now, as far as people whose sole responsibility is player evaluation. ... It's incredible how the process has accelerated."
May, 13, 2014
5/13/14
6:20
PM CT
ROSEMONT, Ill. -- Big Ten athletic directors began their annual spring meetings Tuesday and discussed the proposed NCAA governance changes, scheduling,
athlete welfare
and other items.
Here are some notes from Day 1:
[+] Enlarge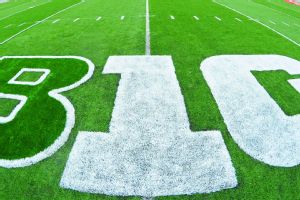 David Dermer/Diamond Images/Getty ImagesThe Big Ten athletic directors will wrap up their annual spring meetings on Wednesday.
ATHLETIC SCHOLARSHIPS
Although increasing athletic scholarships to federal cost of attendance figures isn't a new topic in the Big Ten -- the league
first proposed it three years ago
-- it generated plenty of discussion Tuesday as change is finally on the horizon. There are details that must be worked out concerning Title IX and how overall athletic budgets will be affected.
Illinois athletic director Mike Thomas said a full cost-of-attendance plan for all Illini athletes would cost approximately $1 million per year. But the numbers vary by institution.
"You're going to have to have a standard formula all schools are going to have to adhere to," Thomas said, "knowing that the numbers might still look different."
Added Nebraska AD Shawn Eichorst: "Over time, each institution is sharing how financial aid works on their campus and how they see a possible opportunity to put more resources in the system to cover the gap."
The ADs also discussed how to improve travel for players, whether it's getting them home or getting their families to events.
"Is it two trips? Is it three? Is it just going home a certain time of the year? Or is it bowls? Or families visiting?" Penn State athletic director Dave Joyner said. "Those details are yet to be worked out I think, and how does that factor into the full cost of attendance?"
FOOTBALL SCHEDULING
Despite a move to nine league games in 2016, non-league scheduling remains a challenge for the ADs, especially with the Big Ten prohibiting contests with FCS opponents. Thomas admits the inventory of opponents is smaller, which can increase costs of bringing in opponents that don't require return games. He added that a nine-game league schedule makes it harder to play neutral-site games because of the demand for seven home games every year.
"It's hard for us to move off campus and take a game away from our stadium, that's my biggest issue," Minnesota AD Norwood Teague said. "That was built for a purpose, and $150 million of that stadium was paid for by taxpayer dollars. You've got to serve the people."
[+] Enlarge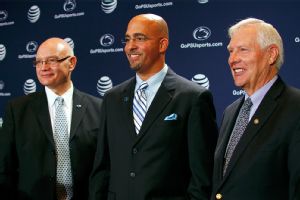 Justin K. Aller/Getty ImagesPenn State athletic director Dave Joyner (left) praised new football coach James Franklin (center) on Tuesday.
Joyner said there has been some talk about Big Ten teams scheduling other league opponents in non-league games, something former Michigan athletic director Bill Martin brought up years ago. "That's a unique concept we could talk about more," Joyner said. "That's a possibility."
Despite the SEC and ACC announcing recently that they would keep an eight-game league schedule, the Big Ten has no plans to ditch its move to nine.
ODDS AND ENDS
Joyner said new Penn State coach James Franklin has been "everything I thought he was an more, in a positive way," during his first four months on the job. "He's high energy, he's high ethics, he's high competitiveness," Joyner said.
Eichorst said he has had nothing to do with the improving public image of coach Bo Pelini, who has boosted his popularity since his blowups both during and after last season's loss to Iowa. "Bo's the same guy that I met when I arrived on campus," Eichorst said. "I see those sort of qualities from him on a day-to-day basis. What's out there in the community and the perception and all that other sort of stuff is certainly hard to control. He's a good ball coach, a good person. He's serious about his craft and very disciplined in his approach and we're lucky to have him at Nebraska."
Teague said the upcoming College Football Playoff generated little to no discussion Tuesday. Big Ten commissioner Jim Delany and Wisconsin AD Barry Alvarez, a member of the selection committee, likely will address the group before the meetings end Wednesday.
More to come Wednesday as the meetings finish. Delany will address the media around 3 p.m. ET.
November, 24, 2013
11/24/13
8:45
PM CT
With just one week to go before championship week, we know exactly which Big Ten teams are going bowling and which ones are staying home. And we've got some big changes in our bowl projections.

For the first time, we are now projecting the conference to get an at-large bid. Our thinking goes like this: Oregon's loss to Arizona (thanks, RichRod!) means the Pac-12 could be limited to one bid. If Clemson loses to South Carolina this week, the Tigers might not get an at-large bid coming off a loss. And Orange Bowl officials, who are desperate to fill seats after some undesirable matchups in recent years, would rather bet on a Big Ten team and its huge fan base than on Baylor, a program that has trouble filling its own stadium.

So which Big Ten team do we see heading to Miami? Right now, it's Wisconsin. We think the Badgers, who should end the year on a seven-game winning streak, get the slight nod over Michigan State, which will be an underdog to Ohio State in the Big Ten title game. But check back with us on that in a week.

That keeps Michigan State in the Capital One Bowl for now. We have a potential 9-3 Nebraska going back to Florida in the Outback Bowl, while Iowa -- which could finish two wins behind the Huskers unless it pulls off the victory in Lincoln on Friday -- heads back to familiar territory in Phoenix.

The Gator Bowl would choose between Minnesota and Michigan, two squads likely ending the season on losing streaks. Although Gator Bowl officials have been known for going with the big name (see: a 6-6 Ohio State team in 2011), there's way more enthusiasm around Minnesota than Michigan right now. Minnesota athletic director Norwood Teague has some selling to do, but we think he'll get the job done and get the Gophers to Jacksonville. That puts Michigan in the Texas Bowl.

The full projections:

Rose Bowl Game presented by VIZIO, Jan. 1: Ohio State
Discover Orange Bowl, Jan. 3: Wisconsin
Capital One Bowl, Jan. 1: Michigan State
Outback Bowl, Jan. 1: Nebraska
Buffalo Wild Wings Bowl, Dec. 28: Iowa
TaxSlayer.com Gator Bowl, Jan. 1: Minnesota
Texas Bowl, Dec. 27: Michigan
Heart of Dallas Bowl, Jan. 1: Not filled
Little Caesars Pizza Bowl, Dec. 26: Not filled

October, 8, 2013
10/08/13
11:00
AM CT
The Bro Code has been around for centuries. Nay, whatever's more than centuries.
May, 15, 2013
5/15/13
8:07
PM CT
CHICAGO -- Indiana athletic director Fred Glass oversees a football program that has made one bowl appearance in the past 19 seasons.
The Hoosiers soon will take up residence in the Big Ten's East Division, which includes traditional powers Ohio State, Michigan and Penn State, as well as Michigan State. Like every other Big Ten team, Indiana also will begin playing nine conference games instead of eight beginning in 2016.
Although Indiana took a step last fall in Year 2 under coach Kevin Wilson, it has won six or more games just 11 times since 1967, when it shared the Big Ten championship and went to the Rose Bowl.
If given the choice between keeping the minimum wins requirement for bowls at six versus increasing it to seven, Glass seemingly has an easy decision.
"Perhaps the surprising answer is I'd probably favor going to seven [wins]," Glass told ESPN.com on Wednesday. "We're a program that's trying to build, and you might say it's in our best interest to stay at six, but there's something about enthusing your fan base with a winning season, being 7-5. Maybe that might help limit the number of bowls out there, too, so it's a real positive experience."
At last year's spring meetings, Big Ten commissioner Jim Delany came out in strong support of
increasing the bowl requirement from six wins to seven
.
"For us, it means redefining a successful year at 7-5 from the standpoint of a bowl season," Delany said last May. "We argued for 6-6. We've experienced 6-6. Now we're suggesting that it's in our best interest, the bowls' best interest as well as the other conferences that might benefit by these open slots to look at a 7-5 standard."
Ultimately,
other major conferences weren't on board
with the push to increase the requirement. The Big Ten had three 6-6 teams -- Michigan State, Purdue and Minnesota -- make bowl games in 2012 and four 6-6 teams (Ohio State, Illinois, Purdue and Northwestern) go in 2011.
"We think the bowl system would be better off with a 7-5 situation," Delany said Wednesday. "We thought for a while we were heading in that direction, but it's obvious that we're not."
The Big Ten's move to nine league games means a team would have to win at least three conference contests to reach the six-win minimum, giving it a little more credibility. Minnesota athletic director Norwood Teague said many coaches, especially "those building programs," are in favor of keeping the requirement at six victories.
But ADs still hope that seven can be the magic number some day.
"Seven wins is what you should have; always felt that," Ohio State AD Gene Smith said. "I still think we have too many bowls. I just think 6-6 is not the level, but I know that's not something that appears to be reversing at this time. I just don't want to be there again."