Chicago Colleges:

Notre Dame Irish
November, 27, 2013
11/27/13
4:30
PM CT
Stanford coach David Shaw often points to last year's Notre Dame game as a turning point for his program.
You might recall the rainy, overtime ending steeped in controversy that fueled the Cardinal's us-versus-the-world mentality following the 20-13 loss. It was the kick in the bark that propelled Stanford to eight straight wins and a Rose Bowl victory to close out the year.
And when the Irish roll into Palo Alto this weekend for the regular-season finale for both teams, Shaw knows this much: Last year's game has absolutely nothing to do with this year's.
"The replay official said we didn't cross the line so the game was over. It's on Stanford's football team from last year for not getting it done and Notre Dame for getting it done. That's what happened last year.
[+] Enlarge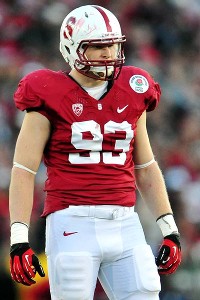 Gary A. Vasquez/USA TODAY SportsLinebacker Trent Murphy says Stanford isn't dwelling on last year's controversial loss at Notre Dame.
" … A football season has highs and lows and the good teams bounce back because you can't have a season of all highs. When things don't go your way you regroup and you retool and you go back after it again. That's what we did last year after the Notre Dame game. That's what we did this year after the USC game. This is going to be a great game that's not going to hinge at all on what happened last year."
It's a sentiment echoed by his players.
"That was a long time ago," Stanford linebacker
Trent Murphy
said. "I think last year's game doesn't really have any carryover into this season. It's a new team and a new year … [but] there is always something to learn from."
Added quarterback
Kevin Hogan
: "We can't treat this like a revenge game. It's over. We have a new team, they have a completely new team."
Saturday's game has zero bearing on the outcome of the Pac-12 standings. The Cardinal have already locked up the Pac-12 North Division and will be playing in the championship game for the second straight year. Home field advantage isn't even an issue for the title game, because it all hinges on what happens between Arizona and Arizona State. If the Sun Devils win, they'll host the title game in Tempe. If not, it will be in Palo Alto again.
But that's not to say the Cardinal still don't have plenty of motivation. They are riding a 15-game home winning streak, second longest in the nation behind South Carolina, and since 2009 they are 12-1 against teams ranked in either the AP or coaches poll. Notre Dame is 25th in the BCS and AP polls.
To say nothing of the roller coaster that has been the 2013 Stanford season. Touted early on as a national champion contender, the Cardinal lost on the road to Utah, but bounced back strong with their second-straight win over Oregon. Then a loss to USC essentially wrapped up the conference crown for the Ducks. But Arizona had different thoughts.
Now, the Cardinal are back in the championship game. According to Shaw, that wackiness is just par for the course in the Pac-12.
"It's college football," Shaw said. "And I remind people that we don't go through all the ups and downs that maybe the media and even the fans go through because we've got more games to play. If we win a big game they don't cancel the next week and if we lose a game they don't cancel the next week. During the week when people are lamenting and calling me names and the sky is falling when we lose and when people are exalting us and telling us how wonderful we are when we win, those things can't ever affect the football team or the coaches because we move on and play the next week."
And this week's opportunity offers the Cardinal a chance to snap Notre Dame's 2013 stranglehold on the Pac-12. The Irish have already knocked off ASU, the South Division champs, and USC. So there is plenty of reason from a national perspective for the Cardinal not to look over the horizon to Arizona State in next week's title game.
"One of our team goals is going 1-0 every week and that's what we've been trying to do," Murphy said. "We got into Cal week and we had to go 1-0, keep the Axe and it was a big game for us. Now we're facing Notre Dame and it's the biggest game for us and we need this victory."
October, 13, 2012
10/13/12
7:08
PM CT
It was wet and often times ugly with No. 17 Stanford at No. 7 Notre Dame. As expected, it was physical and the weather made for some sloppy play on Saturday. Sixty minutes wasn't enough. The Irish clutched up and won
20-13
in overtime. Here's how it all went down:


It was over when
: After Notre Dame went ahead in overtime on a 7-yard touchdown pass from
Tommy Rees
(in for the injured
Everett Golson
) to
TJ Jones
, the Irish defense stopped
Stepfan Taylor
from the 1-yard line on third and fourth down. The final play even went to review to determine when Taylor's forward progress was stopped. The call on the field was upheld. It was high drama until the very end.
Game ball goes to
: The Notre Dame front seven. They clutched up when it mattered in overtime with two huge stops. It was ugly, it was messy and it was a heck of a football game.
Unsung hero
: Though he's part of that front seven, Notre Dame's
Manti Te'o
was huge, leading all players with 11 tackles. A fantastic performance from one of college football's marquee players.
Unsung hero II
: Fans were screaming for Rees, but they didn't get him until Golson was injured. He came in off the bench and was 4-for-4 for 43 yards and the touchdown in overtime.
Unsung hero III
: Give some credit to the Cardinal defense as well. It provided Stanford with its only touchdown of the game when
Ben Gardner
sacked Golson in the end zone and forced a fumble that
Chase Thomas
recovered for a touchdown in the second quarter.
What it means for Notre Dame
: The Irish remain undefeated, showed they can win ugly, and now have three wins over teams ranked in the Top 20. Expect a nice slot for them when the BCS rankings come out Sunday.
What it means for Stanford
: It was the second straight week the Cardinal have gone to overtime, though the outcome was different last week. Stanford needs to figure out how to score on the road. The Cardinal have two touchdowns in two road games this year and both came from the defense. They are on the road again next week at Cal.
October, 9, 2012
10/09/12
9:00
AM CT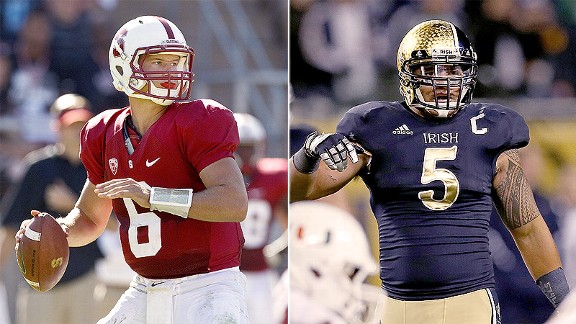 Getty ImagesHow will Josh Nunes and the Cardinal fare against Manti Te'o and Notre Dame's shut-down defense?
"College GameDay" will be in South Bend this week, bringing more hype to an already highly anticipated matchup between No. 7 Notre Dame and No. 17 Stanford. Notre Dame blogger Matt Fortuna and Pac-12 blogger Kevin Gemmell got together to throw out some early thoughts on the game.
Kevin Gemmell
: Well Matt, I'd imagine this is going to be a much different blogger discussion than the one we did to close out the 2011 season, when Andrew Luck was gunning for a Heisman, Stanford was looking for a BCS bowl berth and Notre Dame was playing quarterback roulette.
Lots of changes from both teams since the end of last November.
Kick it off and give those of us on the Left Coast a feel for what's happening with the Irish right now. I know they are a spread team. But it's different from the spread Stanford saw last week against Arizona and the one they will see later this year at Oregon. What's the skinny?
Matt Fortuna
: Kevin, the Irish offense is still very much in the developmental stages, largely because its quarterback,
Everett Golson
, is a redshirt freshman who has played only five games. They let him loose a bit against Miami, as he showed some running ability that the Irish haven't seen at the position in recent years, but he was not exactly facing Stanford's defense, either.
Notre Dame has a big, physical offensive line that allows the team to run the ball effectively and take much of the pressure off Golson.
Tyler Eifert
may be the best tight end in America, but he has been the focus of every defense so far and has not put up the numbers he did last season. The Irish have a number of reliable upperclassmen receivers, but no real game-breaker who has stepped up to be that go-to guy yet.
Conversely, what in the world do we make of this Stanford defense? I thought we'd be looking at two similar teams slugging it out in a 10-7 battle, but then I saw this past Saturday, when Arizona put up 48 points on the Cardinal.
[+] Enlarge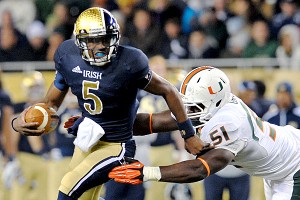 Matt Cashore/US PresswireEverett Golson had one of his best games of the season against Miami on Saturday.
Kevin Gemmell
: First off, bold statement to make about Eifert with the tight end duo of
Zach Ertz
and
Levine Toilolo
coming to town. Toilolo caught five balls for 141 yards and a score against Arizona and Ertz had six catches for 64 yards and a score. The Cardinal are 10-1 when Ertz catches a touchdown ... just sayin'.
Now, about that defense. Yikes, indeed. The Wildcats had 617 total yards. But the most disturbing part about it -- according to Stanford head coach David Shaw -- was that Arizona got some big plays over the top of the secondary. The Cardinal are happy to give up the short passes, so long as they make tackles at the point of the catch. But getting beat over the top is a no-no. Shaw said that's just a technique issue and can be corrected in the film room. We'll see.
But we can't dump on the defense too much. Because when they absolutely needed a stop -- or a couple of them -- they got it. They clutched up in the fourth quarter, got the ball back for the offense and the Cardinal scored twice in the fourth to overcome a 14-point deficit. And
Chase Thomas
had the interception in overtime that led to Stanford's win.
Tell me about the Notre Dame defense. No touchdowns in the past three games and the state of Michigan is 0-for-end zone against the Irish. Are they as advertised?
Matt Fortuna
: Miami didn't score a touchdown, either, making it three straight games that this defense has held an opponent out of the end zone. The simple answer so far is yes. The Irish are giving up 7.8 points per game, second-lowest in the country. They have forced 13 turnovers and recorded 14 sacks. The front seven has looked as good as any in the country, and
Manti Te'o
may just be the best defensive player in the country.
The secondary has had two starters go down since camp -- and was entering this campaign with no returning starts at cornerback to begin with -- but has more than held its own through five games, surviving a couple of early drops against Miami and not letting any Canes receivers get over the top after the game's opening drive.
Does
Josh Nunes
have the ability to make life difficult for the defensive backs this week?
Kevin Gemmell
: And therein lies the $1 million question. Nunes was adequate the first two games, solid in the second half against USC, terrible at Washington and then he blew up last week against Arizona, throwing a pair of touchdowns and running for three more. So far, he has done his best work at home and his worst performance was in their only game away from Stanford Stadium.
So this will be a huge test for him to see if he can get it done outside of Palo Alto. A lot of people were calling for his ouster after the Washington debacle, so credit Nunes for pushing out the noise and refocusing with a possible season-saving performance against the Wildcats. He's still not where Shaw and the Cardinal need him to be from a consistency standpoint. But I don't think anyone is going to question his toughness, determination or character after last week.
As for whether he can make it tough -- a lot of that falls on the Stanford receivers. Wide receiver
Ty Montgomery
needs to play better.
Jamal-Rashad Patterson
came through with a big catch and, of course, the tight ends will play a major role. If the Cardinal can run the ball effectively (no promises against a good Notre Dame front), then it will force those safeties down and create some matchup problems with the tight ends. Nunes has to consistently get them the ball as he did against Arizona. Because if he falters on the road as he did against Washington, it will be another touchdown-free performance for the Irish.
So closing it out, it seems as though Stanford's tight ends will be the biggest X factor for the Notre Dame defense. Can they hang with the 6-foot-6 Ertz and 6-8 Toilolo?
Matt Fortuna
: I still have images of Stanford's tight ends dragging Irish corners during last year's contest. Those were a pair of seniors with multiple starting seasons under their belts. This is a pair of first-year starters who came to Notre Dame as offensive players.
I still think a big part of it comes down to the pressure Notre Dame gets up front. It didn't have any sacks against Miami, but it took the pocket away from
Stephen Morris
and threw off timing. That has been the Irish's defensive formula so far, and I expect them to try it again Saturday, even against an offensive line as good as the Cardinal's.
October, 8, 2012
10/08/12
7:40
PM CT
Fans love a good shootout, and Saturday afternoon Stanford and Arizona gave fans a game they'll be talking about for a longtime. Coaches, however, aren't as keen on the high-scoring nail biters.
"Awful, awful, awful," said Stanford coach David Shaw when prompted to describe his emotions during the Cardinal's 54-48 overtime victory. "Same for coaches' wives. But I told the team, this was the kind of game we needed. We needed a fight. We needed a battle. We needed to be into the fourth quarter and be down and fight back to test our character. We believe we have that kind of character to be able to fight back to the end, even when we are down. But it's great when you are tested and you respond to that challenge and we did that [Saturday]."
[+] Enlarge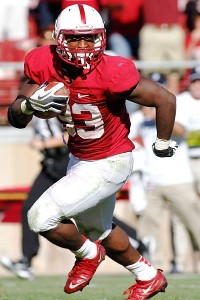 George Nkitin/AP PhotoStepfan Taylor and Stanford can perhaps clear the national title picture a bit by toppling undefeated Notre Dame.
Shaw & Co. might have to get used to the tight ones. Unlike last year, when the Cardinal enjoyed -- on average -- a 32-point margin of victory, this year's squad seems more prone to white knuckles. Three of Stanford's four victories have come by a touchdown or less and their only loss was by four points.
Cardiac Cardinal
. Has a nice, if not disconcerting, ring to it.
The stakes are raised Saturday when the No. 17 Cardinal travel to South Bend to face No. 7 Notre Dame. This is the second-straight year that both teams meet ranked in the top 25 and just the third time in the history of the nonconference rivalry that each team is ranked at kickoff. Last year, No. 4 Stanford beat No. 22 Notre Dame 28-14 in Palo Alto. And in 1992, No. 19 Stanford topped the No. 7 Irish in South Bend 33-16. The Cardinal have won the last three matchups.
The Irish, meanwhile, are off to their best start since 2002, having already taken down a pair of ranked teams from the state of Michigan.
Looking forward, Saturday's win was both a blessing and an omen for the Cardinal. On one hand, they showed some offensive grit with a fourth-quarter comeback to force overtime and the win. It was exactly the type of explosion Shaw needed to see after a bad offensive outing the previous week in Seattle.
But in the process, the defense looked leaky, allowing the Wildcats 617 yards. The good news, though, is that when a stop was needed, a stop was made.
"It's huge [for our confidence]," said Stanford linebacker
Chase Thomas
, who had the critical interception in overtime that stopped Arizona's march and led to Stanford's game-winner. "It shows that we can face adversity and overcome it and have that 16-round knockout fight. It really shows we're a high-character team with a never-give-up, never-quit mentality. Not many teams can say that."
Saturday's win may have altered the entire trajectory of Stanford's season. A 4-1 record, naturally, looks and feels better than 3-2. But with this week's game at Notre Dame and then The Big Game on Oct. 20 against a down-but-not-out Cal team, a loss would have been seen as a significant step backwards for a program that still hopes to contend for the Pac-12 North.
Quarterback
Josh Nunes
and running back
Stepfan Taylor
also got back on track after rough games against Washington. Taylor rushed for 142 yards and two scores while Nunes accounted for five touchdowns, three on the ground and two in the air, on 21 of 34 passing for 360 yards and no interceptions.
"It's not what we learned [about Nunes], I think other people learned," Shaw said. "He's a tough kid. He bounces back. He doesn't listen to the noise. He's steady."
November, 27, 2011
11/27/11
1:20
AM CT
STANFORD, Calif. -- On the volume meter, Stanford head coach David Shaw usually speaks at a three. On Tuesday, he spoke at an 11 (cue the "
This is Spinal Tap
" reference).
Shaw called for the national spotlight -- on his team, on his quarterback and on the entire Bowl Championship Series -- and, for better or worse, he got it.
The question, however, is whether
a 28-14 win
over Notre Dame on Saturday night at Stanford Stadium was enough to change anyone's mind -- either the BCS pollsters or the Heisman voters.
"I wasn't trying to change minds," Shaw said. "I wasn't bashing the BCS. I wasn't bashing any other teams. Just the explanations that I kept getting didn't make sense to me and I'm a common-sense person and I just don't understand the whys of where we were."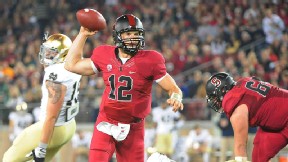 Kyle Terada/US Presswire"I've seen a lot of the other guys and there are a lot of really, really good football players," Stanford coach David Shaw said of quarterback Andrew Luck. "There's nobody like this guy."
As for the Heisman -- as expected --
Andrew Luck
said he doesn't care. You'd sooner get Condoleezza Rice to spill state secrets than to get Luck to talk about Heisman aspirations.
"I don't worry about what kind of impression I make on anybody," Luck said.
That's when tight end
Coby Fleener
interjected.
"Andrew Luck has my vote," Fleener said, raising his hand.
"Mine too," said safety Michael Thomas, raising his hand. "I think he's the best player in college football."
"Me too," said linebacker Chase Thomas, raising his hand.
Luck laughed off the moment, even though it encompassed everything that matters to the quarterback: the respect of his coaches and teammates.
"I don't have a vote," Shaw said. "We'll see what happens. I just know that he's one of a kind. He's one of a kind. It's apples and oranges in my opinion between him and everybody else and I've seen a lot of the other guys and there are a lot of really, really good football players. There's nobody like this guy."
Luck threw four touchdowns against the Irish -- three in the first half to help the Cardinal build a 21-0 lead at the break -- before closing out with a 55-yard touchdown to Fleener. The tight end finished with four catches for 97 yards and two touchdowns.
All three of Luck's touchdowns came against Notre Dame blitzes* and both of Fleener's scores came off of play-action. Against the blitz, Luck was 7-of-8 with three touchdowns, no interceptions and an average of 15.4 yards per completion. He finished the game 20-of-30 for 233 yards and an interception.
"I think, one loss, that's great," Luck said. "We've done a lot of good things. Someone just mentioned that we've been on a 23-2 run. I think that's very impressive. We put ourselves in position to be in a good bowl game and that's something we wanted to do."
Which bowl game remains to be seen. The Cardinal (11-1) needed this win to stay in the conversation for a BCS at-large bid. Stanford could climb into the top 4, assuring it a BCS berth.
"All we can do is play our butts off and prepare and let the voters or whoever else makes the stuff up choose," Fleener said. "All I know is you gotta win. That's all I understand. They want to see 12-0 and win out and that's how you go to the national championship. Other than that, I don't know how everyone else falls in the pecking order."
Speaking of pecking -- the defense spent most of the game pecking away at Notre Dame's quarterbacks. Chase Thomas led a relentless pass rush that sacked Notre Dame's quarterbacks five times. Thomas accounted for two while forcing a fumble and Ben Gardner, Josh Mauro and A.J. Tarpley all added one. In all, the Cardinal had eight tackles for a loss, holding Notre Dame to 57 yards on the ground. Michael Thomas and
Corey Gatewood
also logged interceptions.
"We went out and tried to play our game," Tarpley said. "Maybe [the voters] liked it. Maybe they didn't. You never really know what to think the way those things are. We played a good game. We could have played better. But we got the win. That's all that's important."
Stepfan Taylor
turned in his steady-as-always performance, rushing for 118 yards on 20 carries as the Cardinal accumulated 429 yards of offense.
Notre Dame mounted a minor second-half comeback -- cutting the score to 21-7 after getting a 6-yard touchdown strike from
Andrew Hendrix
to
Michael Floyd
. Notre Dame's big-game receiver had eight catches for 92 yards and the score.
Luck's first touchdown came on a 3-yard jump ball to 6-foot-8 tight end
Levine Toilolo
. The second was a 28-yarder to Fleener -- who pulled his defender into the end zone with him, and
Ty Montgomery
added an 11-yard touchdown reception with 10 seconds left in the first half.
Shaw's comments last week caused a national stir. The timing certainly seemed calculated. Whether his players' actions backed up the coach's words will linger until the BCS bowl games are announced.
"I'm behind coach Shaw 100 percent," offensive guard David DeCastro said. "He knows what he's doing. That's for sure. We don't care what anyone else thinks. We got the win. That's all we care about."
But was the win enough for the team and/or Luck? To be continued ...
*
Courtesy of ESPN Stats & Information.
November, 26, 2011
11/26/11
10:36
PM CT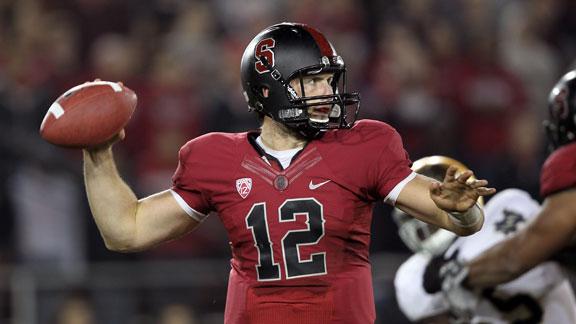 STANFORD, Calif. -- The
Stanford Cardinal
overcame a sluggish second half to top Notre Dame
28-14
in the regular season finale for both teams at Stanford Stadium.


The Cardinal now await the outcome of games next week before finding out their postseason destination -- which more than likely will include an at-large bid to a BCS game.
Quarterback
Andrew Luck
threw four touchdown passes -- three in the first half and then a 55-yarder to tight end
Coby Fleener
late in the fourth to seal the victory.
Luck and Fleener also hooked up for a 28-yard touchdown in the first half.
Senior Night quickly turned into Andrew Luck night as the Heisman Trophy candidate set the Stanford record for most career touchdown passes (80) and the single-season mark (35). Luck finished the game 20-of-30 for 233 yards, four touchdowns and an interception.
Notre Dame turned the ball over three times and never really found a rhythm on offense, switching between quarterback
Tommy Rees
in the first half to
Andrew Hendrix
in the second half. Hendrix and
Michael Floyd
hooked up for a 6-yard touchdown strike in the third quarter.
The Cardinal's relentless pass rush sacked Notre Dame's quarterbacks five times -- it was the fourth time this season Stanford has had five or more sacks in a game.
November, 26, 2011
11/26/11
10:18
PM CT
STANFORD, Calif. --
Andrew Luck
isn't the only one setting school records.
Notre Dame wide receiver
Michael Floyd
caught his 94th ball of the season in the fourth quarter -- breaking Golden Tate's single-season reception mark of 93 set in 2009.
Floyd has seven catches for 86 yards and a touchdown.
Earlier in the night, Luck set the Stanford single-season and career passing touchdown records.
TOP 25 SCOREBOARD
Saturday, 12/21
Monday, 12/23
Tuesday, 12/24
Thursday, 12/26
Friday, 12/27
Saturday, 12/28
Monday, 12/30
Tuesday, 12/31
Wednesday, 1/1
Thursday, 1/2
Friday, 1/3
Saturday, 1/4
Sunday, 1/5
Monday, 1/6
TOP PERFORMERS