Chicago Colleges:

Nyles Morgan
August, 14, 2014
8/14/14
9:00
AM CT
SOUTH BEND, Ind. -- OK, so there was some pretty big news Wednesday out of Notre Dame. You can read and hear all about that
here
and
here
. But Brian Kelly did name some other starters for Week 1 against Rice.
The biggest surprise? Early enrollee
Andrew Trumbetti
will be the starter at weak-side defensive end, where
Romeo Okwara
had appeared to have the initial leg-up.
Ishaq Williams
is the other starting end.
"We think that he's got a huge upside for us in so many areas that sometimes I don't talk about him enough," Kelly said of Trumbetti. "But a great motor, physical, smart, does all the things that we ask him to do. But again, you've got to keep in mind we're talking about first-and second-down players."
Another first-teamer, a name that is considerably less shocking than Trumbetti's, is Florida transfer
Cody Riggs
, who will start opposite
KeiVarae Russell
at cornerback.
Kelly repeatedly praised the approach of his defensive freshmen, saying that tackle
Jonathan Bonner
is in the two-deep, that linebacker
Kolin Hill
and lineman
Jhonny Williams
are third-down pass-rushers, and that linebacker
Nyles Morgan
will play.
While Kelly admitted that he probably would have been uneasy counting on so many rookies to contribute in the front seven, he says his eyes tell him different when he watches them every day on the practice field.
There is also, of course, a new defensive coordinator in Brian VanGorder. Kelly was asked if the new scheme is easier to grasp than what former coordinator Bob Diaco ran.
"They can go. There's a lot more going on. There's a lot more pieces to this," Kelly said. "But Brian let's them run and let's them go. And so that's why a lot of these young guys can just, in the places that he's putting them, in the fronts that he's calling with Nyles Morgan, he's not asking him to two-gap anybody. He's saying, 'Listen, we're going to cover everybody. Just go run. Go make a play.' And some of the freshmen are getting similar kind of front calls where they can just pin their ears back and go."
April, 4, 2014
4/04/14
9:00
AM CT
Thanks for chiming in. As always, feel free to tweet any more questions you have here or drop 'em in the mailbag.
Away we go ...

Brendan Shaw from Raleigh, N.C. writes:
Hi Matt, doing a great job as usual! This is a long shot, but is there any chance Kelly puts in a two-QB package to mess with the opposing defense? If you think about it, having two dual-threat QBs on the field simultaneously gives you a minimum of a quadruple threat in the backfield. Opposing d-coordinators may just quit football after trying to figure that out for a quarter or two. Regards, Brendan.
Matt Fortuna:
Thanks for the kind words, Brendan. Having both quarterbacks on the field at the same time? That would be news to me, especially since I haven't seen either of these guys try their hands at something other than quarterback. That being said, I'd be surprised if
Malik Zaire
didn't see some meaningful action during the season, as I am sure Brian Kelly and the staff will do everything they can to keep him engaged. He seems to have another gear as a runner, and he could certainly be useful in some red-zone packages as well, as the Fighting Irish have struggled to punch it in down there so much in recent years. I wonder if throwing a lefty in in the middle of a game could prove to be a nice little wrinkle, too.
Mike S. from Chicago writes:
Hi Matt, great work as always. Question: how is the schedule for ACC games determined each year? We know it's a rotation with up to five games, but how are the opponents determined each season and how are home-and-aways done?
Matt Fortuna:
Thanks, Mike. It is, by all accounts, a collaborative effort. And the ACC has shown some flexibility so far to accommodate the Irish, allowing them to play four conference games in 2014 and six in 2015 because of previous schedule arrangements. Both parties plan on keeping things that way, hoping to blend a balance so that a) Notre Dame isn't facing a death row of Florida State/Clemson/Miami in a given season (just using those teams as an example) b) the Irish can fill their 6-5-1 scheduling arrangement (six at home, five on road, one Shamrock Series) and c) so that they play all 14 ACC teams over a three-year span. As you can see, it takes a lot of legwork from all sides, which explains why we didn't know the Irish's 2014 schedule until December of this year (and why the school released three years of schedules at once).
Michael Fry writes:
Hi Matt, I have 3 questions for you: 1. Since he arrived on campus last year, und.com has made a point of showing spectacular catches from No. 88. Having seen some live practice, can you comment on how he is doing overall in terms of route-running and consistency in catching the ball? Right now, he is presented as a catch-everything kind of guy 2. Footage of Zaire looks great but, coming back to the theme of No. 1, what kind of a QB competition would this be if Brian Kelly had not called it already in Golson's favor? Would it be close or are we talking different stratospheres? 3. Defense -- just looking for some thoughts on who was off the radar last year but who fits well into the new DC's system well. Thanks for the great blog -- keeps the off-season interesting.
Matt Fortuna
: Thanks, Michael.
Corey Robinson
seems to dominate every time us media folks are at practice, too. He has natural size and athletic ability, giving the quarterback a wider margin of error when matching up with smaller corners. Part of that, of course, is also because Notre Dame's corners are relatively green outside of
KeiVarae Russell
. That said, Robinson needs to put on more strength so he can win some battles along the line of scrimmage and gain some more separation downfield. But last spring's transfers, and this spring's absence of
DaVaris Daniels
, has given Robinson more opportunities to make an impression. Kelly has stated that he absolutely loves coaching him because of his willingness to accept coaching and not make the same mistake twice. As for the quarterback question, I'm not sure it's still close, but that shouldn't negate from the progress that Zaire has made this spring.
I don't think anyone seriously expects someone other than
Everett Golson
to be starting come Week 1, but I do think Zaire will see meaningful snaps this season, and the fact there are only two scholarship quarterbacks this spring will prove to be beneficial for the lefty in the long run. Kelly was right to publicly open things up.
Lastly, everyone has been raving about
Sheldon Day
, who is not exactly off the radar but who was limited last season because of an ankle injury. I'd expect to see a breakout campaign from him along the line, and I wouldn't be surprised if
Jarron Jones
took his game up another level as well, as the redshirt sophomore has said to us how much more fun he is having in the new system.
Thomas Witty from Northbrook, Ill. writes:
Hey Matt! Thanks for answering all of these questions. I know I enjoy reading your answers. My question today is focused on the linebackers. It seems like they are set at outside, but who's going to play middle? Will
Nyles Morgan
come in and make an impact right away? Could they move
Jaylon Smith
? Thanks!
Matt Fortuna:
Thanks, Thomas. I'd say the only sure things at linebacker across the board right now are
Joe Schmidt
and Smith. Brian VanGorder absolutely raved about Schmidt when asked last week, and we all know what kind of potential Smith flashed during his strong rookie campaign in 2013. Smith has described his position as sort of a hybrid between the Mike and Sam. I'm curious to see the fallout of
Jarrett Grace
's second operation. He seemed to come along better than anyone over the first half of last season before breaking his leg, and Kelly said the Irish won't know his exact prognosis now until about six weeks after the operation, which took place March 28. If he can come back to camp in full-force, I think that will be huge. If not, I think Morgan could certainly make an impact upon his arrival this summer, probably not unlike the one we saw last year from Smith before he started every game in the fall.
February, 21, 2014
2/21/14
9:00
AM CT
Our series looking at the top positions battles concludes with an area that will feature plenty of new faces in the middle of the Irish defense.
Inside linebacker
[+] Enlarge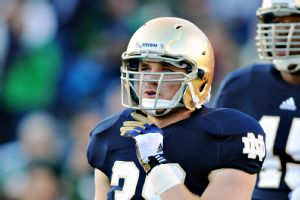 Chris Williams/Icon SMIFormer walk-on Joe Schmidt played significant action inside for the Irish last season.
No Manti Te'o in 2013 was a bigger adjustment than most expected. The veteran presence of
Dan Fox
and
Carlo Calabrese
kept things familiar, with Fox moving to the Mike, losing his job to
Jarrett Grace
, then bouncing back to play some of the best football of his career to close the 2013 season.
Now both are gone, and while the Irish lose
Prince Shembo
at the starting Cat linebacker spot as well, it is presumed that
Ishaq Williams
will step in with the chance to fill those shoes. (
Jaylon Smith
was a freshman sensation as the starting Dog linebacker.)
Grace figured to be the starting Mike, but his recovery from a broken leg means that the doors are open this spring for others to step up and make their marks.
Kendall Moore
is back for a fifth season and figures to play a big role this spring. So does redshirt junior
Joe Schmidt
, the former walk-on who earned a scholarship entering last season and played significant action inside in 2013.
One other thing to consider is that there is a new defensive coordinator in Brian VanGorder. And although Brian Kelly said that the Irish will still operate out of a 3-4 base and go 4-3 about half the time, it remains to be seen how much more aggressive, if at all, VanGorder is with the personnel at hand.
There will probably be plenty of mixing and matching this spring, as the Irish try to find where some of their young guys are most effective -- notably,
Michael Deeb
and
Doug Randolph
, a pair of players who redshirted last season as freshmen.
Outside linebacker has a bit more depth, with
Romeo Okwara
and
Ben Councell
, who will likely miss the spring after tearing an ACL late last season. And a major reinforcement inside could be on the way this summer in
Nyles Morgan
, the No. 5 inside linebacker in the nation and Notre Dame's top recruit from the 2014 class.
But that's a topic for fall practice. In the spring, the Irish need to work on replenishing the position unit that takes the biggest hit from 2013 to 2014 in linebacker, and in particular, at inside linebacker. Several players have opportunities to cement significant roles for the 2014 season.